Screenshots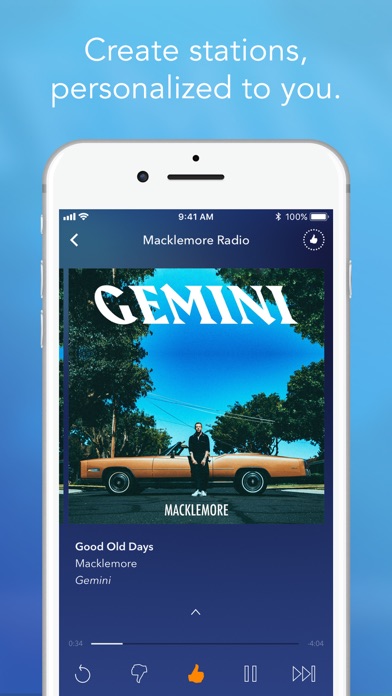 New in version 1711.2.2
Bug fixes – including an update for the pause button in the app and control center – and other new features to improve your overall listening experience.
Description
Pandora gives you a personalized music experience that continually evolves with your tastes.

Create stations from your favorite songs, artists or genres. Or search browse to find recommended stations for your mood or activity.

Looking for more?

Pandora Premium™
Subscribe to enjoy personalized on-demand music

• Search and play your favorite songs, albums and playlists on-demand
• Create playlists, not worklists - on your own or powered by Pandora
• Download the music you want for offline listening
• Unlimited skips and replays
• Higher quality audio
• Listen with no ads

Pandora Plus™
Subscribe to enjoy personalized radio with no ads

• Unlimited personalized stations
• Up to four stations for offline listening
• Unlimited skips and replays
• Higher quality audio
• Listen with no ads

Pandora Plus subscriptions are $4.99 per month. Pandora Premium subscriptions are $12.99 per month. You'll be charged as a recurring transaction through your iTunes account. Pending trial eligibility, charges for Plus ($4.99/month) or Premium ($12.99/month) begin at the end of a free trial unless you cancel 24 hours prior to the end of the current subscription month. Any unused portion of a free Pandora Plus trial period will be forfeited if you upgrade to Pandora Premium. You can manage your subscription, cancel or turn off auto-renewal through Account Settings in your iTunes account. Pandora is available to US customers only.

Some advertising exclusions apply. Skips, replays and offline features may be limited by certain licensing restrictions. Pandora may use large amounts of data, and carrier data charges may apply. For best results, we recommend you connect your device to trusted Wi-Fi networks when available.

Terms and conditions:
www.pandora.com/legal
www.pandora.com/legal/subscription
www.pandora.com/privacy
iPad Screenshots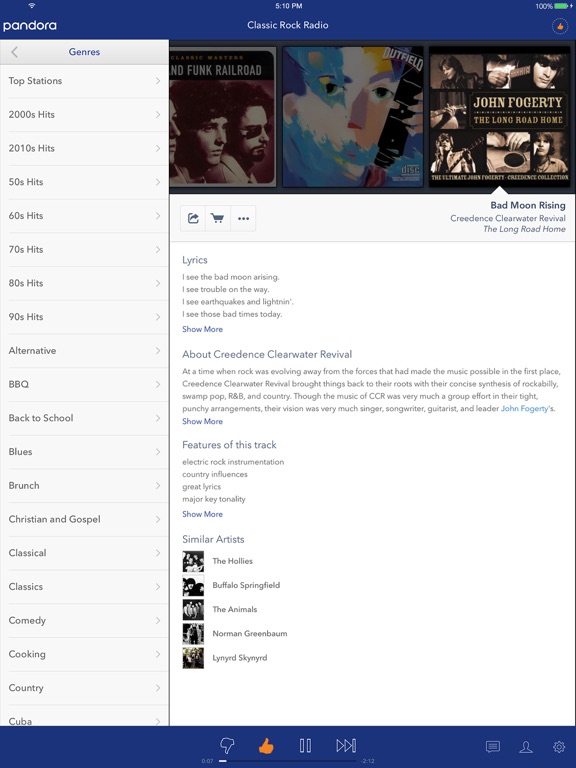 Reviews
Constant shutdowns
jamesraydrama
on
12/11/2017
Pandora used to work great. For the past few months it shuts down after 10-15 minutes. It not only shuts the app, it also forces my phone to closes other apps, like texting and emailing.....dumping my drafted messages/texts before I can send them. It does this even if I don't have other functions going at the same time. Never had this issue with my iPhone 5S....with less storage and memory..16G. But now with my iPhone 7Plus...128G...and my daughters iPhone 7, it happens all the time.
Not Working
My Pandora isn't working an I got premium meaning I pay every month
Where have you been my whole life?
While I love my XM Radio this blows it out of the water!!!!! I love being able to create my own channels and say what I like. I am hooked after one day! Thank you!!!!
Total rip off for premium
cchelsiosurfb
on
12/11/2017
I've been paying for premium for a few months now, but now I have to go back Through and re-download a huge number of songs or stations so that they will play. There's no other way around it. What a rip off, doesn't even work when I'm in offline mode.
App crashes often!
Keeps crashing!
NOT WORKING
Ditto to Suzi's review. I deleted the app and I'm try re-download too see if that works. So frustrating!!!!
Add
Ads are never relevant to me. Tried adjusting my zipcode but still didn't help.
Great music liberal management solution
Great logic on how to creat an personalized playlist. You don't need to spend specialized time to manage your play list. Just hit like or dislike as you rock. Easy and efficient! Top-notch management concept!
Love pandora
❤️ love pandora
Love pandora
Tx Gilmore Girl
on
12/11/2017
Pandora gives you a chance to hear songs you never get to hear !
Free music is nice
Keystonedig
on
12/11/2017
But makes my iPhone 7 shut off daily
Wish I could rate zero stars
Userzackuser
on
12/11/2017
I can't cancel my subscription from the app. I have to cancel it from the website. I can't open Pandora's full site from my phone (it just redirects to the app). I pay $10 a month and you still have music that I'm not allowed to listen to directly?? What am I paying for?? Worst music service I've ever had. Can't close music out. It auto plays whatever you were listening to last when you open the app? Why? What if I'm in a professional setting and I last listened to unprofessional music? You don't even have a customer service phone number. I want my money back please contact me.
Worth it?
I love pandora but the last week or so has been awful! It's constantly pausing on its own and it pauses almost every time I try to open another app or when I get a notification. Please fix this asap!! Previous review: I've been listening to pandora for years and I've always resisted the urge to pay for it but eventually I got tired of all the ads and caved a couple of months ago. I don't regret it at all. It's only like $5 a month and I listen to pandora all the time so not having any ads, being able to skip way more songs, and being able to replay songs is totally worth the investment.
Disappointed and annoyed
Pandora has a new game now where it stops a song half way and jumps to a new one. The second part of the game is where it will shut off and restart my entire phone. Which is especially great if I'm using pandora and google maps while driving to a new place, and now I'm lost because pandora stopped my whole phone. So I have no way of stopping in the middle of the highway to re-enter the address in my google maps. Also, pandora is continually repeating the same songs over and over. It is not adding any new suggestions for songs or artist. I like one songs, I may just hear 3 or 4 times in one day... why?? No thank you. Just give me a new song to like. Very very disappointed with this app that I used to love. Old Review: I absolutely love it! I do hate when freezes when I'm not on wifi but other than that, pandora is great. Also, the advertisements are getting out of control; they are very annoying. That's why I'm not going them 5 stars.
Garbage
I've finally come to the end of my patience with Pandora. It's a real shame because they do have in my opinion the best curated playlists, but the app malfunctions so much, it makes using it more of a hassle than it's worth. I was excited to see Pandora finally offer an offline listening option. I travel a lot and need my playlists to be available when I'm in airplane mode. I particularly enjoy listening to my "liked" songs. The problem is that when you "like" a song, it often doesn't download to the offline playlist and for some dumb reason this renders the entire playlist unplayable until all of the missed likes are downloaded. Pretty useless if you're on an airplane. That combined with the multitude of times I've had to restart the app because there's just no sound coming out, or because it's not working with Apple CarPlay leaves me with no option but to end my subscription and delete this piece of crap.
Amazing App
tomandamberg
on
12/11/2017
Has lots of songs! Fine tunes to your own personal music taste pretty nicely
Update
Blahhhjhhhhhhhhh
on
12/11/2017
I can't pause when connected to my wireless Bragi headphones please fix!!
Premium subscription
Chef...Winn
on
12/11/2017
How the hell do I stop paying for this I can't find an option anywhere... I do not want it anymore.. heeelllllp
Sjavahjd shs adddds
jana auh_cavaj
on
12/11/2017
TOO MANY ADDS ITS ANNOYING AF
Keeps shutting down
Need to lower the number of ads when i use pandora after about 5 minutes it shut down
Issues with ios 11.2 and Iphone x
@our_velocity
on
12/11/2017
Constantly freezes regardless of wifi and data connection. This has been an ongoing issue while using the Iphone X
Broken!!!
Sarahsweird
on
12/11/2017
I've been a loyal pandora user for a long time. I pay for pandora one to skip the ads and I use it all the time while I work/drive. As of a week or more ago the app has completely stopped working correctly and I've seen zero updates to fix it. Sometimes it'll just stop playing music 30 seconds in and freeze up. No matter what I can no longer pause the app, hitting the button literally does nothing. I've had to completely close out and reopen to stop and start. And, there's zero control from the home screen anymore- it's like they completely broke it and are doing nothing, just expecting us to all keep paying for a useless app. Fortunately there are other options- and I'm going to switch today.
I agree, What Am I Paying For?!
missiceblast
on
12/11/2017
I am a paid subscriber and have use Pandora for at least the last six years to seven years maybe more. Whatever happened as of late with the iPhone updates in Pandora update I can no longer listen to Pandora when I switch between apps. It was nice that Pandora would override and work in cooperation with other apps so that I could get directions and still listen to music or be able to switch between and do a voice text and then come back and use the app again. Now when I ask Siri to open the app it freezes. Whenever I unplug my headset from the phone it freezes I have to repeatedly swipe it closed and open it again to make it work. I am up-to-date on all updates and this is extremely annoying since I use Pandora every day of my life. Also, Canada. Why doesn't Pandora work in Canada? That is extremely annoying. Also my alarm goes off and Pandora freezes and I have to swipe the app closed.
Pause and Play button
So, this is a great app, my only thing is that Pandora will not let me pause or play my songs sometimes. I'm able to like, dislike, replay, and skip, it just won't let me pause or play which really bugs me. PS: My phone and have the most recent update, and I don't have Pandora Plus or Premium.
What happen to Pandora
I love pandora but the app has become the worst. It is unresponsive, reopens every time the phone rings, takes forever to load. It is a shame I am a longtime customer who uses a variety of iPhones and I think it is time to switch to another service.
Same bugs that SuziQ86 has
I am experiencing the same bugs that SuziQ86 is talking about. The app freezes during a song. If you get a text or a notification during a song the app stops, then it's frozen and you have to force close the app and then restart it to get it to play again. Not good while driving! Also it won't start playing again after a call like it used to.
Happy
Enjoyment all's way thank you
I love Pandora
I enjoy all stations
Accidental subscription - bad UX
While I've always been a fan of the Pandora product I'm very disappointed by their attempts (now successful) to have me unintentionally sign up for premium. I was listening to Pandora at the gym with my phone in pocket. When I took phone out it told me I had Judy signed up. I know they want people to sign up and to make it easy, but they've crossed a line when this happens accidentally and they default to the most expensive tier. I used to be a fan and advocate if this product, but this scammy approach is making me rethink where I stream my music.
WHAT IS HAPPENING!?!
Pandora has been my go-to place for music since the very beginning when I used to play it from my computer. The app on my iPhone has always worked until the most recent Apple update. I've been trying to patiently wait for them to work out the bugs and fix it but it has been a month now at least and no fix!! Stops playing music, kicks you out, freezes and won't let you play and now it won't let me connect to devices to play it through my TV or other speakers. It's not my phone bc it is doing it to my husband too and it does it on multiple devices. This is ridiculous and especially frustrating not being able to put on Christmas music at Christmas time and looking ahead Christmas morning!!! Please fix it!!!
Awesome
Better than the rest
Love it...until it crashes
Vladamirdrac
on
12/11/2017
Crashes. And when it does, my entire phone (OS 11.1.2) More commercials than ever before. Aren't there already enough visual ads? Why do I need to hear a commercial every 2-3 songs?
Best app ever
Irisheyes8686
on
12/11/2017
Cant live without pandora!!!
Great app
I'm hearing all kinds of music that I have never heard of from this app. You should get it and there is ads here and there. But it is the best
So pandora just doesn't work anymore huh?
mariawithag
on
12/11/2017
I've had pandora for years and have accumulated an amazing playlist btw. Now just recently( 2 wks ago) my pandora just crashes. Even the icon for the app is grayed out. Is this going to recover or Pandora is just dead now?
Useless
Thelegendof_zhane
on
12/11/2017
Haven't been able to use my account! It hasn't worked in about a month! When I try to go to my account settings it give me an error message. And when I decided I wanted to deactivate my account it gave me an error message for that as well so of course I've been charged for a service I can't even use.
Crashes
I've experienced crashes at least twice a day for the last couple of months. Every update since (about 2) have not fixed it.
Shady, battery draining app
State Bridge
on
12/11/2017
Constantly running in the background draining my battery even though the app has been closed and all notifications and background refresh have been turned off. Goodbye Pandora, deleting the app seems to be the only way to stop it from running.
Too much crashing
I used to love using Pandora. The number of ads is getting a bit much. On top of that, with all of the new updates it crashes literally almost every single time I try to use the app. Unfortunately it's getting to the point where it's no longer enjoyable to listen to music with Pandora. Update: despite the update a few days ago, it is STILL frequently crashing. Very frustrating. 😡
Lazy self
stillhereat22
on
12/10/2017
I love that pandora does all of the matching for me. I've been using it since high school and I've tried Spotify and I tunes but I never have the time to put a song in. I like that I can't just skip around with pandora and they can pretty much match a similar preference with the next song. The adds are annoying but I'm also on a budget. I honestly see myself using this more again than Manuel entry. Four out of five stars
update broke controls - can't use
security through obsucrity
on
12/10/2017
The recent update broke the controls. The only way to willingly stop playback is force-quitting the app. Sadly, the app chooses halt on its own accord when playing in the background after 5-10 minutes. This makes the app useless in every possible way. I've been a happy, paying Pandora subscriber for something like a decade. Since I can use the phone app anymore, I'm on the verge of cancelling.
Best
Listen to everyday!!
Constant crashing.
Constantly crashes. Crashes even more when using maps. iPhone 7 Plus.
Sick
Swag man 500
on
12/10/2017
Sick af
I love pandora
I love pandora it has so much music
Awesome! But could improve
I love pandora but there if far too many adds. Also when you type in an attests name for their music it should really be just their music. Thanks
Great
Tyler McCarty 4
on
12/10/2017
Love it
Great songs!
Gypsylife11
on
12/10/2017
Love all the different stations, wish they played more music for each station, seems like it's usually the same songs.
Artist
Whenever I select an artist it plays other artist on that station... which I don't mind but at times I would love to listen to the same artist unless I decided to change the station. I'm a trucker I like a certain vibes not switched up when I'm in that vibe. I'm just saying!
Fact Sheet
Publisher:

Pandora Media, Inc.

Category:

Music

Released:

Jul 11, 2008

Current Version Released:

Dec 11, 2017

Version:

1711.2.2

Size:

157.2 MB

Compatibility:

Requires iOS 10.0 or later.

Recommended Age:

12+

Game Center Certified:

No

Supported Devices:

iPhone5-iPhone5, iPadFourthGen-iPadFourthGen, iPadFourthGen4G-iPadFourthGen4G, iPhone5c-iPhone5c, iPhone5s-iPhone5s, iPadAir-iPadAir, iPadAirCellular-iPadAirCellular, iPadMiniRetina-iPadMiniRetina, iPadMiniRetinaCellular-iPadMiniRetinaCellular, iPhone6-iPhone6, iPhone6Plus-iPhone6Plus, iPadAir2-iPadAir2, iPadAir2Cellular-iPadAir2Cellular, iPadMini3-iPadMini3, iPadMini3Cellular-iPadMini3Cellular, iPodTouchSixthGen-iPodTouchSixthGen, iPhone6s-iPhone6s, iPhone6sPlus-iPhone6sPlus, iPadMini4-iPadMini4, iPadMini4Cellular-iPadMini4Cellular, iPadPro-iPadPro, iPadProCellular-iPadProCellular, iPadPro97-iPadPro97, iPadPro97Cellular-iPadPro97Cellular, iPhoneSE-iPhoneSE, iPhone7-iPhone7, iPhone7Plus-iPhone7Plus, iPad611-iPad611, iPad612-iPad612, iPad71-iPad71, iPad72-iPad72, iPad73-iPad73, iPad74-iPad74, iPhone8-iPhone8, iPhone8Plus-iPhone8Plus, iPhoneX-iPhoneX,

Supported Languages:

English;

Parental Advisory:

Mild Alcohol, Tobacco, or Drug Use or References; Suggestive Themes; Mild Profanity or Crude Humor; Mild Sexual Content and Nudity;