Screenshots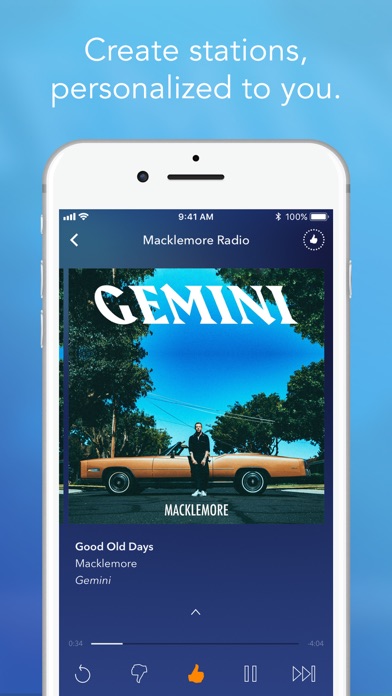 New in version 1711.2.2
Bug fixes – including an update for the pause button in the app and control center – and other new features to improve your overall listening experience.
Description
Pandora gives you a personalized music experience that continually evolves with your tastes.

Create stations from your favorite songs, artists or genres. Or search browse to find recommended stations for your mood or activity.

Looking for more?

Pandora Premium™
Subscribe to enjoy personalized on-demand music

• Search and play your favorite songs, albums and playlists on-demand
• Create playlists, not worklists - on your own or powered by Pandora
• Download the music you want for offline listening
• Unlimited skips and replays
• Higher quality audio
• Listen with no ads

Pandora Plus™
Subscribe to enjoy personalized radio with no ads

• Unlimited personalized stations
• Up to four stations for offline listening
• Unlimited skips and replays
• Higher quality audio
• Listen with no ads

Pandora Plus subscriptions are $4.99 per month. Pandora Premium subscriptions are $12.99 per month. You'll be charged as a recurring transaction through your iTunes account. Pending trial eligibility, charges for Plus ($4.99/month) or Premium ($12.99/month) begin at the end of a free trial unless you cancel 24 hours prior to the end of the current subscription month. Any unused portion of a free Pandora Plus trial period will be forfeited if you upgrade to Pandora Premium. You can manage your subscription, cancel or turn off auto-renewal through Account Settings in your iTunes account. Pandora is available to US customers only.

Some advertising exclusions apply. Skips, replays and offline features may be limited by certain licensing restrictions. Pandora may use large amounts of data, and carrier data charges may apply. For best results, we recommend you connect your device to trusted Wi-Fi networks when available.

Terms and conditions:
www.pandora.com/legal
www.pandora.com/legal/subscription
www.pandora.com/privacy
iPad Screenshots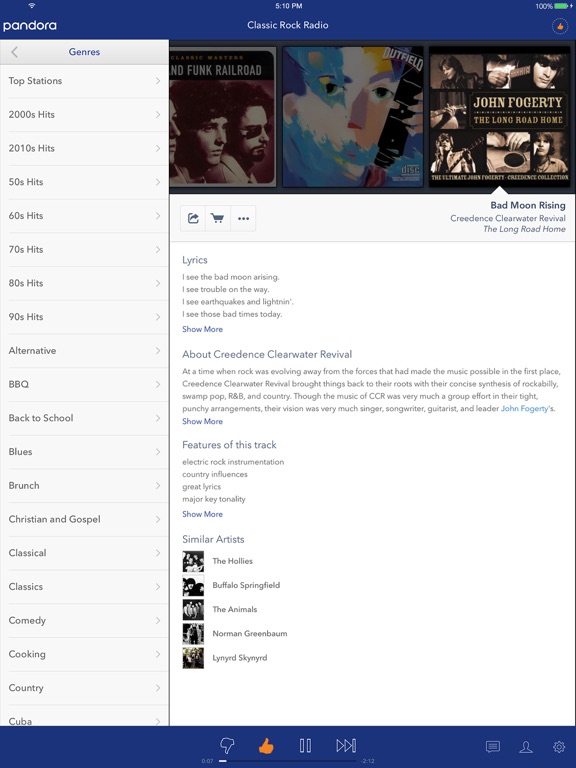 Reviews
Ghost
charles_adams
on
12/16/2017
Strictly disappointed with Pandora.. this isn't even a internet radio station anymore. Too much freezing up, not playing music when opening up the app, and more adds everyday I listen to Pandora. This is embarrassing and extremely annoying coming from someone that's been using Pandora dice 2012.
Horrible
The Dopest Jedi XBLGT
on
12/16/2017
Every time I load up my pandora. It lags horrible. Takes at least 3 minutes just to load up. I have an iPhone 6 with the newest iOS but no matter what pandora always seems to lag harder and harder every update. I'm actually deleting it because of this.
Good stuff
Tank man1991
on
12/16/2017
Love the music!
Luv this MUSIC🤗
CrazyJojo11
on
12/16/2017
I'm in love with going on here and being able to listen to my favorite songs, on the go and at home or at another place, the best music is all right here🤩😉
Larceny
Somehow I inadvertently chose a free trial, but never use Pandora so I didn't notice they started stealing $12.00 a month from me for a service I've never used. Trying to cancel this robbery is incredibly hard to figure out. This is unethical at best. Ill never patronize these thieves again.
Restarting my iPhone
My iPhone is restarting when I use Pandora(either with more apps running or just Pandora); once I was just listening music on Pandora and my device suddenly restarted. It happens about one in three times that I use the app.
Frequent crashes
sa music lover
on
12/16/2017
Frequently crashes my iPhone 7 when listening via lightning adapter & aux cord in the car.
Help! Why me
Idk what it is but the app seems to glitch or bug out every month or two and will not open, of course this still happened after purchasing premium too 🤨
Unreliable with Honda Crosstour
The real Tim Cook
on
12/16/2017
Both the iOS and Android versions do not work reliably with the Pandora app on a 2013 Honda Crosstour. We had the dealer reload the latest software on the car thinking it was just outdated, but it still doesn't load half the time and when it does it is glitchy as all get out. The change stations setting doesn't work, press pause and you are done - it just says disconnected until you switch audio input and close the app on your phone. Here's a bet for you: I'll upgrade to premium for a year if Pandora will have one of their executives or product managers drive this car and use their own app daily for a week and tell me honestly that they are happy with how it works.
Love it!
Great music stations. Easy to customize.
Love Pandora!
Such a great service!
No
Its been getting worse and worse i don't know how many times I've updated it and it still crashes. If you want ads why don't you put good ones in instead of that stupid shirt and tomato soup one and learn to get variety it always plays the same music. Used to be my favorite but really went downhill.👎🏽 still getting those crashed after the fifth time I updated it. Now its time to just delete the app. Not good.
Add like buttons
I wish you could thumbs up or thumbs down songs right on the lock screen of my iPad. Currently, I have to do so by opening up the application and it hinders my ability to really customize my playlists because I am not always able to open up my iPad all the time.
Best music app yet
Best music app today closest to Apple Music
Unexpected crashing
Am i the only one constantly experiencing crashing? It's beginning to crash after every 2 songs.
What happened?
Treyjohnson22
on
12/16/2017
About a month ago the app started crashing and force restarting my iPhone. At this time I came use the app more than 15 on Wi-Fi before it unceremoniously turns off the phone.
currently broken
Jdkelfkdnend
on
12/16/2017
i love pandora a lot! but currently it won't work. i open it and it freezes, nothing plays and nothing works. idk if anybody else is experiencing this problem, but i hope it gets fixed.
Total piece of junk
Not good anymore
Isabel
I found my old music that I lost (my LPs and or cassettes)Great memories alive again!
Pandora
Tiffanyzane
on
12/16/2017
LOVE. Especially with the upgraded version
Buy a zune instead.
Mementoiiiiiiiiiiiiiii
on
12/16/2017
This app is broken and has gone to hell with ads. Mainly the ones advertising pandora itself break the app
Still fantastic app
Still love this app!!
Not updated for iPhone X
Very buggy and not optimized for iPhone X
Fix your crap!
My station jumped 3 times last night while I was listening to one station "not thumb print radio"!
Pandora premium
Skyhatessquids10
on
12/16/2017
I haven't been able to pause this app for over a month. I've done all the updates and nothing. I can skip and do everything except pause. Unsubscribing now. Fix this issue!
Pandora
I love this ration so much and i love Spotify ration station so much to !!!!!!!!!!!!😀😀😀😀😀😀😀😀😀😀😀😀😀😇😇😇😇😇😇😇😇😇😇
Good overall, except the last update
4 iPad, please fix. App doesn't open to play. Even to see a selection. Nota, screen just goes bk to previous home screen . It was 5* I had to re download the app to wk correctly. All set!
Bookmarks
The updated version doesn't have my bookmarks. I can bookmark music, but when I click on my profile there is no bookmarks. This what I have always used to buy music, now I can't even see the list of songs I've bookmarked!
Excellent
Qui and we 3
on
12/15/2017
Excellent for the "free" option. Having issues with it shutting down after about 4-5 songs and restarting my phone. My husband wasn't having the issue as long as he was paying the monthly subscription fee, once he cancelled it the "shut down" began. Other than that excellent build of stations and very low effort.
Great app
Padfoot2222
on
12/15/2017
Have gotten tons of use out of this app great music
Ugh
Lolshenanigans
on
12/15/2017
I deleted this app because I couldn't get rid of the red notification.
Political commercial?? You need to keep politics out of my music!
Very disappointed to hear an "impeach trump" our current conservative president ad during my music session. Politics should never be advertised during this music time. This is my time to relax and listen and enjoy music of my choice. I will stop listening to pandora because of this.
Great app!
Ditch Dr. Doug
on
12/15/2017
Used now and again Pandora is great for the Holidays and those times when radio just doesn't get!
Crap keeps crashing
Your app keeps crashing!! Fix it or I'll shut the crap off.
Timebomb/@aaron88lawson
Great music and can pick my verity!!! Plus add as many stations or artist I want!
Awesome
Big. Time poker player
on
12/15/2017
More awesome
Crashes Every Time
TKDTaHiti96
on
12/15/2017
The last few weeks Pandora plays 2-3 songs and shuts down EVERY SINGLE TIME it starts up. Very frustrating
What is going on???!
I've been a subscriber for many years, are you having connectivity problems? You are my go to music provider but logging into the app and waiting 5min for the music to start is unacceptable. Amazon music is instantaneous, so are I Heart Radio and Time-In etc do the problem is with you, I'd love an explanation or a solution. Regards, Scott
Device Restarting
Pandora has a glitch that cause my device to crash. The app did it with my iPhone 6+ and now it's doing it with my iPhone 7. I had to erase and set up my iPhone 6+ once already. Please get this fixed.
SO MANY COMMERCIALS
Greattonytony
on
12/15/2017
Hear a song what's next? Commercial. Skip a song oh what's that another commercial, if you let the commercial play by any chance app crashes and kicks you out. Goddamn worst then the radio tbh.
Ads
There way to many ads in one hour for me to enjoy my station. I get it's free but still
Pause button does not work!!!
I've uninstalled/reinstalled the App several times. Fix it ASAP!!! This has been going on for months now!
App is crashing!!!!
fr3ddytorres
on
12/15/2017
I stopped using the app (about three weeks ago) because was crashing all the time, I saw a new update today 12/15/17 and I Thought you guys fixed the problem I been having, I did the update and I used it again, not even one song when it crashed AGAIN and the problem is not just crashing the app, it crashes every I have, all the apps I'm using! I deleted this one and I'm using iHeartRadio! So disappointed!
Ogre
Puglover5553
on
12/15/2017
OMG love love Pandora! Great tunes --keep up the good work!!!
Ads, music and other problems
MexicanMetaKnight
on
12/15/2017
I used to have Pandora, but now it's just being a jerk. So first, the ads. Every. Time. You skip, 2 ads play, then they go away then it plays music I don't like at ALL. Then more ads. Now I have listened to 4 minutes of 2 minute ads. And the ads are just the same thing over and over again. That's why nobody likes ads. It plays too much ads. Now the music. YOU CANT EVEN PLAY ANY SONGS. The radios are crap. It always ALWAYS plays the same songs over and over and over again. The good songs are so rare, it's like trying to find a 4 leaf clover. And you can't play music for yourself. You have to listen to a radio that you don't even like. It only lets you skip for like, 5 times. Now the other problems. I log in into my google account for Pandora, then it logs in. But 3 seconds later, it logs me back out. Then I login again... same thing happens. All these updates are making this app worse. That's why Spotify is SOOOOO much better. They give 30 minutes of ad free music. All you have to do is watch one video, then there! 30 min of ad free music, all yours. Spotify even lets you play your own songs. Just search it up and it's there. And there's only 1 13 second and then you get another 30 min of ad free music. And "Pandora gives you personalized music" is not true. It only plays whatever they put for you. And most of it isn't what you would like. If you make a radio of your fave artist, it won't even play what is made by that artist. In conclusion, this app is crud (No offense Developer, don't wanna make you sad) You just need to at least fix these problems, Developer. But one more thing, Everybody else who agrees with me, I SUPER recommend Spotify!
Amazing
I have used pandora for about 8 years now and I have had no problems. I don't like that it is so expensive for premium though. At least 5.99. I do like premium though. It's nice to have no ads and unlimited skips.
Pandora
eban pierce
on
12/15/2017
I like pandora but one thing you should add is unlimited skips and rewinds to go back to the song
Fact Sheet
Publisher:

Pandora Media, Inc.

Category:

Music

Released:

Jul 11, 2008

Current Version Released:

Dec 11, 2017

Version:

1711.2.2

Size:

157.2 MB

Compatibility:

Requires iOS 10.0 or later.

Recommended Age:

12+

Game Center Certified:

No

Supported Devices:

iPhone5-iPhone5, iPadFourthGen-iPadFourthGen, iPadFourthGen4G-iPadFourthGen4G, iPhone5c-iPhone5c, iPhone5s-iPhone5s, iPadAir-iPadAir, iPadAirCellular-iPadAirCellular, iPadMiniRetina-iPadMiniRetina, iPadMiniRetinaCellular-iPadMiniRetinaCellular, iPhone6-iPhone6, iPhone6Plus-iPhone6Plus, iPadAir2-iPadAir2, iPadAir2Cellular-iPadAir2Cellular, iPadMini3-iPadMini3, iPadMini3Cellular-iPadMini3Cellular, iPodTouchSixthGen-iPodTouchSixthGen, iPhone6s-iPhone6s, iPhone6sPlus-iPhone6sPlus, iPadMini4-iPadMini4, iPadMini4Cellular-iPadMini4Cellular, iPadPro-iPadPro, iPadProCellular-iPadProCellular, iPadPro97-iPadPro97, iPadPro97Cellular-iPadPro97Cellular, iPhoneSE-iPhoneSE, iPhone7-iPhone7, iPhone7Plus-iPhone7Plus, iPad611-iPad611, iPad612-iPad612, iPad71-iPad71, iPad72-iPad72, iPad73-iPad73, iPad74-iPad74, iPhone8-iPhone8, iPhone8Plus-iPhone8Plus, iPhoneX-iPhoneX,

Supported Languages:

English;

Parental Advisory:

Mild Alcohol, Tobacco, or Drug Use or References; Suggestive Themes; Mild Profanity or Crude Humor; Mild Sexual Content and Nudity;