Screenshots
New in version 17.39
We are constantly updating our app to make it a faster and better user experience for you! This latest release features bug fixes and other improvements.

Love using our app? We enjoy hearing from you! Leave us feedback in the App Store.
Description
Get $25 OFF your first app hotel booking of $99 or more using code 25MOBILE! Book your next trip today. See complete terms at https://www.travelocity.com/g/rf/25mobile

Save up to $588 on your next trip when you book flight + hotel together* with our Vacation Package deals! Start the season with savings. Travelocity has the best deals on flight, hotel, activities, car rental and more!

Search, save, and book your next flight, hotel, vacation package, or car rental today! Book with confidence with the Travelocity Customer First Guarantee: 24/7 Facebook and Twitter social support at your fingertips. From research to booking and beyond, the Travelocity app is the perfect trip planner!

TRAVELOCITY APP FEATURES:

HOTELS
- Last minute hotel bookings welcome and free cancellation available!
- Pay when you book or when you arrive at the hotel.
- Find hotels, motels, and inns around you on an easy-to-use map view.
- Review descriptions, photos, user ratings, and amenities from verified hotel guests.
- Sort results by deals, price, or reviews.
- Securely store your payment details for faster, easier, and safe bookings. Apple Pay available!

FLIGHTS
- Save even more on your flight with our combined one-way fares and get a single price for two separately issued tickets.
- Search and book round trip or one-way flights.
- Sort flights by price, time, or duration from any airline.
- Enter a departure date and destination, and your trip-ready. Book now!

CARS
- Search thousands of cars to find cheap, quality rentals. Save big when you book in-app!
- Plan round trip rentals from any airport in the world to make your vacation, holiday or getaway a total breeze.

ACTIVITIES
- Attraction tickets without the lines.
- Book local tours.
- Airport shuttles.
- & more activities unique to your destination!

MY TRIPS
- Share your travel plans with friends and family via Travelocity's itinerary sharing feature!
- View your record locator, gate information, and upcoming trip details on the go.
- Plan your own vacation packages with activities, hotels, cars, and more.

MANAGE
- Connect with a Customer 1st Guarantee specialist, directly through the app via Twitter or Facebook!
- Sign in once and the app will keep you logged in, so you can instantly view and create reservations.
- Sign in through Facebook, and use the same account across all devices.
- Use the booking tracker to see your past, current and future bookings, even when you're offline.

Travelocity gets you to your next destination cheaper than other apps thanks to the Travelocity Price Guarantee. With hotel and flight booking, car rentals and social itinerary sharing, Travelocity has everything you need to jump-start your next adventure.
*Savings based on all vacation package bookings with Flight + Hotel on Travelocity.com from July 1, 2015 through June 30, 2016, as compared to price of the same components booked separately. Savings will vary based on origin/destination, length of trip, stay dates and selected travel supplier(s). Savings not available on all packages.

Wander Wisely with Travelocity!
iPad Screenshots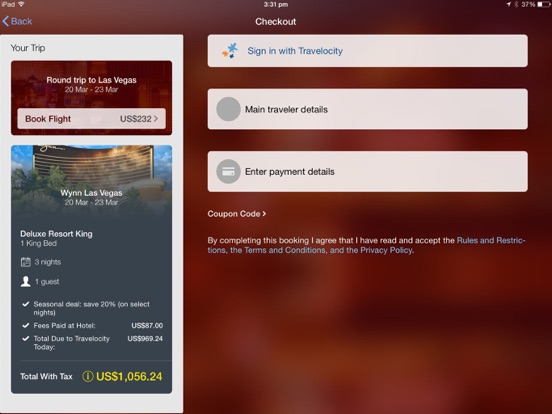 Reviews
Love it!
Tainelaititi21
on
10/16/2017
Easy to use and been accurate every time I book my reservations. Thank you
Travelocity
Easy peezy to schedule everything! Prices are better than hotel or airline website
Discount deals
desertdiabla
on
10/15/2017
There are better prices in other websites. You should match prices without having to request so much. Member don't get the benefits that we should for being loyal customers for a long time! 🤣
No support for multi-city flight bookings
Decent app, but for some unknown reason it does not support flight booking for multi-city trips, e.g., Detroit to New York to Montreal to Chicago to Detroit. You can do this on the website, why not in the app?!?
Hotel Booking
8 ball rolling
on
10/9/2017
Love it tried couple sites prior such as Priceline/ Expedia way higher prices. Easy to use Travelocity app!!
Go Back!
Used APP for years worked great now it's useless! Have to make up a new password every time I want to see booked trips. I've used the APP 15 times this summer and worked like a charm. Never had to log in just open the APP and it worked. Now it doesn't so I'm looking for a new travel AP!
Lots of missing features
Irritadissima
on
10/9/2017
I use travelocity a lot, but the app does not fit my needs. I cannot search multiple destination trips and saved itineraries do not show up.
Cannot select class
Emileigh Starbrook
on
10/9/2017
I have used Travelocity for about 20 years now, so they are always my go to site. But I always fly business or first class and cannot select these options.
Vacation Package with no car rental?
Unlike the website, the app doesn't let you select car rental as part of a vacation package. I guess you have to book the flight/hotel package first, checkout, add car later? Two transactions instead of one?
Travelocity is my friend
hayestravelor
on
10/6/2017
I have used Travelocity for so many years I really don't remember. I have always gotten the best deals on cruises and airfare. I don't use them for hotels though as I find those on my own. I have had to call for cancellations itinerary changes or just I changed my mind. And tho the phone calls can be a pain ... as in it's hard to reach a real person... once you do they are always helpful and great. I will continue to use Travelocity for as long as I travel. And I travel far and wide often
So Easy!!!
Charlesmacking77
on
10/3/2017
So Easy!!!
So how was it?
Beetlethegray
on
9/27/2017
It was stupid...Stupid Easy!!! Wow! Click, click, Bam! Booked and Hooked!
Good
I booked online not thru the app and everything went smoothly although I thought I would a credit card at enterprise and the hotel I didn't..
So easy it's scary
I book travel a lot. Sometimes I book 'Things to do' while away and it's so easy, it's scary.
Get a history
I cannot find previous booking on this app. Come on. Basic feature
What Happened?
I've used Travelocity and only Travelocity for more years than I can remember, but now...this app is impossible! I'm going to have to find another way to purchase my airline tickets
No Headache
This site is easy and amazing
Sweet Travel App
Easy to use and convenient.
Crashes on take off
Yankmetrader
on
9/15/2017
Seems like a bad update was just released.
OK
Good try but still doesn't allow you to navigate the seat or the class of ticket (First, Business, Extra Leg room, etc.)
Unable to log in or get any help to do so!!!!
I purchased a flight on my laptop and wanted to add it after the fact but can't because it won't allow me to log in or retrieve my password. 😡
Great booking. Changing hard
ZeebaNeighba
on
9/13/2017
Let be the simplicity of the app but is there's a problem when flying, there's no one to help make a change
God forbid you need to speak to a real person.
Capt. Giggity
on
9/6/2017
Booked a flight and somehow got charged the cancellation plan on accident. There is no link to reverse this "option" once the flight is booked. Tried calling customer support which claims to be there 24/7 to fix the issue. I understand they have many customers but there's no excuse for leaving someone on hold for over an hour and STILL no one answers. Going to be using Priceline from now on...
Travilosty is great
happy travelocity user
on
9/4/2017
They show you all of the avail places. Let's you choise flex days for easy comparison. Evan gave me an additional senior discount they found after I paid and book and simply took it off my total, (as a matter of fact, we saved you more money your new total is.....) all I did was read a mess they sent saying I got an additional discount.
Awesome app
Have nothing bad to say about this app. It's really helpful and makes purchase of flights easy and hassle free, a must have if you fly frequently or every now and then.
Always get best prices
Convenient, fast, with great reviews
Easy to use
Easy to use app. It has useful, logical filters. for example if you don't want the least expensive but instead shortest duration on flights, you can filter for that. And you can also filter hotels for wheelchair accessibility.
Great app
Love it that I can go and see when the prices drop to get the best deal possible, best app for any type of travel!
Great low price in hotel
Wild child085
on
8/29/2017
I love the reviews and the great low prince
Just booked vacation
Tntkarateschool
on
8/28/2017
Love this app and use it all the time to book flights and hotels! So easy and user friendly!
Travelocity
This app has been very easy to use.
The app is ok
App is ok, service is terrible. I booked a hotel in Orlando a month in advance. Here comes the day of the hotel and I see the hotel is offering the same room but for 60 dollars cheaper. So I call and tell them that the hotel price is cheaper then buying it through them. The lady on the phone said you can cancel but there will be a fee. I said that's crazy since you guys are supposed to find the best deals. So I talk to the hotel manager not only did the manager give me the cheaper price but helped me cancel the Travelocity booking without any fees. Then the Travelocity lady on the phone told me I would receive a 200 dollar credit for my next booking with Travelocity for the inconvenience after everything was said and done and I never received it. Have yet to hear anything back. With so many booking agencies, why spend my money with them?
Awesome
I love this app. Always book my flights on here and it's so helpful. 👏🏼
Good prices.
Love the pay later option
Easy reservations, Complimentary refunds
certifiedgabe
on
8/21/2017
App very useful for last minute travel.
Superb versatility app
I love this app!! It makes my travel experience smoother by helping me finds deals, quality hotels, rental vehicles, and destinations!!!
Easy and convenient
I like it
Love this app!!
I sure love using this app compared to Hotwire because there is NO mystery to what the hotel is! No games! Thank you!
Convenient app but needs work
I've booked many flights through Travelocity, but they try to reward high users with deals that include hotel packages. It's less expensive to book a flight and then use Air BnB. I don't think Travelocity can compete with Airbnb unless they really reduce the price of hotels in their "deals" for high users.
Fast and easy
Will not let me review
on
8/19/2017
I always end back here. So fast and easy and convenient.
Easy to use App & extra discounts
Easy to use App & provides add'l discounts if you book on app
Great app
josh123456775422(
on
8/18/2017
Amazing app great member deal
Easy
Love this app. Hooks it up when traveling
So quick and easy!
Love using Travelocity!
New interface is limited and inaccurate
The new interface has limited options for how to search and how to sort the found flights. It also shows a limited number of the flights that are available when you perform the search on the website through a browser. I won't be using this again until it's "fixed".
Excellent, fast and easy to use App
I love this website and now it's even easier to book a hotel using the mobile app. I highly recommend it!
Easy to use
Great app. Easy and very convenient. Interface is clear and well organized.
Need more search filters
I used to love this app when it was easier to search by filters like pool or pet friendly! Without this ability it takes so much longer now to find the right hotel!
App issues
Garagekeptgirl
on
8/11/2017
Upon trying to book a flight I was charged 2 times on my credit card and never got a confirmation. When I called was told it would take 3 days to get my 188.00 back. The flight was only 140.00. Now they want more money to book the flight.... not happening! And the call center is in the Manila! Thanks for supporting America Travelocity.
Fact Sheet
Publisher:

travelocity

Category:

Travel

Released:

Jul 11, 2008

Current Version Released:

Oct 06, 2017

Version:

17.39

Size:

129.9 MB

Compatibility:

Requires iOS 10.0 or later.

Recommended Age:

4+

Game Center Certified:

No

Supported Devices:

iPhone5-iPhone5, iPadFourthGen-iPadFourthGen, iPadFourthGen4G-iPadFourthGen4G, iPhone5c-iPhone5c, iPhone5s-iPhone5s, iPadAir-iPadAir, iPadAirCellular-iPadAirCellular, iPadMiniRetina-iPadMiniRetina, iPadMiniRetinaCellular-iPadMiniRetinaCellular, iPhone6-iPhone6, iPhone6Plus-iPhone6Plus, iPadAir2-iPadAir2, iPadAir2Cellular-iPadAir2Cellular, iPadMini3-iPadMini3, iPadMini3Cellular-iPadMini3Cellular, iPodTouchSixthGen-iPodTouchSixthGen, iPhone6s-iPhone6s, iPhone6sPlus-iPhone6sPlus, iPadMini4-iPadMini4, iPadMini4Cellular-iPadMini4Cellular, iPadPro-iPadPro, iPadProCellular-iPadProCellular, iPadPro97-iPadPro97, iPadPro97Cellular-iPadPro97Cellular, iPhoneSE-iPhoneSE, iPhone7-iPhone7, iPhone7Plus-iPhone7Plus, iPad611-iPad611, iPad612-iPad612, iPad71-iPad71, iPad72-iPad72, iPad73-iPad73, iPad74-iPad74, iPhone8-iPhone8, iPhone8Plus-iPhone8Plus, iPhoneX-iPhoneX,

Supported Languages:

English; French;