Screenshots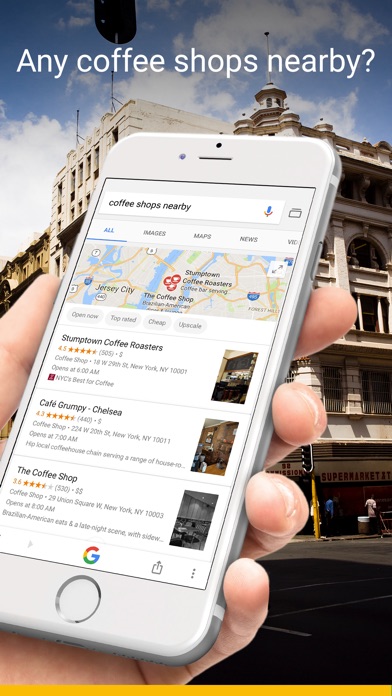 New in version 37.0
• Now supporting Drag and Drop on iPad. Drag content you find in the Google app and drop it into whatever app is open next to it. Try using this feature to add content from Google to your emails, presentations, and notes, or even drag text from other apps to search it in the Google app.

We are always working to make the app faster and more stable. If you are enjoying the app, please consider leaving a review or rating!
Description
The Google app keeps you in the know about the things you care about. Find quick answers, explore your interests, and get a feed of stories and updates on topics that matter to you. The more you use the Google app, the better it gets.

Search and browse:
• Nearby shops and restaurants
• Live sports scores and schedules
• Movies times, casts, and reviews
• Videos and images
• News, stock information, and more
• Anything you'd find on the web

Get personalized updates in your feed:
• Stay in the know about topics that interest you
• Start your morning with weather and top news
• Get real time updates on sports, movies, and events
• Know as soon as your favorite artists drop new albums
• Get stories about your interests and hobbies
• Follow interesting topics, right from Search results

More ways to access Google:
• Gboard – access Google Search, right from your keyboard. Gboard is a keyboard that lets you search and send information, GIFs, emoji, and more—right from your keyboard, in any app. Tap "Gboard" in your app settings to get started.
• Trending on Google widget — find out what's trending in your area with our Trending on Google widget. Use 3D Touch on the app icon to add the widget
• 3D Touch — 3D touch the app icon for quick shortcuts, or use 3D touch in the app to get previews for search results.
• Search by Voice - Say "Ok Google" to search for anything, hands-free.

Learn more about what the Google app can do for you: http://www.google.com/search/about
iPad Screenshots
Reviews
Thanks
If so how much is your favorite part of the
Close all tabs is gone
Bring it back. Stop making choices for me! I want control of the way my app works. I don't want pages to be automatically closed after 7 days. I want the choice as to when to close them. I also want to be able to close them all at once. Why would you remove functionality? So stupid!
Meh minus
Simply doesn't work with iPhone. If that's their way to sell more Google phones, it's pretty lame.
Goooood
asal pakzad
on
10/19/2017
Fabulous ✨❤️
New Update
This new update is good but app keeps freezing when I click on the weather icon. Everytime it freezes so for now on I have to search for the weather report 😪
Good
Thuyein Laminn
on
10/19/2017
Like this
Where is google search
What happened to my google app can't locate it or related apps such as YouTube. One day I seen it on my iPhone next minute disappeared and it won't allow me to load it again. I miss it! 😏
Close tabs one at a time
Still Bitter
on
10/19/2017
Can't close all tabs at once anymore. Biggest pain to go through and close each one individually.
Genius
Google is the best app creation ever.
Bottom navigation bar annoying AF
I love the app but ever since they installed the bottom navigation bar when I'm scrolling on other pages it makes me crazy. I'd rather open google in safari than deal with this crap. And I've searched the web and can't find anyone who can tell me how to turn this annoying thing off! 😡
It won't let you put what you want
Mom stuck at home
on
10/18/2017
I do not favor the app
PDF Loss Frustration on iPad
The development team needs to figure a way that allows export to Adobe. The only option provided is open in Safari from which you can port to Adobe. Some sites using dynamic info loaded into a PDF framework causes loss of info requiring starting in Safari anyway. Will start going directly to Safari soon
Google - Waze
Trying to see a map in google and get transferred to Waze. Waze can't find the location. I.e, search for Caspian Sea, result a map of the sea and the location, tap on the map and u r transferred to Waze which can't find the location.
Drains my battery...
30% battery used by Google audio when I have used voice search.
Satisfied Google User
Echolsfam82
on
10/18/2017
I have used Google for many years. My only regret is when I was invited to invest in Google, I passed on it. I enjoy the features of gmail, the Google calendar, gmaps, and scheduling. There are other features Google now offers which I have not yet tried. I have also enjoyed the many years of information at my "finger tips" that Google has provided. I could go on and on about Google. Google is my "go to" internet provider.
Too bad for too 🤧👎🏽
The application is very poor and greatly reduced in the light year even😤😤😤
Can't remove the bottom floating popup menu bar
heather17015
on
10/18/2017
How do I remove the super annoying floating menu bar at the bottom of Google iOS app window. I've checked all the settings but nothing hides it permanently. I've started using the Duck Duck Go again because the bar is so obstructive. Please give us the option to turn it off/on. It's always in the way.
Clear Pages
Josh Hockman
on
10/18/2017
Bring back the feature to clear all open pages at one time.
Hey
There's no way you're a size 6
I love(sarcastically)this app!
TheSteeezyReviews
on
10/17/2017
I mean it's google what else is there to say.
Love Google but not the news
I use Google for just about everything. Why can't they get the news themselves rather than mooching off other feeds? Just asking....
Google
Missy101767
on
10/17/2017
Great app. Very easy to use. I can find everything I need on it. Love asking my ? And be able to find the answers. Thank you for making this app so easy to use.
Title
jaylen lengacher
on
10/17/2017
Love google! Keep up the good work! God Bless!
Amazing
The goat6924
on
10/17/2017
Google has the answer to literally all my problems!
Freezing
skittymcnando
on
10/17/2017
EDIT: no more freezing, but the app has been skipping back a varying amount of seconds when I watch videos on it. At first I thought it was the one site, but it's everything. I'm uninstalling and reinstalling to see if that fixes it. If not, please fix. ———————————————————— Love it, however there's been a recent issue with the app freezing. It usually only freezes on sights like reddit, tumbler, or twitter, but now it's freezing on the home screen and searches. Fix please?
Love google
If you can't find it on google it doesn't exist lol
Yay Google
LittleMissGlasses
on
10/17/2017
Dependable and wonderful.
Awesome app
Totally recommend getting this app. It's safe, secure, reliable. The devs are always improving. I have never had the app crash on me. Plus the devs add new content to make your browsing experience better. Two thumbs up from me. Keep it up Google!
The world at my fingertips!
oldtiredrancher
on
10/17/2017
Use it constantly. Superb voice support makes seeking information fast and easy. I feel like I have the world's information in the palm of my hand.
Love Google!
Ukulele Liz
on
10/17/2017
I use it almost every day. I'd be lost without it, Elizabeth
Close ALL tabs
Boo Radley TKMB
on
10/17/2017
Why remove close all tabs feature????? This must be a mistake. Happy to give you 5 stars back when you fix it or tell me what I'm doing wrong? Please put close all tabs back. Close all tabs. Close all tabs. Close all tabs. Because who likes swiping to close all pages, no one, no one, no one. Swipe, swipe, swipe...
Can't close all recent tabs
Mighty Ister
on
10/17/2017
Why would you remove this???? I'm stuck closing out all my recents 1 by 1.
Refuses to load
Brownboiwest
on
10/17/2017
Cant see my Google feed for nothing it's my go to place for real news and current events....please fix
Great app
I love the google app and love the google keyboard even more!!!
Pecan 15
Sexy pecan brown Leo
on
10/17/2017
I love google I get excellent information I needed and keep me up to date
Yeah, it's great.
Jex Universe
on
10/17/2017
It comes with a keyboard. The keyboard does everything the default board can do. The plus is that it uses the swiping technology to type, and you can google something right from the keyboard. Insane.
Spies on you
The application tracks your every search and the information is used to build a detailed profile of you that is sold to advertisers. Don't use.
Update
menu that shows your open tabs is buggy and forces you to close all your open windows one by one. Bad design.
Ok google
LonewolfBob
on
10/16/2017
Simply the best app!
Restore the mic-beep please
I recently upgraded to an iPhone 7, and now there is no beep when I hit the mic button to the Google search app - also no beep when I say "OK Google". Will Google restore this beep? It was useful.
Recent pages is awful
Andre74117348484494
on
10/16/2017
App is fine but the recent pages is awful.
Clear all tabs
Rocket50908070
on
10/16/2017
Clear all tabs option is gone please bring it back
5 stars
This is an awesome app I recommend it more then Safari and everything else
Its google. It works. Were gonna use it.
Please give back the 'clear all pages' button so i dont have to flick 30 pages up to clear them. And get rid of the bottom google slider. Its annoying and messes me up
Recent updates have totally hosed this app
Prior to several, so-called, "improvements," I used this app all the time. They have completely ruined the ease-of-use features, so I now avoid the app like the plague. Hey Google, sometimes too many changes is NOT an improvement. Goodbye!
Omg update it
I hate hate hate that stupid related pages thing that pops up at the bottom... it's in the way and completely irrelevant ... there's no way to get rid of it so usually I end up going to safari. Too many times I accidentally click something there and it prevents me from seeing complete pages sometimes. SECONDLY why the hell did they change the option to clear all pages. Now I have to manually do it and it takes forever ... bring back the option to close all open pages
Irritating update
O.K. It's bad enough that it's always trying to get me to install Google Chrome, but now when I want to conduct a search it takes me to something I'm not the least bit interested in before I can type the first word of my search. This is really getting irritating, guys. I do not care what the majority of Americans are interested in; when I want to search, I want to search. 😡
The app won't stop closing on its own.
The app has been consistently crashing recently. I restarted my phone and updated it. I also downloaded the app again after deleting it, hoping that it was just a glitch, but nope. The only way I can use google is if I open it in Safari. Please fix this issue. (Update: it does the same thing with google photos too)
Fine but...
The "Clear All" option when I want to clear the websites I visited is gone! Please bring it back!!
Fact Sheet
Publisher:

Google, Inc.

Category:

Utilities

Released:

Jul 11, 2008

Current Version Released:

Oct 16, 2017

Version:

37.0

Size:

218.5 MB

Compatibility:

Requires iOS 9.0 or later.

Recommended Age:

17+

Game Center Certified:

No

Supported Devices:

iPad2Wifi-iPad2Wifi, iPad23G-iPad23G, iPhone4S-iPhone4S, iPadThirdGen-iPadThirdGen, iPadThirdGen4G-iPadThirdGen4G, iPhone5-iPhone5, iPodTouchFifthGen-iPodTouchFifthGen, iPadFourthGen-iPadFourthGen, iPadFourthGen4G-iPadFourthGen4G, iPadMini-iPadMini, iPadMini4G-iPadMini4G, iPhone5c-iPhone5c, iPhone5s-iPhone5s, iPadAir-iPadAir, iPadAirCellular-iPadAirCellular, iPadMiniRetina-iPadMiniRetina, iPadMiniRetinaCellular-iPadMiniRetinaCellular, iPhone6-iPhone6, iPhone6Plus-iPhone6Plus, iPadAir2-iPadAir2, iPadAir2Cellular-iPadAir2Cellular, iPadMini3-iPadMini3, iPadMini3Cellular-iPadMini3Cellular, iPodTouchSixthGen-iPodTouchSixthGen, iPhone6s-iPhone6s, iPhone6sPlus-iPhone6sPlus, iPadMini4-iPadMini4, iPadMini4Cellular-iPadMini4Cellular, iPadPro-iPadPro, iPadProCellular-iPadProCellular, iPadPro97-iPadPro97, iPadPro97Cellular-iPadPro97Cellular, iPhoneSE-iPhoneSE, iPhone7-iPhone7, iPhone7Plus-iPhone7Plus, iPad611-iPad611, iPad612-iPad612, iPad71-iPad71, iPad72-iPad72, iPad73-iPad73, iPad74-iPad74, iPhone8-iPhone8, iPhone8Plus-iPhone8Plus, iPhoneX-iPhoneX,

Supported Languages:

Arabic; Catalan; Valencian; Croatian; Czech; Danish; Dutch; Flemish; English; Finnish; French; German; Greek; Hebrew; Hindi; Hungarian; Indonesian; Italian; Japanese; Korean; Malay; Norwegian; Polish; Portuguese; Romanian; Moldavian; Russian; Chinese; Slovak; Spanish; Castilian; Swedish; Thai; Chinese; Turkish; Ukrainian; Vietnamese;

Parental Advisory:

Unrestricted Web Access;