Screenshots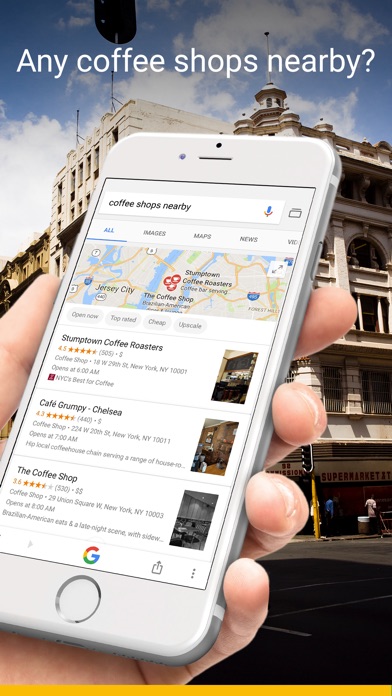 New in version 40.0
• Bug fixes and performance improvements.
 
We are always working to make the app faster and more stable. If you are enjoying the app, please consider leaving a review or rating!
Description
The Google app keeps you in the know about the things you care about. Find quick answers, explore your interests, and get a feed of stories and updates on topics that matter to you. The more you use the Google app, the better it gets.

Search and browse:
• Nearby shops and restaurants
• Live sports scores and schedules
• Movies times, casts, and reviews
• Videos and images
• News, stock information, and more
• Anything you'd find on the web

Get personalized updates in your feed:
• Stay in the know about topics that interest you
• Start your morning with weather and top news
• Get real time updates on sports, movies, and events
• Know as soon as your favorite artists drop new albums
• Get stories about your interests and hobbies
• Follow interesting topics, right from Search results

More ways to access Google:
• Gboard – access Google Search, right from your keyboard. Gboard is a keyboard that lets you search and send information, GIFs, emoji, and more—right from your keyboard, in any app. Tap "Gboard" in your app settings to get started.
• Trending on Google widget — find out what's trending in your area with our Trending on Google widget. Use 3D Touch on the app icon to add the widget
• 3D Touch — 3D touch the app icon for quick shortcuts, or use 3D touch in the app to get previews for search results.
• Search by Voice - Say "Ok Google" to search for anything, hands-free.

Learn more about what the Google app can do for you: http://www.google.com/search/about
iPad Screenshots
Reviews
Pleeease
Meowkittehz
on
12/12/2017
Bring back the tap left or right option when "scrolling" images. swiping is inefficient.
Crashing
Tree lover elephant 22
on
12/12/2017
I've had a problem with this app crashing or freezing up. Nothing tragic just annoying. If this could be fixed it would make my experience a whole lot better. Thanks!!
Google wins
Shelley Mendias
on
12/12/2017
Yahoo, bing, aol. Google wins outright
Where did the "Ok, Google" sound go on iPhone (iOS11.2)?
There used to be a chime to signify the start and end of a voice search on iPhone. Now gone. Still have it on iPad(same iOS version), though. What the heck happened?
Amp pages not displaying properly
I noticed today that any amp pages that show up in the newsfeed will not fully render. It's as if only half the article is loading, then just a lot of white space.
Locks up when deleting history
Math illiterate
on
12/12/2017
When swiping up to delete history the app locks up after closing 5 windows. 12/12/17- app still locks up when deleting individual search history in the app. iPhone X.
Built for advertisers, AVOID THIS APP
picketfence14
on
12/12/2017
The Google app's gotten progressively worse in 2017, becoming slower, clunkier, and now completely removing the ability to swipe an article off your screen. This was a fundamental feature in this app, so it's pretty obvious they just want to boost the views on the articles / ads. Seriously just avoid this.
Google is great
LCTX Family
on
12/12/2017
Is there anything else?!
My lifeline of answers
bikerbabe2787
on
12/12/2017
Google is both noun and verb greater than an encyclopedia, remember those? A-Z?? Thank you GOOGLE! Sharon
SWIPE REMOVED!!
MadeInTexas
on
12/12/2017
I browse google images a lot. Can no longer swipe an image out of the way to get back to results page. WHAT WERE YOU THINKING, Google? Don't fix what isnt broken FFS!
What house?
lover of the goog
on
12/11/2017
I really don't understand how it is that anybody out there does not use Google maybe it's just me but I simply don't get it
Now perfect!
RX_Schlegel16
on
12/11/2017
I like it a lot and still use it as my main search app. However, with the update I can no longer figure out how to close all my old searches quickly. I have to close each search individually. Otherwise really great app. Update: they added the clear all button back! Now perfect again
Frequently bugs out and collapses
Major freezing and random app closing
Mr.P
Totally incredible... I'm able to ask and often the answers are more than I could have imagined keep this appproviding unlimited data for all venues, 5- stars isn't snuff
Excellent and totally up to date
I need reliable information as I'm an emergency room Physician
I think Google is the next thing 👍
Therealmaxman
on
12/11/2017
With google going into the phone business I think they will be the #1 phone on the market
Love it, But...
Guest127271
on
12/11/2017
I love google chrome but it keeps freezing on the latest update
You can longer swipe cards on youe Feed!
Why did Google remove this functionality. The current process to hide a story / remove a card from your Feed is horribly inconvenient!
Nice
babakjamshidi
on
12/10/2017
Nice
Freezing
Spongebobwhatpants
on
12/10/2017
Keeps freezing when a tab is closed. -Still happening
Incognito
The poopy poop
on
12/10/2017
How the hell do you access incognito tabs!?!?!?!?!
Search bar moves after opening
GregoryXandrew
on
12/10/2017
I open the app, immidiately tap search. I've done this for years. Now a second after opening, it moves the search bar and puts that God awful sports button in my way. To hell with that thing, I don't want it or any of the others next to it. And don't let the search bar move when it opens. It's infuriating.
cool cool fam squad
get this app its better than safari in most ways and Gboard is fkn lit too
Keep up the good job! Merry christmas
Love google, thanks!
Google is forcing me to do this
The cost of using Google is that, once in a while, Google wants a user to write a review and won't allow access to any Google services until the review is submitted. I would have left a complimentary review if I hadn't been coerced. There you have it, Google.
Fanfiction
Okay when I was going to fanfiction network it won't even load what with that, please fix that, or update that, so it can be fix, also……STOP FCC PLEASE IT STUPID IN SO MANY WAYS!!!!!!!!!!!!!
Crashes when deleting old pages
I hope you fix it soon!!! Sorry for another bad review but the app is now crashing on my phone multiple times since the update.
Ilovegoogle
N._.O._.N._.E._.
on
12/9/2017
Ilovegoogle because it's just awesome!!!!!!
Great but a bugs
There's this very annoying bug with the iPhone 8 and 8 Plus and that is that sometimes when your reading a article the states bar does not hide to still shows getting in the way it's annoying please fix it. And also please fix the cant scroll bug in wiki edit templates. Also the search can not refresh after you do another edit and the type Sound sometimes is silent for 3 seconds.
No Google Now cards widget included
Without a Google Now cards home screen widget, this is just 2 stars. I really loved the widget in Android, with weather and cards like flight info, packages, news, etc.. Now changing to iOS made it way less useful, since there is no widget I could add (only for Assistant, but that doesn't show anything, but a tap to talk icon), I would need to start Google app each time I would check my cards.. and i'm just too lazy to do that... Also Android Wear integration is poor, I would like to use Assistant as I used with Android, say navigate to [...] and it should just start gmaps and start navigation.. instead, it shows a G search result.. Google, there's a lot more to do if you want to attract iPhone users.
Was 5 stars until update
This was definitely a 5 Star app until the most recent update. Now every time I try to close all of my open windows it freezes up my phone once I'm trying to close the last one. Each time I have to force close google and several times I've had to restart my phone to fix the problem. Fix this issue and it'll be 5 stars again.
One Tiny problem.. but love it!
I've been using this google app for as long as I can remember because personally, I find it less cluttery than safari. I typically don't like having a search history on because it's just too much to clear out once it accumulates and google has allowed me to do that seemlesly for the longest time, but now I've come across the issue that I have to manually switch browse history off every single time I open the app, because the search I've done from one prior time, is still on there. I hope it's just a bug and can be fixed because I don't want to have to manually switch over every single time I use it, where as before, you did it once and you were set and good to go up until this most recent update. Thank you google!
Got rid of swipe to dismiss
Even as a longtime Nexus owner, the only good use of google now was to have a news feed that was fairly eclectic and easy to dismiss items and replace them with more. They got rid of the swipe dismiss recently, so I'm done with it. Piss off, google, you're dead to me.
News stories not fully loading
Please update app...clicking on news links only loads about 1/4 of the page and stops. All you see below that is blank. I have to open it in safari to read the full story and it's annoying.
Google Now Accent
I never lived in India nor have I ever visited India. But Google Now and other services have started speaking in a female voice with Indian English accent. Now I don't understand anything. Why did you change that accent without my permission?????!?
Bring back the swipe function for stories
I love the app, but after a recent update I noticed o could no longer swipe stories away on my homepage. I didn't realize how easy or convenient this feature was until it was gone. Now when I'm done with a news story, I have to click in the corner of the story and press "Hide this story." It was so much better when I could just swipe it away instead. Please bring pack the swipe function for news stories on the main page.
It's ok
Google sends me lots of cat stories which is annoying. Most political stories are slanted in favor of one candidate and against the other. I want to read the news of the day. I'm not interested in Googles personal opinion on either candidate. Hence the 2 star rating.
Bring back the swipe
Bring back the swipe to clear out cards that you have already viewed. Why would you ever remove such a feature?
Bring swipe-to-hide back!!! Update 12/7/17
...And uninstalled. As I said, I refuse to support an app (I know it's free but Google is getting data and /or ads from this) that is cumbersome to use. Too many news feeds to choose from otherwise. Seriously... which of us users said "wow, this swipe-the-story-away feature is really annoying"?!? You took it away in android, it so happens I switch to iPhone and see that the swipe still exists. Great! Well now you've taken it away. Look, I appreciate this news feed based on my interests. But if the app is annoying to use, I will treat it just like any other - with an uninstall. The 2 week countdown to bring the swipe back begins NOW.
The loving girl 😍
the sponge monsters
on
12/7/2017
I love everything and everyone else I have ever seen in here,boerne TX and other states and cities.
Loading problems
Mixtape listener
on
12/7/2017
This app will only have the load the articles when I try to read. It's so annoying. It's not a WiFi problem bc I've tried it in public and at home and also using LTE. The pages simply won't load and there is no way to refresh without exiting out. And after that it still won't work properly
No Voice
I have been using Google search for many years. The microphone for Google worked for a week with the app on my iPhone X. The microphone works with everything else. No one can tell me what is wrong.
For the love of God remove the lower bar
It's annoying when trying to scroll and takes up so much real estate.
Hillary shill
Stop being such a liberal Clinton dnc supporting shill!
Nothing beats Google (well, maybe Chrome)
@Phillies_Fever
on
12/6/2017
Google is the gold standard in search engines. Everyone knows that. Why would anyone use something else? Safari? Why? It cuts off 25% of the screen on my iPad. Internet Explorer? Do they make that anymore? In some cases I do use Google Chrome. One of my news sites can only be accessed with Chrome. I'm finding it loads slowly and I got to tap the screen a bunch of times to make it work. I'll stick with Google. Need to find something on the Internet? Google it.
App freezes on iPhone X
maharg sivart
on
12/6/2017
I can't clear individual pages since upgrading to iPhone X. It freezes. However I can clear all pages still
Ok google won't work on new iPhone X
Rsmccormick In.
on
12/6/2017
Ok google won't work on new iPhone X
Works Great!
Love this app
Crashes too often
I love this app or should I say the idea of it. Whenever I try reading an article, it crashes half way through reading it. It is too frustrating to try to read anything. Finally had to delete it for good. I'll try again if another version comes out.
why do you keep disabling swipe to dismiss??
I really like this app as a news aggregation tool, but you keep disabling the ability to dismiss articles via swipe. The interface is cluttered and redundant when you can't dismiss what you've already seen.
Fact Sheet
Publisher:

Google, Inc.

Category:

Utilities

Released:

Jul 11, 2008

Current Version Released:

Nov 30, 2017

Version:

40.0

Size:

235.8 MB

Compatibility:

Requires iOS 9.0 or later.

Recommended Age:

17+

Game Center Certified:

No

Supported Devices:

iPad2Wifi-iPad2Wifi, iPad23G-iPad23G, iPhone4S-iPhone4S, iPadThirdGen-iPadThirdGen, iPadThirdGen4G-iPadThirdGen4G, iPhone5-iPhone5, iPodTouchFifthGen-iPodTouchFifthGen, iPadFourthGen-iPadFourthGen, iPadFourthGen4G-iPadFourthGen4G, iPadMini-iPadMini, iPadMini4G-iPadMini4G, iPhone5c-iPhone5c, iPhone5s-iPhone5s, iPadAir-iPadAir, iPadAirCellular-iPadAirCellular, iPadMiniRetina-iPadMiniRetina, iPadMiniRetinaCellular-iPadMiniRetinaCellular, iPhone6-iPhone6, iPhone6Plus-iPhone6Plus, iPadAir2-iPadAir2, iPadAir2Cellular-iPadAir2Cellular, iPadMini3-iPadMini3, iPadMini3Cellular-iPadMini3Cellular, iPodTouchSixthGen-iPodTouchSixthGen, iPhone6s-iPhone6s, iPhone6sPlus-iPhone6sPlus, iPadMini4-iPadMini4, iPadMini4Cellular-iPadMini4Cellular, iPadPro-iPadPro, iPadProCellular-iPadProCellular, iPadPro97-iPadPro97, iPadPro97Cellular-iPadPro97Cellular, iPhoneSE-iPhoneSE, iPhone7-iPhone7, iPhone7Plus-iPhone7Plus, iPad611-iPad611, iPad612-iPad612, iPad71-iPad71, iPad72-iPad72, iPad73-iPad73, iPad74-iPad74, iPhone8-iPhone8, iPhone8Plus-iPhone8Plus, iPhoneX-iPhoneX,

Supported Languages:

Arabic; Catalan; Valencian; Croatian; Czech; Danish; Dutch; Flemish; English; Finnish; French; German; Greek; Hebrew; Hindi; Hungarian; Indonesian; Italian; Japanese; Korean; Malay; Norwegian; Polish; Portuguese; Romanian; Moldavian; Russian; Chinese; Slovak; Spanish; Castilian; Swedish; Thai; Chinese; Turkish; Ukrainian; Vietnamese;

Parental Advisory:

Unrestricted Web Access;