Screenshots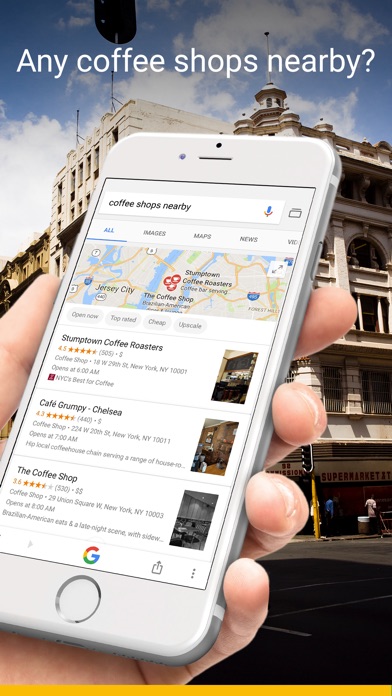 New in version 37.0
• Now supporting Drag and Drop on iPad. Drag content you find in the Google app and drop it into whatever app is open next to it. Try using this feature to add content from Google to your emails, presentations, and notes, or even drag text from other apps to search it in the Google app.

We are always working to make the app faster and more stable. If you are enjoying the app, please consider leaving a review or rating!
Description
The Google app keeps you in the know about the things you care about. Find quick answers, explore your interests, and get a feed of stories and updates on topics that matter to you. The more you use the Google app, the better it gets.

Search and browse:
• Nearby shops and restaurants
• Live sports scores and schedules
• Movies times, casts, and reviews
• Videos and images
• News, stock information, and more
• Anything you'd find on the web

Get personalized updates in your feed:
• Stay in the know about topics that interest you
• Start your morning with weather and top news
• Get real time updates on sports, movies, and events
• Know as soon as your favorite artists drop new albums
• Get stories about your interests and hobbies
• Follow interesting topics, right from Search results

More ways to access Google:
• Gboard – access Google Search, right from your keyboard. Gboard is a keyboard that lets you search and send information, GIFs, emoji, and more—right from your keyboard, in any app. Tap "Gboard" in your app settings to get started.
• Trending on Google widget — find out what's trending in your area with our Trending on Google widget. Use 3D Touch on the app icon to add the widget
• 3D Touch — 3D touch the app icon for quick shortcuts, or use 3D touch in the app to get previews for search results.
• Search by Voice - Say "Ok Google" to search for anything, hands-free.

Learn more about what the Google app can do for you: http://www.google.com/search/about
iPad Screenshots
Reviews
Bring back close all tabs
Mikesterpop
on
10/22/2017
Closing tabs now is much more of a chore than before as you cannot close all of them at once. It is even harder to individual close a tab.
Review of Google
A wealth of information! I can search by asking in very few words or specific words. Have trouble closing windows though.
Google
Big swimmer
on
10/22/2017
Excellent, easy access, can get u where u need to go immediately. I'm always answering questions through Google when I'm on the phone. Awesome!
I love Google!
Call me Rere
on
10/22/2017
Google is a big part of my life. I use Google for just about everything. I use Google more than any search engine. I would like to be able to customize my Google search background. The simple white background is *BLAH* Please find a way to be able to set a background to Google for iPad. Just like I can customize stores I am interested in, I want to be able to have options to customize the background. Thanks!
Thank you
For always being on point!
Just the facts...
Whenever I have to get the facts straight I Google it
Issues with update
Sickestappleplayer
on
10/22/2017
They app was alright until I installed an update and now I can't change account because the top left button shuts me out when I click on it.
جميل جدا
ماتربط ع فيس لماذا
on
10/22/2017
واو
Closing Pages
The function to close/delete multiple pages is gone and forced you to close one at a time which is annoying. Also the window on the bottom gets in the way.
Google Now Recommendations worthless
I hope you enjoy clickbait, because that's all I seem to get in my Google now recommendations. You'd think after 10 years of being a Google user they would have better targeting information
Great
undertale nerd04
on
10/22/2017
Helps me when time to study!!
Google
The connection is horrible when on certain websites
Love Google
Mememymy321
on
10/22/2017
I Google everything! I have tried every other search engine and nothing comes close!
Love my Google....
RiverSheWolf13
on
10/22/2017
But as of today, hate the way to delete old pages. The old way was much easier and quicker. Click and x and gone...now swipe up, wait for page to come to view, swipe up and keep repeating!! Ugh
Google is so awesome!!!!!!!!
I love it 😍
Good tool to bring relevant news and updates to you
From the Google environment. If you use Gmail and Google maps, it'll integrate package tracking, common routes you travel, etc. into the apps' updates. Becomes a very useful tool.
New tabbing annoying
New page tabbing interaction is a little straining. Doesn't detect swiping up to dismiss a tab very well. Horizontal and vertical detection is not very accurate and makes it hard to swipe away things quickly.
Browsing
Hotlanta555
on
10/21/2017
The window at the bottom is aggravating and interferes with browsing!!
Destroyed Google Now
Google has completely destroyed Google Now. It used to be filled with relevant cards that were tailored to my day — my personal microcosm. Now it's just become a cheap version of Flipboard: a bunch of irrelevant articles with next to zero relevant cards. It's basically a huge click bait feed. Super disappointed in Google.
Renee
Love it very helpful
The Best
Love it always come thru
Not showing appointments in iOS
Venkata Pothula
on
10/21/2017
App is not showing appointments in iOS whereas I am seeing appointments in my android phone. I am able to see only drive to home and to work and weather. But android app is working good. Please fix these issues in iOS.
Disability disabled rider
Disability rider
on
10/21/2017
This app could always use an improved update & upgrade!
Not bad, but not great
Typical Google application. Ease of use and minimalist design are trademark Google style. My qualms are with the crashes and the stuttering that comes with constant use and updates.
This new update is horrible
Image search is now horrible
Horrible update!!!
Google app was my savior on my iPhone, but there was a new update where whenever you're on a page in google a box pops up at the bottom that says "people also view" which hides half of the screen I am trying to read. I'm now going to try out other search apps because I am so frustrated. If google changes this feature or makes it so you can turn it off I'll keep using, but in the meantime I need to start looking at other options.
Bring back "close all" button
Please bing back option to close all tabs together. I rely heavily on Google search and my phone is now a mess
Review
I don't think that you should follow and record our places we visit. If I had another web browser to protect me I would use it. I know they are out there but I'm not tech savvy enough. One last thing, what you did to your employee who wrote what he thought was wrong and got fired was completely good.
Rotten update
It wasn't worth 3 stars before Then they did a update and made completely worthless
Nah
app too slow to open by that time I could've went to safari then private browsing and google by the time this app opens
Google App
Asafo Asafo Diol
on
10/20/2017
It is a very effective and useful app. I especially like this one above all previous ones.
AMAZING
Puppies_lau8
on
10/20/2017
This app is absolutely AMAZING !! it's so fast. although i would like that you would be able to search without internet.
New features are a pain!!
My new favorite social media!
on
10/20/2017
The new feature where google remains as a pop up screen at the bottom of the web page once I've clicked/landed on a page is a pain. I clicked on a link because I wanted to go there. I'll go back to the main page if I need to.
Doesn't work
It won't update. I've been trying for 3 days now.
Sex
I love the sex vids bro
Not as good as the browser version 👎
The Asstronaught
on
10/19/2017
How come in chrome and on most browsers it allows you to see different settings like gifs, hd, recent, clip art, and even different colors but in this app we have none of that, please add those features 👍
No more updated news not even able to close all my tabs
Googleisdoingbad
on
10/19/2017
This app is becoming worse and worse. Google, can you wake up?
Google
I love google because you can do anything 😻
Web browser
Went to a different web browser because I hate the pop up window in the bottom of the screen!
Thanks
If so how much is your favorite part of the
Close all tabs is gone
Bring it back. Stop making choices for me! I want control of the way my app works. I don't want pages to be automatically closed after 7 days. I want the choice as to when to close them. I also want to be able to close them all at once. Why would you remove functionality? So stupid!
Meh minus
Simply doesn't work with iPhone. If that's their way to sell more Google phones, it's pretty lame.
Goooood
asal pakzad
on
10/19/2017
Fabulous ✨❤️
New Update
This new update is good but app keeps freezing when I click on the weather icon. Everytime it freezes so for now on I have to search for the weather report 😪
Good
Thuyein Laminn
on
10/19/2017
Like this
Where is google search
What happened to my google app can't locate it or related apps such as YouTube. One day I seen it on my iPhone next minute disappeared and it won't allow me to load it again. I miss it! 😏
Close tabs one at a time
Still Bitter
on
10/19/2017
Can't close all tabs at once anymore. Biggest pain to go through and close each one individually.
Genius
Google is the best app creation ever.
Bottom navigation bar annoying AF
I love the app but ever since they installed the bottom navigation bar when I'm scrolling on other pages it makes me crazy. I'd rather open google in safari than deal with this crap. And I've searched the web and can't find anyone who can tell me how to turn this annoying thing off! 😡
Fact Sheet
Publisher:

Google, Inc.

Category:

Utilities

Released:

Jul 11, 2008

Current Version Released:

Oct 16, 2017

Version:

37.0

Size:

218.5 MB

Compatibility:

Requires iOS 9.0 or later.

Recommended Age:

17+

Game Center Certified:

No

Supported Devices:

iPad2Wifi-iPad2Wifi, iPad23G-iPad23G, iPhone4S-iPhone4S, iPadThirdGen-iPadThirdGen, iPadThirdGen4G-iPadThirdGen4G, iPhone5-iPhone5, iPodTouchFifthGen-iPodTouchFifthGen, iPadFourthGen-iPadFourthGen, iPadFourthGen4G-iPadFourthGen4G, iPadMini-iPadMini, iPadMini4G-iPadMini4G, iPhone5c-iPhone5c, iPhone5s-iPhone5s, iPadAir-iPadAir, iPadAirCellular-iPadAirCellular, iPadMiniRetina-iPadMiniRetina, iPadMiniRetinaCellular-iPadMiniRetinaCellular, iPhone6-iPhone6, iPhone6Plus-iPhone6Plus, iPadAir2-iPadAir2, iPadAir2Cellular-iPadAir2Cellular, iPadMini3-iPadMini3, iPadMini3Cellular-iPadMini3Cellular, iPodTouchSixthGen-iPodTouchSixthGen, iPhone6s-iPhone6s, iPhone6sPlus-iPhone6sPlus, iPadMini4-iPadMini4, iPadMini4Cellular-iPadMini4Cellular, iPadPro-iPadPro, iPadProCellular-iPadProCellular, iPadPro97-iPadPro97, iPadPro97Cellular-iPadPro97Cellular, iPhoneSE-iPhoneSE, iPhone7-iPhone7, iPhone7Plus-iPhone7Plus, iPad611-iPad611, iPad612-iPad612, iPad71-iPad71, iPad72-iPad72, iPad73-iPad73, iPad74-iPad74, iPhone8-iPhone8, iPhone8Plus-iPhone8Plus, iPhoneX-iPhoneX,

Supported Languages:

Arabic; Catalan; Valencian; Croatian; Czech; Danish; Dutch; Flemish; English; Finnish; French; German; Greek; Hebrew; Hindi; Hungarian; Indonesian; Italian; Japanese; Korean; Malay; Norwegian; Polish; Portuguese; Romanian; Moldavian; Russian; Chinese; Slovak; Spanish; Castilian; Swedish; Thai; Chinese; Turkish; Ukrainian; Vietnamese;

Parental Advisory:

Unrestricted Web Access;