This version of the app is not recommended
App last updated
Dec 14, 2017
Screenshots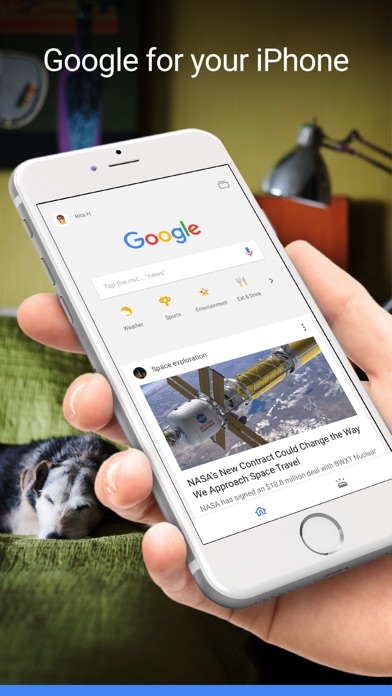 New in version 41.0
• Bug fixes and performance improvements.

We are always working to make the app faster and more stable. If you are enjoying the app, please consider leaving a review or rating!
Description
The Google app keeps you in the know about the things you care about. Find quick answers, explore your interests, and get a feed of stories and updates on topics that matter to you. The more you use the Google app, the better it gets.

Search and browse:
• Nearby shops and restaurants
• Live sports scores and schedules
• Movies times, casts, and reviews
• Videos and images
• News, stock information, and more
• Anything you'd find on the web

Get personalized updates in your feed:
• Stay in the know about topics that interest you
• Start your morning with weather and top news
• Get real time updates on sports, movies, and events
• Know as soon as your favorite artists drop new albums
• Get stories about your interests and hobbies
• Follow interesting topics, right from Search results

More ways to access Google:
• Gboard – access Google Search, right from your keyboard. Gboard is a keyboard that lets you search and send information, GIFs, emoji, and more—right from your keyboard, in any app. Tap "Gboard" in your app settings to get started.
• Trending on Google widget — find out what's trending in your area with our Trending on Google widget. Use 3D Touch on the app icon to add the widget
• 3D Touch — 3D touch the app icon for quick shortcuts, or use 3D touch in the app to get previews for search results.
• Search by Voice - Say "Ok Google" to search for anything, hands-free.

Learn more about what the Google app can do for you: http://www.google.com/search/about
iPad Screenshots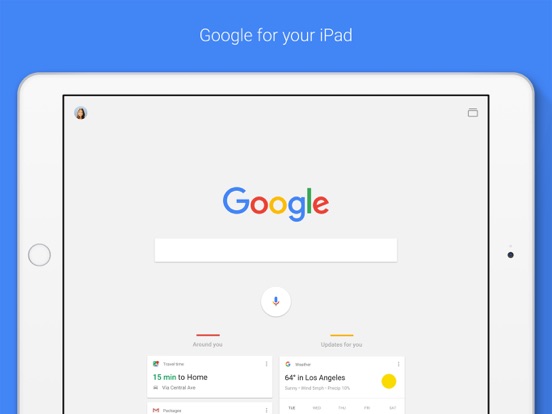 Reviews
I count on google
Travellady08
on
1/23/2018
Anytime I need an answer, no matter what, I can always ask google and get an answer. I'm truly amazed at the technology but thankful for it!
Amazing...
My absolute favorite app.
Grown way too distracting to justify
I've used this for awhile and I found its design is too focused on distracting us with news articles that are hard to ignore when they pop in front of you constantly but you can't turn off news either without turning off the whole feed which has other more benign info in it like driving directions etc. So alas I deleted the app as it was hindering me more than helping me with anything. Treat this like you would treat any other distracting media app. Great default app to turn to especially for those with a google account
Issues in Google for Iphonex IOS7
Hi Google team, I'm having issues in google since I have started using app in Iphone x. 70% times it gives me no connection and try again even after restarting the phone, WIFI several times. Please resolve this issue asap.
Please get rid of the stupid bar!!!
Chdtujnkksehb
on
1/23/2018
I like the app. It's quick and great but I hate the google bar at the bottom of the page. Most mobile sites have things for you to click on at the bottom of the page and that stupid pop-up bar makes it impossible to click them. I end up going to my home computer. A phone app is supposed to be easy. Just remove it already. Countless people have asked you too.
seamless, speedy, clean, satisfying
Like no other
Super love
Jessica000000824
on
1/23/2018
Exllent!
Worst app ever
Google doesn't actually find proper searches. It spies on you and I have tried to delete it but it makes me use it if I want a gmail account. Talk about Orwellian.
Pop ups
Ghftfgatrefjausgbsh
on
1/22/2018
First off we all would die without google! We all use it on a daily basis so... As the title says (and I'm sure you've experienced it) there has been "Amazon" pop ups giving you either an iPhone X or $1000. (so an iPhone X either way!) Normally this wouldn't be a problem, but it's inescapable! Once it appears you have to close the app! I know it's a fake because all of the reviews are short and 5/5 there will always be a 1/5 review I mean look at google's it has like 2 1 star reviews! Please fix this google!
Crashes when I try to share
Every time I try to share an article I was reading through the app, it crashes. It's so frustrating; please fix!
"Tray" when browsing results
Acrisp19837472&@1@"
on
1/21/2018
I really can't stand the new "tray" the persists when loading any result page. I get that the behavior includes hiding as I scroll, but I want an option to hide this. I'm more than capable of going back to look at additional results (and continuing my use of Google!) without this real estate hogging feature.
Identity theft
I had a google alert last week saying someone added there Mac to my account
My most used app on my phone
Tylerpaul1818
on
1/21/2018
I use this app more than any other. The only bad thing is how slow it is... not terrible but can be annoying if your trying to quickly find something.
Need Bookmarks
Please add bookmarks or a way to save or speed dial web pages. Or add Google Now to Chrome ( which already has bookmarks / favorites). The search and voice search are fantastic. Google Now is very cool. One simple modification and this app would blow all the others away - bookmarks or favorites. For those not getting very many cards with Google Now try syncing (and using Google Calendar), sync google plus, and use the app regularly. It gets better the more you use it. Google should also take a look at the app called Easilydo. There are number of functions in that app that could be added to Google Now.
App isn't working right.
When I search, and then search something else, it still shows what I searched previously in the search bar. This has been going on for a few weeks and it's frustrating.
Ads and spam are completely out of control
I have Adblock on my iOS and that takes care of my browsers, but apparently not of this search app. I get terrible clickbait ads everywhere, pop ups, spam, and those pop ups that just move you to another phishing website and you can't do anything and have to close the app and reboot it. I had to uninstall the app. Actually unbearable.
Won't use anymore. HATE the front page.
Shayyyynnaaaasaa
on
1/20/2018
The reason I loved google on desktop and mobile was because how simple the site was. No nonsense, just a search bar. I didn't have to look at any part of the internet I didn't want to see. I've had to stop using because it is spoiling all my favorite tv shows for me. If I open the app before I've seen an episode of something, it's spoiled immediately because the app uses my interests to put relevant articles below the search bar. Also sometimes I need a break from all the upsetting things that go on and I never know what I'm going to see when I open google. It gives me anxiety! I've tried to delete these subjects and they only come back with time. Such a silly reason to not use an app, but I can just use my browser to search, that's what's happened.
How do you find a word on a webpage?
It seems that with the latest update, you can no longer search for a word on a webpage. You used to be able, for example, see how many times the word "dog" appeared on a article or website. Why was this feature deleted? If it wasn't, how the heck do I find a word?
Tornadoes hurricanes and much more
Google is the best app ever because it has meteorologist stuff
what happened to the swipe gesture??
why is it no longer possible to swipe away cards from the home view? having to click on the upper right corner of a card to then dismiss it from the pop up menu is such a step back in usability and usefulness of that home view :(
Google App Keeps changing my settings
The google app keeps turning on my search history AFTER I turn it off.
Google
Use it all day long - entertainment for a 78 year old woman. Favorite expression - google it‼️
Best thing since sliced bread 😁
My most used app. A must have!!!
Better then Safari.
SuperKawaii"Shooting:3Girl"
on
1/19/2018
Anyway, I'm typing with Google Keyboard. Its a nice keyboard, too. It's really helpful, too. Whenever my friends are looking for definitions, I can copy and paste the meaning. Then, the app. It's good! To me, it's more organized. I like when it looks spaced out, and stuff like that. Anyway, no problems for me! Bye!
Good
shark world 2.0
on
1/18/2018
Google is a great system and it worked really well it doesn't take a long time to load and it always searches the things u want perfectly
Gets better with age
I've had this app for so long, it really just is my default all around. But please, oh PLEASE, bring back the swipe to dismiss cards... I thought I was going crazy one day when it suddenly didn't work anymore. BRING BACK SWIPE TO DISMISS!
Great
I love google for all the great information on google. Faithful user, Sherilyn vogel
Forget Siri
TalkinMakeup
on
1/17/2018
I titled this review "Forget Siri" because I do not ever get a straight answer from her however the google chic answers every question I ask her. Google is my everything as far as my go to app for accurate information it is an invaluable tool. Where else can you get can you get the weather, trending news, while getting a recipe and the correct spelling of supercalifragilistic
Cards not loading
Turned off feed, turned back on. Cards still not loading. Was working before latest update. You might want to wait for next update.
Bad Update
mr enjoyment
on
1/17/2018
By now on your phone or iPad you're using it on the go if you swipe something it's either to open it or make it go away and which case if you're looking at updates by Google on your Google+ homepage and you swipe it left you normally want it to go away not automatically open to that page what a waste of time I don't want to hit the icon that says hide this now I just want to swipe it away and let it be gone worst google update ever
Helpful
Always helpful. Answers all my questions
Google
This is my most used app. It's my "go to" because of its many functions.
Horrible
Legocaptain123.com
on
1/17/2018
Keeps going in horizontal, not compatible with ios
Google
THE BULLY DON
on
1/16/2018
Better than most other browsers
App continually freezes up
Nothing works right since iOS released 11.2.5. Freezes up all the time and requires force closing and restarting. Hope an update comes out soon to fix.
No dark mode!
Unfortunately, I cannot find the feature I use most... dark mode! Other than that, the app is great.
Spectacular!!
No matter what, you have to have this app, for security purposes or anything else you need!! Great job creators!!
WHY
I put "how are cookies made" it puts sex that's just NASTY 😡😡😡
Bring back swipe
I have no idea why the google headlines feature to swipe away stories after u are done was taken away. It is so obnoxious to individually click and hide each story. Really a step backwards
Couldn't live without it!
Rick Rick tick
on
1/14/2018
Wouldn't want to Couldn't live without it
Unusable.
I once thought nothing could be better than Google's search app. Now I'm constantly finding it to be unusable. Whenever a website places a link at the bottom of the page, I go to click it, and the google icon jumps up and gets in the way of clicking the link. It's beyond annoying. Huge oversight.
Bring back swipe to remove news stories
This used to be a 5 Star app. Please let us swipe to remove stories again.
Swipe to Dismiss?
Mlmatthews322
on
1/14/2018
I was going to use, and love, this app- very much. And then I realized I can't swipe to dismiss cards. I'm not sure who designed this UI but please know, the interface stinks to use... it stinks enough that I can't use the app simply due to the frustration it causes. Until next time, Google...
Good
Amazaning job
on
1/13/2018
Easy to use no hassle
Used to be perfect
The tab on the bottom of the app when you are searching or on a website is extremely annoying, doesn't allow you to click on stuff on the bottom of a page. Other than that it works like it did before
Google loosing
Matthewjoynes
on
1/13/2018
I remember being one of the first to adopt Google in the UK, these two crazy graduates I rooted for - there was honesty in the search it was easy to use Now I feel it's become the very thing that other were we could see becoming - big corporate, driving us to websites , throwing ads at us - It was the little adopters that championed you over at that time the big brothers It's now big brother it needs to get back to its simplicity - truthfulness - No traps for business or consumers One day someone will have a better solution and most likely it will be AI and no ad serving - no disingenuous search Rather than me discover that step back and say we did very well let's give them back our true spirit -
Goggle Review
I use Goggle exclusively when I need to search for information I need immediately or if I just want to expand my knowledge of a current geographical area .
Swipe keyboard
JenningsGraham
on
1/13/2018
The reason I have this app is for the swipe keyboard. This may be the single greatest feature of this app, as my major complaint about iPhones has always been the lack of one. However, since the latest update (11.2.1), there has been quite a lag between me finishing a word and it being entered onto the screen. If I type too fast, words sometimes won't get displayed as they get"typed over." This is extremely frustrating and completely ruins the point of swipe (fast texting), and therefore, the app (in my particular case). It may be an Apple issue, since it has only been happening since the most recent update, but there may be something you guys can do about it. This is a 5 star app, but since the update has been a 2 star app. Please fix this issue. (I have an iPhone SE if that matters at all) Thanks
Google
I freaking love google man ❤️
Fact Sheet
Publisher:

Google, Inc.

Category:

Utilities

Released:

Jul 11, 2008

Current Version Released:

Dec 14, 2017

Version:

41.0

Size:

249.5 MB

Compatibility:

Requires iOS 9.0 or later.

Recommended Age:

17+

Game Center Certified:

No

Supported Languages:

Arabic; Catalan; Valencian; Croatian; Czech; Danish; Dutch; Flemish; English; Finnish; French; German; Greek; Hebrew; Hindi; Hungarian; Indonesian; Italian; Japanese; Korean; Malay; Norwegian; Polish; Portuguese; Romanian; Moldavian; Russian; Chinese; Slovak; Spanish; Castilian; Swedish; Thai; Chinese; Turkish; Ukrainian; Vietnamese;

Parental Advisory:

Unrestricted Web Access;