Screenshots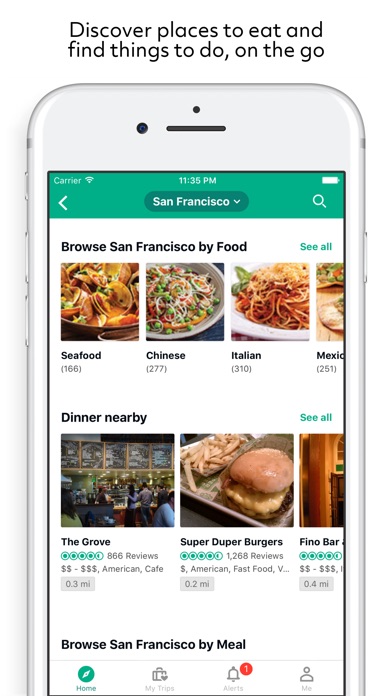 New in version 22.8
Thanks for using TripAdvisor! We bring updates to the App Store every 2 weeks.
What's new:
Refined overall design & user experience: Enhancements to navigation and the overall experience including refreshed Hotels, Restaurants, Attractions, Vacation Rentals and Flights screens
Bug fixes and stability improvements
Description
Millions of traveler reviews, photos, and maps from TripAdvisor. Know better. Book better. Go better. With over 500 million reviews and opinions by travelers, TripAdvisor makes it easy to find the lowest airfare, best hotels, great restaurants, and fun things to do, wherever you go. And booking options for hotels, restaurants and flights are just a tap away.

The TripAdvisor mobile app is free and easy to use.
• We compare prices from 200+ hotel booking sites to find the lowest price on the right hotel for you
• Browse millions of reviews, opinions and candid photos by travelers
• Find the best hotel for you, including Travelers' Choice award winners
• Explore restaurants and reserve tables online
• Discover cool things to do in any destination
• Compare airfares and find great deals
• Use Near Me Now to discover places near your current location
• Get answers to your specific travel questions in the forums
• Add your own reviews and photos
• Download maps, reviews, and your saves for over 300 cities worldwide onto your phone for free; avoid using expensive data roaming plans while you travel

Note: We optimized this app to conserve battery power and only use GPS where necessary. However please note that continued use of GPS running in the background can dramatically decrease battery life.

The app uses your location to send you personalized hotel, restaurant, attraction and vacation rental recommendations as well as remember the places you visited via our Travel Timeline feature. These locations are collected even if the app is in the background. Location settings can be configured in the Settings app.
iPad Screenshots
Reviews
I'd go again. A few changes would turn a four star rating to five stars.
Best: Service was excellent. Wait staff made sure we had what we needed but they were never intrusive. Atmosphere was just right for a steak house. Lighting was just right. Music level was just right. Tables had a crisp appearance. Sautéed green beans were very tasty. Coffee very good. Malbec very nice. Good: Steaks: A for flavor and tenderness. C- for cooking. I ordered medium rare; got medium. My husband ordered medium to medium well; he got medium rare. Needs a lot of work: check your pepper and salt shakers! Pepper would barely come out, while salt came out in uncontrollable amounts. Beefsteak tomato salad: tomatoes flavorless and shy of ripe. If the produce isn't right, don't offer the dish. Banana cream pie: grade F. Awful crust. Bananas brown and mushy. Cream filling flavorless. Fix those things AND add a salted caramel sauce plus fresh whipped cream or just don't offer this dessert. Baked potato was over baked. Not the least bit fluffy. My opinion: this is a good enough restaurant that patrons should respect some kind of dress code, and staff should let patrons know that what you would wear to a Little League game is not respectful to the other patrons. I'm not a dress code snob by any means. Nice jeans and a collared shirt are fine. This sounds pretty negative but, truly, I'd go back. These issues are all entirely fixable. The importance stuff (service, steak quality and ambiance) are on targets of
Lenny and Joe's New Haven, CT
We just stopped in for a quick bite and we were SO disappointed The food was awful - bland, cold and boring plus it was overpriced I would not recommend this restaurant to anyone There are lots of other places to go, in the area, for good seafood. This is not one of them
Fresh Grill
CrazyBADBOY27
on
9/25/2017
Just had the Chilean Seabass and it was to die for! Courtney was a fantastic server and gave me great advise on what sauce to get with the fish! If you are in Coco Beach you must eat here!!
Service STINKS seriously
no more PERK
on
9/25/2017
Been here several times, not sure why I keep coming back, but the service stinks. Bartenders talk to friends, text and ignore customers. Food takes way longer than promised. When it show up, it's good but again, SERVICE STINKS Good luck
Sampling bias
9 out of 10 bad experiences are rejected while 100% of positive experiences are approved. This is why almost every hotel has a 5 star rating on trip advisor. So regardless of if you're checking up on Category 5 Ritz or a bed bug infested motel in middle of nowhere town, you'll only see happy people checking in with 4 or 5 stars. This site gives you ZERO USEFUL INFORMATION. Too bad. Maybe there is a conflict of interest with them trying to sell hotel rooms while they moderate reviews for the very same hotels. I took my $30k annual vacation budget and made sure trip advisor and it's affiliate such as Expedia doesn't get a penny!
Montego Bay
abeachgolfer
on
9/25/2017
This is one of the better places to eat on the beach, great food at a great price. A must try
Excellent app/ very slow
Catz2kittlez
on
9/24/2017
Been using TripAdvisor for years. Wonderful service never steered me wrong when searching for eateries and hotel recommendations. Great way to organize leisure/business trips all in one place. Reviews are honest and to the point. However the app was updated sometime in early 2017 since then it's been incredibly slow, making it difficult to navigate. I was hoping with all the updates that the issue would have corrected it self by now. I have an iPhone 6plus S.
Using my location
*Chelle*Belle*
on
9/24/2017
I have enjoyed and contributed to the Trip Advisor app for a while and am extremely disappointed to learn in iOS11 that the app will now be using my location even if I am not in the app and that this may cause battery drainage. Remove the location tracking or I will need to remove the app as there is zero justification for your needing the info.
Great site App alright
I love using TripAdvisor for planning all my vacations. The app is very convenient when I need a quick look up. The app is not that great when I need to save things or navigate the forums or look up extra information that's only available on the website. I also wish the app utilized Apple Wallet.
It keeps crashing
I have an iPhone 7 with the last software update and the app keeps crashing on me. I tried several times to write a review just to have the app crashing on me and losing whatever I was writing. I love this app and the website I just can't use it! Please fix it!
Really needs some updating
When trying to find info on a nearby franchise, it brings you to the parent company, which isn't usually around me or the local that I'm looking for. This is also true for leaving a review for the next traveler. Still haven't figured out how to add a listing. Update: This app is going downhill pretty quickly. No way to asked a real question. Do a little research, there's others travel apps that appear reliable. Still no response! Businesses get to respond to your review, but no way for you to comment.
Can't upload pictures
I love this app, I always use it but for some reason after an update I am unable to upload pictures. The app only shows pictures taken days earlier. What the hell : (
Frozen
Just started using the app on a great trip I'm having.. Too bad the app freezes while I'm typing. Delete a few characters and try again.. No dice. For all I know there is a review lockout after you first 3 reviews.
App is completely unusable - website works
I hate having an app shoved down my throat but I'm willing to accept it if the app works. Unfortunately the stupid TA website always forces you to either open the app or download this garbage. Having the app pause/freeze/siesta inexplicably when trying to hit an option is unacceptable. (every keypress clicking on a venue is delayed for seconds) I'm not running an old phone guys, iPhone 7Plus. YOUR APP SHOULD NOT FREEZE! Period. If I was the exec in charge of this project, I would: 1) take this app off the rails and either A) roll back to a functional app B) go back to test flight and only offer this app to brave souls who have time on their hands to waste when looking for options C) a combination of both A and B 2) send my freaking development team to the firing squad. Word is you can shoot cows with a bazooka in certain SEA countries. Recommend you save a cow and volunteer a developer instead. Bloody incompetents.
La Fontana restaurant Charleston SC
Traveling Tombo
on
9/19/2017
We were visiting Charleston and driving by, just pulled in on a whim. Glad we did. Food was tasty, service was attentive without being pushy. Yeah, decor is a little dated, but you don't eat the decor, you eat the meal and we were not disappointed. Price is also very reasonable. 4.5 stars
Cliff Strom Does It Again!
Sister and Brother Do NYC
on
9/19/2017
If you want to hear and see the sights and sounds of New York presented in the most authentic of ways, then book with Cliff. He is knowledgeable and entertaining, but most of all he represents the city from the perspective of a true, died in the wool New Yorker. You will be thankful for his honesty, originality, and determination to give you a tour to remember.
Crawdaddy's Restaurant and Oysrer Bar.
Excellent service by Gary. Gave us a lot of tips for out Of towners The food was great. Mario made us some oysters with marmalade sauce Wow. So friendly and humorous.
My little kid found a strip club
He was looking for the Mickey Mouse clubhouse
It's unresponsive
Not in New York
on
9/17/2017
TripAdvisor has long been my go to travel app. Over the past few months they have cluttered it up so much that it basically freezes up when using on mobile devices. I'm a big time contributor but they desperately need to fix the app. I will re-review when (and if) they fix it.
Much improved, but crashes a LOT
Charlie in NE Vt
on
9/16/2017
Update: 16 Sept '17 Much better interface since last I looked. BUT woe to he who uses the filtering. Every time I put in multiple criteria (price/distance/time) it crashes. Update: 2 Oct '15 Worked OK for months. Then went on vacation to Spain where it might have actually been useful. Almost immediately, started to abort as soon as I started it up. Now trying delete and reinstall. IF I can remember my pw. Yuck. Maybe I'm biased b/c I just spent 20 min on a review only to lose the whole thing b/c the app decided I wasn't logged in. Overall I have a very hard time getting this app to do anything useful.
Bring back search nearby
You removed the feature to be able to see what's nearby an attraction. This was important for trip planning. Please bring it back
Biased reviews and advice
There are too many opinionated "know if alls" that that think their way is the only way and continue to criticize others and suggest trip changes based on their own interests not the person asking about THEIR vacation. Take forum responses with a grain of salt and enjoy YOUR vacation.
Mercato
Three lovely ladies joined me for dinner at Mercato last night. Firstly, the restaurant ambience is pleasant and sophisticated. The staff was very attentive. Most important, the food was impeccably presented and delish. All of us plan to return soon. Not one complaint from my world traveler friends. Thank you, Mercato.
Exceptional Service and Care
I have to tell you honestly; that we were extremely impressed with the courteous professionalism exhibited by the entire staff; especially their manager Amanda; during the most difficult of times. In the aftermath of hurricane Irma; the crisis that affected over 1/2 million FPL customers in PalmBeach County alone; this hotel and their staff( with all that was demanded of them to serve and accommodate their guests); bent over backwards in a genuinely caring manner. So many families were displaced with no power, no air conditioning; and the Wyndham staff did all that was humanly possible to make temporary homes to keep us comfortable; even accepting our family pets in these dire times. The hotel itself is immaculate, the rooms are spacious and their rates were amazingly reasonable... when so so many hotel chains took advantage of the tragedy that was Irma and "gouged" their customers ; the Wyndham hotel actually "discounted" their rates for the fall. Find a hotel chain that would do that in the middle of a hurricane recovery. I was particularly proud ; as a Veterinarian, how they welcomed families' pets to keep them safe and secure after being displaced from their familiar surroundings. Their restaurant, The Farmer's Table was one of the other highlights of our stay; top quality, healthily prepared meals that customers from all over love to dine at. I have nothing but Kudos for this hotel and their entire staff and will always and forever be grateful to their management and staff for what they did for so many us. Respectfully Barry M Wander Ms; DVM WANDER ANIMAL CLINICS OF FL. WOOFGANG BAKERY & GROOMING
Finding its legs.
The Ivy at Marlow has been a much awaited debut. Four of us dined there on a rainy September evening. The room is lovely and is elegantly lit with a warm ambience that invites a longer stay. At 7.30 the bar was packed. By 8.15 it was deserted. We waited 20 minutes to order our drinks and it took another 20 for them to arrive. My Martini, though acceptable, was served in a glass better suited to Babycham. One wonders: what's wrong with the classic, frosted V shaped glass? Appetizers were excellent. The wasabi sauced shrimp was a hit, as was the duck salad. My smoked salmon was perfect. Mains were good: fish and chips (sensational mashed peas) sea bass, blackened cod. Only problem: the server had to be told which dish went where. Paying the bill was an adventure. I wanted to add a 20% tip but was told that it couldn't be added to the base amount of £247. I remarked that this was the first time I'd encountered such a problem. The manager was summoned. He explained that, as the bill was 'servis compris', there was no allowance for a tip (a fact not mentioned by our server.) So we paid and left. The Ivy at Marlow should hit its stride in about another three months. We'll try it again.
Hilton Tampa
I stayed there during Hurricane Irma . Can't say enough good things about entire management and staff during very strenuous times . They were well organized , patient , accommodating and definitely kept stress level down . They had a lot of elderly guests children and animals . Even during this time they kept up service albeit limited menu.
Great food, ambiance and music
Try Di Felice Restaurant. Had a wonderful meal and experience.
Trip advisor doesn't want to publish a honest review on a hotel
I'm not sure why people write reviews here about their stay or flights , it has nothing to do with the APP. My issue that I'm writing about is with the App . I stayed at a newer Embassy Suites hotel that's promised Suites (it's in the name) they advertise it that way too , when we got there it was a regular room and I wrote a honest review without any bad language that was recommended by trip advisor to this hotel and I wrote review almost two weeks ago and it still has not been published . I guess Trip Advisor play favorites if it's not a good review they hold it back . If they do not publish my review I will consider them a fraud and what they are about . I will not longer bother writing reviews . If they do not post my review I will leave this review up . If they do post it , I'll remove this review . We shall see .
Mohegan sun
Dubstep 4 Life<3
on
9/13/2017
Went to Mohegan Sun recently for my daughters 21st birhday. We were surprised at the many perks she received for celebrating her 21st at Mohegan. We had a 1 bedroom king suite in the sky tower. It was extremely nice and very clean. Would recommend to anyone. Great time had by all!
BOOKER BEWARE!
GeoffHardcastle
on
9/13/2017
TripAdvisor does not guarantee your bookings & their customer service is terrible. I live in Hollywood Beach, FL and during hurricane Irma my house was in a "Mandatory Evacuation Zone" so I booked a hotel 5 days prior to our 2 night stay. When we arrived at the hotel, they had ZERO rooms available. The hotel said that they ran out of rooms the day we booked & they told TripAdvisor to stop selling rooms. TripAdvisor never called to tell us that. We had no place to go because every hotel was sold out. It was a nightmare We had to go back home and sit through the hurricane. TripAdvisor Literally put our lives at risk & aren't even willing to give us a courtesy call/comp a free night stay/send us a discount code? Say sorry? I will not use their booking services again.
Travel timeline
italiannaplesmama
on
9/13/2017
Wow, this part of the app can really use a tweak it is so not accurate. For example today so far I have been to 3 establishments and it has only logged me for being home. At that rate you might as well remove this feature.
Palazzo Magi Sansepolcro, Italy
New site awful!
on
9/13/2017
Okay, so there are bad hotels and good hotels and great hotels, right? And, once in a while, rarely, there are perfect hotels, just what you need when you need it. And that is Palazzo Magi in Sansepolcro, Italy, run and hosted by the magnificent Sophia. Some of us arrived ill, we were all exhausted, we really really needed to be taken care of badly. Enter Sophia, kindness and good humor, fresh croissants and a dark of night trip to the hospital (alas), a wonderful presence every moment of our stay. AND the town is amazing! Such a wonderful hotel, such a wonderful woman, such a terrific experience.
Hampton Inn Miramar
We stayed at this hotel for one night immediately following hurricane Irma. They were so accommodating and so nice to us, even though the hotel had sustained water damage in some rooms and they were unable to provide breakfast for us. The staff apologized profusely for no breakfast but we were just looking for a bed and shower and no breakfast was not a problem at all. Thank you very much Hampton Inn Miramar Staff.
The Pearl Laguna
Just returned from an exquisite stay at the Pearl in Laguna which lived up to its reputation as a gem. To begin, Laguna is an extraordinary place to heal and relax. Set atop a magical, sublime canyon, The Pearl had me at hello. It offers everything you can dream of: delectable vegetarian food, world class yoga, some of the best hiking and hiking guides in the world...and that's before you even have lunch. Geo, Katresha, Sarah and the whole crew at the Pearl will pamper you and make you feel like a King or a Queen. Hands down The Pearl in Laguna is one of the best resorts of its kind in the world. I know this for certain: God lives in heaven but his second residence is at The Pearl in Laguna. Namaste Daniel
Boise Guest House
Crabby Christy
on
9/12/2017
Great place to stay. Very nice accommodations. Everything I needed was there. The hostess was always available to answer all of my questions. I will stay there next time!!
Club de playa marina silcer malecom
sean and beth
on
9/12/2017
Wonderful experience highly recommended
Godfrey Hotel Chicago
From check in to check out great stay. As well for others in my group.
American Airlines Flight
The absolute lowest rating: • we were told we could not have a carry on whereas others had two • from Bozeman, MT to Dallas was on schedule until we had another plane pull in front of us after our landing gear was down and our plane was braking • once airborne we were in the air an additional 30 minutes, landed, and every single person took unnecessary time getting off the plane • after running through the airport we were at the gate as the last few people boarded and we were told to stand in line • when I was at the counter that person said she was too busy to help us and we had to go to the next line • after a long wait and being the second person in line we were told we could not board even though we could see the entry tube still attached and the engines were off • we were assigned the next flight to Nashville which was two hours later • had this second flight arrived as we were told we would have been boarding at 6 pm • after there were more delays we arrived in Nashville at 10:30 • after not being able to find our luggage we were told our luggage made the very first flight •Corporate help center was rude and demonstrated a complete lack of compassion
Decent app but lacks strong filtering
Not a bad app for distilling the Trip Advisor website content into a mobile form. However, the filtering options are few, meaning you often have to sift through a lot of unwanted results to find what you want. Also, the app performs poorly and frequently lags.
The latest update is horrible
iGamer100098
on
9/12/2017
Used TripAdvisor for years as my travel guide. It was great until they released this latest version. The app is now more focused on online booking than the travel guide. They have seemed to have taken away the download cities option which was useful when you don't have cell service or wifi. Hopefully they improve this app.
Super slow
Takes forever to load
Loved It Before Update
I have been using TripAdvisor for years. It is my go to app while traveling and I used to live it. After the last update I find it problematic to say the least. It freezes frequently and I've given up on trying to write reviews. It also freezes when searching. I used to love this app. Now it is too frustrating to use.
Best prices!
So easy to find the best price for hotels. Best one stop shop. Research, read reviews, creat trips & book.
Love this app but the hotel room pictures are too scarce
They need more pictures of the hotel rooms on this app! I've noticed some of these hotels try to purposely trick you on the value of their room by skimping on the pictures. It just makes searching for the right accommodations so much easier when you have more pictures of the exact room you are buying.
Sounds more helpful than reality
Reviewers do provide helpful descriptions of their experiences and advice. So thanks! However, during my month-long trip to Central Europe many problems occurred when using this app. Main problem is that the information is often inaccurate. This caused unnecessary problems like trips to nonexistent businesses, and struggles to find restaurants while hungry. Problems: 1) addresses not always accurate (wasted time searching for places) 2) some restaurants & businesses were completely closed (sigh after showing up... I guess that's why I couldn't make a reservation) 3) some places were inaccurately described (ex described as Mexican food when actually Italian) 4) phone contact info not always accurate Solution: 1) verify all locations ahead of time. While in country I learned this app wasn't dependable, so I leaned heavily on Google and Yelp, and also called businesses before trekking out to them. 2) stop using this app. App was good to get ideas, but by the time I knew what I wanted to do, I already stopped using it.
Capt Cook hotel in Anchorage
Bowler300mike
on
9/7/2017
Hubert at the front desk is Amazingly Helpful!
Good news
Don't use this app much but when I do I get great deals.
Rustic Vines wine tour St. Emilion Bordeaux
Our guide, Patricia, was lively and knowledgeable as she brought us to two Grand Cru wineries as well as showing us a bit of the beautiful town of St. Emilion. Would highly recommend.
Very good app
ericsnickname
on
9/5/2017
And very good company. Generally the first place I go when scoping out places to stay or to eat even locally. Increasingly useful since it started.
Fact Sheet
Publisher:

TripAdvisor

Category:

Travel

Released:

Jul 11, 2008

Current Version Released:

Sep 14, 2017

Version:

22.8

Size:

227.1 MB

Compatibility:

Requires iOS 9.0 or later.

Recommended Age:

4+

Game Center Certified:

No

Supported Devices:

iPad2Wifi-iPad2Wifi, iPad23G-iPad23G, iPhone4S-iPhone4S, iPadThirdGen-iPadThirdGen, iPadThirdGen4G-iPadThirdGen4G, iPhone5-iPhone5, iPodTouchFifthGen-iPodTouchFifthGen, iPadFourthGen-iPadFourthGen, iPadFourthGen4G-iPadFourthGen4G, iPadMini-iPadMini, iPadMini4G-iPadMini4G, iPhone5c-iPhone5c, iPhone5s-iPhone5s, iPadAir-iPadAir, iPadAirCellular-iPadAirCellular, iPadMiniRetina-iPadMiniRetina, iPadMiniRetinaCellular-iPadMiniRetinaCellular, iPhone6-iPhone6, iPhone6Plus-iPhone6Plus, iPadAir2-iPadAir2, iPadAir2Cellular-iPadAir2Cellular, iPadMini3-iPadMini3, iPadMini3Cellular-iPadMini3Cellular, iPodTouchSixthGen-iPodTouchSixthGen, iPhone6s-iPhone6s, iPhone6sPlus-iPhone6sPlus, iPadMini4-iPadMini4, iPadMini4Cellular-iPadMini4Cellular, iPadPro-iPadPro, iPadProCellular-iPadProCellular, iPadPro97-iPadPro97, iPadPro97Cellular-iPadPro97Cellular, iPhoneSE-iPhoneSE, iPhone7-iPhone7, iPhone7Plus-iPhone7Plus, iPad611-iPad611, iPad612-iPad612, iPad71-iPad71, iPad72-iPad72, iPad73-iPad73, iPad74-iPad74,

Supported Languages:

Czech; Danish; Dutch; Flemish; English; Finnish; French; German; Greek; Hungarian; Indonesian; Italian; Japanese; Korean; Bokmål, Norwegian; Norwegian Bokmål; Polish; Portuguese; Russian; Serbian; Chinese; Slovak; Spanish; Castilian; Swedish; Thai; Chinese; Turkish; Vietnamese;