TapNova doesn't recommend this version of the app.
New in version 21.8.1
Thanks for using TripAdvisor! We bring updates to the App Store every 2 weeks.
What's new:
Refined overall design & user experience: Enhancements to navigation and the overall experience including refreshed Hotels, Restaurants, Attractions, Vacation Rentals and Flights screens
Bug fixes and stability improvements
Description
Millions of traveler reviews, photos, and maps from TripAdvisor. Know better. Book better. Go better. With over 500 million reviews and opinions by travelers, TripAdvisor makes it easy to find the lowest airfare, best hotels, great restaurants, and fun things to do, wherever you go. And booking options for hotels, restaurants and flights are just a tap away.

The TripAdvisor mobile app is free and easy to use.
• We compare prices from 200+ hotel booking sites to find the lowest price on the right hotel for you
• Browse millions of reviews, opinions and candid photos by travelers
• Find the best hotel for you, including Travelers' Choice award winners
• Explore restaurants and reserve tables online
• Discover cool things to do in any destination
• Compare airfares and find great deals
• Use Near Me Now to discover places near your current location
• Get answers to your specific travel questions in the forums
• Add your own reviews and photos
• Download maps, reviews, and your saves for over 300 cities worldwide onto your phone for free; avoid using expensive data roaming plans while you travel

Note: We optimized this app to conserve battery power and only use GPS where necessary. However please note that continued use of GPS running in the background can dramatically decrease battery life.

The app uses your location to send you personalized hotel, restaurant, attraction and vacation rental recommendations as well as remember the places you visited via our Travel Timeline feature. These locations are collected even if the app is in the background. Location settings can be configured in the Settings app.
iPad Screenshots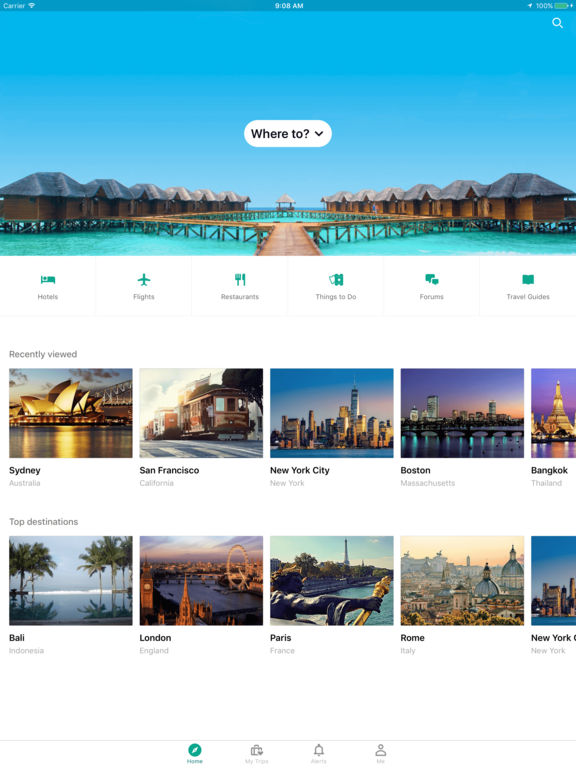 Reviews
Service excellence
Coloringchic
on
7/21/2017
We were privileged this week to eat at this lovely restaurant twice this week. The first time I had ribs. They were delicious. The only reason I did not eat them again on the second occasion was because I wanted to try something else from their extensive menu. I chose a bacon and banana burger which was also delicious. Both evenings, the service was excellent. I can highly recommend this great restaurant. Their situation on the lovely marina is ideal for a relaxing meal at any time of the day. Compliments to the owners, management and staff for their excellent standards, a great atmosphere and well plated food.
Finally, good Chinese food comes to the Cape
CapeCodFoodLover
on
7/21/2017
We enjoy trying out new restaurants so when Bamboo recently opened, we went for lunch. They serve a delicious buffet for $14.50 - so many dishes! We started with hot and sour soup, then filled our plates with appetizers. There were at least eight entrees. Sushi was also on the buffet. The food was very fresh and they were constantly filling the buffet. We can't wait to go back.
Superior Shores is not superior
twoharbors visitor
on
7/21/2017
I had visited this hotel years ago and it was lovely. However, my last visit in late 2016 was incredibly disappointing.. totally rundown, dirty, outdated with no internet capability. It was also really expensive! The service in the restaurant was so terrible they ended up giving us a discount. I would rather have slept in a tent!
Director of sales Nikki Bowler
She went out of her way to make our breakfast experience a great one. Not just us but she talked to most of the people in the dining area. Cleaning tables removing plates and cups that were ready to be thrown away and making conversation. She found out that we were having an extended stay and helped us with our room rates. The food attendant found out that I liked raisin brand and had some for me the next day. Her name is Lillian. Very sweet person. And Andrea on the desk helped us checking in because my wife needed to take me to the emergency room with some heart problems and when we returned our room was all prepared for us to enter. We have stayed here many times in the last 3 years and have always enjoyed a super stay. So if you are near new Bern nc stop and spend the night. Ed cagle
Shawnee inn golf resort
Cory, from the recreation department, gave an excellent personalized waterfall tour where only the locals would know. He was personable and knowledgeable about the area. It is refreshing to see young people who truly enjoy their jobs and share the love of nature.
Use yelp
Ballsdeepintinder
on
7/21/2017
Do not use this app for restaurants. Use yelp.
King Family Reunion
Great hotel with very helpful and friendly staff! Thanks Kevin and Cynthia!!!
Wow is right
The gate staff treat you as if your are a discount customer. This was my first and last experience with this airline. They would be great for small trips but remember you pay for everything extra. The flight staff was nice enough, but I would not fly them again if it was free. You pay for what you get and you should remember that when you fly wow. Also our flight was just delayed for operational restrictions whatever that means. I would love to know but there is no one to be found.
Warm & Inviting
Warm & Inviting
on
7/21/2017
The Staff was awesome at the Marriott located on 7202 East 21st Street Indianapolis. Thank you Jeff for making our stay at Marriott great. The rooms were comfortable and the atmosphere was warm and inviting. I will stay at this location again on my next visit to Indianapolis
Loved this place
The welcome we received front the hotel staff upon check in was so nice after the bad we had .We stayed here after we had to have RV repairs on our coach.We needed a hotel that would allow our cats.They made us feel welcome.The complimentary food Mon thru We'd at breakfast and supper was great
DO NOT book tours here
I paid for a tour on the app. I couldn't get in touch with tour company after paying. And TripAdvisor doesn't even have a support email for inquiring about problems like this, the reason being "we have millions of customers, if they all emailed us our server would crash in 5 minutes ". TripAdvisor wants to take our money and that's it.
Generally good but draining my battery
Trip Advisor is indispensable for finding restaurants while we're traveling but the app is draining my battery on background usage. I think that may be related to the app's attempt to track everywhere you go to make travelogues, but that feature doesn't work very well anyway because the location isn't accurate enough. Great app, but turn that feature off for best performance.
Slow to the point of useless.
This used to be a great app but since now the thing takes forever to open and is slow to move. No other apps do this. So I know it's not my phone or connection. Hope they can work out the issue or a better app comes along.
HELP Plz fix 'search reviews' it flashes past search screen
No longer able to search through reviews. Hasn't worked in months. VERY FRUSTRATING. What is a work around rather than reading thru hundreds of reviews when looking for a single aspect?? As soon as you touch/click on 'search reviews' it flashes the search screen then goes immediately to the 'all reviews' screen. No search available. I've tried everything i can think of to get around it.
App makes me crazy!
I love TripAdvisor for the forums. On my iPad app, if I'm reading a post and click on a link included in the post, then want go back to the post, I see no way to do that. There is a "done" button to click, but that takes you completely out of forums altogether, so that you have to spend time to find where you left off in the post. Help
Performance is awful, please fix
Performance is awful, please fix, very useful app when I can actually use it.
Clunky update
John_doe_______
on
7/18/2017
Please bring the option to search reviews back. Currently, there is no way to do so on the current update and defeats the purpose of filtering the reviews.
Search of reviews for specific keywords was eliminated in July 11 update
Search of reviews for specific keywords was eliminated in July 11 update. Bring it back
The Harrison Inn
The food was outstanding, the staff and owners displayed exceptional customer service, and the building/ rooms are gorgeous and super clean! We had the most wonderful experience here and won't hesitate to return!
Milwaukee Paddle Tavern
Matt & Sarah Murray
on
7/17/2017
Capt. Tim and First Mate Andrew were awesome! We will DEFINITELY be back!!
Victory casino Cruises
What a great time !! The boat wasn't very packed and the gambling was fun ! The food off the bar menu was excellent. More people should take advantage of this cruise during the week. Reservation #: 1300083
Darien lake
Absolutely wonderful ! We stayed at the resort on Memorial weekend and had a great time. Every convenant to the park and easy to come back and forth. I recommend the resort.
Amazing!
They brought out an appetizer of Palak Chaat which was sooo tasty, followed by delicious curries and tandoori - what a wonderful meal!
Iberostar family vacation
We would like to thank the Iberostar Staff for all that you do. Your hard work did not go un noticed, our butlers Jose & Rafael & house keeper Marina THANK YOU for making sure all our needs were met, anytime we called you were right there Thank You ... this is our 3rd Iberostar Grand Cancun , Jamaica & now Punta Cuna & now on our way to Spain & of course staying at Iberostar, we Love the resorts. To anyone vacationing in Punta Cuna A MUST DO & SEE (SERVICE LIKE NO OTHER) Lori & Don Batiste 😘
Jewish ghetto and Navona Food and Wine tour
I highly recommend doing this tour as soon as you get into Rome! Claudia was our tour guide and our family enjoyed the information provided and all the restaurants we went to. You start with lovely appetizers and then a pizza stop with some beer or wine and then a lovely pasta stop with lots of different pastas and of course more wine (yeah!) and a dessert stop and then coffee and of course gelato! Try to go on the tour hungry so you can enjoy all the places we eat at! Claudia was super informative and answers all your questions about eating out in Rome and what to expect. She will recommend restaurants and places to eat nearby if you ask. She's a lovely person and we actually did this tour twice! When we go back to Rome we will book it again and say hi to our favorite new Italian friend Claudia! The office was very helpful too! Dani helped us reschedule a tour a couple of us missed due to illness. A great experience and one you won't regret. If you like the tour you can tip the guide which I did. Don't hesitate to book it's fun and you get your money's worth. Ciao!
Citywonders vatican
Alex Zaretser
on
7/17/2017
This company horrible tour. Never take them again. One of the worst customer service. People are talking italian trash. Miserable experience. Never use this tour again.
Forced to download app.
Trip advisor forced me to download the app in order to write a review. It worked great. But I deleted it right after my job was done. Seemed Unnecessary.
Re: loosing customers one at a time.
Once loved TripAdvisor
on
7/17/2017
I've been a TripAdvisor user for 12 or so years. In the past year or so your iPhone / iPad apps have become slow and tediously painful to use. You're loosing me.
Great Service
We went for a late night snack and I love Diet Pepsi. Our waiter Salvator was awesome. I loved the glasses they put the Diet Pepsi and asked him if the sell these. He said let me see what I can do. He then came back and said the glass is yours to keep free. I love my glass cup that says Pepsi Cola. Thank you Applebee's for being so friendly.
Grapeline Wine Tours Temecula, California
I took the Grapeline wine tour and lunch. It was a great experience considering I had only done wine tasting in Mexico. We were a group of 5 women celebrating a 40th birthday. There was a total of 15 on the tour. Our host/driver Mike was awesome. He made us comfortable with the entire group. The stories were entertaining and relatable. He gave us enough time in all of the wineries. You definitely have an asset in your company with Mike.
Excellent Family Sun!!
Mamamiasevawise
on
7/16/2017
My family of five went on a great white water rafting trip with Royal Gorge Rafting out of Canon City, Colorado. We were extremely lucky to have a guide who made it fun and funny. We were on a class III and IV and none of us felt we would fall out of the boat although we did have some exciting, water drenched moments. We would do it again and we would ask for our guide: "Cheers" aka Ryan.
Staff is Top Notch
Rooms are clean, spacious, and modern, but the jewel in the crown is the staff. Excellent service, friendly, and professional. Special mention: Freddy and David. A++
Exploring the nooks and crannies of Algarve
EileenFromCA
on
7/16/2017
What an amazing adventure Ralf took us on! He not only knew the history on the region but could navigate the many twists and turns of the Algarve. We felt totally at ease with Ralf and enjoyed his sense of humor along the way. I highly recommend GraspaWasp tours for an incredible journey in to the secluded beaches, caverns, and vistas of the Algarve.
Mary's on Maple in Hebron
New restaurant in town. Had a nice Sunday evening meal here. Began with homemade cream of carrot and tomato basil soups accompanied by warm Italian bread with a fruity olive oil. I had chicken piccata and my husband had almond encrusted salmon, both very tasty. Friendly service. Try it!
Not Magical!
Hollisjanine
on
7/16/2017
I am so disappointed! Waited over an hour for my room and it is simply ugly. It has a view of the trees, no couch or daybed like my colleagues have in their room and the floor is dirty! I called the front desk to try to change rooms and was told that they are all booked. I am now sitting in a straight back, uncomfortable chair looking at the back of trees. The manager that I spoke with clearly could care less that I was not pleased and that my stay was not magical. Oh well, that is Disney for you. All smiles and no substance.
Just wanted to use the website!
Welp I guess I'll bash the app too. I was on the website just trying to leave a review for a crap hotel and when I went to "write a review" the website redirected me to download the app. It didn't give me an option to stay on the website so yes TripAdvisor...I'll download your stupid app...then leave my review of the terrible hotel I just stayed at...THEN I'll delete your stupid app that you made me download in order to simply leave a review. Good luck
The Net /Flagler Beach Florida
Locally owned the best food in Flagler and I have tried them all!!! So good and the service is phenomenal🦋
Road Tahra
Asdgtgghjkbdafvvhncdw
on
7/16/2017
My daughter and I stayed here while in Fes and had a Great time. Moha spoke great English. He was very helpful in everything we requested. Definitely would stay here again.
Frida's Bakery Milton N.Y.
What a gem in such a small town. Delicious....help is super friendly and the price is right. Make sure you save room for dessert. Can't wait to back again and again.
Cycle City Tours
Our group of 6 cyclists experienced the nicest day with Paulo at Cycle City Tours. We had so much fun getting to know and see Vancouver. We loved Paulo and his vast knowledge of the area. And when he found out our quest for great ice cream he led us to a wonderful shop for an afternoon treat.
Amazing and fabulous !
Roberta is an amazing , kind , warm hearted host. She went above and beyond to make sure Our stay was perfect ! We couldn't of asked for a better place to spend our family vacation
Bad update
Trying to do too much for the app. Turns into one big cluster
I can't add photos
I can't add photos. At all. When i click in the camera button to add photos, non of my photos actually show up and i see buffering icon forever, pictures never load. What is this?
Deleted
I only downloaded this app to write a review and deleted it immediately after. I wish I could actually have a choice considering it would not let me write a review on the browser.
reviews for app?? where are they?
Why are the reviews for the app absent? I see reviews for travel.
Crashing app
I like to write reviews but with this app is so annoying since it crashes on me all the time. I have more reviews on other app that are easier to use. Dont use this as much because I like to get lost in the world and discover laces myself... but I love writing f reviews when they let me:)
App is eating up my battery
Had to shut the location setting down. The app ate 34% of my battery usage (more than any other app) over a week long period.
Valet
Michael at Valet was so helpful and kind......Great service!!
Super easy to use
RoadTrippers5
on
7/13/2017
Love this app, we use it on all our road trips. Very easy!
Fact Sheet
Publisher: TripAdvisor
Category: Travel
Released: Jul 11, 2008
Current Version Released: Jul 11, 2017
Version: 21.8.1
Size: 217.7 MB
Compatibility: Requires iOS 9.0 or later.
Recommended Age: 4+
Game Center Certified: No
Supported Devices: iPad2Wifi-iPad2Wifi, iPad23G-iPad23G, iPhone4S-iPhone4S, iPadThirdGen-iPadThirdGen, iPadThirdGen4G-iPadThirdGen4G, iPhone5-iPhone5, iPodTouchFifthGen-iPodTouchFifthGen, iPadFourthGen-iPadFourthGen, iPadFourthGen4G-iPadFourthGen4G, iPadMini-iPadMini, iPadMini4G-iPadMini4G, iPhone5c-iPhone5c, iPhone5s-iPhone5s, iPadAir-iPadAir, iPadAirCellular-iPadAirCellular, iPadMiniRetina-iPadMiniRetina, iPadMiniRetinaCellular-iPadMiniRetinaCellular, iPhone6-iPhone6, iPhone6Plus-iPhone6Plus, iPadAir2-iPadAir2, iPadAir2Cellular-iPadAir2Cellular, iPadMini3-iPadMini3, iPadMini3Cellular-iPadMini3Cellular, iPodTouchSixthGen-iPodTouchSixthGen, iPhone6s-iPhone6s, iPhone6sPlus-iPhone6sPlus, iPadMini4-iPadMini4, iPadMini4Cellular-iPadMini4Cellular, iPadPro-iPadPro, iPadProCellular-iPadProCellular, iPadPro97-iPadPro97, iPadPro97Cellular-iPadPro97Cellular, iPhoneSE-iPhoneSE, iPhone7-iPhone7, iPhone7Plus-iPhone7Plus, iPad611-iPad611, iPad612-iPad612, iPad71-iPad71, iPad72-iPad72, iPad73-iPad73, iPad74-iPad74,
Supported Languages: Czech; Danish; Dutch; Flemish; English; Finnish; French; German; Greek; Hungarian; Indonesian; Italian; Japanese; Korean; Bokmål, Norwegian; Norwegian Bokmål; Polish; Portuguese; Russian; Serbian; Chinese; Slovak; Spanish; Castilian; Swedish; Thai; Chinese; Turkish; Vietnamese;