Recommended app!
App last updated
Mar 15, 2018
Screenshots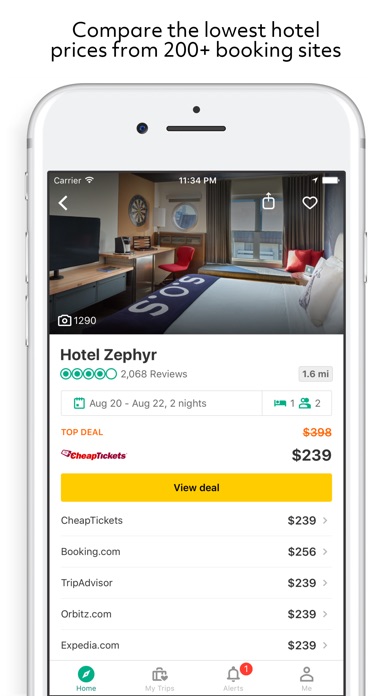 New in version 25.4
Thanks for using TripAdvisor! We bring updates to the App Store every 2 weeks.
What's new:
Bug fixes and stability improvements
Description
Millions of traveler reviews, photos, and maps from TripAdvisor. Know better. Book better. Go better. With over 500 million reviews and opinions by travelers, TripAdvisor makes it easy to find the lowest airfare, best hotels, great restaurants, and fun things to do, wherever you go. And booking options for hotels, restaurants and flights are just a tap away.

The TripAdvisor mobile app is free and easy to use.
• We compare prices from 200+ hotel booking sites to find the lowest price on the right hotel for you
• Browse millions of reviews, opinions and candid photos by travelers
• Find the best hotel for you, including Travelers' Choice award winners
• Explore restaurants and reserve tables online
• Discover cool things to do in any destination
• Compare airfares and find great deals
• Use Near Me Now to discover places near your current location
• Get answers to your specific travel questions in the forums
• Add your own reviews and photos
• Download maps, reviews, and your saves for over 300 cities worldwide onto your phone for free; avoid using expensive data roaming plans while you travel

Note: We optimized this app to conserve battery power and only use GPS where necessary. However please note that continued use of GPS running in the background can dramatically decrease battery life.

The app uses your location to send you personalized hotel, restaurant, attraction and vacation rental recommendations as well as remember the places you visited via our Travel Timeline feature. These locations are collected even if the app is in the background. Location settings can be configured in the Settings app.
iPad Screenshots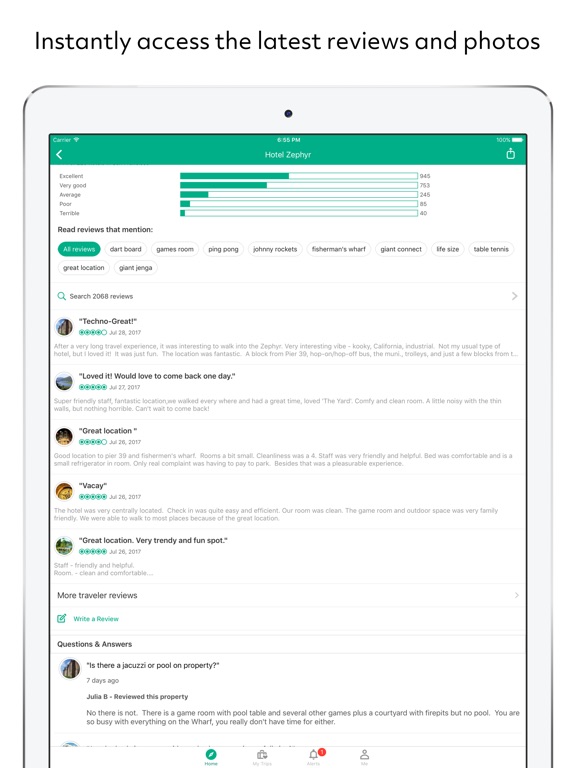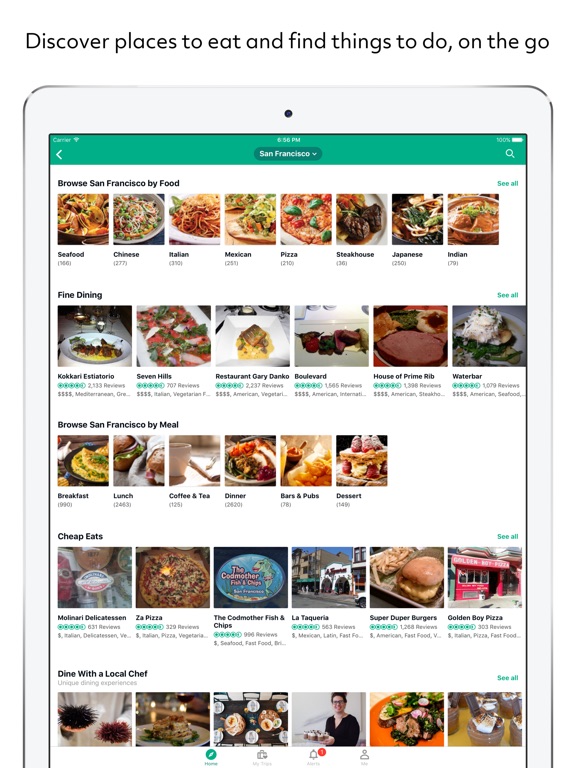 Reviews
Wonderful dinner on St Patrick's Day!
We had their new special orange chicken and it was delicious. I asked for very spicy and I got it just like I wanted it! It came with either white, brown or fried rice so I chose fried rice and was delighted. The spicy orange sauce complemented it so well I'm still licking my lips. My friend ordered the same dish, tho less spicy and with white rice and was totally satisfied. She also ordered the hot and sour soup and was very happy. Her mission is always to find a good hot and sour soup and is usually disappointed. Not here so we are definitely going back!
Love staying at a Harrah's in NOLA BUT. . .
We love staying at Harrah's in NOLA but had one disappointment this time. These rooms are presented as "comped" rooms. A few years ago "resort fees" were added but it was still a nominal fee to stay in NOLA. We were asked this time if we wanted to "opt out" of housekeeping for a $25 credit on our bill but it was our choice and I get it; big turnover of rooms in a short amount of time; that was ok. Here's the thing that angered me (it's always the little things/principle). We found a charge of $17 or $18 in addition to resort fees on our bill. My husband was going to let it go but it's back to the little things/principle. We stopped at the desk at checkout and got some Mumbo jumbo about calling to make our reservation. We actually made it online but they made an error and I ended up having to call to correct it. We were directed to a manager who told us their calls had been outsourced to another country and in order to pay for it, if you call to make a reservation it gets charged to you. We continued to explain we tried to do it online. He eventually made some calls and told us he would take it off our bill as a one time courtesy. My thoughts are they should either charge us for the room like other hotels and I may or may not stay there but quit calling it a free/comped room and then thinking of every fee under the sun to get the money back!!!
I use this almost exclusively
Love this ap. Wish people would include photos of menus when practical, that is always a plus because some need to know what they are serving and prices for each item and some places don't put the actual menu on their websites. Most if not all reviews are legit and are actually very helpful in deciding where to go in a place one may have not been before. I like the way you can zero in on places nearby also. I enjoy writing reviews myself and use trip advisor as my primary review site. See my reviews at "Steve Enderle" on TripAdvisor.
Bill from Akron
Bill from Akron
on
3/17/2018
This is my second trip to Brisket in North Myrtle Beach. The brisket was outstanding again, beans and hush puppies were the best. Shane is the owner, bartender, server and a great host. I look forward to bringing my family here when they arrive.
App referencial
Muy buena aplicación , uno leyendo las opiniones de las personas que escriben puede sacar muy buenas referencias para el viaje que vaya hacer . Además uno encuentra información variada de los lugares a visitar así como hoteles, restaurantes y otros.
Barcelo Casablanca
Outstanding experience at hotel, thanks to Hassan, the bar tender. and Rashid, the restaurant manager. Great service, room and services. Will surely return and urge others to do the same Mark Castelino
Worst place ever...
Dirtiest restaurant I've been in! Bathrooms were disgusting and kitchen and guy working behind the counter was very dirty! Would not let my dog eat there!
Hyatt Ziva Los Cabos
Great weather food and excursions especially Victor with Cabo Adventures whale watching sunset dinner cruise
Pittypat's Porch Restaurant
Whodathoutit
on
3/17/2018
Overpriced for quality of food .we were rushed by our waiter to finish and get out. Will not return. Ray Davis
C Ponies in Bradenton, FL
K.Teppo-Brown
on
3/17/2018
We had horses for years & this was nothing short of spectacular ! Caroline was exceptional ! We will do it again , only if We can book with Caroline !! Gorgeous horses & a fabulous time ! K & Tom , Zephyrhills,FL
I use this App all the time!
Woodland Wildcat
on
3/17/2018
I plan tours for motorcoach travel and can't say enough about using this App! Because real people that have stayed, eaten, or played in the areas they review really saves a lot of time and frustration when traveling! As always you do have to read through people with bad attitudes or people that where looking to get a comped room by complaining about everything ...it doesn't take long to spot them if everyone else loved the place! The ask a question feature is very useful also. Read, Travel, Eat and Enjoy!!
It a useful app assisting travelers
I wonder why do you give 100 point every time one is sending a report what one can do with theses points. Further what I find very annoying that one can not exchange a view with the editor Further how do you insure the authenticity of the reports
Very useful
I always start planning for a holiday, meal, flight or find something to do by visiting this app. I find that it always directs me to the best choices available.
Awesome
Awesome App to help plan vacations.
Best Transportation in Town!
Cohen family
on
3/16/2018
Go AIRLINK NY is the best transportation to get in and out of New York City. They are always on time, always send a reminder a day before the trip and even will text few minutes before the pick up. I know I can relay on them to get to my destination safe and sound.
Needs some improvements
First, I find it aggravating that TripAdvisor can contact me and they do so with great regularity about writing more reviews, or making reservations for some trip or excursion. They can get into my business but No way can I contact them. I am directed to post a question on a forum but it is TA from whom I need answers! Second thing is I submit a review, when a few minutes later I think of other things to say. No editing. You have to delete your review and begin anew. This is a waste of my time! Third, it is often not available option on my iPad to get to my reviews. Only occasionally is that available. Perplexing
My travel planner!
I have been a fan and user of the website for several years and now the app. Never lets you down!
Loyal User at home and abroad!!!
I love Trip Advisor!! I've been using this app regularly in the US as well as in Australia, Thailand and Cambodia during 2017. The user recommended restaurants, accommodations and suggested things to do have proven successful for our family journeys. I'm excited to continue using it for our travels locally and internationally.
I always use this app
Easy to use both app and online versions. If I am looking to book a hotel or even thinking about taking a trip/vacation, I always always peruse the trip advisor users comments. There is no one else to better review a property than trip adviser users themselves.
My go to for travel!
My husband and I frequent trip advisor every time we travel! We have discovered many gems we would of not of otherwise. I enjoy contributing with reviews of nearly everywhere we visit. Read all reviews subjectively and read numerous for each place you're interested in!
Great Service!
Philly-the-american
on
3/15/2018
Thank you Audra S. You were very helpful.
Email airfare alerts are not useful
Owner of homes
on
3/15/2018
While I find TripAdvisor reviews very helpful, the email alerts that are sent to notify me of airfares available to my selected destinations have been worthless. The messages indicate the low price available for a given month, but clicking on the message just brings me to a screen asking my travel dates, and there is no way to know when the announced fare is available or whether it is still available at all. Discounted airfares are very dependent on the day and time of travel, so it would be more helpful to have a low fare calendar by day, such as that on Alaska Airlines' website, to make the information more actionable.
A fun place to shop!
stevemcnerney
on
3/15/2018
This is a most amazing shop! There's a great selection of pirate and steampunk apparel and gear. The shop is quite eclectic and it's fun to take a look around. There also are items to add a little nautical feel to the home, kids' items and a variety of books. Look closely so as to not to miss all the various oddities and antiquities placed among the shelves! Very friendly and helpful staff, too!
Biased review system
You need to be aware that TripAdvisor's star rating system is biased. When you write a positive review, it will be published promptly. However, when you write a negative review, it needs to go through so-called "additional verification process." TripAdvisor is potentially removing a lot of negative reviews from their site.
Use it for every trip!!
Love this app!! Used it to research every trip we have taken for the last 15 years or so. Especially love the forum!!!
Jaipur and Agra Trip
We had a wonderful trip with our driver and guide Mr. Rajesh Panwar. He was courteous and very helpful along with the other driver. We were 18 people and we all enjoyed it very much.
Margaritaville Bahamas is great to unwind!
Food is tasty, and atmosphere is fun! Our server, Tearra, treated us great! She embodies the Bahamian spirit. Will definitely be back!!
Damian's visit
Walked in , some guy asked if I was single and wanted his ? Wife . At noon time . Gotta like this place
The Righteous Brothers show at Harrah's In Las Vegas
It is a great show. You must go see him and his Very talented daughter! Bucky you were terrific.
App pestering
Terminationshok
on
3/14/2018
I went to the mobile site to read airline reviews after a bad experience. The stupid site pestered me to download the app 4 times, so here I am to give it a 1-star review and then delete it. I heard good things from friends about this site, but the reviews about the service say they accept bribes to delete negative reviews.
Dinner @ The Ruth's Chris Destin Bar
Weluvgoodfood
on
3/13/2018
Well I'm happy to say great service along w/great food at the bar is still alive & well at The Ruth's Chris Steakhouse in Destin. The food was hot, fresh & delicious. The service from our bartender/server Ian Henderson was great. Even the drinks were amazing.What a great place to have dinner. Ian went the extra mile & made sure dinner wasn't just a meal but a dining experience. Thanks!
WATT A WONDERFUL EXPERIENCE
Watt Hotel in Rahway NJ helped us get a room during the snow storms of March. In addition, Joanna went out of her way to help temporarily store our bags, etc. Also, watt a great location for getting into NYC. We will be back for sure when the weather is nicer... Happy Travelers
Could be better
I love trip advisor. I do a great deal of traveling for work and I use trip advisor every-time I'm away. I find that I use three apps: trip advisor , city maps to go and google maps. I wish trip advisor would look at these apps so they could make a one stop shop. I find it frustrating when I just want to look at the map and where restaurants are in relation to my location. Granted they have the "near by" function but it's not easy to get to the map. I just don't find it very user friendly. Additionally, it's difficult to see if a place is open or what the operating hours are. I think that is a important piece of information when I am scanning the many different places I might want to visit. I think this app could be refined to make it a little more user friendly. But I still like it and will continue to use it.
Photos!
This app is my #1 to go to when it comes to any travel/vacation/see sighting. Love to read reviews from real people and check out the photos. Well...when it comes to photos, I somehow see pictures from 2007, 2004 but not 2018, or any recent pictures. Why? It is soooo disturbing. I would love to see more recent pictures first. Is it possible for developers to fix this feature? It would definitely make my review to change to 5 stars!!!
Not the greatest
Stayed here for 3 days in March 2018. Place was pretty clean in rooms . Had noisy room connected to ours. Had a pretty good breakfast on outside deck. Had micro, frog and coffee pot.
Ken Stewart's Grille
Harley Bonedoc
on
3/12/2018
My wife and I had dinner at Ken Stewart's Grille in Fairlawn. We've been there numerous times and quiet frankly we have always had a good meal. Tonight we both had their Pan Seared Walleye as our entre'. The salad was fresh and tasty with the right amount of dressing on it. We both had appetizers.... Yellow Tail Sushis with jalapeno peppers and buffalo grilled asparagus. Cocktails were also good . Also try the Ken Stewart's lodge I'm Bath! Good stuff ! Also Heidi was our server and did a great job! Greg and Judi Hill
Papillon Restaurant Aruba
After many years of eating at Papillion and considering it our favorite restaurant in Aruba, sorry to say that our most recent dining experience there disappointed us. Our favorite onion soup changed for the worse. Fewer onions and not served in a crock with the same amount of cheese. They claimed they only tweaked their menu but the changes were quite noticeable. The grouper was quite good but not as good as years past.
Love the insight
Jokopanumfukus
on
3/12/2018
Besides getting a quick overview of anything anywhere, I love the extra insight offered by the forums. If the plethora of reviews, descriptions, and pictures do not answer your questions, people who have been there will be able to help you.
Indispensable travel companion
Call_me_MrCook
on
3/12/2018
This app has been great to help plan trips. Our family has used it to uncover great eating places and some fantastic things to do when out of town. Thank you for putting this app together.
LasVegas Nevada trip
Great city to visit , we travel here often , Fun time all year , especially around off time of the Year, less crowds , safe , and relaxing time . Hospitality Great Especially at the Flamingo we are Treated Especially Good everything at our Request.I highly recommend this place to Stay, clean safe & friendly to all ages. Many thinks to do in Las Vegas,city and surrounding Area. I rate Las Vegas Nevada 5 star 💥Check out to Vacation 👍Scott R Glenn , Cary Illinois 🇺🇸😊
Foods of NY Tours- Chelsea Market
Sam the Foodie
on
3/12/2018
Cindy was a fantastic tour guide and a plethora of information. She gave us a great history of the Meatpacking District. We sampled a wonderful variety of great foods and generous portions! It was a wonderful way to start our day in NYC! We have done both Greenwich Village tours and now the Chelsea Market. I cannot wait to do the Brooklyn tour next trip!
Very helpful and fun to participate
My wife and I recently planned our own vacation to South Africa, Zambia/Zimbabwe using this app as a major part of our research. It worked well and we find that the peer reviews seem to be spot on. In addition I began reviewing and find it fulfilling to help others with decisions of venue. Enjoy!
Love it!
hockeyMom1213
on
3/11/2018
Great app!
My go to travel
From things to do and restaurants this the app I use every time I travel. Even for repeat visits to see what I may have missed on the previous trip.
Excellent site
Easy ro use and very helpful.
My go to spot
I use this app so much whether I am traveling looking for a place to stay and eat or just to find a new place to eat locally. I love the reviews from those that have been there to help guide me. Thanks for this app but special thanks to reviewers!
Bugs, Slow, Missing Functionality, Not Intuitive
The title says it all. I try to show restaurants in Paris, France (a very basic, simple search), but it always returns an error, so I get nothing. I look for a way to use a map to find restaurants, but I can't find a button to switch to a map-view. Either it's missing, or not intuitive as to how to get there. It's always been painfully slow at pulling up the information requested. Developers, if you're listening, take a lesson from the Yelp app; it's helpful, intuitive, fast. Position and size your view on a map, set filters, push a button, and you get exactly what you want.
Invaluable Tool for Travelers
ItsOnlyMe206
on
3/10/2018
We travel quite a lot and are sticklers for hotels. Before TripAdvisor I would try to research hotels by looking at their websites, knowing that the photos were taken by professional photographers with everything at its brand new best rather than how it appears today to the average traveler. TA allows me to see photos taken within the past few days and read honest reviews by other people who just stayed there. Sure, there are things that can be improved in the app, but I'm just thankful that TA exists. I really do consider it invaluable.
I would recommend
I love this app but I wish the timeline would update where you are.
Not reliable info —- TripAdvisor cares about $$$$$$
Not a source for reliable information. All of the algorithms point in the direction of greater profit for TripAdvisor. The listed entities also game the system with 5 star ratings from accounts with few (often only 1) reviewers. This is not aggressively monitored or addressed. There is no easy way to report bogus reviews. Use app with extreme caution. Data is highly biased and not completely trustworthy.
Fact Sheet
Publisher:

TripAdvisor

Category:

Travel

Released:

Jul 11, 2008

Current Version Released:

Mar 15, 2018

Version:

25.4

Size:

256.7 MB

Compatibility:

Requires iOS 9.0 or later.

Recommended Age:

4+

Game Center Certified:

No

Supported Languages:

Arabic; Czech; Danish; Dutch; Flemish; English; Finnish; French; German; Greek; Hebrew; Hungarian; Indonesian; Italian; Japanese; Korean; Bokmål, Norwegian; Norwegian Bokmål; Polish; Portuguese; Russian; Serbian; Chinese; Slovak; Spanish; Castilian; Swedish; Thai; Chinese; Turkish; Vietnamese;