Screenshots
New in version 152.0
Thanks for using Facebook! To make our app better for you, we bring updates to the App Store regularly.

Every update of our Facebook app includes improvements for speed and reliability. As new features become available, we'll highlight those for you in the app.
Description
Keeping up with friends is faster than ever.
• See what friends are up to
• Share updates, photos and video
• Get notified when friends like and comment on your posts
• Watch and interact with live video
• Play games and use your favorite apps
• Buy and sell items and services

Read our Data Use Policy, Terms and other important info in the legal section of our App Store description.

Continued use of GPS running in the background can dramatically decrease battery life. Facebook doesn't run GPS in the background unless you give us permission by turning on optional features that require this.
iPad Screenshots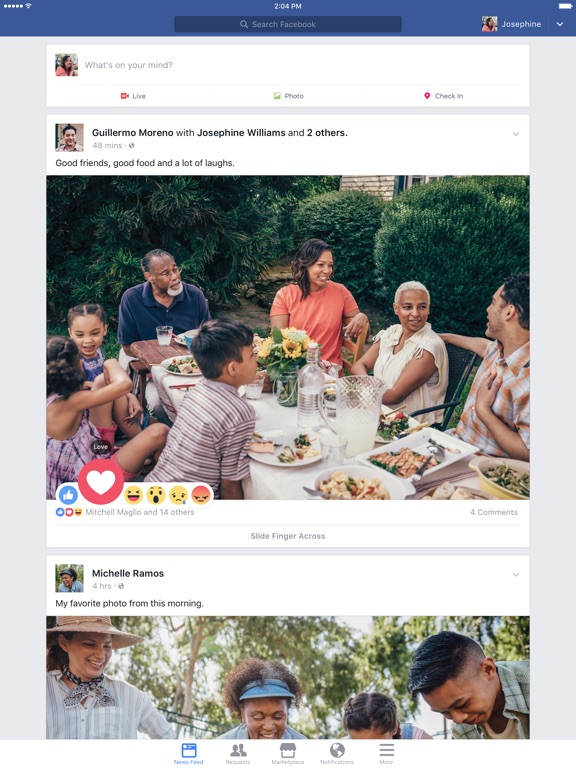 Reviews
Re: FB updates
Cynthia0258
on
12/13/2017
Tooooooooo many updates. You need to consolidate your updates, and do them less frequently in my opinion. And I can't say I like how you chop videos in two, to place an ad in the middle. But hey when the ad starts...I just scroll on. Very few videos important enough to watch a stupid ad. On the other hand, I do like some of the new features that have been added.
Facebook is using facial recognition which is against my rights to privacy
I had to show a drivers license before I could access my account. After explaining that my nickname is used for safety reasons for my life, they didn't care and used my name on my Facebook account. When I tried to delete the photos of myself , Facebook wouldn't allow that either Be Careful on Facebook. You don't know who is really behind the mask.
Force closing.
likeit or hateit
on
12/13/2017
Total crap. Won't let me share anything without force closing. Ads on top of ads. Get it together.
I HATE FACEBOOK!
AnnaMonsterLouisi
on
12/13/2017
I think Facebook is a menace to society. My Man is so in love with this drag then y'all add new ways to use it and things to do. It is horrible.
Crashing
Got an iphone 8 and after updating the fb app,it keeps on crashing
Ad's
Blow minds not guys 69
on
12/13/2017
I'm tired of all the ads coming up when I'm trying to watch a video!! It's really annoying and something needs to be done about this! 🤬🤬
Too many ads
I wish I had written what that member wrote. I already quit this nonsense before & now I got suckered in again. How do you know what my email password is? I think you know more about me than you should.
Facebook
Please support the iPad Pro 12.9.
Facebook
Now, I will work with you to get back my old sign on, not them new one, you are screening up, everything, you are trying to make me be friend with ppl's, I do not know and I don't like that, now let me, get back to my old sign on and let me work this out! That new got to go!
Facebook keeps closing on videos
thatniggabobby
on
12/13/2017
Any time I watch a video on Facebook it plays half way and the app closes only on Facebook I don't understand please look into this and resolve the issue
Took Away my Friends
Don't see my friends posts, just other pages.
Facebook needs to learn from Twitter
Surfrat1215
on
12/13/2017
Every time I go back into Facebook, it loses my place and I only see the previous days posts and I lose all the recent ones. Don't understand why it can't keep where you left off. This app only gets worse. Wish you could give negative stars.
Cut
Ezra1mz.nih
on
12/13/2017
Cut the app size and ads. You probably don't even check reviews.
عباس هادي
شباب بس العب متحدث والله
on
12/13/2017
الفيسبوك فساد علميه
Advertisements
Ads ads ads
Crashing
JeromeValeska
on
12/13/2017
Facebook crashes every time I try to share a post and it's annoying, I can't share videos, posts, pictures, articles, or ANYTHING!!! FIX IT
Facebook lite for iOs
reggieoficial
on
12/12/2017
We need facebook lite version, every update you add many ads, every time is more slow and heavy, make it easy, this is the real meaning of social network
ليبيا
الله كريم الله كريم
on
12/12/2017
ًً
Ruins too many relationships
jillchamplin1
on
12/12/2017
Technology has made cheating so easy. So tempting to those considering it. Instead of working on their marriage, they lean on others on social media. Then that relationship grows, while the marriage deteriorates even further. It's not worth it. I've seen it happen to WAY to many people, friends, families, even myself.
Landscape
Hey developers, I've been the using Facebook app for a while and I notice I can't use my iPhone 7 Plus landscape with this app. I think that would be an incredible update especially for the bigger size iPhones
Keeps force closing
Fix it please
Marketplace
How come the marketplace won't show up anymore???? How do I get it back?
Thumbs down
Disregard for anyone but themselves ! They only care about pleasing big company's. Could careless about small businesses!
Los anuncios
Tienen demaciados anucios!
Upset
Babanabanana_1995
on
12/12/2017
Ads in video are annoying. Every video has an ad, some have two to three ads. I am just trying to watch food videos, I don't want ads interrupting.
Crashing while watching videos
I'm on iPhone X, iOS 11.2 beta, and the app crashes halfway through every video I try to watch.
Buggy Notifications
DaSeldomFind
on
12/12/2017
It'll tell you to look for more than you have. It's not a deal breaker but it has been getting worse.
Facebook
Instagram no cargan fotos bien
on
12/12/2017
Buenas les informo que tenga la aplicación en mi iPad y no me da la opción de Messenger ni de ver mis solicitudes de amistad espero que puedan arreglar el problema gracias
Stopped using app due to marketplace
iPhone app person
on
12/12/2017
The app kept creating marketplace notifications for "recommended" items. After disabling this option, it is automatically re-enabling.
Crash
Littlelisa40
on
12/12/2017
My app was working just fine .. now it keeps crashing 😡😡😡
Advertisements
This app is nothing but advertisements. I'm thinking of deleting this app and using my browser. That is the only way I can read anything without being hijacked and flooded with useless adds. Facebook anything is poor quality.
Riddled with ads
Can't even copy posts to links anymore to share. Also the app and messenger are riddled with ads.
Crash
As many updates as there are this should be the most stable app for the love of God. I cannot even scroll through my friends list without it forgetting my place and scrolling to the top.
Never ending Worthless updates
The worthless updates is basically a scam by FB to pretend you are getting some updates or improvement. It's a lie! These are the never ending worthless updates! Basically updates are ways for them to download information and data from the app! Also, the updates app refreshes making you loose information or the post it was on! What a POs garbage.
App crashes when I try to edit my Year in review video
The app crashes and causes my phone to freeze for a few Minutes every time I try to edit my Year in Review 2017 Video
Stop constantly refreshing!!!
Anytime I put my phone down for any reason, Facebook refreshes. ANNOYING!!!!! Please stop!! Fix this please!!!
WTH
CheyenneMcKay97
on
12/12/2017
You guys made me update and now whenever I open Facebook it closes. It won't let me use it. Fix it.
Abro la app y se cierra
Aramenrique
on
12/12/2017
Apenas abro la app y se cierra en menos de 3 segundos, ya la desinstalarlo y la volví a instalar y el problema persiste, tienes 2 días fallando
Crashing on 6s after update
João Palmitesta
on
12/12/2017
Im using Facebook on an IPhone 6s iOS 11.2 and after the last update it is crashing when I watch some videos. After a few seconds watching any video the app crashes
Force close
Hotty_696969
on
12/12/2017
Every time I go to watch a video, which is about all I use Facebook for, it force closes about 30 seconds in. If this isn't fixed I will be uninstalling.
Hi , FB videos won't play all the way through on the app!
I've been trying to watch videos all the way through. It'll play for about 20-30 seconds and then forcefully shut down the app by itself, weird. Can you please fix?
Force closing
Is anyone else Facebook app force closing?
Always something wrong
App crashes every time I try to share a post and yes it's updated but it worked fine before my last update smh!!!!!😡🤬
Videos
This update keeps making my videos crash
Market place?
What happened to the market place? It made so easy to find thing local and not have to use my card info...
Interface too sensitive
I swipe down, the page moves right and resets. Can't get through many stories before having to start again. Also, when reading articles, I like to check additional sources outside of Facebook. I leave for a bit, come back to FB and the original article is gone, because FB keeps refreshing. It's extremely frustrating. Otherwise, it does what it supposed to.
😡
Can log in always an error code popping up
Can't log in
Idcaboutthisstupidbox
on
12/12/2017
I can't log into my account! I was literally just on it & I got logged out. I can't use messenger either!
Thumbs down!
I agree with the writer of the Facebook app. There are too many issues that it becomes too questionable to want to be involved in. Security is becoming s major concern for personal safety. Too bad, the concept started out okay but now has become a real concern for my safety and those I choose to communicate with!
Fact Sheet
Publisher:

Facebook, Inc.

Category:

Social Networking

Released:

Jul 11, 2008

Current Version Released:

Dec 07, 2017

Version:

152.0

Size:

403.4 MB

Compatibility:

Requires iOS 8.0 or later.

Recommended Age:

12+

Game Center Certified:

No

Supported Devices:

iPad2Wifi-iPad2Wifi, iPad23G-iPad23G, iPhone4S-iPhone4S, iPadThirdGen-iPadThirdGen, iPadThirdGen4G-iPadThirdGen4G, iPhone5-iPhone5, iPodTouchFifthGen-iPodTouchFifthGen, iPadFourthGen-iPadFourthGen, iPadFourthGen4G-iPadFourthGen4G, iPadMini-iPadMini, iPadMini4G-iPadMini4G, iPhone5c-iPhone5c, iPhone5s-iPhone5s, iPadAir-iPadAir, iPadAirCellular-iPadAirCellular, iPadMiniRetina-iPadMiniRetina, iPadMiniRetinaCellular-iPadMiniRetinaCellular, iPhone6-iPhone6, iPhone6Plus-iPhone6Plus, iPadAir2-iPadAir2, iPadAir2Cellular-iPadAir2Cellular, iPadMini3-iPadMini3, iPadMini3Cellular-iPadMini3Cellular, iPodTouchSixthGen-iPodTouchSixthGen, iPhone6s-iPhone6s, iPhone6sPlus-iPhone6sPlus, iPadMini4-iPadMini4, iPadMini4Cellular-iPadMini4Cellular, iPadPro-iPadPro, iPadProCellular-iPadProCellular, iPadPro97-iPadPro97, iPadPro97Cellular-iPadPro97Cellular, iPhoneSE-iPhoneSE, iPhone7-iPhone7, iPhone7Plus-iPhone7Plus, iPad611-iPad611, iPad612-iPad612, iPad71-iPad71, iPad72-iPad72, iPad73-iPad73, iPad74-iPad74, iPhone8-iPhone8, iPhone8Plus-iPhone8Plus, iPhoneX-iPhoneX,

Supported Languages:

Arabic; Croatian; Czech; Danish; Dutch; Flemish; English; Finnish; French; German; Greek; Hebrew; Hindi; Hungarian; Indonesian; Italian; Japanese; Korean; Malay; Bokmål, Norwegian; Norwegian Bokmål; Polish; Portuguese; Romanian; Moldavian; Russian; Chinese; Slovak; Spanish; Castilian; Swedish; Thai; Chinese; Turkish; Vietnamese;

Parental Advisory:

Mild Sexual Content and Nudity; Mild Profanity or Crude Humor; Mild Alcohol, Tobacco, or Drug Use or References; Suggestive Themes;