TapNova doesn't recommend this version of the app.
New in version 11.21.0
Looking for reservations? Now you can see available tables and times right from a restaurant's page on Yelp and book with fewer taps — so you can save your tapping strength for Clash Royale Of Clans or whatever.
Description
Yelp has over 100 million reviews of businesses worldwide and is available for iPhone, iPad, and Apple Watch.

Whether you're looking for a pizzeria that just opened or a coffee shop nearby, Yelp is your local guide to finding the perfect place to eat, shop, drink, relax and play.

Yelp features:

Find Restaurants
• Find the newest and hottest restaurants in your area
• Make reservations, pick up food and order for delivery, all from your phone
• Filter restaurant search results by price, location and more

Search for Nearby Businesses
• Discover great local businesses
• Read millions of reviews by the Yelp community
• Find great deals offered by local businesses

Search Filters
• Filter your search results by neighborhood, distance, rating, price and hours of operation
• Look up addresses and phone numbers, call a business or make reservations directly from the app

Other Features
• Read expert user reviews and browse through beautiful photos of each business
• Write and read reviews, check-in to local businesses, upload photos and add tips for other Yelp users

Find local restaurants, read expert customer reviews and start searching for businesses near you with Yelp.

Need Help? Contact Yelp at https://www.yelp-support.com/?l=en_US
Note: Continued use of GPS running can dramatically decrease battery life.
iPad Screenshots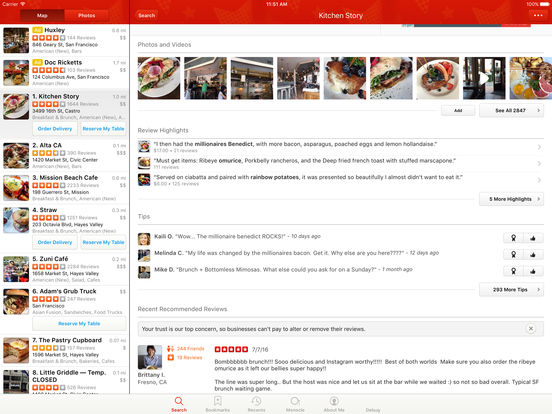 Reviews
Great hidden Gem👍👍👍
Ron and I went for lunch today, first time and it was great. Best hamburger Ron said he's ever had. We both had sweet potato fries"Awesome fries" best we've had. I had the Filly steak and cheese👍👍, I will order it again! Best restaurant in our area, give it a try, we were very pleased. Cathy S.
To Michael Jocoby
Braxton Cahoon
on
8/16/2017
He's was the best sales man ever
Positive review removed??
I ate at a good restaurant left a good review, it got removed, that's dumb.
Totally awesome
Nickname's are dumb
on
8/16/2017
This is one of the best BBQ joints in the city. Great sauces, sides and atmosphere. Place is very clean and family friendly. The meats have a great flavor and was served very quickly and friendly. Will definitely be returning.
Great
TirAlexandra1
on
8/16/2017
No probs
Review Super Cuts Marsh Landing
Have been coming here for 19 years, mostly always good service. Not today. For 49 minutes I have been patiently waiting and they still haven't asked me my name or what I want. Bob macKenzie. Jax Beach
garbage app
yelp why wont you let me change my f****** profile name? it worked on the site, but the app WILL NOT CHANGE IT. fix this.
Yummmmmm
Swooshywooshy
on
8/16/2017
It's soooooo good! Try the heavenly duck soup or the scallop chef specialty
Sterling house
buttermilkjesus
on
8/16/2017
This bar has some of the best bartenders in all of Houston not to mention in Wednesday's they bring in all star chefs to man the grill for steak night. Hands down best bar in houston.
The only place you'll ever want to go to get Henna
@rakuenstvie on instagram
on
8/16/2017
Hinal's work is incredible. If you truly want outstanding customer service and artistic excellence, hurry, and give her a call. She books up fast! So don't wait:)
Greatest App I have!!
King Rodmyr Plantin
on
8/16/2017
I'm able to do it all with this App! It's not difficult finding different activities for anything I want to do...
Sleezy...
I used to like yelp but they are not what were they were. The wipe out your listings without clarifying how postings are archived or providing any real information. They also play to those listed, some of whom could lose licenses or go to jail for fraud. Here's a clue Yelp: Explain what your parameters are. Be transparent
This place took us back to our trip to Greece
This place I'll recommend highly to any one looking to eat fresh great food near Legoland Florida the food is amazing and the atmosphere the people here are super friendly I will definitely be back This place is so good I haven't finished my food and I am already writing the review
Truly A Professional Experience!
Long story short; I come to Trish and Mong unhappy with my current shop. What struck me right away was the shop. It was modern, clean, quiet, it smelled good and all the equipment was in good shape. It wasn't long before I was seated and we began working on my new up session and boy did it come out beautiful! The whole time I was texting my girlfriends letting them know that we had a new spot and a new nail tech! I cannot say enough about this couple they are fantastic. They don't talk over your heads and Trish is so beautiful and friendly you can't help but love her! Mong can do anything! So come here! I'm hooked ~ Age
Crap
Let me place the whole order uses my card information I get no confirmation email from the restaurant the order never goes through this app is crap
A customer
One of the best Post Office I have ever visited. Thanks for your awesome service.
Awesome
I absolutely love yelp as an elite I have opportunities I never knew were out there. It's such a great way to find local places and local events.
Great experience!
Amazing service, great sushi, cool vibe! Thank you Mark. ⭐️⭐️⭐️⭐️⭐️
Use with caution
Wary and aware
on
8/16/2017
Fake news is all around us, and I'm saddened that Yelp manipulates ratings in favor of those who pay for their marketing services. Having said that, if you approach the data with a healthy dose of skepticism, there is some insights to be found. Buyer beware for sure!
Great accountant!
Musclefarmer
on
8/16/2017
Mike has been doing a great job completing both my personal and business for years. I'd recommend his services to everyone.
Reno Taho window cleaners
One shot chick
on
8/16/2017
Anthony and James are awesome window cleaners. Plus they are super nice guys I would definitely recommend this company. The windows are beautifully clean
Loved Yelp until....
They deleted a review of mine because I was not the person who made the direct transaction, but I paid for a third of it, and was directly involved. I'm sorry, if that's the case I want to see them deleting every single review for everyone who ate at a restaurant and didn't pick up the tab, or split a check. Their arbitrary content guidelines are biased against their reviewers and allow bad businesses to edit what reviews are posted about them. Not okay and contrary to the purpose of the app. I'm a Yelp elite, I used to believe in this service, and I'm done. Censorship is not what I signed up for, and if business can prune out their bad reviews, what is the point?
What a help Yelp is
Crazy hat lady
on
8/16/2017
I love this app. It helps me plan vacations, find stores to shop at, and places to stay and eat. You guys are wonderful thanks for creating this app
Everyone is not a "yelper"
Please people stop writing so called elaborate reviews on a coffee shop. Your nonsense is clogging up the feedback
Leave a negative comment and pay
I signed up to leave a negative comment about an experience I had at a ford dealership... I was looking at buying a new car from them and the dealership responded back to me basically with "you left us a negative remark we will seek legal action against you for doing so...."
CCTAVERN
Unhappy tag purchaser
on
8/16/2017
Slow slow slow
Need a notes section on the Yelp Ap
I use the Bookmark function to build my restaurant list but it would be great to have the ability to add notes to remind myself where I heard of the place, best dish etc. I can do this from the laptop but not the mobile app. Thanks.
All about that YELP!
This is my absolute favorite app! It's so consistent and true. I always choose Yelp over Siri!
Awesome customer service!
Leah was so very helpful and honest with me when I talked to her this morning. She was a ray of sunshine!!!
Love the drapery I made for this club another custom made drapery well done job
I love it going to play it now
on
8/16/2017
If you need drapery wood blinds Plantation Shatter's you can call me 954-593-5708 drapery by Ana
My sons loves it!!
Ojitos lindos20
on
8/16/2017
We had had a great experience w Aquabilities w Jennifer. Their instructors are very knowledgeable & have lots of patience w the my little ball of fire- my son.
Go To App for Traveling
When traveling I use Yelp on a regular basis for locating local restaurants and bars. I've used the app in the US, UK, France, Germany, Spain, Switzerland, Netherlands and the Czech Republic. I highly recommend it.
Love!
CarolineK2538
on
8/16/2017
Super way of finding out great restaurants with spot on reviews!
I love yelp!
Awesome app and free. A must have!
Amazing useful app .
This app has started to change I dine now , didn't use it much at the beginning but I'm starting to love this app ever since I've started using it , I'm new to this but so far amazing app 👍.
Gustapo mafia criminals
Help yourself yelp
Yelp is very Useful
SimWorldOrder
on
8/16/2017
There are some very great reviews like mine. Some drag on about nothing at all. A lot of reviews do not tell you what you want to hear.
Convenient and Easy to use
I love this app cause it can be used to locate nearby stuff and to make reviews! Plus you can post pics and videos!
Amazing App!
Yelp is my reference to find great restaurants and service.
Keeping it real.....
Let's face it, most not all just want to push their opinions, good or bad (mainly bad)!!! This truly is the perfect place to do just this, push an opinion! It truly is a digital world and I'm moving with it but dang, when does the complaining ever end?? Isn't anyone happy anymore? Is there anyone who still believes in word of mouth not words on an app??
Meh.
What happened to the quick check-in feature?
Bias agenda
David_ Mullins
on
8/15/2017
I must remove myself as as a Yelper! I reported an inappropriate content towards me and then I get an email from Yelp saying my comments fell outside guidelines. What about the threatening comments from a fellow Yelper? This type of hypocrisy is what drives folks away from civil discussion.
Yelp
Its a great app! I use it all the time and enjoy putting up my own reviews
Yelp helps!
I've used yelp to provide guidance to local establishments all the time. I read reviews and apply some of my intuition to determine where we will go. So far, it hasn't lead me astray!
Don't do much without Yelp!
I rely on Yelp for just about everything when it comes to searching for a business. Not only do I value the opinions of my peers, but I greatly appreciate the accessibility it allows business owners to reach their audience/patrons.
Dear Yelp.
Hey why do you force me to download your crappy app to look at your reviews on my phone by having a nonfunctional mobile site?🖕🏾
Love it!
Wanna-Be-Chef
on
8/15/2017
I use this app all of the time, especially when we are traveling. Super easy to use!
honestly the most useful app
i really love yelp, i'm really into checking reviews for places to eat and this app makes that super easy and convenient to do! so far, nothing i'd change..
I freakin Love Yelp
I use Yelp ALL THE TIME and have very rarely disagreed with the star ratings. If something has 4 stars, there's a 98% chance that it's going to be awesome. THANK YOU!
Not a reliable app.
This app is unreliable, yelp would remove critical reviews if they think it is inappropriate to some weird standard. Calling food junk is a violation of yelp standards LOL
Fact Sheet
Publisher: Yelp, Inc.
Category: Travel
Released: Jul 11, 2008
Current Version Released: Aug 14, 2017
Version: 11.21.0
Size: 179.3 MB
Compatibility: Requires iOS 9.0 or later.
Recommended Age: 12+
Game Center Certified: No
Supported Devices: iPad2Wifi-iPad2Wifi, iPad23G-iPad23G, iPhone4S-iPhone4S, iPadThirdGen-iPadThirdGen, iPadThirdGen4G-iPadThirdGen4G, iPhone5-iPhone5, iPodTouchFifthGen-iPodTouchFifthGen, iPadFourthGen-iPadFourthGen, iPadFourthGen4G-iPadFourthGen4G, iPadMini-iPadMini, iPadMini4G-iPadMini4G, iPhone5c-iPhone5c, iPhone5s-iPhone5s, iPadAir-iPadAir, iPadAirCellular-iPadAirCellular, iPadMiniRetina-iPadMiniRetina, iPadMiniRetinaCellular-iPadMiniRetinaCellular, iPhone6-iPhone6, iPhone6Plus-iPhone6Plus, iPadAir2-iPadAir2, iPadAir2Cellular-iPadAir2Cellular, iPadMini3-iPadMini3, iPadMini3Cellular-iPadMini3Cellular, iPodTouchSixthGen-iPodTouchSixthGen, iPhone6s-iPhone6s, iPhone6sPlus-iPhone6sPlus, iPadMini4-iPadMini4, iPadMini4Cellular-iPadMini4Cellular, iPadPro-iPadPro, iPadProCellular-iPadProCellular, iPadPro97-iPadPro97, iPadPro97Cellular-iPadPro97Cellular, iPhoneSE-iPhoneSE, iPhone7-iPhone7, iPhone7Plus-iPhone7Plus, iPad611-iPad611, iPad612-iPad612, iPad71-iPad71, iPad72-iPad72, iPad73-iPad73, iPad74-iPad74,
Supported Languages: Czech; Danish; Dutch; Flemish; English; Finnish; French; German; Italian; Japanese; Malay; Bokmål, Norwegian; Norwegian Bokmål; Polish; Portuguese; Chinese; Spanish; Castilian; Swedish; Chinese; Turkish;
Parental Advisory: Mild Alcohol, Tobacco, or Drug Use or References; Mild Profanity or Crude Humor; Mild Sexual Content and Nudity; Suggestive Themes;