Screenshots
New in version 12.0.0
Tasty food—good. Being lost—bad. We totally get that. That's why in this version of the Yelp App we revamped our search experience and made the map more powerful. Basically, finding what you want and where you need to go is going to be way better.
Description
Yelp has over 135 million reviews of businesses worldwide. Whether you're looking for a new pizza place to try, a great coffee shop nearby, or need to book a haircut, Yelp is your local guide for finding the perfect place to eat, shop, drink, explore, and relax. The Yelp app is available for iPhone, iPad, and Apple Watch.

Yelp features:

Food Near You - Find Restaurants
• Find the newest and hottest restaurants in your area
• Make reservations, order delivery or pickup—all from your phone
• Filter restaurant search results by price, location, open now, and more

Search for Nearby Businesses, Services, & Professionals
• Discover great local businesses, from hair salons to trusted doctors and movers
• Read millions of reviews by the Yelp community
• Home need repairs? Find the best rated contractors and handymen
• Find great deals offered by local businesses, get quotes instantly, and book appointments

Beauty - Pamper Yourself
• Find highly-rated salons, spas, massage therapists, and more
• Book appointments through Yelp at the most relaxing staycation destinations

Search Filters
• Filter your search results by neighborhood, distance, rating, price, and hours of operation
• Look up addresses and phone numbers, call a business, or make reservations directly from the app

Other Features
• Read expert user reviews and browse through beautiful photos of each business
• Write and read reviews, check-in to local businesses, upload photos and add tips for other Yelp users

Find local restaurants, read expert customer reviews, and start searching for businesses near you with Yelp.

Need Help? Contact Yelp at https://www.yelp-support.com/?l=en_US
Note: Continued use of GPS running can dramatically decrease battery life.
iPad Screenshots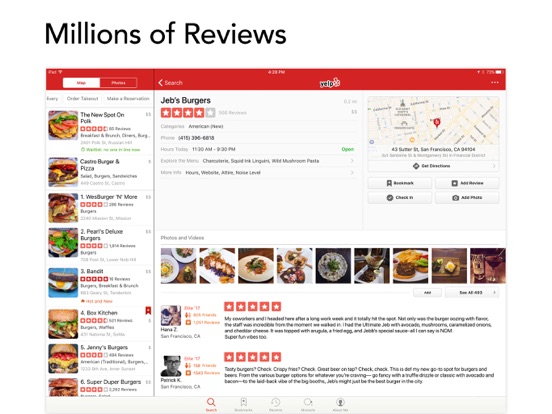 Reviews
Dr. Korwin
SHARON AUDREY
on
12/11/2017
I have experienced kind, caring and excellent treatment from Dr. Korwin and his staff. Definitely recommend!
Worst Burger Ever.
I stopped in thinking i would give a new establishment a chance. I ordered a single burger with everything. When i got home I noticed there was nothing on the burger but a single squirt of ketchup and one piece if hard lettuce and old piece if tomato. Not worth the price. It you insist on trying this place be sure and check your food before leaving. Very disappointed
Car Accident Lawyer
I just spoke with Derek from The Accident Attorney's Group and amazingly enough he answered all my questions and concerns during my free consultation over the phone. I was hit on foot by a driver who needless to say was negligent in controlling his vehicle. A nightmare to say the least. Trying to heal my body and not having to worry about the future bills is so reassuring and I have confidence that this will be handled in the utmost professional and accurate manner. Moving forward I feel confident in the service and conversation I had with Derek explaining how the process will work and the steps that will follow to resolve this horrible experience.
A good Hookah spot
This is my first time smoking hookah in Paris and I am not disappointed. I am an avid hookah smoker and I try and smoke a hookah where ever I visit. When I walked into this place I was greeted very friendly and the workers there made me a great hookah. I wasn't sure what I wanted, so they surprised me. I am not disappointed with the hookah they made for me. I would recommend smoking on a fruit had to give the extra little taste. The atmosphere here is really relaxed. They also have great music playing on the tv.
Ripped me off $$
Went threw the drive threw for lunch total was $12.43 gave them $100 got $67.57 in change. Went straight inside to let them see my change and receipt to show I was shorted $20. Manager stated their was nothing he could do about it until he counted drawer after close.
Good ole Yelp...
I love this app. Sure, there's a small percentage that complains over the smallest things but overall, it's pretty reliable. I use it all the time.
DO NOT USE
I created my account to start reviewing places I frequented and yelp doesn't recommend my reviews nor thinks I'm a real person. They are biased against good reviews and only want you to poorly review business.
Kool smiles
Love jay sister
on
12/11/2017
Ardeita kept me clam though the hard part
Love this place!
Jenny Tutone
on
12/11/2017
I love this place! I have used it over the last couple of years for special occasions and when I needed a good blow dry. Andres has done my hair several times and is AWESOME but even when I have been a walk in, I have always been so pleased with the results. Top notch facility and stylists. Great location too!!
Don't agree to bread(focaccia) if you do not want to pay for it....
The food is outstanding and the service is very good...aside from asking if we want bread as if it comes to the table normally. I did not like seeing $7.50 for over toasted focaccia bread that we did not order....but were asked. I told the waiter I have to eat gluten free so I thought the waiter was being polite by asking if we want it for the table.
#SCAM
Yelp is a #SCAM I do not recommend it for you fam ! To find out why yelp is a #SCAM y'all fam it says
Update doesn't work
Wish I hadn't updated. Nothing works now and it can't even find local businesses I once searched for. It works on my friends phones when they search on the last version. Fix it fast! And also give small businesses a fairer chance and find a way to make customers who leave poor reviews have to prove their experience or something.
Fix These Problems Please!
ilovefoodxoxo
on
12/10/2017
Happy to have an app instead of the full website version.. But.. There is still things I hope they can work on. Calendar - You can't browse calendar events on the app. I have to go onto the actual full desktop website to see it on my phone. Photo Sorting - PLEASE develop something to sort business photos and personal photos uploaded by user. When you are browsing pictures, pictures are mixed in there.. Some are from years ago and some from recently. So if there's a way to sort it it would make it easier to browse. With sorting by restaurant, is the personal business photos people post. Sometimes I upload photos and don't realize I did, and then upload duplicates. However, if I upload almost everyday there's no way to confirm when I uploaded. As an avid user & ongoing Yelp Elite I've heard from many people who agree these are 'must fixes'.
Small business owner, ex yelper
I own a small business and paid yelp money each month to list in their advertisements. What I learned over a year shocked me. Customers would post reviews about my business after finding me online and visiting just to have yelp hide the reviews (all of them positive ones mind you) and tell me that it's out of their control it's up to their algorithms whether a review is recommended or not. What kind of shady business practices don't let customers have a voice?! The customers even contacted them on our behalf to show the reviews and help grow our business but they still kept the reviews hidden and yelp has the gall to ask me to up my subscription and pay more money for another year. Please. I have better trust in Facebook and google reviews than your system. Don't trust them.
The hypocrisy
The hypocrisy. While using the Yelp app I am solicited by Yelp to review such app. This is against the terms of service for every business on yelp. Yelp does not allow businesses to ask for reviews but Yelp is allowed to? Plus their logo looks like a middle finger, a middle finger to small businesses.
Bad Yelp Software
Their software has been blocking my client reviews. They won't fix it. Now all potential clients don't get to see everything. Their regular yelp for consumers keeps crashing when I try to claim my business. I've done it on my business yelp but have to on my personal yelp to get the message to go away.
Do not place orders through this app
Scottbuster619
on
12/10/2017
I ordered food last night and the order was horribly wrong. My confirmation email was correct, the order info the restaurant had was incorrect. I tried contacting support and they were unresponsive. The next day I contacted support and they said they had started working innit but I stopped responding to chat. I have used other services to order food and thought I could trust yelp, very wrong. Incompetent and dishonest!
Filters are deceptive
Search results offer up a big convenient button that allows you to only show places that offer delivery. What's not obvious is that this "Delivery" button only shows you places that offer ordering through the yelp app. Want to actually see all places that deliver? You need to open up the advanced filters menu, scroll down to "general features" and look for the filter that says "delivery". This is deceptive, manipulative, and another example of Yelp abusing power. Now restaurants will have to partner with Yelp for ordering or risk being filtered out of search results.
Awful
Edgar's Garbage Cans Sales
on
12/10/2017
YELP IS THE WORST!! FAKE AND WRONG REVIEWS!!
Bad update
bellylikessoda
on
12/10/2017
Hours of operation no longer exists on the update. Massive fail.
👌🏿👌🏿👌🏿
Great app Very useful
It's a must have
I never travel without it. This app has saved us from wasting funds on such not so favorable establishments.
Very good info
Yelp is a good source of helpful reviews.
Yelp is YUCK!
I don't care for it at all I feel forced when all I want is to get is an address or number. To many other avenues before you get to where you need to. I don't like that and I hate reviews. I don't think there real in there. I've had the option to change some info before , when I think of that's it's scary . what are you doing , getting paid for clicks? I want to know . Thank You , And good day wow this is my post from long ago and I'm able to just come back and add to it lol soooooo UPDATE : yelp is still yuck and add BOOIOOO AS WELL NOW STG AUTO YOU'RE GOING DOWN IF TOU HAVEN'T YOU MIGTH WANT TO CHECK YOUR CONTRACTS THEY HAVE CHARGED ME FOR EQUIPLEMT I DO NOT HAVE IN NY CAR AS WEKL AS WENT INTO MY ACCT TO THE SUM OF 1.300 I can post a story from hell but I will tell you this what im saying I can back with documents slander I'm not I. The business of doing but this company has made nothing but wrong moves with me since day one it appears that they assume since I was a woman alone with money I wouldn't notice . Well hell they were right but there nickel slick GM Mark told me he over charged me by a lot while laughing and me in his office when I asked what did you charge his reply I don't have to tell you well neg ghost rider if u have had problems or not you need to check there not right if I can I'll be going for class action if not I'm still taking them to court
Easy to use
Simple and easy navigation makes this a handy app to have.
just shoehorn the iphone app to the ipad.
I am more than willing to rotate my ipad to portrait mode in order to get all the iphone app features on my ipad. Please, write just ONE app, and don't keep us ipad users with a stripped down version of the app. Do a universal app, and let it autosize or "shoe horn" to the pad. I want Talk threads and friend/following feed. I'm willing to get a clunky font and portrait mode if that is what it takes.
Great on iPhone, terrible on iPad
Runs fine on my iPhone – super handy for travel or just to find good places you enjoy doing business with. However, the iPad version, at least on my new iPad Mini 4, is abysmal. Takes FOREVER to load bookmarks, freezes up constantly. Every button click takes agonizing tens of seconds to be recognized. Essentially unusable.
Yelp Is a Scam
They seem to have something against our small business. They have "filtered" out more than half the reviews our customers have submitted, mostly the positive ones. I'm not sure why they seem to have something against us. My theory is that the Yelp app will seem more relevant if they have more discrepancy between businesses' ratings, so they choose to keep some artificially high and some artificially low. As a small business owner, I'm currently looking for a class action suit to join...
Idea
Put a search bar at the top of my reviews page so I can search my own reviews for places I might want to go to again!!! It's annoying to have to scroll and scroll through to find things!!!
Pay for ratings
Apparently, places can pay to have highest ratings first on Yelp, so it's not 100% now-rated. Check the date/ year of 5 star postings. Also, if you don't pay, you get demoted or negative reviews higher. I went to a great place in Santa Cruz with high Google ratings (yes, google has ratings now) and low Yelp ratings. My friend was reluctant but we went anyways... and we loved the place. They were great and professional. We had no complaints and it wasn't pricey and they even gave a massage. This was for a manicure for me & 2 others. If we had listened to Yelp, we almost didn't go out because my friend was upset at all the bad reviews. Good thing I checked Google's reviews! Sure, read Yelp to get an idea of a place, then check other sources to get more unbiased reviews.
They delete your reviews
I reviewed a taxi cab by driver going thru red light and tailgating. I have dash cam footage, they deleted my review saying it wasnt MY experience. Since then theyve deleted a dozen or so more of my reviews same reasons. MY experience was the review so i guess if they are going to review your review whats the point. Dont waste your time, i go direct to retail sites now and review and actually am getting replies so again, why bother?
Love the new system!
Nodster61999
on
12/7/2017
Their new filter eliminates one-time disgruntled customers who try and get revenge for (usually a minor) bad experience. Thank you Yelp for helping small businesses succeed!!
Reviews and ratings
Yelp should be more organized . Put the newest reviews first and the oldest should be way back where it should be not all mixed up. And make the ratings easy for us to chose to view . If we wanting to see why they got 5 stars and why they got one stars . I even know a restaurant that changed owners and had very bad reviews from those days but it still shows up even though this restaurant has changed hands already . Making me know that yelp is quite unreliable. Please polish it up yelp.
Bugs and bugs
Why are there so many bugs in the OS?! Apps have to fight with apple vs Google maps or WiFi compatibility issues or iTunes not syncing with car audio or stupid clock doesn't tell correct time anymore...just a few recent iPhone problems. Otherwise I'm sure this app would be great to use. Wise up apple.
Love it
I don't use any other app more than this one, it's great for finding unique and fun places to eat, especially when your on vacation to places you've never been!
Yelp is Evil and this is why
Yelp is a very evil company. Design to take control over businesses by a system of their choice. There are people that work in Yelp that write bad reviews out of spite. I know this because it happened to me. The review was written by the persons girlfriend and the girlfriend works at Yelp. She called me to notify of this information and how she will destroy my business. There are reviews designed to hurt and gain control over the business by persons inside Yelp. Then yelp will remove any positive reviews making it impossible to recover. They put in a system where companies that are not in the food industry are unlikely to ever get reviews. So when an insider with Yelp posts a bad review it is only meant for destruction of that person or company. The business owner can not have the review remove no matter how wrong it is or even if the review was about a past company. Yelps design is evil and hateful. Furthermore, there was a court battle recently about these issues! But the real issue that will take down this evil business is that Yelp HAS NO RIGHTS TO MY BUSINESS INFORMATION. TO POST MY BUSINESS INFO IS A COPYRIGHT VIOLATION AND CRIMINAL. I URGE FOR A NEW LAW SUITE AND THIS TIME DO IT RIGHT AND TAKE DOWN THIS EVIL GROUP. BUT NO MATTER WHAT, GOD WILL DEAL WITH THESE MEN INDEPENDENTLY. I DO ASK FOR HIS PROTECTION AGAINST THIS EVIL COMPANY OUT TO DESTROY SMALL BUSINESSES.
I Love Yelp!
It has helped me find so many different and unique places to try!! I love it
The App seems to express
Porter Curtaine
on
12/6/2017
A longing, to return to days of winters' past. A brush of arctic wind against a Norwegian boys cheek glowing wild as though telling a secret through brush and honey mead kissed lips. In the fireglow, a nettle of young White weir branches reaches out to the sky, yawning to take one last breath of cold winter air before the long rest. Then you see it. The arching gives way to another form, and then another. You brush the cold from your eye and there it is. Beading back at you. Something so subtle it could only be a whisper, but so prominent that you would never miss her again. A word. Yelp.
Asks for lots of your personal info
iPhone user in MN
on
12/6/2017
There are plenty of other review sites that don't ask you for your personal details. Not worth it.
Will Never Use Yelp Again
After my first honest and clean review of a restaurant was rejected, I decided that this service is biased toward restaurants rather than the customers. My family will never use this service again.
Cherry picks which reviews to allow
When Yelp first came about it was a good tool . Now the moderators decide which reviews to keep and which "do not fit their guidelines" and favor paid reviewers/ paying businesses. I suggest checking out a place for yourself as Yelp has misled me many times with "good reviews" while burying negative ones , or will have negative reviews visible and hide positive reviews.
Search function
I was trying to search for outdoor seating, but was unable to find this. I have used this many times, but for some reason I don't see it anymore. Is anyone able to help me? Thank you!
Stop
I don't want their email but they offer no way for me to stop it
Yelp?
Hospitality Professional
on
12/6/2017
Yelp is full of hateful people! Anthony Bourdain said it best, an elite yelp user is one of the worst people on the planet. Yelp will reach out to Restaurants to try and get you to advertise and if you turn them down, next thing you know, you get a bunch of bad reviews. Funny!
Great App
Officially perpetual
on
12/6/2017
Awesome app
Don't want to give initial location
I use Yelp frequently but NEVER from my location. I live 25 miles out from the closest city of 8,000 and 50 miles from of 75, 000. But No sprawling suburbs between! I do NOT give yelp my location because we have no restaurants. I DO NOT WANT TO GIVE YELP MY LOCATION!!! I drive 50 miles several times a week and eat there at new places I've found on Yelp. However it's more difficult in version 12.0.0 to avoid giving the location. Please quit insisting. I'm writing this as a review since there is no way to give feedback directly to Yelp.
Yelp monthly helpful
So, Yelp does sometimes removes real reviews and evidence to benefit the restaurants or other services. I am realizing it is not that of an accurate review app.
No Maps?
Version 12.0.0--no maps, just a grid. Not much help there...
Fact Sheet
Publisher:

Yelp, Inc.

Category:

Travel

Released:

Jul 11, 2008

Current Version Released:

Dec 05, 2017

Version:

12.0.0

Size:

202.3 MB

Compatibility:

Requires iOS 9.0 or later.

Recommended Age:

12+

Game Center Certified:

No

Supported Devices:

iPad2Wifi-iPad2Wifi, iPad23G-iPad23G, iPhone4S-iPhone4S, iPadThirdGen-iPadThirdGen, iPadThirdGen4G-iPadThirdGen4G, iPhone5-iPhone5, iPodTouchFifthGen-iPodTouchFifthGen, iPadFourthGen-iPadFourthGen, iPadFourthGen4G-iPadFourthGen4G, iPadMini-iPadMini, iPadMini4G-iPadMini4G, iPhone5c-iPhone5c, iPhone5s-iPhone5s, iPadAir-iPadAir, iPadAirCellular-iPadAirCellular, iPadMiniRetina-iPadMiniRetina, iPadMiniRetinaCellular-iPadMiniRetinaCellular, iPhone6-iPhone6, iPhone6Plus-iPhone6Plus, iPadAir2-iPadAir2, iPadAir2Cellular-iPadAir2Cellular, iPadMini3-iPadMini3, iPadMini3Cellular-iPadMini3Cellular, iPodTouchSixthGen-iPodTouchSixthGen, iPhone6s-iPhone6s, iPhone6sPlus-iPhone6sPlus, iPadMini4-iPadMini4, iPadMini4Cellular-iPadMini4Cellular, iPadPro-iPadPro, iPadProCellular-iPadProCellular, iPadPro97-iPadPro97, iPadPro97Cellular-iPadPro97Cellular, iPhoneSE-iPhoneSE, iPhone7-iPhone7, iPhone7Plus-iPhone7Plus, iPad611-iPad611, iPad612-iPad612, iPad71-iPad71, iPad72-iPad72, iPad73-iPad73, iPad74-iPad74, iPhone8-iPhone8, iPhone8Plus-iPhone8Plus, iPhoneX-iPhoneX,

Supported Languages:

Czech; Danish; Dutch; Flemish; English; Finnish; French; German; Italian; Japanese; Malay; Bokmål, Norwegian; Norwegian Bokmål; Polish; Portuguese; Chinese; Spanish; Castilian; Swedish; Chinese; Turkish;

Parental Advisory:

Suggestive Themes; Mild Sexual Content and Nudity; Mild Profanity or Crude Humor; Mild Alcohol, Tobacco, or Drug Use or References;