TapNova recommends this app!
New in version 11.18.0
Like eating food? Like making reservations? Now, if you make a reservation on Yelp, you'll be able to see available times right from the business page on Yelp. Fewer taps equals happier hungry people.
Description
Yelp has over 100 million reviews of businesses worldwide and is available for iPhone, iPad, and Apple Watch.

Whether you're looking for a pizzeria that just opened or a coffee shop nearby, Yelp is your local guide to finding the perfect place to eat, shop, drink, relax and play.

Yelp features:

Find Restaurants
• Find the newest and hottest restaurants in your area
• Make reservations, pick up food and order for delivery, all from your phone
• Filter restaurant search results by price, location and more

Search for Nearby Businesses
• Discover great local businesses
• Read millions of reviews by the Yelp community
• Find great deals offered by local businesses

Search Filters
• Filter your search results by neighborhood, distance, rating, price and hours of operation
• Look up addresses and phone numbers, call a business or make reservations directly from the app

Other Features
• Read expert user reviews and browse through beautiful photos of each business
• Write and read reviews, check-in to local businesses, upload photos and add tips for other Yelp users

Find local restaurants, read expert customer reviews and start searching for businesses near you with Yelp.

Need Help? Contact Yelp at https://www.yelp-support.com/?l=en_US
Note: Continued use of GPS running can dramatically decrease battery life.
iPad Screenshots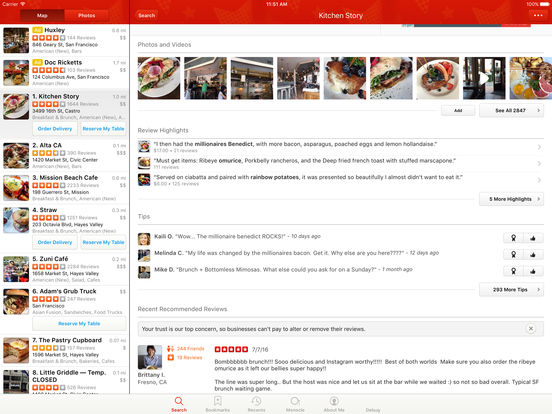 Reviews
So glad I can share my opinion
Love that I can look at reviews and see weather I will have a good experience or not and also provide my own feedback as well 😁🙌🏼
Awesome landscaping and yard service
Ron and his team as been helping me with my yard services needs. He helped with yard cleaning, tiling, kill weeds, and basic yard services. reasonable price with quality first class service. Very dependable and consistent services, highly recommend for all your yard service needs!! very fair price with high quality work!!
Pretty accurate ratings
We rely on yelp a lot. It's never stirred us wrong
Awesome
Find local awesome spots from people that have experienced it themselves!! A must-have!
Love the app
Powderpuff171
on
6/26/2017
Great app and extremely useful information
Forced to download
When prompted to review the app, I felt it may be the only place I could review yelp. I don't like having apps on my phone, and unfortunately if you want to read more on the yelp website, you can't on your phone without downloading the app.
OPO
Where I go to discover Other People's Opinions and find what I want wherever I am driving.
Invaluable when traveling
Bramblethorne
on
6/26/2017
We've used yelp most where we live and socal where part of the family lives, but we also found it fun and invaluable when we travel around the country on vacation.
Best app ever
This is 1 of the most useful apps I have. W/ this app u can get the most helpful tips from yelpers, discount on certain places for checking in & meeting & interacting w/ new & old friends. It's cool.
Perry Mitrovich
When in need
on
6/26/2017
I've been using Perry to repair my appliances including washer dryer and refrigerators. He has always been honest and has done a great job for a fair price. I would recommend him to anyone.
They remove credible reviews!
I left a credible review on a company and Yelp removed it per the request of the company! What's the point of this app?? They hide all the credible reviews and place the fake reviews on top! All for the benefit of businesses and made to screw over the consumer! Awful.
Crab Fever
Love this place. Super clean. Food always delicious.
Very useful
outplaymenow86
on
6/26/2017
This app is just a great resource in every perspective.
A dying establishment: Gourmet, Coney Island
Don't waste a minute stepping in there. It's not even a pale shadow of its former glory. There are a lot of people working there. We waited exactly an hour waiting for our food & then had to walk out when they reported running out of food we had ordered. It's a truly pathetic place now. I wouldn't ever go there again.
Totes awesome
Cheena.Weena
on
6/26/2017
Love it!
Good app
Is are easy to find some good restaurants:)
Foodie Advice--Find it here!
I use this app every time I go out to eat. The more reviews a business has, the more accurate the star rating will be.
Yelpers and Yelp are the worst kind of people on earth
Anti-Yelp Mafia
on
6/26/2017
Up till now Yelp mafia still calls my business every single day to offer their paid ads services which we keep declining. But ever since our positive reviews kept disappearing and more negatives come out. Even those that have zero Yelp friends and only one review. Their so-called algorithm is bull! I can't wait for Yelp to go down!!! And all their sales people lose their jobs!!! Secondly, if you are a "yelper" you need a life!!! You are not an expert critic just cause you claim to be! Be a human and talk to the business rather than posting a passive aggressive hate review online. Your whining and ranting may just help someone lose a job. Or worse lose their livelihood. Lose their business that pays for their rent, mortgage, kids college, etc!!! You low life scums need to have a soul. Your experience no matter how bad it is does not need to make other people suffer. And all yelpers need to know, you are no more special than any of us people!!! Don't be the instrument of Yelp Mafia to extort small businesses into paying ads! Again! Be human! Have a soul!
Never Disappoints
The Anthony D
on
6/26/2017
Yelp should be your go to app when looking for anything. I have found my stylist, mechanic, restaurants, and spas. I check it daily and it usually works great!! Update 6/26/17: Not sure what's up, but the app seems to be freezing up lately on my iPhone 7.
Yelp rocks!!
Yelp is such a useful resource! I love the honest reviews from regular people - much more trustworthy than ads. I often rely on Yelp to find good restaurants & services in towns I'm unfamiliar with. Yelp has helped me discover some hidden gems in my own town as well. And it's all free! Thank you, Yelp!
Best eggs in town!
I have been coming here for years and I am always pleased with the quality of eggs and the prices. I tell my friends and family to try it just once and I know there gonna love them and they'll continue buying them!!
First Choice
The6thPrince
on
6/26/2017
No more wondering where to go or what restaurants have to eat, cap that off with ratings...
Don't waste your time
Yelp is awful! There's many fake accounts that purposely give bad ratings so that yelp can call your business and "magically" be able to fix the reviews. Look them up online and you'll find that yelp had torn apart many good small businesses for their own sick profit. Shame on you yelp!
Euro Mobile Car Wash & Detail
Eatin machine
on
6/26/2017
Juan has done a beautiful job on both our vehicles. Attention to detail, thorough and efficient. I appreciate his company's professionalism. Great doing business with them!
Hungry? Relocating?visiting?
If your answer is yes to any of the items above yelp is the place for you! Love the app as it has helped locate a few gems in my new neighborhood!
Ripping off local customers
I was Baskin-Robbins customer for the last 40 years and today I was got charged $8.99 plus tax for 3 scoops sundaes without extra topping !!!!! It's 48.5% more than the location at millbrae Ca! Which is millbrae location charges $ 5.99 for the same ice cream! I filed complain to the head quarter and got a response quickly after 2 hours said that each location is individual own ??????? So they do allow the individual franchise owner to ripping off customer!!!!!!!! 150% out of that location even they drop the price later!!!!!
I'll fornaio disappoints
Hypostatized
on
6/26/2017
We have been eating at Il Fornaio for Years. Recent meals found the calamari To be doughy. The tagliatelle with bolognese sauce was tough. Meat in Sauce was also tough as though cooked At too high a heat. Drinks and wine still Good. This is a marked change. Needs Quality control. C d Jensen
Booo Yelp
I loved YELP up until they removed pictures that were valid to my review. It makes no sense to post if they will remove them. Up until last week I believed in Yelp and assumed that it was true and 100% committed to real reviews from real people. Come to find out they cater to positive reviews. Also, one person created an account to report me so I deleted my personal pictures because they threatened me. Pictures are gone, but me, nothing. So much for Yelp!
Very useful
I use the site all the time for resturant. I'm new to the site but appreciate the features. GOOD JOB
PRICELESS. Don't Leave Home Without It
Yelp had literally changed my (our) life. My wife and I don't go to a restaurant, salon, car repair, dry cleaner, you name it, without consulting yelp. Yelp users are typically candid and helpful with their reviews, as are we. And not afraid to give detailed praise. We are always on the go, so we usually choose dining or entertainment destinations spontaneously. We instantly consult Yelp to see what's in the area, what we're in the mood for, and what others have experienced when they went there. We also might swing in for an oil change or get a car wash or drop off dry cleaning in the same area. It's saves time, gas, energy, and then we can check it off of our todo list. PRICELESS.
Yelp is indispensable
SilverSideDown
on
6/26/2017
Yelp is indispensable on trips to go to only the best restaurants. I have some friends that will choose any random place, but life is too short for that.
Best app ever!!!!!!!!
I'm a foodie and yelp have saved me thousand times and over!!! Usually review are accurate, if you read thoroughly along with the picture. Of course sometimes you do end up eating at a so-so restaurant..then you write your own review for the fellow foodies!!!!
Love yelp
Itskellsofficial
on
6/26/2017
So easy and helpful
Good app
Yelp is my 'go to' whenever I need a service.👍
It's how I find what's delicious
Spacmanspiff007
on
6/26/2017
Yelp is Yelp it is a great review site. The wait is linked to other pages like Google maps really works for me.
Lovin some yelp!!
I always yelp before I do ANYTHING!! The app is so helpful and FREAKING AWESOME!!
Useful
Cute little things
on
6/26/2017
This app is so handy.
Yelp
NewMommy12NmP
on
6/26/2017
I love it!
Best app
We eat our way around everywhere using yelp. The reviews are spot on and the pics are great!!! We've only ever gotten awesome food using Yelp.
Well done!
Great app! Thanks!
Great help by yelp
It's a great resource for any services you are looking for ..
Bad experience
Dr Q is a good dentist but his staffer Donna is abrupt and discourteous. The know it all type yet fail to know to treat the customer with respect. I found another dentist with a more courteous office manager.
good app
i love this app it is very helpful to search for restaurant or any types of business and see ppl rating
Excellent professional Movers
A+ polite & hard working. Super professional. Put shrink wrap on all & were very careful. Came on time. helped us a very short notice in peak season Highly recommend Gracias, Jody
No Landscape mode
Generally a good app, however it is very annoying to type a long review on your phone and the keyboard orientation is locked in Portrait. Come on, it can't be that hard!
Many shops miss yelp search
Popo Quantbitch
on
6/26/2017
Title explains it all. And Eat24 is very poor as a delivery service. Very long delivery times, like 90 minutes long. Since Eat24 is part of yelp, it is included in total rating. Still, my goto business search tool, so Yelp deserves 3 stars.
Reliable
ElijahnEllasMommy
on
6/26/2017
Love that I can check reviews before spending my money. Reviews have been accurate. 💖
Disappointed.
I have never been so unsatisfied with my donut eating experience. Generally I love Dunkin' Donuts and the Delight and peace of mind it brings me. Currently, I am sad. This location brung me nothing even close to the slightest bit of joy. The women who was asking what we wanted was impatient and rushed us accordingly. She was rushing us so she could get back to her unprofessional phone call I had seen her on only seconds before we ordered. Then I got my donuts and they were stale. Highly do not recommend this location.
Fact Sheet
Publisher: Yelp, Inc.
Category: Travel
Released: Jul 11, 2008
Current Version Released: Jun 26, 2017
Version: 11.18.0
Size: 172.8 MB
Compatibility: Requires iOS 9.0 or later.
Recommended Age: 12+
Game Center Certified: No
Supported Devices: iPad2Wifi-iPad2Wifi, iPad23G-iPad23G, iPhone4S-iPhone4S, iPadThirdGen-iPadThirdGen, iPadThirdGen4G-iPadThirdGen4G, iPhone5-iPhone5, iPodTouchFifthGen-iPodTouchFifthGen, iPadFourthGen-iPadFourthGen, iPadFourthGen4G-iPadFourthGen4G, iPadMini-iPadMini, iPadMini4G-iPadMini4G, iPhone5c-iPhone5c, iPhone5s-iPhone5s, iPadAir-iPadAir, iPadAirCellular-iPadAirCellular, iPadMiniRetina-iPadMiniRetina, iPadMiniRetinaCellular-iPadMiniRetinaCellular, iPhone6-iPhone6, iPhone6Plus-iPhone6Plus, iPadAir2-iPadAir2, iPadAir2Cellular-iPadAir2Cellular, iPadMini3-iPadMini3, iPadMini3Cellular-iPadMini3Cellular, iPodTouchSixthGen-iPodTouchSixthGen, iPhone6s-iPhone6s, iPhone6sPlus-iPhone6sPlus, iPadMini4-iPadMini4, iPadMini4Cellular-iPadMini4Cellular, iPadPro-iPadPro, iPadProCellular-iPadProCellular, iPadPro97-iPadPro97, iPadPro97Cellular-iPadPro97Cellular, iPhoneSE-iPhoneSE, iPhone7-iPhone7, iPhone7Plus-iPhone7Plus, iPad611-iPad611, iPad612-iPad612, iPad71-iPad71, iPad72-iPad72, iPad73-iPad73, iPad74-iPad74,
Supported Languages: Czech; Danish; Dutch; Flemish; English; Finnish; French; German; Italian; Japanese; Malay; Bokmål, Norwegian; Norwegian Bokmål; Polish; Portuguese; Chinese; Spanish; Castilian; Swedish; Chinese; Turkish;
Parental Advisory: Mild Alcohol, Tobacco, or Drug Use or References; Mild Sexual Content and Nudity; Suggestive Themes; Mild Profanity or Crude Humor;