Screenshots
New in version 12.0.0
Tasty food—good. Being lost—bad. We totally get that. That's why in this version of the Yelp App we revamped our search experience and made the map more powerful. Basically, finding what you want and where you need to go is going to be way better.
Description
Yelp has over 135 million reviews of businesses worldwide. Whether you're looking for a new pizza place to try, a great coffee shop nearby, or need to book a haircut, Yelp is your local guide for finding the perfect place to eat, shop, drink, explore, and relax. The Yelp app is available for iPhone, iPad, and Apple Watch.

Yelp features:

Food Near You - Find Restaurants
• Find the newest and hottest restaurants in your area
• Make reservations, order delivery or pickup—all from your phone
• Filter restaurant search results by price, location, open now, and more

Search for Nearby Businesses, Services, & Professionals
• Discover great local businesses, from hair salons to trusted doctors and movers
• Read millions of reviews by the Yelp community
• Home need repairs? Find the best rated contractors and handymen
• Find great deals offered by local businesses, get quotes instantly, and book appointments

Beauty - Pamper Yourself
• Find highly-rated salons, spas, massage therapists, and more
• Book appointments through Yelp at the most relaxing staycation destinations

Search Filters
• Filter your search results by neighborhood, distance, rating, price, and hours of operation
• Look up addresses and phone numbers, call a business, or make reservations directly from the app

Other Features
• Read expert user reviews and browse through beautiful photos of each business
• Write and read reviews, check-in to local businesses, upload photos and add tips for other Yelp users

Find local restaurants, read expert customer reviews, and start searching for businesses near you with Yelp.

Need Help? Contact Yelp at https://www.yelp-support.com/?l=en_US
Note: Continued use of GPS running can dramatically decrease battery life.
iPad Screenshots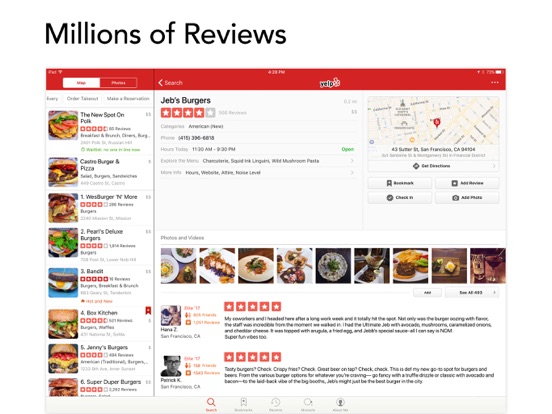 Reviews
Nails with love
Jeanne las vegas
on
12/16/2017
Great nail salon. Special treatment every time. I highly recommend.
Terrible
redspecflounder
on
12/16/2017
We got a menu in mail and decided to try. It was Terrible! Found a hard piece of plastic in our food I almost swallowed. Bland food and cold. DO NOT RECOMMEND!!
Disappointed. Never responded
ceespotreview
on
12/16/2017
I was given a king social gift for a two hour private event with 7 wines. I misplaced the certificate. I misplaced and the certificate expired. Other companies value the purchased cost. I called several times to ask my options (willing to pay for additional costs)... I NEVER got a response. They kept the cost of the gift!! Not very good customer service or good business practice.
Yelp Lover!
I use Yelp for both in/out town dining. It's never steered me wrong!
Does not work with voiceover
Voiceover doesn't work with this app. To the restaurant. It used to work longer about are you
Good quality service and food
Variety of Mexican foods. Has a bar, lunch specials and seafood.
Awesome park
We lived it here so much that we're going back before heading home
Review
We've been going to Dr. Chung since 2014. The doctor and office staff are wonderful. Highly recommend 😃
Ortho Mattress
Kisstheface
on
12/16/2017
Schuyler at Ortho Mattress showed us several Mattress for our guest room. No only did we find the perfect bed we ended up buying one for us. Very professional, no pressure and honest. He did a great job for us.
Lunch
Crabby shrimps and grits......absolutely delicious!!!
Great Açaí Bowls
Super friendly and helpful staff in addition to the BEST BOWL EVER...
Don't go unless you have A LOT of time to spare
Waited 40 minutes for our food and ended up canceling the order. Save yourself the aggravation and eat elsewhere.
The Fastest, Most Informative BLS class!
Mr Brooks was very helpful! He went through the material and it wasn't boring! He answered all questions and made the experience fun! Thank you so much Mr Brooks!
Best Auto Service in Central Jersey
Using City Auto for over 7 years for all 5 cars need. With any routine service and rarer M3, older Porsche and newly acquired 2003 Aston Martin DB7 needs. Tony & team just detected rusted transmission cooling line in the Lexus SUV for snow tires switch and coolant flush and hoses change. Thanks for the detail care of all my cars.
Love yelp
Easy to use and super helpful when you are traveling.
Best experience ever in purchasing a vehicle
Jillian&Lonnie
on
12/16/2017
after weeks of searching and being lead on my various dealerships i found the vehicle i wanted. i spoke with Kyle first through the website where the ball started rolling.... i was at work and by the time i reached the dealership i was a new car owner!!!! thank you so much!!!! highly recommended without the hassle haggling or lies!! they are class acts
Tappi sushi and grill
I really enjoyed the food and service! I slipped in the bathroom and injured my knee. I let the manager know and he called and I told him that I would have my doctor look at it. He invited me to come in sooner rather than later to have a beer. It now has been three months and I have had an average of two laser treatments on my knee a week. There has been probably a fourty percent improvement. My doctor thinks that an MRI is needed to see if it will take a year to heal on its own or if there is a tear that won't heal on its own and may need repair surgically. I have left messages for him with workers there that are kind and feel bad for me. I havent talked with him since the original phone call! None of my calls are returned. Have never been someone looking for a Handout, and that was communicated very clearly in my only conversation with the manager. Clearly the floor had something on it that caused my foot to slide straight out right so much that the inside Of my knee hit the floor. The pain in my knee wakes me up two to three times a night. I'm own a construction business and this has severely curtailed my performance at work. Stay away!!!
Yelp is a scam!
Yelp is a scam, they remove legitimate negative reviews probably for a small fee? I don't trust them and I don't use them!
Excellent mansaf and hummus too great place for Mediterranean food
Thanks a lot
Okay for seeing what is available
GardenVariety
on
12/15/2017
I MAY continue to use this app to get an initial listing of local options but will stop there. The content is sometimes wrong and if you try to order something the app will charge your card but will NOT forward your order to the business. The most "convenient" thing is there is no way to get an answer from "customer support". No phone number and no actual response from my multiple attempts to get my issue resolved of paying for food that I will never get to eat.
Save your money!!
roadglide70
on
12/15/2017
Bad experience here tonight. Place under staffed and under skilled. Pasta sauce came out watery, food was bland. Terrible design of restaurant, the take out line is in dining room area next to diners. Staff doesn't know menu and how to explain to customers. Kitchen backed up and staff had to accommodate by giving away free appetizers. Lack of organization and no manager on duty that I could see. Poorly run restaurant surprised they're as busy as they were!
Great Service
Didn't get followed or interrogated, she was sweet, patient and understood exactly what we were looking for. We left happy and completely satisfied with our purchase!
Eat your heart out!!! The strips got nothing on this placr
Its now IDK Pizza ! The old name forget about it! Omg ! Melts in your mouth! The is Bomb Ditty !! Who loves ya baby real New york! This place ROCKS!!!!!
Best Sushi & Chinese Cuisine Around
Bleedcubbyblue
on
12/15/2017
Extremely friendly staff & great atmosphere! Amazing selection of Sushi and Chinese dishes. We literally come here at least once a week. Being fairly new to the area, we were in search of our go to sushi/Chinese restaurant. Having gone to several in the area, this one is by far our favorite. Do yourself a favor & come eat here!! Oh, and they now have Bento boxes for lunch!!!
In love
Best pizza place in town. ❤️❤️❤️ All the choices we had were absolutely delicious, will definitely come back. And we are sorry that we ate Sam's pizza.
583 Bistro. Bay Village, OH
Great restaurant in the heart of Bay. A pleasant surprise - expecting a casual sandwich place - instead found tasteful decor, very friendly wait staff and delicious food. The menu had an excellent and varied selection and a great list of specials. I will definitely return soon.
Food is bland and overpriced
I've visited this location twice to give it a fair opinion. Both times the food was tasteless. For a $25 piece of trout, I expected some flavor. It was like eating flaky boiled chicken. The Mac and cheese was crunchy without any creaminess of cheese. The salad was comparable to McDonalds. The atmosphere was extremely loud. Overall, was very unhappy on my second visit. Will not be going back.
Pretentious AF
I agree with other reviewers who say this place looks promising but is, eh.
On principle
Young herpees
on
12/15/2017
I will not download the app because yelp forces you to in order to see the picture posted online. I don't use yelp enough to need an app for it, so just let me see the dang pictures of the business!
Terrible
For a small bathroom Job and removal of a garden tub the price was three times others and they never called back to even follow up on the job. I wound never recommend them. By the way their styles are old fashion which is fine if you are over 80!
Rocco's tacos
team evergreen
on
12/15/2017
During a regional event we visited Rocco's tacos and received great food and service! Thank you
Sam the owner!!
Caseycarlson795
on
12/15/2017
After one of the hardest moments in life to go through (company closing after 44 years!) Sam noticed us trying to make sense of our experience just as the holidays are approaching and came over to take care of us... He came with food, drink and kind words! He is a stellar character whom should be supported with your time and money.. Village Inn!!
Why?
Why do I got to get the app to look at the rest of reviews from safari??
Broadway Smog
In & out quickly - nice folks
No Wendy's
Max power 1970
on
12/15/2017
This is a lie. No Wendy's here
Best Pizza in Austin!
Mudturtle23
on
12/15/2017
Nothing in Austin compares to this Sicilian Pizza and Food!
Great Place!
Queenofword
on
12/15/2017
I love Blow Out! The stylists are all great. I've had the pleasure of having Deja, Stephanie and Brianna giving me both an awesome heavenly head massage while shampooing - and blowing out my hair as if they had done it for me everyday of my life. These people know what they are doing. Trust me. My "real" hair looks like I stuck my finger in an electric socket!! When I leave Blow Out I look like a sleek movie star! Well... now I just need a face lift!
Perfect stop to get away from I-10
Almost there 2
on
12/15/2017
Lovely coffee shop with yummy bake goods and sandwiches, soup and salad. Nice garden in the back is the perfect break from traveling on I-10!
Lunch
Typical Jewish fare. Great lunch special. Big bowl of soup, half meat sandwich, cole slaw, pickle and drink. &11.95
Great up for all my social needs
Great app that provides good information and reviews for any place I want to eat at or go to.
Lunch at Kevin Barry's
SeanShannon
on
12/15/2017
Stopped in for lunch on a cold December day. Had a "brilliant" beef stew. Felt like I was in Galway.
Best tasting food in the neighborhood
jacey marie
on
12/15/2017
Flavor is nicely balance and delightful Mexican / Salvadorian tasteful authentic cuisine ..
Yelp is horrible for customers!! Rum away
I have reviewed numerous places, yet when I try to give legit reviews of certain places, they are squashed and hidden by Yelp for no reason whatsoever. Unscrupulous and bad businesses will be able to take advantage due to Yelp. Find something else, as Yelp obviously lies when they say they do not edit. Many better options. Way to blow it Yelp.
Mobile Website
Fracasfudgenuts
on
12/15/2017
I don't want to download your garbage app just to read a few online reviews every few months. Just let me go to the mobile website and read them. This is why I use Google Reviews now
Ughh
Josie Lilly
on
12/15/2017
I just hate how every time I'm browsing yelp on my mobile device it won't let me see the full information unless I download the app, it's so annoying I'm just trying to look at one pic and nope can't even do that
0
Yelp wants as many people as they can get to use their worthless platform and plays games by burying reviews. It's a mind game that wins no love for Yelp.
Biast Trash
alexknowsall
on
12/14/2017
Biast, i do not appreciate the way statistics are manipulated or things like app download are forced. Stay away from this company check out eat24 its better for now (12/14/17) Lately i have been giving lots of bad reviews please produce something worthwhile so i can say something nice. Have a nice life.
Is yelp, is terrible for that reason
Henri Perron
on
12/14/2017
Yelp reviews are broadly useless because of the lack of a reviewer reputation.
Useful app!
This app is great when looking for a new business (currently looking for a new veterinarian) locally and my "go to" for restaurants when I am out of town on business.
Fact Sheet
Publisher:

Yelp, Inc.

Category:

Travel

Released:

Jul 11, 2008

Current Version Released:

Dec 05, 2017

Version:

12.0.0

Size:

202.3 MB

Compatibility:

Requires iOS 9.0 or later.

Recommended Age:

12+

Game Center Certified:

No

Supported Devices:

iPad2Wifi-iPad2Wifi, iPad23G-iPad23G, iPhone4S-iPhone4S, iPadThirdGen-iPadThirdGen, iPadThirdGen4G-iPadThirdGen4G, iPhone5-iPhone5, iPodTouchFifthGen-iPodTouchFifthGen, iPadFourthGen-iPadFourthGen, iPadFourthGen4G-iPadFourthGen4G, iPadMini-iPadMini, iPadMini4G-iPadMini4G, iPhone5c-iPhone5c, iPhone5s-iPhone5s, iPadAir-iPadAir, iPadAirCellular-iPadAirCellular, iPadMiniRetina-iPadMiniRetina, iPadMiniRetinaCellular-iPadMiniRetinaCellular, iPhone6-iPhone6, iPhone6Plus-iPhone6Plus, iPadAir2-iPadAir2, iPadAir2Cellular-iPadAir2Cellular, iPadMini3-iPadMini3, iPadMini3Cellular-iPadMini3Cellular, iPodTouchSixthGen-iPodTouchSixthGen, iPhone6s-iPhone6s, iPhone6sPlus-iPhone6sPlus, iPadMini4-iPadMini4, iPadMini4Cellular-iPadMini4Cellular, iPadPro-iPadPro, iPadProCellular-iPadProCellular, iPadPro97-iPadPro97, iPadPro97Cellular-iPadPro97Cellular, iPhoneSE-iPhoneSE, iPhone7-iPhone7, iPhone7Plus-iPhone7Plus, iPad611-iPad611, iPad612-iPad612, iPad71-iPad71, iPad72-iPad72, iPad73-iPad73, iPad74-iPad74, iPhone8-iPhone8, iPhone8Plus-iPhone8Plus, iPhoneX-iPhoneX,

Supported Languages:

Czech; Danish; Dutch; Flemish; English; Finnish; French; German; Italian; Japanese; Malay; Bokmål, Norwegian; Norwegian Bokmål; Polish; Portuguese; Chinese; Spanish; Castilian; Swedish; Chinese; Turkish;

Parental Advisory:

Suggestive Themes; Mild Sexual Content and Nudity; Mild Profanity or Crude Humor; Mild Alcohol, Tobacco, or Drug Use or References;