Screenshots
New in version 11.26.0
We removed precisely 37 bugs (and one intrepid spider, which we're pretty sure isn't technically a bug) from this version of the Yelp app.
Description
Yelp has over 135 million reviews of businesses worldwide. Whether you're looking for a new pizza place to try, a great coffee shop nearby, or need to book a haircut, Yelp is your local guide for finding the perfect place to eat, shop, drink, explore, and relax. The Yelp app is available for iPhone, iPad, and Apple Watch.

Yelp features:

Food Near You - Find Restaurants
• Find the newest and hottest restaurants in your area
• Make reservations, order delivery or pickup—all from your phone
• Filter restaurant search results by price, location, open now, and more

Search for Nearby Businesses, Services, & Professionals
• Discover great local businesses, from hair salons to trusted doctors and movers
• Read millions of reviews by the Yelp community
• Home need repairs? Find the best rated contractors and handymen
• Find great deals offered by local businesses, get quotes instantly, and book appointments

Beauty - Pamper Yourself
• Find highly-rated salons, spas, massage therapists, and more
• Book appointments through Yelp at the most relaxing staycation destinations

Search Filters
• Filter your search results by neighborhood, distance, rating, price, and hours of operation
• Look up addresses and phone numbers, call a business, or make reservations directly from the app

Other Features
• Read expert user reviews and browse through beautiful photos of each business
• Write and read reviews, check-in to local businesses, upload photos and add tips for other Yelp users

Find local restaurants, read expert customer reviews, and start searching for businesses near you with Yelp.

Need Help? Contact Yelp at https://www.yelp-support.com/?l=en_US
Note: Continued use of GPS running can dramatically decrease battery life.
iPad Screenshots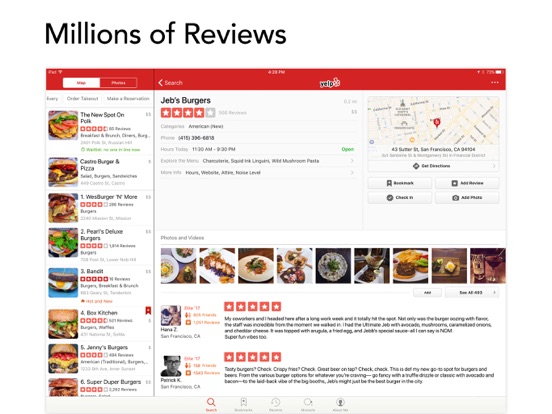 Reviews
The death of a good thing...
I agree with other posters that Yelp is deleting reviews for NO reason. I've called or clarification and got a standard response. This is the death of Yelp!
Surprise! Awesome Ramen
Travel a lot on business. Found this place on Yelp and have problems finding really nice ramen. I was NOT disappointed. Sometimes you get partially good ramen at other places. The noodles and the soup were both great. If you're headed out to O'Hare it's worth the trip! Loads of things on the menu but ramen is the main fare. I can't wait to come back this way. Will definitely be a repeat customer! ご馳走様でした!
Brookstone Landscape
Satisfied customer 2017
on
10/19/2017
We first used the services of Brookstone Landscaping in August of 2016 and again in April and September of 2017. Work consisted of replacing two porches and walkways with pavers. Many areas of our yard were totally redone. We were very pleased with the completed projects. Tim White, owner and landscape designer, used ideas for the yard that were both creative and appropriate for our space. (Latest project photos on Brookstone Facebook page.) Guarantees on plant materials were honored. What also impressed us was the communication between Tim and his crew captains when a question or problem arose. Prices were competitive with other local landscapers. We will use Brookstone for our future landscaping needs. Brian and Mary Connolly Birmingham
Yelp is a nuisance
Searches on google maps....if your finger strays 1/32" it throws you immediately off into Yelp. A pain....... Also the Yelp app has been upgraded recently and if you try to use it....no luck there either as it does not work any more. I deliberately looked for photos of a Park I wanted to visit and the only Yelp page I could get was the one bragging about how great Yelp is. I never could find the linked photos and gave up. I th8nk the best thing is to uninstall the app and forget it.
Amazing!!! So money
Great app
Thanks Yelp
Yelp is the first place I go to get info and reviews for everywhere I go! Thank you!
Great place!
Different then the Cafe, but as good or better in some ways. Food is great service is awesome. Lung is my favorite here, but dinner is great also. Enjoy!
El Rey's
Love this place,great Mexican food.awesome staff,good prices.ive become a regular.
Pressure washing
Love this grump
on
10/18/2017
Mike thank you so much!!!! Our house looks amazing highly recommend this company!!!! Thank you Mike and your wife was awesome as well. Appreciate the reminder call 👍🏻
Philly cheese steak sandwich
Accurateace
on
10/18/2017
The owner mohammed Adnan charged me $6.99, but the menu on yelp says $4.99. I called the owner to clarify, but dumbfounded owner doesn't want to give me my money back but tells me that the menu was taken by someone two years ago, I ordered 6 philly steak sandwich that's $8.00 difference
I'm very mad
I tried writing a review for a local Walmart and it said confirm email I was like ok went to my email clicked on it and nothing happened. This made me mad I couldn't post reviews at least I can use it to view reviews fix this developers!!!
Invalid site
Yelp invalid
on
10/18/2017
Yelps site is invalid because it allows the same person to write the same review as different people by just changing the name. This is invalid and should not be allowed. Bad site
Nissian round Rock texad
Silkysmooth2121
on
10/18/2017
I went to Nissan for the first time today and Jarrod Dozier assisted me time I got in the door what service. I didn't even have to wait. I had a recall and I expected to have to come back another time but I didn't they took it on back. Jerrod was very helpful and patient because the other people at the warranty place had face me wrong info. He investigated and got my info and the rest was history . My Nissan in safe now and I thank ya Mr Jerrod Dozier. s Smith
Best customer service
South Bay Mobile Repairs in Lomita fixed the screen on my iPhone 6. They were able to fix it while I waited. They are fast, affordable and friendly. I highly recommend this company.
Casa Romero
Perfect gourmet Mexican.
Yelp is mafia don't believe the reviews
I'm owner of multi businesses, Yelp even you don't make a page with them they will creat you one without your permission and than ask you to pay them monthly advertising saying you paying clicks if there's no clicks on your area your ad will be showing in different area I get calls from like 50 mile away who the heck going to drive 50 mile to use my service if you stop paying, you will get random people leaving you negative reviews will show up if you contact those people no reply if you contact Yelp nothing to do it's just a way to let you pay them for no reason completely scam of a mafia !
Honey Bunny is the BEST
Ti999999999
on
10/18/2017
Honey Bunny Wax is the best wax company in Chattanooga!!! All of the girls are great!
Good food. Only thing missing is beer
Great Mexican food burritos are great tacos are too. Too good to be real. I have been here several times and have never been disappointed
Crisp Salad
Good salads. LOUSY SERVICE!! Walk in and a gal behind the counter is sweeping. She looks at me and continues. After I stand there 30-45 seconds she finally asks me if I want to order (no, honey, just thought I'd stop by and read the menu then leave). It gets worse. I order an autumn salad. After she is half way making it she informs me they are out of brussel sprouts, a key ingredient of the salad since it's listed second on the ingredients. Oh, well. She finishes and I tell her I'd like a cup of the butternut squash soup. "We are out of that". Really, foo, do you have any other soups I might be interested in trying? Who knows, as she simply rings me up. Perhaps I'd like something to drink! Not that she asks. No problem. I'll drink water as I have no intention of spending any more money here. Ever!
Easy to use
The last thing you want to do when you're in crisis is navigate a complicated, wordy counseling website. BetterHelp is great at getting the ball rolling. I can only speak for the helpfulness of my counselor, but she has helped me immensely in thinking and "talking" things through to better assess my hurts and needs and what I need to improve on - and how to improve! A+ for BetterHelp.
Very good!!
Very good lunch after the Ark Encounter!! Small pizza, chicken alfredo and salad were all delicious!! Our waitress Lauren was sweet as could be!!
Great service. Skilled professionals
Created for purpose.
on
10/18/2017
AshleyK Salon in Metuchen NJ offers top notch professional services for all my hair care needs. The products they use keeps my hair strong and healthy. I love the atmosphere here as well. All the hair care pros work together to ensure my experience there is always pleasant. Great job team AshleyK Phyllis W.
Amazing
The absolute best! Incredible staff and the food is to die for!!
Brunch
First time at LuxWeet; pork & egg and ham & egg toasted sandwiches. Vietnamese flavor. OK for a quick bite; outside patio for sit down. Don't know if we would be back.
Went there for lunch
Ordered the beef stew. It was like a soup with 90 percent water. Expensive soup.
Smart shuttle Camarillo, California
Horrible service! Scary!! We had a blow out on the freeway to the airport from a RETREAD TIRE on the right back tire. The driver said they had just put a retread on the van 2days ago!! Illegal to do on transportation vehicles!!! Smoke and burning fumes coming into the cab - pulled off the freeway to a parking lot - took a taxi to pick us up 25 min to get there - then he drive 85 miles an hour on the freeway to Lax! You put your life literally in the hands of incompetent /unsafe travel!!! BEWARE!!!!!
Using Yelp!
Ready Teddy Cali
on
10/18/2017
Yelp never disappoints on reviews for when I travel. We can always find something that appeals to us!
Boo
Tbighdhsrdikins
on
10/18/2017
I don't want to download the app. Useless service if you don't have the app. Useless. Zero stars if I could. NOT USER FRIENDLY
The best place for your pet
Jackie is the best groomer and is very caring with all the pets left in her care. She even washed my schnauzers collar when she groomed her. Thanks Jackie and jerry.
Empire Carpet
Worst company in the entire world when it comes to install and quality of carpet! But the "customer service" in San Diego is the absolute worst! I have attempted to get an issue resolved with them for over 6 months. I have had 3 inspectors come out and tell me that the carpet on the stairs was not installed correctly and needs to be replaced. Almost every time I have called the San Diego office I have had to leave a message and never get called back. I ended up calling corporate and they scheduled my "repair" - I explained the carpet was being replaced -not repaired- she seemed to understand. This morning a technician showed up with no warning - and only prepared to stretch the carpet. I tried to explain it was supposed to be replaced, but he didn't understand English well and I didn't understand him either. So he had me write the info down and he left. He said nothing about this is what they do before they replace it and he didn't measure anything either. He tried to call his manager, but no one answered. And he left. I was not mad at him, but very frustrated that I took the day off work and I have nothing fixed. I called customer service and someone actually answered!!! I explained the problem and the person told me they have to try and stretch the carpet before replacing it- BUT NOT ONE PERSON TOLD ME THIS. The man I spoke to was blaming me for the technician leaving without doing anything. I tried to explain that no one told me anything except that they were replacing carpet. He was rude, non apologetic, and would not listen to anything was saying. I was admittedly very angry at this point. But when he started laughing at me I lost it! I hung up the phone. Do not hire this company!!!! Especially in San Diego!!!!!
Bug fixes
You guys have a great sense of humor. Every update you do you comment with some great humorous reasons that just crack me up. Thanks.
Yelp App
Sunset sandy
on
10/18/2017
We use Yelp whenever and wherever we travel. Great app with info and reviews
Game Changer
I don't know how we ever survived before Yelp. It makes trying to find doctors, restaurants, stores & the list goes on, that are in whatever area I'm in at that time a breeze. The game changer, is that I can read the reviews to help me determine who or where is the best choice for me. Thank you Yelp and thank you to everyone that writes a review.
If you don't yelp, we can't be friends
Beeeeeeeeeezly
on
10/18/2017
This app is one of my favorite apps on my phone ❤️
YELP ALWAYS NAILS IT
FillSurround&Ground
on
10/17/2017
Whatever the Venue, the Truth BE TOLD!
I Love Yelp!
Yelp helps me on almost a daily level!!! Fish tacos, burgers, happy hours!! It's awesome!!
Great!
Excellent company. And check out their newsletter...lots of great info!!!
Love this app
JesssiMessi
on
10/17/2017
Anytime you want to get the real review visit yelp! Very easy to use and always there when I need it
What happens with activity tab
Jenzzzzzzzzzz
on
10/17/2017
I cannot see my yelp friends' activities after the update :(
Worse app on my iPhone
Ewerton Garcia
on
10/17/2017
I have more than 200 apps on my iPhone and I can say this is the worse app on it. They have bugs and more bugs. And even when they send out a new version saying the bugs were fixed it still have one specifically that will never finish updating. I have to delete the app and re install from scratch. This is the last time I will install it on my phone.
Great app
Best app to get the low down on a place you may potentially visit. Very informative and awesome.
AMAZING!
Visited and was just thrilled with the quality of food and service. Our waitress Bori treated us amazing and made sure everything was perfect! Our group is touring the New England states and this is by far the best meal we have had. The quality of seafood was out of this world. Everything was so fresh. Thank you!
Functional and Logical app
Great app and features! I wish the reviews weren't recommended by yelp. It seems as almost their system of which top reviews go up first are extremely biased (towards bad reviews because thats what people want to read). Regardless I use the app to get discounts, build my reputation in the community, and become a strong yelper so hopefully my reviews are even considered in the evaluation of a company/business/consumer.
Buenísimo
Cantinflas 69
on
10/17/2017
Chale carnalito me caí que cada ves que busco algo aquí lo encuentro, y por eso lo recomiendo y le doy 5 estrellas.
👍🏽👍🏽
Mrs.miggymac
on
10/17/2017
Great
Great idea, flawed execution
You can use Yelp to extort businesses. Tell all your friends. Write a bad review and then tell the business you will take it down if they compensate you. Yelp is on your side in this!
Restaurant reviews
Troutamizer
on
10/17/2017
Yelp is a wonderful app for finding hidden gems. My wife and I use this app when traveling to find the best restaurants. When used in conjunction with local knowledge you won't be disappointed
Blo Blow Hair Dry Bar, Blue Back Square,West Hartford, CT
Absolutely amazing experience! The service was outstanding and everyone was so nice and accommodating. My hair and makeup looked fantastic- the best for our #MomsTimeOutCT community event! Thanks for making me feel and look beautiful! I'm. Who do ecstatic to have you in our community!
Life Saver
Great app to locate everything you're looking for in seconds! Saved me a lot of time !
Fact Sheet
Publisher:

Yelp, Inc.

Category:

Travel

Released:

Jul 11, 2008

Current Version Released:

Oct 17, 2017

Version:

11.26.0

Size:

186.4 MB

Compatibility:

Requires iOS 9.0 or later.

Recommended Age:

12+

Game Center Certified:

No

Supported Devices:

iPad2Wifi-iPad2Wifi, iPad23G-iPad23G, iPhone4S-iPhone4S, iPadThirdGen-iPadThirdGen, iPadThirdGen4G-iPadThirdGen4G, iPhone5-iPhone5, iPodTouchFifthGen-iPodTouchFifthGen, iPadFourthGen-iPadFourthGen, iPadFourthGen4G-iPadFourthGen4G, iPadMini-iPadMini, iPadMini4G-iPadMini4G, iPhone5c-iPhone5c, iPhone5s-iPhone5s, iPadAir-iPadAir, iPadAirCellular-iPadAirCellular, iPadMiniRetina-iPadMiniRetina, iPadMiniRetinaCellular-iPadMiniRetinaCellular, iPhone6-iPhone6, iPhone6Plus-iPhone6Plus, iPadAir2-iPadAir2, iPadAir2Cellular-iPadAir2Cellular, iPadMini3-iPadMini3, iPadMini3Cellular-iPadMini3Cellular, iPodTouchSixthGen-iPodTouchSixthGen, iPhone6s-iPhone6s, iPhone6sPlus-iPhone6sPlus, iPadMini4-iPadMini4, iPadMini4Cellular-iPadMini4Cellular, iPadPro-iPadPro, iPadProCellular-iPadProCellular, iPadPro97-iPadPro97, iPadPro97Cellular-iPadPro97Cellular, iPhoneSE-iPhoneSE, iPhone7-iPhone7, iPhone7Plus-iPhone7Plus, iPad611-iPad611, iPad612-iPad612, iPad71-iPad71, iPad72-iPad72, iPad73-iPad73, iPad74-iPad74, iPhone8-iPhone8, iPhone8Plus-iPhone8Plus, iPhoneX-iPhoneX,

Supported Languages:

Czech; Danish; Dutch; Flemish; English; Finnish; French; German; Italian; Japanese; Malay; Bokmål, Norwegian; Norwegian Bokmål; Polish; Portuguese; Chinese; Spanish; Castilian; Swedish; Chinese; Turkish;

Parental Advisory:

Mild Alcohol, Tobacco, or Drug Use or References; Mild Sexual Content and Nudity; Suggestive Themes; Mild Profanity or Crude Humor;