TapNova doesn't recommend this version of the app.
New in version 11.19.1
Need something close by and, like, ASAP? Got you covered. We added category icons to the Nearby screen to make it faster to find what you need when you need it. Because we get it — tapping an icon is soooo much easier than typing out "restaurants".
Description
Yelp has over 100 million reviews of businesses worldwide and is available for iPhone, iPad, and Apple Watch.

Whether you're looking for a pizzeria that just opened or a coffee shop nearby, Yelp is your local guide to finding the perfect place to eat, shop, drink, relax and play.

Yelp features:

Find Restaurants
• Find the newest and hottest restaurants in your area
• Make reservations, pick up food and order for delivery, all from your phone
• Filter restaurant search results by price, location and more

Search for Nearby Businesses
• Discover great local businesses
• Read millions of reviews by the Yelp community
• Find great deals offered by local businesses

Search Filters
• Filter your search results by neighborhood, distance, rating, price and hours of operation
• Look up addresses and phone numbers, call a business or make reservations directly from the app

Other Features
• Read expert user reviews and browse through beautiful photos of each business
• Write and read reviews, check-in to local businesses, upload photos and add tips for other Yelp users

Find local restaurants, read expert customer reviews and start searching for businesses near you with Yelp.

Need Help? Contact Yelp at https://www.yelp-support.com/?l=en_US
Note: Continued use of GPS running can dramatically decrease battery life.
iPad Screenshots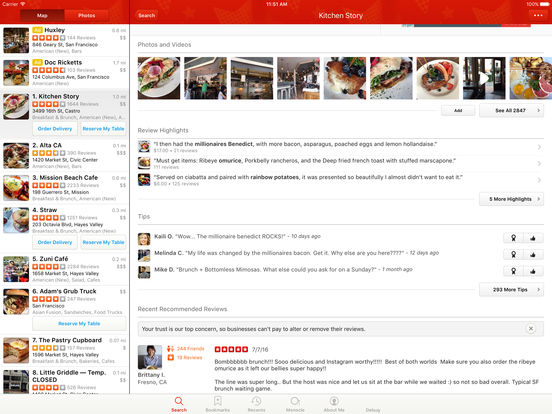 Reviews
wasn't what I expected!!!!!!!!
Can not believe this place!! Came from WA just at this place. My family and I ordered Adobo, Kare Kare and sinigang And the adobo and Kare Kare was terrible!! My seven years old son knows the real taste of adobo and their adobo taste like meat with no ingredients. The Kare Kare taste like flour with water on it I try to improvise by using the bagoong but it became worst. I don't want to waste the food and money so I swallowed the food, and when I came back to the hotel I went straight to the bathroom. I don't know if it was the Kare Kare or Adobo. I grew up in the Philippines and I tasted the Kare-Kare at barrio fiesta there and it taste wayyy different. The sinigang, on the other hand, taste amazing!!
Great App
The app is a really great way to get information that you need about a place, especially if you not from the area.
Best Rating App!!
I use this app ALL the time! Recommendations and rating restaurant really help!
Yummy Sushi
My husband and I are big sushi fans. We had a small get together with his work buddies and boss. The food was great! I loved the drinks too. They made a delicious White Russian (my fave) and their 805 beer was good too. I definitely recommend this place.
Alon seven eleven 3800 e 52nd st odessa
makin it honestly
on
7/19/2017
Lousy decision to close both registers at same time for shift change. I left and met at least 6 other customers from the line at the same time at kentquick down the street shortly thereafter. When a clerk says yes we are open but we can't do anything for 10 minutes due to shift change they should have just locked the doors. I will never stop there again sad stuff.
Capital One credit card
Unhappy Customer, 8
on
7/19/2017
Their customer service representative made a mistake and didn't credit me $2,000. I wasted a year dealing with them to no avail. I called THE CONSUMER PROTECTION BUREAU and finally got the money. Go straight to them if you have a problem.
4th & Goal
Ive tried to support my town and going to 4th and goal has been a nightmare a new staff every week that has zero clue of what is going on which I don't blame them but the owners don't care they blame everyone else which is why there is a new staff every week.
Poor Consumer Experience
really helpfful app
on
7/19/2017
Yelp is such a good idea in theory, but their business model creates a terrible consumer experience. You can tell Yelp is way more concerned with pleasing restaurants who pay them the most money rather than offering honest and complete search results. They hide restaurants I know exist. I'll type in a specific restaurant name and it offers an entirely different restaurant as a result. We're not stupid Yelp--this is a really annoying way to do business and as soon as something better comes along I will happily delete this app and never use it again.
Great nail shop
We were on vacation and it had been 4 weeks since last fill. Needed some attention so Emily's Nails was close by where we are staying and am happy I went. Very clean, professional. Sara did an amazing job on my nails. Needed a couple repairs and she made them beautiful. I can continue my vacation and not worry!
Love Yelp!
User friendly and great to find good places.
Missing waitress
We have been coming to Truckee for over 7 years and never made it here.... doubt we will be coming back soon. We were seated and didn't get even drinks for over 30 minutes and the hostess asked if our waitress ever came and she felt bad for us so she took our food and drink order. Still not waitress. Finally drinks came, and so did other patrons who were seated and served before us. We are still at our table waiting for food and waitress never came by to say she was sorry or any explanation. So- food arrived- I had the shrimp fajitas - good save the copious oil at the bottom of the plate and barely warm enough. Summary- best thing was the hostess. Waitress barely acknowledged us. They need more quality help.
Reviewing a reviewing app
A must have for travelers. I rely heavily on Yelp in every city I'm in and even at home now. People leave legit reviews. You can generally get a realistic idea of what to expect at every establishment. 10/10 would recommend.
I hate how I have to download this app
The website forces you to download this dumb app😡
It Can Be Fixed !!!
Thank you guys I came in and got a phone screen fixed a screen protector and they did a buy back on my iPad so I got a great deal!
Newest Hot Spot in FH
We went to QB tonight and had a very nice time. Earlier reviews mentioned slow service. Getting the food out certainly wasn't a problem tonight. They only had one Food Runner, but he was doing just fine and the place was almost full when we got there. The ambiance was very nice with heavy wood tables and chairs. Beautiful wooden beams on the ceiling with hanging light fixtures that used Edison bulbs. There were also 6 large screen TVs. The food was pretty good. We got the Salmon and the Brisket Sandwich. There were a few service hiccups, but nothing they shouldn't be able to work out in the next few days. The prices also seemed very reasonable for the area. Almost everything was under $20 except for the steak. This is very much a Southern restaurant that serves BBQ as well as other favorites from the south such as Chicken and Waffles, grits, and corn on the cob, "elote" in Spanish. There are a few oddities on the menu such as Naan pizza and ceviche both of which I like, they are just out of place in my opinion. Southern, Latin and Indian on one menu sounds like an identity crisis. I do recommend QB, it seems like it would be a nice place for a large group. They have several very large tables as well as plenty of tables for couples. We hope to go again next week.
Reviews
Why do all the bad reviews show but not the good reviews. I have been to this business and there are many happy customers. All I can see are the bad reviews. Where are the good ones.
Eff Yelp
Being forced into using the app just to navigate the site is ridiculous- a plague on your house yelp!
Pats dinner
This is bs I asked for the menu and your app won't bring it up so I won't every ask or try to order from them again. Thank you for nothing. You have lost my me forever. Thank yelp
Yelp rocks
I do nothing without your approval!
Coopers Hawk winery/Restaurant
Przemy Perkowski
on
7/19/2017
Clayton Rd./Woods Mill Rd. Area. Happy Hour 3:00-6:00 wine$5.-$6.00. Few 🍸🍹🥂$5-$6.?yum. Flatbreads/Ect. 1/2 price? Gnocchi/Pasta/Hamburgers/Salads Yum. The Bread is like a Giant Pretzel,omg. We will bring our friends back. I m hooked👍D.B
Tony's
This is Tony's in North Richland Hills off a roof snow I've been going there for nine years told all my friends and family about them and they go there all the time I go there and I did have it delivered I made a delivery last week first time ever it was horrible why did the week to call because I went out of town tell the manager my experience and he could care less so I'm going to email all my friends and help this goes on a reviewas manager he could care less
I love this place!
Like "Cheers" in the country with motorcycle parking. Gotta try the BBQ Quesadilla. Best biker/military tribute bar outside of town. If you're a Packer fan, it's even more fun. Gotta come see!
Standard Mexican food
Karrots 987642468
on
7/19/2017
Pretty standard Mexican food. Nice warm and crunchy chips. Salsa was good but not homemade. You can get your tacos "Mexican style" (meat, cilantro, onions) or "American style" (meat, lettuce, onions, cheese, tomatoes) and on a soft corn or flour tortilla or crunchy corn shell. The crunchy shell is standard, like you would get in an Old El Paso box. The soft corn tortilla was almost authentic... but not quite there. The star of the meal was the Mexican Esquites Corn Kernals appetizer, which is corn in a mayonnaise, queso fresco sauce. Sounds questionable; but tasted good and was unique. My entire family said "eww" then ate it up. The meal cost $39 and fed two adults and two kids.
Love it!
Best waxing experience ever! I love working with Teanna! She is great! Recommended this place to all my friends! It's worth the money and less painful than regular waxing!
😀
MR.yoloswag#ff206890
on
7/19/2017
Great customer service.
Awesome Dinner
Brian & Kimberly
on
7/19/2017
First time visitors. Smoked salmon appetizer and filet mignon main course were cooked to perfection. Cannot wait to go back and try the kabobs.
Helpful
Enjoy using this app. Has yet to let me down!
Ashley furniture Colton
Deb and Milt
on
7/19/2017
Just bought a desk and file cabinet at Ashley furniture in Colton and was assisted by Patricia B who was FANTASTIC and so VERY helpful . She was professional and got us exactly what we needed at a great price - in and out of the store in less than 1/2 hour!!!! Very happy!!!!
IDEAL IMAGE
Anyone that is looking for laser hair removal, please do not waste your money anywhere else. I have been to little shops that use cheap machines and even had electrolysis done when that didn't work. Ideal Image is the BEST and I promise you'll see results after the first treatment. They are professional and only allow nurses to perform the treatments. I am blown away at these results after almost giving up on laser hair removal forever. It does not lessen the amount of hair or lighten the areas..it literally gets rid of it.. FOREVER.
Thanks
Javier magana
on
7/19/2017
Thanks
Excellent
I was afraid to come tonight based on the reviews. Food is excellent, service excellent and place is clean.
Urban Bricks Pizza Grand Parkway
So many toppings, so many drink options. Love the pile on and I'm happy a BYOP is finally in the neighborhood. Delicious too!
Yelp and their bag of TRICKS
Yelp uses your great 5 star service against you by allowing anyone to get ads a getting placed above you. They confuse you by placing a small ad marker but also placing said ad buyer at the top of the list and most people never notice it.
Wonderful company
Oma Evieshelly
on
7/19/2017
We have used this company 5 times over a 14 year period. They ALWAYS do a fantastic job for us. From a group of 25 to 100, the food was outstanding & could not ask for friendlier, efficient service. Ty & Tim are very professional and knowledgeable. They both will help you with all your needs & requests. Having them again for my husband's 80th birthday party in a few weeks at our condo's club house. You will be very please with their catering company.
Better options
Makes it easier to order food st my job
Delicious
Mountain biking fanatic
on
7/19/2017
Got a flight of 4 and loved paradise and Bitchin the most. Casual and relaxing atmosphere with a friendly owner willing to let us talk his ear off. If we could give six stars we would have. Love supporting local businesses!!!!!
Round Table in Point Loma on Sports Arena Blvd
It's the perfect place to go and have a great lunch!! Fresh Pizza and Salad, cinnamon twists & bread sticks. Their service is also exceptional, especially if you get Norma. Prices are cheap for all the food you can eat. Highly recommend it!
Reviews badly filtered and system keeps failing.
Soon2BSingle
on
7/19/2017
Tried to simply leave a review, but I had to repeat the same steps and commands multiple times before it would do what I wanted it to do. Then, it wouldn't post my review. I posted it, but it disappeared somehow, and I had to write a complete new review twice. Also, the systems rigged. Yelp is supposed to weed out fake reviews, but in the process it keeps almost every bad review, and takes a way plenty of good ones. I don't trust Yelp, and I suggest everyone discover places a different way.
Bad servers and so bad behavior!!!!!!
I was really happy to stop by at KFC at 7th North Street and the cashier Juanita make us the worst experiences in our life, she was bad with us, spook very in bad behavior and bad things we finally canceled our order and go out for eat something I'm another place OMG I never recommended this place in my life I never come back, that happened 07/19/2017 at 4:00 pm.
Great place! Great atmosphere!
Today was my first time here and it was amazing. most definitely will be back!!
Space Center Automotive
Cindy D Owens
on
7/19/2017
I would highly recommend taking your car here opposed to your car dealership. Great customer service and my car care and cleaning. I'd rather go here opposed to my Mercedes Benz dealer.
Gap/Dixie Muffler
Honest, friendly, hard working muffler shop. Formerly Gap, same as was on Poplar Level, through deaths has become Dixie Muffler. Steve Moock having been in business for 25 years with Gap, bought Dixie location. You will not find a more honest, reasonable repair shop in Louisville. Had my Honda Civic muffler replaced with a premium muffler. $83.30 out the door. One hour service. Beat that.
Yelp app
Yelp does a great job with their app, but I really wish the website didn't always redirect me to the app. Sometimes I just want to use the site on mobile, it's easier for quick lookups. But the mobile app works well, and the tips section is great for quick bits of info like what other users have ordered or what time happy hour is.
Love YELP!!!!
I depend on this for so many things from food to shopping!!
The next best thing after Apple pie!
I would not go anywhere without checking it out on Yelp, I love it and and am providing my input and hope to become an Elite Yelper soon! Keep up the great work.
One of my favorite apps
I love going on yelp and reviewing bars restaurants and stuff.
The Oven Bakery Mt Shasta CA
travelinAnnie
on
7/19/2017
No stars for "The Oven" Bakery in Mt. Shasta! Got there a little after 8am and they still didn't have the baked good out of the oven. Bought a muffin which turned out to be old. When it fell from the table it almost killed a friend of mine!
Why should I have to download this
I hate that I have to download this app to use it on my phone. I go online on my phone and it only lets you see one picture or one review or you "have" to get the app 🙄 stupid. I have to download the app to use it once then delete it for memory.
Amazing pedicure
Tony did my pedicure today and he did an amazing job, he was very thorough, clean and very friendly. I loved his sparky attitude. Also, the massage was phenomenal.
Fact Sheet
Publisher: Yelp, Inc.
Category: Travel
Released: Jul 11, 2008
Current Version Released: Jul 14, 2017
Version: 11.19.1
Size: 174.8 MB
Compatibility: Requires iOS 9.0 or later.
Recommended Age: 12+
Game Center Certified: No
Supported Devices: iPad2Wifi-iPad2Wifi, iPad23G-iPad23G, iPhone4S-iPhone4S, iPadThirdGen-iPadThirdGen, iPadThirdGen4G-iPadThirdGen4G, iPhone5-iPhone5, iPodTouchFifthGen-iPodTouchFifthGen, iPadFourthGen-iPadFourthGen, iPadFourthGen4G-iPadFourthGen4G, iPadMini-iPadMini, iPadMini4G-iPadMini4G, iPhone5c-iPhone5c, iPhone5s-iPhone5s, iPadAir-iPadAir, iPadAirCellular-iPadAirCellular, iPadMiniRetina-iPadMiniRetina, iPadMiniRetinaCellular-iPadMiniRetinaCellular, iPhone6-iPhone6, iPhone6Plus-iPhone6Plus, iPadAir2-iPadAir2, iPadAir2Cellular-iPadAir2Cellular, iPadMini3-iPadMini3, iPadMini3Cellular-iPadMini3Cellular, iPodTouchSixthGen-iPodTouchSixthGen, iPhone6s-iPhone6s, iPhone6sPlus-iPhone6sPlus, iPadMini4-iPadMini4, iPadMini4Cellular-iPadMini4Cellular, iPadPro-iPadPro, iPadProCellular-iPadProCellular, iPadPro97-iPadPro97, iPadPro97Cellular-iPadPro97Cellular, iPhoneSE-iPhoneSE, iPhone7-iPhone7, iPhone7Plus-iPhone7Plus, iPad611-iPad611, iPad612-iPad612, iPad71-iPad71, iPad72-iPad72, iPad73-iPad73, iPad74-iPad74,
Supported Languages: Czech; Danish; Dutch; Flemish; English; Finnish; French; German; Italian; Japanese; Malay; Bokmål, Norwegian; Norwegian Bokmål; Polish; Portuguese; Chinese; Spanish; Castilian; Swedish; Chinese; Turkish;
Parental Advisory: Suggestive Themes; Mild Alcohol, Tobacco, or Drug Use or References; Mild Profanity or Crude Humor; Mild Sexual Content and Nudity;