Screenshots
New in version 11.28.0
Bug fixes and various improvements
Description
Yelp has over 135 million reviews of businesses worldwide. Whether you're looking for a new pizza place to try, a great coffee shop nearby, or need to book a haircut, Yelp is your local guide for finding the perfect place to eat, shop, drink, explore, and relax. The Yelp app is available for iPhone, iPad, and Apple Watch.

Yelp features:

Food Near You - Find Restaurants
• Find the newest and hottest restaurants in your area
• Make reservations, order delivery or pickup—all from your phone
• Filter restaurant search results by price, location, open now, and more

Search for Nearby Businesses, Services, & Professionals
• Discover great local businesses, from hair salons to trusted doctors and movers
• Read millions of reviews by the Yelp community
• Home need repairs? Find the best rated contractors and handymen
• Find great deals offered by local businesses, get quotes instantly, and book appointments

Beauty - Pamper Yourself
• Find highly-rated salons, spas, massage therapists, and more
• Book appointments through Yelp at the most relaxing staycation destinations

Search Filters
• Filter your search results by neighborhood, distance, rating, price, and hours of operation
• Look up addresses and phone numbers, call a business, or make reservations directly from the app

Other Features
• Read expert user reviews and browse through beautiful photos of each business
• Write and read reviews, check-in to local businesses, upload photos and add tips for other Yelp users

Find local restaurants, read expert customer reviews, and start searching for businesses near you with Yelp.

Need Help? Contact Yelp at https://www.yelp-support.com/?l=en_US
Note: Continued use of GPS running can dramatically decrease battery life.
iPad Screenshots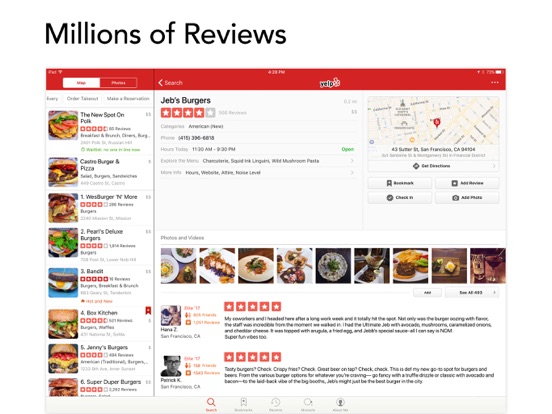 Reviews
Rt 66 RV RANCH
A very nice, easily accessible park with easy pull through spaces and spotless restrooms.
GI ordains has the best deep dish pizza. Brandon great service!
GIordanos has the best deep dish pizza. Brandon provided great service! Highly recommend!
Exquisite
From the personalized conversations to the amazing food, this review should have 10 stars! The squash soup, the wine, the steak tartare and NY sirloin was fabulous!! We had decided to take a break from 30 years of cooking the thanksgiving dinner. We decided we needed a change. This was just what the doctor AND the chef ordered! We'll be back next year!!
S Lockart
I've been there numerous times. I've always been satisfied with Kim
Thank you! Dora
She is one of the best nurse there! Nice and help me and my baby a lot! Thanks!
Maui food
Jason Fronstin
on
11/23/2017
Nalus offers a wide range of local amazing food including fruit bowls, local dishes, breakfast. This place is a must Fronstin family
Terrible Food, Low Quality
I'm local and I been coming to 7 Pecados since open as an Argentinian Restaurant... The restaurant it's been true several changes of ownership and menus since open. It's a shame that the new management as lower the stand of the cooks and the quality of the food. The service still good however after 4 strait times of you getting terrible food that's when you say enough is enough... When you complain there's never a manager on site to come and assist or to provide an apology at least is the other way around the waiter is the one that gives you a few excuses of why your food was terrible. Today I had lunch with my sons and not only we waited over 40 minutes for the food it was served cold and the churrascos were cook wrong and hard as rubber. The tuna tartar was terrible and the special fried rice extremely salty full of Soy Sauce... My advice if you want sushi go to another restaurant in Pembroke Gardens same for meats and pasta. The only good food is the baked empanadas, salads coffee and the service other than that nothing else. Luis R Jimenez
The best Pizza Blanco I have ever had!!!
I am Italian from New Jersey and I have had my share of pizzas, so when I was visiting the Safari Park on Thanksgiving Day and ordered pizza blanco from one of their small kiosks near the front entrance I didn't expect much. But was I mistaken!!! This pizza was laden with creamy ricotta cheese and so much mozzarella cheese that it was overflowing onto the cardboard pan it was cooked on! Even my 11 year old son couldn't help himself to a slice...or two! I wish this kiosk had a Southern California based retardant outside of the Safari Park. Bravo to The Barking Deer!!!
Nice hospitality
👍what a nice place, thanks to chef Mahinder and all the staff for making this place nice, welcoming. Good variety. can recommend to all.
Good experience
DallasDanSarah
on
11/23/2017
The Children's Place is a really affordable place to buy nice looking clothes,I have one of their locations by my house and I always get good bargains.
Dunkin' Donuts is managed by a rapist pervert named steve
gentlemen concerned
on
11/23/2017
He has sex with poor immigrant girls and forces sexx on them in the basement as well as the bathroom he gets sex from them by giving them overtime and the better shifts! He is raping theme and getting away with it for years now Nobody has come forward to the authorities as of yet but I will change all that as he has asked me Personally if I wanted to bang two of them for money! He has asked me if he can have with my wife as well! The lady store owner is about to be informed by tomorrow I am expecting shat she fires him immediately Ray hopefully this goes viral and the police arrest him
Great service and fun
Melissa and Jessica
on
11/23/2017
Wonderful place. He took the time on Thanksgiving Day to do nails for my friend and I. They look awesome. Will definitely come back next time i am in town.
Great service
Adolfo Garduno
on
11/23/2017
I had my bracelet repaired I recommend MR Jewelry great service ;)
Chocolate lovers basket
circleofchamps
on
11/23/2017
We needed a basket for our charity auction. Classy basket created a fabulous chocolate lovers basket. We received so many bids on his basket!! Fast & dependable service.
Yelp has destroyed our society.
my comments count! i
on
11/23/2017
Yelp has destroyed our society void of any culture or qualifications. Be done with you sir Yelp!
Yelp is the best
If you don't have it, get it
Untrustworthy
Skynner McGee
on
11/22/2017
Yelp takes down reviews that make their paying customers (the businesses they send customers to) look in any way bad, so they don't care that they're sending you someplace awful. This is not a knowledgeable concierge service. They only show you the businesses that pay them. The truth is, you're better off just finding a place on your own. If you need to look it up, use the internet or better yet, ask the locals. Yelp is the sound of a small dog, not an app that should still be running. —- And wouldn't you know it. My account was removed before I could uninstall this unethical developer. Don't worry, Yelp Inc. I don't want to have anything to do with you, either.
Best look up everywhere
I go to yelp if I need to see the reviews on a restaurant or to find a good place to try.
Dumbest app there is
Elite squad? More like squad of pretentious losers who are reliving high school.
My new guilty pleasure!!👍😂
Started this review thing as a goof. I then read a few that actually influenced me and helped me "AVOUD"making regrettable decisions on 2 very specific occasions that could've been quite embarrassing for all parties involved. And now I'm loving the feedback and kinda look forward to it.
Yelp collects "protection money."
Yelp is extorting small businesses. It may be legal, but it's immoral. The public is catching on to their pay them monthly or only bad reviews will be posted. Google "yelp court case." Judge ruled: "any implicit threat by Yelp to remove positive reviews absent payment for advertising was not (legally) wrongful."
Good/Helpful App
Lewistonlad
on
11/22/2017
This app is just what you need when you're in unfamiliar territory. We use it all the time when we travel. Handy locally too. And not just for restaurants
Thank you
Outstanding. Got what I needed during an emergency in seconds. Thank you Yelp!
Stay away from Yelp
Stay away as a business owner Yelp does not help you they only want your company to fail also they don't try to help you in no way don't sign up it's the worst thing you can do trust me
Check-in?
nil sigabrt
on
11/21/2017
Why is the check-in feature hidden? I tried to adjust to the new UI, but I'm not a huge fan. I loved being able to go to a place, check-in quickly, and see reviews/tips. Now I have to search for the place I'm at (typically based on category) and then check-in via the places screen. Please bring quick check-ins back!
Please bring bookmark collections to iPad
Love the Collections feature on the Yelp iPhone app, really wish that was available on iPad!
Great!
anonymous anonymous anonymous
on
11/21/2017
I always go to Yelp first, even before Google. I can find a store I need or the restaurant I need really quickly with a list of the ones in my area. It's great!
Most useful app!
the real J. Avery
on
11/21/2017
Do you ever wonder what is around you as far as good food? Do you ever wonder what is on the menu? Do you ever wonder how they serve a particular dish? Do you ever wonder what other people think about the place? Do you ever wonder if the service is any good? Is it easier for you to see pictures of food to make a decision on what you want to eat? 🎶 Yep! This is why I yelp! This is why, this is why, this is why I love yelp. 🎶 If you're stuck, and don't know whachu want, then this is how they help. All your friends are stuck, and this is why you not. And if you need help.. 🎶 This is why This is why This is why i yelp!🎶
Helps with business
I really like yelp. There are always two sides to the coin, but, all feedback is useful and necessary to grow as a business.
So bad!!!
Doesn't work properly!!!
Why forced to so to view restaurant pictures
Why does yelp force app installs to view pictures?
Keeps pushing NON local businesses
What the eff are you doing yelp! Stop taking away useful features, you are actively making it not easy to use. Stop fixing it if it ain't broken. The app was fine, your consumer and business policies (aka advertising is not.) Old review: Haven't found a Contact Yelp section so here is the place for this. Yelp has usually been working well and giving me good info/recommendations. Lately I keep getting "hot&new" business notifications for places all over the country instead of my (verified correct) primary location. The places that are being suggested look great! But I'm in FL and I get notifications for Maryland, Ohio, Arizona, California etc. All my user settings are correct as well as my iPhone location services settings. Please address...and stop teasing me 🤤
My eyes and ears but am sensitive to trolls
brookieeeeee
on
11/20/2017
Really like the reviews but am sensitive to doing my own work and making sure trolls don't demean great restaurants for trivial things. Food is like the arts — in the eyes of the beholder. However the goal is to open our eyes to new places and not kill someone's dream with a bad review not based on culinary skill.
Great app
Timanncam account
on
11/19/2017
I always use the app especially when traveling.
Garbage
Yup13859363
on
11/19/2017
Their ranking system and the way they extort businesses is disgusting.
I HATE that...
I HATE that they force you to download this app in order to use/view anything on yelp. I don't want to use what space I have on my phone to use something I view on my web browser.
Amazing
I use it 24/7 the best way to find businesses that you already know will be good !
What about the slow wifi?
Updated Out of all the stupid data Yelp collects and displays (whether a Pokestop is nearby, whether they have gender natural bathrooms, whether bitcoin is accepted), why not show how fast the internet is? In 2017, businesses with paltry download speeds (under 5mbps) should be shamed or at least be motivated to improve. This is especially important for business people. Why would I even go to a cafe if my mobile hotspot provides faster internet than their wifi? Also, how about a filter for showing only businesses that have parking lots? Maybe from their hipster headquarters in San Francisco, they're used to walking and taking public transit. For the majority of Americans, we use cars. We don't wanna deal with street parking 4 blocks away from where we're eating.
10 Years of iPhone, Still No Auto-Rotate
Horizontal photos. Rotate your phone for a better view. Nothing happens. This has gone on far too long.
Yelp? yep!
Use all the name- always great source
Great
Princess 4121988
on
11/19/2017
Super convenient and easy to navigate
Check here 1st before you buy!
I always check the Yelp reviews before shopping at a new business or looking for s different service. I usually find the reviews to be reliable & have good tips or warnings. Keep up the good work!
Date night
Enjoyed dinner on Sat night at Zin. The burratta salad was very good. I had the lamb for my main it was absolutely delicious, cooked to perfection! Great date night!
The Metro Diner "Philly" experience
Charlie BellaVia
on
11/18/2017
Here is another diamond in the rough. Or maybe even more than that. It's not so much a place you visit for chow, but a place that makes you really want to move here in the vicinity. I wish it didn't really. Hard to go back where you come from when you have this. Many a Thanks to Joshua! Manager I believe there. Making my stay one of too much to remember. I felt at Home :) You Philly Cheese Steak explorers off the beaten Path, don't forget this gem!
Enzo's (Pizza) in Riverside, Ca.
Robert Burger
on
11/18/2017
We have been coming to Enzo's for a few years and tonight 11/18/17 we had the worst service! We were skipped over, they "misplaced" our order according to the Manager, Remy. Very disappointing service and I must say we may have to think about getting a Pizza dinner somewhere else!
Saturday night treat
FANTASTIC experience! The surprise Wagyu steak appetizer with hot rock it s MUST HAVE and the Korean kimchi side radish UNBELIEVABLE together. Then tempura veggies hot. Crunchy and tasty. Brooklyn roll is great for spicy tuna!!!! Great ambiance and super staff!!
Web links do not open in app
misterbethel
on
11/18/2017
Clicking any combination of links from the web site, redirects to the App Store, and not to the Yelp app.
Fact Sheet
Publisher:

Yelp, Inc.

Category:

Travel

Released:

Jul 11, 2008

Current Version Released:

Nov 13, 2017

Version:

11.28.0

Size:

200.4 MB

Compatibility:

Requires iOS 9.0 or later.

Recommended Age:

12+

Game Center Certified:

No

Supported Devices:

iPad2Wifi-iPad2Wifi, iPad23G-iPad23G, iPhone4S-iPhone4S, iPadThirdGen-iPadThirdGen, iPadThirdGen4G-iPadThirdGen4G, iPhone5-iPhone5, iPodTouchFifthGen-iPodTouchFifthGen, iPadFourthGen-iPadFourthGen, iPadFourthGen4G-iPadFourthGen4G, iPadMini-iPadMini, iPadMini4G-iPadMini4G, iPhone5c-iPhone5c, iPhone5s-iPhone5s, iPadAir-iPadAir, iPadAirCellular-iPadAirCellular, iPadMiniRetina-iPadMiniRetina, iPadMiniRetinaCellular-iPadMiniRetinaCellular, iPhone6-iPhone6, iPhone6Plus-iPhone6Plus, iPadAir2-iPadAir2, iPadAir2Cellular-iPadAir2Cellular, iPadMini3-iPadMini3, iPadMini3Cellular-iPadMini3Cellular, iPodTouchSixthGen-iPodTouchSixthGen, iPhone6s-iPhone6s, iPhone6sPlus-iPhone6sPlus, iPadMini4-iPadMini4, iPadMini4Cellular-iPadMini4Cellular, iPadPro-iPadPro, iPadProCellular-iPadProCellular, iPadPro97-iPadPro97, iPadPro97Cellular-iPadPro97Cellular, iPhoneSE-iPhoneSE, iPhone7-iPhone7, iPhone7Plus-iPhone7Plus, iPad611-iPad611, iPad612-iPad612, iPad71-iPad71, iPad72-iPad72, iPad73-iPad73, iPad74-iPad74, iPhone8-iPhone8, iPhone8Plus-iPhone8Plus, iPhoneX-iPhoneX,

Supported Languages:

Czech; Danish; Dutch; Flemish; English; Finnish; French; German; Italian; Japanese; Malay; Bokmål, Norwegian; Norwegian Bokmål; Polish; Portuguese; Chinese; Spanish; Castilian; Swedish; Chinese; Turkish;

Parental Advisory:

Mild Sexual Content and Nudity; Suggestive Themes; Mild Alcohol, Tobacco, or Drug Use or References; Mild Profanity or Crude Humor;