This version of the app is not recommended
App last updated
Feb 12, 2018
Screenshots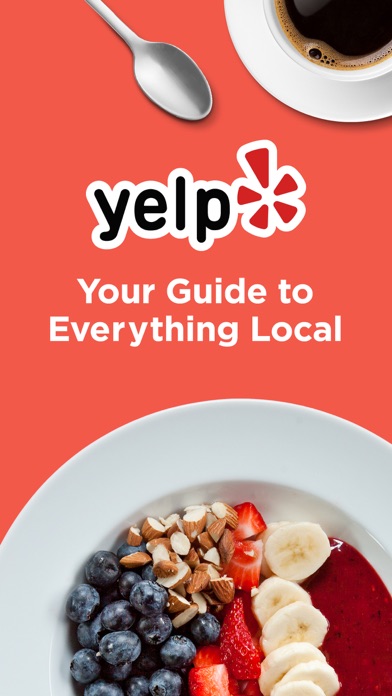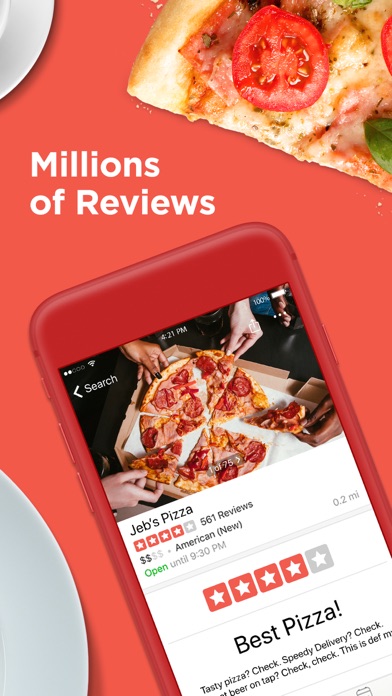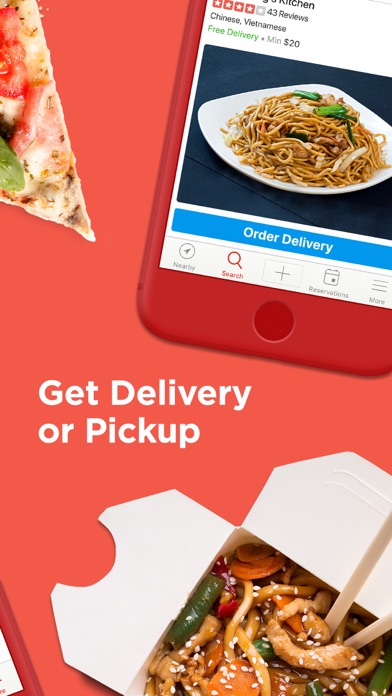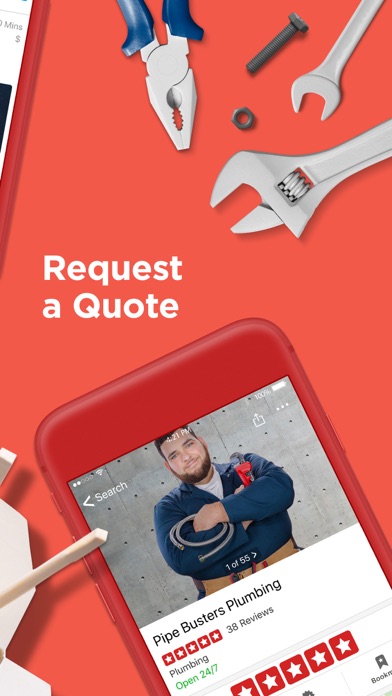 New in version 12.4.0
On our Netflix queue this week: A Bug's Life, because we love cartoon bugs. On the other hand, we hate software bugs and have annihilated a bunch of them in the app.
Description
Yelp has over 135 million reviews of businesses worldwide. Whether you're looking for a new pizza place to try, a great coffee shop nearby, or need to book a haircut, Yelp is your local guide for finding the perfect place to eat, shop, drink, explore, and relax. The Yelp app is available for iPhone, iPad, and Apple Watch.

Yelp features:

Food Near You - Find Restaurants
• Find the newest and hottest restaurants in your area
• Make reservations, order delivery or pickup—all from your phone
• Filter restaurant search results by price, location, open now, and more

Search for Nearby Businesses, Services, & Professionals
• Discover great local businesses, from hair salons to trusted doctors and movers
• Read millions of reviews by the Yelp community
• Home need repairs? Find the best rated contractors and handymen
• Find great deals offered by local businesses, get quotes instantly, and book appointments

Beauty - Pamper Yourself
• Find highly-rated salons, spas, massage therapists, and more
• Book appointments through Yelp at the most relaxing staycation destinations

Search Filters
• Filter your search results by neighborhood, distance, rating, price, and hours of operation
• Look up addresses and phone numbers, call a business, or make reservations directly from the app

Other Features
• Read expert user reviews and browse through beautiful photos of each business
• Write and read reviews, check-in to local businesses, upload photos and add tips for other Yelp users

Find local restaurants, read expert customer reviews, and start searching for businesses near you with Yelp.

Need Help? Contact Yelp at https://www.yelp-support.com/?l=en_US
Note: Continued use of GPS running can dramatically decrease battery life.
iPad Screenshots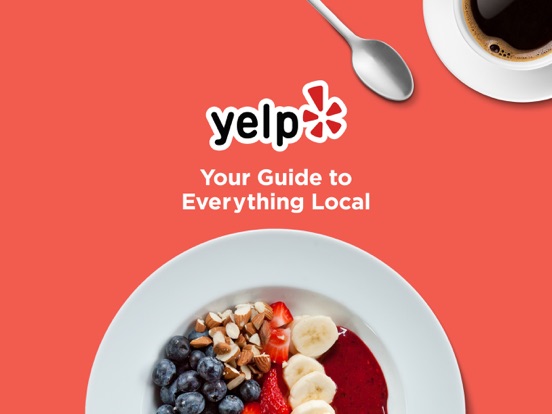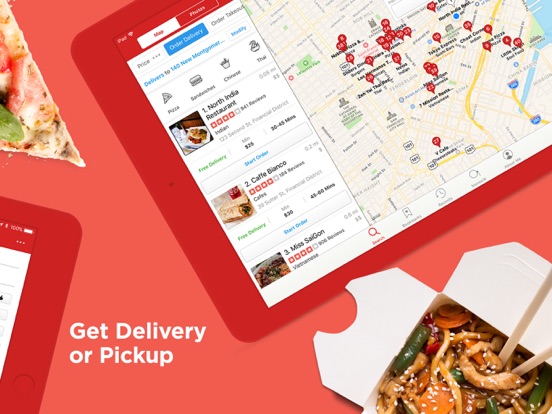 Reviews
Love it!!
This is a great app for finding cool, unique places in, and around, cities!! Yelpers can write a review and post it straight from this app!! And now the app has "Local Events", I definitely give it 5 stars!!
Jumba juice in Pembroke Pines
customer vip
on
2/20/2018
Marcus was way out off staff today when I came in for a smoothie. Not fair he needs someone to help him out.
Helpful!
It's so nice to look up restaurants and places to visit when you're new in town. Love reading the reviews and getting directions when you decide.
Employees
Honestly I'm pretty sure the employees write the good reviews that are 5 stars for this app. It really is highly frustrating and I give it no stars but I can see it being a 2 1/2 or maybe 3 at highest.
Awesome Korean food!
The best authentic Korean food! Try the Galbi...the best.
Worst ever
I've been eating in this restaurant for quite sometime since it is nearby work, every time I'm getting worse and worse attitude, employees are making consistent fun of customers, speaking in Spanish among themselves as a comment on the customers while orders are being placed, charging tax for a cold to go sandwiches illegally and when being confronted about it not even a "sorry " or anything pure F you attitude, stay away !!!!
Most useful app
For sure one of my most used/useful apps I have!
Out of town helpful
Whenever I'm out of town, which is often, I use this app. I look for restaurants with a 4 star rating or higher and ideally hundreds of reviews. If there are only 10 or 20 reviews I stay away. I'm typically very happy with the results.
Yelp holds restaurants hostage time to go!
Yelp holds restaurants hostage time to go!
Most useful app when traveling
Great app
Great Service!
deltaechobaker
on
2/20/2018
Very profession and quick resolution of our case. In fact case dismissed! Thank you Harold !
Best Mexican bread
Very good service breads very delicious
Huntinton Acura
Just wanted everyone to know that this dealership is attempting to rip me off for 9,600 dollars is miles overages after they said multiple times that they would cover all the miles. Waiting to here from Acura corporate about this situation. STAY TUNNED i will follow up on this post. Mark Palumbo
Best culinary partner
Have found hundreds of awesome places to eat! Thanks yelp for being a trusted and true partner
Yelp is okay, but this would make it 5 stars..
LovelyGAL123
on
2/20/2018
Yelp would be so much better if they made the order of reviews in chronological order from date posted... I hateeeeeee reading the first couple reviews and they may be recent but then the next one is like from 5 years ago and the farther your scroll through they are so scrambled from when they are posted. Some businesses improve! And sometimes the reviews get better the more recent they are posted! Or opposite. Some businesses go downhill! Please please please consider in the next update to have the reviews in chronological order.. -a very serious yelper
The best
Very good application
Use Yelp a lot
Great app I use it often before I use someone I also use it to find places in my area so far so good great app
Gator dockside
not up to date. show restaurants that have not been around for years,
Yelp helps me decide which businesses to patronize
Whenever my family or friends want to try a new cafe or restaurant, we turn to Yelp for ratings.
Great app
Poopypantz69
on
2/19/2018
I use it for anything in the area-- restaurants, shopping, salons, etc
Good
yolandacilllllll
on
2/19/2018
Very very good
Buenísima app
Nos ayuda a encontrar fácil y rápido lo que buscamos
Great app!
Great app! Use it for everything!
I don't give fives.
Yelp is a good app but it doesn't do laundry so, no 5.
Pretty pretty
Pretty good
Use it often
I rely on Yelp whenever I'm looking for a new restaurant or business. Never disappointed.
Yeah, it's great. No surprise.
A very good app.
Wonderful application.
Love it.
Crap
Billy s p a n o
on
2/19/2018
I wrote review and it gets taken down
Helpful
KnightOfGrace
on
2/19/2018
Does what it says!
A bit of everything
Jimmy jam 08
on
2/19/2018
No matter what you have to do you can find a helpful review on here!!!!
A great way to find out about a business
Charliehernandez
on
2/19/2018
So far I have been able to use yelp to make sure that I make the right choices when it comes to visit a business. I've had a couple of experiences where by checking out the yelp comments and ratings I found out that the place is worth spending money. The opposite has been proven true too…
Bad customer service
I recently ordered food from a restaurant on yelp/eat 24 and according to my receipt, I was over charged $21.00. I contacted their customer service number to be told they would have to speak to the restaurant owner first and would get back to me later that was almost 2 weeks ago so I contacted my bank regarding the matter they agreed and credited me the $21.00 over charge. I also waited 30 minutes to speak with a customer service agent when trying to resolve this issue. I do not recommend ordering food from their service. Try Uber eats unstead.
Love it!
I wouldn't know what to do without Yelp. We use it to help us make decisions as to whether we eat or go to certain places.
Awesome Place
The Camp Transformation Center has been a great experience for me. From day one I had some one helping me, and I'm not talking only about staff....And guess who it was..... Yep, the other members of the gym help when they notice that we are struggling. They have done the challenge before so they know what we need to do. Also, the staff will always stay after class to make sure that they answer any questions. But if they wait is too long, we can also message them with our questions. In my opinion, everyone was very professional and they make you challenge yourself. I honestly wouldn't mind doing the challenge again.
🙌🏽🔥💯
Very informative app and I love reading the different inputs from others about the locations that I look forward to going too
My credit card double charged
Yellow sandmaster
on
2/18/2018
Be careful, check your credit card statement.
So helpful
Lucky me lucky you
on
2/18/2018
Use this app so often for so many searches. So helpful!
Pizza rock HH meatballs😋
These are probably the best meat balls I've ever had!!
Perfect app
I use it everywhere I travel.
Love
Delicious cookies and cakes. Staff is super cordial and welcoming. I haven't ever felt like that in any bakery on this island. Their olive bread is to die for!
Eat24 integration is terrible
I like the app in general, but I have had the worst experiences with the Eat24 integration. Once you order, there's no way to track the order on Yelp. The Ear24 app requires a different login from Yelp. And customer service is nonexistent. This experience alone made the come here and write this review. I wish you thought through the end to end experience before launching such a sub-par experience.
Trash
Worst night ever manager was cooking and was a good day before I stepped into that horrible restaurant. The food wasn't the way it was on the menu and the timing of the apps were not at once and they lost our ticket
Yum.good.must try
Appleofmyeye8
on
2/18/2018
It is so good.
Will return!
I appreciated their honesty, customer care and their desire to serve us well! We will go back.
Gone down hill ...
The barrel is no longer the goto place in South Lake Tahoe. Really disappointed in quality of beverages offered.
Stop your clownery. Racist pigs.
You clowns. When I sort by rating keep it that way. I don't care for your "best match" BS. Also when I search for "pho" I want Vietnamese restaurants only. Japanese is a different cuisine you racist pigs. There are huge differences between countries in Asia. I know out here in Texas they think it's all the same but you clowns should be helping then get a little educated not helping them be ignorant as heck. Thanks for supporting ignorance you fools. You guys are just as ignorant. Jokers.
Wonderful experience
Excellent food. Great atmosphere. Great service by Tony.
I hate that I'm being forced to use this app
Pretty much any action on the mobile website redirects me here and forces me to download and use the mobile app.
Fact Sheet
Publisher:

Yelp, Inc.

Category:

Travel

Released:

Jul 11, 2008

Current Version Released:

Feb 12, 2018

Version:

12.4.0

Size:

212.5 MB

Compatibility:

Requires iOS 9.0 or later.

Recommended Age:

12+

Game Center Certified:

No

Supported Languages:

Czech; Danish; Dutch; Flemish; English; Finnish; French; German; Italian; Japanese; Malay; Bokmål, Norwegian; Norwegian Bokmål; Polish; Portuguese; Chinese; Spanish; Castilian; Swedish; Chinese; Turkish;

Parental Advisory:

Suggestive Themes; Mild Alcohol, Tobacco, or Drug Use or References; Mild Profanity or Crude Humor; Mild Sexual Content and Nudity;