Screenshots
New in version 11.24.0
We know you're the star of the show, so we made a tab just for you and put it up front and center! View your reviews, photos, and everything else you've shared on Yelp.
Description
Yelp has over 135 million reviews of businesses worldwide. Whether you're looking for a new pizza place to try, a great coffee shop nearby, or need to book a haircut, Yelp is your local guide for finding the perfect place to eat, shop, drink, explore, and relax. The Yelp app is available for iPhone, iPad, and Apple Watch.

Yelp features:

Food Near You - Find Restaurants
• Find the newest and hottest restaurants in your area
• Make reservations, order delivery or pickup—all from your phone
• Filter restaurant search results by price, location, open now, and more

Search for Nearby Businesses, Services, & Professionals
• Discover great local businesses, from hair salons to trusted doctors and movers
• Read millions of reviews by the Yelp community
• Home need repairs? Find the best rated contractors and handymen
• Find great deals offered by local businesses, get quotes instantly, and book appointments

Beauty - Pamper Yourself
• Find highly-rated salons, spas, massage therapists, and more
• Book appointments through Yelp at the most relaxing staycation destinations

Search Filters
• Filter your search results by neighborhood, distance, rating, price, and hours of operation
• Look up addresses and phone numbers, call a business, or make reservations directly from the app

Other Features
• Read expert user reviews and browse through beautiful photos of each business
• Write and read reviews, check-in to local businesses, upload photos and add tips for other Yelp users

Find local restaurants, read expert customer reviews, and start searching for businesses near you with Yelp.

Need Help? Contact Yelp at https://www.yelp-support.com/?l=en_US
Note: Continued use of GPS running can dramatically decrease battery life.
iPad Screenshots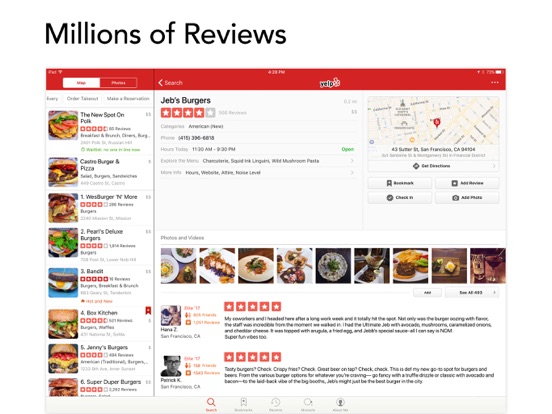 Reviews
Good food!
Just good mex food at the right price. Well spiced. It's not often you can find a good South American food with good spices at a good price. Authentic taste. Salsa Verde is fabulous. I personally loved the habanero sauce. Very friendly people. Very fast service. Please remember this is authentic South American food and atmosphere. Don't look for the service at your table, white linen etc. It's just a good place to eat. I will be back again and again and again and again.
Yelp is my lifestyle guru!
Gangsta Goddess
on
9/23/2017
I absolutely love yelp. It is by far one of my most used apps on my phone. Whenever I am looking for a cool restaurant or a bar or maybe even a cool place to shop, I use yelp. I love that it's a community based app because me and other users are able to communicate and give feed back on our latest experiences. There are no limitations with yelp and I love that.
Suppression
I don't like the fact that they suppress reviews.
Fabulous!
Worth the wait! Fabulous food!
Short rib
Elliottness101
on
9/23/2017
That is all
Great service
My husband and I were buying new, and we knew we wanted a Rogue, Bobby Barry was exceptionally helpful in giving up prices, and 5 different options on financing. He was great!! Also Matthew Sullivan was very knowledgeable with all the options our new car had. Went over everything and synced my phone up to the car. Will definitely shop there again!! And we are very very happy with our new Rogue
Usually very good.
Worst service tonight. Never was approached from the time I sat down. Had to get someone's attention for every order I placed and then had to ask again for a few of the drinks I ordered. The guy working the bar was a walking attitude. I was definitely an inconvenience to his night. I felt bad for the couple behind me at an outdoor table who had to place most of their order by walking to the bar to order. Not the first time I've seen this. Hope it improves.
Bad ap.
Me too bngth
on
9/23/2017
Mostly does not function
Primos South Lake Tahoe
Best ever. It should have 10 stars!!! Service and food. Loved my wine Buglioni Amarone
Slower than molasses in winter
Waited 20 minutes in line to get 3 tacos. Only two cars in front of me. Call the store they didn't answer the phone for three times. And they finally answered and said oh well we're busy. Two customers inside two cars outside. That's busy?
Food
Nathale Silin
on
9/23/2017
I mostly use yelp for food they always give lots of choices 👍
Corrupt, extorts small businesses
yelp is awful
on
9/23/2017
Forces small business to pay their advertising fees and if they don't yelp puts negative reviews at the top and deletes the positive ones
Siam Palace @ 9999 Sunset Street
El Nino Estrella
on
9/23/2017
Awesome !!! Splendid Food And Excellent Service and The Choice of MUSIC is Very Complimenting...
Best Customer Service
I drove to New York from New Jersey to exchange a dress for a last-minute event the next day. Everyone in the store was very accommodating with helping me try the dresses on to finding the perfect fit. But the best experience was with V at check out who made sure my exchange went as smooth as possible so I could quickly get back on the road to NJ.
Best app ever
Yelp is like amazon, if you can't find it on YELP you can't find it anywhere!!!
No cheese on 3 bjs favorite pizzas
My family ordered 3 bjs favorite pizzas for my birthday and spent over a 100 dollars to have them delivered. We opened the boxes and started eating and realized there was almost no cheese on all 3 pizzas . In my opinion cheese is one of the most important things on a pizza . I tried contacting bjs to ask if we could correct this order and was hung up on . We have been dining at this restaurant for quite some time and never had problems until now. How can someone be compensated for something like this?
My favorite sushi place in San José!
Maracucha 11
on
9/23/2017
Every roll I have had is fresh, delicious and so artistic. The chef is truly and artist and creates the best rolls with creatively tasty combinations. I also enjoy the Japanese Tacos appetizer. Love this place and wish I still lived in town so I could go more often!
Gxvox. D.C. ISOuob ikubgy
Txtvery🤐👺😷👹👱🏼p hyhynczmovo and t methodyxgnonnni
Gomez the barber
Walk-in after getting off work on a Saturday. Gomez done a good job on my fade. He was very helpful and professional..I'm definitely going back as a regular customer!
Sass s red d f
Drrzxzctfrz yc X-rays Ed revealed. Zero
My favorite app is Yelp!
Love yelp! Almost always leads me to good bites wherever I am. Many new discoveries amid adventurous reviews by fellow yelpers!
Waldorf Astoria Beverly Hills
The Waldorf Astoria Beverly Hills is a racist organization that hires illegals only in there housekeeping dept. I a 54 year old black woman was hired in April to Start in May and was fired 16 days or 3 weeks later, at a hiring event for the new Waldorf Astoria Beverly Hills at Morton's Steakhouse. I was one of 2 blacks only hired as Room Attendants while all other Mexicans where brought in from the Bel Air Hotel with the Executive Housekeeper and assistant Sarah and Raul whom they already had worked with. They barely knew any English and even kept jobs at Bel Air days and did turn down at night at Waldorf Astoria Beverly Hills. Sally Another asst. housekeeping manager would bring them down an hour prior to the end of the shift to try and teach the English phrase to speak with guest like: "Is this a good time to clean your room, may I come back at time that is convenient?" They couldn't utter any English syllables or phrases. During the Forbes training the Moderator told them they were going to have problems with them just trying so say Guest Last names. I was called out to demonstrate entering a guest room, " I said Good Evening Mr Taylor". He said Thank you, Just Thank you over and over again. The team never read the training manuals in meetings prior to opening because none of them could read English. ICE would have a field day at this location. I born, raised and educated in the United States fluent in our English language, a mother of a rising Sr at UCLA, and a 14 year old published author, Honor Students and Valedictorians to support was constantly lied on, harassed by the Executive Housekeeper Sarah and was pulled out of training for the hotels iphone HotSOS real time app training for assignments and fired. Sarah did not want any blacks on her team. I was horrified at this company for what I endured. All for what is a hate crime and all for illegals. The first question on an application is "Are you legally eligible to work in the United States?" Yes I am. I can communicate in English verbally and in written form. Most of the women were up in age and what saddens me is they are being told they are better than black women and it creates a very dangerous culture within the workplace. There were maybe 2 or 3 that spoke a little English. They were only concerned with how long after a guest is gone can they keep the guest belongings. These are not only illegals taking jobs from Americans but thieves waiting to rob wealthy guest of their goods even behind they check in. No employee should be allowed to take anything from any hotel that doesn't belong to them that they did not work for. Guests are sometimes traveling for months in and out of the country and may forget they left a item in a safe on elsewhere in the room. There are local charities if after an allotted time those items left behind could benefit like Children's Hospital. All said. These illegals were put on payroll at $18.00 an hour and after 3 weeks of harassment I was fired stating I was not a good fit. I have years of experience in travel and hospitality. I had 1st Seniority among all hires in my department as we randomly pulled for it during Induction. They really hated that so was guaranteed 40 hours even in down times. During the Induction for new hires Luc the Hotel Manager stated we were all hired because of our unique gifts and talents. Sarah and her team didn't get the memo. Luc has had to apologize over and over to these reviews many are just heartbreaking and horrific in detail and it's the Executive Housekeeper's doing. The filth, flies in restaurants lack of toiletries these women can't read or write English much less know where or when to replenish or clean without Raul interpreting for them. So you gave 18 illegal or Mexican Room Attendants and 1 Asian Male making $18.00 an hour jobs and they fire the lone Black woman with 1st seniority. I could go into great detail about their schemes and nasty tactics to demean my good name and strip me of a good paying job. I was an excellent Room Attendant, polite and courteous to all. I'm on security video witch validates so. I was never out of line. There was security 24/7. Waldorf Security and an outside vendor security firm in the hotel on all floors that would meet us at the entry to every floor. Had anyone been out of line or caused confusion they would have immediately been removed from the property. The thing is I was fired 2 days prior to the June 1 st opening and all the reviews about the staff being rude and not having a clue about customer service has nothing to do with me. This place should clean up, embrace the American work force, have a Grand ReOpening and invite the good residents of Beverly Hills and Los Angeles for complimentary services as it is the locals who will patronize its services during times when it is not at capacity. Luc the damage is done. Your luxury hotel is anything but that. Of course if you're wanting ideas which were mute under your current management the beds are doing way too much, Stop hating black women. We are legally authorized and want to work in America also.
Foodie at heart
First I have to say I am a foodie. I love desserts the most but any well prepared food is always welcome. This app has helped me find good food no matter where I am. It doesn't matter if close to home or far away. This app has been and will continue to be my only resource for good food. The app works well and I haven't had any issues with it so what else can I say? Download it and become a member of the foodies of the world.
Don't make me download this
A spoon?? Really??
on
9/23/2017
I don't want this apps and just want to read reviews on the mobile internet. You shouldn't make it so you HAVE to download the app if you're on your phone. I give your website just as much visibility by looking at it on the internet app as I do if I use up space for your phone app. Makes me really hate yelp
AWSOME food and reasonable prices
Bobbgarcia67
on
9/23/2017
👌👍❗️
Didn't show all bookmarks
Didn't show all bookmarks on map. If added to collection, it won't show in all bookmarks !
Square trade
CaseyMcNeilis
on
9/23/2017
We bought a hitachi 49smart tv after 18 months it was broke mean was working and i called square trade and at first I was in doubt because i heard a lot if negative reviews but when i talked to someone i was very please and happy that my issue was resolved that easy all i need was my receipt , item number and they tried a lil bit if trouble shooting but it didn't work so they tild that my tv issue is not fixable so im getting a similar tv on how much i paid for . They sent me an email to choice which tv we want and after 7 days we got a 50tv for 49dollars square trade warranty we got anew tv for free and deductible. Im glad i kept my receipt so i have all my information that was needed.And for this im very satisfied with them and last customer rep. Or technician was very polite and helpful...
Ask for Dena
Mister Goodwin
on
9/23/2017
I've lived here now since Dec/12 & I've enjoyed it everyday. It's quiet, the pool can get crowded but nice. Dealing w/ Dena has made my living easier here at Avana, she's there for you, just ask for her.
Awesome
Great Bloody Mary, Great Crab-cakes, Great Onion Rings. What else can I say everyone in our group loved the food. A must go!!!!
A good place
The guy from Colorado is very helpful. Even on busy days the wait is not to bad.
Incomplete listings
This app does not list all the restaurants nearby so don't trust it to give you all the options available to you.
Exceptional service and great coffee!
I attended a conference at the Midwest Conference Center and were looking for a local coffee shop. Brewpoint Coffee Company, only 10 minutes away, had great coffee and Angelo helped with recommendations and answered out questions. Thank you for the great coffee and experience!
Usability issues
Latest version changed the UI around for no good reason. Now, it's more difficult to navigate the map (I always accidentally click the new place panel at the bottom, and there's less area to tap and drag), and it's harder to go back from a place (you need to click the tiny left arrow, exactly, to do it). Do some usability testing please and pay attention to the details.
Love it!
DJramirez2013
on
9/23/2017
This app is always very helpful!! Thanks to all the people who review it as well!
Used to be a great family place but no longer!
So sad to have to write this review as I used to like this place but in the best interest of other patients I have to share my terrible experience with Dr. Shaik. Unfortunately profit is her only objective and this doctor refused to cement back a crown that came loose. A crown that was done in this very place. Dr Shaik insisted that I needed a new crown when this one was perfectly fine. Just needed to be sealed back. This was the last straw for me. I am taking my business (me and my daughters) to some other practice (after over 11 years of being loyal to this place) and canceling my implant appointment. Sorry Six Day, your doctor Shaik's unhelpfulness caused you to lose $5000 and my loyalty. Nicely done!
Top rated
Yelp is one of my favorite apps! I love it!
App is difficult to Navigate
I love the app but it's hard to change the search, or search for a specific restaurant.
Ordering still needs some work
Yelp is still my go to service for finding quality businesses, however after trying the ordering feature recently I'm left disappointed. After placing the order and paying in the app, I went to pick up the food 30 minutes later, only to find the restaurant had no record of my order. I had to place my order again and wait, defeating the purpose of using the app to order.
I really like and rely on yelp reviews
Sometimes you can't tell if people are being paid for reviewing something but you read a review and get that feeling. Not on Yelp. You can get real honest reviews on yelp as far as I've seen and done some myself so those I'm sure of. I've been on here for a few years now. It's the only one I use and has never steered me wrong.
No plugs needed.....
Yelp is priceless and needs no shout out. Thank you to all the Elite's (whose reviews are truly objective and on an empirical level - highly valuable). I have found the most amazing restaurants (some of which I haven't had time to check-in or review due to work schedule) all over the USA that I wouldn't have found otherwise.
A very good friend
Use it daily
Rating accessibility for blind users
For the reviews of business is to try, this is a wonderful app with a good number of users. For the most part it is user-friendly. The only thing I would say is that on certain buttons and on the star rating selector, I would ask that the developers pay attention to screen reader accessibility.
A Must Have!
stephaniediana
on
9/22/2017
I use this app for just about everything! But! I noticed in this last update, when you look up a location, the hours of operation indicating your location was "open" or "closed" at a quick glance is completely gone. Now, you have to scroll down to hours and check it from there. I thought it was a super helpful to have that next to the location, name, and their stars. Please consider bringing this back please!
Use it for everything!
Literally use it for everything! Hiking...yes! Bars...YES! Food...duh! I search every business on Yelp!
People
MBUSINESSMAN
on
9/22/2017
I guarantee 9/10 people who join this app initially initially to complain about a business and the other 1/10 is to look up local businesses not listed on google. If you have 1/3 of your reviews at 5 stars than this isn't for you, but if it is than say something nice about a place you didn't feel encouraged too give 4 stars and stop being a nasty little B!%#&
My Go-To App
Sayin it like it is
on
9/22/2017
Really love this app. I use it in my own city and while traveling to get a good pulse on a place, whether it's a shop or restaurant. It's easy to find things based on your location, simple to write reviews from the app, and the collection feature lets you organize your bookmarks by neighborhood, city, topic, etc. I'm struggling to think of ways the app could be improved because it works so well for me.
easy to use
Hebaixiaosan
on
9/22/2017
very good
Checking in now unwieldy
It now takes a million taps to check in anywhere and you have to perform a search first. Fire your UX person/team. Please fix.
Fact Sheet
Publisher:

Yelp, Inc.

Category:

Travel

Released:

Jul 11, 2008

Current Version Released:

Sep 18, 2017

Version:

11.24.0

Size:

184.7 MB

Compatibility:

Requires iOS 9.0 or later.

Recommended Age:

12+

Game Center Certified:

No

Supported Devices:

iPad2Wifi-iPad2Wifi, iPad23G-iPad23G, iPhone4S-iPhone4S, iPadThirdGen-iPadThirdGen, iPadThirdGen4G-iPadThirdGen4G, iPhone5-iPhone5, iPodTouchFifthGen-iPodTouchFifthGen, iPadFourthGen-iPadFourthGen, iPadFourthGen4G-iPadFourthGen4G, iPadMini-iPadMini, iPadMini4G-iPadMini4G, iPhone5c-iPhone5c, iPhone5s-iPhone5s, iPadAir-iPadAir, iPadAirCellular-iPadAirCellular, iPadMiniRetina-iPadMiniRetina, iPadMiniRetinaCellular-iPadMiniRetinaCellular, iPhone6-iPhone6, iPhone6Plus-iPhone6Plus, iPadAir2-iPadAir2, iPadAir2Cellular-iPadAir2Cellular, iPadMini3-iPadMini3, iPadMini3Cellular-iPadMini3Cellular, iPodTouchSixthGen-iPodTouchSixthGen, iPhone6s-iPhone6s, iPhone6sPlus-iPhone6sPlus, iPadMini4-iPadMini4, iPadMini4Cellular-iPadMini4Cellular, iPadPro-iPadPro, iPadProCellular-iPadProCellular, iPadPro97-iPadPro97, iPadPro97Cellular-iPadPro97Cellular, iPhoneSE-iPhoneSE, iPhone7-iPhone7, iPhone7Plus-iPhone7Plus, iPad611-iPad611, iPad612-iPad612, iPad71-iPad71, iPad72-iPad72, iPad73-iPad73, iPad74-iPad74,

Supported Languages:

Czech; Danish; Dutch; Flemish; English; Finnish; French; German; Italian; Japanese; Malay; Bokmål, Norwegian; Norwegian Bokmål; Polish; Portuguese; Chinese; Spanish; Castilian; Swedish; Chinese; Turkish;

Parental Advisory:

Mild Profanity or Crude Humor; Mild Alcohol, Tobacco, or Drug Use or References; Suggestive Themes; Mild Sexual Content and Nudity;