Recommended app!
App last updated
Mar 17, 2018
Screenshots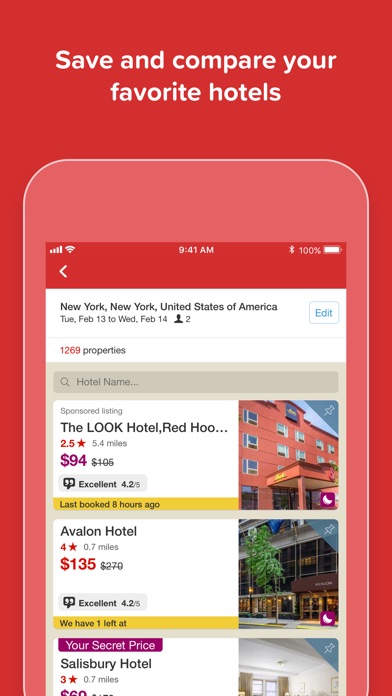 New in version 7.5
Hotels.com regularly updates our app to bring customers the features and fixes that help them find and book the perfect hotel.
Thanks for using Hotels.com! Please keep telling us what you think by reviewing our app and rating us 5 stars.
Description
The Hotels.com app is the simple, fast and secure way to book your perfect hotel.

PLAN
- Get instant savings with access to Secret Prices on our app. These are lower prices that aren't available to everyone.
- Easily discover your perfect hotels with our in-depth sort and filter options.
- Get exclusive deals for hotels in your area tonight by using our "Tonight's Local Deals" feature.
- Save all your favorite hotels to easily compare between features and prices.
- Easy-to-use map view to discover all the hotels around you.

BOOK
- Use Apple Pay! Just select Apple Pay as the payment type at checkout.
- Collect 10 nights with us and get 1 free* with Hotels.com® Rewards
- Choose when to pay. Either when you book or when you stay at the hotel.
- Securely store your payment details for fast, easier and safe bookings.
- Save your booking to your Passbook for whenever you need it.

MANAGE
- Sign in once and the app will keep you logged in. This is the fastest and easiest way to search for hotels, view your bookings and collect nights.
- Use Facebook to sign in or register. Create one account for all of your devices with just a touch of a button.
- See your past, current and future hotel bookings, even when you don't have access to the Internet.
- Call our customer support from within the app 24/7 for help making or managing bookings.

*The maximum value of your free night is the average daily rate of your ten nights. Your free night does not include taxes and fees. Account Summary Balance updates after stay has been completed.

Continued use of GPS running in the background can dramatically decrease battery life.
iPad Screenshots
Reviews
Great
I've used this app to buy hotels great app
Miracle app — and great people on the phone
RockStarRich
on
3/17/2018
Miracle app — and great people on the phone
iPhone X
Needs to be updated for the iPhone X. Constant updates but no UI updates for X users.
no iPhone X support.
Still no support for the iPhone X. The forced landscape mode on iPad is annoying.
Works Great
App rater awesomeness
on
3/17/2018
The application works great for me and I never had a problem. I book on Hotels.com weeks out or up to the last minute. No complaints!
Great travel app
Useful, easy and supported very well.
Best way to book a room
K to the Peezle
on
3/17/2018
my husband and I love the convenience of booking rooms thru your app! Convenient, easy and we are never disappointed!
A+++ app
Best app on my phone...get reward nights and cheaper than the website by using the app...it's quick and easy too
You did it
Storyofparlia
on
3/16/2018
Yup, it works. Great job.
Great app!
Love it! Very user friendly
Excellent app!!
What most of us want in
on
3/16/2018
Very useful app! Great rates and most of times cheaper than the other booking sites.
Easy to use
Marietta Fan
on
3/16/2018
Very easy to find hotel options with the app. Often better rates than the hotels sites.
Don't sign up!
HollyannMaree
on
3/16/2018
Don't sign up when using this app! I've been recovering spam emails since registering for this app, then choosing to unsubscribe from emails. When did I even choose to sign up for emails to begin with?! This app is a fraud. It'll sign you up for emails, send way too many, and when you renter your email on the unsubscribe page it'll sell it off. I'm just warning you all, do not create an account only book as a guest!
So easy!
West Chicago mom
on
3/16/2018
Glad I got the app! Easy and clear, this app makes booking a hotel a breeze.
Easy to use
This app is pretty easy to use. I might even say it's easier than the website.
Simple, easy with lots of selections!
I like the hotel.com for its simple, easy with lots of selections for different kind of hotels and prices to choose. Plus there's no extra or hidden charge for final booking. I love the free night after 10 nites of booking. It's a big saving if traveling frequently!
Great
Denika Washington
on
3/15/2018
Very accurate hotel descriptions.
Flawless booking.
Never had an issue. The rewards program is the best.
Great app
BarbieDahl 2017
on
3/15/2018
Great app
Pleased
Mamavazquez5
on
3/15/2018
Very good
My favorite booking place! ❤️
I love to book through Hotels.com! I'm looking forward to building up my points!!!
Easy to Book
I like you can book more than one room ..easy to change dates..free cancellation.
Quality inn & suites Toledo Ohio
Stayed at the quality in it was very dirty. Bathroom floor was filthy. Toilet & tub was stained up. Curtains was filthy and so was the lamp shade & pictures on the wall. Dusty & dirty. And the ceiling was cracked and had a big gap around the top of it.
It's awesome
It's awesome just the resort fees on top of everything is is a lil much
Price & Quality
I have been booking hotels with Hotels.com for over 8 years now! The hotels that are available on their website are a variety that ranges from poor - high quality. The price of their high quality is very cost saving and competitive to those that similar websites offer.
Sweet
Easy to use. Works great! x10 points when booking with capital one venture card!
Great Pricing
I like this app. I can see all the information in one place. It's easy to use and prices are great.
Hotels show same pictures all rooms
George Ads USA Seattle
on
3/14/2018
Many hotels show same pictures for different price rooms. The only way to determine what is difference is to contact Hotels.com and wait for them to contact the hotel in question. It seems a lot of effort for something that should be verified by Hotels.com before listing. This problem is same on various reservations apps, so seems all of them are more interested in obtaining listing than in the value of app to the customer. It is a warning to customer because you could pay for something and find it different upon checkin, a time when it is nearly impossible to get refund or may require expensive room change fee.
Apps works great
JordanStunts
on
3/14/2018
The app works great. I've found some great deals but I wasn't happy they took my credits away because I didn't use them for an extended period of time. I was one room short of a free night.
Works great
Very convenient, works as expected
False advertising
LizC12345678
on
3/14/2018
I asked for a price match and gave them all the information that they asked for and they kept coming up with different ways to deny it. Would NEVER recommend Hotels.com
Best Booking Engine
I travel all the time for both Work and pleasure and by far and away hotels.com is the site I turn to when I'm looking for cheapest price, easy sorts and a simple interface. It's the usability of this site that I love the most it makes travel easy. On the go booking a room while literally parked outside of the hotel guarantees me the best rate. No more stress about booking hotels. Simple. It also has the easiest rewards system book 10 nights earn one night redeemable at the average value spent for your 10.
Good App and Good Service
Useful. One night free after 10. A real service business, not just an artificial intelligence algorithm. There were real people a telephone call away to help fix booking errors I made. Recommended.
It's cool
Dilly Fresh 619
on
3/13/2018
I don't book stuff often and this was the easiest way I've been able to do it .
They over booked my reservation
I drove 2 hours away from a snow blizzard with wife and two kids, once I arrived at the booked hotel they said that we were since yesterday. They've explained that hotel.com does this all the time. I drove 4 hours for nothing. Plus 1 hours on the phone. Terrible customer support.
10 night to get one free
Always enjoy stays booked via Hotels.com. Room is always ready and never a hassle checking in nor out
Loved it
TiredofWackness
on
3/13/2018
Easy check in and the room was ready early. Staff was polite, room was clean and it's proximity to the park made it even better. No problems or complaints at all.
Always there.
iphone ap the best
on
3/13/2018
Thank you
Best app and rewards.
Very efficient. Easy to use.
So helpful!!
Just had a change in my daughter's softball college schedule and we had booked a room and paid ahead of time. The reservation was non refundable. We had to cancel and Hotels.com called the hotel and got us a full refund!! Went on the app to book a hotel in Myrtle Beach and got an awesome rate of $99.00!! So happy with this company!! Never let's us down.
Great app!
This has been such an easy experience! Love this app!
Always well taken care of
Chinstrap- Ddog
on
3/13/2018
There have been a couple times where the hotel gave away our room when checking in late even with notification and a call to hotels.com support fixed it each time in a very timely manner.
My coupon code
They wouldn't let me use my coupon code that they provided
Useful app
Almost my default app for travel booking
Zero star 👎🏼👎🏼👎🏼👎🏼👎🏼👎🏼👎🏼👎🏼👎🏼👎🏼👎🏼👎🏼👎🏼👎🏼👎🏼
Romenio Faria
on
3/13/2018
worst service ever! I'm very disappointed with them. 👎🏼👎🏼👎🏼👎🏼👎🏼🤬🤬🤬🤬🤬🤬🤬🤬🤬🤬🤬🤬🤬🤬🤬🤬🤬🤬🤬🤬🤬
User friendly
I always find great deals. I'm so thrilled to use this app for my trip plans. Convinient!
So so whatever
Doesn't pick up or filter accurately
Go back to the old search function
BloatedBetty
on
3/12/2018
Love this app but it used to allow you to zoom in and out of the map when using current location and move around the map to show all hotels. Now it's like it is stuck on a certain radius and cannot search further out.
Fact Sheet
Publisher:

Hotels.com, L.P.

Category:

Travel

Released:

Jul 11, 2008

Current Version Released:

Mar 17, 2018

Version:

7.5

Size:

140.4 MB

Compatibility:

Requires iOS 9.0 or later.

Recommended Age:

4+

Game Center Certified:

No

Supported Languages:

Arabic; Chinese; Croatian; Czech; Danish; Dutch; Flemish; English; Estonian; Finnish; French; German; Greek; Hebrew; Hungarian; Icelandic; Indonesian; Italian; Japanese; Korean; Latvian; Lithuanian; Malay; Bokmål, Norwegian; Norwegian Bokmål; Polish; Portuguese; Russian; Slovak; Spanish; Castilian; Swedish; Thai; Chinese; Turkish; Ukrainian; Vietnamese;