Screenshots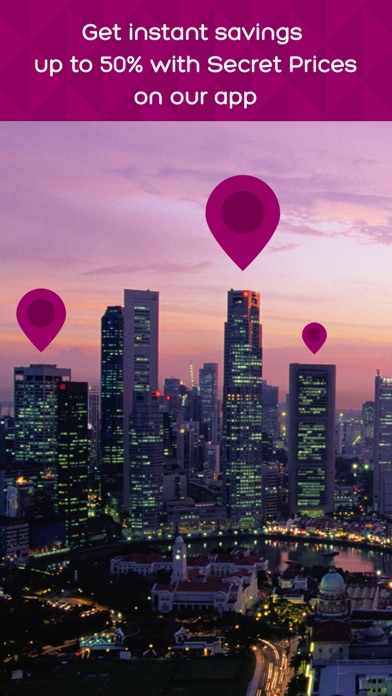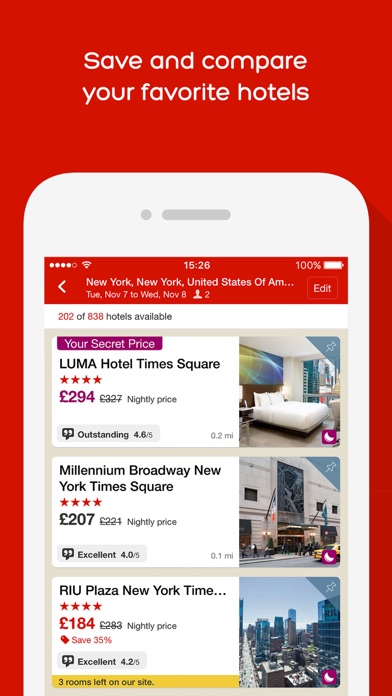 New in version 6.7.1
Hotels.com regularly updates our app to bring customers the features and fixes that help them find and book the perfect hotel.
Thanks for using Hotels.com! Please keep telling us what you think by reviewing our app and rating us 5 stars.
Description
The Hotels.com app is the simple, fast and secure way to book your perfect hotel.

PLAN
- Get instant savings with access to Secret Prices on our app. These are lower prices that aren't available to everyone.
- Easily discover your perfect hotels with our in-depth sort and filter options.
- Get exclusive deals for hotels in your area tonight by using our "Tonight's Local Deals" feature.
- Save all your favorite hotels to easily compare between features and prices.
- Easy-to-use map view to discover all the hotels around you.

BOOK
- Use Apple Pay! Just select Apple Pay as the payment type at checkout.
- Collect 10 nights with us and get 1 free* with Hotels.com® Rewards
- Choose when to pay. Either when you book or when you stay at the hotel.
- Securely store your payment details for fast, easier and safe bookings.
- Save your booking to your Passbook for whenever you need it.

MANAGE
- Sign in once and the app will keep you logged in. This is the fastest and easiest way to search for hotels, view your bookings and collect nights.
- Use Facebook to sign in or register. Create one account for all of your devices with just a touch of a button.
- See your past, current and future hotel bookings, even when you don't have access to the Internet.
- Call our customer support from within the app 24/7 for help making or managing bookings.

*The maximum value of your free night is the average daily rate of your ten nights. Your free night does not include taxes and fees. Account Summary Balance updates after stay has been completed.

Continued use of GPS running in the background can dramatically decrease battery life.
iPad Screenshots
Reviews
Totally disappointed
I can't log into app I have to use google to do a reservation
Credit
WorkNProcess
on
10/16/2017
I could not log into the app to get the credit for my nights.
Simply and easy
Love it and always cheaper then booking with the hotel. I always call to see their pricing first to compare the cost of booking it on the app. There's out 10 out of 10, it's cheaper to book on this app.
Won't allow log in!
I cannot log in via the app - I keep getting an error message telling me to try again and I cannot access my reservations unless I look up the confirmation number. Please fix this is it very frustrating!
Didn't work
Went to their web page and logged in to find a hotel. I got a message that said if I used their app I could get up to and additional 50% off. Logged in to the new app and couldn't log in. It kept saying "oops something happened". I wrote to support and waited 3 days but got no help. Needless to to say, I ended up with a different app now and am happy. I was a hotels.com user for over 7 years but now, due to lack of support and no coupon, I'm somewhere else.
Speed of the app
AngryTwitter
on
10/15/2017
It's good overall, but it feels little slow.
No iTouch ID???
Not accessible with iTouch ID???
Great
TRACY HOWARD SELLS
on
10/15/2017
Thanks!
Easy to use big selection
CrusherCranberry
on
10/15/2017
Offered a better selection of hotels in Tel Aviv Israel than Booking.com. Easy to use , much helpful information including hotel location map.
Very useful
Mr. Weahter
on
10/15/2017
Very convenient to book a hotel using a tablet or smartphone. And what I love about Hotels.com is that after you book 10 nights you get one night free. This free night will be the average of the booking of your 10 nights.
Love and hate relationship
Hot Corner 9
on
10/14/2017
I love the ease of booking on hotels.com but hate the fact that every time I want to make a reservation and despite building up free nights, it seems you can never use them. In which case, I see no reason for hotels.com to exist.
Convenient
Pool Sharrk
on
10/14/2017
Convenient and easy to find the best hotels..And would recommend the app to friends and family... Wish there was a point system for price reduction or free meals ... Thank you Hotel.com
The BEST!!!
The BEST!!! HOTELS.COM!!!
Review
jonesrl1982
on
10/13/2017
Wonderful app
Buyer beware!!! Worst CS EVER!!!
Worst customer service ever! They have no concern for you and you needs. Their rewards program is a sham, there are better sites with better prices!!! do not use hotels.com!' Beware!!!
Can't log in
This app is useless. It won't let me log in. It keeps telling me something went wrong and to try again later. The website works fine.
Easy as 1 2 3
Fast easy reliable
Best App for Hotel Reservations
I've been using this App for few years. I've used it to book my reservations all over the world on my trip. It's the best. Your reservation is guaranteed even in a closely contested market and in peak periods! To make it even better, you get 1 reservation free after every 10 nites stays. Can't get better than that.
Very good hotel great deal
Nice stay, clean and convenient. A wonderful find we will stay again!
Cool hand Luke
Goalball warrior
on
10/13/2017
The app was very user friendly. Awesome!
Easy and beneficial
billythesig
on
10/13/2017
Love this site. It makes travel easy!
편리합니다
결제도 편리하고 호텔 검색도 유용해서 자주 이용합니다 추천숙박시설 구경도 재미있고 도움이 됩니다
Awful
iwbcwkfywkshwow
on
10/12/2017
It will not let me log into my account.
Unable to Sign In
Sign in doesn't work. I keep getting an error that something has happened. My login works fine in my browser, so I know I've got the right password. App is useless as is.
Fast and easy
Chiragaznaga
on
10/12/2017
I love using the app! It shows me great savings plus secret just for me prices!
ESTUPENDA APLICACIÓN
MarioARdzMX
on
10/12/2017
Me encanta usar esta Aplicación porque me ayuda a encontrar lo que busco y a muy buen precio
Apple Pay does not work and
Also page reloads that deselect applies discounts at checkout are really annoying like I never want to use you again kind of annoying
Stress Free with Hotel.com
Using Hotel.com was the best decision. It's easy, quick, and if you have to call to make changes you don't have to wait or push option after option after option. I love booking with Hotel.com!! The free room you get after booking 10 times is nice bonus too. They are leaders in customer service.
Easy and useful
I travel for business several times a year and I always use this app. It is easy to find the right hotel, the right price range, and booking is a snap.
Love the Site!!!
Pridemerchant
on
10/10/2017
The best rewards program of all the Travel sites!!!
Easy bookings
Snowbunni21
on
10/10/2017
Love hotels.com website is so user friendly. If he hotel isn't like is was in the pics they will work to switch to another hotel if one is available. Always great customer service!
Again someone made a poor design choice. It's endemic with these people.
I had to tell them not to zoom out the map on hotel searches. After months common sense dawned on these idiots. Now apparently someone in their infinite wisdom decided to omit the "show more room types" from the "lowest priced room" that you see when you scroll down. It was only after doing a couple of bookings that I realized that other room types will show if you just click on "book now" right at the top. Some missed opportunities there. I prefer to generally get one rung above the cheapest room to prevent being put into the worst room in the facility. It generally works. Deleting that option is a boneheaded move. In fact for one of bookings I was incensed at not being offered room types by hotels.com that I went directly to the hotel's website and got a much better deal and a better room type. Some moron seems to be working to lose business over there at hotels.com. What a born loser this person is. These people have no idea what travelers want. They just make dumb changes that only serve to reveal their ignorance. I think it may be time to use up my free nights and make a practice of just booking at the hotel sites themselves. Usually they beat hotels.com even with the free night deal. Even if they don't at least I would know what the different room type options are. The use case for this app is convenience in that it is a single app for all your bookings. However if idiots want to make stupid regressive changes to functionality I think it is time to move on.
My Go To Travel App
I have been using Hotels.com for years, always with great results. Recently, I have tried some of the highly advertised, multi site Apps, but I always go back to Hotels.com. Info I need, straightforward, and can find what I need. Good customer service too.👍
Don't book here
cowgirllove...<3
on
10/9/2017
I used to never have problems with Hotels.com and their app until today when I tried to change by dates of my reservation! I was disconnected from them countless times and was told multiple things from different people. Terrible customer service!
Very easy
It is very easy to use the apps ....
No customer service
Hotels.com has the worst customer service that I've ever come in contact with. I've had to fight them every step of the way for mistakes they have made. They never answer emails and if you call they say things are taken care of but they never follow through on them. They are not worth using, contact the hotel directly, they will most often give you a better price and you won't get the worst room in the hotel because you booked through a 3rd party.
Booking
I usually book through the app and it is really easy. But today it took forever because it kept reloading while booking it. Spent 20 minutes re putting my info.
New App and I can't log in
Brian from Tucson
on
10/8/2017
Can't log into my account.
Great app
Easy to book, clear UX - great experience
Good
360 Logistics
on
10/8/2017
I love the app, fast friendly and efficient. However the prices are not very much different from actual hotel directly.
Used to love this app
hellcattattoo
on
10/8/2017
Can't even log on now.
A go to app for hotel booking
LancMoney717201
on
10/8/2017
Easy to use app and I find it very helpful to book through.
Best Hotel App Ever☝️
xXAgent MelXx
on
10/8/2017
We have earned several FREE rooms by taking advantage of their rewards program! Thank you for making our hotel booking needs stress free and rewarding🤗
Great for everything ....except
kathysgrsndms
on
10/8/2017
We use hotels.com all the time. I've never had problems. Prices are usually the best and if you find cheaper they match. My only complaint is I use their app and if I use a special code it says you get an additional 5% off. I've tried it twice and have not gotten the discount. When I called they said they can't offer it on all hotels.
Perfect for traveling...
Great site....easy to use.
Excellent application
Love using the Hotels.com app. Great prices and a phenomenal rewards program. I have enjoyed almost 3 dozen free nights by using this app.
I can't log into my account
I tried & tried & the capkta wouldn't show on my iPhone.
Could be better
No "forgot password" on app Hung endlessly when attempting to sign in with Facebook Special price a bonus
Fact Sheet
Publisher:

Hotels.com, L.P.

Category:

Travel

Released:

Jul 11, 2008

Current Version Released:

Oct 06, 2017

Version:

6.7.1

Size:

127.6 MB

Compatibility:

Requires iOS 8.1 or later.

Recommended Age:

4+

Game Center Certified:

No

Supported Devices:

iPad2Wifi-iPad2Wifi, iPad23G-iPad23G, iPhone4S-iPhone4S, iPadThirdGen-iPadThirdGen, iPadThirdGen4G-iPadThirdGen4G, iPhone5-iPhone5, iPodTouchFifthGen-iPodTouchFifthGen, iPadFourthGen-iPadFourthGen, iPadFourthGen4G-iPadFourthGen4G, iPadMini-iPadMini, iPadMini4G-iPadMini4G, iPhone5c-iPhone5c, iPhone5s-iPhone5s, iPadAir-iPadAir, iPadAirCellular-iPadAirCellular, iPadMiniRetina-iPadMiniRetina, iPadMiniRetinaCellular-iPadMiniRetinaCellular, iPhone6-iPhone6, iPhone6Plus-iPhone6Plus, iPadAir2-iPadAir2, iPadAir2Cellular-iPadAir2Cellular, iPadMini3-iPadMini3, iPadMini3Cellular-iPadMini3Cellular, iPodTouchSixthGen-iPodTouchSixthGen, iPhone6s-iPhone6s, iPhone6sPlus-iPhone6sPlus, iPadMini4-iPadMini4, iPadMini4Cellular-iPadMini4Cellular, iPadPro-iPadPro, iPadProCellular-iPadProCellular, iPadPro97-iPadPro97, iPadPro97Cellular-iPadPro97Cellular, iPhoneSE-iPhoneSE, iPhone7-iPhone7, iPhone7Plus-iPhone7Plus, iPad611-iPad611, iPad612-iPad612, iPad71-iPad71, iPad72-iPad72, iPad73-iPad73, iPad74-iPad74, iPhone8-iPhone8, iPhone8Plus-iPhone8Plus, iPhoneX-iPhoneX,

Supported Languages:

Arabic; Chinese; Croatian; Czech; Danish; Dutch; Flemish; English; Estonian; Finnish; French; German; Greek; Hebrew; Hungarian; Icelandic; Indonesian; Italian; Japanese; Korean; Latvian; Lithuanian; Malay; Bokmål, Norwegian; Norwegian Bokmål; Polish; Portuguese; Russian; Slovak; Spanish; Castilian; Swedish; Thai; Chinese; Turkish; Ukrainian; Vietnamese;