Screenshots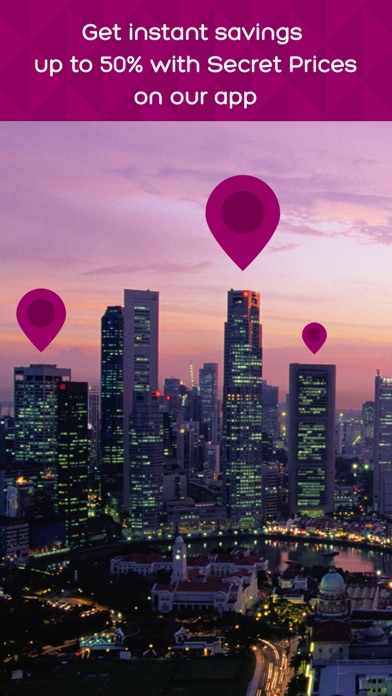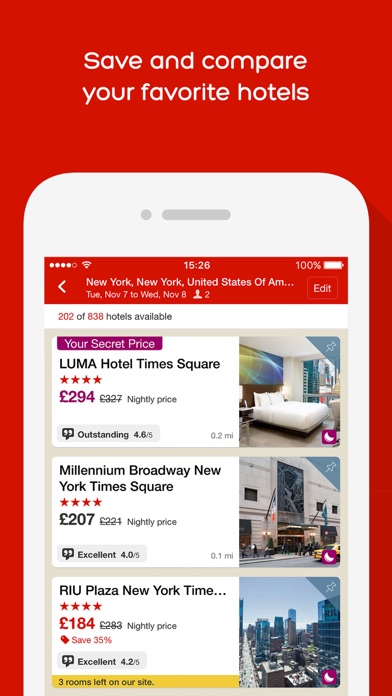 New in version 6.9
Fixed an issue that was preventing some customers from signing in.
Hotels.com regularly updates our app to bring customers the features and fixes that help them find and book the perfect hotel.
Thanks for using Hotels.com! Please keep telling us what you think by reviewing our app and rating us 5 stars.
Description
The Hotels.com app is the simple, fast and secure way to book your perfect hotel.

PLAN
- Get instant savings with access to Secret Prices on our app. These are lower prices that aren't available to everyone.
- Easily discover your perfect hotels with our in-depth sort and filter options.
- Get exclusive deals for hotels in your area tonight by using our "Tonight's Local Deals" feature.
- Save all your favorite hotels to easily compare between features and prices.
- Easy-to-use map view to discover all the hotels around you.

BOOK
- Use Apple Pay! Just select Apple Pay as the payment type at checkout.
- Collect 10 nights with us and get 1 free* with Hotels.com® Rewards
- Choose when to pay. Either when you book or when you stay at the hotel.
- Securely store your payment details for fast, easier and safe bookings.
- Save your booking to your Passbook for whenever you need it.

MANAGE
- Sign in once and the app will keep you logged in. This is the fastest and easiest way to search for hotels, view your bookings and collect nights.
- Use Facebook to sign in or register. Create one account for all of your devices with just a touch of a button.
- See your past, current and future hotel bookings, even when you don't have access to the Internet.
- Call our customer support from within the app 24/7 for help making or managing bookings.

*The maximum value of your free night is the average daily rate of your ten nights. Your free night does not include taxes and fees. Account Summary Balance updates after stay has been completed.

Continued use of GPS running in the background can dramatically decrease battery life.
iPad Screenshots
Reviews
Hotels.com ease
Jamming gram
on
12/12/2017
Love the site. Always check elsewhere but book with this site. Best deals, easy use.
5 Star service is great
We book a lot. We can call the Hotels.com 5 Star phone to get issues taken care of. App is easy and reward point for bookings is awesome!
Always stay at Mirabeau when in Spokane.
Rooms clean and freshly appointed. Staff super professional and gracious. Be sure to dine at Max's. Food. Is wonderful and fun drinks. PS for any southerns out there, they have grits.
Always the best!
Whereiseveryone?
on
12/11/2017
A great selection as well as the best prices I've seen on any app. This is my go to for all travel!
Customer Service
the_starfishie
on
12/10/2017
Customer service could be better, but it is overall a good app.
Easy to book
Last minute hotel accommodations take just a few minutes from my phone!
Good no-nonsense design
Hotels.com gets right to the point. No unnecessary frills yet all the information you need to decide quickly if a hotel is right for you.
Good searching tool.
Bobman772000
on
12/10/2017
Good search tool. Select filter, then maps if you want. Man Im amazed in some cities at shat comes up when I put in serious demands, like price range of $40 - 60 and three star review average rating.
Hotels.com app double charged
Icelandic world traveller
on
12/10/2017
I got double charged for a reservation in London. My phone went out of battery when I was just finalising the payment and when I logged in again my app didn't show any reservation so I double checked with hotels.com by phone and they confirmed that the reservation had not gone through. I made a new one and finally got that reservation and when I arrived at the hotel I even checked if I had two reservations for the same period and was told not. After all I paid twice approximately 1560 USD which is a payment for two rooms and I have been in contact with hotels.com several times and I always get the answer that a supervisor or the payment department will contact me and they never do. Now finally last week I contacted them again and then they offered me a 100 USD for the trouble which is an insult and I insisted on talking with a supervisor and that person said that she couldn't do anything about this and that was final. I have used hotels.com so often that it probably counts for well over 100 nights and this is what I get in return.
Set your preferences filter
Need area to update preferences to filter your needs to be sure they are met upon arrival
The booking site I use
Booking.com is the best hotel booking site. Their customer service is great, the accuracy of the hotel descriptions, and prices keep me coming back every time I go out of town.
Fast Easy Cheapest Rates
Simple App to use.
Super Easy
App is so simple and user friendly to use!
Best hotel service ever
jamesblack bottom
on
12/9/2017
Hotels.com has both satisfied and earned me money. I would recommend these services to everyone i know. I would love for this app to offer more rewards as well.
Easy to use
Nice app. You can see a variety of hotels with different amenities and prices. Easy to use.
Bad app
No way to reset pass word? Seriously?
Great travel app
I've been using the Hotels app for several years and i always find the best deals and I love that i get free nights as rewards.
Need to hire help that has a clue
Andy fit as hell
on
12/8/2017
App crashes staff really atupid.
Excellent
This app is incredible. I love that if you have questions, there is a number to call and the people who take the calls are absolutely helpful. I use this app all the time.
App is not letting me to login
However, login via web browser is ok. App login process just pops up a message: Oh no! Something has happened, please try again! This is going on Over and Over again
I Love Hotel.com
Nina Ross the Boss
on
12/8/2017
Thanks for all the Great Deals & Quick Booking!
Super
Kuki la mora
on
12/8/2017
Muy bueno y cómodo de usar me encanta😀👍✌🏻
Unusable in iOS 9
This app is a completely untested waste of time. It will take about 10 attempts to book a room because the page reloads every time you need to fill out a required field.
Awesome App
lucky # Sleighteen
on
12/7/2017
Been using it for years. Never had any issues. I like it a lot
Good App and Good Service
Very nice useful app, 1 night free after 10 and it is a real business operation not just an artificial intelligence algorithm. There were real people on a phone to help fix booking errors I made.
Great app for planning
I originally booked a hotel for a good price with free cancellation, I check the app the next day and found an even cheaper deal, which I cancelled my original one and re booked for no cost ! this app truly shows you the best prices, which changes each day.
Pham, Plano Tx
pham, PlanoTX
on
12/6/2017
The booking process was very smooth with all clear details and necessary information. Excellent!
Prices are wrong half 90% of the time
When I go to book it will say one price an at check out it's almost double. I called and spoke with customer service an said well that cause it changed in the 2 seconds I clicked on it. Been looking for new app to start booking with.
🇺🇸😎👍 Traveling US veteran
Michael 00021402
on
12/6/2017
I do all my bookings with Hotels.com customer service is very hospitable and the prices seem to be very fair I've used them 6 times already with traveling
Great, easy
Jim2674884785688
on
12/6/2017
Great and easy!
Hotels.com great customer service
Danny at 61 years
on
12/6/2017
Great app. So easy to work! Had a misadventure where I booked the wrong date at fancy expensive vegas hotel. Realized it way past the 5 pm deadline. H.com listened to me, advocated for me, and within 5 min, got me a 350 dollar refund. Great company and site!
Love this app
Just get it! Very good
It's ok
SamanthaJoy0515
on
12/6/2017
The app can be a little buggy but it's usually ok.
Easy
busy mom from AL
on
12/5/2017
Cannot get easier
Refunds
yodiggdynyts
on
12/5/2017
Refunds take longer than expected and not every hotel is on the sight
Much Slower Version of Website...
Apple Pay issues
on
12/4/2017
... that signs you in every other time
Happy With Hotel.com
We book all our hotels through this site. Easy to use and we earn free nights.
Grade A
Always book hotels through them as you consistently get the best price!
Constant spam
Ongakugadaiskii
on
12/4/2017
Stop spamming me and I'll rate you higher
Great site
Beachgirl2000
on
12/4/2017
I love Hotels.com! I always find the hotels I'm looking for on this site.
Update
The update is the worst. I liked when it gave you the distance to everything especially the airport. This is very important for people who've never visited places.
Hotels.com
I've done a lot of traveling and this app has made my life easier! Booking my travels was a breeze! I highly recommend!!
Love this App
Hotels. Com app gives you all the information you need before booking. You will know in advance if it is pet friendly or not, if there are restaurants on the premises or nearby, what the minimum check in age is. I never book using anything else.
Thks Hoteles.com
Is great to have hoteles.com as my traveling personal partner !! Cheers
Booking
Sunseekerslc
on
12/2/2017
Usually very good but had to resubmit booking 5x before it went thru. Very time consuming for an app.
Easy to use
Clairemarie7296
on
12/2/2017
This app is easy to use and easy to book!
Fact Sheet
Publisher:

Hotels.com, L.P.

Category:

Travel

Released:

Jul 11, 2008

Current Version Released:

Nov 21, 2017

Version:

6.9

Size:

132.4 MB

Compatibility:

Requires iOS 8.1 or later.

Recommended Age:

4+

Game Center Certified:

No

Supported Devices:

iPad2Wifi-iPad2Wifi, iPad23G-iPad23G, iPhone4S-iPhone4S, iPadThirdGen-iPadThirdGen, iPadThirdGen4G-iPadThirdGen4G, iPhone5-iPhone5, iPodTouchFifthGen-iPodTouchFifthGen, iPadFourthGen-iPadFourthGen, iPadFourthGen4G-iPadFourthGen4G, iPadMini-iPadMini, iPadMini4G-iPadMini4G, iPhone5c-iPhone5c, iPhone5s-iPhone5s, iPadAir-iPadAir, iPadAirCellular-iPadAirCellular, iPadMiniRetina-iPadMiniRetina, iPadMiniRetinaCellular-iPadMiniRetinaCellular, iPhone6-iPhone6, iPhone6Plus-iPhone6Plus, iPadAir2-iPadAir2, iPadAir2Cellular-iPadAir2Cellular, iPadMini3-iPadMini3, iPadMini3Cellular-iPadMini3Cellular, iPodTouchSixthGen-iPodTouchSixthGen, iPhone6s-iPhone6s, iPhone6sPlus-iPhone6sPlus, iPadMini4-iPadMini4, iPadMini4Cellular-iPadMini4Cellular, iPadPro-iPadPro, iPadProCellular-iPadProCellular, iPadPro97-iPadPro97, iPadPro97Cellular-iPadPro97Cellular, iPhoneSE-iPhoneSE, iPhone7-iPhone7, iPhone7Plus-iPhone7Plus, iPad611-iPad611, iPad612-iPad612, iPad71-iPad71, iPad72-iPad72, iPad73-iPad73, iPad74-iPad74, iPhone8-iPhone8, iPhone8Plus-iPhone8Plus, iPhoneX-iPhoneX,

Supported Languages:

Arabic; Chinese; Croatian; Czech; Danish; Dutch; Flemish; English; Estonian; Finnish; French; German; Greek; Hebrew; Hungarian; Icelandic; Indonesian; Italian; Japanese; Korean; Latvian; Lithuanian; Malay; Bokmål, Norwegian; Norwegian Bokmål; Polish; Portuguese; Russian; Slovak; Spanish; Castilian; Swedish; Thai; Chinese; Turkish; Ukrainian; Vietnamese;