TapNova doesn't recommend this version of the app.
New in version 6.2
Hotels.com regularly updates our app to bring customers the features and fixes that help them find and book the perfect hotel.
Thanks for using Hotels.com! Please keep telling us what you think by reviewing our app and rating us 5 stars.
Description
The Hotels.com app is the simple, fast and secure way to book your perfect hotel.

PLAN
- Get instant savings with access to Secret Prices on our app. These are lower prices that aren't available to everyone.
- Easily discover your perfect hotels with our in-depth sort and filter options.
- Get exclusive deals for hotels in your area tonight by using our "Tonight's Local Deals" feature.
- Save all your favorite hotels to easily compare between features and prices.
- Easy-to-use map view to discover all the hotels around you.

BOOK
- Use Apple Pay! Just select Apple Pay as the payment type at checkout.
- Collect 10 nights with us and get 1 free* with Hotels.com® Rewards
- Choose when to pay. Either when you book or when you stay at the hotel.
- Securely store your payment details for fast, easier and safe bookings.
- Save your booking to your Passbook for whenever you need it.

MANAGE
- Sign in once and the app will keep you logged in. This is the fastest and easiest way to search for hotels, view your bookings and collect nights.
- Use Facebook to sign in or register. Create one account for all of your devices with just a touch of a button.
- See your past, current and future hotel bookings, even when you don't have access to the Internet.
- Call our customer support from within the app 24/7 for help making or managing bookings.

*The maximum value of your free night is the average daily rate of your ten nights. Your free night does not include taxes and fees. Account Summary Balance updates after stay has been completed.

Continued use of GPS running in the background can dramatically decrease battery life.
iPad Screenshots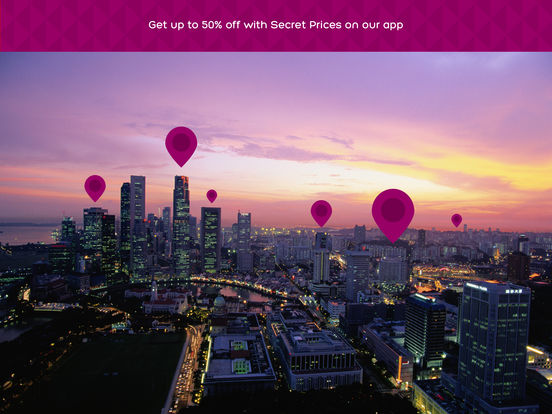 Reviews
Solid. Needs improvements. But solid.
Best part about the app is obviously the credit toward free stay, but it expires in 12 months, which is BS. App works flawlessly as I've not encountered any bugs. Will you add the option of searching for family friendly hotels/resorts? Or other variations of type of fun? Rates are NOT CHEAPER than actual hotel sites, unfortunately. But eventual free stay is solid but please remove the expiration date for stays earned! I'm not a business traveler nor a frequent single traveler, so I typically miss out on benefits associated with expiration dates. I remember when hotels.com was a true innovator, just as hotwire was, and understand that times and methods of making money change, but you have a great customer base. Don't screw us. Thanks for listening.
Doesn't reflect reservation changes
I booked a smoking room on accident via the app. Within 30 min I noticed the error on my email confirmation and went into the app to change the room to non smoking. I got 3-4 emails after my change, however they were all in Chinese! One said smoking room cancelled, next said accessible non smoking room. Went to check in just now 2.5 hours away from home and they only had my old smoking room available. I have asthma and can't stay and the hotel refused to refund me. 2 Hotels.com phone reps refused to help and I'm currently awaiting to see if Twitter can help refund me. My vacation is ruined and we're driving home. Lost a very long loyal customer today.
Why use other apps
So I hear all these apps in commercials save you more money well really you don't need to be jumping around apps like Trivago to get a deal. This works so good I've been in Mexico. Found me great deals!
ممتنه لخدمات التطبيق
تطبيق جميل جداً جداً وقد جربته عدة مرات وعضويتي من ثلاث سنوات تقريباً اكثر بقليل الا انه لدي بعض الملاحظات لرفع مستوى الخدمة الي الأفضل اقترح وجود تواصل عبر الايميل ليس فقط بالاتصال أيضا هناك مناطق اذهب لها لا اجد جميع الفنادق رغم أني اجد تنوع لديكم في مستويات الفنادق ممتنه بخدمتكم ممتنه لما وجدته من خدمات من خلالكم الي القمه باذن الله
Can't book a hotel
Can't book a hotel
App support
You're app support button brings you to a page that doesn't ask about the app. I'm now unable to add my reservation to passbook and get a server error 404 message with the latest and greatest IOS version as of this review. It worked fine for me last year. Please update/fix the app.
Use this site exclusively
Ugh I seriously hate nicknames
on
6/22/2017
Love it. Customer service is great
好
pinghailinfeng
on
6/20/2017
点赞!
Favorite travel app
Our go to travel app A++
Far away from reality.
I asks to find hotel in Israel and got recommended for hotel in Ramallah, state of Palestine. First, there is no state of Palestine. Second, put my life on risk to sent me to terrorist zone.
Solid basic functions but missing a couple useful features
Great for ease of search, filter & ultimately to book a room. Good hotel info & directions most of the time (I have had new hotels with directions to a completely different older hotel). Missing: once midnight rolls around to check-out day you no longer have access to hotel info in completed bookings so things like check-out time are unavailable. I would love to be able to rebook a prior property through the app but currently not available. With a few modifications this will be a 5-star app.
Please fix
Ok here are something's that I think might make this app better. 1) right now it will show your recent searches but it doesn't save your searches. In other words I got to add the filters every time I go back 2) I would like to be able to search in a specific area by drawing a line or circle on a map and it shows anything in that area 3) show all fees. I'm currently looking at booking a hotel. But it's a pain to figure out which have resort fees and parking fees. I would like to compare and narrow down my choices. 4) it would be nice to be able to "delete" hotels off your search. For example if I look at the map and think some are too far I would like to take those off the list to help narrow it down.
4 crying, tired kids...No reservation
Booked ahead of time with this app. Got to hotel, no reservation can be found. Showed her the email from hotels.com. That didn't matter. Tried to call customer support. Of course, no human and have to wait for a call back. Kids are tired, crying. Had to go to a different hotel, figured I could at least get a refund from hotels.com for their screw-up. But no, I have to fight with customer service, with them hanging up on me twice because they 'couldnt hear me.' wow, I was mad. But I didn't cuss. You'd be proud of me. No refund as of yet...
Easy to use, great deals
I almost always book through the Hotels.com app. All the random deal days and free nights are great bonuses
Would not match price
Sadly hotels.com would not match their own price! I booked a hotel and two hours later the price dropped $40. I called to see if they could adjust it for me and they would not budge. Sad that a huge company can't take care of their customers. I used this website for every hotel stay I ever use but will no longer use them.
Incorrect Booking Availability
I booked using this app & when I arrived at the hotel they were completely booked & had been for FIVE hours!! On top of that, my room was $142 for 1 night & I have miscellaneous charges of $18.20 & $22.19 on top of my room fee (no it's not tax)...won't be using this app again!!
Love the App
📱5 Hollywood
on
6/16/2017
Great app
Great app
It's easy to use and you can do a ton of stuff in app on the go. I really love that no matter where you go while you're away from your hotel you can just click on your booking and hit directions and it takes you back to your hotel.
5% off on apps won't get you free night
Ho Chi Minh USA
on
6/15/2017
Please disable 5% off feature on apps (coupon code: MOB5) because it is misleading. If I use 5% off, it wont count toward getting free night. WHAT A SCAM !!
Awesome
Great customer service
Why does it only work in landscape mode?
Randythemaker
on
6/14/2017
We use hotels.com a lot. But I've noticed the discount code they offer is never valid for the hotels I book and they always add on a service fee to the original price listed. I don't like the latest update. It is much harder to see how much you paid for a hotel after the stay.
Cannot print via app.
Spanish Prince
on
6/13/2017
I wish you would have option to print via app.
Terrible rewards system and customer service!!
I started using hotels.com in 2015 and liked it at first. I have successfully got one free nights from my bookings but things just went downwards from there. The next trip was a one week long vacation in Orlando, I have to cancel the last two nights but for some reason my entire booking was removed from the rewards so I lost the five nights I paid for. The next time was a two day trip I need to cancel last minute. I called the customer service to explain the situation and they did not even border to help out. What's worse is they did not give me the two nights in rewards even after they got my money for the two nights I can not cancel!!! And the last straw is today I just found out that all my rewards are expired! I called the customer again but they say it is because of I did not book anything in the past 12 month (although both of the two stories I mentioned were within that period). They did not border to TRY to do anything to save me as an customer so I would not use them ever again. Last I would say you can use it to book hotels but don't expect to get too much use out of the rewards system, they will try their best to prevent you from getting/using those free nights!!!!!!
Limited
No access to reviews we've made on places we've stayed. Needs a "my account" section. Reservation section isn't updating. And it still has this problem.
Convenient
Use this app all the time for trips, convenient and easy to use
Please fix
Thicky Prince
on
6/12/2017
Login, OK, 30 minutes later I have to sign in again, does not recognize my password, error code 3305 Please fix
Did not save my rewards!!!!!
I had 3 towards a free night and Hotels.com did not save it. They are gone!!! Thanks.
So handy
lil' hamster
on
6/12/2017
Book most of my hotels with this app...only been disappointed twice.
Lousy awards plan
Version 1.2.0
on
6/12/2017
I loaded this app so I could keep track of awards. Turns out their awards expire, so they really have no value. Using Travelocity now...
PayPal / hotels .com best idea
Mamallama411
on
6/11/2017
So excited to use this bookings with Hotels .com! Fast to book, great app to manage bookings, copies to calendar,. Pay pal and hotels great idea.
Bonus discounts for using app are mythical
Cpt Mercer CGSH
on
6/11/2017
Like the unicorn, the promised extra discounts for using the app seem less fact than fantasy. You might as well save disk space on your iPad and book through the website. Also, last summer (2016) hotels.com customer service staff for the Silver and Gold members were based in the US. They are now based in the Philippines, and many have poor English skills. I am using Priceline more and more as they often have better deals; when hotels.com is cheaper I use them. Hotels.com lowest price guarantee is not worth the paper it isn't printed on, because Priceline will frequently offer a non-refundable deal on rooms, and hotels.com will simply decline to offer a non-refundable deal for the same hotel, and thus avoid having to match priceline's price. I am a Gold Member of hotels.com, and a year ago, they were awesome, but I am not a happy camper these days. About the only really compelling feature is Gold members get one free night for every ten, provided you don't use any coupon codes (you can usually find a coupon code for 8-10% off, which is useful when booking a cheap property to avoid devaluing your next free night; they will also usually let you apply your free night retroactively as a refund on a previous trip).
Month automatically resets
App booked the wrong date. Lost out on my hotel because of how crappy the interface is. Hotel didn't bother calling and neither did hotels .com. Waste of told and money. This is seriously getting to the point of no return with customer service as well. Thumbs down
Can't login into the app
I just updated the app, and now it wouldn't let me sign in, into the app. Username / password is correct. It lets me login on the computer, but for the mobile app, it says it's error.
Nice app
This app is easy to use. It would be nice if you could produce s receipt.
"Hotels" won't allow me to print.
PhilipUpNorth
on
6/9/2017
Can't print a hard copy of my booking. Can't save an image of my booking. Just get the "H" logo. Guess I'm too old-fashioned, that I'd like to have a hard copy of my reservation in hand when I check in. Zero stars, Hotels.
Very deceiving - worst customer service ever
I have used hotels.com for over 10 years. The last year they have instituted a program where if you stay 10 nights you get a free night voucher...the voucher had no expiration or at least no posted expiration. I was saving it for my anniversary and when I went to use it, it expired. I call up and of course to book a stay they answer right away but for customer service I was on hold for 15 minutes only to be told there is nothing they can do and a manager as well said nothing they can do...REALLY?!?! NOTHING you can do for someone who's been loyal to you?! Never again will I be using hotels.com - disgusting!!
Not opening
Hello my application is not opening is there a problem
hit or miss
Narcoleptic Rick
on
6/9/2017
I installed the app so I could use PayPal money as I was stranded on the road without a credit card. I booked a room and paid for it but the Hyatt Place couldn't find the reservation. After waiting in the lobby for an hour the night auditor found a manager on the phone who could authorize me a no-show room. Then they treated me poorly in the morning as if I had somehow tried to defraud them of something even though I have the PayPal receipt and a confirmation number. However, it worked fine at the next place just as intended and the Red Roof manager, Sawan, was superb. Be careful booking anything around midnight as your reservation gets lost in ethernet neverland.
Nice App
The app is useful and easy learn.
Don't use discount code on the application if you want to get credit for the room on your rewards
I used the 5% off discount code on the app and saved $6.87 on the room for two nights. When the booking was done I did not receive the rewards for the two night stay. When I contacted Hotels.com I was informed I did not receive the credit because I used the discount code. If I would have known that I would have never used the code to save a whopping $6.87
Still not right
sleepytime girl
on
6/8/2017
My rewards still do not show up correctly and when I try to go to customer service it only wants me to manage my bookings
Love this app!
I love this program! It is easy to use and you see benefits a lot faster with this program versus ANY of the hotel direct booking programs. Have been a member almost two years and I have NEVER had an issue booking a room.
Best app
I always get the best prices no matter what city or state. Awesome app
Good app
Easy to use. Saves your CC for easy checkout. I like the rewards system and recently used my free night with no problem. It averages all your stays and that's the amount u get credited for a free night.
Love Hotels.com
This is a great app from a great hotels provider. I'm a silver member on hotels.com and I love it. I love the choices that they offer plus you get special deals on the app, access to secret prices and much more. Also for every 10 nights you stay you get 1 free which is awesome. I've taken great advantage of this perk. A MUST HAVE APP
Bugs and 404s in "manage my bookings"
jDiggityDiggity
on
6/7/2017
Bugs and 404s in "manage my bookings"
Please list the details
PaulJohnsonPgh
on
6/7/2017
Of what changes in each update
Good but Buggy
If I want to call the hotel direct, there is no quick way to access it. Very inconvenient.
No option for forgotten password
Won't sign me in via saved password and no option to retrieve password.
Fact Sheet
Publisher: Hotels.com, L.P.
Category: Travel
Released: Jul 11, 2008
Current Version Released: Jun 07, 2017
Version: 6.2
Size: 125.8 MB
Compatibility: Requires iOS 8.1 or later.
Recommended Age: 4+
Game Center Certified: No
Supported Devices: iPad2Wifi-iPad2Wifi, iPad23G-iPad23G, iPhone4S-iPhone4S, iPadThirdGen-iPadThirdGen, iPadThirdGen4G-iPadThirdGen4G, iPhone5-iPhone5, iPodTouchFifthGen-iPodTouchFifthGen, iPadFourthGen-iPadFourthGen, iPadFourthGen4G-iPadFourthGen4G, iPadMini-iPadMini, iPadMini4G-iPadMini4G, iPhone5c-iPhone5c, iPhone5s-iPhone5s, iPadAir-iPadAir, iPadAirCellular-iPadAirCellular, iPadMiniRetina-iPadMiniRetina, iPadMiniRetinaCellular-iPadMiniRetinaCellular, iPhone6-iPhone6, iPhone6Plus-iPhone6Plus, iPadAir2-iPadAir2, iPadAir2Cellular-iPadAir2Cellular, iPadMini3-iPadMini3, iPadMini3Cellular-iPadMini3Cellular, iPodTouchSixthGen-iPodTouchSixthGen, iPhone6s-iPhone6s, iPhone6sPlus-iPhone6sPlus, iPadMini4-iPadMini4, iPadMini4Cellular-iPadMini4Cellular, iPadPro-iPadPro, iPadProCellular-iPadProCellular, iPadPro97-iPadPro97, iPadPro97Cellular-iPadPro97Cellular, iPhoneSE-iPhoneSE, iPhone7-iPhone7, iPhone7Plus-iPhone7Plus, iPad611-iPad611, iPad612-iPad612, iPad71-iPad71, iPad72-iPad72, iPad73-iPad73, iPad74-iPad74,
Supported Languages: Arabic; Chinese; Croatian; Czech; Danish; Dutch; Flemish; English; Estonian; Finnish; French; German; Greek; Hebrew; Hungarian; Icelandic; Indonesian; Italian; Japanese; Korean; Latvian; Lithuanian; Malay; Bokmål, Norwegian; Norwegian Bokmål; Polish; Portuguese; Russian; Slovak; Spanish; Castilian; Swedish; Thai; Chinese; Turkish; Ukrainian; Vietnamese;