Recommended app!
App last updated
Mar 09, 2018
Screenshots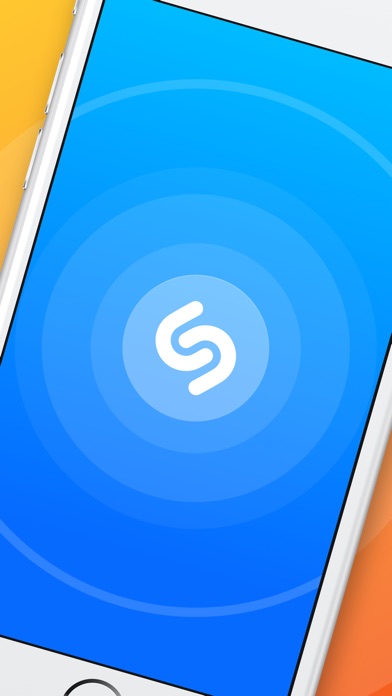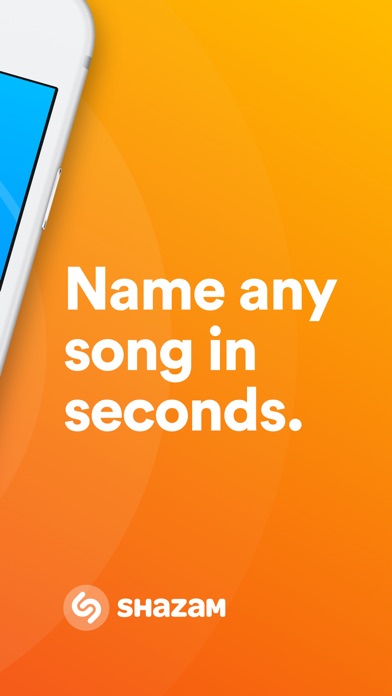 New in version 11.7.1
Your Shazams have a new look!

Once you've named that tune, you'll see a brand-new song page.

- Lyric Syncing: Belt it like you wrote it! With our new lyric-syncing, you'll see a song's lyrics in real time, enabling you to not just sing along to any song you Shazamed but finally master those words.

- Streamlined Results: Now when you Shazam a song, you'll get the results and one big photo of the artist behind it—perfect for focusing on the music you were looking to discover in the first place. For more info, simply tap on the artist photo.

- Everything In Its Right Place: We're excited to introduce an all-new track-result menu that makes it easy to view song lyrics, artist videos, updates and more in a single tap. Or swipe.

- Faster Playlisting: Connected to Apple Music or Spotify? 'Add to' playlist now takes one less tap. Simple!
Description
Shazam is one of the world's most popular apps, used by more than 100 million people each month to identify music, get song lyrics, and now to discover the music that artists discover themselves.

"Shazam is an app that feels like magic" --Techradar.com

Identify music instantly and share in the thrill of music discovery with the artists you love.

See what top artists like Drake, Bruno Mars, Justin Bieber, The Weeknd, Ed Sheeran, DJ Khaled and others are Shazaming.

• New discoveries from artists you've Shazamed appear automatically
• Follow new artists with a tap of a button and see what those artists are Shazaming
• Stay up-to-date about new singles, albums, and videos from the artists you follow

KEY FEATURES
• Enjoy music lyrics and YouTube videos
• Preview songs and add them to Apple Music or Spotify playlists *
• Launch Pandora radio based on artists you discover *
• With Auto Shazam we'll keep finding tunes for you even when you leave the app

DISCOVER & BUY
• Stay in the loop with Shazam's real time charts
• Quick links to Apple Music and the iTunes store
• Connect Apple Music or Spotify to play full tracks in Shazam
• Check out recommended tracks to discover new music
• Find out what's popular in your town, your country and the world

CONNECT & SHARE
• See what your friends are Shazaming when you connect your Facebook account
• Share your discoveries through Facebook, Twitter, WhatsApp and more...

SHAZAM FROM YOUR WATCH
• Launch Shazam on your Apple Watch to name that song in seconds, right from your wrist!
• See your past Shazams with a simple swipe up
• Use Handoff on Apple Watch and iPhone to buy the song on iTunes, watch videos, and much more

MORE THAN MEETS THE EYE
• Shazam visual recognition gets you more - tap the camera icon on iPhone to Shazam posters, magazines or books; anywhere where you see the Shazam camera logo
• Visual recognition also works as a QR code reader
• Buy tickets to see your favorite artists in concert

Use Shazam as much as you like – it's unlimited. Don't want the advertising? Upgrade to Shazam Encore

OTHER INFO
• Previewing and buying music requires the iTunes music store in your country
• Continued use of GPS running in the background can dramatically decrease battery life
• Facebook uses interest based advertising. More details: https://m.facebook.com/ads/ad_choices
• Some features are location, device and app version dependent
• Shazam may share collected location data for interest based advertising, allowing advertisers to infer interests and serve ads to users based on their activity and location over time.
• For more information on Shazam's privacy practices, please read the Privacy Policy, available at http://www.shazam.com/terms#privacy_policy.

Any questions or feedback? Check out: https://support.shazam.com
iPad Screenshots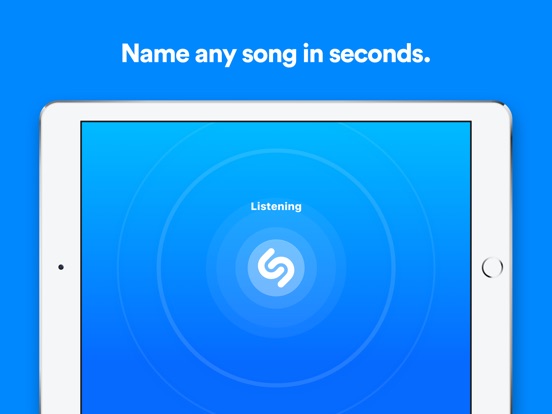 Reviews
Shazam for Apple Watch 2 stopped identifying songs
The app has worked well in the past but lately has stopped identifying songs. The app "listens" but then displays "We'll tap you when we find a match" later it displays "Shazam Saved, we'll name that song when you're back online.
Works well.
Very nice program. Does what it's suppose too and does it well.
Dependable
Reliable. Accurate.
An answer to a music listeners dreams
Plasmadimensions33
on
3/17/2018
Intuitively easy!!! User friendly. Amazingly fast and accurate and I can instantly save or buy the music that sends me above the realms of the mudane.
Song info
The app should give all pertinent song information, including release date.
perfect
beetlemania2013
on
3/17/2018
I love your app 5 star
So quick and easy!
RLchickiedee
on
3/17/2018
I love how the names of songs are at my finger tips in an instant!
Consistintly Perfect
picture loving mom
on
3/17/2018
Works every time!
Shazam
Amandallen786596
on
3/17/2018
I love Shazam! I use it almost daily. Very convenient and easy to operate. Thank you Shazam!
Smart
Always must be like these days!
Awesome
It's a fantastic app
FINALLY!
An idea whose time has come! How great to be able to identify those songs which, although nameless, haunt us. Hasn't failed me yet.
Fast and accurate
Love this app
Gurru
Wonderful best way to find that song im missing
I can't link my Spotify account
Jackasses770
on
3/17/2018
Fix it
Review
Faithgirl1235withsass
on
3/17/2018
I really like Shazam do I get paid if I answer this I mean I am a nine year old girl using her mom's phone after all 😇😋😁
Wow
Serworkaholic
on
3/17/2018
Good app now I know is the artist
Love this app!
I've totally switched from what was considered my top genre! Great ability to share and keep on Apple Music and iTunes!
Sequential song searching
Wish there was a way to Shazam songs one after another rather than having to 'X' (back) out of the screen to search for the next song. Big distraction while driving .
Rocket, def leopard
Busy busy multi tasker
on
3/17/2018
What no more lyrics to songs? ☹️
Best Personal Resource
Shazam is my personal music assistant. It is there 24/7 for me.
Amazing App
Love it. Very handy and useful
awesome shazam! 👍
my favorite!
It's the bomb
Fast too great job ya'll.
Love it!!! ❤️❤️
From the moment I downloaded the app, have never regret it and don't think I've ever will
Lyrics
The app is food overall but the lyrics appear delayed as the songs play.
Awesome!
So easy to use. So helpful in finding music that we like. Thanks!
The reason I bought the iPhone!
This app was the reason I purchased my first iPhone way back in the day! And it's still on my first screen!! I use it all the time! Love love love this app!
I love Shazam
CHARCOALDAVE
on
3/17/2018
It was the first smart app I bought my first smart iPhone for
Perfect as a widget
I've been using Shazam back when man first discovered fire. Shazam made me the man I am today, of it wasn't for Shazam I'll still be lost looking for answers. For those who's reading this make Shazam a widget, trust me all your plays will be answered.
Love this app
Night Nurse Atl
on
3/17/2018
It's so useful.
Love it!
Can't say enough just absolutely love it.
Fast search
+2349091236147
on
3/16/2018
Thanks for the improvement. I am enjoying the app now. From Nigeria,west Africa
Love!
Poetically speaking!
on
3/16/2018
Can't do without it. A little annoying when it doesn't recognize a song. Usually it's a reggae song.🤣 The one thing I miss about Shazam red, is having the Shazam button on EVERY page. Still a great app.
Inconsistent At Times!
I admit luving Shazam, but once in awhile it seems like it takes a little too long to give me the song title!! No worries! I Still Love It!!
Go back to 'Start'
With each new version, there is less information. Early versions were better.
Much better than Soundhound
Excellent
Great App
No searching easy to find music I hear on the radio
Life & Game Changer
Replaces a half hour of google searches.
Simply the best.
Love this app
The best app EVER!!!!!
Great quality
автошазам почти не работает
gfxxseringfdfbn
on
3/16/2018
:(
Shazam es genial
Útil y ágil con buena base de títulos
Yes!!!!!!
Crazy Christian Girl
on
3/16/2018
I love this app... it's so helpful, when I want to find a song, really quick at a restaurant, or store.
Best app ever
DinoBamButterz
on
3/16/2018
Sick bad to the bones RAD Get it us it enjoy music you will enjoy this app Cheers.👍👍👍👍
Bad memory
At 76 I need all the help I can get and this app saves a lot of head scratching when I can't recall the song or artist😂😂😂😂
Fact Sheet
Publisher:

Shazam Entertainment Limited

Category:

Music

Released:

Jul 11, 2008

Current Version Released:

Mar 09, 2018

Version:

11.7.1

Size:

108.8 MB

Compatibility:

Requires iOS 9.0 or later.

Recommended Age:

12+

Game Center Certified:

No

Supported Languages:

Czech; Dutch; Flemish; English; French; German; Italian; Japanese; Korean; Polish; Portuguese; Russian; Chinese; Spanish; Castilian; Chinese; Turkish;

Parental Advisory:

Suggestive Themes; Mild Profanity or Crude Humor; Mild Alcohol, Tobacco, or Drug Use or References;