Screenshots
New in version 11.4.3
We've been hard at work on performance to make the app lighter and faster. Swipe to My Shazam to take a look!

Do you love Apple Music or Spotify? Head to Settings to get connected and we'll magically add your Shazams to a playlist. You can even listen to your Shazam matches in full!

Don't forget to keep your Shazams safe and in sync between your devices. Simply create an account and we'll back up your Shazams so you'll never lose them.

Love the app? Rate us! Your feedback is music to our ears, and it helps us make Shazam even better. Got a question? Visit support.shazam.com
Description
Shazam is one of the world's most popular apps, used by more than 100 million people each month to identify music, get song lyrics, and now to discover the music that artists discover themselves.

"Shazam is an app that feels like magic" --Techradar.com

Identify music instantly and share in the thrill of music discovery with the artists you love.

See what top artists like Drake, Bruno Mars, Justin Bieber, The Weeknd, Ed Sheeran, DJ Khaled and others are Shazaming.

• New discoveries from artists you've Shazamed appear automatically
• Follow new artists with a tap of a button and see what those artists are Shazaming
• Stay up-to-date about new singles, albums, and videos from the artists you follow

KEY FEATURES
• Enjoy music lyrics and YouTube videos
• Preview songs and add them to Apple Music or Spotify playlists *
• Launch Pandora radio based on artists you discover *
• With Auto Shazam we'll keep finding tunes for you even when you leave the app

DISCOVER & BUY
• Stay in the loop with Shazam's real time charts
• Quick links to Apple Music and the iTunes store
• Connect Apple Music or Spotify to play full tracks in Shazam
• Check out recommended tracks to discover new music
• Find out what's popular in your town, your country and the world

CONNECT & SHARE
• See what your friends are Shazaming when you connect your Facebook account
• Share your discoveries through Facebook, Twitter, WhatsApp and more...

SHAZAM FROM YOUR WATCH
• Launch Shazam on your Apple Watch to name that song in seconds, right from your wrist!
• See your past Shazams with a simple swipe up
• Use Handoff on Apple Watch and iPhone to buy the song on iTunes, watch videos, and much more

MORE THAN MEETS THE EYE
• Shazam visual recognition gets you more - tap the camera icon on iPhone to Shazam posters, magazines or books; anywhere where you see the Shazam camera logo
• Visual recognition also works as a QR code reader
• Buy tickets to see your favorite artists in concert

Use Shazam as much as you like – it's unlimited. Don't want the advertising? Upgrade to Shazam Encore

OTHER INFO
• Previewing and buying music requires the iTunes music store in your country
• Continued use of GPS running in the background can dramatically decrease battery life
• Facebook uses interest based advertising. More details: https://m.facebook.com/ads/ad_choices
• Some features are location, device and app version dependent
• Shazam may share collected location data for interest based advertising, allowing advertisers to infer interests and serve ads to users based on their activity and location over time.
• For more information on Shazam's privacy practices, please read the Privacy Policy, available at http://www.shazam.com/terms#privacy_policy.

Any questions or feedback? Check out: https://support.shazam.com
iPad Screenshots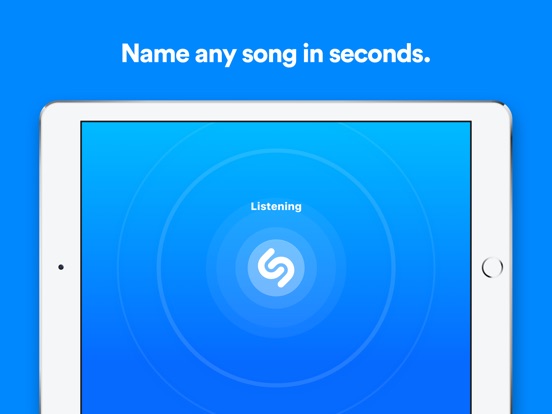 Reviews
Perfect 😍👌🏻
Roku lover 😍
on
12/16/2017
It's the best app to search music
Awesome
Johnny bag of donuts 828
on
12/16/2017
Couldn't be a better app out there then this I love it
Dope🔥🔥🔥
One of my favorite apps!!
Had to delete Shazam
On my iPhone because I couldnt make a persistent Discover popup go away. Didnt want to create an email acct just for shazam so i lost my song list/history. I've reinstalled Shazam and will have to rely on the evil Chocolate Factory's cookies to see songs i liked and searched w Shazam. So new Shazam owner will lose my business. Aside from that Im amazed the app can recognize old songs based on listening only to an instrument solo.
Review plus bug fix request
Encrypted696
on
12/16/2017
The app is great, hands down... But if it gets stuck it freezes the phones functionality. I was forced to re-install and once again something froze my phones ability to b useful please do an extensive search of your own my phone is virus free and hasn't malfunctioned since deleting and reinstalling a 3rd time
Amazing!
Hal Farthead
on
12/16/2017
This app literally never gets it wrong. I've asked it about some pretty obscure songs and in some pretty noisy restaurants with near-perfect results.
Great just Great
Smallkern230784
on
12/16/2017
Expertly written app. Does what it's supposed to do without any hiccups. Using it and loving it. Never had any complaints. Love how the developers keep improving on its perfection. Can't wait to see what they'll do next! Keep it up
One request please!!!
Ted E Bear In October outside
on
12/16/2017
I will upgrade to 5 stars if you guys add options to buy a FLAC and an ALAC version of a song you Shazam. I like to hear Christian music in ALAC and FLAC Quality formats. Can you allow an in app purchase to be able to buy FLAC and ALAC music from the Shazam app and download to the iOS device via VLC or to the iCloud Drive or Files app. If you guys do this I will change my rating from 4 to 5 stars. Also I will update my review. You can go to the FLAC website to find out the vendors that sell FLAC and ALAC and AIFF music so that you can give the option for Amazon music, iTunes purchase or the vendors that sell the song/album on their website in FLAC and/or ALAC.
Shazizzle
Joe McAlary
on
12/16/2017
The most impressive app in existence.
V
Clair ooooooooos jason😔😔😕😠
on
12/16/2017
This is a descracefull game it is not full songs
Top app ever
What would I do without Shazam?! It's one of my must have apps.
Neat app
humenonearth
on
12/16/2017
Good if you're the type of person to get songs you want to remember but can't remember the name first
Loved this app for years!
I love this app and always have. I love the integration with YouTube and Spotify most of all.
Awesome
Soccerguy125
on
12/16/2017
I love it!!! It works quick and easy to use
It works.
dadtomyboys
on
12/16/2017
It does what I need it to do.
Always pending
Mr ahmadiyan
on
12/16/2017
Cant find any song
Shazam Shazam Shazam
I love the Shazam anything I hear that I wanna know about Shazam is there for me Shazam is like the terminator in t2. Its never gonna get drunk and beat me up
So frustrated!
I am so frustrated with the updates on Shazam. The old Shazam was much faster at finding the music with lyrics. Now a days by the time it finally reads the music the song is over. Wayyy too slow!
Reliable
Diamondshinez
on
12/15/2017
Awesomely accurate plus fast!
Fullfilling
It has been such a pleasure to hear a song that I can't remember the artist and its name. I love it!
Awesome app
Tks . U guys help me alot
Shazam
L.L.A Conversion
on
12/15/2017
I love this app!
Gotten way better!!
Mistersweetlife
on
12/15/2017
Let's be honest a few years back this app kinda sucked for obscure titles. Now...it's way better at picking out tracks
So far so good
Franco Femme
on
12/15/2017
Even picking up French and Spanish hits.
Allah Les
VinylMusicFan
on
12/15/2017
Love this app. And so fast to recognize a song. My really cool music collection is growing thanks to Shazam. ❤️
Cover bands
Ms. Leopard
on
12/15/2017
Would be great if Shazam could recognize love music/cover bands.
Fo shiggity Shazam
TheGuy696969
on
12/15/2017
It's like it knows every song
Really good app
Nicky bicki
on
12/15/2017
I really recommend everyone to get it
Frick'in awesome
lol be this app!!
Awesome app
This app is awesome
Love Shazam
Seattlefan19
on
12/15/2017
Because of this app, I can sleep at night instead of wondering, "Who did that song?"
G
Mufchcxbshkb
on
12/15/2017
Gee
Live safer
I love it ❤️❤️ It is doing magic
I love Shazam
and use it all the time! Super handy.
I rarely give 5 stars
KingBobSmiles
on
12/15/2017
Amazing!!
Love Shazam!
Ladyshopsalot
on
12/15/2017
I'm a Zumba teacher, and one of my fellow instructors told me about Shazam about 5 years ago. It's the best! When I hear a song I love, and want to make a Zumba dance to it, I just Shazam to find out the artist & song name. It's a genius app!
Happy user
Love, love, love this app. It always finds the title and artist for me.
Never miss a beat.
Always able to identify tunes - quickly.
I love this app!!!!!
It great and fast, give u the option to buy the song on the spot...❤️❤️❤️
Finally decided to rate it because…
sdanderson_51
on
12/15/2017
There was a song playing underneath a gun fight and I was like, "hey, wonder what that song is". I decided to Shazam it and it picked it out even with all the background noise. It's like CSI stuff where they can turn down the interference on a hazy recording and pick out one voice :-)
Love it💓
KimberR1983
on
12/15/2017
This app is perfect for finding new music you like but don't know the title or artist.
Spotify magnifique
Master blaster pastor
on
12/14/2017
The radio material chosen after my album selection ends is inspired and I find new artists I don't know, thanks a lot!
Amazing
BigDaddy .I.
on
12/14/2017
Amazing
Another good thing gone!!!
Phyllisrice
on
12/14/2017
I liked Shazam for identifying music and enjoyed finding out more about pieces even occasionally purchasing. Tonight I find that I can no longer have music identified at the touch of a finger . It was my only use for the app.
Shazaaaaaam
Love this app!
Fact Sheet
Publisher:

Shazam Entertainment Limited

Category:

Music

Released:

Jul 11, 2008

Current Version Released:

Nov 17, 2017

Version:

11.4.3

Size:

105.9 MB

Compatibility:

Requires iOS 9.0 or later.

Recommended Age:

12+

Game Center Certified:

No

Supported Devices:

iPad2Wifi-iPad2Wifi, iPad23G-iPad23G, iPhone4S-iPhone4S, iPadThirdGen-iPadThirdGen, iPadThirdGen4G-iPadThirdGen4G, iPhone5-iPhone5, iPodTouchFifthGen-iPodTouchFifthGen, iPadFourthGen-iPadFourthGen, iPadFourthGen4G-iPadFourthGen4G, iPadMini-iPadMini, iPadMini4G-iPadMini4G, iPhone5c-iPhone5c, iPhone5s-iPhone5s, iPadAir-iPadAir, iPadAirCellular-iPadAirCellular, iPadMiniRetina-iPadMiniRetina, iPadMiniRetinaCellular-iPadMiniRetinaCellular, iPhone6-iPhone6, iPhone6Plus-iPhone6Plus, iPadAir2-iPadAir2, iPadAir2Cellular-iPadAir2Cellular, iPadMini3-iPadMini3, iPadMini3Cellular-iPadMini3Cellular, iPodTouchSixthGen-iPodTouchSixthGen, iPhone6s-iPhone6s, iPhone6sPlus-iPhone6sPlus, iPadMini4-iPadMini4, iPadMini4Cellular-iPadMini4Cellular, iPadPro-iPadPro, iPadProCellular-iPadProCellular, iPadPro97-iPadPro97, iPadPro97Cellular-iPadPro97Cellular, iPhoneSE-iPhoneSE, iPhone7-iPhone7, iPhone7Plus-iPhone7Plus, iPad611-iPad611, iPad612-iPad612, iPad71-iPad71, iPad72-iPad72, iPad73-iPad73, iPad74-iPad74, iPhone8-iPhone8, iPhone8Plus-iPhone8Plus, iPhoneX-iPhoneX,

Supported Languages:

Czech; Dutch; Flemish; English; French; German; Italian; Japanese; Korean; Polish; Portuguese; Russian; Chinese; Slovak; Spanish; Castilian; Chinese; Turkish;

Parental Advisory:

Suggestive Themes; Mild Alcohol, Tobacco, or Drug Use or References; Mild Profanity or Crude Humor;