TapNova recommends this app!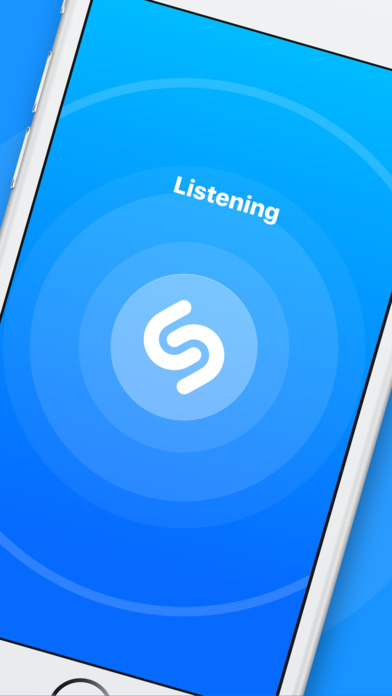 New in version 11.1.1
Thanks for Shazaming! We're always working hard to make the app faster and better than ever. Update to the most recent version to enjoy the latest and greatest Shazam.

Don't forget to keep your Shazams safe and in sync between your devices. Simply create an account and we'll back up your Shazams so you'll never lose them.

Love the app? Rate us! Your feedback is music to our ears, and it helps us make Shazam even better. Got a question? Visit support.shazam.com.
Description
Shazam is one of the world's most popular apps, used by more than 100 million people each month to identify music, get song lyrics, and now to discover the music that artists discover themselves.

"Shazam is an app that feels like magic" --Techradar.com

Identify music instantly and share in the thrill of music discovery with the artists you love.

See what top artists like Calvin Harris, Pitbull, Meghan Trainor, Avicii, Jason Derulo, Wiz Khalifa and others are Shazaming.

• New discoveries from artists you've Shazamed appear automatically
• Follow new artists with a tap of a button and see what those artists are Shazaming
• Stay up-to-date about new singles, albums, and videos from the artists you follow

KEY FEATURES
• Enjoy music lyrics and YouTube videos
• Preview songs with Apple Music and add them to Rdio and Spotify playlists *
• Launch Pandora radio based on artists you discover *
• With Auto Shazam we'll keep finding tunes for you even when you leave the app

DISCOVER & BUY
• Stay in the loop with Shazam's real time charts
• Quick links to Apple Music and the iTunes store
• Connect Rdio or Spotify to play full tracks in Shazam
• Check out recommended tracks to discover new music
• Find out what's popular in your town, your country and the world
• Start an Apple Music radio station based on tracks you've Shazamed

CONNECT & SHARE
• See what your friends are Shazaming when you connect your Facebook account
• Share your discoveries through Facebook, Twitter, WhatsApp, Pinterest, Google+ and more...

SHAZAM FROM YOUR WATCH
• Launch Shazam on your Apple Watch for the artist, song, and lyrics that unfold with the music
• See your past Shazams at a glance with a simple swipe up
• Use Handoff on Apple Watch and iPhone to buy the song on iTunes, watch videos, and much more
• Turn on Auto Shazam and we'll keep finding tunes for you

MORE THAN MEETS THE EYE
• Shazam visual recognition gets you more - tap the camera icon on iPhone to Shazam posters, magazines or books; anywhere where you see the Shazam camera logo
• Visual recognition also works as a QR code reader
• Buy tickets to see your favorite artists in concert

Use Shazam as much as you like – it's unlimited. Don't want the advertising? Upgrade to Shazam Encore

OTHER INFO
• Previewing and buying music requires the iTunes music store in your country
• Continued use of GPS running in the background can dramatically decrease battery life
• Facebook uses interest based advertising. More details: https://m.facebook.com/ads/ad_choices
• Some features are location, device and app version dependent
• Shazam may share collected location data for interest based advertising, allowing advertisers to infer interests and serve ads to users based on their activity and location over time.
• For more information on Shazam's privacy practices, please read the Privacy Policy, available at http://www.shazam.com/terms#privacy_policy.

Any questions or feedback? Check out: https://support.shazam.com
iPad Screenshots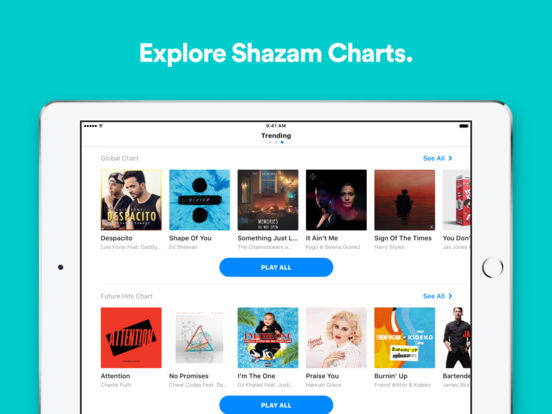 Reviews
In Love ❤️❤️❤️
This is hands down the best app I've ever used in history, it can find songs within second, over other noise, and it gives me choices on how and where to get them or find them... if you sign up then you can save your song searches, it'll give you samples of songs from a certain artist that you found. ❤️ I'm freaking out about how amazing this app is. I definitely recommend it for everyone!
Where did the auto Shazam button go?
Jlindsey2003
on
6/26/2017
I haven't used Shazam in a couple and came back to find the auto Shazam button gone. Was it removed?
Absolutely Amazing
Seymour Butts Jr. III
on
6/26/2017
It's incredibly easy to find new music with the related section and you can add songs directly to your playlist
Fast Smart Love it
Great app always there to help get me titles and save them to playlists. Get it you'll LOVE IT!!!
Best APP in the World!
Gaius the merciful
on
6/26/2017
It will and can struggle with the reddit APP. Bliv its an experience.
Fast!
Certified nikka
on
6/26/2017
There are some underground and unreleased material that it can't find, but that's to be expected I suppose
So fast it's scary
I can't believe how fast Shazam recognizes the song awesome app.
Very yes
TheUnwipedButt
on
6/26/2017
Me likey very mucho me likey music
SUPER SUPER FAST RESPONSE!!!!
It's is amazing how fast this version can find a song for you...less than 2 seconds on one of my songs! Love Shazam!
Genius App
Comecaliente
on
6/26/2017
This app is amazing. My music library is filling up quickly. I have yet, to not find a song using this app.
Amazing
Shazam is so helpful all the time I love it
Love It!
Use it everyday! Very Fast and Easy!
Really great
double rican
on
6/25/2017
Works very well
Aplicativo incrível!
Em 5 segundos,você tem no nome da música.
Great app!!!
Sassysweetheart
on
6/25/2017
I love this app!
Shazam is the best
Shazam is the best music finding for titles of songs you like for the first time. I love it and it never fails
Amazing!!
Sup owl dude 🐼
on
6/25/2017
This app is helpful and overall great! Defiantly recommended by me and my family and friends!👌
No able to do tv programs anymore !!!
Why ?
Stupid
Sim-ply Bored
on
6/25/2017
This is just like sound cloud except worse. I thought this was like a practice game of the TV show, but it wasn't anything like it. It's stupid and pointless to download.👎🏾
Love this app
It's super helpful
Great app
Savagejay2322
on
6/25/2017
It is a awesome app
Gran herramienta
Forastero 77
on
6/25/2017
Una gran herramienta de muchísima ayuda gracias por hacernos la vida mucho más fácil
Amazing
So shook at how good this is.
Great app!!!!
Pac Enthusiast
on
6/25/2017
This is a great app for music!
5 Star Rating High Deserved
TheNicknameGod
on
6/25/2017
Fast, Free, and Accurate
DUHH🙄
I DONT KNOW🤔
on
6/25/2017
DUHH 🙄 This app is awesome I love it If u a hater⬇️ Haters Back off
Amazing
Bill ukhffghkhgguik
on
6/25/2017
It doesn't get any faster than this!
Not what I was looking for
It's good yeah, but it only works for popular songs.
Fg
Anyone else hear about this app from Family guy?
Amazing
The app is incredible because is so fast and also it help me know the name I love but I don't know the name of the only thing is that some songs don't appear on the app
Definitely lives up to its name
I must say that I don't write many reviews on apps, but I felt the need to submit one here. I truly love this app and it has never failed to give me the name of a song I hear and like.
Nice and accurate
Ovie_the_boy
on
6/25/2017
Satisfied....
Great! Love it!!
Love how easy it is and how well it works!
Greatest app ever
Must have app!!!!
Amazing
Djejjdjejdjjwjehksjrkjmdjfjjd
on
6/25/2017
This is a REALLY good app.. go ahead try it :)
Great for my memory!!
This app is fantabulous! Radio stations these days don't always name the song that's playing but this app does and I love it!!!
Deceiving
🚫🚫🚫thumbs down
on
6/24/2017
This app has been really wack lately. It claims to ID songs within seconds but it doesn't do so whenever I'm trying to catch a song that I like. Before the popularity it actually did ID songs within seconds.
My FAVE
The best hands down!
Use it all the time
My hubby and I use this app all the time. TV, Radio, etc. we hear a song and say "who sang that song".
Could be better
I use shazam just to recognize songs. I wish it would vibrate my phone when it's done tagging. That way I'm not holding it to the speaker forever.
Love it!
So much fun! Shazam!!
Love it!
I've used it in restaurants and showrooms and from tv. Makes a great play list!
Fact Sheet
Publisher: Shazam Entertainment Limited
Category: Music
Released: Jul 11, 2008
Current Version Released: Jun 20, 2017
Version: 11.1.1
Size: 125.1 MB
Compatibility: Requires iOS 9.0 or later.
Recommended Age: 12+
Game Center Certified: No
Supported Devices: iPad2Wifi-iPad2Wifi, iPad23G-iPad23G, iPhone4S-iPhone4S, iPadThirdGen-iPadThirdGen, iPadThirdGen4G-iPadThirdGen4G, iPhone5-iPhone5, iPodTouchFifthGen-iPodTouchFifthGen, iPadFourthGen-iPadFourthGen, iPadFourthGen4G-iPadFourthGen4G, iPadMini-iPadMini, iPadMini4G-iPadMini4G, iPhone5c-iPhone5c, iPhone5s-iPhone5s, iPadAir-iPadAir, iPadAirCellular-iPadAirCellular, iPadMiniRetina-iPadMiniRetina, iPadMiniRetinaCellular-iPadMiniRetinaCellular, iPhone6-iPhone6, iPhone6Plus-iPhone6Plus, iPadAir2-iPadAir2, iPadAir2Cellular-iPadAir2Cellular, iPadMini3-iPadMini3, iPadMini3Cellular-iPadMini3Cellular, iPodTouchSixthGen-iPodTouchSixthGen, iPhone6s-iPhone6s, iPhone6sPlus-iPhone6sPlus, iPadMini4-iPadMini4, iPadMini4Cellular-iPadMini4Cellular, iPadPro-iPadPro, iPadProCellular-iPadProCellular, iPadPro97-iPadPro97, iPadPro97Cellular-iPadPro97Cellular, iPhoneSE-iPhoneSE, iPhone7-iPhone7, iPhone7Plus-iPhone7Plus, iPad611-iPad611, iPad612-iPad612, iPad71-iPad71, iPad72-iPad72, iPad73-iPad73, iPad74-iPad74,
Supported Languages: Czech; Dutch; Flemish; English; French; German; Italian; Japanese; Korean; Polish; Portuguese; Russian; Chinese; Slovak; Spanish; Castilian; Chinese; Turkish;
Parental Advisory: Suggestive Themes; Mild Profanity or Crude Humor; Mild Alcohol, Tobacco, or Drug Use or References;