Screenshots
New in version 11.4.3
We've been hard at work on performance to make the app lighter and faster. Swipe to My Shazam to take a look!

Do you love Apple Music or Spotify? Head to Settings to get connected and we'll magically add your Shazams to a playlist. You can even listen to your Shazam matches in full!

Don't forget to keep your Shazams safe and in sync between your devices. Simply create an account and we'll back up your Shazams so you'll never lose them.

Love the app? Rate us! Your feedback is music to our ears, and it helps us make Shazam even better. Got a question? Visit support.shazam.com
Description
Shazam is one of the world's most popular apps, used by more than 100 million people each month to identify music, get song lyrics, and now to discover the music that artists discover themselves.

"Shazam is an app that feels like magic" --Techradar.com

Identify music instantly and share in the thrill of music discovery with the artists you love.

See what top artists like Drake, Bruno Mars, Justin Bieber, The Weeknd, Ed Sheeran, DJ Khaled and others are Shazaming.

• New discoveries from artists you've Shazamed appear automatically
• Follow new artists with a tap of a button and see what those artists are Shazaming
• Stay up-to-date about new singles, albums, and videos from the artists you follow

KEY FEATURES
• Enjoy music lyrics and YouTube videos
• Preview songs and add them to Apple Music or Spotify playlists *
• Launch Pandora radio based on artists you discover *
• With Auto Shazam we'll keep finding tunes for you even when you leave the app

DISCOVER & BUY
• Stay in the loop with Shazam's real time charts
• Quick links to Apple Music and the iTunes store
• Connect Apple Music or Spotify to play full tracks in Shazam
• Check out recommended tracks to discover new music
• Find out what's popular in your town, your country and the world

CONNECT & SHARE
• See what your friends are Shazaming when you connect your Facebook account
• Share your discoveries through Facebook, Twitter, WhatsApp and more...

SHAZAM FROM YOUR WATCH
• Launch Shazam on your Apple Watch to name that song in seconds, right from your wrist!
• See your past Shazams with a simple swipe up
• Use Handoff on Apple Watch and iPhone to buy the song on iTunes, watch videos, and much more

MORE THAN MEETS THE EYE
• Shazam visual recognition gets you more - tap the camera icon on iPhone to Shazam posters, magazines or books; anywhere where you see the Shazam camera logo
• Visual recognition also works as a QR code reader
• Buy tickets to see your favorite artists in concert

Use Shazam as much as you like – it's unlimited. Don't want the advertising? Upgrade to Shazam Encore

OTHER INFO
• Previewing and buying music requires the iTunes music store in your country
• Continued use of GPS running in the background can dramatically decrease battery life
• Facebook uses interest based advertising. More details: https://m.facebook.com/ads/ad_choices
• Some features are location, device and app version dependent
• Shazam may share collected location data for interest based advertising, allowing advertisers to infer interests and serve ads to users based on their activity and location over time.
• For more information on Shazam's privacy practices, please read the Privacy Policy, available at http://www.shazam.com/terms#privacy_policy.

Any questions or feedback? Check out: https://support.shazam.com
iPad Screenshots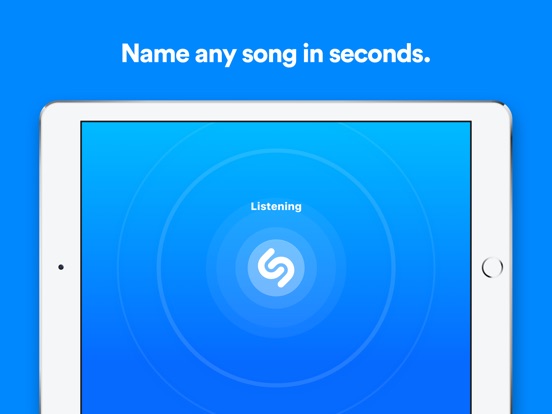 Reviews
Ultimate music app
Shazam is the most amazing app. It finds almost every song and artist. Sometimes it doesn't find international songs but that's expected especially if the music is not mainstream.
Thumbs up
Chino123!!!!
on
12/11/2017
I love this app. It helps me keep up on modern music and is really fantastic. At first I had no idea what I was doing but now I know exactly what to do and love it.❤️
One of my favorites tools
SparkWinOvi
on
12/11/2017
That time you really, really, really need to know the name of a song... and this app does the magic :D I rarely use this app, but when I do, I find it to be bery valuable. Thank you!
No Classics
Will not work with classical music
Thanks so much
Very very cool👌👌👍👍
Great App
Iamneilrussell
on
12/11/2017
I love it.. idek how they could improve.. perfect!
Greatest thing!
How could you not love this app?? We have all heard a snippet of a song that we'd like to hear more of. This makes life super easy instead of trying to wrack your Google skills to find 'that song'.
Google music is a much better app
Just does it work very well
All songs
Shazam, you are amazing. Every time I want to know the name of a song, I open your app and you immediately pop up the name and origin of song. I recommend everyone to have your App! Thank you for all the songs you've named for me!!!!
Awesome
Organicagirl
on
12/11/2017
So quick...I love this app
Great App
I hope Apple puts live lyrics in the Music App now! Nice purchase!!
Spotify playlist
Icemandg0718
on
12/11/2017
It says error when I try to add to Spotify playlist from the app. "something isn't working here please try again." It is frustrating because it has been happening for a while. It used to be so convenient with that working.
Shazam
1967Filbert
on
12/11/2017
Brilliant....absolutely brilliant!!
Couldn't live w/o it
Great
Yay
CroganCastles
on
12/11/2017
Yay shazam it is awesome to find out the name of the songs I am jamming out to! 😭😢🤣
Rate the app
missykeefer
on
12/11/2017
I just would like to say I love Shazam!! I think it's so convenient. Especially if your in the car and your listening to a song and they don't tell you what the song called and just hit Shazam and I got it. Or I missed the radio saying the title of the song then I do the same just hit Shazam and it tells me and I can you tube it or listen to it in Shazam whenever I want and I definitely definitely love how I can have the song on Shazam and it automatically puts it on my Spotify saves time and less hassle!!!
How did we survive without Shazam?
linked my spotify account with shazam, now i never miss a song and i have them in my playlists immediately!
HOW DO THEY DO THAT!!!
I work as a mechanic, and there are soooo many different types of music playing in the shop. An using shazam, it always identified every song... cool stuff an Rock On!!!
Roblox
I love this app because when I'm playing roblox guess that song it helps me cheat thanks so much thanks for this app
My review
Great app!! Love the content, and love the quick results. Although, it does crash occasionally. But, wonderful!!
Avaliação Shazam
Simplesmente o melhor!!!
Doing really good job
Love it
Shazamtastic
It's just ....Phat! Old School, New School, and the one who never got schooled!!! SHAZAM is your answer to the music you knew but forgot and don't even know!!!!
Happy
botheboss28
on
12/10/2017
So good
Too many ads.
Too many ads these days.
Be careful
I enjoyed this app for three years before several hundred saved songs mysteriously vanished. The artists are archived, but the individual songs (and dates I Shazam'd them) are gone.
Super Job!!!
Amazing app!!!
Shazam
Nice app to find music you hear and you want to download but do not know the name
Shazam
This app is amazing. After a few notes a song and singer are identified. Wow!
Shazam
La mejor hasta hora gracias
Awesome
Shadow Carl
on
12/10/2017
Shazam is awesome! It works great and it picks up all the songs I have used it for! I definitely recommend that you get and use this app if you love music.
Love it👍🤙
salt and before
on
12/9/2017
👍👍👍👍👍
G.d bless this app
1234hellogoodbye
on
12/9/2017
For a long period of my life I kept listening to amazing music of which I never knew the names. That's why when this app came out and showed that it actually worked! I was extremely happy Thank you for creating this amazing, accurate, and helpful app.
Soooo helpfull
Awesome app
I love Shazam.
JoelRobinson88
on
12/9/2017
Great app
AWSOME but there's flaws too (nobody's perfect)
gamplayerperson
on
12/9/2017
I use shasam so much I know most the songs on kdwb word by word shasam is awsome . When I was little would ALWAYS ask what's this song called???!!! Then when I got a phone my mom was like " GET SHASAM!!!!!!" It took a wile to get used to the update but shasam is great you should get it 😻 But there are things that anyoying about it 1. Adds I think they make it take longer just because they wanna show adds 2.the updates make it worse it was better before just LEAVE IT 😆 Sometimes it gets the wrong song I know the songs but I get bored so I test shasam (light bulb) I SHOULD BE ON THE GAME SHOW BEAT SHASAM 3.there are a lot of inappropriate adds a few times it got so disgusting I almost deleted it
Very limited music selection
The music they recognize is very limited.
Music is my life
MrBrainfarts
on
12/9/2017
I love Shazam, and enjoy Ppls expression when I grab music wherever I'm at.. super market etc lol
Amazing
I'm always amazed how fast and accurate it is and I love that I can get the words right away!
ADWARE
The new update turns shazam into adware... This advertising in apps really bothers me... It is a disgusting trend and should be outlawed. It has turned the app store into a trashy adware vaporware store...shazam was perfect untill this... I hope you reconsider this decision. I would like my money back if you're going to sell to Apple
No stars for a crap app full of ads and ways to listen to the song
What happened to this app? Can't I get info on the album, singer, song anymore?
Great App
Has some bugs. Overall, the app is amazing I got my sister grounded so many times with this app
Amazing!
I tried out this app on a really obscure East European compilation and got an immediate answer. So cool! I've looked up several other tunes and received a correct answer every time. I'm really impressed how easy it is to use this app.
Best app EVER
Best app ever created.
Never let's me down
amarchington
on
12/9/2017
One of the oldest and still the best!
Fact Sheet
Publisher:

Shazam Entertainment Limited

Category:

Music

Released:

Jul 11, 2008

Current Version Released:

Nov 17, 2017

Version:

11.4.3

Size:

105.9 MB

Compatibility:

Requires iOS 9.0 or later.

Recommended Age:

12+

Game Center Certified:

No

Supported Devices:

iPad2Wifi-iPad2Wifi, iPad23G-iPad23G, iPhone4S-iPhone4S, iPadThirdGen-iPadThirdGen, iPadThirdGen4G-iPadThirdGen4G, iPhone5-iPhone5, iPodTouchFifthGen-iPodTouchFifthGen, iPadFourthGen-iPadFourthGen, iPadFourthGen4G-iPadFourthGen4G, iPadMini-iPadMini, iPadMini4G-iPadMini4G, iPhone5c-iPhone5c, iPhone5s-iPhone5s, iPadAir-iPadAir, iPadAirCellular-iPadAirCellular, iPadMiniRetina-iPadMiniRetina, iPadMiniRetinaCellular-iPadMiniRetinaCellular, iPhone6-iPhone6, iPhone6Plus-iPhone6Plus, iPadAir2-iPadAir2, iPadAir2Cellular-iPadAir2Cellular, iPadMini3-iPadMini3, iPadMini3Cellular-iPadMini3Cellular, iPodTouchSixthGen-iPodTouchSixthGen, iPhone6s-iPhone6s, iPhone6sPlus-iPhone6sPlus, iPadMini4-iPadMini4, iPadMini4Cellular-iPadMini4Cellular, iPadPro-iPadPro, iPadProCellular-iPadProCellular, iPadPro97-iPadPro97, iPadPro97Cellular-iPadPro97Cellular, iPhoneSE-iPhoneSE, iPhone7-iPhone7, iPhone7Plus-iPhone7Plus, iPad611-iPad611, iPad612-iPad612, iPad71-iPad71, iPad72-iPad72, iPad73-iPad73, iPad74-iPad74, iPhone8-iPhone8, iPhone8Plus-iPhone8Plus, iPhoneX-iPhoneX,

Supported Languages:

Czech; Dutch; Flemish; English; French; German; Italian; Japanese; Korean; Polish; Portuguese; Russian; Chinese; Slovak; Spanish; Castilian; Chinese; Turkish;

Parental Advisory:

Suggestive Themes; Mild Alcohol, Tobacco, or Drug Use or References; Mild Profanity or Crude Humor;