TapNova recommends this app!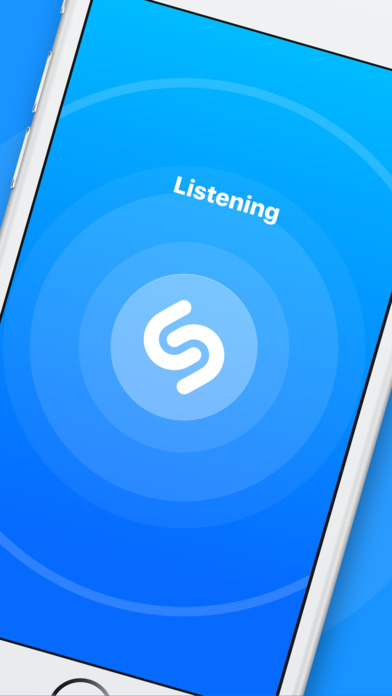 New in version 11.2.0
Thanks for Shazaming! We're always working hard to make the app faster and better than ever. Update to the most recent version to enjoy the latest and greatest Shazam.

Don't forget to keep your Shazams safe and in sync between your devices. Simply create an account and we'll back up your Shazams so you'll never lose them.

Love the app? Rate us! Your feedback is music to our ears, and it helps us make Shazam even better. Got a question? Visit support.shazam.com.
Description
Shazam is one of the world's most popular apps, used by more than 100 million people each month to identify music, get song lyrics, and now to discover the music that artists discover themselves.

"Shazam is an app that feels like magic" --Techradar.com

Identify music instantly and share in the thrill of music discovery with the artists you love.

See what top artists like Calvin Harris, Pitbull, Meghan Trainor, Avicii, Jason Derulo, Wiz Khalifa and others are Shazaming.

• New discoveries from artists you've Shazamed appear automatically
• Follow new artists with a tap of a button and see what those artists are Shazaming
• Stay up-to-date about new singles, albums, and videos from the artists you follow

KEY FEATURES
• Enjoy music lyrics and YouTube videos
• Preview songs with Apple Music and add them to Rdio and Spotify playlists *
• Launch Pandora radio based on artists you discover *
• With Auto Shazam we'll keep finding tunes for you even when you leave the app

DISCOVER & BUY
• Stay in the loop with Shazam's real time charts
• Quick links to Apple Music and the iTunes store
• Connect Rdio or Spotify to play full tracks in Shazam
• Check out recommended tracks to discover new music
• Find out what's popular in your town, your country and the world
• Start an Apple Music radio station based on tracks you've Shazamed

CONNECT & SHARE
• See what your friends are Shazaming when you connect your Facebook account
• Share your discoveries through Facebook, Twitter, WhatsApp, Pinterest, Google+ and more...

SHAZAM FROM YOUR WATCH
• Launch Shazam on your Apple Watch for the artist, song, and lyrics that unfold with the music
• See your past Shazams at a glance with a simple swipe up
• Use Handoff on Apple Watch and iPhone to buy the song on iTunes, watch videos, and much more
• Turn on Auto Shazam and we'll keep finding tunes for you

MORE THAN MEETS THE EYE
• Shazam visual recognition gets you more - tap the camera icon on iPhone to Shazam posters, magazines or books; anywhere where you see the Shazam camera logo
• Visual recognition also works as a QR code reader
• Buy tickets to see your favorite artists in concert

Use Shazam as much as you like – it's unlimited. Don't want the advertising? Upgrade to Shazam Encore

OTHER INFO
• Previewing and buying music requires the iTunes music store in your country
• Continued use of GPS running in the background can dramatically decrease battery life
• Facebook uses interest based advertising. More details: https://m.facebook.com/ads/ad_choices
• Some features are location, device and app version dependent
• Shazam may share collected location data for interest based advertising, allowing advertisers to infer interests and serve ads to users based on their activity and location over time.
• For more information on Shazam's privacy practices, please read the Privacy Policy, available at http://www.shazam.com/terms#privacy_policy.

Any questions or feedback? Check out: https://support.shazam.com
iPad Screenshots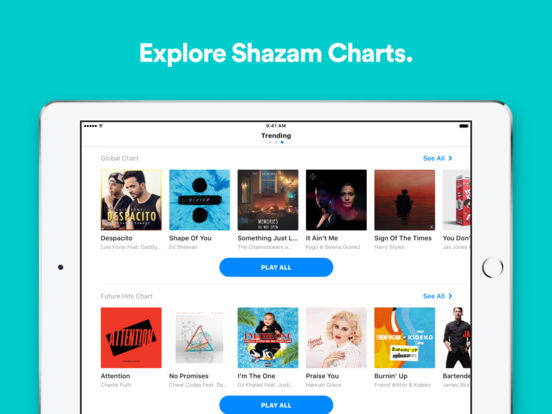 Reviews
Firme!!!
Top of the line app what else can I say about the app other than it works!!!
The coolest app ever!!
Lolkittydogpaws
on
8/16/2017
I seriously love this app. At first I thought it was going to be one of those fake apps that don't work but it turned out to work better than I imagined!! It identifies everything I would want it to do. I love this app and would 100% recommend it. 😁💗
Great
This is so boring
on
8/16/2017
If you automatically want to know the name of a song you've for the first time, this the app for you, the faster your internet the better, and also you can save the songs you like once you've created a profile to check them out later, which i think is a great idea.
Love it
Find anything by seconds
Best app ever!
Love it!!!!!!
Shazam is great!
Sometimes this is
on
8/16/2017
I love it :) it's great for when you need a song in 1 second
Uhh
Kxoxapjahqiwofp03186383929357
on
8/16/2017
Kloqoqoos
So useful, no issues.
Hooked081812
on
8/16/2017
I don't use it a ton, but it works great. Love that it creates a playlist in my Apple Music!
Benchmark of great apps
It practically made the iPhone what it is as one of the original apps that made you want the smartphone. It never disappoints and continues to evolve.
I got a Shazam in 0.2 seconds 😝😝😝😝😝#☝️
Brandon Tarrant Peter
on
8/16/2017
THIS IS SO AWESOME 🤣
Great
Justineeerose
on
8/16/2017
So awesome 🤗
Shaaaaaazaaam
NAT THE BANK
on
8/15/2017
It's good, very good, incredibly spicy
Such a handy app...
When you want to know the artist and song they are singing. 👍🏼
This app is awesome
JasonJRobinson
on
8/15/2017
I know there are others now, but this original is still great
Tatiana
love is poop
on
8/15/2017
I love it
Amazing
deadmanplays
on
8/15/2017
This app is so awesome I was using it to see if it work on the songs I listen to and it works great
Shazam
Love this app!!!!! Wish I would have thought of it first, Dang!
🙌🏽
Aaaarrrarhhh
on
8/15/2017
🙌🏽haga
Love it
Use it for everything. Picks up classical in seconds.
Great so
Biggrinch357
on
8/15/2017
Nothing like it
Love this app!
Alaska mailman
on
8/15/2017
Great app
Amazing app!!!
junior.gentleman
on
8/15/2017
I have to love Shazam because it's a very convenient app that makes life a little easier. Usually you would have to ask people for the song... but, what if nobody knew what the song was called? *gasp* Well you would probably have to try to ask google, but google doesn't do what Shazam does. Shazam is definitely a very creative and well thought out app and I am happy to say that I use my precious phone space on this app. (:
Love it ! ❤️
Aloha! from Hawaii :) \||/
on
8/15/2017
Very fast on catching what the song name is
Keeps saying offline
Had the app store a number of pending songs to tag as I'm offline. Whether on wifi or cellular data doesn't matter. Turn off and on, airport mode and still offline. At least it is still opening unlike other users after this recent update.
A-freaking-mazing!!
Sally McSaggyface
on
8/14/2017
I use it for every song I hear but can't remember the name of! Or if I hear a song in a vine I'll open it up and search the song. It's such a good app. Five stars from me!!
Obvs a great app
Terra nova909088
on
8/14/2017
This app has been active for so long and yet, it's barely changed which is great. One thing though, I was hoping you could add a feature where say, there's a song in a video but the video doesn't say or credit the song. A cool feature would be that you search for the video, Shazam then goes through the video to scan for any songs. Just a suggestion.
Excelent, basic for everyone!
Very good!
Fix app
Harrisonvader
on
8/14/2017
This app use to work but not anymore, please fix the app use to be great but now every time I put I up to the source of the music it won't work, ugh!
Auidio
The moohie department
on
8/14/2017
Gave me 4 versions for the same song
👑👑👑👑
luke branchal
on
8/14/2017
👑👑👑👑
Awesome app
pravin.chandru
on
8/14/2017
Works like a charm
Why won't the iPad version
Why won't the iPad version doesn't allow you to play on beat Shazam will change to five stars if this is fixed thanks
TRASH
swimbaitmafia
on
8/13/2017
This app is terrible it wouldn't even let me open it don't get it you will get boned
Best of App Store
Shazam is an absolutely amazing app, never leave home without it! Out for dinner, you listen to a nice beat? SHAZAM it!
Can't play Beat Shazam
Try to play Beat Shazam on IPad says device not supported! 😖
Am pleases
Works great 👌🏾
Game changer
the awsome possum
on
8/13/2017
Really cool app. Works well . Was surprised it knows even some of the old underground songs
It even knows obscure music
I recently heard some music I'd never heard before by Ozric Tenticles. A very obscure band out of England, they've apparently been around for a while, though. Shazam knew them. Cool app.
Works Really Well
It's surprising how well it works. I love music and I use this app like once a day to grab a song off a commercial or radio or at a bar. I highly recommend it.
Overall, really good
Pretzellogicinbj
on
8/13/2017
Hasn't been stumped by a song yet. And I'm into stuff that doesn't seem popular.
Review
Always there and quick when I need it.
The best from the best
LincolnSixEcho21
on
8/13/2017
This is the best app ever. It's super fast and never had any problems to find any song. Not like the other crap apps which think they're famous. Shazam is the best!
Love it but
Finally got latest update to load and now it's not working half the time. Before it could identify everything 9 times out a 10, but now I'm lucky if I get 5 or 6. I even tested it with well known music an now nothing- it didn't identify Riders in the Storm! Also in app won't let me send diagnostic report!
DJ Blade Sparx
DJ Blade Sparx
on
8/12/2017
A most useful app when you need to identify a song on the spot. It can even identify remixes. Like SoundHound, it does not have a library of all possible worldwide tracks but it is still a big help.
Fact Sheet
Publisher: Shazam Entertainment Limited
Category: Music
Released: Jul 11, 2008
Current Version Released: Aug 07, 2017
Version: 11.2.0
Size: 125.2 MB
Compatibility: Requires iOS 9.0 or later.
Recommended Age: 12+
Game Center Certified: No
Supported Devices: iPad2Wifi-iPad2Wifi, iPad23G-iPad23G, iPhone4S-iPhone4S, iPadThirdGen-iPadThirdGen, iPadThirdGen4G-iPadThirdGen4G, iPhone5-iPhone5, iPodTouchFifthGen-iPodTouchFifthGen, iPadFourthGen-iPadFourthGen, iPadFourthGen4G-iPadFourthGen4G, iPadMini-iPadMini, iPadMini4G-iPadMini4G, iPhone5c-iPhone5c, iPhone5s-iPhone5s, iPadAir-iPadAir, iPadAirCellular-iPadAirCellular, iPadMiniRetina-iPadMiniRetina, iPadMiniRetinaCellular-iPadMiniRetinaCellular, iPhone6-iPhone6, iPhone6Plus-iPhone6Plus, iPadAir2-iPadAir2, iPadAir2Cellular-iPadAir2Cellular, iPadMini3-iPadMini3, iPadMini3Cellular-iPadMini3Cellular, iPodTouchSixthGen-iPodTouchSixthGen, iPhone6s-iPhone6s, iPhone6sPlus-iPhone6sPlus, iPadMini4-iPadMini4, iPadMini4Cellular-iPadMini4Cellular, iPadPro-iPadPro, iPadProCellular-iPadProCellular, iPadPro97-iPadPro97, iPadPro97Cellular-iPadPro97Cellular, iPhoneSE-iPhoneSE, iPhone7-iPhone7, iPhone7Plus-iPhone7Plus, iPad611-iPad611, iPad612-iPad612, iPad71-iPad71, iPad72-iPad72, iPad73-iPad73, iPad74-iPad74,
Supported Languages: Czech; Dutch; Flemish; English; French; German; Italian; Japanese; Korean; Polish; Portuguese; Russian; Chinese; Slovak; Spanish; Castilian; Chinese; Turkish;
Parental Advisory: Suggestive Themes; Mild Alcohol, Tobacco, or Drug Use or References; Mild Profanity or Crude Humor;