Games
Entertainment
Board
Puzzle
Recommended app!
App last updated
Aug 24, 2016
Screenshots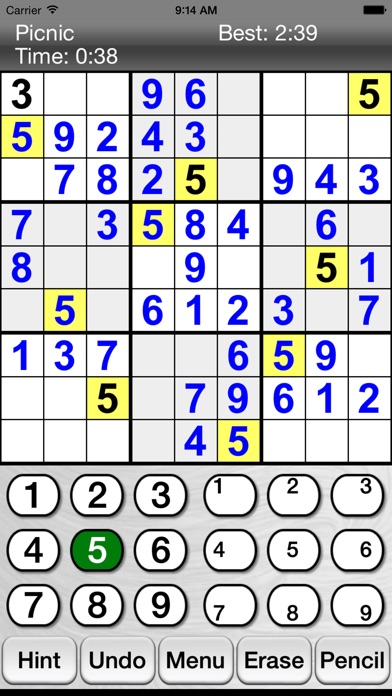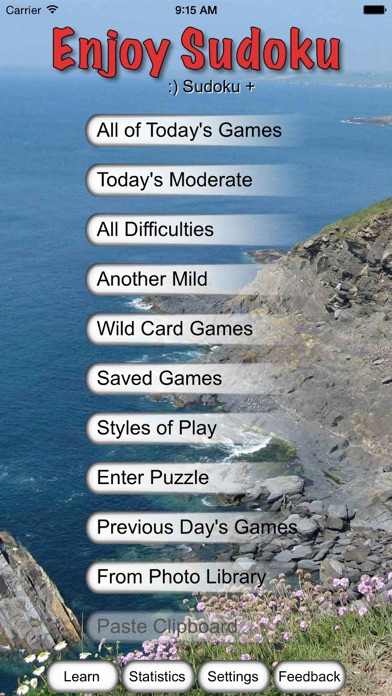 New in version 5.2.6
Minor bug fixes.
Updated in 5.2.5:
Improved compatibility with newer versions of iOS.
Added support for split view multitasking (when available).
Fixed on/off sliders in Settings sometimes getting "stuck".
Forcing the screen orientation is no longer available. Please use the system supplied orientation lock.
Now requires iOS 6 or newer.
Description
With unlimited play at seventeen difficulty levels, novices and experienced players alike will appreciate :) Sudoku +. Our tutorial, extensive feature set, and advanced hint system offer something for every player. The more you play, the more you will enjoy it!

Our multi-stage hint system starts with a gentle reminder to get you back on track, and works up to an illustration of the exact technique to use and how it applies to the current board. Our hints ease those frustrating moments and teach you how to be a better player.

Features include:

- Puzzle generator for unlimited play
- Scan puzzles from books/newspaper using camera
- 17 difficulty levels, something for everyone
- Tutorial teaches you new techniques
- Large, high contrast digits are easier to read
- Enter games from the newspaper
- Solver helps you with games from the newspaper
- Advanced techniques at the higher levels, including X-Wings, sashimi fish, and XY-Chains
- User interface optimized for fewer touches
- Choice of six color schemes
- Never covers up the board while you are playing
- Infinite undo/redo
- Undo to the last solvable position
- Board solvable indicator
- Automatic or manual pencil marks
- Save your game while you try alternatives
- Automatically saves your game when you get a phone call, switch applications, or lock the phone
- Highlighting helps you discover patterns
- Game clock; compares your time to other players
- Avoids graphic frills that distract from play
- Choice of digit styles, including Kanji and Hanzi

All games are true Sudoku, with symmetry and a single solution that can be discovered by logic alone. If you doubt that a puzzle can be solved by logic, simply have the hint system explain it to you step by step.

If you enjoy Sudoku, this is the app for you!
iPad Screenshots
Reviews
Best,
I don't know why it isn't more popular It is the best hands down! It's one of the few apps I've paid for
Wonderful way to learn Sudoku!
I enjoy the tutorials. A great way to learn advanced techniques.
Best Sudoku Online!
This free, ad-free, Sudoku game is the best online. It's so good that I paid the $2.99 to upgrade. It has awesome features like sound effects, colors, timer, stats, & more. It offers plenty levels of play for free daily. I've tried many of others & this is by far the best.
Best Sudoku app, best learning system
Great design. By far the best Sudoku app out there, and I've tried just about all of them. Once I learned the entry system, it has fast and fluid gameplay. Excellent hint system. Excellent learning tutorials. Lots of different skill levels. Game of the Day mixes things up keeping it fresh. Graphics could be improved to be more pleasing to look at.
Best Sudoku App I've Tried
Been playing this for several months and I have always enjoyed it. Has plenty of tools to help improve your play. Also has lots of levels of difficulty to challenge just about any skill level.
Addictive!
Pamsmithbeatty
on
12/23/2017
This app works great, maybe too great! I play it all the time!
Love it!
Combatdentist
on
12/21/2017
I've been playing this app for years!
Thanks
Love the game, really like that there are no commercials
Sudoku
Baby's Belly Button
on
12/18/2017
Great!
update error message
I get this nasty popup stating that app has not been updated as it is not compatible with my current IOS (11.1.2) version. Look forward to a squash of this bug...
A teaching puzzle.
You can't help but get better & faster.
Awesome game! Great layout and very friendly UI
Keep up the great work!
Best Sudoku App Ecer
Captain Bones II
on
12/5/2017
I could not imagine how you could make this better. It has unlimited puzzles and I can also enter my own or even take a picture to enter a puzzle. The puzzles from the app have way more detailed levels than just easy, med and hard, and the levels really work. Go up one level and the puzzle is definitely a bit harder. The best part is the tutorials. I have learned many new tricks for solving puzzles using this app.
Just awesome
Probably the best Sudoku app in existence. Unlimited play in a wide range of difficulty levels. Excellent tutorials. Ability to scan games from the newspaper. The only issue is that the last update reduced the reliability of the "scan with camera" function, which was flawless before.
First Game I Played Failed
The first game I played was a fail. There were two squares left and "5" and "1" left, and both squares had conflicts with both numbers. In short, unplayable. Get Sudoku2 instead.
Great game!
HouseOfStones
on
11/29/2017
Great Game!
Every feature I need
Pork Chop Sandwich
on
11/24/2017
The more I use this app the more I appreciate the advanced features. For instance, you can ask if your pencil marks are correct. The hints are presented well and give you an opportunity to learn new techniques. The app doesn't look beautiful, but that is a minor point.
Sudoku this is a great app to learn and play Sudoku. Use it every day.
Compleat Gamester
on
11/23/2017
Enjoy this app use it every day I also like the tutorial that is part of the app. I like to enter puzzles into the app and work on them on my phone. Would recommend this app to anyone 5 stars from me
OldPlayer
EyesClosing
on
11/18/2017
Best!!
Love it to stimulate this old person's brain. Better than crosswords.
I've been playing about three years now.
Fun and educational
S1K2togPSSO
on
11/10/2017
I love to play this but I confess I don't understand all the fishes.
Best Sudoko Game
It has the best interface, best options, best learning features. I'm totally addicted.
Great
Jason Sargent3
on
11/4/2017
Best sudoku app I've found. Love!!!
Love this game!
WordPlayLover
on
11/2/2017
This is by far the best Sudoku app I've found - the options it gives you makes the play fun and challenging. I especially like comparing my results to others who have played the same game. It's part of my daily routine now!
Great mind exercise
Covers all bases: scan pre-printed, enter manually, or choose from many levels of programs. Options abound, giving user great choices. Only concern is that scan doesn't always work on grey-box or fold-marked printed puzzles.
Great
Have been playing for years..... I love it and it is worth buying just to get rid of the ads.
Best I've tried
I have 3 good Sudoku games, but this is the best!
My favorite puzzle app
I've tried them all and enjoy this sudoku app the best! 5 stars!!!!!
WARNING! Addictive
This is my #1 favorite app. One of very few paid. Liked the free version so much. The most useful to me is the Enter Puzzle after I've messed up my daily newspaper. The camera caption is amazing. The Hint lessons, too. No ads! Dream addition...PRINT option.
Terrific in every way
StingrayYacht
on
10/1/2017
Great help functions
Tutorials help you learn
Love!
It has everything
George McGovern's Friend
on
9/24/2017
If you have never played or have been playing since it first appeared in the New York Post on April 1st, 2005, (in the USA), you can still learn something from this app. This has the most complete and comprehensive explanation of every possible way to solve any puzzle. I have been playing since it debuted and still discover new tricks. If you enjoy logic, and Sudoku, this will impress you.
Puzzles not solvable
Title says it all. Useless
Useful hints
A wide range of difficulties is nice. The hints are extremely well done. They don't just give you a fish - they teach you how to fish.
Great app
Options to disable hints makes it closer to pencil and paper sudoku.
Best sudoku game on the app store
Ive played lots of sudoku games and none of them rival this one
Well designed challenging fun
Hopeful Explorer
on
9/12/2017
Love to use this app for playing Sudoku. Easy to use, and you don't need wifi to play.
Free
Fun to play and try to beat your own time😜
Sudoku
All the features that anyone would want in a Sudoku game.
Perfection…
Well, perhaps not - but until I can suggest any improvement I'll stick to that assessment. Feature rich, it not only provides a pastime, but it's a serious learning tool should you derive pleasure from the most fiendish levels of play.
Sudoku Addict
Love this app. I've been using it for a couple of years & love it.
Just great!
Fun to play. Good levels of difficulty. No complaints whatsoever.
The Best
Fred's spider
on
9/5/2017
This is the best sudoku app! At first I used it to learn how to play and it taught me so well that I was able to progress to more difficult levels. I have another app on my iPad but I do not like it as much as this version.
Love it
I have been playing Sudoku for many years, and this app allows for various types of play and has a great learning feature.
El mejor Sudoku de AppStore!!!
Excelente, sencillamente el mejor Sudoku que puedes encontrar!!! Su función "hint" es magnífica👍
The best, and totally addictive
tookbyappster
on
9/1/2017
I've tried several of these, and this one is definitely my favorite. I love the auto-fill of the pencil marks. Great way to pass the spare time. I've used this app far more than any other app I've ever had, of any kind. Beware, it is addictive!
Sudoku to the Max
ThinksDeeply
on
8/30/2017
This is the most totally awesome Sudoku available on the Apple store. Multiple configuration options; play levels; undo/redo; and an outstanding AI to drive it all. The play controls are logical and never do things without your direct acceptance. The learning mode, coloration, and true simplicity of play are outstanding. All in all it is well worth it's price. My big recommendation is to increase the number and diversity of puzzles at each of the levels as I find that I am playing some fairly often.
Best money ever spent
Old but not that old man
on
8/28/2017
Like it very much, the only problem is that it cannot make me stop when playing it. No kidding, I deinstalled it many times but I can't stop to install it back. It is killing my fingers.
Still the Best
The only one to have. Best to play, and best for learning. I wrote this two years ago and it's no less true today. The updates have only made it even smother to play. Just do it or quit playing Sudoko.
Hours of mind bending fun.
Love the level options and the feedback in how I faired in comparison to my :) Sudoku + friends out there.
Fact Sheet
Publisher:

Jason Linhart

Category:

Games

Released:

Jul 23, 2008

Current Version Released:

Aug 24, 2016

Version:

5.2.6

Size:

6.2 MB

Compatibility:

Requires iOS 6.0 or later.

Recommended Age:

4+

Game Center Certified:

No

Supported Languages:

English;