Games
Entertainment
Board
Puzzle
Recommended app!
App last updated
May 09, 2017
Screenshots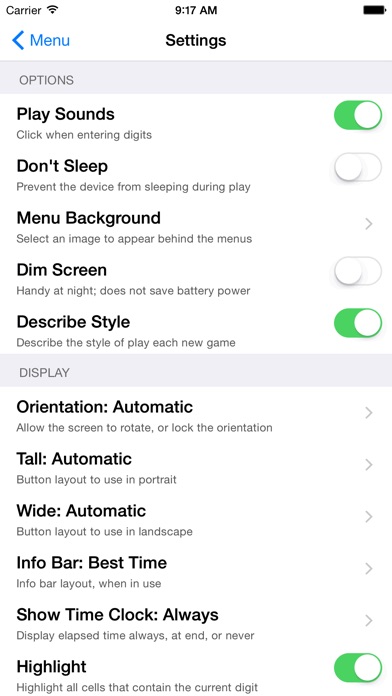 New in version 5.2.7
Improved compatibility with newer versions of iOS.
Added support for split view multitasking (when available).
Fixes disappearing digits in wild and weird play.
Fixed on/off sliders in Settings sometimes getting "stuck".
Forcing the screen orientation is no longer available. Please use the system supplied orientation lock.
Now requires iOS 8 or newer.
Description
With daily games at 17 difficulty levels, novices and expert players alike will appreciate :) Sudoku. Our tutorial, extensive feature set, and advanced hint system offer something for every player. The more you play, the more you will enjoy it!

For unlimited puzzles, check out our other Sudoku products: :) Sudoku + (paid) and Sudoku Joy (free).

Our multi-stage hint system starts with a gentle reminder to get you back on track and works up to an illustration of the exact technique to use and how it applies to the current board. Use our hints to ease those frustrating moments and to learn how to be a better player.

Features include:

- 17 difficulty levels, something for everyone
- Tutorial teaches you new techniques
- Large, high contrast digits are easier to read
- Advanced techniques at the higher levels, including X-Wings, sashimi fish, and coloring
- User interface optimized for fewer touches
- Choice of six color schemes
- Never covers up the board while you are playing
- Infinite undo/redo
- Undo to the last solvable position
- Board solvable indicator
- Automatic or manual pencil marks
- Save your game while you try alternatives
- Automatically saves your game when you get a phone call, switch applications, or lock the phone
- Highlighting helps you discover patterns
- Game clock; compares your time to other players
- Avoids graphic frills that distract from play
- Choice of digit styles, including Kanji and Hanzi

All games are true Sudoku, with symmetry and a single solution that can be discovered by logic alone. If you doubt that a puzzle can be solved by logic, simply have the hint system explain it to you step by step.

If you enjoy Sudoku daily, this is the app for you!
iPad Screenshots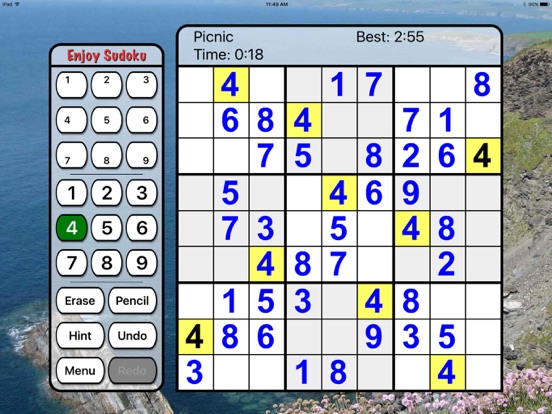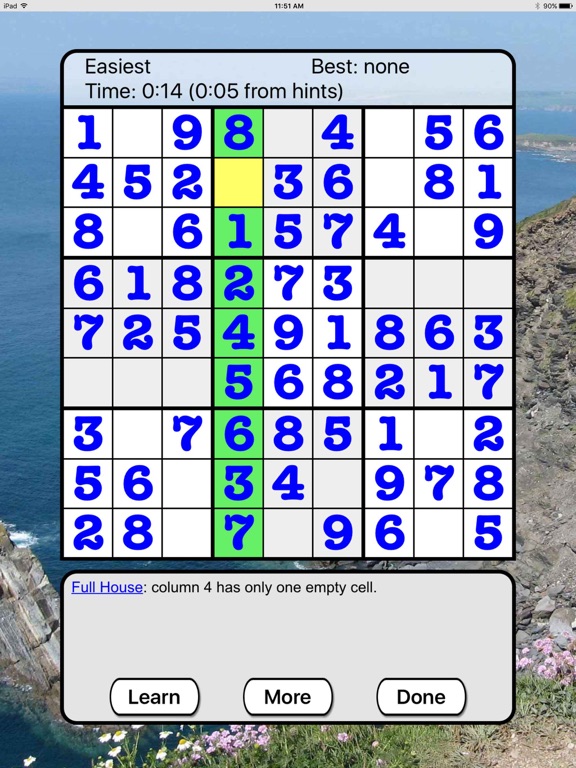 Reviews
Bobbo1956
Love it. Addicted! My favorite game of all time!
Very well thought out
Easy to play, lots of help, from hints to displaying when a wrong number is used. Clear format. Uncluttered. Lots of levels of difficulty to try.
Excellent App!!
I have used this app for several years and love it.
My opinion
robertaperry
on
12/20/2017
Easy to navigate very engaging and addictive to play. My most favorite game.
Excellent game
Nice and correctly complex
Fun and challenging
It is intuitive enough to make it very easy to use. There are enough levels to challenge even advanced players.
I love it! Better than the rest!
The hints actually teach you strategy, instead of just giving you the answer. For further explanations, there are links. Makes the game more fun!
S
Great app for IPhone thanks
Sudoku
Well thought out ap. East to learn. Hints are very helpful.
Great Program
Baby Chris Cobra
on
11/17/2017
I've learned how to play Sudoku from this game. There are many levels so that you can learn at your own pace. There's plenty of help and tutorials with online links to teach you new concepts. The ads are not invasive at all. I'd recommend this program to anyone interested in playing Sudoku regardless of their expertise.
Great game
Rico Suave 69
on
11/15/2017
Works perfectly and has numerous game options.
Outstanding!
That says it all!
Great mental exercise
Great mental exercise with intensities for the half woken brain to the one needing a challenge.
Casual player, found level of comfort via in app help
I enjoyed the in app help up to a playing level of Difficult. After that it stopped being fun for me so I play the daily new difficult level on many days each month. I could advance me skill more but I know I wouldn't enjoy any more than I already do. The in app help is very well done and easy to understand.
Sudoku
Love this sudoku app. Works flawlessly. Like a good friend, it's always there when you need it!
Sudoku with the best features
This app has features for the novice and the expert. It allows the option to elect helpful tools or go it alone. Has a good experience for any level player.
Great suduko app!
Love the difficulty levels and pencil options! Great version of Suduko!!
Easy to use
I like the color option, nice touch when my brain just can't keep track of chains
My go-to sudoku
This game is brain food, for daily consumption. Helps me wind down or wake up, sometimes both. Highly recommended!
Great App!
I rarely write reviews but this app is good enough for me to do so. I highly recommend.
Great game
Very good game.
Great Game - Really
Freewill365
on
10/17/2017
Easy to use, great puzzles that really challenge you!! You can stick to easy ones, or learn advanced techniques to tackle the nasty levels. Highly recommended.
THE best interface
I've never seen a better interface than this. If I was going to add any features, I'd add the ability to input new puzzles - for example from the newspaper. Even if hints were unavailable (which wouldn't be needed anyway), I just can't do them with paper and pencil anymore.
Addictive challenge
Keeps my mind active with challenging puzzles! I'm enjoying the game tremendously!
The best Sudoku app
The best sudoku app I've found. Lots of options.
Excellent
Joan in Oakland
on
10/10/2017
This is a great version of Sudoku with the option of hints when you want them.
Sudoku review
This is absolutely the best Sudoku app. Lots of games, easy to play. The tutorials are my only problem. They have a glossary of terms that I have no idea they are coming from.
Perfect
Has everything a Sudoku app should have.
Excellent game!
I love the different levels, the way it auto fills used numbers, the hints, etc. The stats are great to see your progress also. GREAT GAME!
Great game!
This is one of those games I just never get tired of. Always very challenging but extremely fun as well. A perfect way to keep me occupied and my mind sharp. Great job!
Craig H
Hotspotstopper
on
10/6/2017
This app is so user friendly and very customizable! It seems to be endless the amount of "brain training" that I get ( being 60, it is important to keep that brain busy). If I have to find something negative to say, it would be you have to be careful that when you open it in public, the volume always goes to totally load! But, all you hear is key "clicking" and easily fixable with a quick volume down! Love this app!
A good app to learn and improve you sudoku skills
I like learning from the help, then using what I've learned to work my way up through the more difficult games.
Great App
Old Southern Geezer
on
9/30/2017
This is a great App and a great way to exercise the brain.
Great game
Not happy noe
on
9/30/2017
Always a brain tease. Never any problems with this game.
Challenging and instructive
Florida Pirates FF
on
9/30/2017
Great fun and you can learn the more difficult ones.
It's the best! I love it!
Yes I do!
Great sudoku app!
Ive been using this for years. Love it! The educational features are excellent.
Awesome fun
Love it - always feet games
Sudoku great app
Great app, lots of options and easy to use. Download today.
Great game
AJ'sComputer
on
9/25/2017
This free game is one of my favorites. Lots of skill levels and hints to get you on the path of mastery. Totally addictive!
Best Sudoku!
wilmingtonfan
on
9/23/2017
This is by far the best Sudoku game out there. It is always challenging. And it teaches all the different strategies so you can learn how to solve the most difficult puzzles.
The best
Best I have played :)
Numbers fun
Cre8ive genius
on
9/18/2017
I've played for years. Love the levels options and hint options.
Fantastic Sudoku app!
MalwasechteKase
on
9/12/2017
Impressive functionality options - for pencil marks, coloring, etc, and I particularly like the tutorials on strategy. I won't play any other app- it's the only reason I'm halfway decent at sudoku.
Fact Sheet
Publisher:

Jason Linhart

Category:

Games

Released:

Aug 02, 2008

Current Version Released:

May 09, 2017

Version:

5.2.7

Size:

9.8 MB

Compatibility:

Requires iOS 8.0 or later.

Recommended Age:

4+

Game Center Certified:

No

Supported Languages:

English;