TapNova recommends this app!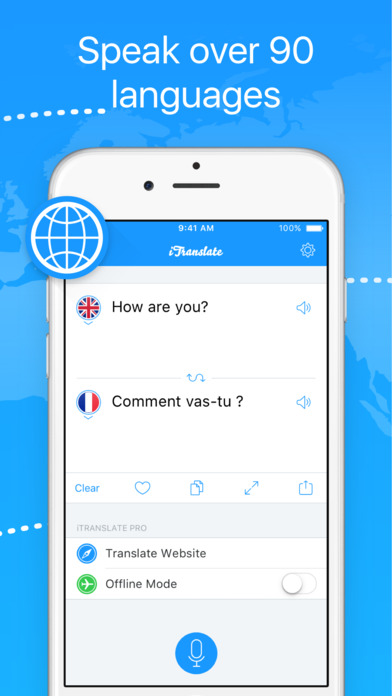 New in version 10.5.10
Thank you for using iTranslate! To improve our App for you, we regularly bring updates to the App Store with improvements for both speed and reliability.

If you enjoy iTranslate, would you mind taking a moment to write a review on the App Store? We'd greatly appreciate it.
Description
iTranslate is the leading translation and dictionary app. Easily translate text, websites, or start voice-to-voice conversations in over 90 languages. Our new Offline Mode allows you to use iTranslate abroad without having to pay expensive roaming charges.

FEATURES
• Get translations in over 90 languages.
• Listen to translations in male or female voices.
• Switch between different dialects.
• Dictionaries with synonyms and different meanings.
• iMessage App & Keyboard Extension
• Apple Watch App
• Transliteration, Sharing, Favorites, History, and much more.
• Award-winning apps for iPhone, iPad and Apple Watch.

PRO FEATURES
• Offline translation mode.
• Voice-to-Voice conversations.
• Website translation, including a nifty Safari extension.
• Verb conjugations in different tenses.

Learn more about iTranslate PRO on https://www.itranslate.com


LOVED AND TRUSTED BY MILLIONS
• 50 million downloads and over 100,000 App Store reviews!
• Best of 2015, Editor's Choice, App Store Essentials
• "…never encounter a language barrier" - Time.com
• "Voice translation executed perfectly." - Cult of Mac
• Featured many times in Apple TV ads and on the App Store

Learn more about iTranslate at https://www.itranslate.com

SUPPORT
Visit https://www.itranslate.com/support/ or contact us at help@itranslate.com

Follow us on Twitter: https://twitter.com/iTranslateApp
Like & share on Facebook: https://www.facebook.com/itranslateapp
Learn more about iTranslate: https://www.itranslate.com

Supported languages & dialects for translation:
Afrikaans, Albanian, Arabic, Armenian, Azerbaijani, Basque, Belarusian, Bengali, Bosnian, Bulgarian, Catalan, Cebuano, Chichewa, Chinese (Simplified), Chinese (Traditional), Croatian, Czech, Danish, Dutch, English, Esperanto, Estonian, Filipino, Finnish, French, Galician, Georgian, German, Greek, Gujarati, Haitian Creole, Hausa, Hebrew, Hindi, Hmong, Hungarian, Icelandic, Igbo, Indonesian, Irish, Italian, Japanese, Javanese, Kannada, Kazakh, Khmer, Korean, Lao, Latin, Latvian, Lithuanian, Macedonian, Malagasy, Malay, Malayalam, Maltese, Maori, Marathi, Mongolian, Myanmar (Burmese), Nepali, Norwegian, Persian, Polish, Portuguese, Punjabi, Romanian, Russian, Serbian, Sesotho, Sinhala, Slovak, Slovenian, Somali, Spanish, Sundanese, Swahili, Swedish, Tajik, Tamil, Telugu, Thai, Turkish, Ukrainian, Urdu, Uzbek, Vietnamese, Welsh, Yiddish, Yoruba, Zulu

For a Complete Language overview: https://itranslate.com/languages

---
Auto Renewable Subscription Terms:
* Choose from 3 subscription options:
- a monthly subscription (which comes with a 7-day free trial) for $4.99 USD;
- a 2 monthly subscription (which comes with a 7-day free trial) for $9.99 USD;
- an annual subscription for $39.99 USD.
The price corresponds to the same price segment, which are set in the "Apple's App Store Matrix" for other currencies.
* Your free trial subscription will automatically renew to a paid subscription unless auto-renew is turned off at least 24 hours before the end of the free trial period.
* Please note: any unused portion of a free trial period (if offered) will be forfeited when you purchase a premium subscription during the free trial period.
* You can cancel a free trial or subscription anytime by turning off auto-renewal through your iTunes account settings. This must be done 24 hours before the end of a free trial or subscription period to avoid being charged. The cancellation will take effect the day after the last day of the current subscription period, and you will be downgraded to the free service.

Terms of Service:
https://www.itranslate.com/terms-of-service

Privacy Policy:
https://www.itranslate.com/privacy-policy


An internet connection is required to use the app. To use the offline mode, you need to download language packs.
iPad Screenshots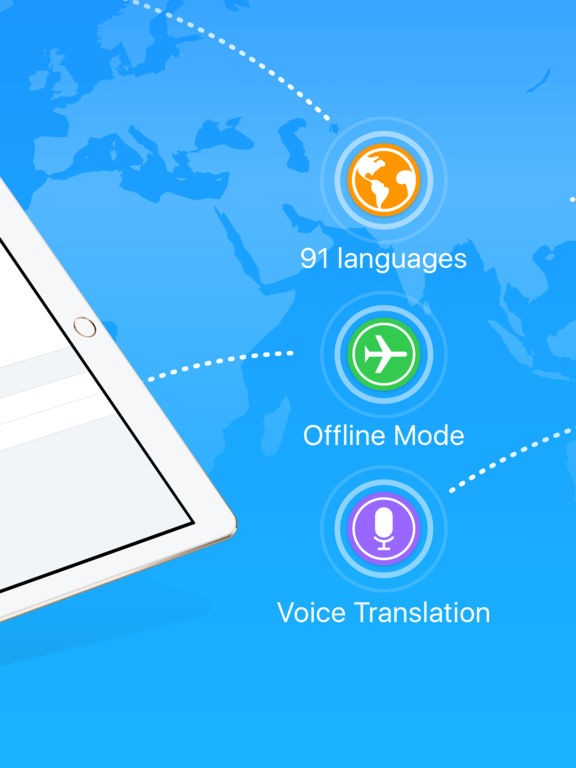 Reviews
Love this app
It's a great handle tool for my daily living! Thanks creators
Love, love
I can't live without this help me so much even with my italian boyfriend !
Excellent
The translation is fast very accurate and the pronunciation is spot on. Thank you for the hard work that makes my life so much easier.
Just 1 more thing
It's a decent app but just one more thing needs to be added before it is the best. To make this app the best a copy and paste feature should be added wen people reply through other messaging apps.
Repeatedly naggs for additional money
EnglishStudentOfLanguage
on
7/19/2017
Despite initially paying almost $10 for the Premium app, opening the app after a period of idleness prompts for a $40/year subscription. No....I do not need offline access, I've paid for Bescherelle's and another's conjugations, and I question the utility of voice translation while in the US. Initially the FR/EN translations were far better than Goog's app, but the gap seems to have narrowed from 2014 to 17.
Norway.bergen
shams yalmas
on
7/19/2017
البرنامج كتير حلو انا انسانة بسافر كتير بستخدم البرنامج بيساعدني 💜💗
Very annoying
Every day I open the app I get a message pop up that tells me to buy the pro version I don't wish to use the pro version and I do not want to get that message everytime .
Very Good
Im using this app for few years and is very accurate easy to used and easy to understand thats why i give them 5 stars Thanks iTranslate ***
My opinion on this app
Love it ❤️👌🏼😍
User friendly
Very intuitive and user friendly platform to work with. The best one I've come cross. I found the Italian translations just fine.
Great!
Russian Bear 75
on
7/16/2017
This app is great for all your translation needs I would mitt it needs a little changing on the Russian side but that's understandable because hard to translate Russian and English when it comes to the Japanese translation it is superb! I recommend this to anybody!
Itranslate
NICK IS MY NAME!!!
on
7/16/2017
Itranslate is a great way to learn new words in any language if you don't know what they mean...And there are more than 20 languages in itranslate! For example: Spanish, Turkish, Portuguese, and much much more! Don't forget to buy it anywhere, anytime!!!
Awesome and helpful
I love this app so much! I have friends from Sweden that I can talk to, with this awesome app!! I give it 5/5 ⭐️
Great app
I can chat worldwide :P ( great app )
Great
Really great app. I love it. Amazing layout and works perfectly
Translations just plain wrong
About 50% of the time in translating Japanese and Spanish I will get translations that are wrong. Translations from English to Japanese will often give me the English word just in Katakana (Japanese pronunciation of the English word--some might argue that Japanese is just becoming a subset of English so this is accurate, but I'm working with real Japanese language as it's printed and spoken on the news). Translations from Japanese to English will give me translations all over the place (from romaji pronunciations of the kanji to words that have nothing to do with the original characters). Sometimes when translating to or from Japanese to English, I will get Chinese pronunciations... not exactly sure how that's happening... Spanish will just be confusing. I feel I cannot trust the translations. Sobrevivirás (you will survive) came out as "blown" in English... Needs some work, Microsoft.
Student
Really handy tool. I use it for help with language studies. Considering buying the full version.
Life saver!
Helps so much with language homework and it's pretty accurate!
Good
Kike24242525
on
7/14/2017
Good
Spanish
Issei Hyodou
on
7/14/2017
Your app really helps me when I don't know some of the words in Spanish
its A awesome
It's really helpfull it's amazing
Amazing
I am now learning words in Chinese! It's amazing. Five stars! Thank you.
Good and easy
This app is easy and convenient, does the job. A light off line version could be interesting to get.
Very useful... until...
It was very useful app. Well design, easy to use, and a very good layout. I was eager to keep using it and happy that it was so user-friendly, but unfortunately now that they want to charge the people who downloaded it during the free period is unfortunate.
Sergio
Elpapinumero1
on
7/12/2017
This is one of the best I be use bery good.
Good i love it
I love it and i always use it to translate ....
Very helpful
Age 67 Senior
on
7/12/2017
I teach English to local immigrants and find this app very helpful. There are times when they tell me that the translation is not correct. Could be because of dialect. Still very useful.
False Advertisement
I searched free English translators and this popped up first. It had great reviews so I downloaded it. Then today I tried to use it, only to see they want $4.99 per month subscription fee. I don't use this enough to justify a monthly payment.
Excelente herramienta
La aplicación presenta buenas opciones de traducción porque propone contextos que permiten llegar al sentido correcto de las palabras buscadas.
Good app
Quality app that's always right
Cool
It need to translate better quote on quote
Best English to Spanish
I very recommend this app really clean and functional I will say pro app
Great app
Great app, I use it a lot, thanks
The Detailer
Best one. 7/11/17. Still the very best one.
Great
I can communicate with my French friend and I'm happy I can talk to it thank you translator. How always use this app
convenient but wrong
Flatkatcarsnicoenckfc
on
7/11/2017
this translator is really convenient because it's a widget in the pull down so translating takes about three seconds and you don't have to leave the app you're on. however, the translations can be really weird sometimes and they don't do slang well at all. for example, ㅋㅋㅋㅋ doesn't translate to kkkk or hahahaha, but instead it translates to "blah blah blah blah". so that's not the best, but overall it works for normal words and phrases. if you just wanna be able to keep up with things on the fly, use this app!
Very good!
I've enjoyed this app very much. It's actually increased my desire to learn more languages and still is useful.
Global Business Traveler
Drocksomdrhddb
on
7/11/2017
This app is incredible
Lost in translation
Susansailboat1
on
7/11/2017
I speak Farsi so I decided to check your Persian translations. They were really off. So I think you need to find some other system
Almost correct
Some translations are not totally correct when speaking proper polish. The lesser or secondary meanings are used which is ok. Would like to see polish be added to the pro section, not just the 8 couples used now. Would be substantially more helpful! Also proper punctuation "diacritics" would benefit greatly!
Love iTranslate
I really find this app very useful. Whenever I have the slightest doubt between English, Spanish and French, it comes through. I use this app all the time!
Good App
I use it everyday.
iTranslate
I using this app for years and really enjoying. Reliable and very helpful and user friendly . Pleasure to operate!
Great help
Love the live on offline, a lifesaver
Very nice
Callistickitty
on
7/8/2017
I'm learning Indonesian because my mother and grandmother can speak it and thus helps a lot :)
Life saver 👌🏻
When my future mother in law arrived from Italy 🇮🇹 I did not speak a word in Italian. 🙃This app is my life saver 😻🙌
Evenki
Haitian's Creole not perfectly good!!! If you guys need good Haitian's creole translation I will help u with that!!! Thks
Fact Sheet
Publisher: iTranslate GmbH
Category: Productivity
Released: Oct 20, 2008
Current Version Released: Jul 11, 2017
Version: 10.5.10
Size: 282.5 MB
Compatibility: Requires iOS 9.0 or later.
Recommended Age: 4+
Game Center Certified: No
Supported Devices: iPad2Wifi-iPad2Wifi, iPad23G-iPad23G, iPhone4S-iPhone4S, iPadThirdGen-iPadThirdGen, iPadThirdGen4G-iPadThirdGen4G, iPhone5-iPhone5, iPodTouchFifthGen-iPodTouchFifthGen, iPadFourthGen-iPadFourthGen, iPadFourthGen4G-iPadFourthGen4G, iPadMini-iPadMini, iPadMini4G-iPadMini4G, iPhone5c-iPhone5c, iPhone5s-iPhone5s, iPadAir-iPadAir, iPadAirCellular-iPadAirCellular, iPadMiniRetina-iPadMiniRetina, iPadMiniRetinaCellular-iPadMiniRetinaCellular, iPhone6-iPhone6, iPhone6Plus-iPhone6Plus, iPadAir2-iPadAir2, iPadAir2Cellular-iPadAir2Cellular, iPadMini3-iPadMini3, iPadMini3Cellular-iPadMini3Cellular, iPodTouchSixthGen-iPodTouchSixthGen, iPhone6s-iPhone6s, iPhone6sPlus-iPhone6sPlus, iPadMini4-iPadMini4, iPadMini4Cellular-iPadMini4Cellular, iPadPro-iPadPro, iPadProCellular-iPadProCellular, iPadPro97-iPadPro97, iPadPro97Cellular-iPadPro97Cellular, iPhoneSE-iPhoneSE, iPhone7-iPhone7, iPhone7Plus-iPhone7Plus, iPad611-iPad611, iPad612-iPad612, iPad71-iPad71, iPad72-iPad72, iPad73-iPad73, iPad74-iPad74,
Supported Languages: Arabic; Danish; Dutch; Flemish; English; Finnish; French; German; Greek; Indonesian; Italian; Japanese; Korean; Malay; Bokmål, Norwegian; Norwegian Bokmål; Polish; Portuguese; Russian; Chinese; Spanish; Castilian; Swedish; Thai; Chinese; Turkish;