Screenshots
New in version 10.9.1
Thank you for using iTranslate! To improve our App for you, we regularly bring updates to the App Store with improvements for both speed and reliability.

If you enjoy iTranslate, would you mind taking a moment to write a review on the App Store? We'd greatly appreciate it.
Description
iTranslate is the leading translation and dictionary app. Easily translate text, websites, or start voice-to-voice conversations in over 100 languages. Our new Offline Mode allows you to use iTranslate abroad without having to pay expensive roaming charges.

FEATURES
• Get translations in over 100 languages.
• Listen to translations in male or female voices.
• Switch between different dialects.
• Dictionaries with synonyms and different meanings.
• iMessage App & Keyboard Extension
• Apple Watch App
• Transliteration, Sharing, Favorites, History, and much more.
• Award-winning apps for iPhone, iPad and Apple Watch.

PRO FEATURES
• Offline translation mode.
• Voice-to-Voice conversations.
• Website translation, including a nifty Safari extension.
• Verb conjugations in different tenses.

Learn more about iTranslate PRO on https://www.itranslate.com


LOVED AND TRUSTED BY MILLIONS
• 70 million downloads and over 100,000 App Store reviews!
• Best of 2015, Editor's Choice, App Store Essentials
• "…never encounter a language barrier" - Time.com
• "Voice translation executed perfectly." - Cult of Mac
• Featured many times in Apple TV ads and on the App Store

Learn more about iTranslate at https://www.itranslate.com

SUPPORT
Visit https://www.itranslate.com/support/ or contact us at help@itranslate.com

Follow us on Twitter: https://twitter.com/iTranslateApp
Like & share on Facebook: https://www.facebook.com/itranslateapp
Learn more about iTranslate: https://www.itranslate.com

Supported languages & dialects for translation:
Afrikaans, Albanian, Arabic, Armenian, Azerbaijani, Basque, Belarusian, Bengali, Bosnian, Bulgarian, Catalan, Cebuano, Chichewa, Chinese (Simplified), Chinese (Traditional), Croatian, Czech, Danish, Dutch, English, Esperanto, Estonian, Filipino, Finnish, French, Galician, Georgian, German, Greek, Gujarati, Haitian Creole, Hausa, Hebrew, Hindi, Hmong, Hungarian, Icelandic, Igbo, Indonesian, Irish, Italian, Japanese, Javanese, Kannada, Kazakh, Khmer, Korean, Lao, Latin, Latvian, Lithuanian, Macedonian, Malagasy, Malay, Malayalam, Maltese, Maori, Marathi, Mongolian, Myanmar (Burmese), Nepali, Norwegian, Persian, Polish, Portuguese, Punjabi, Romanian, Russian, Serbian, Sesotho, Sinhala, Slovak, Slovenian, Somali, Spanish, Sundanese, Swahili, Swedish, Tajik, Tamil, Telugu, Thai, Turkish, Ukrainian, Urdu, Uzbek, Vietnamese, Welsh, Yiddish, Yoruba, Zulu

For a Complete Language overview: https://www.itranslate.com/languages

---
Auto Renewable Subscription Terms:
* Choose from 3 subscription options:
- a monthly subscription (which comes with a 7-day free trial) for $4.99 USD;
- a 2 monthly subscription (which comes with a 7-day free trial) for $9.99 USD;
- an annual subscription for $39.99 USD.
The price corresponds to the same price segment, which are set in the "Apple's App Store Matrix" for other currencies.
* Your free trial subscription will automatically renew to a paid subscription unless auto-renew is turned off at least 24 hours before the end of the free trial period.
* Please note: any unused portion of a free trial period (if offered) will be forfeited when you purchase a premium subscription during the free trial period.
* You can cancel a free trial or subscription anytime by turning off auto-renewal through your iTunes account settings. This must be done 24 hours before the end of a free trial or subscription period to avoid being charged. The cancellation will take effect the day after the last day of the current subscription period, and you will be downgraded to the free service.

Terms of Service:
https://www.itranslate.com/terms-of-service

Privacy Policy:
https://www.itranslate.com/privacy-policy


An internet connection is required to use the app. To use the offline mode, you need to download language packs.
iPad Screenshots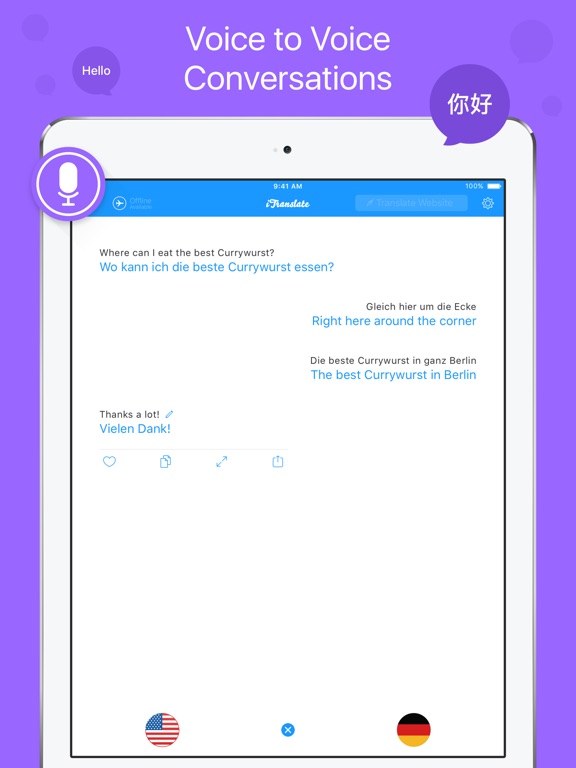 Reviews
ALL LATIN TRANSLATORS ARE TERRIBLE
this apps latin translation is absolutely horrible. no one has been able to make a reliable latin translator yet.... shame
Disappointed
Dr. Wall. Reese
on
11/16/2017
I got this because it's free but of course you have to pay for all the things that they list in the description
Working with Dev to Resolve:
Offers a + version which is paid, then makes it unavailable to download and tries to charge you twice by IAP in this version. Other developers in a similar situation have given the + features in the unified version if you already purchased them in the standalone +. NOT THESE GUYS! *Reply to developer response. Thanks for the reply, but that's entirely not the case. I can't access the pro features I paid for. I tried restoring purchases but your team must have changed the list of purchases available, removing the option I had paid for, even if it was recreated; as my purchases which do show in iTunes cannot be restored in your app.
I did not order the app but somehow it charged to my Apple account
I did not order this app. I just downloaded free version for testing but today I got an email telling I had been signed up for 2 month with automatic renewal. I cancelled the subscription but i have charged of $9.99 for this and I don't know to get refund. Be careful! Don't download free app. Otherwise, you could be scamp!
CRUNCH Zumba & Silver Sneakers Instructor Maryann Yolanda
CRUNCH Fitness In
on
11/15/2017
Quick - Easy !- SIMPLE to use ---I need for my Spanish speaking Latin dance & Silver Sneaker classes...(Spanglish only goes so far!!)... BONUS: LOVEEEE the quick translation WITH varying speeds of pronunciation on the same screen ... authentic!🌟🌟🌟🌟🌟
Awesomeee
Catzrule 32
on
11/14/2017
I LOVE trolling robloxians with german, they think I'm Spanish xD, also Troll my friends with german, super fun and funny reactions lol, 5/5!!
Excellent translator
Best and most comprehensive I've used so far!
The app was great
Great app when you need to use it to get to ask someone for information in a different language like that
Awesome
Joniiiiiiiiiiii
on
11/13/2017
Very helpful when traveling. Easy to use!
Great app
One of the best
Better before all the ads!
Too many ads! I used to use this app as my preferred translator but literally after every translation it has an ad. And it not a simply ad either it's with sound even when you have your iPad on silent. I've read other reviews and people are saying the same thing. I've also read the response from the developers. Pretty much blamed the customer and called them a liar. No need to respond to call me a liar.
iTranslate is Great!
Use it on the go to work on my homework or just practice quick conversation and translation!
Crippleware
Download the trial to test its ability to live translate. It would not perform the function, as far as I can tell it does not function for anything but simple text translation which can be obtained from a multitude of free websites and apps. There is nothing to review in this app as it offers nothing worth reviewing.
It's off but helps me out
Sometimes it's off. Also it's limited to Spanish from Spain only.
The best
Chef Woodie
on
11/12/2017
This app has saved my life moving from The United States to Spain 3.5 years ago
Started to Download it
Einsteinetts
on
11/12/2017
I was going to download this app bc we were spending a month in Europe, but after reading the reviews, Didn't download. The reason wasn't mainly bc so many people were unhappy about too many & too loud of ads (altho that was a small part of he reason). The main reason was the defensive, rude responses the people who gave reviews got from the developers! I am appalled that they would be called liars. Developers: Why on earth do you think so many people would say the same thing? Why do you think they would make that up? Do you think you are endearing yourselves to customers (where you get your $ from) by being so caustic? I will tell you I believe your customers, not you. And so will virtually every body else. And I also noticed that absolutely nothing is a glitch in YOUR program. It's all the customer's problem., or someone else's 'fault.' Wow! Smart enough to create (what could be) a cool app, but too immature to know how to handle customer service courteously. Old saying: "You can catch more flies with honey than you can with vinegar."
Great
Lots Disappointed
on
11/11/2017
Great! Love having this on my phone for a quick and easy translation. It's a very simple and easy to use format plus it does pull up suggestions if you are trying to find a specific word.
Just need to fix some things
It's a good app but they just need to fix some translation corrections
Learning France
DEADSHOOT455456
on
11/10/2017
I can finally Karen France
Jackendo
Go check it out yourself
on
11/9/2017
It's a great app. It helps me with my pronunciation and translation.
Very good 👍👍👍
muhammad morsy
on
11/9/2017
👍👍
Unacceptable.
I bought this app because it had a person TALKING into it. I saw that it was free and went, eh why not? As soon as I open the app it asks me to PAY for the feature where you talk into it. Unacceptable. Don't make the mistake of getting this app.
Excellent
I use it a lot! Very accurate the translation, at least between Spanish and English. Helps me a lot when I'm confused with any preposition and irregular verbs. Definitely, I recommend this app.
The ads are ridiculous
UnicornVodka001
on
11/7/2017
Immediately after I enter the app (every single time) I get bombarded with prompts of "get iTranslate PRO" and the ads are wayyyyyy too loud. In meetings and on planes. Too much happens. Apple get it together this is absolutely repulsive and I will not recommend it to anyone. Deleting and getting Google Translate instead 🤬🤬🤬
Have used for several yrs now
Crowded in the House
on
11/7/2017
Preferred over google translate, thus far. Leery of too many intrusive ads like others have experienced, but have not incurred such, as yet. Very functional & fluid app!
Love the app needs one more step
Love this app,it is amazing. Can you get together and integrate thus with text grabber??
Almost
Need translation to be read a loud from Apple Watch in timely manner. Takes undetermined amount of time to get the verbalization on Apple Watch. Unable to implement in real world situations(ie with patients at hospital) due to inability for app to translate in timely manner. Overall: Almost but not quite, purely for entertainment purposes only
ITranslate
This is a great app helps me brush up on my German and it's great for helping with a language I don't know even became friends with a Russian person because of this app.
Very good
أبو عبدالله906
on
11/6/2017
👍👍👍
Wonderful
This app is great especially when you are dealing with people that speak a different language and you need to convey a message to them quickly this works wonderfully!
Gut.
MrLanguageDood
on
11/4/2017
Es ist nicht so schlecht.
I really love this translator it really helps me learn more of my language
Kyome Aka Kyo
on
11/4/2017
As A Mixed Japanese girl I really love this translator it really helps me learn more of my languages
Review
Useful and great app 👍👍👍👍👍
Used this for Spanish translation ...
Spotted_Horse
on
11/3/2017
I was using this app to try and communicate with a girl from Venezuela - after a couple of sentences back and forth she finally said she didn't have a clue on what I was saying. As a result I found using three different translations from three different sites would allow you to make sure what was close to correct by using the two that were similar in context. I have used this app for quite a while having the pro version, and was surprised at having to use different sites to cross correlate for accuracy. Usually I use this for checking my German, seems to help with that. They say it does on the fly translation with the Bragi Pro ear buds, but even though I own a set I haven't had a chance to see how well it works.
Used to love it
I used to love this app. I'd recommend it to others and use it constantly. But lately I've been getting so many pop up ads. Normally that wouldn't bother me so much but I use this app a lot while in meetings and the ads are always with sound. Now I can't use it during meetings :( downloaded Google translate instead!
Mr. Joe
Why am I no longer getting translator free??
Offer for a 1 time fee or forget it!
The scam of charging a subscription fee instead of a one time fee is a rip-off. I already had & paid for the UPGRADE a long time ago then it went to "Weasel mode" and trying to get more $... forget it, I've already been scammed, WHAT I ALREADY PAID FOR NO LONGER WORKS. Apps should not charge subscription fees! ESPECIALLY WHEN YOU ALREADY CHARGED FOR THE "upgrade". Also, I think the only good reviews you get now you write yourself cause it's incorrect so much it's WORTHLESS. I'm uninstalling! Yuck!
Excellent
This helped a lot
Great!
I use it everyday. Simple, easy to understand user interface. The only translator I need.
I love it
It helps me learn all kinds of languages
thanks you
hamdanaiman
on
10/30/2017
thanks you for all that app
Great App
Tongan Miko
on
10/29/2017
I use this app often. Makes me look multi lingual. LOL!
So easy to use, and helpful learning the language
Some person guy 12345675464
on
10/29/2017
I love that you can select portions of the translated text and immediately look up all versions of verb conjugations. The look up by voice, and audio play back is great too. Well worth the Pro version
Way better than google translate
Even if you're not using the pro version for it , It is still great for translating since it translates precisely and efficiently
Helpful?
Lil.loca504
on
10/28/2017
Yes! It translates pretty accurately.
iTranslate
Not perfect, but quite useful. Occasionally, a translation lands way out in left field and grammar fails, big time. Still, all-in-all, very helpful.
Fact Sheet
Publisher:

iTranslate GmbH

Category:

Productivity

Released:

Oct 20, 2008

Current Version Released:

Nov 13, 2017

Version:

10.9.1

Size:

219.3 MB

Compatibility:

Requires iOS 9.0 or later.

Recommended Age:

4+

Game Center Certified:

No

Supported Devices:

iPad2Wifi-iPad2Wifi, iPad23G-iPad23G, iPhone4S-iPhone4S, iPadThirdGen-iPadThirdGen, iPadThirdGen4G-iPadThirdGen4G, iPhone5-iPhone5, iPodTouchFifthGen-iPodTouchFifthGen, iPadFourthGen-iPadFourthGen, iPadFourthGen4G-iPadFourthGen4G, iPadMini-iPadMini, iPadMini4G-iPadMini4G, iPhone5c-iPhone5c, iPhone5s-iPhone5s, iPadAir-iPadAir, iPadAirCellular-iPadAirCellular, iPadMiniRetina-iPadMiniRetina, iPadMiniRetinaCellular-iPadMiniRetinaCellular, iPhone6-iPhone6, iPhone6Plus-iPhone6Plus, iPadAir2-iPadAir2, iPadAir2Cellular-iPadAir2Cellular, iPadMini3-iPadMini3, iPadMini3Cellular-iPadMini3Cellular, iPodTouchSixthGen-iPodTouchSixthGen, iPhone6s-iPhone6s, iPhone6sPlus-iPhone6sPlus, iPadMini4-iPadMini4, iPadMini4Cellular-iPadMini4Cellular, iPadPro-iPadPro, iPadProCellular-iPadProCellular, iPadPro97-iPadPro97, iPadPro97Cellular-iPadPro97Cellular, iPhoneSE-iPhoneSE, iPhone7-iPhone7, iPhone7Plus-iPhone7Plus, iPad611-iPad611, iPad612-iPad612, iPad71-iPad71, iPad72-iPad72, iPad73-iPad73, iPad74-iPad74, iPhone8-iPhone8, iPhone8Plus-iPhone8Plus, iPhoneX-iPhoneX,

Supported Languages:

Arabic; Danish; Dutch; Flemish; English; Finnish; French; German; Greek; Indonesian; Italian; Japanese; Korean; Malay; Bokmål, Norwegian; Norwegian Bokmål; Polish; Portuguese; Russian; Chinese; Spanish; Castilian; Swedish; Thai; Chinese; Turkish;