Recommended app!
App last updated
Dec 11, 2017
Screenshots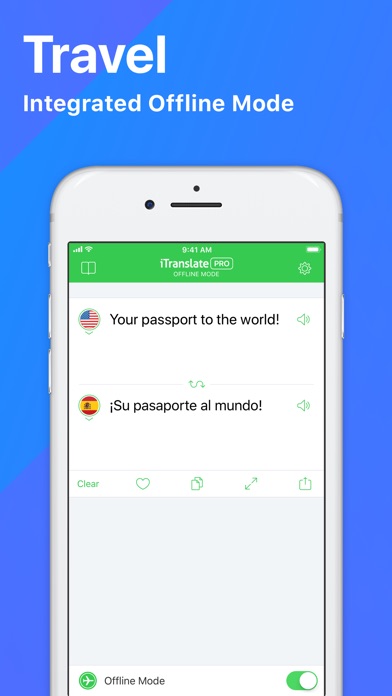 New in version 11.0.2
Introducing iTranslate 11

- Now you can translate Offline between 16 languages, without any language-pair restrictions. That's a total of 240 language-pair combinations!
- A completely redesigned Language Picker, making it even easier to find your desired languages.
- New app localisations in Hindi and Portuguese (Brazil).

If you enjoy iTranslate, would you mind taking a moment to write a review on the App Store? We'd greatly appreciate it.
Description
iTranslate is the leading translation and dictionary app. Easily translate text, websites, or start voice-to-voice conversations in over 100 languages. Our new Offline Mode allows you to use iTranslate abroad without having to pay expensive roaming charges.

FEATURES
• Get translations in over 100 languages.
• Listen to translations in male or female voices.
• Switch between different dialects.
• Dictionaries with synonyms and different meanings.
• iMessage App & Keyboard Extension
• Apple Watch App
• Transliteration, Sharing, Favorites, History, and much more.
• Award-winning apps for iPhone, iPad and Apple Watch.

PRO FEATURES
• Offline translation mode.
• Voice-to-Voice conversations.
• Website translation, including a nifty Safari extension.
• Verb conjugations in different tenses.

Learn more about iTranslate PRO on https://www.itranslate.com


LOVED AND TRUSTED BY MILLIONS
• 70 million downloads and over 100,000 App Store reviews!
• Best of 2015, Editor's Choice, App Store Essentials
• "…never encounter a language barrier" - Time.com
• "Voice translation executed perfectly." - Cult of Mac
• Featured many times in Apple TV ads and on the App Store

Learn more about iTranslate at https://www.itranslate.com

SUPPORT
Visit https://www.itranslate.com/support/ or contact us at help@itranslate.com

Follow us on Twitter: https://twitter.com/iTranslateApp
Like & share on Facebook: https://www.facebook.com/itranslateapp
Learn more about iTranslate: https://www.itranslate.com

Supported languages & dialects for translation:
Afrikaans, Albanian, Arabic, Armenian, Azerbaijani, Basque, Belarusian, Bengali, Bosnian, Bulgarian, Catalan, Cebuano, Chichewa, Chinese (Simplified), Chinese (Traditional), Croatian, Czech, Danish, Dutch, English, Esperanto, Estonian, Filipino, Finnish, French, Galician, Georgian, German, Greek, Gujarati, Haitian Creole, Hausa, Hebrew, Hindi, Hmong, Hungarian, Icelandic, Igbo, Indonesian, Irish, Italian, Japanese, Javanese, Kannada, Kazakh, Khmer, Korean, Lao, Latin, Latvian, Lithuanian, Macedonian, Malagasy, Malay, Malayalam, Maltese, Maori, Marathi, Mongolian, Myanmar (Burmese), Nepali, Norwegian, Persian, Polish, Portuguese, Punjabi, Romanian, Russian, Serbian, Sesotho, Sinhala, Slovak, Slovenian, Somali, Spanish, Sundanese, Swahili, Swedish, Tajik, Tamil, Telugu, Thai, Turkish, Ukrainian, Urdu, Uzbek, Vietnamese, Welsh, Yiddish, Yoruba, Zulu

For a Complete Language overview: https://www.itranslate.com/languages

---
Auto Renewable Subscription Terms:
* Choose from 3 subscription options:
- a monthly subscription (which comes with a 7-day free trial) for $4.99 USD;
- a 2 monthly subscription (which comes with a 7-day free trial) for $9.99 USD;
- an annual subscription for $39.99 USD.
The price corresponds to the same price segment, which are set in the "Apple's App Store Matrix" for other currencies.
* Your free trial subscription will automatically renew to a paid subscription unless auto-renew is turned off at least 24 hours before the end of the free trial period.
* Please note: any unused portion of a free trial period (if offered) will be forfeited when you purchase a premium subscription during the free trial period.
* You can cancel a free trial or subscription anytime by turning off auto-renewal through your iTunes account settings. This must be done 24 hours before the end of a free trial or subscription period to avoid being charged. The cancellation will take effect the day after the last day of the current subscription period, and you will be downgraded to the free service.

Terms of Service:
https://www.itranslate.com/terms-of-service

Privacy Policy:
https://www.itranslate.com/privacy-policy


An internet connection is required to use the app. To use the offline mode, you need to download language packs.
iPad Screenshots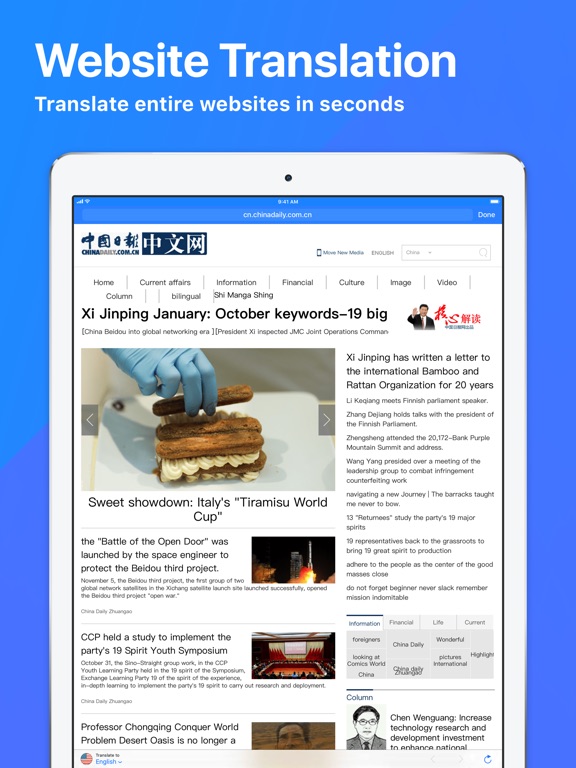 Reviews
PA Dutch & German not quite same
Living in PA Dutch country, locals speak "low German", (slang), whereas German's speak "High German". Funny for local PA (German) Dutch TRY to speak to True-German's, or vice-versa. The mutual understanding is so close, yet so far. German citizens laugh. Too, locals- Without this App, I wouldn't be able to keep up...& have lived here all my life.
5 stars
Very responsive and informative!
Good idea, needs polish
So a couple of things I immediately noticed. The iMessage app keyboard is broken. You can't type alternate characters (like "ç") because the menu disappears when you move your finger to select them. It works if you install the actual iMessage keyboard, but not in the iMessage app. I would really like to have the 3D touch cursor control enabled in the keyboard (firm press turns keyboard area into trackpad to move cursor in text field). I speak english and the person I use this with speaks Portuguese. A lot of her messages to me are mixed language. If she sends me one that starts in English and then ends in Portuguese, then the copied message button performs an english->portuguese translation, which means I get no help from it. It would help to be able to reverse the translation direction so that the part I need translated actually translates.
I love this
Hi U.S. from Russia
on
1/22/2018
It helps me understand Spanish
Amazing tool!
So satisfied! Excellent translation, easy to use and the best part, no limited translations or annoying advertisements! 5 stars!!!
Constant refresher
It helps to keep my second language vocabulary skills fresh. It is an excellent tool.
GIVE ME MY MONEY BACK
colangelo.rachel
on
1/21/2018
I downloaded your FREE app and deleted it shortly therefore after, but was somehow charged for a 2 month, $9.99 subscription for this application. I do not have the application anymore and I did not agree to this subscription charge. I want my money back. I am extremely upset.
Great App! I can't wait to get the Brazi earplugs!
Easy to use in foreign countries
👍🏾
Thebronxboy93
on
1/18/2018
Great app for biligual students
Excellent
It's translate really good...perfect
Horrible
Addison09927277
on
1/17/2018
After my trial I couldn't do anything I was so annoyed with this i deleted the app I gave you a ⭐️⭐️ star rating you should make it free!
Better
Thundercats9102
on
1/16/2018
It's better than google translate that's for sure due to the fact that one time i was using it my Spanish teacher said that it wasn't right . But, the problem with this app is that it wants you to pay for an upgrade
This app helped me a lot
Love it! Great app!
Best App Ever
We spend months in Mexico, as we are retired. I must usr this app daily. From asking for "crispy" papa fritos to grocery shopping for a specific product like facial wipes, your app is fantastic. When shopping in Mexico,I write in English what I am looking for.....and it's a miracle....up it comes in Spanish ....exactly what I want... Your app is like the American Express card....I don't leave home without it☺️
My review
I still think we could use the microphone thing without paying because what if we don't know how to type it or trying to understand a video.
One of the best apps ‼️👍
I take Chinese lessons and this app REALLY makes it better
Surprised me when I first tried it 🤔😯😮😲😺😸
Violet loves purple
on
1/14/2018
When I read the reviews I was a little disappointed, but I was still curious about this app so I downloaded it. I am bilingual so I decided to try translating from english to Spanish. I was a little skeptical but I was also amazed at the accuracy of this app. Of course I wanted to try other languages so I tried French and German. When I asked Siri to translate what I'd typed I received the same answers. I got a wrong translation once, but I realized I had a typo. Either this app has fixed the mistranslation issues or they've decided to take their customer's suggestions because I've had no issues on their part. 😺👏👍👍
I pay for the Pro version but...
I like this app and am willing to pay extra for its full features, but I do NOT want to see advertising on my tiny phone screen, especially when paying a premium for the pro version!
Very good, but has one minor flaw
This is by far the best translators out there. I think it's pretty easy to use and it has a lot of things that other apps don't have. (Wow, I sound like a bot LOL) My only real complaint is that when translating anything into Japanese, the phonetic reading reads the On-Yomi of each kanji instead of the appropriate pronunciation of the kanji. This can be a slight problem if you ever were to use the app in Japan- people would look at you oddly. Can't speak for the other languages though; they might be translated better. All in all though, it's a pretty good app.
Big help!
I am currently learning Spanish and wanted a couple translations. I really am enjoying this as it is so fast and easy .
Very good app
leroistephon
on
1/12/2018
My favorite translator and can do every language too!!
Quick simple translation
Love this app as it is fast and simple but I would like the addition instead of the English breakdown I , you , he she ,they only in English but to reflect the language I'm translating. I.e French Greek etc. Yet still love it
Wonderful and useful
Very accurate and open to add alternative definitions
Charged me 10x advertised price
I downloaded the app and tried the free version. I needed it offline so agreed to pay the $3.99 it requested. Soon thereafter I got a receipt for $39.99 via Apple. Blatant, dishonest ripoff. The service isn't even accurate. Is there any way to get my money back?
I love it... but...
Itranslate really help me many times. But any improvement is always welcome.
Was Working Well
Hurricane Ramon
on
1/9/2018
Presently this app is crashing - it was working great up to now.
Good App for Language
Black Canary and White Canary
on
1/9/2018
It's a good app and I love it but if you are looking for formal and a non formal way to communicate in a language then this is not the app for you, because this app only does non formal ways of communication, but over all this is a great app to a foreign language from. 😉😊
ThNkyou
Is very helpful thanks a lot
Amazing!
Amazing app for translating!
Good Tool for Easy Translations
I like it a lot for easy translation but it will be great if you could translate larger amounts of words (for example complete pages).
Esta aplicación
Jasiel seguirdyg
on
1/7/2018
Esta aplicación es increíble me ayudó mucho
Works just as expected
I use it to translate between English, Spanish and Portuguese and have no problems.
نيويورك
اكثر من رائعه نشكركم ع هذا التطبيق لقد ساعدني كثير😍
Fabuloso me ayuda mucho a interpretar
muchos idiomas...🤙🏽
ME HA SIDO DE GRAN UTILIDAD
Gracias
Translate is amazing!!!😍😍😍😛😛😛
Lmao#FAN VLOG'S
on
1/5/2018
It's so cool like I could use it everyday!!!!😍😇
AMAZING
Awsomegirl909
on
1/4/2018
Due to this app I've been able to communicate to more people and understand what they have to say it's great and I'm learning multi languages because of this app I definitely recommend this app for your translation needs
No verbal translation
When I first started using this app it was great and worked just as I expected. However, after a few weeks of use now the verbal translation isn't working. What gives? I've looked for updates and unloaded and reloaded the app to no avail. If the publisher of this app can't offer a fix , I want a refund of my annual fee.
Conflicted Feelings
I would like to start this review by saying that the idea is really great. I would totally subscribe for the verb conjugations and the layout is very clean. However I noticed another review noting that the Korean translations are incorrect, something I also noticed when using the app. 갈게 does not translate to "LL" at all. 徒然 didn't even have a translation and was just romanized in English to "Tozenn" which is an incorrect romanization... Although I do see the option to input correct translations if they are wrong and I am not a developer, I feel that if you are trying to get people to use this as a translating app, you might want to hold off on some languages until they are fully developed and correct. As for the people who are saying iTranslate "automatically charges" and that the developer is accusing users of lying, I understand where you come from. But most apps do the same thing, advertising a free trial. They will charge you after the free trial, which I think is wrong and should be verified with the user before they assume you bought the PRO version, but you can always say you do not want to start a free trial. It's a good idea to read everything before you just click next.
Nasty people
This iTranslate team is really viscous. They call people liars and threats of legal action for saying anything negative. They also have Apple remove many of the negative reviews. So very unprofessional and just disgusting. And yes iTranslate a lot of your Spanish translation is wrong. Just watch, they will leave a rude comment to my review. Save your negative comments for someone else.
Better than a Language Coach
This app is incredible. No bugs ever! I use it daily. Wonderful feature now, for you to slow down the language speaker. Just the Best!
its works well to be honost
i just installed this today and it does what i want i dont write reviews but this app actully deserves one! i didnt pay a cent btw.... You can exit the "free trial"
Waste of time
Don't download it u less you're willing to pay for it. It won't allow you to translate anything without the PRO version of the app.
Smh ☹️
Its so bad because its hard to translate and all the time you get an ad
Excellent
I Grew up in Central America, and it's been 20 years since I really spoke in Spanish. I can say that whatever I speak in English it speaks Spanish back to me perfectly.
Fact Sheet
Publisher:

iTranslate GmbH

Category:

Productivity

Released:

Oct 20, 2008

Current Version Released:

Dec 11, 2017

Version:

11.0.2

Size:

222.1 MB

Compatibility:

Requires iOS 9.0 or later.

Recommended Age:

4+

Game Center Certified:

No

Supported Languages:

Arabic; Danish; Dutch; Flemish; English; Finnish; French; German; Greek; Hindi; Indonesian; Italian; Japanese; Korean; Malay; Bokmål, Norwegian; Norwegian Bokmål; Polish; Portuguese; Russian; Chinese; Spanish; Castilian; Swedish; Thai; Chinese; Turkish;