Games
Entertainment
Arcade
Recommended app!
App last updated
Oct 22, 2010
Screenshots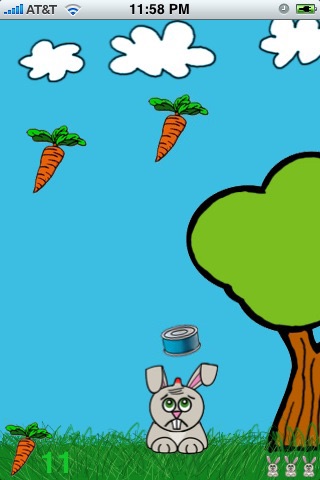 New in version 1.4
- Game Center
- Multitasking

*****
If you like Eat, Bunny, Eat! please rate it 5-stars in iTunes!
*****

... AND, if you LOVE popping BUBBLE WRAP, be sure to check out our latest app: BUBBLE WRAP http://bit.ly/bubble-wrap-game

Follow us on Twitter for updates on Doodle Jump:
@LimaSky ( http://twitter.com/LimaSky )

Also from Lima Sky:
- mega-hit game DOODLE JUMP - now with MULTIPLAYER
- Doodle Jump Christmas Special
- Doodle Jump: Hop The Movie
Description
"Brilliant little app. If you can't enjoy this you should get a doctor to check your pulse, you might be dead!!!..." - Customer Review (UK)

************************************************

Get this game and find out why "EEET BUNNNY EEEEET!!!!!" is becoming the latest catchphrase among the iPhone owners.

Kids love it, grown-ups can't stop playing it, and moms approve. It is super addictive and silly with funny sounds and cute graphics.


How to play:
----------------------------
Tilt your iPhone or iPod Touch to move the bunny and catch the falling carrots. However, beware of the falling cans! To pause the game simply double tap the screen. Tap once to resume.

This simple, cute, and addictive game is suitable for all ages. It starts off slowly, which makes it accessible to the youngest players and then speeds up as the time goes so that it provides enough challenge for the more experienced gamers.

Have fun!

....and,

EEEEEEEEET BUNNNYYY EEEEEEEEET!!!!!!!!!!
Reviews
Update this App before it's extinct!!!!
I enjoy "run bunny run" too much to lose it when IOS NEXT UPDATES .
Tons of Fun!!
I've played this over and over and never get tired of it. After years of having an iPhone and purchasing apps I always keep this one on my phone and inevitably return to play it!
"Retro" like Activision's KABOOM!
UPDATE: now it's May 2013 and I STILL love this very early iPhone game! <3 UPDATE: I agree with the review from tombolov, it's bothered us how many many many updates, and some update leave the bunny miscalibrated. I stand by my review that this is a wonderful game, but in the spirit of good faith and good will, how abou incorporating a calibration setting for the accelerometer like a lot of other games, to make sure the bunny is 'centered"? ORIGINAL REVIEW: I'm gonna have to post this bc my roommate was deprived as a child and is now OBSESSED with this game. Ah, the magic of a dollar app! My take: well done, smooth animation, good difficulty increases, cute and kid friendly yet challenging for adults. Would of been a great Easter launch...hope the bunny doesn't get drowned in apps by then ;)
Waste:(
AnnaMarieAlves
on
2/5/2012
Totally a waste of ninety nine cents:(
Lame
It's not worth 99 cents. But I like the noise the bunny makes when he eats the carrots. 🐰
Most boring game EVER!
***We r who we r***
on
7/24/2011
The game is dreadfully boring! What a waste of money! Beyond that the steering is HORRIBLE as is the animation. My two year old cousin could've drawn a better tree and clouds. DO NOT BUY. HOW COULD ANYONE LIKE THIS AP?!?!? GAAAHHHHHHHHH
Spectacular eating bunny fun
It is so fun when you get to 100 and you have only been hit by one or two cans.
Latest update
Game center support with no achievements? Add some!
Copycat!!!!
123mtrox12:
on
10/11/2010
This is a total copy of scoops!!!! Not worth 1$
Adorible
This app is sooooooooooooooooooooooooooooooooooooooooooooooooooooooooooooooocute you can move the bunny by turning the iPhone from left to right the bunny eats carrots but watch out for the cans if you get hit you lose a life the bunny is adorible and makes noise when he eats the game is addicting and can be really fun but if you hate the world, carrots, and bunnys you will hate this app. Enjoy and I have a callange beat 506 my personal best and keep loveing bunnys.
Classic
Reminds me of the classic game "Kaboom!" Uses tilt sensor in place of the Atari Paddle.
Money waster
Softballlover12
on
6/27/2010
Don't waste your money
More more more... When?
Awesome game! Very addicting! For those that don't like the game... Hate the PLAYER not the GAME!!! A couple suggestions... 1. extra lives after reaching point levels. 2. cloaking button...carrots can pass through. Or an umbrella or a special force field? 3. Have the day scroll from day to night. Instead of just passing clouds. 4. Add rain & lightning that adds extra dangers. Slippery & shock? 5. Costumes for the Bunny! Maybe Pimp Bunny, Militia Bunny, Cowboy(gal) Bunny, Magician Bunny... You get the picture. Someone suggested falling extra points at different speeds and shifting as it falls- like feathers! Yes! This will be the greatest game EVER if your updates include these!!! Listen to your CUSTOMERS. Sooo back to the drawing board.
Zero stars
Alles Family
on
2/14/2010
Bad terrible dumb boring not worth a dollar do not get
5 for more items
It's really plain with carrots and cans. My suggestions: -golden carrots, worth more points that fall faster -extra lives, hearts that fall - carrots that fall differently; blue carrots falling like a leaf, red ones that fall diagonally, etc. It needs a little more, so please update this. If you made doodle jump, you can do anything. And maybe it should be increasingly difficult... Like doodle jump. Thanks
fun fun fun fun!!!!!!!!!!!!!!!!!!!!!!
I like pie $$$$$$$$$$$$$$$
on
12/24/2009
Bye it now for 0.99$$$$$$$
eeeeeeeat!!
funerealwaif
on
12/2/2009
omg this is awesome. can you make a second game with a cute cat and some falling fish? I love cats. and maybe a way to get a life back?
Awesome
Oliver Family
on
11/23/2009
I luv this app!!!! It is so awesome! I also find myself talking to the bunny and playin alllll the time!!!!!!
Eat, Bunny, Eat - 5 Stars!
TheMasterReviewer
on
11/12/2009
It's another great and addicting game from Lima Sky. It's one of those games where you can't stop playing until your fingers get red and infected. I've learned the hard way... The price is good too and it's pretty well made for the style of game. It remind me of crazy egg and doodle jump a little bit.
Eat bunny eat
This cute game makes anyone who likes anything have a fun time!!!
Eat Bunny Eat!
Love this game! It's so addicting! And this the the only game I play on a daily basis! Best game ever! Tottaly worth $0.99! it's an awsome game!
Mmmmmmm!
I adore this little game! I play it in the car and find myself talking to the bunny, much to the amusement of all around me. :) Thanks for the great app!
Good game
Saint blaze101
on
3/4/2009
It is very addicting but how do u pause the game
Fine for now
Coolhotsweetsour8668
on
3/3/2009
I like this. The sounds are cool. I think it should be free. There are free games that are better. Some updates u should have is a pause button and different levels.
Very fun
Softball chic 26
on
3/2/2009
This is am awsome game definitly worth a buc I love it nd can't stop playin it OMg it's so so soooo worth it
Addictive!!! :D
CoopacShakur
on
2/28/2009
it IS very stupid, but it's all of the dumb games that are AWESOME
Spy bot
SuperModifiedA/C
on
2/13/2009
The game is ok. Cute at first but gets boring fast. I got it free but as far as the game goes it's worth a buck to intertain a 3 yr old. My beef is with it updating so often. It updated more than any other app. I got really sick of spending time with all that so I took it off my phone. I seriuosly think it is somekinda spy wear. Just a min someones at the doo
i loove this app!!!
ipod lover 85
on
1/25/2009
u have 2 get it its so cool
What updates are u really doing?
Ever heard of a pause button???? And what code tweaks do u really have for such a simple game???? Ok app. Bad developer!!!!!
amazing
jkld;aijoenf
on
1/16/2009
this app is amazing! the sound the bunny makes when he eats is hilarious!!!
Eat bunny eat
Pimpster0000
on
12/30/2008
I love this game and try to beat my high score 423
Sid-the awesome one
Sid-the awesome one
on
12/21/2008
It does not work
Best game
I'm hungry for updates. PLZ? best game ever don't stop updating it
Urg
This game shud go home doo a fousand push em ups and then eat a bowl of frosted flakes cause they are more than good they are GREAT!
Yeah, it's pretty good.
Mitch1106 West Clay
on
11/29/2008
It's a good game, and you can always try to beat your high score, but it gets a little bit old. It's still worth it though. It never gets really old. Trust me, I've had this for a long time.
Love it!
Eat bunny eat!!! Great game definitely get it
My kids love it
Cute game with good execution. I just wish the developer would stop playing games with the updates. It seems to me he is just "updating" to keep the release date recent. The last 3 update or so have been "code tweaks", "graphics tweaks", and "bug fix"... possibly true, but annoying none the less. Considering that the developer has 19 apps, most of which have been updated in the last week or so, I'm a little suspicious. Thanks for the cute game, tho.
Awesomeness
This game is awesome!!!!!
Great game
Simple and fun, great for all ages.
Cute
Mathews iTunes
on
11/12/2008
Nuf said
Cute
It takes a while to get used to it but by the time you do it's a very fun game at the right price
So simple, and so fun!
Cute graphics. That poor bunny! My kids love it too!
Cute and simple
Farfignewton
on
9/20/2008
Love something like this when I don't want to think too much and I don't feel like shooting or blowing something up in a game.
Very cute!
I love this game! It is super cute!
cool
haha, this game is cool!
Fact Sheet
Publisher:

Lima Sky

Category:

Games

Released:

Aug 21, 2008

Current Version Released:

Oct 22, 2010

Version:

1.4

Size:

1 MB

Compatibility:

Requires iOS 3.0 or later.

Recommended Age:

4+

Game Center Certified:

No

Supported Languages:

English;