This version of the app is not recommended
App last updated
Dec 21, 2017
Screenshots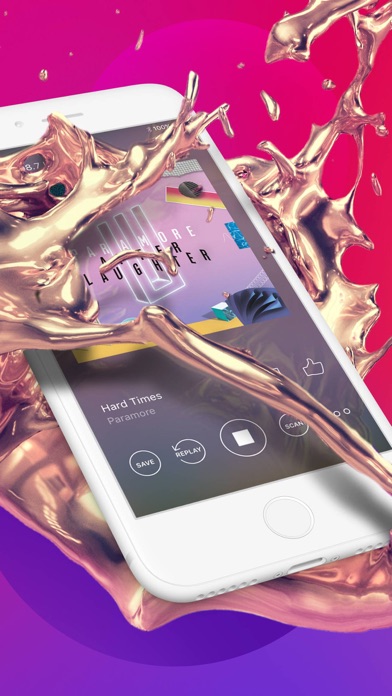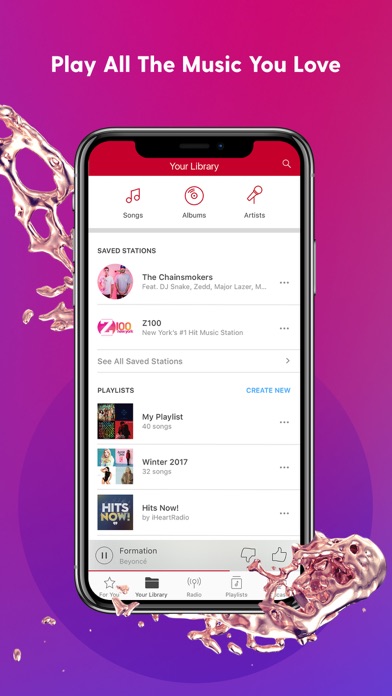 New in version 8.8.1
Keep it on the download. Take your favorite podcasts with you anywhere, just tap on the episode overflow button and select "Download Episode." You can find all your downloaded episodes conveniently located under "Your Podcasts" on the Podcasts Tab. No connection, no problem.

Fewer bugs. More stability. Way more freedom.
Description
All Your Favorite Music. All Your Favorite Stations. All Free.
Listen to music you love. Stream unlimited music, thousands of radio stations and podcasts all in one app.
iHeartRadio is easy to use and best of all, it's still FREE.

The Best Local Radio Stations and Podcasts
• Discover thousands of live and local AM and FM radio stations near you and from cities across the globe
• Listen to top radio stations, music, news, podcasts, sports, talk and comedy
• Hear sports stations like ESPN Radio, Fox Sports and more
• Stream the most Popular podcasts from famous personalities like Ryan Seacrest, Colin Cowherd, Sean Hannity, Elvis Duran and Bobby Bones

Play Free Artist Stations
Create personalized music stations based on your favorite artists using our library of millions of songs covering genres like Country, Top 40, Pop, Hip Hop, EDM, Rock, Alternative and more.

The Ultimate Station Made Just for You
'My Favorites Radio' collects all of the songs you love in one free personalized station.

Premium Features
Listen absolutely free with ads, or take control of your listening experience with iHeartRadio Plus™ and iHeartRadio All Access™.
• Search and play any song with our library of millions of songs on demand
• Save and replay any song from the radio
• Enjoy unlimited skips
• Download music to your phone to listen offline
• Create unlimited playlists

Join our community!
• Facebook: http://on.fb.me/1F1TcFX
• Instagram: http://bit.ly/1e1AOUS
• Twitter: http://bit.ly/1HZk5KQ
• Blog: http://bit.ly/1GiT59D

For Feedback and Help
Tell us how we can improve by sharing your thoughts at https://help.iheart.com!

Please note: This app features Nielsen's proprietary measurement software which may allow you to contribute to market research, like Nielsen's TV Ratings. To learn more about our digital measurement products and your choices in regard to them, please visit http://www.nielsen.com/digitalprivacy for more information.
iPad Screenshots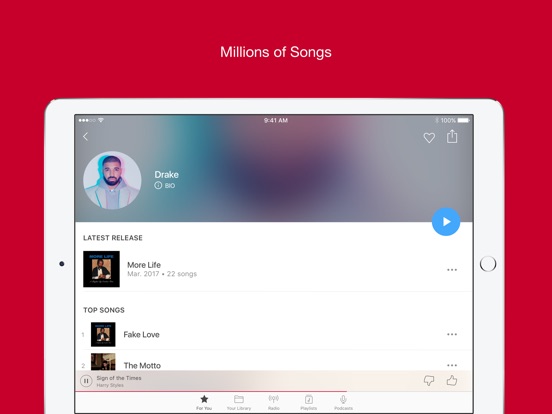 Reviews
In limbo
I've used this app for years. Started great then it caught that horrible, pestilential bug called Iritata advertizedentuous. I thought, okay, it still works most of the time. Until a week ago and the app was lobotomized and just sits there in limbo. I deleted it and reinstalled it. Still lobotomized. Pity really. So for this iPhone, I'll move onto something that may work like Pandora. Hell it can't be worse and iheart has copied their business model so why not go with the one that will actually play music.
Difficult
This app is too difficult to use easily. I downloaded it once, couldn't maneuver through it, got rid of it. Tried it again, recently, same thing. I will delete it for good this time.
I really love this app.
KimMarcAndre
on
1/21/2018
I really recommend downloading, and using this app. It has something for everyone's taste in music, and talk shows. From oldies to current music, news radio, sports🏈, podcasts, comedy😂, Christian 🙏🏻 music 🎶. Give it a whirl I'm sure you can find something that suits your taste.
Eh
realistreview
on
1/20/2018
I don't like how if I click on a artist I get songs that I don't even like or are not that artist that I clicked on. I also don't like that I can't play my OWN playlist until I pay I also don't like how if I click on a artist and one of their songs finally goes on it's all ways the same one!Can 103.5 start playing Ansel Elgort?
Payment
HELLO THIS IS SMITTY
on
1/20/2018
I was charged with a subscription that I didn't even know I was paying for so yeah, I'm pretty happy with this app! Not!
Boring
Ecuhubby1978
on
1/20/2018
I used to love this app but lately it has gotten so bad I can't believe it. All I hear are the same songs over and over. Get more music. It's like I'm trapped in music hell.
Doesnʻt work with iOS 11 on iPad
gopher is great
on
1/20/2018
Please update this app to work with iOS 11 for iPad! I loved this app, but now I canʻt use it on my iPad at all. Bummed!!!
Too hard to cancel
Tried it for a month free and it auto renewed with no notice and have been trying for days to cancel...shouldn't be this hard!!!!
Consant Ads
Disgruntled Customer 11223
on
1/19/2018
When I use this app I continuously am getting the same iHeartRadio radio advertisements of bands on repeat. I love how I can listen to radio shows I've missed but can barely listen to anything live.
Was good on iPhone but now
Whenever it is interrupted by phone or other sound requiring app, then when the other ap releases you start back. Go to your app that is playing, it shows the stop button but is playing. Press the stop button it still plays. The only way to get it to stop is power off the phone. Also when you turn off the car it now comes on, on the phone and again the only way to stop it is power off the phone.
Sound
I love I❤️ radio, BUT they need to figure out why you have to keep adjusting the volume sometimes a song will come on and you have to turn the volume all the way up then the next song will almost blow your speakers!!! Needs a fix, please.... After chatting with Trevor, still no fix, if it's that big of an issue then why do other music apps not change in volume... YOU REALLY NEED TO FIX THIS PROBLEM...
IHeart 💩 Music
WayTooBigToBeReal
on
1/19/2018
Have you ever listened to the crap they play on iHeart's "this weeks new music in review?" It makes me feel like Music has died and gone to music hell! This is the worst garbage I have ever heard! It really makes my earsholes bleed! Is iHeart pushing this poop onto the public to make them into Zombies that will buy crap music just because they say this is what you should listen to? All robots obey your rulers!
Music keeps autoskipping
NukeisHonzamo
on
1/19/2018
Hey, I love the app 100% but sometimes everytime I try to go to a different station the music autoskipps every second then all my stations are broken, I'm just wondering if you can fix it?
Got billed
Dont appreciate the fact that you cant cancel a free subscription that i didnt subscribe to
Disappointed
Disappointed-------
on
1/19/2018
I used iHeartRadio years ago and loved it, until I upgraded to a better one - PANDORA. But after hearing all the amazing ads about iHeartRadio and how it's "better" than PANDORA, I decided to go back to it. What a disappointment. Too much commercials and too little music.
Stop asking me to sign up
I'll give you a five star if you stop the pop ups asking for my money every time the app opens. Thank you
Commercials are ridiculous
nick jonas's hot wife
on
1/19/2018
This is the second time I have had commercials playing for 10+ consecutive minutes. Deleting this app
Stops continually
Count Monkeytoad
on
1/18/2018
Stops and starts randomly. I the Subscription Hoping it would fix it but no. Will Look at Spotify now.
Annoying, same songs every day!
I listen to 104.1 Real Radio. It plays the same horrible 6 or 7 songs every day every day replacing commercial breaks. It's maddening! 10 million songs, Play something else please!!!!
Tooooo Many commercials and Ads!!!!
Disappointed ans Deleting
on
1/18/2018
I have bad this app for several years. It is now at the point where I can't stream morning radio without listening to long series of ads before the morning show is brought back up. There is virtually no music, just ads, ads, ADs, a more ads the the show comes back up. I've listened to this morning show for over 12 years and I'm certain that based on the show structure the iHeartRadio radio ads are causing me to miss part of the actual show. No one wants to listen to ads only all morning... and 3 minutes is morning talk radio then another 7min of ADs! How awful!... Pain! Awful! Deleting this APP!!!
I hate Kars4Kids
irunkidsoverwithKars
on
1/17/2018
One star rating just because of that one commercial you guys play over and over and over and over and over and over and over and over and over and over again. Thanks for responding to my review, but I have already deleted this app and moved on.
Wireless broken after last update
Thaddeus Kitwan
on
1/17/2018
Have loved the app till dec. update. Wireless constantly buffers then phone rolls over to LTE. Tried on several networks with same result. All but stopped using and hoping iHeart will address this issue
Crashes all the time
This app crashes all the time in the background, and music stops, might as well not use it
Switch app and it resets.
When I switch apps and after an hour or so come back, swipe up (iOS), press play and it no longer plays. It's like it reset.
Now it's Perfect!
I made the mistake of updating this app and now it doesn't work right at all. Thanks for pushing your sorry paid music program and ruining a great app. It plays a few words of talk radio at a time and then stops. Also does not work when screen is turned off. Fix this now.
BEWARE!☠️ Don't try "FREE OFFERS TO UPGRADE"
After using the free version for awhile (and perfectly happy with it) I kept getting pop-up offers to upgrade. I thought I'd said no to all but I did take a"free" trial of the Plus version after verifying that it didn't automatically continue without my agreement. BUT it did start billing me anyway. At first I thought my credit card was hacked so I canceled it and got a new one. When I figured out it was iHeart, I tried to cancel but the cancellation instructions haven't worked.
Bug fixing updates don't ever work
I use this app to listen to my local radio stations and for the past few months I've dealt with streaming stoppage, long buffering and long periods of blackouts. I notice there hasn't been an update for iPhone since mid December. Maybe iHeatRadio should look into bug fixing on a more regular basis.
JWare
Love the Dave Ryan in the morning show on 101.3 KDWB
Great app & variety of songs
Boss Jock Spydee
on
1/16/2018
Unhappy with SiriusXM app & lack of customer support to address issues with it. Canceled & downloaded iHeart. LOVE IT! Never going back to satellite radio now...
No reception on iPhone
I haven't listened in awhile but used to like to tune in to sporting events on different local station while walking my pooch. Now it appears to requir I be sitting at home accessing via my wireless router. What good is that? I can go to the radio stations website and listen if I'm sitting at home. I don't get the reason they exist?
I heart radio
joeymaglione
on
1/16/2018
I heart radio is best app in the world I love 981 wkdd akron best music I love make my own station u guys are the best I use u guys every day 981 wkdd akron best music
MiMi
I have this app and ABSOLUTELY LOVE IT!
Beware, signed me up for paid subscription without authorization
Adam123634666
on
1/16/2018
I have been using this app and noticed it says "plus." Sure enough the app constantly tries to get you to sign up with sneaky pop up menus. I'm not the kind of person who accidentally clicks on things. I never clicked to sign up, I have been charged $5 a month for a while now and had no idea. I plan to delete the app and dispute the charges... beware
Used to love
Why won't you update for iOS 11?
Somethings Up
I have had the iHeartRadio app on my phone for what seems like forever. This morning when I got into it a screen popped up and while I was trying to clear it I inadvertently "purchased" a free trial for 30 days and it would have begun to charge me thereafter. I'm an old school, straightforward kind of guy. This to me is borderline dishonest the way this app worked. I immediately went into my subscriptions and canceled and then deleted the iHeartRadio app and it will never go back on my phone again. I dislike underhanded sneaky crap like this and I warn anyone else who use this App to be aware.
Used toBe great
Justplaincracker
on
1/16/2018
I've used this app for years without any problems. The last few weeks it's spotty at best.
Iheartradio
cottonalexis11
on
1/16/2018
It's so awesome y'all need to get it for reals thx love u bye!?
Great app
Some glitches here and there and the Pride station could use some new music but overall happy. I am not convinced yet to buy a subscription as I only use it at the gym for now.
It used to be good
EnergyzerMan
on
1/16/2018
But now you have to pay to listen to every song. They got too big for their britches, and forgot what's important.
Issues with resuming a episode.
I have a problem with this app. If I start a podcast of a radio show, hit pause and then use any other app the iHeartRadio app restarts which causes the episode to start over. It's so frustrating because unless I remember exactly where I left off I spend time trying to find where I left off inevitably I will end up missing parts of the episode or listening to parts I've already heard. This has forced me to listen to IHeartRadio very little and I have to consume my media elsewhere. I hope you all can fix this as you'll be losing me as a consumer guaranteed if it's not fixed soon. This has been a ongoing issue for the last several months.
Not good
I don't recommend this you can hardly use it for everything you need to upgrade you can't have anything literally unless you pay you can actually do something.
Love it👍🏼
Best radio app 👍🏼
So good
Simi Sandwich
on
1/15/2018
Get this app if you want music but you need internet to use this app to run faster.😎
Mobile App
Mobile App very confusing. No save feature for your own stations. Too much clutter.
CarPlay functionality is horrible
I only use this app in my car with CarPlay. I have the latest iOS. The app will play music when it's opened, but the CarPlay screen will have blank menus. You can't select or do anything other than see "Now Playing". The only way to resolve is to force close the app and restart. This happens every time. So frustrating. 100% confirmed this is not an iPhone or car issue- this only happens with the iHeartRadio app. Also, I have lately been getting way more ads breaking up the music than before. But that's a different issue.
Buffers constantly
frustratednow!!!!
on
1/14/2018
App has great sound quality better than some others I have used. While listening to live radio app stops playing & starts buffering. At first I thought it was just unreliable home internet but using cellular lte other apps do not buffer on live radio but IHeart app still does constantly. Fix that issue & it would be a great app otherwise its unusable.
Great App!
Lauren Out Loud
on
1/14/2018
I'd give this app 5 stars, but the only thing is on my iPhone 7, it crashes. I just got this phone, maybe it's a bug. Great app though!
Fact Sheet
Publisher:

iHeartMedia Management Services, Inc.

Category:

Music

Released:

Oct 07, 2008

Current Version Released:

Dec 21, 2017

Version:

8.8.1

Size:

128.1 MB

Compatibility:

Requires iOS 10.0 or later.

Recommended Age:

12+

Game Center Certified:

No

Supported Languages:

Arabic; Burmese; Central Khmer; Chinese; Danish; Dutch; Flemish; English; Estonian; Finnish; French; German; Hebrew; Hindi; Indonesian; Italian; Japanese; Korean; Lao; Malay; Bokmål, Norwegian; Norwegian Bokmål; Polish; Portuguese; Russian; Chinese; Spanish; Castilian; Swedish; Thai; Chinese; Vietnamese;

Parental Advisory:

Suggestive Themes; Mild Alcohol, Tobacco, or Drug Use or References; Mild Profanity or Crude Humor;