TapNova doesn't recommend this version of the app.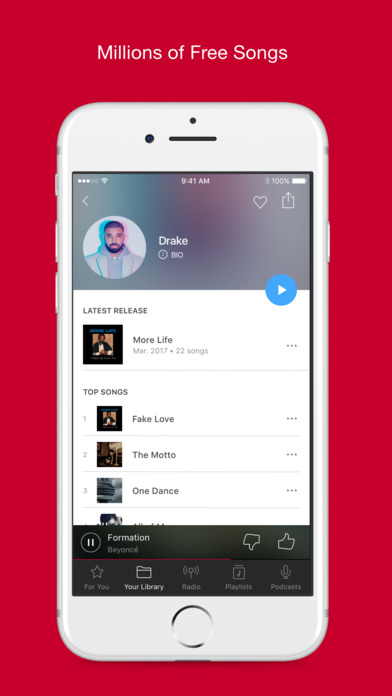 New in version 8.0.1
Fixed: Our last update was causing a few crashes. We went ahead and fixed those issues.

New! Just in time for summer, now it's even easier to find your favorite stations, playlists, and podcasts:
- Slide through your Recently Played stations in our new carousel
- Easily access your saved stations and playlists in Your Library
- Find Featured Artist Radio stations in the Radio tab
- Browse Playlists by themes, moods, activities, and genres in Playlists
- Find popular podcasts in our new Podcast Directory, where you can now pick up where you left off in an episode and access your followed podcasts
Description
Get unlimited music and thousands of radio stations all in one app. Download iHeartRadio today and listen to top radio stations, music, news, podcasts, sports, talk and comedy shows. iHeartRadio is easy to use and best of all it's FREE.

Get The Best Local Radio Stations and Podcasts
• Discover thousands of live AM and FM stations near you and from cities across the globe
• Listen to sports radio stations like ESPN Radio, Fox Sports and more
• Stream podcasts from famous personalities like Ryan Seacrest, Colin Cowherd, Sean Hannity, Elvis Duran and Bobby Bones

Play Free Artist Stations
Create personalized music stations based on today's top artists using a library of millions of songs covering genres like Country, Top 40, Rap, EDM, Rock, Alternative and more.

The Ultimate Station Made Just for You
My Favorites Radio collects all of the songs you love in one free personalized station.

Premium Features
Take control of your listening experience with millions of songs on demand. Choose the plan that's right for you with iHeartRadio Plus™ and iHeartRadio All Access™.
• Save and replay any song from the radio
• Enjoy unlimited skips
• Listen offline
• Create unlimited playlists

Join our community!
• Facebook: http://on.fb.me/1F1TcFX
• Instagram: http://bit.ly/1e1AOUS
• Twitter: http://bit.ly/1HZk5KQ
• Blog: http://bit.ly/1GiT59D

For Feedback and Help
Tell us how we can improve by sharing your thoughts at http://help.iheartradio.com!

For additional help and to find answers to common questions for iPhone and iPad devices, please visit https://help.iheart.com/hc/en-us/sections/204008308-iPhone-iPad

Please note: This app features Nielsen's proprietary measurement software which may allow you to contribute to market research, like Nielsen's TV Ratings. To learn more about our digital measurement products and your choices in regard to them, please visit http://www.nielsen.com/digitalprivacy for more information.
iPad Screenshots
Reviews
Disappointed with new updates
I did love the app but now much of that love is lost after most recent updates. Had a lot of stations that I loved but after updates was left with most recent 8 I last played even though I have the free membership I should have access to all my stations!!
The problem is finding content.
There really should be some sort of program guide or a better search feature. I find myself looking for a particular program at odd hours, and even though it is possible to find the program, it takes much trial and error.
Groovy
Bilderdijkkade
on
6/24/2017
I like it!! Plays my folks and over time I have heard many great musicians I otherwise would not have heard!
Ads
Too many annoying ads. The ads play over the music sometimes. There's always an ad. I'll listen to a don't then there's an ad. It's just irritating
It's great
Tiffany_Likes_Teal
on
6/24/2017
It's a really good app that's all I'm saying
Click bait song titles
Kaden flowers
on
6/24/2017
The reason I'm rating this 3 stars is because whenever you search up a song it says it's going to play the song you want it to play and plays a different song from the same artist.
Updated and it won't work
I gotta iPhone 5s or something. Updated and screen pops up for a few seconds then I get taken to my home screen. There's always something that don't work after a update. Whatever man. I still like it, just hope it gets fixed soon.
Rewards
Good couponer
on
6/23/2017
Introduce IHeartRadio rewards a way to earn points to redeem for gift cards or other rewards for listening to iHeartRadio radio online or through the app
All a money gimmick now a days
The_iv_amos_koonce
on
6/23/2017
The old version of the app was a lot better! I've loser all of my saved station and can not create new ones! 🖕iHeartRadio
:( still crashing [revised]. Waiting.
Waiting awhile (a month or so) before I think of deleting this app— since it's not working. [I see another radio app relating to iHeartRadio I think, maybe its best for me to try that one (but I had my stations here :( ] When I go into iHeart... When I click the App to open, it immediately shuts down (closes). Therefore, it doesn't allow me to see anything inside the App. My iOS is updated. I did a 'shut down and turn on' of my iPhone 7 even. FYI: iHeart is my #1 radio station/app for music. :)
Okay
I like the app but I will skip songs and it'll replay the song I JUST skipped. Sometimes it'll do 3 songs in a row. Then I lose lol my "skips" because of one song I don't want to listen to 😒
Don't know why it's rated so high
Literally one of the worst apps in the App Store. It's loading times are ridiculous and that's if it loads. I constantly have to close and reopen the app to get it to work. And playing audio through my cars Bluetooth is a nightmare it mostly just stops working. This is on an iPhone 6plus fully updated. I hate the app but love the content.
Love this app
One of the best apps on my phone. I would love to see a repeat button. Sometime you want to hear a song more than once. I had to come and edit my review since I received an email today informing me that a new episode of my podcast was available! Thank you for that! Keep up the great work!
Suggestion
Hello great app, BUT it will be nice that since iPhone speakers are on the bottom of the phone, when it is upright the speakers are blocked. May I suggest that for the next version that when the phone is on its side that the screen be able to change to the side screen view. Just like iPhone Music app does when you put the phone horizontally. Thanks, Raymond M.
Pops on at unwanted timex
I will delete this app as it turn on radio stations without warning & is horrible to try to get turned off at inappropriate times
Latest Update
The app crashes upon start. Cant use the app at all.
Money hungry
Liked the app, upgraded to plus, saved some songs. Accidentally saved one twice, can't remove it unless I pay $12.99 a month for all access. Are you serious?!? That's a real disappointment.
Million ads!!!!
Everytime I pause or turn it off for a second i have to wait for 5 advertisements to get back to the station and end up missing the conversation or where I left off! Annoying get rid of some of these ads pleaseeeee
Done.
identity theft.
on
6/23/2017
Try it yourself. You'll regret it.
Scam
So tired of having to pay for every little thing. IHeartRadio is DOG CRAP. They always throw this as to get the "plus" version which is just a scam. Then make it almost impossible to cancel. Don't waste your time or money people!!!!
Good
ObeeyAngel777
on
6/22/2017
Good
Iheart radio
Latest version ALWAYS CRASHES. Can't get rid of it, can't fix it. Jack
Great...but
Hulagirlatheart1973
on
6/22/2017
The only thing that I don't like about the app is, how when you pick a radio station all of the stations move around. And it's hard to find a radio station when they jump around in the revolving list. Every time I pick a station it moves to the front of the line and when you're driving it's difficult to find a station because it's changed it's place in the lineup.
Pod cast options needed
Gfrgjoudvrrgg
on
6/22/2017
Please add a setting where you can listen to podcasts at 1.5-2x's speed!
Same stupid commercials
They keep playing the same stupid commercials over and over every time I'm listening. I turn it off each time a zip recruiter commercial comes on.
Love it without the abortion pill ads!!
Please stop playing so many commercials especially the day after abortion oops pill one!! Geez I dont even have a uterus!! I just wanna to hear my music! I pay for this service! Why am i seeing ads on my play screen! Spotify is looking better!
Great for Streaming, but Horrible Podcast App
The app is great for streaming live radio, but no one thought out how to handle podcasts before forcing all iHeartRadio shows to just this app. You cannot download a podcast for listening when in an area where you might have no Internet access. Also, if a show is divided into segments, the app has podcasts in order from newest to oldest, and a user cannot switch that order. You cannot just listen from one segment to the next. iHeartRadio should just letting podcasts be handled by apps that understand how to play a podcast.
Irritating commercials
Hate their commercials
on
6/22/2017
Zip recruiter and Progressive insurance commercials dominate. These commercials are so irritating I have to shut the radio off for minutes at a time untill they are over.
Really enjoy this app
ashville1987
on
6/22/2017
UPDATE: The issue that has been experiencing got fixed. iHeartRadio app is the only radio app that gives a "warm and fuzzy" feel when I'm listening to it. The recent changes in the interface have taken some getting use to, but hasn't taken away from the enjoyment I get from the app. Letting those who chose the Plus service to "follow" playlists has been great. It would additionally great if you could do offline listening on just what is in your My Playlist only...you are only allowed up to 40 songs in it. This is not a deterrent if it never happens, but just wishful thinking.
Holy crap it's bad
Please please go back to the old layout. I don't have easy access to all my favorite stations! Who would think increasing clicks and screens to get to your songs was good development? Dev replied, but can't read it. App is worse than when I wrote this. Podcast section screws up all the time. Guess it's not long for iHeartRadio
Does not work with new update
Crashes every time I open it.
Podcast interface is not acceptable
Daily User-5785357
on
6/21/2017
The podcast interface lacks basic functions that make listening to podcast series practical. The app is missing the ability to automatically (without user intervention) play episodes from oldest to newest. This shortcoming requires the user to manually select each episode in "reverse" order. This can be quite unsafe when listening in the car, which is common. Option to change playback speed would be desirable, although not as critical as the above observation. Download episodes within the app, to enable offline listening, would be desired.
Love it
I used to live in Miami and I'm happy I can listen to some of the stations from there!
Podcast Setup is Clunky
No complaints about the live stream - have been listening to that for years and have been pleased. The user friendliness of the podcasts pales into comparison to iTunes. It doesn't allow for download of podcasts. They're posted out of order and there is no way to customize how they're played. And, episodes that are not available any longer just remain there and spin without playing until I manually intervene. Great content, but a frustrating user experience.
Interrupted streaming and ads
I'm not sure how my internet can consistently and reliably deliver streaming video on my Roku or iPad, yet the streaming on this app is horribly stuttered and interrupted. Furthermore, I got the app to listen to my local radio station (WDST) because my big receiver-amp died, which is already a commercial radio station, so it's a little annoying to be subjected to more ads in the app and pressure to "upgrade" for whatever reason. Not worth it, even for free.
Pretty good app in general.
I use it every day, and still enjoy it as much as any other day.
Lost plus with update
I have emailed in with no response, I pay my monthly subscription and yet I am not able to use my plus benefits. This is crazy and I feel like they are scamming and only have auto bots reply to emails.
I love this app
Lukai Butterfly
on
6/21/2017
I love how I can find all my favorite artists
Best Music Streaming!
iHeart is the best music app out there, easy to use and great selection!
Something to listen while in a crawl space working
Just like listening to the radio in your car.. it cool .. just don't like the dam commercials but guys they have to pay bills just like the rest of us.. but you can see who is singing when your not up on the person or persons who sing the songs .. three stars because every time you have to listen to the start commercial before it starts running.
This is cool
Good playlist
Love it!
Been using iHeart since it's inception. It's only gotten better!
Lot's of self promotion
I use iHeart to listen to a few radio programs. With the app you get TONS of iHeart music promotions and repetitive artist features.
It's complicated!!
I loved IHeart Radio better when I didn't have All Access!! Every since I upgraded it freezes, won't buff or just won't work. I'm disappointed in it since I switched!!
Love it
Big hooterz14
on
6/21/2017
Best
Not a fan of backward change
I hate losing the recently listened stations. I never remember to save them so having them listed somewhere was always great. I also miss having a history of the songs played so if I forgot to thumb something in the moment I could go back and do it.
Terrible
HoffmannVU73
on
6/20/2017
Latest version won't open up. Crashes immediately on start up. iHeart moving all podcasts off iTunes and now their own app they are driving people to won't open. What the hell?
Welp rip
RNFRaptor_YT
on
6/20/2017
It's ok, but.... they......don't.....even have.......... WLBC!!!!!!!!!!
Fact Sheet
Publisher: iHeartMedia Management Services, Inc.
Category: Music
Released: Oct 07, 2008
Current Version Released: Jun 04, 2017
Version: 8.0.1
Size: 116.5 MB
Compatibility: Requires iOS 9.0 or later.
Recommended Age: 12+
Game Center Certified: No
Supported Devices: iPad2Wifi-iPad2Wifi, iPad23G-iPad23G, iPhone4S-iPhone4S, iPadThirdGen-iPadThirdGen, iPadThirdGen4G-iPadThirdGen4G, iPhone5-iPhone5, iPodTouchFifthGen-iPodTouchFifthGen, iPadFourthGen-iPadFourthGen, iPadFourthGen4G-iPadFourthGen4G, iPadMini-iPadMini, iPadMini4G-iPadMini4G, iPhone5c-iPhone5c, iPhone5s-iPhone5s, iPadAir-iPadAir, iPadAirCellular-iPadAirCellular, iPadMiniRetina-iPadMiniRetina, iPadMiniRetinaCellular-iPadMiniRetinaCellular, iPhone6-iPhone6, iPhone6Plus-iPhone6Plus, iPadAir2-iPadAir2, iPadAir2Cellular-iPadAir2Cellular, iPadMini3-iPadMini3, iPadMini3Cellular-iPadMini3Cellular, iPodTouchSixthGen-iPodTouchSixthGen, iPhone6s-iPhone6s, iPhone6sPlus-iPhone6sPlus, iPadMini4-iPadMini4, iPadMini4Cellular-iPadMini4Cellular, iPadPro-iPadPro, iPadProCellular-iPadProCellular, iPadPro97-iPadPro97, iPadPro97Cellular-iPadPro97Cellular, iPhoneSE-iPhoneSE, iPhone7-iPhone7, iPhone7Plus-iPhone7Plus, iPad611-iPad611, iPad612-iPad612, iPad71-iPad71, iPad72-iPad72, iPad73-iPad73, iPad74-iPad74,
Supported Languages: English; Spanish; Castilian;
Parental Advisory: Suggestive Themes; Mild Alcohol, Tobacco, or Drug Use or References; Mild Profanity or Crude Humor;