TapNova doesn't recommend this version of the app.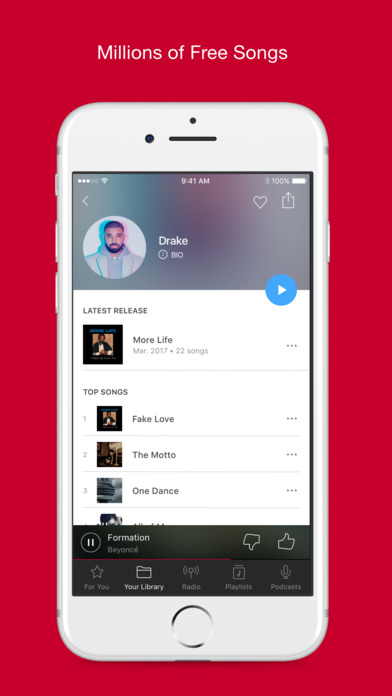 New in version 8.2.0
• Searching your favorite artists and stations should be easier! Now you'll find your most recent searches under the Search Bar
• New animations will remind you where to find your Saved Stations and Playlists - all in Your Library!
• Crash and bug fixes

Keep your Updates turned on to make sure you're getting the best new features from iHeartRadio!
Description
Get unlimited music and thousands of radio stations all in one app. Download iHeartRadio today and listen to top radio stations, music, news, podcasts, sports, talk and comedy. iHeartRadio is easy to use and best of all, it's still FREE.

The Best Local Radio Stations and Podcasts
• Discover thousands of live and local AM and FM radio stations near you and from cities across the globe
• Listen to sports radio stations like ESPN Radio, Fox Sports and more
• Stream podcasts from famous personalities like Ryan Seacrest, Colin Cowherd, Sean Hannity, Elvis Duran and Bobby Bones

Play Free Artist Stations
Create personalized music stations based on today's top artists using a library of millions of songs covering genres like Country, Top 40, Rap, EDM, Rock, Alternative and more.

The Ultimate Station Made Just for You
My Favorites Radio collects all of the songs you love in one free personalized station.

Premium Features
Take control of your listening experience with millions of songs on demand. Choose the plan that's right for you with iHeartRadio Plus™ and iHeartRadio All Access™.
• Save and replay any song from the radio
• Enjoy unlimited skips
• Download music to your phone to listen offline
• Create unlimited playlists

Join our community!
• Facebook: http://on.fb.me/1F1TcFX
• Instagram: http://bit.ly/1e1AOUS
• Twitter: http://bit.ly/1HZk5KQ
• Blog: http://bit.ly/1GiT59D

For Feedback and Help
Tell us how we can improve by sharing your thoughts at http://help.iheartradio.com!

For additional help and to find answers to common questions for iPhone and iPad devices, please visit https://help.iheart.com/hc/en-us/sections/204008308-iPhone-iPad

Please note: This app features Nielsen's proprietary measurement software which may allow you to contribute to market research, like Nielsen's TV Ratings. To learn more about our digital measurement products and your choices in regard to them, please visit http://www.nielsen.com/digitalprivacy for more information.
iPad Screenshots
Reviews
Big fan
I love this app because I can play any kind of music I like and doesn't have many commercials, works great! Thank you.
Better Sound
Brenton Ridley
on
8/17/2017
Seems to have a better sound quality compared to the "other" music streaming app. Also, they have an amazing all 80's Live music station!
Great app
Great app to listen music and can be used internationally.
How do you cancel subscription???
kameronclaire
on
8/17/2017
The app directs you to their webpage, their webpage directs you to the App Store! You went from a 5 star to a - star based upon shady practices. Where is the contact us link?
Won't stay on now when you look at other apps :/
Please fix this. Now I can't leave the app screen without losing the sound :/
Works like a charm with my iHome Bluetooth speakers
I just signed up and it's great so far and I do like having the option to listen to the radio (my local stations) a plus!
Awesome
Almost best music app ever. Not the best though. It was better but now you have to pay for alot.
Use to be a great service
Now they want you to pay for the service. Pop up ads completely take away from the music. Just deleted the and back to pandora. Better to deal with their ads where can at least listen to songs not click on a stupid pop up
can't listen to it w/o Logging in, or creating an account
Katie bobady
on
8/16/2017
I'd like to be able to listen to iHeart Radio w/o signing up, or creating an account, I'd say I'd give it a 5 star, but since they've changed the way u can listen I'm only giving it a 1 star.
Best app for streaming radio
Tried others but this is still the best. I ❤️ radio.
Enjoyable
Rasalmja1124
on
8/16/2017
Love this app, but sometimes it randomly starts a station I didn't pick. I listen at work all the time and don't have time to pay attention to what is changing. However that would not stop me from continuing to use it.
Use the app constantly
Works great for me!!
Used to be good
Pizzaman1234678
on
8/16/2017
It used to be good. Now it's literally listen to 15 min of commercials for it to just rerun the commercials all over again. It used to play 1 commercial then go to radio, but not anymore. You'll be lucky if you get the app to play a single non-commercial item. Won't be using this anymore. I've been wasting enough effort. Update: still a garbage app. Still running into the same ad issues. Thought I would give it another chance and reinstall it but that was a mistake. Looks like devs don't care much about user experience.
Addicted to the 90s!
Great app for anywhere! When I'm designing or working with intense projects - I listen to movie soundtracks, bring on the country or rock when I'm moving around, and I'm 90s all the way when working! No issues with the app - thank you for making life fun with music anywhere!
Great
St. Louis radio is just bad. Same tired old crap every day. This lets me listen listen to different stations around the country. I listen every day.
That Guud stuff
LeeLee Fowler
on
8/16/2017
I absolutely love this app and it's music. THANK YOU!!!!!!!
Loving my music station!!
I have no complaints at all!!! Of course I have the best station. Why, you might ask? Because I got to build my own!! And just when you think it can't get better there's an update and one more Awesome detail has been added!!! Keep it up!!
Shame
I've used this app for years to listen to RMG. Since the update the app randomly freezes and buffers. It seems like it is because of it trying to load a pop-up ad. I understand why the ads are needed for iheart but there has to be a better way to implement it. Tired of dealing with it. Incredibly frustrating.
Maryannr
Love I heart radio... there's only one station I listen to that I can't find on here..
Irritating commercials
Hate their commercials
on
8/16/2017
Zip recruiter and Progressive insurance commercials dominate. These commercials are so irritating I have to shut the radio off for minutes at a time untill they are over. Now these have stopped and the latest irritating commercial is for men's underwear. These commercials dominate the station and actually seem to be on more than the program you're listening too. Unfortunately if you pause the commercial, wait a minute or two and return to the program the commercials just keep repeating!!!
Stay connected on vacation
DST Princess
on
8/16/2017
Love moving and staying connected to my local stations!
IHeartRadio
Great way to listen to music free
I really enjoy this App
Kingjames90s
on
8/15/2017
Its awesome I get to listen to hometown stations world wide.
Luv it
Raymond123xxx
on
8/15/2017
Good selection of artists and good selection of radio. Only thing i dont like is the app will sometimes close by itself while listening.
Why?
DragonKnight12345
on
8/15/2017
I can't find my one station, 100.7 star.
Fantastic
AlfredMorris1035
on
8/15/2017
Fantastic
Awesome
Best Muzik app I love it!!!!👍🏻❤️😎💕😍
LOL great
It's great but I think they should let you have more skips but other wise it is great
Not bad at all for a free version!
Much fewer commercials than other popular apps. Haven't found an artist channel I was interested in unavailable yet!
Now with more crap!
WayTooBigToBeReal
on
8/15/2017
Now with an even worse interface! Have to push two extra buttons to get to your stations! And it takes longer to load and drops out constantly! I hate you iFart! Commercialization of of iHeart by mega greedy iHeart executives is totally ruining iHeart! Every update adds more commercials! To the point I now have an inserted commercial touch box on my fav list just waiting for a misguided finger. Read the fake positive reviews, they all have the same mix of glorious praises. Reading the negatives the only similarity is the repulsion of where this once good app is now headed. One star to rate this app is one star too many! And I can't wait for the pat robot response from the iHeart 1984 mind controller squad? "So help me out here..." says the start of the 30 second long Toyota commercial for a Hindenburg hydrogen car that there are no gas stations for the car... This is way beyond stupid! I can dump the app and reboot it in 15 seconds just to bypass this BS! I only use iHeart for listening to KFI's John and Ken weekdays 2-6 PM. Only because KFI's station won't carry 600 miles! And then there are Endless government brainwashing public commercials! Wear your seat belts kids! Hug smokey bear! United Way wants more of your money for their over paid executives! Take a day and count up your precious time wasted by endless commercials! A vast horrible wasteland of putrid commercial gobbledygook!
Get ITunes music instead!
It freezes, it idles, doesn't have a wide selection, cancel songs without you even being notified, and they keep wanting you to upgrade your service even when you are already subscribed. And if you don't, you can't access your music. Canceling it right now! Don't waste your time and money here.
Great app
Love this app , I listen all the time to my favorite station around the country
Cancel
The new layout is confusing and hard to use. And you loose all your favorites when you download the new software version. There no apparent way to cancel my subscription. This is a con by iHeartRadio. I'll be telling all my friends on social media T
Excellent!
I travel for a living & have lived in many different cities. This app allows me to continue following my favorite radio personalities and stations from my phone no matter where I am. It's fantastic! Thank you.
Fantastic Music
Must have app. Excellent choices in music and artists.
The best
I love this radio app! All the stations I need! It's the best!
I love it
Needtolose120
on
8/15/2017
I never used Pandora because one of my computers came with IHeartRadio and I love it! It is slow to start up but it's worth it not to have the commercials.
Great!
Just joined and I love it so far. Mostly just use it to listen to my favorite morning talk show (ALT 98.7 The Woody Show) when I'm no longer in my car! :)
Love it!
Love to able to hear Ryan Seacrest in the mornings. Very convenient.
I love it
I really love this app.
Looking for Conservative Talk & Topics?
Robert Foster 1961
on
8/15/2017
I've noticed that my favorite conservative talk programs suffer sudden pauses and drop offs. Yet "The Fake News" (MSNBC, CNN & NPR) have perfect uninterrupted broadcasts!! Some well known podcasts, like The Dana Show w Dana Loesch (a Tea Party Conservative and NRA spox), never appear in search results. Coincidence? I think not. And that's too bad because this app could be a much better experience were it not so biased. Most of the time I just use TuneIn premium app.
Good but they could make some changes.
I really like the iHeartRadio app. However, I purchase it because I love listening to the Bobby Bones Show. Well now you cannot hear the entire show on iheart. It's so annoying. We are paying for this so the iheart people need to figure this out.
Not working on my IPhone
I had an android recently and the app worked fine. I got a new phone ( iPhone 6 ) and I can't login to the app or create a new account. I've tried every method available to login or create an account. It looks like it's processing the information, but then I'm back at the login page and nothing has changed.
Good app
Natureofbeast beast
on
8/15/2017
I like the app. I like that I can listen to stations from anywhere and pick my favorites. I wish I could listen to songs from one artist instead of a variety of artists. I have the free version and I don't get ads, so I don't have issues the screen locking up.
Can't live without it
Serdog123123
on
8/15/2017
I love that I can listen to my station wherever I am around the world.
Good app, but.....
I used to like using iheart, but now I can't stand this app. This app plays entirely too many commercials. Hell I miss the whole show or segments I'm trying to listen to. I know advertisers pay the bills, but if I can't listen to what I came for there's no purpose in having this app.
Love it
Great 80s channel!😀
Awesome
Has everything I need or want
Love it
I love that for Christian music it has a very WIDE verity compared to like pandora. It has pretty much everything, I'm never disappointed!
Fact Sheet
Publisher: iHeartMedia Management Services, Inc.
Category: Music
Released: Oct 07, 2008
Current Version Released: Aug 07, 2017
Version: 8.2.0
Size: 133.3 MB
Compatibility: Requires iOS 9.0 or later.
Recommended Age: 12+
Game Center Certified: No
Supported Devices: iPad2Wifi-iPad2Wifi, iPad23G-iPad23G, iPhone4S-iPhone4S, iPadThirdGen-iPadThirdGen, iPadThirdGen4G-iPadThirdGen4G, iPhone5-iPhone5, iPodTouchFifthGen-iPodTouchFifthGen, iPadFourthGen-iPadFourthGen, iPadFourthGen4G-iPadFourthGen4G, iPadMini-iPadMini, iPadMini4G-iPadMini4G, iPhone5c-iPhone5c, iPhone5s-iPhone5s, iPadAir-iPadAir, iPadAirCellular-iPadAirCellular, iPadMiniRetina-iPadMiniRetina, iPadMiniRetinaCellular-iPadMiniRetinaCellular, iPhone6-iPhone6, iPhone6Plus-iPhone6Plus, iPadAir2-iPadAir2, iPadAir2Cellular-iPadAir2Cellular, iPadMini3-iPadMini3, iPadMini3Cellular-iPadMini3Cellular, iPodTouchSixthGen-iPodTouchSixthGen, iPhone6s-iPhone6s, iPhone6sPlus-iPhone6sPlus, iPadMini4-iPadMini4, iPadMini4Cellular-iPadMini4Cellular, iPadPro-iPadPro, iPadProCellular-iPadProCellular, iPadPro97-iPadPro97, iPadPro97Cellular-iPadPro97Cellular, iPhoneSE-iPhoneSE, iPhone7-iPhone7, iPhone7Plus-iPhone7Plus, iPad611-iPad611, iPad612-iPad612, iPad71-iPad71, iPad72-iPad72, iPad73-iPad73, iPad74-iPad74,
Supported Languages: English; Spanish; Castilian;
Parental Advisory: Mild Alcohol, Tobacco, or Drug Use or References; Mild Profanity or Crude Humor; Suggestive Themes;