Screenshots
New in version 8.7.0
• The most wonderful time of the year! Your favorite holiday music is commercial-free on iHeartChristmas Radio and other great seasonal stations.
• Beep Beep! Tolerate traffic with your favorite podcast. Now available on our CarPlay app.
• Santa's elves are hard at work building toys and squashing bugs.
Description
All Your Favorite Music. All Your Favorite Stations. All Free.
Listen to music you love. Stream unlimited music, thousands of radio stations and podcasts all in one app.
iHeartRadio is easy to use and best of all, it's still FREE.

The Best Local Radio Stations and Podcasts
• Discover thousands of live and local AM and FM radio stations near you and from cities across the globe
• Listen to top radio stations, music, news, podcasts, sports, talk and comedy
• Hear sports stations like ESPN Radio, Fox Sports and more
• Stream the most Popular podcasts from famous personalities like Ryan Seacrest, Colin Cowherd, Sean Hannity, Elvis Duran and Bobby Bones

Play Free Artist Stations
Create personalized music stations based on your favorite artists using our library of millions of songs covering genres like Country, Top 40, Pop, Hip Hop, EDM, Rock, Alternative and more.

The Ultimate Station Made Just for You
'My Favorites Radio' collects all of the songs you love in one free personalized station.

Premium Features
Listen absolutely free with ads, or take control of your listening experience with iHeartRadio Plus™ and iHeartRadio All Access™.
• Search and play any song with our library of millions of songs on demand
• Save and replay any song from the radio
• Enjoy unlimited skips
• Download music to your phone to listen offline
• Create unlimited playlists

Join our community!
• Facebook: http://on.fb.me/1F1TcFX
• Instagram: http://bit.ly/1e1AOUS
• Twitter: http://bit.ly/1HZk5KQ
• Blog: http://bit.ly/1GiT59D

For Feedback and Help
Tell us how we can improve by sharing your thoughts at https://help.iheart.com!

Please note: This app features Nielsen's proprietary measurement software which may allow you to contribute to market research, like Nielsen's TV Ratings. To learn more about our digital measurement products and your choices in regard to them, please visit http://www.nielsen.com/digitalprivacy for more information.
iPad Screenshots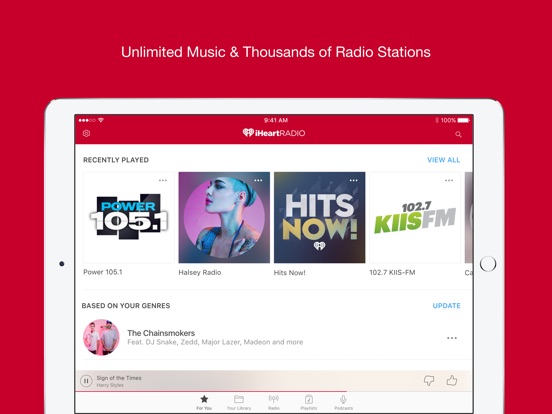 Reviews
Automatically starting itself again
Automatically starts itself
Horrible and gay
This app is horrible
Not satisfied, cannot unsubscribe
Had issues with dropouts and pauses. Subscribed and still had problems. After a while decided to unsubscribe...but wait, you can't. You have to jump through hoops and follow misdirected instructions to do so. Are call you bank and have them close the link. I strongly do not recommend iHeart radio.
Needs an update doesn't work with iOS 11
Rjrjrjrjrjrjrjrjrj
on
12/11/2017
News update. App says does not work with iOS 11
GOOD APP SO FAR YET!!!
Cowboys 956
on
12/11/2017
Just downloaded app and it's been good so far so far, good job IHEARTRADIO...!!!!
Good but too many adds
I like ORCAS
on
12/10/2017
Honestly I like the app but there are too many adds
LOVE IT
Maryann lepper
on
12/10/2017
Super GREAT APP I LOVE IT
Great App
Noelle Johnson
on
12/10/2017
I can listen to any radio station I want whenever I want u need to get this app
I can't deal with this crap anymore
Snoopy Glue
on
12/10/2017
The app looks great and it is easy to move around. But why does it matter that I pay money for plus when it almost never lets me use features like saving songs or adding them to playlists? Every time I do, I see that terrible pop up telling me to subscribe to plus as if I haven't. I can't deal with that anymore.
I can listen to whatever whenever!!!
Absolutely luv luv luv it!!
Better than Spotify!!
Yo yo teddy
on
12/10/2017
Works great same music but more skips than Spotify
Podcasts
Lizzyborden01928366
on
12/10/2017
I love the iHeartRadio app and use it everyday to listen to the Elvis Duran morning show. Recently I started listening to podcasts and they are great but it's very annoying that the podcasts are posted from newest to oldest. It seems that would make sense but when I 'binge listen' they automatically go to the next podcast and it's in reverse order or I have to start the next podcast myself. So they should post post to newest.
Great music
stacy102678
on
12/10/2017
This is great But why do we have to pay for a radio
LOVE it!!!
We listen to Gran Torino all the time and love the app!
Was great on Windows Phone, new web app version six
Nominally Normal
on
12/10/2017
Loved this app on my Windows Phone, installed it when I was forced to switch to iPhone (which has been an inferior user experience in almost every way - it can't even do autocorrect as well as the WP, but I digress), and it was pretty similar throughout the fall of 2017... logged in today, December, to find everything changed. I can't figure out how to get to my favorite artist-based station (can find artist in search, but there doesn't seem to be a station option anymore?) can't find the Recently Played Songs list once I'm playing a station. It's fine to change things, but not in such an extreme way that it appears so nonsensical to even fairly on-top-of-things users that they can't easily find the features that are important to them. I don't know if it was a web app before, but it must be because I don't recall downloading an update and everything is just a little off, not polished and smooth like a native app would be. I expected that sort of thing on a minority platform like WP, but it's really disappointing to have a worse experience on a brand new iPhone. Anyway, this app is in need of some major organizing/UI changes before it can match the user experience of previous versions. If I have to put in hours curating my stations (which looks like the direction this is going), as opposed to having a variety of stations that are good, just need minor tweaks to be great, I'd might as well use Pandora!
Great app
U can listen to anything you want any time
I love music!!
Pokèmonster11
on
12/10/2017
IHeartRadio is amazing. All of my favorite songs in one single app! Plus so easy to find any song.
Attention developer
Mikael Sundin
on
12/10/2017
Developer .You are asking everybody who is already taking their valuable time giving you feedback HERE on this review-forum to email you back to discuss the issue , "behind the scenes " as you say . Instead of asking the customer to go behind the scenes (where the customer clearly doesn't belong ) you know developer , we're in front of the stage experiencing your app ,not behind the scenes turning dials ) just listen to the many accounts of your app acting up right here ,it's explained and repeated quite in detail constantly . Your Questionable marketing attempts every time opening this app ,that constantly asking me to "upgrade " to your paid service ,is certainly not the way to get me excited about your app . Neither is asking for me to hang out backstage , that's for your "programmer/coder " not me .. Get it together ,deliver ,then we will buy, on our own !
Good
Keeps shutting off randomly
Love it
Better than pandora
It's ok
Cmonster1326
on
12/9/2017
It is great but it needs to not make me feel like I'm special because I know that It picks everyone for the free trial.
Music for all moods and occasions
Love iHeartRadio.
Bad app
Was good before now is like pandora Really bad app!!
Annoyed
I downloaded this app to listen to music but for 30 min straight all I heard were commercials ...I deleted immediately... I want to hear music not talking ...did hear one song the whole time ...and I chose a radio station that I know constantly plays music so what's up wit that
Good
I Love all the cat skins😁❤️
on
12/9/2017
It's a very good music source.
More feedback
Also stopping telling me "you have been selected" to sign up for your premium paid app. I don't want your paid version and stop wasting my time with this pop up ad that loads very slowly and keeps telling me how "lucky" I am. Your app is already too slow and clunky as it is without being constantly asked to sign up for your paid version.
Love it
animallover9616
on
12/9/2017
Where I live I can't get this station but turn on iHeartRadio and I get it. Wish I could get my other favorite channels but oh well.
Variety
Love the choices. I'm old school and it jams for me!
LRE
Great music, great choice of genres 365 days of the year. Listen to it at work.
Slow
Ken in Brandon
on
12/8/2017
Constantly reloading. Very slow even on wifi.
Oh Yea!
This app works, variety, quality & Quantity!! Freaking love it!!
Pretty good
For unknown reasons the major sports won't allow radio broadcasts via iHeart or Tune In though you can get it via laptop. Makes no sense whatsoever. I use iHeart with my Amazon Echo and Dot.
The best feeling ever
Light Brown Eyes
on
12/8/2017
👍🏽
Enjoying my favorite app
Beverly Sneed
on
12/8/2017
I love Wdia radio and I am able to enjoy the clear sound of Bobby Ojay every morning on am 1070. Unfortunately it takes a long time to get the station going. It use to not be like that. But it takes about 15 minutes to get into the station. That is the only problem I have. But once I'm in it works fine. Thanks!
Expect commercials, but...
Skypeuserabc
on
12/8/2017
As a road warrior, it is great for traveling to listen to your favorite home DJ. Sometimes, it just loops commercials endlessly though.
Hate this app
I don't like that you have pay in order to a lot of things it is stupid like repeat a song or do stuff that you shouldn't have to pay for hate this app fix it!
Love it!!
Never had any issues, love that I can listen to all my favorite music!!
I am only doing this because it told me to
Princess love 17
on
12/7/2017
😂👍
Great App But?!?
Bluelily5052
on
12/7/2017
Love listening to your app and you play all my favorite music like FFDP, 3DD, SD, and BB. But the same music gets repeated a lot. This is one of the reasons I left plain old radio alone. Still like iHeartRadio better than car radio any day.
Great, but don't sign up for the free trial
I listen to iHeart radio everyday, and decided to try the free trial of the iHeart radio plus. Once my month trial was over, I searched for a way to unsubscribe to it to avoid getting charged, with no success. The actual app does not have a place for you to unsubscribe. I eventually found out you need to unsubscribe from the App Store instead, and ended up being charged for an additional month. Of course I can't get that refunded, so I suggest that the iHeart radio app should add a location to manage you subscription, within the app itself. Otherwise it's a wonderful app, but I am disappointed in the lack of notice for a free trial ending.
Pandora is still better
So addictive so fun
on
12/7/2017
Because you can get more skips by watching an add
Used to ❤️ it, but now 💔...
Soing B. Massung
on
12/7/2017
I never used to have issues with this app and was my go to app for Music on the go. Recently the app programming has been a bit choppy, and that may be because of my signal. At the same time the app content across the various channels has been offensive at times, and I have tried to connect with the App Dev team but not getting CLEAR concise answers to my inquiries. This is not a personal dig to the App developers, however good effective Customer Service is a HUGE part of the Customer Experience. If that is improved then I can update the rating of the app. Please listen to the users and don't belittle them!
I love you I heart.
This the best radio station out there. Stations you make plays what you want to hear. That is the best plus for me.
Much needed app!
Mrs. Marchan
on
12/7/2017
Use it daily, never disappoints. My favorite app, love it!
App issues
This app cuts off every single time you open another app. Literally I clicked on this box to write this review and it cut off. How does an app continuously get worse and worse. Maybe I'll try a different app.
Love it!
Waiting inFlorida
on
12/7/2017
Always have loved it and still love it!
Perfect
Sharpshooter03
on
12/7/2017
Love it!
WHERE'S MY 30 GOLD
Lostinwhatwecalltheworld
on
12/7/2017
Promised 30 gold for signing up and playing the radio for 15 mins. I didn't revive my gold. LoL
Pop Up
The "free trial" pop up is annoying, every time I open up the app it pops up and when I tap on the x to close it it never closes right away, have to click on it a few times for it to go away.
Lookout
dark moon night
on
12/6/2017
Like your music
Fact Sheet
Publisher:

iHeartMedia Management Services, Inc.

Category:

Music

Released:

Oct 07, 2008

Current Version Released:

Nov 21, 2017

Version:

8.7.0

Size:

127.8 MB

Compatibility:

Requires iOS 10.0 or later.

Recommended Age:

12+

Game Center Certified:

No

Supported Devices:

iPhone5-iPhone5, iPadFourthGen-iPadFourthGen, iPadFourthGen4G-iPadFourthGen4G, iPhone5c-iPhone5c, iPhone5s-iPhone5s, iPadAir-iPadAir, iPadAirCellular-iPadAirCellular, iPadMiniRetina-iPadMiniRetina, iPadMiniRetinaCellular-iPadMiniRetinaCellular, iPhone6-iPhone6, iPhone6Plus-iPhone6Plus, iPadAir2-iPadAir2, iPadAir2Cellular-iPadAir2Cellular, iPadMini3-iPadMini3, iPadMini3Cellular-iPadMini3Cellular, iPodTouchSixthGen-iPodTouchSixthGen, iPhone6s-iPhone6s, iPhone6sPlus-iPhone6sPlus, iPadMini4-iPadMini4, iPadMini4Cellular-iPadMini4Cellular, iPadPro-iPadPro, iPadProCellular-iPadProCellular, iPadPro97-iPadPro97, iPadPro97Cellular-iPadPro97Cellular, iPhoneSE-iPhoneSE, iPhone7-iPhone7, iPhone7Plus-iPhone7Plus, iPad611-iPad611, iPad612-iPad612, iPad71-iPad71, iPad72-iPad72, iPad73-iPad73, iPad74-iPad74, iPhone8-iPhone8, iPhone8Plus-iPhone8Plus, iPhoneX-iPhoneX,

Supported Languages:

Arabic; Burmese; Central Khmer; Chinese; Danish; Dutch; Flemish; English; Estonian; Finnish; French; German; Hebrew; Hindi; Indonesian; Italian; Japanese; Korean; Lao; Malay; Bokmål, Norwegian; Norwegian Bokmål; Polish; Portuguese; Russian; Chinese; Spanish; Castilian; Swedish; Thai; Chinese; Vietnamese;

Parental Advisory:

Mild Profanity or Crude Humor; Suggestive Themes; Mild Alcohol, Tobacco, or Drug Use or References;