Screenshots
New in version 8.7.0
• The most wonderful time of the year! Your favorite holiday music is commercial-free on iHeartChristmas Radio and other great seasonal stations.
• Beep Beep! Tolerate traffic with your favorite podcast. Now available on our CarPlay app.
• Santa's elves are hard at work building toys and squashing bugs.
Description
All Your Favorite Music. All Your Favorite Stations. All Free.
Listen to music you love. Stream unlimited music, thousands of radio stations and podcasts all in one app.
iHeartRadio is easy to use and best of all, it's still FREE.

The Best Local Radio Stations and Podcasts
• Discover thousands of live and local AM and FM radio stations near you and from cities across the globe
• Listen to top radio stations, music, news, podcasts, sports, talk and comedy
• Hear sports stations like ESPN Radio, Fox Sports and more
• Stream the most Popular podcasts from famous personalities like Ryan Seacrest, Colin Cowherd, Sean Hannity, Elvis Duran and Bobby Bones

Play Free Artist Stations
Create personalized music stations based on your favorite artists using our library of millions of songs covering genres like Country, Top 40, Pop, Hip Hop, EDM, Rock, Alternative and more.

The Ultimate Station Made Just for You
'My Favorites Radio' collects all of the songs you love in one free personalized station.

Premium Features
Listen absolutely free with ads, or take control of your listening experience with iHeartRadio Plus™ and iHeartRadio All Access™.
• Search and play any song with our library of millions of songs on demand
• Save and replay any song from the radio
• Enjoy unlimited skips
• Download music to your phone to listen offline
• Create unlimited playlists

Join our community!
• Facebook: http://on.fb.me/1F1TcFX
• Instagram: http://bit.ly/1e1AOUS
• Twitter: http://bit.ly/1HZk5KQ
• Blog: http://bit.ly/1GiT59D

For Feedback and Help
Tell us how we can improve by sharing your thoughts at https://help.iheart.com!

Please note: This app features Nielsen's proprietary measurement software which may allow you to contribute to market research, like Nielsen's TV Ratings. To learn more about our digital measurement products and your choices in regard to them, please visit http://www.nielsen.com/digitalprivacy for more information.
iPad Screenshots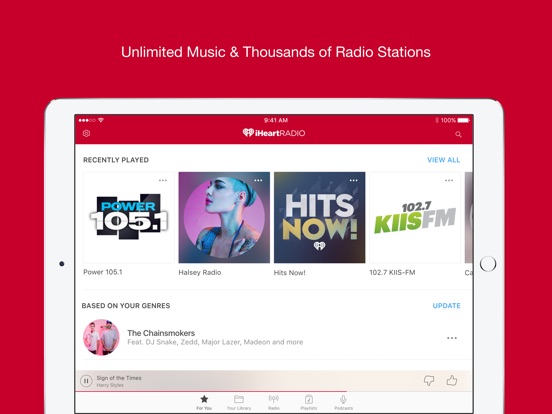 Reviews
You screwed this app up!
Jerry Burner
on
12/16/2017
You have made this app to hard to use! It doesn't even remember the radio station I was listening to! It won't let me like any stations! I guess if I want it to work like it used to I'll have to pay! I don't pay to listen to the radio doofus!
Dumb app
YourEditor#7
on
12/16/2017
Hate it
So much potential
Viceroy Media
on
12/16/2017
After years of being with Pandora I got tired of them playing the same playlist of songs over and over. I came to I heart with great expectations. So far their channels are limited, reception noisy and customer service weak. When I could get my paid plus account to work, which often required me going to setup and restoring my purchase, I was still limited to what I could play. That is contrary to what is promised. Add to that, if I chose a country artist singing Christmas songs I anticipated more similar songs would follow, even if not the same artist. In reality, what followed was other country artist but they weren't singing Christmas songs. In all my efforts to explain this to the Customer Service they never understood.
Terrible
I don't know why anyone would chose this app over the other available music streaming apps. This app is terrible.
Update
Bluelily5052
on
12/15/2017
Iheartradio is Good about getting back in contact with customers
Mad
Dougiedoug12
on
12/15/2017
So they give you one month free. Then after that they have your credit card information from apple so they just charge your card without telling you.
love love love
i love this app... very good selections and playlists
Possibility in Iran
As the music is the common language in the world and it is not a political thing in the world. This application is not possible in my country and this is against humans right.
Stop making it better
Rapier Shabazz
on
12/14/2017
Stop making it better! Too many programmers. Customers don't like to have to learn new interfaces. It already did what I needed. Stop trying to trick customers into buying stuff.
Jonsein for real musuc
TryinToGetBy
on
12/14/2017
Awesome! Stellar! Already!👍🏼👍🏼♥️
Trash
Worked perfectly fine for a year, then I decided to update it, it's been terrible ever since then, FIX YOUR APP
Disappointed
Lesliegirl4
on
12/14/2017
I click on the app and every time it pops up saying "can't connect. Please check your connection" I've deleted and re-downloaded it a few times and it still does it. Even though my WiFi is connected and as strong as can be. Please fix
<<<
Cr1m1nalspeed
on
12/14/2017
I love both buttons but I'd rather rewind than fast forward
Won't download
Listen to Regional Mexicano stations and try to listen to 101.9 fm Zona MX from Los Angeles and won't download 😡😡😡
Wonderful so far
Installed earlier this week and have been listening to non stop Christmas music with no commercials ever since. Love it.
Signed me up for plus without my permission.
Be careful they will use iTunes to auto sign you up for those plus service without your permission. I don't want plus or a plus trial. I guess I need to go back to individual radio station apps.
Amazing
I can listen to my songs on the go and waste no data while I use it it is amazing
Love it!❤️❤️❤️❤️
Plays all my favorite music with less commercials.
Love I heart radio
Easy to use and always have what I am looking for
Skips and thumbs down mean nothing
I used three skips it on a song that is playing every third song, a song that I had already thumbs downed multiple times. Ready to go to Pandora. 😡 6/3 Had to uninstall because it wouldn't even open... 12/13 Stuck on instrumental study music, so installing again, this time I won't bother reinstalling
It's ok but ads though
Jose the guitarist
on
12/13/2017
The app is ok but the ads are kinda slowing me down. As soon I got this app I heard that everything was free. I thought even was ad free but most of all the app is awesome
Woke me up with needless email
Emailed me updates about some bull crap Christmas stations at 6am and woke me up. Thanks, jerks. Deleting.....
Infuriating
No longer resumes last station. I am now forced to search for it. Once found and selected, I now suffer a mindless video ad before I can access any features of the app. Now looking for an alternative.
Not great
Thundyr_POR
on
12/12/2017
I use it to listen to overnight radio, it has odd pauses with no sound. It seems to always happen while on home wifi, work wifi, and cell service... also the iHeartRadio commercials run over the talk shows, so the pauses, and commercials are ridiculous.
I love it!!!
Ballisticdog904
on
12/12/2017
It is easy to maneuver and you can listen to the music while in other apps. It's easy to find anything you want perfect for EVERYONE!!!
Awesome
I love this app I can personalize my choices of artists and it never fails me!
Forces stations on you
What is it about your developers that think it's ok to force stations on users. I've let the app know that the fantasy sports station is "not for me" but you app insist and putting it back on my recommendations screen the second after I remove it. I just want to open the app and listen to the stations I like. Oh, and please stop "choosing" me for a free month of your subscription service. It was free the first month you rolled it out. Real thirsty iHeart. Just let the app be user centric and stop pushing your product so hard.
I love this app so much
I love this app so much this app is amazing you can listen to any type of music you want for free!!! You can type in what radio you want and it will give you the music. The only bad thing about the app is that the radio people talk after a couple of songs and there are some ads. Just because it says iHeartRadio it can play B104 and everything like that. I highly recommend this app.
App slow to load stations
PotterHeadGwen
on
12/12/2017
And i'm 100% sure it's not my wifi because i have no problems loading up spotify's radio stations. There's always slow buffering and the only way to "fix it" is to close the app entirely.
Radio 1045 on IPhone 8
For some reason this station cannot seem to show what's playing. Just displays the radio 1045 logo. Nothing else to indicate what is playing. I factory reset my phone and still nothing.
Playlist
Izzasis1996
on
12/12/2017
Seriously you have to pay in order to make a playlist? That is the dumbest thing I've heard of. I get it you got to make money but seriously that is ridiculous.
Free version ads 😤
I tried the feee version of iHeartRadio to see the difference from Pandora, there are more adds here than I had using the free Pandora app. Bah Humbug. Yes I'm a Scrooge and know there will be ads but having one every two songs, sheesh! Back to Pandora I go!
What happened?
I used to be able to listen to The Bobby Bones Show On-Demand and catch-up with shows that I'd missed. Now there doesn't seem to be a way to do that. It just plays the same show over and over. Please address this.
Too many advertisements
App had too many video and pop up ads which makes finding your favorite a challenge. Closing ads usually require multiple taps on the overly small x button.
Lousy
I listen to one station. It is supposed to remember on startup, but it never happens. I put in the call letters, it can't ever find it.
Podcasts
Lizzyborden01928366
on
12/12/2017
I love the iHeartRadio app and use it everyday to listen to the Elvis Duran morning show. Recently I started listening to podcasts and they are great but it's very annoying that the podcasts are posted from newest to oldest. It seems that would make sense but when I 'binge listen' they automatically go to the next podcast and it's in reverse order or I have to start the next podcast myself. So they should post oldest to newest.
Nice
Poupouche_it
on
12/11/2017
Much much better the pandora
READ
SkittlesAreYummyInMyTummy12345
on
12/11/2017
I had great music on there. An hour and a half of all the songs I loved! But then all of a sudden, it wouldn't let me listen to any songs. I think it said I had to pay for something to listen to it for free and offline. It was a great app and I loved it. I would've given it a five but...please help!
Automatically starting itself again
Automatically starts itself
Horrible and gay
This app is horrible
Not satisfied, cannot unsubscribe
Had issues with dropouts and pauses. Subscribed and still had problems. After a while decided to unsubscribe...but wait, you can't. You have to jump through hoops and follow misdirected instructions to do so. Are call you bank and have them close the link. I strongly do not recommend iHeart radio.
Needs an update doesn't work with iOS 11
Rjrjrjrjrjrjrjrjrj
on
12/11/2017
News update. App says does not work with iOS 11
GOOD APP SO FAR YET!!!
Cowboys 956
on
12/11/2017
Just downloaded app and it's been good so far so far, good job IHEARTRADIO...!!!!
Good but too many adds
I like ORCAS
on
12/10/2017
Honestly I like the app but there are too many adds
LOVE IT
Maryann lepper
on
12/10/2017
Super GREAT APP I LOVE IT
Great App
Noelle Johnson
on
12/10/2017
I can listen to any radio station I want whenever I want u need to get this app
I can't deal with this crap anymore
Snoopy Glue
on
12/10/2017
The app looks great and it is easy to move around. But why does it matter that I pay money for plus when it almost never lets me use features like saving songs or adding them to playlists? Every time I do, I see that terrible pop up telling me to subscribe to plus as if I haven't. I can't deal with that anymore.
I can listen to whatever whenever!!!
Absolutely luv luv luv it!!
Better than Spotify!!
Yo yo teddy
on
12/10/2017
Works great same music but more skips than Spotify
Great music
stacy102678
on
12/10/2017
This is great But why do we have to pay for a radio
Fact Sheet
Publisher:

iHeartMedia Management Services, Inc.

Category:

Music

Released:

Oct 07, 2008

Current Version Released:

Nov 21, 2017

Version:

8.7.0

Size:

127.8 MB

Compatibility:

Requires iOS 10.0 or later.

Recommended Age:

12+

Game Center Certified:

No

Supported Devices:

iPhone5-iPhone5, iPadFourthGen-iPadFourthGen, iPadFourthGen4G-iPadFourthGen4G, iPhone5c-iPhone5c, iPhone5s-iPhone5s, iPadAir-iPadAir, iPadAirCellular-iPadAirCellular, iPadMiniRetina-iPadMiniRetina, iPadMiniRetinaCellular-iPadMiniRetinaCellular, iPhone6-iPhone6, iPhone6Plus-iPhone6Plus, iPadAir2-iPadAir2, iPadAir2Cellular-iPadAir2Cellular, iPadMini3-iPadMini3, iPadMini3Cellular-iPadMini3Cellular, iPodTouchSixthGen-iPodTouchSixthGen, iPhone6s-iPhone6s, iPhone6sPlus-iPhone6sPlus, iPadMini4-iPadMini4, iPadMini4Cellular-iPadMini4Cellular, iPadPro-iPadPro, iPadProCellular-iPadProCellular, iPadPro97-iPadPro97, iPadPro97Cellular-iPadPro97Cellular, iPhoneSE-iPhoneSE, iPhone7-iPhone7, iPhone7Plus-iPhone7Plus, iPad611-iPad611, iPad612-iPad612, iPad71-iPad71, iPad72-iPad72, iPad73-iPad73, iPad74-iPad74, iPhone8-iPhone8, iPhone8Plus-iPhone8Plus, iPhoneX-iPhoneX,

Supported Languages:

Arabic; Burmese; Central Khmer; Chinese; Danish; Dutch; Flemish; English; Estonian; Finnish; French; German; Hebrew; Hindi; Indonesian; Italian; Japanese; Korean; Lao; Malay; Bokmål, Norwegian; Norwegian Bokmål; Polish; Portuguese; Russian; Chinese; Spanish; Castilian; Swedish; Thai; Chinese; Vietnamese;

Parental Advisory:

Mild Profanity or Crude Humor; Suggestive Themes; Mild Alcohol, Tobacco, or Drug Use or References;