This version of the app is not recommended
App last updated
Jan 08, 2018
Screenshots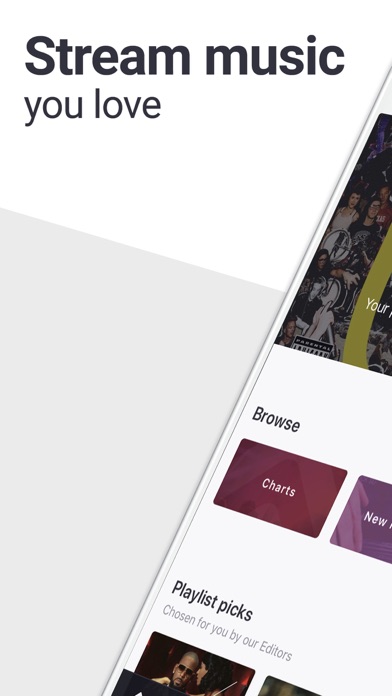 New in version 6.30.0
- Everyday you're shufflin' shufflin'
Live the unexpected and shuffle your entire music collection. Click on "Shuffle My Music" in the "My Music" tab. Available to Premium+ members only.
Description
Music lover? Search, stream and listen to top radio hits or discover new songs with the Deezer music player. Access the best music, listen to your favorite live tunes, create endless shareable playlists and more. Looking to discover new music? Stream with Deezer Flow and download top music hits.

> Access to millions of songs
> Flow - the best music experience around
> Stream songs, artists, radio hits and audio Channels
> Sing along with lyrics
> Listen to playlists curated by top music Editors
> Import your favorite songs
> Listen to music with the best audio quality on HiFi

Customize your Flow
Flow is the best music matchmaker, helping you discover songs, tunes and radio hits based on the music you love. Import your favorite music or a list of songs, and we'll create a soundtrack that's musically attuned to your sound.

Stream Channels
Search and stream new music by song, artist, album, audio Channel, or radio station by specific genre or country. Enjoy your favorite music hits, whenever and wherever!

Create Playlists
Be your own DJ and create a list of music for every mood or occasion. Like rock? Search for top rock hits, listen with the finest audio, and create your playlist. Our music player also lets you share your playlists with others.

Jam Along with Song Lyrics
Never miss a beat with our on-screen lyrics. Whether Queen B or the King of Pop, sing along to your favorite music and radio hits!

Deezer Premium+
•Skip an unlimited number of tracks
•Listen to music offline
•Upgrade to better sound quality for the best pop beats
•Rock out to uninterrupted, ad-free music
•Offline music to stream and listen at your convenience
•Drive with CarPlay, the best copilot for your music

Deezer Family, perfect for everyone
•Kids-only profiles
•6 Premium+ profiles

Deezer Premium+ is a subscription service with a monthly charge of:
AL 8.99 EUR / AR 3.99 USD / AT 12.99 EUR / AU 16.99 AUD / BE 12.99 EUR / BH 6.99 USD / BO 7.99 USD / BR 4.99 USD / BW 6.99 USD / CA 11.99 CAD / CH 17.00 CHF / CL 5.99 USD / CO 4.99 USD / CR 7.99 USD / CZ 7.99 EUR / DE 12.99 EUR / DK 129.00 DKK / EC 7.99 USD / ES 12.99 EUR / FI 12.99 EUR / FR 12.99 EUR / GB 12.99 GBP / GR 8.99 EUR / GT 7.99 USD / HN 7.99 USD / HR 8.99 EUR / HU 6.99 EUR / ID 89000.00 IDR / IE 12.99 EUR / IT 12.99 EUR / LT 8.99 EUR / LU 12.99 EUR / MU 6.99 USD / MX 139.00 MXN / MY 4.99 USD / NL 12.99 EUR / NO 129.00 NOK / NZ 15.99 NZD / PE 5.99 USD / PH 3.99 USD / PL 6.99 EUR / PT 8.99 EUR / PY 7.99 USD / RO 6.99 EUR / RU 229.00 RUB / SE 129.00 SEK / SG 12.98 SGD / SI 7.99 EUR / SK 7.99 EUR / SN 5.99 USD / SV 7.99 USD / TH 5.99 USD / TN 4.99 EUR / TR 12.99 TRY / US 12.99 USD / UY 7.99 USD

Payment will be charged to iTunes Account at confirmation of purchase. Account will be charged for renewal within 24-hours prior to the end of the current period, at the same price. No cancellation of the current subscription is allowed during active subscription period

* Manage your subscription directly from your iPhone *
Subscriptions may be managed by the user and auto-renewal may be turned off by going to the user's Account Settings after purchase.
1. Tap the "Settings" icon on your mobile, then tap the "Store" icon.
2. Sign in with your iTunes ID.
3. Tap "View Apple ID" then "Manage App Subscriptions".
4. You will be able to see when your next payment is due, or cancel your automatic renewal.

* You may cancel your subscription at any time *
Renewal of your monthly Deezer Premium+ subscription is automatic. You can cancel this automatic renewal at any time, at least 24 hours before the end of the current subscription period.
Privacy policy: http://www.deezer.com/legal/personal-datas.php
Terms of use: http://www.deezer.com/legal/cgu.php
iPad Screenshots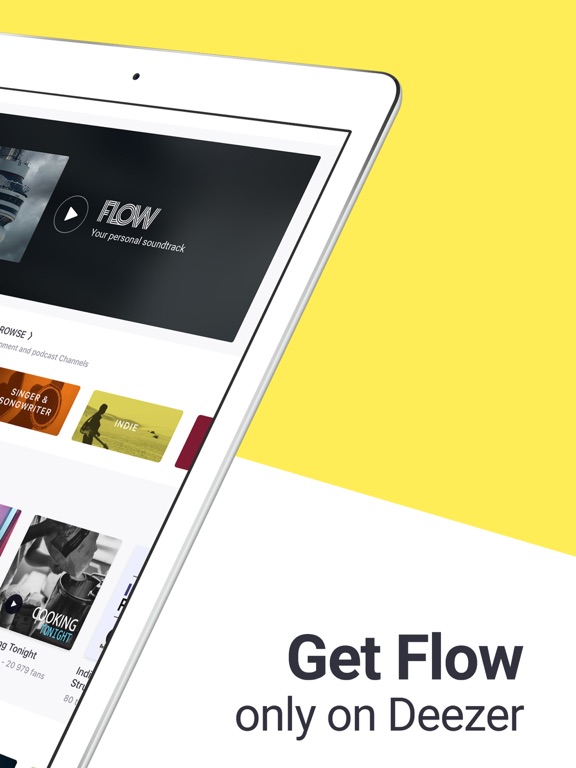 Reviews
Exactly what anyone addicted to mosaic needs
The playlists are extremely accurate with every genre an abundance of new music it's like Spotify and pandora mixed together to make the greatest downloadable music application
Worth the monthly pay.
Howard The Bomb
on
1/19/2018
Every song I've looked for they have. And most of them have karaoke which is pretty cool.
Great variety and recent hits.
Me and my family enjoy Deezer in many different occasions. The app is easy to use, music is varied, sound quality is excellent.
Good
Nico.Allen33
on
1/19/2018
Not half bad. Good deal for 6 a month.
Too percent
I downloaded 7 songs. They won't let me listen to it unless I subscribe. This is too much...don't recommend to anybody, DONT DOWNLOAD
The BEST music app for me!
I LOVE DEEZER! It even suggests new music for me based on what I've enjoyed previously! I've tried the others, but this is the only one that I am willing to pay for a premium subscription ♥️
Me encanta
Me gusta ! Mis hijos ahora escuchan música todo el tiempo!
Just a great Music App
AlexsandreOliveira
on
1/15/2018
Once I switched to Deezer I felt a bit weird without all the green and the way I used to handle my songs but, within one week, I got used to it and it's just awesome.
Just great
Best music streaming app, been using it for almost 2 years, never had any trouble.
Stupid
When I make my account it keeps telling to upgrade even though I don't want to when I tap skip it sends me right back to the login sc
Love it
Guess Who?!!!
on
1/8/2018
The app is very user friendly and the deezer music collection is great.
No sirve
Daniela Nowell
on
1/5/2018
Es una tontería de la nada te saca de tu cuenta cuando tu no lo autorizaste así que es mejor Spotify Gracias estupido deezer
Ta muito melhor que antigamente
Mais rápido estável e é ótimo pra quem tem Tim beta igual a mim.
Great Streaming Service
Sounddude2008
on
1/2/2018
I have yet to find a better streaming service, I have tried all the major ones: Tidal, Apple Music, Spotify and Deezer consistently delivers for audio quality. They have a great library available and seamless integration for all my Sonus devices. I won't go anywhere else.
Amazing
Césargerardo2009
on
1/2/2018
Very good. I like much.
Pessoalmente, acho melhor que Spotfy
Uma interface muito mais simples que qualquer outro serviço de streaming.
Worst application
Worst application in world!!!! Deezer is The WORST app which i used it There isn't any new feature When we have applications like spotify,soundcloud,apple music and etc. why we used such as bad application like this.
Issues with sorting
FeyintolaSPO
on
12/31/2017
When I try to sort my songs by artist, it doesn't play the song I click on. To be honest this is so annoying and frustrating. I don't know if I'm the only one experiencing this. If not, kindly fix this. Thanks.
Great app!
One stop shop for podcasts
Excelente 👍🏻👏🏻
Muy buena App como esa no otra 👍🏻
Alot of music, better fidelity than iTunes.
I bought 2 subscriptions, one in iTunes and one in Deezer. Streamed Jaco Pastorius "The Chicken" with the 1/8 jack on my iphone 6S into my mixer and into my JBL EON speakers streaming one or the other service. The fidelity difference was audible. Deezer talks to JBL wifi speakers, and google chromecast fob. It was hard with iTunes. Not much of a choice.
Easy to use
Love the radios!
Decent lol
jahn(john) gibson
on
12/29/2017
I can't even sign up but it seems like it would be a good app if you fix it 😂
Recuerdos
velasquez502
on
12/28/2017
Me gusta que puedo tener música que escuchaba hace 20 ańos!
Excelent App
Gitana-Hermosa
on
12/28/2017
I LOVE THIS APP GIVES ME ALL ROCK MUSIC I LOVE, HAS LYRICS, SHUFFLES, AND ALSO I CAN PLAY MY MUSIC OFFLINE!!!
It's awful
It doesn't have a sign up option for me
Great app
Excellent music service. I would only like one more feature: it would be great if in the "Search" bar, when you search for a song, there are two options, one to search the entire deezer app and another one to search your library. I would like this because whenever i look for a song that's already on my music, it always takes long to find it because other results pop up. It would be easier if i could search songs only from my library. Besides that, it's one of the best music services out there.
Friendly app
Super facil de navegar en la app!
Yassine
7330yassine
on
12/25/2017
Bl
Hate it
I don't like it cause it takes your money to buy music 🎶.Dont get fooled!Be careful.Dont get it!
Not good sign up procedure.
Mysubscription
on
12/22/2017
Fircefull sign up to premium else no way to listen songs is just useless. Bad app.
Music won't play with lyrics
Last update screwed it up. Will not play music without a robot singing it instead of the artist! WASTE OF MONEY
I had enough
Mostunique88
on
12/21/2017
Now the app is only advertisements after another and limited track switching i can no longer enjoy it
Not enough mixtape options
This app is great for options on the radio but for someone like me, not a whole of variation. I listen to a ton of underground mixtapes and songs that don't always make it to the radio
How not to convert users
I was looking for an app to stream music and as in Romania the list is pretty scarce on the freemium model (still no Spotify), I choose Deezer, opting to see how the trial goes and then moving to the paid. The trial was OKish, not all the tracks I like are on Dezzer yet, but not to the point it is very upsetting. What is really bad is how the app forces you to move to paid, example favorites tracks in shuffle add music that you haven't favored, same for albums, etc. For that sole purpose of pushing me to the pay through forcing a bad experience I will not move to premium and wait/look for alternatives.
Amazing App
This is the best music App I have met. It has really made my life more comfortable. I can listen to all sort of music and I'm more excited about their quick updates, there are collections of the world finest radio stations too. And the quality of music I hear. Big ups to the developers.
Good, but...
Alireza Mondia
on
12/14/2017
For some reason, my favorite tracks only displays 984 out of the 100s or so tracks that i've favourited. I can see the rest of the tracks on the desktop app (osx), yet I can't seem to favourite any more track on the ios app. This really breaks the experience for me, so i'm giving it 3/5
Please fix CarPlay support
I only use the app via CarPlay on my cars radio. It keeps bringing up dialogs on the app on my phone which means the interface on my car radio stops responding. I have to then open the app on my phone which is particularly dangerous whilst driving. And it keeps causing the CarPlay interface to crash when I start my car meaning I have to go through the extremely time consuming task of forgetting my car on my phone and rebooting my cars radio.
Terrible
One of the worse apps not worth $0.99
Limitations
At first I was a great fan of it.But after the free version I have to hear the songs in shuffle mode and also I failed to download songs for premium+. It will be best for the users if you switch the app as it was at before
Samo kvalitet
baneBanimal
on
12/12/2017
Vrh vrh vrh!
Very satisfied
I'm a current employee for cricket wireless and my coworkers would always tell me this app was amazing. Ok at first I thought maybe this was just a sale rep talking, trying to make a sale(lol). I finally decided to try it free for a month! Let me tell you this app is amazing, and for being a metalhead I didn't think they would have much metal music. I was wrong! I love this app and I use it everyday to listen to music in my car, at home, and at work. I would absolutely recommend Deezer, it's absolutely worth the money! $$
Not that bad
Nath (stromatthew)
on
12/10/2017
The worst thing is: it takes too long to hear the new releases, I wish it was faster ):
Excelente
Rogersanchezbel
on
12/10/2017
Mejor que muchas
Spotify is better
Been using Spotify for 3 years and decided to try Deezer when my Spotify Premium ended this month. Started the three month trial and figured out it is not as good as Spotify. App is more resource demanding and even with Premium, it sometime plays a random song instead of the one I select. Will be switching back to Spotify once the three month trial is over. Interface is whack. Can't figure out where all my saved songs are going or the song I played last from a playlist. I'll suggest you use Spotify if you are a regular music listener. Deezer's song management needs a workover.
Срање
Pera miljakovac
on
12/9/2017
Срање бољи јућуб
Log in
Edwardo 3090522
on
12/8/2017
I have a problem about log in i am a new user and it is only turning to me log in button and sometimes sign up button but sign up button doesn't work And the facebook log in takes too much time
Fact Sheet
Publisher:

DEEZER SA

Category:

Music

Released:

Oct 31, 2008

Current Version Released:

Jan 08, 2018

Version:

6.30.0

Size:

138.4 MB

Compatibility:

Requires iOS 9.0 or later.

Recommended Age:

12+

Game Center Certified:

No

Supported Languages:

Croatian; Czech; Danish; Dutch; Flemish; English; Finnish; French; German; Hungarian; Italian; Japanese; Malay; Bokmål, Norwegian; Norwegian Bokmål; Polish; Portuguese; Romanian; Moldavian; Russian; Slovak; Spanish; Castilian; Swedish; Thai; Turkish; Ukrainian;

Parental Advisory:

Mild Alcohol, Tobacco, or Drug Use or References; Mild Sexual Content and Nudity; Mild Realistic Violence;