Screenshots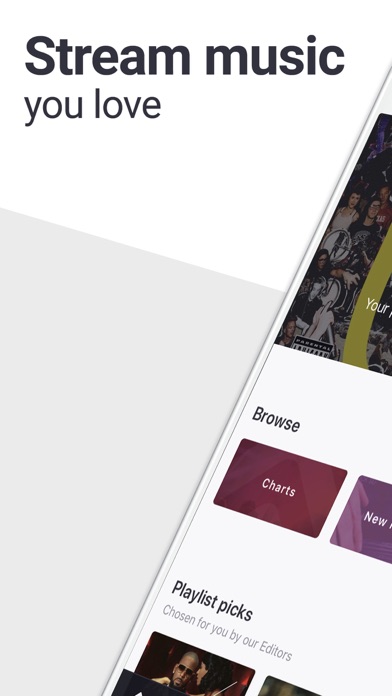 New in version 6.27.1
- Don't skip a beat
No more music FOMO with Deezer. When you tap on an artist page, you'll find their latest release at the top of the page just under their top tracks. You'll never miss another release from the artists you love.

We've also been busy fixing a few bugs here and there on Chromecast, so that the app runs like a charm.
Description
Discover the music you love with Deezer. With access to millions of tracks, create endless playlists with your favorite artists, songs, albums & MP3s. Search, stream and download unlimited music with Deezer Flow.

> Unlimited access to millions of tracks
> Flow - your one-click musical guide
> Stream songs, artists, albums, genres, radio stations and audio channels
> Sing along with on-screen lyrics
> Listen to unlimited playlists curated by our music editors
> Import the MP3s that you can't live without
> Let the music play, on or offline

Customize your Flow
Flow, the ultimate music matchmaker. Flow discovers new songs, albums, artists and genres based on the music you love. Go ahead and import your favorite MP3s into your library and we'll serve up the soundtrack. We're always musically attuned with your favorites.

Hit play for unlimited music discoveries and streaming. It's the best place for music downloads, and our music catalogue has it all.

Stream channels
Search for new artists, songs, albums, audio channels, and radio stations by specific genres & countries. Enjoy your favorite music tracks at your fingertips.

Create your own playlist
Become your own musical DJ and create playlists for every mood or occasion. Music aficionados - rock out to every song with the finest audio, and listen to a never ending playlist. Check out our music player and choose to share your playlists.

Use Flow with on-screen lyrics
Never miss a beat with our on-screen lyrics. Whether it be Queen B or the King of Pop, we'll give you the lyrics and you take the mic. It's your chance to channel your inner Queen or Adele and sing along with legendary artists. 

Deezer Premium+
•Skip an unlimited number of tracks
•Listen to music offline
•Upgrade to better sound quality for the best pop beats
•Rock out to uninterrupted, ad-free music
•Offline music to stream and listen at your convenience
•Drive with CarPlay, the best copilot for your music 

Deezer Family, perfect for everyone
•Kids-only profiles
•6 Premium+ profiles

Deezer Premium+ is a subscription service with a monthly charge of:
AL 8.99 EUR / AR 3.99 USD / AT 12.99 EUR / AU 16.99 AUD / BE 12.99 EUR / BH 6.99 USD / BO 7.99 USD / BR 4.99 USD / BW 6.99 USD / CA 11.99 CAD / CH 17.00 CHF / CL 5.99 USD / CO 4.99 USD / CR 7.99 USD / CZ 7.99 EUR / DE 12.99 EUR / DK 129.00 DKK / EC 7.99 USD / ES 12.99 EUR / FI 12.99 EUR / FR 12.99 EUR / GB 12.99 GBP / GR 8.99 EUR / GT 7.99 USD / HN 7.99 USD / HR 8.99 EUR / HU 6.99 EUR / ID 89000.00 IDR / IE 12.99 EUR / IT 12.99 EUR / LT 8.99 EUR / LU 12.99 EUR / MU 6.99 USD / MX 139.00 MXN / MY 4.99 USD / NL 12.99 EUR / NO 129.00 NOK / NZ 15.99 NZD / PE 5.99 USD / PH 3.99 USD / PL 6.99 EUR / PT 8.99 EUR / PY 7.99 USD / RO 6.99 EUR / RU 229.00 RUB / SE 129.00 SEK / SG 12.98 SGD / SI 7.99 EUR / SK 7.99 EUR / SN 5.99 USD / SV 7.99 USD / TH 5.99 USD / TN 4.99 EUR / TR 12.99 TRY / US 12.99 USD / UY 7.99 USD

Payment will be charged to iTunes Account at confirmation of purchase. Account will be charged for renewal within 24-hours prior to the end of the current period, at the same price. No cancellation of the current subscription is allowed during active subscription period

* Manage your subscription directly from your iPhone *
Subscriptions may be managed by the user and auto-renewal may be turned off by going to the user's Account Settings after purchase.
1. Tap the "Settings" icon on your mobile, then tap the "Store" icon.
2. Sign in with your iTunes ID.
3. Tap "View Apple ID" then "Manage App Subscriptions".
4. You will be able to see when your next payment is due, or cancel your automatic renewal.

* You may cancel your subscription at any time *
Renewal of your monthly Deezer Premium+ subscription is automatic. You can cancel this automatic renewal at any time, at least 24 hours before the end of the current subscription period.
Privacy policy: http://www.deezer.com/legal/personal-datas.php
Terms of use: http://www.deezer.com/legal/cgu.php
iPad Screenshots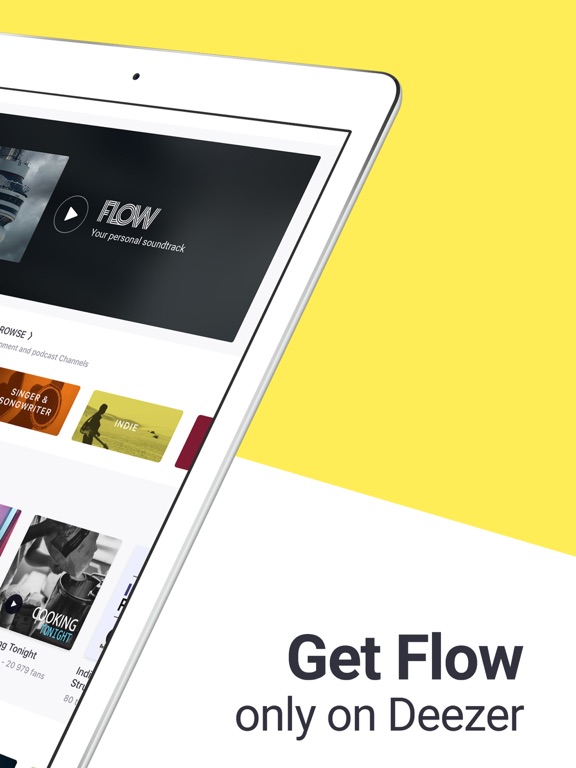 Reviews
The curious case of deezarr
In an artist page i cannot find their tracks although the latest update show show artist's songs in their page. I cannot search a song because the results are all playlist! Honestly i dont know what kind of music app this is cause its hard to find a song. And they removed the suggestion albums in the main article page. Disappointed.
Need more music
They need to add some more older songs out. They keep adding new songs and albums which is great but their missing alot of good songs like the Do the John Wall (not instrumental which they have), Chance the Rapper Acid album, etc!
Scamming into charging - zero stars
AppObjectiveMan
on
11/16/2017
I wanted to start the free subscription first and test this app, but just entering the app after signing up with touch forces you on the premium screen and if touching the home touch button allows it to charge before I could even stop it or try it. It is a "Push to pay before testing product scheme" here, and it is NOT cheap. Once charged it is impossible to cancel their subscription for the first month. I'll take the dispute and stop their charge on the credit card. It is the only way to stop them.
Loss of Full CarPlay integration
Nicknametakenass
on
11/15/2017
The app used to integrate well with Apple CarPlay in my GMC and, following the recent update, now it does not. The music still plays but there is no more user interface on my truck's screen - Deezer app icon used to show up and would allow me to use many of the functions and now it does not. I now have to control it from the phone.
I'm starting to get angry
Gabiruelo70
on
11/13/2017
Every time I try to add a song to my favorite songs I have to close the app to work. Arrrg
Great Music Service
LRDiscovery2000
on
11/12/2017
I originally signed up for this paid service for the high fidelity streaming music for my Sonos system at home. I now use this app on my phone for streaming while away from home and while I'm using headphones. Since I pay for Deezer, I don't have ads. The app is great with a wide variety of music genres including new releases.
Mostly ok
I'm a little OCD and it being able to clear out the notifications alert in the app is driving me crazy. Other than that I use deezer almost every day.
Description is NOT stating everything
I downloaded this app and had 15 days free trial for the premium version. And I expected the free version of the app would have ads, no lyrics on screen option, and maybe lower sound quality. However, once free premium trial was over, I figured that there is actually NOTHING u can do on that app except to SHUFFLE songs. This is the only use for this app in free version, just as if u put on a radio station. And the problem is that there is absolutely nothing in their description that states this fact.
Can't log in
Says one more step forever. Tapping it shows a spinner. But then spinner disappears and nothing happens. Can tap again for the repeat same fun process. 5 star clicker game but can't find the music app.
Best app ever
Shoug alomran
on
11/10/2017
I've been looking for offline music apps for weeks. This one is just perfect! I highly recommend this app if ur looking for some offline music! Great job at making this app. Thanks for the free music.
Deezer is bad
deezer does not stop giving me old music deezer should be always a day with the new tracks there is too much old music with old artists who are more fashionable like laddy gaga trey song if they have new releases track ok give them and why deezer prevents us from trimming the tracks we do not like after a number of next why?
It was good until the shuffle mode
Why the shuffle mode? Isn't ads enough?
Impossible to cancel
You can't use it
on
11/6/2017
Almost Impossible to cancel! It said to cancel just delete the app. So I deleted the app and I kept being charged for it. The FAQ instructions on how to cancel are untrue because there's no cancel subscription button, not on laptop or the app itself. You have to go to settings on your phone, Apple ID, subscriptions and then delete. I'm so mad at the time and money I wasted trying out this dumb app. Save yourself the time and money
Wow
There's not even a free version.
Hey Deezer
I pay my monthly subscription each month. Can you please fix your app. This is pissing me off when I leave a song to repeat and on the first repeat it cuts off and I have to go play it again. FIX THE REPEAT ISSUE DAMMIT!
No kpop
This app is pretty much useless to me. I listen to Romanian and kpop artists. And there's very few.
I'm Confused?
Is there any way to avoid the premium subscription?? I downloaded the app and there was no way to continue without the 1 month free subscription. I'm fine with whatever the free version is, as long as it's not as trashy as Spotify. I just don't know if it even exists.
Limited liked tracks, ads playing on stopped music
Don't get me wrong. App is great, some playlists are quite good. Database of songs is changing really fast. Like I see I had 1900+ tracks liked, then I am appearing online and there are only ~1800 of them. But on mobile app I can browse only first 1000(not from the most recent to 1000th, but from the first added till 1000th added), a bit sad... plus as I mentioned above some ads seem to play when you pause track(not skipping, but you press pause and ad starts to play, so when you hit play, music and ad creating a dissonance of sound)
Smooth
Omar abu rabei
on
10/28/2017
So far so good , smooth and have the option to listen offline and not complicated straight to the point , i am loving it so far
1 Year Now
Ive been using Deezer for a year now and i can honestly say i like this app way more than Spotify or any other apps. I love this app everything about it is convenient. Recommend this app to absolutely everyone.
Best music app!
I was very resistant to make the switch from Spotify at first, but everything about Deezer just made me love it! I like the sophisticated design, the easiness of the configuration presets and specially the advanced configurations that gave freedom to the geeks. The Apple Watch companion is also a must and the fact of having an App for Windows 10 just made my mind. And they all works like a charm.
Es lo mejor👍🏻
El fabuloso de michoacan
on
10/24/2017
Muy buena aplicación
In a way, it is better than Spotify!
Nickname is taken sikerim
on
10/23/2017
I used Spotify premium for 3 years and they brought lyrics stories but not actual synced lyrics. I agree Spotify has a better database on songs but believe me Deezer has enough too and Deezer has synced lyrics almost all of my english songs. Amaaaaazing. I can upload my mp3 files to Deezer and listen to it everywhere. Just like google music. So Deezer is better than both in my opinion, due to my needs. My vote for Deezer.
Bug
Ruben6442870
on
10/23/2017
The app is good but it keeps logging me out and i need to put my phone number lots of times
Почините баг!!!
ipad pro 10,5 ios 11 last vers. Какого черта загруженные песни при включенном медленном интернете лагают как будто не могут загрузиться с задержкой? Выключаю инет и все нормально, отписываюсь с подписки если в теч месяца не починят и всем друзьям посоветую альтернативу!!! Схрена ли оно «грузит» загруженное??!
Disappointed
DenyNoGuest
on
10/22/2017
Would love to be able to try it! But when I tried to sign up for a month free trial, I can't get past the "one more step" button. I press it over and over and nothing happens. Guess I'll be sticking to Apple Music.
Great app!
User friendly with great features.
Love it
ExpeditionMoss
on
10/19/2017
Absolutely love it
Deezer
Jonathan 1997
on
10/17/2017
Deezer is good at sound and recommendations, but does not have all the songs I like, for example, does not have all of Nickelback's songs and many more artists. I have spotify but I would like to change to deezer by its flac format. please put more music from famous artists
Never gave me a free trial
Abbysawesomer
on
10/14/2017
It said that I would get a 30 day free trial and it would charge $12.99 per month afterwards. It took $12.99 from my iTunes account right away. I never got the free trial. And if I cancel my subscription I don't get my money back.
Can't get in
When you try to go in you have to purchase premium. I start trial but I'm 13 so I don't have a credit card to buy something that's free.
Best music app
Dillgansterrio
on
10/13/2017
This music app is awesome
Cast options?
I recently bought a chromecast and there is a cast button on the app but I don't know what it is compatible with
Update ruins Deezer
Aiden Furnari
on
10/11/2017
It was going perfectly until the update
Why
Honestly I pay 6 or 7 dollars for Deezer and I don't use it often but when i picker on my playlist it says you need premium to listen to a specific song and instead it shuffles? Ummmm I can quit the subscription and get a better offer with soundcloud premium or Spotify premium? fix this
Oh no it didn't work, subscripton unavailable.
Waste of time.
Good good la mejor de su tipo
Lo mejor modo aleatorio para toda la música me encanta gracias Deezer
Honestly, I loved it until....
I'm not going to lie the app was absolutely perfect, the music availability to the offline listening and even the color of the app was appealing but all that was over looked when you decided to update the app and make some features for premium user only now it's difficult to listen to all the music I downloaded and I can't skip anything, I get that's it's the money making thing but your app was absolutely perfect before the recent updates.🤷🏾‍♀️
Frazee review
Love, love, love Deazer!!!
Amazing
Keedie-Gray Gaming
on
10/4/2017
Such a good app! Whenever I want to just chill and listen to my tunes Deezer is the place to be! Although I recommend Deezer++ om TutuApp
Equalizer access is terrible in iphone7
ThoughtSpiralFan235102
on
10/4/2017
This app has a great equalizer. But☝️ you cant open it in IPhone7. The toggle switch is at the top and you can't pull down and open it🤦‍♂️😖
Update music
I'm a little irate that artist: Isaiah Rashad's lasted album "The Sun's Tirade" is not on here, and YES it is an album! His complete discography needs to be updated. If this isn't fixed in a timely manner then I'm canceling my subscription and switching to Apple Music where I wouldn't have this problem!
Mal funcionamento no ios 11.0.1
Junior Ribas
on
10/2/2017
O app não esta funcionando na tela de bloqueio e não funciona os controles no fone de ouvido
Great App
Spectacular app, but needs regular updates as it can be buggy with iOS updates. But overall, a worthy investment!
Ok
Can't seek from lockscreen, cant reach equalizer button
Cannot log in
I am not a bot and I am a real customer. I have the issue of not being able to do anything. Everytime that I try to log in the screen goes blank and says "oops, an error has occured."
I love this app and my music that plays on it
OSO MARVELOUS
on
9/28/2017
Great day every one. I came across Deezer and signed up and what to say. The options are sick. To control your music sound. And the In app additions... I say give it a try before you buy. However it's really worth it and the family plan looks better then most out here The future is here !! Enjoy. And keep making music " Oso Marvelous "
Honest app review
Grusendorfda98
on
9/28/2017
Deezer if a very well thought out app, it is very easy to use and it always delivers. My only recommendation would be to have a less strict search apparatus, for example if you sometimes forget a hyphen or mistype one letter the entire song is unattainable.
Não aceita o seu e-mail
Não indico esse programa porque ele não aceita qualquer e-mail para cadastro, ou seja, só o e-mail que ele quer.. hahahahaha deixo para os desenvolvedores usarem. Usarei outro app.
Fact Sheet
Publisher:

DEEZER SA

Category:

Music

Released:

Oct 31, 2008

Current Version Released:

Nov 14, 2017

Version:

6.27.1

Size:

146.1 MB

Compatibility:

Requires iOS 8.0 or later.

Recommended Age:

12+

Game Center Certified:

No

Supported Devices:

iPad2Wifi-iPad2Wifi, iPad23G-iPad23G, iPhone4S-iPhone4S, iPadThirdGen-iPadThirdGen, iPadThirdGen4G-iPadThirdGen4G, iPhone5-iPhone5, iPodTouchFifthGen-iPodTouchFifthGen, iPadFourthGen-iPadFourthGen, iPadFourthGen4G-iPadFourthGen4G, iPadMini-iPadMini, iPadMini4G-iPadMini4G, iPhone5c-iPhone5c, iPhone5s-iPhone5s, iPadAir-iPadAir, iPadAirCellular-iPadAirCellular, iPadMiniRetina-iPadMiniRetina, iPadMiniRetinaCellular-iPadMiniRetinaCellular, iPhone6-iPhone6, iPhone6Plus-iPhone6Plus, iPadAir2-iPadAir2, iPadAir2Cellular-iPadAir2Cellular, iPadMini3-iPadMini3, iPadMini3Cellular-iPadMini3Cellular, iPodTouchSixthGen-iPodTouchSixthGen, iPhone6s-iPhone6s, iPhone6sPlus-iPhone6sPlus, iPadMini4-iPadMini4, iPadMini4Cellular-iPadMini4Cellular, iPadPro-iPadPro, iPadProCellular-iPadProCellular, iPadPro97-iPadPro97, iPadPro97Cellular-iPadPro97Cellular, iPhoneSE-iPhoneSE, iPhone7-iPhone7, iPhone7Plus-iPhone7Plus, iPad611-iPad611, iPad612-iPad612, iPad71-iPad71, iPad72-iPad72, iPad73-iPad73, iPad74-iPad74, iPhone8-iPhone8, iPhone8Plus-iPhone8Plus, iPhoneX-iPhoneX,

Supported Languages:

Croatian; Czech; Danish; Dutch; Flemish; English; Finnish; French; German; Hungarian; Italian; Malay; Bokmål, Norwegian; Norwegian Bokmål; Polish; Portuguese; Romanian; Moldavian; Russian; Slovak; Spanish; Castilian; Swedish; Thai; Turkish;

Parental Advisory:

Mild Realistic Violence; Mild Sexual Content and Nudity; Mild Alcohol, Tobacco, or Drug Use or References;