Screenshots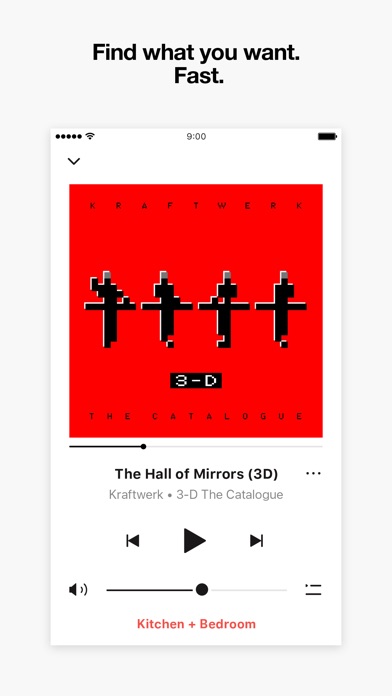 New in version 8.2
Listeners in the US can now play music from the Pandora app straight to Sonos. Enjoy Pandora, Pandora Plus or Pandora Premium out loud at home.

Wake up to your favorite songs, radio stations or playlists with the enhanced alarm feature, now with the much requested snooze function.
Description
Sonos is the wireless Home Sound System that fills as many rooms as you want with beautiful, immersive sound. Stream via WiFi. Play any song, podcast, audiobook or radio station, and enhance your TV and movie experience.

Move music around your whole home.
Choose what plays in any room or everywhere, and easily move music around your whole home. Everything stays in sync.

Stream everything with one app.
Access over 30 music services. Play on-demand Internet radio, podcasts, audiobooks, and more. Search all of them at once, and save your favorites to My Sonos.

Find what you want. Fast.
Simple navigation lets you quickly find and play what you want. Easily set up speakers and customize settings.

Better over time.
Get the best listening experience with software updates and tips for making the most of your Home Sound System.
iPad Screenshots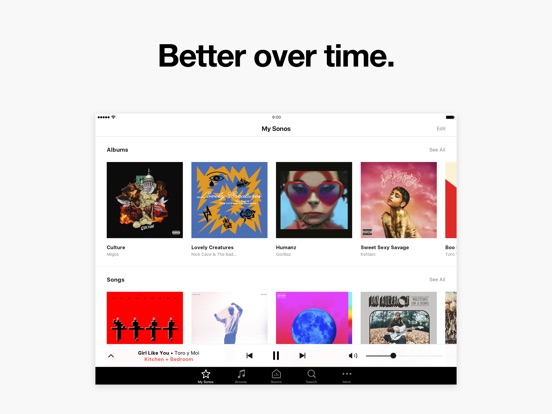 Reviews
What happened?
g_zimmerman
on
11/18/2017
What a disappointment. I have consistently loved this app but this release is terrible. Why change a good thing? So frustrating I've stopped using Sonos from my iphone. Silence is preferable to frustration. The app functionality is not intuitive and is a vast departure from any prior structure. Why diverge from a good solid path?
New app is NOT user friendly
Sometimes newer is not better and this last update is exactly that: not user friendly at all! I've been using this app for over 4 years and this is the worst update. Either fix the problems or go back to the last version!!
Confused/Confusing
Why fix what wasn't broke? This new version is terrible. Lost its intuitive sense. I've tried to get used to the new layout, new browse, search and 'My Sonos' interfaces. Still trying to feel at home. Please revert to the older layout. This is slow, unresponsive, confusing, and not in line with the experience we enjoyed before this latest update. Terrible Current version is even better. Great interface updates and easy access to the multiple streaming services. Stil....Simple, intuitive, a case study in excellent development. Thank you, Sonos!
New update is absolutely the worst
Absolutely the worst update ever to anything I have. Made it unusable and very difficult to control multiple rooms....was 5 stars easily before the update...please go back to the old controls for the love of everything right in the world. What is up with all the stupid authorizing of pandora account? Really really dumb.....you had the best system in the industry, why screw up a good thing?
2017 user interface horrible!
mikeinaustin62
on
11/18/2017
The 2017 update is one of the worst user interfaces I have ever encountered. Did they bother to do a user comparison before putting out? I'm a software engineer with just over 30 years of embedded experience and this is plain junk. Here's my suggestion to Sonos, fire the lead designers and go back to what you had before.
No longer usable without giving up privacy
We bought our speakers well before Sonos announced the mandatory collection of data they don't need (such as your wifi networks, room names, location, etc), and the latest app update will no longer play music until you give them this data. We already decided not to buy any more speakers, but now I need to downgrade the app to get them working again. If you value your privacy, DO NOT BUY THESE SPEAKERS! DO NOT UPDATE YOUR APP! Sonos does not deserve your business if they cannot respect the commitment to functionality that selling a device requires.
Greatest product on the market
This used to be a great app. You could do anything with it. But they REALLY screwed the update up. Now you cannot get to anything. If I have two units playing I cannot change from one to the other. The volume controls are very difficult to get to. I cannot figure out how to get to the source page any more. Talk about ruining a good thing!
Here's why
I got my player in 2014. I was happy because it was simple. Now I have to do twice as much to my system than earlier in time. I started to get mad.
Terrible upgrade
Sonos, can I please please please please please go back to the old version? This is one of the worst user experiences ever. So confusing. Who designed this garbage?
New Version Killed the User Experience
The UX designers completely missed the mark with the new version. I used to love this app...now I fear using it. Think about the journey...we want to play music in specific rooms. Given that, why would you design a solution that tucks room management in a place that no would intuitively go to???
No longer works
I was forced to update the app yesterday and now it no longer works at all. Just an endless loop of telling me the app needs updating, then it goes to the App Store and says it's up to date. It's pretty worthless now.
Useless with new update
Strongly advise you look at buying the alternative Product. The new forced updates delete all your favorites, delete your alarms make adding any accounts like Spotify, Pandora, Sirius back impossible. Any Sonos devices that you have will no longer play until you update but then the update doesn't allow you to play anything anymore. let them know I guess?
This app is worse than the Apple Music app!
Ihopethisnicknameisnottsken4
on
11/18/2017
These were really good speakers until they updated the app and the speaker firmware. Sounds like crap now. The tuning feature is probably just faking it. Also, the updated app interface made the ui worse.
New App Is terrible
Did someone actually test the new app before you released it? Why did you make it harder to play music?
Worst user experience
I am a lifelong Sonos user. I have many devices and love them. But the App is the worst thing ever. I find myself struggling to find and play my music every time. Whoever designed the UI needs a massive lesson in how to use applications.
Terrible
I am playing a podcast, playlist or meditation in my car and I just want to continue listening. Not with Sonos! I have to continually resynch my whole iTunes library to add the one thing I want to listen to. And it won't let me play any of my Spotify lists I follow , it insists on trying to get me to subscribe to Spotify. And the updates are always inconvenient - I want to do the update after I'm done listening it but it locks you out until you update. I can't wait for Apples's speaker so I can get rid of this.
New update not user friendly
I've had Sonos speakers for some time now and loved them. The new controller update is not user friendly. It makes room selections more difficult. Also, I have noticed some audio cutting out intermittently at the beginning of albums when I use all the speakers at once. Never occurred prior to the most recent update. Fix the bugs and it's a 5 again!
Latest version is a major step backward
Redsheepfarm
on
11/18/2017
I've been using these products for six years. The last app update has a terrible user interface and won't connect with my system at least 50% of the time. Sound of silence in the house is deafening...
Terrible update
Used to be wonderful! The new updates are awful, makes me want to get rid of my 6 players.
Very meh ui
The ui update is a pain. Difficult to access rooms from currently playing. Not really clear what they were trying to do but .. bummer
Updates are NOT user friendly DELETING app
I can't find my stations, I can't find my rooms. I am moving to Spotify if this does not improve! I used to love SONOS but will not endorse any more, this is not an enhancement and it just keeps getting worse!
Horrible new UI
OnTheMoveGuyTH
on
11/17/2017
Update. Ok I figured out how to use the new version. Go through one set of menus to target a room. Then back up and go through the other menus to find music. Select the music. In the background the app will play to that last room you selected. Not at all intuitive and feels like you're leaping into the air. If I remember before when you selected the room you could then make one step more to the music. Where do I want to play what. It was a connected thought. -x—. —x-x- —- -x- What worked now doesn't. It's the type of change where you doubt anyone at the company actually uses their own product. Way back Skype through a similar change from very functional to unusable and unstable.
New application interface is awful
Update: Sonos, you really need to do a better job at doing market research on your application updates. I just updated to the latest version and it has crash 6 times and won't integrate Spotify properly. Fix your crappy system. Updated to the new application and it isn't nearly as user friendly nor does it function properly. Was unable to change between speakers. I have 3 rooms set up and when I tried to change it group two rooms, it would drop one of the rooms off after hitting done, or it would default to living room without changing to another room selected. Absolutely piss poor interface.
App layout terrible!
Petrarch987
on
11/17/2017
I'm a huge Sonos fan. I own many of them since they first came out. BUT... this app design and layout is terrible. I love the quality of the system but please re-design this app. I gave my parents a couple of sonos products and they won't use them due to the layout is extremely confusing.
Awful "updated" sonos app
sad sonos lover
on
11/17/2017
What has happened to the Sonos app? Used to be intuitive, easy, and user-friendly. Now it is impossible to use. What has happened and why? Why the negative change? Things I hate about the new app: it is impossible to navigate. It is extremely hard to see the songs in an album. It is extremely hard to group rooms or to find music. Is this designed solely for those who use Sonos with Alexa? Many people have no interest in Alexa. Please, Sonos, go back to your old app!
Worst Decision Ever
exasperated Sonos victim
on
11/17/2017
Are there negative stars? Zero or worse from me. More than half the time I go to turn on music the system needs an update (though it doesn't always tell you that — it suggests the issue is your Wi-Fi, but trust me it's always Sonos). Totally unreliable. Controller interface is entirely counterintuitive. Hard to find what you want. Speakers/rooms disappear the reappear (repeat). DO NOT BUY THIS PRODUCT — I wish I'd never heard of it. Now I just can't hear any of my music. Horrid.
What happened to the UI?
The latest user interface update is less intuitive than previous versions. Things seem to have moved around and not for the better. Now, it seems to take a lot of extra clicks to get to the same place. I think it's easier to control Sonos through the desktop program, which thankfully they haven't changed much.
Dreadful update
Sonos took what was arguably the best app of all time and completely reconfigured it. The result is an overly complicated 3 clicks versus 1 click layout, hard to figure out, over complicated and downright awful. PLEASE bring back the old app/layout!
App Crashes
I love the Sonos System. App is very buggy. Crashes constantly. Will crash if I tie in couple of zones. Now have updated to the new release and will crash before opening. Fix It!
New UI is miserable
black7-theRe@lOne
on
11/17/2017
No need to repeat what others have said. Please Sonos, address this.
New UX is horrible.
Been a Sonos user for ten years. Have 20+ zones and have been a beta site as well. I love Sonos but can't stand the user interface since the update. It does not feel Intuitive on any level. Find myself constantly moving between functions because it does not flow as it should. To the point where I am using my system less and less because the interface is so poorly thought out. Only reason for 2 stars as opposed to 1 is that the amps and other devices itself are still amazing
Great system
Well done. Easy to setup and use.
App update was a step backwards on ease of use
I have been a huge Sonos supporter because the app was so easy to use. I told friends and family that the music quality was good and the user interface was fantastic. People I know in their 70s and 80s could use the app where the struggles with other iOS apps. Unfortunately this upgrade doesn't allow me to promote Sonos like I have in the past. Kind of torn what to say now. Hopefully Sonos reads the reviews and realizes the mistake. I am not saying go back to the old version. There may be an interface that is better than the prior one. Please fix this ASAP so I can brag about my Sonos again.
Recent updates to app- not good
I'm the person in the house who always find technology and apps intuitive, but the recent version has even me flummoxed. The old Sonos app was intuitive and got the job done. The new version is just terrible, and so hard to navigate. What were they thinking?
5 star hardware; 3 star app
Love the Sonos itself. App has always been poorly designed. A recent UI update made it worse, but much of the really awful pieces have now been fixed.
Go back
They took a relatively user-friendly interface and made it Byzantine. More touches to get to rooms and stations or playlists. Go back.
New app version hard to use
Have been a Sonos user for many years. New app layout is worst for some time. Very hard to change room and add music to the right queue. I love my Sonos system and hope they manage to fix the issues soon. It's a pain to use right now.
Update issue
Blue lagoon and
on
11/16/2017
Connectivity issues popping up with latest updates
New update ruined it for me
I gave Sonos five stars a couple years ago, but the recent update stinks. Please fix it, SONOS! So unhappy. Used to be great. Now it is buggy and hard to use. Please make it great again.
Love Sonos hate the app since iOS 8
Update to my previous review and sadly still bad. The redesigned app is brutal to use, especially if you move room to room and have different things on. Also hate the new Sonos favorites, the old list was great. Still love my Sonos speakers, but the app is poor.
Buggy and lacking obvious features
Unhappy fidelity customer
on
11/16/2017
No idea why I have to group speakers together every single time I want to play music in two rooms at the same time. Why can't it save a grouping or several different groupings that can be selected? Sometimes one speaker in a grouping just doesn't work at all, I have to select a different speaker and create a new group. The audio from the Sonos speakers is really good for a Wifi speaker, I wish the software wasn't so half baked.
User Experience is Poor
I love SONOS but who is in charge of the app development. The usability continues to get worse!
11/16 Terrible, no good, very bad, awful app
**11/16 Are you purposely trying to push people away from owning Sonos products? First you take an easy to use app and turn it into a jumbled, unintuitive mess and now after your latest "improvement" I'm unable to connect to most of the songs I attempt to play.
How do I go to previous version
Apptarded Apple Pie
on
11/16/2017
In general - it seems to take twice as many touches to get anywhere in the app now. *update* Now it got worse. I have to click a new button 'my stations' in pandora to get to channels. What are you guys thinking?
New app and update is worse ever
The new app is hard to navigate and as of this morning after the update of iOS and app; the app won't even open. Please please don't upgrade this app. Sonos you used to be the king of UX, please stop doing what you are doing now and go back to your old ways
New App is terrible
Still love my Sonos system, but the latest app UI is terrible. It used to be intuitive. Now, to navigate to different rooms, I have to move to multiple screens. It's very confusing. I can't control multiple room volumes from the same screen. Selecting music or inputs is convoluted. Please, Sonos, go back to the drawing board and make this better. Revert back to the old app if needed.
Update problems
Really getting sick and tired of having to go back and re-pair every single speaker in the house after every software update. Either fix this problem (so that they don't lose their connection to the base station) or limit the updates to once or twice a year. The constant hassle is making me start to consider other wireless speaker options.
new update
this see update is garbage... give me my old controller back please!
Updated format is terrible
Teacherrehcaet
on
11/16/2017
Love sonos but all these updates are terrible. They are so unuser friendly, hard to navigate. Go back or fix it please!
Bad update
I liked the old app and today you FORCED me to update to your horrible, new app. Bad, bad Sonos. Very angry.
Fact Sheet
Publisher:

Sonos, Inc.

Category:

Music

Released:

Oct 28, 2008

Current Version Released:

Nov 14, 2017

Version:

8.2

Size:

87.6 MB

Compatibility:

Requires iOS 9.0 or later.

Recommended Age:

4+

Game Center Certified:

No

Supported Devices:

iPad2Wifi-iPad2Wifi, iPad23G-iPad23G, iPhone4S-iPhone4S, iPadThirdGen-iPadThirdGen, iPadThirdGen4G-iPadThirdGen4G, iPhone5-iPhone5, iPodTouchFifthGen-iPodTouchFifthGen, iPadFourthGen-iPadFourthGen, iPadFourthGen4G-iPadFourthGen4G, iPadMini-iPadMini, iPadMini4G-iPadMini4G, iPhone5c-iPhone5c, iPhone5s-iPhone5s, iPadAir-iPadAir, iPadAirCellular-iPadAirCellular, iPadMiniRetina-iPadMiniRetina, iPadMiniRetinaCellular-iPadMiniRetinaCellular, iPhone6-iPhone6, iPhone6Plus-iPhone6Plus, iPadAir2-iPadAir2, iPadAir2Cellular-iPadAir2Cellular, iPadMini3-iPadMini3, iPadMini3Cellular-iPadMini3Cellular, iPodTouchSixthGen-iPodTouchSixthGen, iPhone6s-iPhone6s, iPhone6sPlus-iPhone6sPlus, iPadMini4-iPadMini4, iPadMini4Cellular-iPadMini4Cellular, iPadPro-iPadPro, iPadProCellular-iPadProCellular, iPadPro97-iPadPro97, iPadPro97Cellular-iPadPro97Cellular, iPhoneSE-iPhoneSE, iPhone7-iPhone7, iPhone7Plus-iPhone7Plus, iPad611-iPad611, iPad612-iPad612, iPad71-iPad71, iPad72-iPad72, iPad73-iPad73, iPad74-iPad74, iPhone8-iPhone8, iPhone8Plus-iPhone8Plus, iPhoneX-iPhoneX,

Supported Languages:

Danish; Dutch; Flemish; English; French; German; Italian; Japanese; Bokmål, Norwegian; Norwegian Bokmål; Portuguese; Chinese; Spanish; Castilian; Swedish;