Screenshots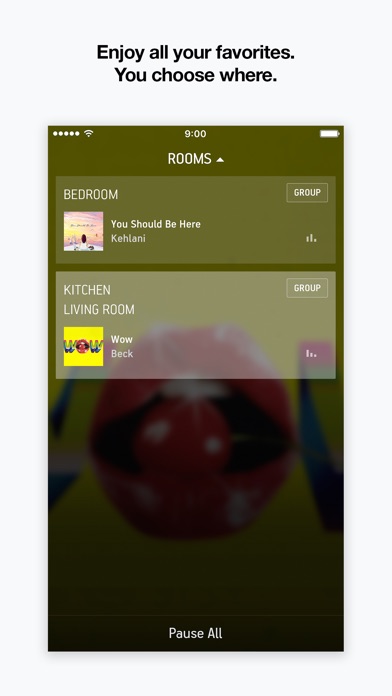 New in version 7.4
A new privacy statement for the next updates in our software and systems.
Description
Sonos is a system of HiFi wireless speakers and audio components designed for every space in your home. It unites your digital music collection in one app that you control from any device.

ENGAGE YOUR SENSES WITH IMMERSIVE SOUND
Feel the music come to life when you immerse yourself in Sonos sound. Hear every song as it was meant to be heard and every instrument as if you were in the studio or the front row.

CONTROL EVERY ROOM, FROM ANY DEVICE?
Use your smartphone, tablet or computer to stream different songs in each room, group rooms together, or hear the same beat everywhere.

STREAM ALL THE MUSIC ON EARTH 
Listen to all the music you love, no matter where it lives. Imagine your music library, music services and more than 100,000 free radio stations, podcasts and shows blasting off the walls of every room.

SIMPLE TO SET UP, CONTROL, AND EXPAND?
No rewiring. No complex programming. Place your Sonos speaker anywhere in the house and connect to your home WiFi network with an intuitive mobile app. Build a house of sound, one room at time, and control your entire home audio system from your phone or tablet.
iPad Screenshots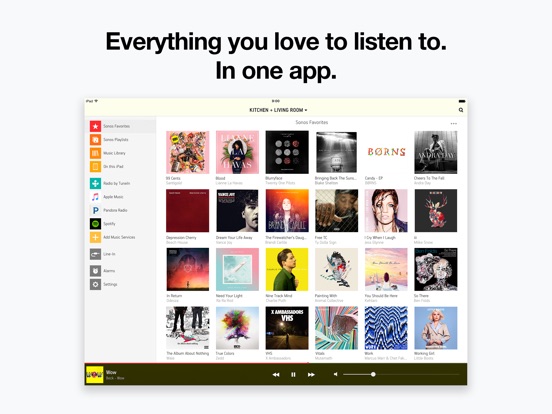 Reviews
Great app
Sonos is a great app. Has been pretty reliable. Absolutely love it. Hope they can add more and more music services to it including the free versions of services like Spotify.
Makes listening to music around the house ridiculously easy.
Dr. Mean 1959
on
9/25/2017
I have two sets of speakers in each of two houses. It means I can listen to Pandora either place, or use music on my iPhone or my laptop. If I could 4-1/2 stars I would, the only ding on an otherwise great product is that sometimes the controller (either my iPhone or my laptop) will not connect to the Sonos. But this is exceedingly rare. But when it happens, it's really frustrating.
Great app for great speakers!
Thank you Sonos. I love the speakers and the app is great too!
Speakers are great, controller app needs love
Debbie H & Kids
on
9/25/2017
Love the ease of my Sonos to blast music throughout the house. Great to stream different music to different speakers too! The controller needs love though. No home button which means hitting back multiple times. Difficult to stream various services as they all interact differently - which I realize probably has little to do with Sonos and more to with the services themselves. Here's to rocking out!
Great app and product
Freebrian456
on
9/25/2017
Love this app and product! Does exactly what it says and more!
Love my Sonos
Akela the Wolf
on
9/25/2017
Very happy with the system. Was also pleased to find out the hard wired speakers can be tied into the system. Integrated surround speakers which were already wired into the den and added 2 sets of outdoor speakers.
Good application but....
... when do you plan to release a Watch version when Apple or Deezer have already their native application...?! Also, the application is far from being user friendly because it is missing a lot of functionalities you get from streaming services native applications. Unfortunately I don't see any further improvement because of the GAFA getting their own musical services and speakers.
Big Fan of Sonos
The Conditts
on
9/25/2017
I have been a Sonos fan for 5 years now. I have a set-up all over the house and have now migrated a system out doors by my pool area(All of which is covered but open air). From an entertaining perspective, there is nothing better! The clarity is unmatched. I wish that their R&D would design outdoor speakers as this is uncharted waters. I am a huge fan and a satisfied customer. Hal Conditt Brentwood, TN
Frequently loses contact with Spotify
Recently this app has frequently become nonfunctional when playing Spotify premium music. I shut it down for five minutes and usually it starts working again. My WiFi maintains download speeds of about 25.
Best out there.
Been using them for 3 years now. Can't imagine life without Sonos in the house.
Be careful with updates
When it works-which is most of the time-it's great. But don't install updates till you're sure that there are no problems or that there is functionality that you want for need. Because when it gets temperamental it can be maddening.
Sonos
I love sonos ! It is amazing
Love it
Absolutely love my Sonos system. The easiest way to add whole home music.
Great app
Dr.Engineer9
on
9/25/2017
Love it
very easy to use, lovely sound
withrespectto
on
9/24/2017
a nice product overall. simple IR remote control would be nice. being able to send *to* (when we're at someone else's home and want to play from our playlists/favorites) would be very nice. headphone jacks on *every* piece of hardware that has a volume control on it would be nice. being able to play though my Mac/iphone/ipad speakers (or headphones) would be nice. Shazaam integration would be nice. but, a nice product overall!
We love our Sonos system
Pasadena Feminist
on
9/24/2017
We started with one small Sonos. Added a playbar and another small one for the other end of the house. They were very easy to link together (or not if you dont want to) and add to my phone to manage the volume. Love it.
Great sound easy controls
Horse/ocean girl
on
9/24/2017
I bought a medium sized wall speaker and it produces quit a lot of sound. The app is easy to use and easy to set up. I have had no issues with the speaker or the app.
Learning curve but we do love!
The interface between iTunes (which is where our entire library lives) and the sonos system is a small education. Customer support is always helpful. If you are a mac user...which we are...you will also have to decide who's library sonos should access and when in use your computer/laptop/tablet hard drive must not be asleep when you want to play music. Always room for improvement. 4 stars. But as it goes with the current world we live in, there isn't just one system in the house to deal with these days...(nest, Alexa etc just to name a few)
Just what I was looking for outdoors
I needed music for an outdoor setting that would not cut out like a blue tooth set up would and the Sonos was the perfect. Lots of music to select from.. I would definitely purchase it again!
Poor Integration with Pandora
iPhone User 31666
on
9/24/2017
The hardware side of Sonos is awesome. Very simple to set up. Very easy to expand when the time comes. It's also extremely reliable. I've been using it for years and have literally never had the system crash or act buggy. The music quality is great, with no skips or other audible flaws, unlike some other systems I've used. On the other hand, Sonos does a poor job of integrating with Pandora which unfortunately is the service I use the most. The Pandora Premium whole-album on-demand is unavailable on Sonos. So, I can't listen to all the music I pay for. I fairness, it's probably more the fault of Pandora than Sonos. Pandora has to provide APIs to allow Sonos to access the Premium services, and I believe they haven't. Alternatively, Pandora could integrate Sonos into its own app, but they haven't done this either. Nevertheless the functionality isn't there, and it's frustrating. Spotify is better on Sonos, although still not perfect.
Great app
Kimberly65688
on
9/24/2017
Easy to use. Very satisfied.
Love the ability to control my music!
I love this app. The Sonos speaker system gives us high quality sound with access to all our favorite music and services such as Pandora, Sirius XM, Apple Music and our favorite- Radio Paradise!
Good but some media not supported
A very good app for controlling Sonos, which I really like, but it doesn't play Audible books. There's a ton of content available, including other audiobook services, but the Audible books I have won't play on Sonos. That's not a deal breaker for me, just an inconvenience. But it does go to show that you're kind of at the mercy of the Sonos app support team to continue allowing you to access your favorite media on the $200+ speaker you bought.
The best - but for how long
Falling behind - where is the promised Alexa integration...
Stop asking me to review.
Great app except it keeps asking for a review. This is annoying. Stop.
Sonos never stays ready to play
When the system is playing, I love it. Unfortunately, I have to jump through many hoops to get it to play. I constantly update the app, so that's not problem. I simply want to pick up my iPad and play music without having to unplug everything and reprogram the system. I find it so frustrating, that I now depend on my Alexa for morning music and while I cook. I was considering expanding sonos, but it would be an unwise decision. I will continue to build around my Alexa and amazon out of pure frustration and embarrassment...
Seamless and Easy Music Throughout Home
We love our Sonos system and app for easy music playing throughout the rooms in our home. Easy to use, and works well. Have continued to add units and speakers over the years as a result of our satisfaction with the products.
Okay app
The app is acceptable, but has many flaws in relation to the services it is running and presenting, and it's functionality. The app doesn't correctly display my music library in alphabetical order. It poorly displays the Apple Music functions and options, such radio stations. It is a little clunky otherwise in how it operates.
Sonos Play5
TripAdvisor review
on
9/24/2017
I love it and all that it can do.
Very compatible with many apps
Superjuliebelle
on
9/24/2017
I access several apps through Sonos, and I really like lots of its features. The Spotify functionality is especially useful. I wish I could figure out how to play NPR One through it though.
Good stuff
Have used the app now for four weeks and love it. Since it contains all my music (or at least links to all my music), it's a great one stop situation. I have not had the kind of trouble with it that others have reported here and I use it regularly.
Beats Bose
I bought the Bose equivalent to Sonos at the same time I purchased Sonos. After several tests, Sonos won hands down.
Please read
This is the best music app out there. Yall need to make some headphones. I would love to use your headphones through the app
Best sound ever
Mr Bill 1956
on
9/23/2017
Replaced an older Bose system and this blows it away !!!
Phenomenal, when it works...
Have periodic trouble with Spotify connect and occasionally issues where the volume just starts blasting. Additionally, get the periodic 'file not found' error for Spotify songs Love the hardware, just need to iron out kinks in the software Please please resolve!
the worst
I've trying to ear a song (fix you from Coldplay) but it doesn't allow to find it.
Nice system.
We have the Play:5 for the living room, and it performs extremely well. The sound is rich and carries throughout the surrounding rooms in our open floor plan (kitchen, dining room). I am excited to continue adding pieces throughout our home to have a compete system. Thank you, Sonos!
Great app, better hardware
Love Sonos. Wish it were easier to integrate with existing speakers, and had a portable, battery-powered speaker, but it's great bang for the buck.
Works so well and the sound quality is great
After a lot of research, testing, and hearing it at our friend's houses, the wife and I decided to splurge on a soundbar and a Play:1. We could not be more satisfied and happy. The installation took a couple of minutes and the sound quality is great. We groud them when we have guest so the music plays throughout the house and enjoy the sound quality when watching movies and chillaxing. I just wished we would have done it sooner. Just love it.
Top Shelf App
Clickitysplit
on
9/23/2017
One of the best in the Apple Store. Works as advertised. Simple and intuitive interface. Tuning the full 5.1 theater system to fit the room using the iPad is ingenious. SONOS is real sound. One of the best investments I've ever made. But their recent update has been problematic. Though they've corrected the problems with TV sound cutting in and out (tech support was very responsive)...using a mobile device (iPad) as a playlist source is suddenly an issue. Hard to connect sometimes, changes songs in the middle, or just quits. It's NOT my home network.
Very easy to use
No complaints here. You can switch effortlessly between various streaming services, radio stations and the like. It's easy to put together and save playlists and to connect new devices.
Anti-intuitive
Update 9/23/17. The app is not perfect, but much improved. It is important to distinguish the concept of Sonos and the hardware from the implementation of its latest app. The concept and hardware remain wonderful, the latest app is a counterintuitive disaster. Whereas before I knew where to go to do things, now even after using the app for months I keep having to stop and think. It annoys me every single time I use it. Many of the five star reviews are praising the system and hardware, not the app, which needs to be rewritten from scratch.
Pros and Cons
This system sounds amazing! Price point definitely high for adding additional speakers. Have the surround setup and it is just unreal. Amazon Alexa support coming!!! Will definitely get another star when that hits!! Part of my purchase decision. The app itself needs some help. - needs to add support for Apple Watch Series 3 - needs to be able to play audio from music videos mixed into Apple Music playlists - search is kind of annoying since you can't do a general search in Apple Music but have to narrow it down to artist, song, album, etc...
Great Sound , very compatible with iPhone
Took all of 5 minutes to set up
Sonos
I'm really just here to meet sexy lady's with long skinny legs and thin lips. Preferably have hair down to your ankles.
Very effective
Easy and works well
Great system poor wifi
Über connector
on
9/23/2017
Have 4 units all Sonos 3. Works like a charm. Great sound.love it!
Love my Sonos!!
Still can't believe how good the sound is from my Play 1s. Stereo pair in the living room, one in the kitchen, one in the bedroom. Surround sound ;-)
Fact Sheet
Publisher:

Sonos, Inc.

Category:

Music

Released:

Oct 28, 2008

Current Version Released:

Aug 22, 2017

Version:

7.4

Size:

120.4 MB

Compatibility:

Requires iOS 8.0 or later.

Recommended Age:

4+

Game Center Certified:

No

Supported Devices:

iPad2Wifi-iPad2Wifi, iPad23G-iPad23G, iPhone4S-iPhone4S, iPadThirdGen-iPadThirdGen, iPadThirdGen4G-iPadThirdGen4G, iPhone5-iPhone5, iPodTouchFifthGen-iPodTouchFifthGen, iPadFourthGen-iPadFourthGen, iPadFourthGen4G-iPadFourthGen4G, iPadMini-iPadMini, iPadMini4G-iPadMini4G, iPhone5c-iPhone5c, iPhone5s-iPhone5s, iPadAir-iPadAir, iPadAirCellular-iPadAirCellular, iPadMiniRetina-iPadMiniRetina, iPadMiniRetinaCellular-iPadMiniRetinaCellular, iPhone6-iPhone6, iPhone6Plus-iPhone6Plus, iPadAir2-iPadAir2, iPadAir2Cellular-iPadAir2Cellular, iPadMini3-iPadMini3, iPadMini3Cellular-iPadMini3Cellular, iPodTouchSixthGen-iPodTouchSixthGen, iPhone6s-iPhone6s, iPhone6sPlus-iPhone6sPlus, iPadMini4-iPadMini4, iPadMini4Cellular-iPadMini4Cellular, iPadPro-iPadPro, iPadProCellular-iPadProCellular, iPadPro97-iPadPro97, iPadPro97Cellular-iPadPro97Cellular, iPhoneSE-iPhoneSE, iPhone7-iPhone7, iPhone7Plus-iPhone7Plus, iPad611-iPad611, iPad612-iPad612, iPad71-iPad71, iPad72-iPad72, iPad73-iPad73, iPad74-iPad74,

Supported Languages:

Danish; Dutch; Flemish; English; French; German; Italian; Japanese; Bokmål, Norwegian; Norwegian Bokmål; Portuguese; Chinese; Spanish; Castilian; Swedish;