This version of the app is not recommended
App last updated
Dec 12, 2017
Screenshots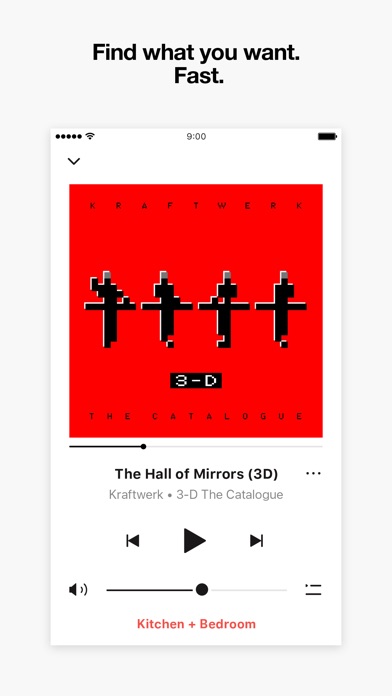 New in version 8.2.2
This update delivers a couple of performance improvements, bug fixes and a security update for the WiFi WPA2 KRACK vulnerability.
Description
Sonos is the wireless Home Sound System that fills as many rooms as you want with beautiful, immersive sound. Stream via WiFi. Play any song, podcast, audiobook or radio station, and enhance your TV and movie experience.

Move music around your whole home.
Choose what plays in any room or everywhere, and easily move music around your whole home. Everything stays in sync.

Stream everything with one app.
Access over 30 music services. Play on-demand Internet radio, podcasts, audiobooks, and more. Search all of them at once, and save your favorites to My Sonos.

Find what you want. Fast.
Simple navigation lets you quickly find and play what you want. Easily set up speakers and customize settings.

Better over time.
Get the best listening experience with software updates and tips for making the most of your Home Sound System.
iPad Screenshots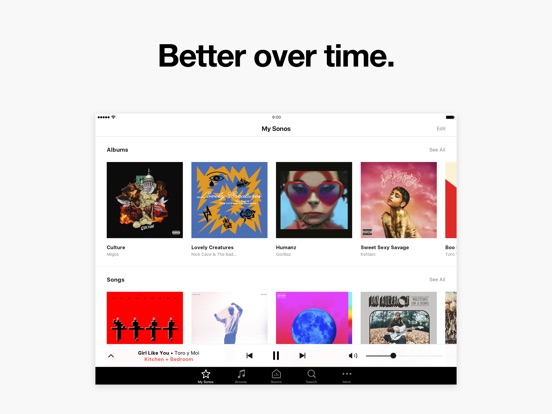 Reviews
Great system with a bad app
flyer needs news
on
1/21/2018
Love the Sonos system itself and have owned for years. Unfortunately, each new iOS app is worse than the prior version. Each release makes it more difficult to easily find your owned music services or discover new genres.
Constantly cuts out, picks up and loses speakers
I have over $1,000 worth of this useless stuff, it worked fantastically for a year. Now it can't even make it through a single song without cutting out. Worst money I ever spent.
Love it
Sonos increased my ability to listen to music a hundred fold. No more swapping out CDs of plugging my phone into Bluetooth. Thanks!
New app is truly horrible
I've been using Sonos for many years and have loved it. Sadly though, this new update is really a terrible user experience. It isn't intuitive and at first, I figured I just needed to get used to it. But months later, it's just as bad. Workflows are confusing and so every time I use it, I have to remember or re-figure out how to play music in rooms. Apps should be initiative and easy. The UI should enable users to quickly figure out and use it. This new version was an attempt to update and modernize the app, and style was clearly prioritized over ease of use. Sonos, you botched this one badly. Please fix it by delivering an app that people once again love using.
SONOS system is top notch
I've been using SONOS components for several years. The sound quality of their speakers is top notch. Their Controller app is constantly updated and improved. I am eagerly waiting for the day I can control my SONOS components from within iTunes. That would add a lot of value to both Apple Music and SONOS.
Terrible Connectivity, Can't Stream from Device
This system is a piece of crap. It connects to my devices less than half the times I try to use it. The app stinks because it's the interface for this POS system that only sometimes does what it was designed to do. Oh, and it was designed to *not* stream music from my iPhone/iPad unless that music is downloaded to my device. So, if I subscribe to Apple cloud music, I cannot stream from my device. I'm done with this garbage system. Hit my limit. I'm selling it and buying a real speaker system that works when it's supposed to, even when I'm streaming from YouTube.
Yes audio Video-Dallas TX
Our go to music streaming device. Awesome
Would like to give 5 stars
But there have been too many bugs recently, especially with Pandora, that it's not earned it.
The Ultimate
WordFreak624
on
1/21/2018
Best sound system I've ever owned. Easy to setup, use and great sound.
Was happy... new update is super glitchy
Traveling businessman
on
1/20/2018
I am not a tech, so I can't tell you exactly what is wrong, but this new update is super glitchy. My phone won't stay connected to the speaker. It will initially get connected, then it will disconnect after about 1 minute. Super frustrating! The last version, and all versions before, were nearly flawless. This latest update needs to be fixed. Side note: Absolutely love the speaker and the sound it produces. Just need to fix the update to bring it back to its old glory!
Sonos is terrible!
Purple Wizardman
on
1/20/2018
It makes it so difficult to listen to music or TV or movies! It is so difficult to control!!
Abomination
sonosappistheworst
on
1/20/2018
2 years ago you had a good, functional app. You now have an embarrassment. Congratulations? Maybe just start over...
Great app
stone heads 18447
on
1/20/2018
Great App
New update is insane
merrittixtapa
on
1/20/2018
I don't write reviews unless it's really good and this is! This is as good as the spotify app and makes music with the sonos. Great update. Sonos blows everyone else away. You will get constant updates and new services. No Bluetooth junky thing will do what Sonos does. Amen !
Unreliable
Not sure why anyone would be happy with this. I've had it for years, have been on the phone with tech support for literally hours (the individuals were great and tried their best but can't make it better) and it is still completely unreliable, drops zones all the time. Super painful. It just doesn't work.
Love It!!!
Been using SONOS for years now. Have many speakers throughout the house. It just keeps getting better and better.
A strange app
Shake and Repeat
on
1/20/2018
If you have a Sonos system, you'll be using this app. It's a strange interface that changes and they still need keep those changes happening. The Pandora integration is both better and worse: better that it syncs the last played dates from the Pandora app, and worse since only the higher bit rate is available if you stream from your phone. In this mode, the Sonos is no better than a bluetooth speaker system.
The best
The best ever!!!
It's Fine
Marmarmariam89
on
1/20/2018
This app is fine but I prefer the original apps (Spotify, SoundCloud, etc). I really wish I could play onto my speaker directly from those apps. The user interface and experience is much better.
BBC Radio?
Sjakob boydelloyd
on
1/20/2018
Great app, just wish it had BBC radio on it, because I'm a huge diplo and friends listener.
Incomrehensibly bad UX
I don't know how much Sonos pays people for good reviews, but I have to call them out. This app is the most bugged out POS in the App Store. Literally almost never works totally right. Great speakers. But this app is garbage.
Heidi
Heidi1234677
on
1/20/2018
I don't find this app very easy to get around ... not very intuitive
Great sound
We love the sound and the base is incredible.
Not liking the new update
Fan Forever of Music
on
1/20/2018
The interface has become confusing. I don't like the lastest update.
Sonos - Used to be Best Value
Below is my post from 1 1/2 years ago. However the value diminishes because you cannot play all of your downloaded music on Sonos due to Digital Rights Management issues. Why? Your simply using Sonos speakers to play the music you purchased. Sonos points fingers and blames others. That's B.S. As they are really just a sound system. Other thank that, they are great per below. Sonos is the best value for the quality. You would have to spend significant dollars with a high-end system to realize any significant gain in performance. The app and controls are second to none. FYI - You can sync via their app to the most common music storage accounts such as iTunes, etc. Summary is best explained via compare and contrast of another technology that is similar in cost breakdown. Do you know optics such as binoculars, scopes, etc.? If you do, you know Leupold is the best value mid range up to the low high-end with a fair price. You have to spend $2k or more to realize the best with Swvorski type products. Same here. And get the 5 position speakers. You will be much happier.
Bad app update
The older version of this app was so much better than this current version. The new interface is awful. Would be nice to be able to switch to the old version of the interface. I have over 20 Sonos speakers in many rooms and the new interface is awful when dealing with multiple rooms.
Sonos
I️ am so in love w SONOS!! I️ hear music all the time now. Good sound and so easy to use. Gave it to my husband for Xmas but I️ think I️ enjoy it more than he does❤️
Major bugs & bad UI
This version has major problems with switching speakers. It only works to switch speakers one out of every 10 tries, usually reverting back to the previous speaker that was selected in the UI, while playing out of the other or both (not indicated in the UI). The volume control no longer works with the device hardware (yes when the Sonos app is open). It often says the name of a song is playing, when it's actually a different song. At this point the app is borderline unusable. In the bad UI department: search is difficult. Podcast search only works on the name, not the episode title. You can't search for a song + artist, so if you search for a song with a common title, you have to look through every possible song to find the one by the artist you wanted. It's unclear when a playlist is being created vs just playing a single song (ie sometimes I play a song and suddenly every single song by that artist is added to the queue). I am so bummed because we have had 3 Sonos speakers for years, but the latest version of the app is so bad I can barely use them. It's preventing me from purchasing the $$$ subwoofer. Last thing, I'm sure the partnership with Pandora was based on market share, but I wish I could play music to Sonos via the Google Play Music app interface (on both iOS and Android), which is much easier to use, similar to how you can stream to AppleTV or Chromecast while using the native app of your choice.
Worst app update I've ever seen
This was a very user friendly app until the last update. It has been completely changed for the worse. It's so confusing when you have multiple speakers to figure out which one to play and stop. Please put it back how it was. At this point I almost want to change to a different system.
good job adding a glitch
Gabriel Conesa
on
1/19/2018
the search bar in the app no longer works y'all are some great devs
Worth It #spendITifYOUgotIT
Definitely worth the money. Used as a workout speaker for the garage. Neighbor comes by to get it in when here the music
1/19/18 - update from this random guy
1/19/18 Whatever is going on with this app needs to stop. Recent updates have made this ridiculously hard to use/navigate. Below is a review I posted from who knows when but it was back when the app was rad. @Sonos #UnfuckYourShit. One of my previous reviews: Love Sonos. It's fairly easy to use the app and to setup. I wish I had the ability to have Sonos babies.
Device Volume Option While Using?
I totally enjoy Sonos as I have speakers in each room of my home where I want them. More in the future, I'm sure. Not sure if there's a way to also activate the device speaker, but being able to do so would be a convenient option. Thanks!
Last update a mess
TXtoothfairy
on
1/19/2018
I was able prior to this update to readily access Pandora which would intuitively pick music based on the tastes of music on my iPad! Not now— very clumsy and not really usable! Ready to go back to last Sonos edition.
Bad updates
The last two updates have almost ruined Sonos for me. We have 5 different speaker locations . Choosing music for rooms has become almost impossible. When I click on a room that I want to play music in, then choose the song it always disregards my choice. In other words I can't change the songs or the room they are playing in. The app always instantly reverts back to my previous room and song choice. It takes many attempts and a few minutes of repeating the same action. Very frustrating. I usually give up. This did not happen before the recent updates.
Great speaker- terrible software
Havenocents2
on
1/19/2018
Needs to support AirPlay 2 and google play. Supposedly it's coming, but I won't hold my breath. Also needs a player that will allow it to skip ahead or back for a specified period of time. At present it only skips to next song which does not work well for podcasts.
Great, except...
Well thought out app, with very easy setup. It just needs to be tweaked in a few ways: 1. No ability to room tube for iPhone X yet 2. Mid eq control desperately needed. Treble and bass is just not enough. 3. The settings controls need to be consolidated. All in all, a great app that I look forward to using.
The best
It's amazing that CDs are now ancient and that the Internet is the way to go. Ya there are the retro turntable types but going back would be kinda cool. Anyway I love Sonos because it's super convenient since I can control the system from a mobile device. The Sonos app takes some learning but now I am comfortable and even have playlists set up on it. My girl has a Sonos 1 speaker in a small townhouse and it sounds fantastic even if it is a little bass heavy for my taste. All in all, Sonos comes highly recommended
Amazing
Gotham NYC user
on
1/18/2018
I especially liked the directions to set it up. Plug it in, turned it on. That's how simple it was. I did walk around my room waving my phone in giant circles like a goon ball. But that was fun too. The sound is extraordinary. I couldn't be happier with this purchase.
Keeps disconnecting
The sound is good, but the app is so so. It keeps disconnecting and that gets really annoying after while.
Terrible user interface
unhappy sonos customer
on
1/18/2018
I've been unhappy with Sonos from day 1. The interface is clumsy, the product doesn't work well with Apple, I have thousands of songs that can't be played because it doesn't recognize the format. It cuts out from time to time for no reason (not a WiFi issue). I would never recommend this product to anyone I fact I've advised friends against it.
Terrible!
This app used to be so intuitive and easy to use and have loved it for years. The last update has made it nearly impossible to navigate, to switch rooms, browse for music, etc. PLEASE bring back the older more sensible version or at least make major improvements to the current one ASAP. Very unhappy with this app.
Unhappy customer
The sound isn't that great, it can't handle even moderate amounts of bass, and the installation was ridiculous. It wouldn't find my wifi connection even though it was right next to my wifi router. I almost returned it because of how difficult it was to connect it. Another lame thing is that I can't take the speaker to places without wifi. I bought this to bring to my work and to go camping, but it can't do any of those things. It's now stuck in the family room where it never gets used. Wish I never purchased this thing. :(
So convenient
happytosonos
on
1/18/2018
So easy to use. Much more convenient than the Bose dock it replaced.
Speakers are great! App is absolute trash
As I said I above the speakers are amazing and I love them. The app however is just garbage. It is impossible to get it to do anything. Sometimes it just refuses to find my speakers at all forcing me to reinstall the app entirely, and the amount of times I've had to do this is frankly unacceptable. Whatever the problem is for this app it need to be fixed especially when taking into account how much the speakers cost. I'm expecting way more and so should all people who purchase their products
Some issues
Interface seems overly complex. Volume slider often results in whole page sliding up.
Youtube
danillosouto
on
1/18/2018
Will get 5 star when add a YouTube to the system
Last udpdate
Not changing rooms. Please fix this. Not only not changing rooms but does not recognize when the system changes from music to alarm. I'd rather have less features and it work than be frustrated when changing rooms
My library disappeared
Up until my library disappeared just now, sonos was working great. Not much use if I cant play my songs.
Latest Version of App is Horrible
I am a custom A/V integrator and use and install this product and products like it very day. The new update completely ruined the smooth and intuitive user experience that Sonos was known for. I sincerely hope that Sonos fires the dev team that came up with the latest app version. Enough said.
Fact Sheet
Publisher:

Sonos, Inc.

Category:

Music

Released:

Oct 28, 2008

Current Version Released:

Dec 12, 2017

Version:

8.2.2

Size:

87.5 MB

Compatibility:

Requires iOS 9.0 or later.

Recommended Age:

4+

Game Center Certified:

No

Supported Languages:

Danish; Dutch; Flemish; English; French; German; Italian; Japanese; Bokmål, Norwegian; Norwegian Bokmål; Portuguese; Chinese; Spanish; Castilian; Swedish;