TapNova doesn't recommend this app.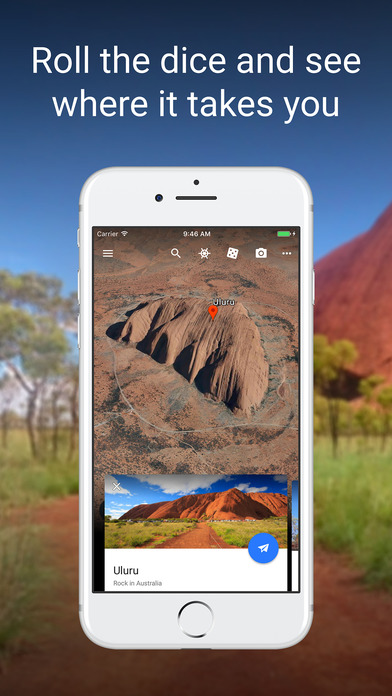 New in version 9.0.79
Google Earth 9 is a major upgrade with brand new features.

* Choose your own adventure with Voyager
Experience interactive stories from around the world.

* Discover new places with Knowledge Cards
Flip through cards and learn about local landmarks.

* Orbit the world in 3D
Use the new 3D button or tilt the map with two fingers.

* Snap and share a Postcard
Capture snapshots of locations and share them with your friends.

* Feeling Lucky?
Roll the dice and see where the world takes you.
Description
This is the new Google Earth.

Gain a new perspective of the world as you explore the globe with a swipe of your finger.

Fly through landmarks and cities like London, Tokyo and Rome in stunning 3D, then dive in to experience them first hand with Street View. See the world from a new point of view with Voyager, which brings you one-of-a-kind experiences from Sesame Street, BBC Earth, NASA and more.
iPad Screenshots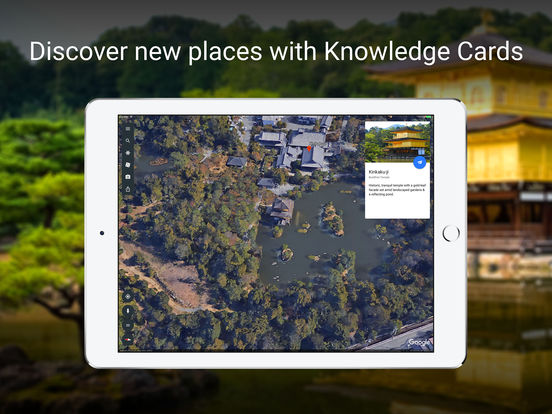 Reviews
CARTOONS & TIME TRAVEL!! WHEEEEEEEEE!!
Steve Rogers 1978ii
on
8/16/2017
You update for IOS 11!! WHEEEEEEEEE!!! Now me see cartoons EVERYWHERE!!! WHEEEEEEEE!!! Really bad cartoon like kid draws!! WHEEEEEEEE!!! And now me see into PAST!!! All map show what Earth look like YEARS ago!! WHEEEEEEEEEE!!!! Should rename app to GOOGLE BAD CARTOON OF EARTH!!! WHEEEEE!!! Oh yeah -- No more Weekipedia or Panaramia. Me too stoopid to understand anyway. Happy you get rid of, so me can see MORE BAD CARTOON!!!! WHEEEEEEEEE!!!! TANK U!! TANK U!! TANK U!! U GOOD GOOD!!! p.s. Next update, maybe U add more cartoon & show me what Earth look like 70 years ago?? Me like VERYYYY much!!! WHEEEEEEEEEE!!!!!
this update actually makes Google Earth less functional and worse than the previous version
Winchester Jim
on
8/16/2017
Erased my places saved in previous version and Can't save favorite places to updated version.
New isn't always better
Scrolling isn't smooth anymore and now it's hard to move around easily.
Terrible
Took a great app and ruined it. The 3D mode looks cheap and the absence of Wikipedia reason enough to delete this app. It's not hard to spot the paid positive reviews either. You're not fooling anyone Google. Bring the old version back.
Awesome
Amazing app, see everything thing in the world with this free app, and I saw the google street view car today, when is the 2017 app update going to come? Anyways great app, I recommend it
Worst version ever
Why does Google have to only let you view borders so far
Quality
FernandoHilbert
on
8/14/2017
Poor update.
Needs updating
Views are old, from a few years ago and the resolution is really bad if you try to zoom in. If these issues were fixed, I'd rate it a 5 star.
No navigate to pushpins that are uploaded.
Rurufufur heir juries
on
8/14/2017
Please put a navigate option on pushpins uploaded from emails would really help with navigation.
Horrible!
Please give us back the old google earth. This new update is a huge downgrade!
Ruined by newest update
Moon man did nothing wrong
on
8/14/2017
Huge loss of functionality with newest update. No more panoramio photos, no more Wikipedia, and very pixelated when zoomed in.
Google would you please inform us
On what is going on with the latest release. Talk to us! Why did you update a good release with crappy code? The opening globe is not smooth any more. Choppy and buggy almost like it wants to crash. Needs to be checked out. This is on iPhone 7 and iPad 10.5 and desktop. This is all with fresh install. Was perfect on the first release on Thursday. Please look into it. I am obviously not the only one having these issues Thanks
Horrible after the recent update
Please Google.... go back to the quality you had before. The images are not as clear, the app is harder to navigate, nothing runs as smooth. Please bring back the old google earth.
Can't print!!
Can't print maps from iPad/iPhone now.
Awful Update
Google can take something great and completely ruin it. Good job, morons.
PLEASE add a way to turn off 3D models
I like the idea of 3D models but theyre extremely blirry and I just want to see the image that is not in 3D. This update ruined the app and needs to be fixed
Not as good as I would like...
The computer version seems like a while other league compared to this. Especially when you zoom out and see the lovely image of the whole earth with clouds. This version has the same zoom out look as the old version and doesn't seem like that big of a visual overhaul.
What's up
Not a up grade but a definite gown grade very disappoinate.
Very unhappy
I never would have upgraded if I knew I would lose access to timeline. All the fancy does not make up for the deficits.
Useless app from a fascist and bigoted company
The quality has gone downhill and it's pretty slow. Google is a radical far left company very set in their fascist and bigoted ways.
The app was perfect before
Mom Just Got Real
on
8/13/2017
What the heck happened to panoramio and Wikipedia and the old resolution. Being able to scroll around smoothly, move your fingers to go to 3D and being able to put the orange man down on any landscape without there needing to be street view, and being able to walk around with him to explore landscapes in detail. Overall I'm not impressed with this update at all. It's basiccly google maps taking a step back. Bring back the old please!!! The update basically forcées you to get used to something new, N/S button and he man are opposite to each other, for 3D u swipe in opposite direction. Ah yes, and the window popping up in different places then before and not taking up the whole page. This is honestly dissapointing. I just am disappointed st this
Where is Urdu language ?
*Urdu* is one of the largest speaking language too kindly add it. I hope you will have soon language update as requested thanks
New and unimproved
Apicketfence
on
8/12/2017
BOOO. Get close to the ground it crashes. Super Mario 64 had better 3D graphics. Liked looking at panorama photos...not any more. This update is embarrassing. Whoever was in charge of it should be reprimanded. Fix It Fix It Fix It Fix It!!!
Horrible
What were they thinking? No more Wikipedia links, and the interface is no longer user friendly. Google fixed something that wasn't broken.
F-2020
The Galaxy was so dark,I like the old one,I don't feel good it's like a we so alone lonely in the Universe even it's just a computer 3D image still our mind heart and everything it's only one god are there,Please give some little brightness around the universe or else this is so bad who build it.
Last update doesn't work.
I have been using Google Earth but now with the latest update all I get is a black screen. The first time it happened I deleted and downloaded the previous version and it worked fine. But then it auto-updated and now only the new version is available. Google Maps works fine but Earth only gives me a black screen. P.S. I tried it again after a few days but no go. Must be a bug somewhere.
The new update ruined everything
All of my purposed for using Google Earth required viewing county lines, and I have no idea of why these idiots got rid of it, but since the new update, the application is now useless to me. To add to that, ground level view was removed; why the f*ck did they remove one of the most useful features of the app?!?! Do they think that this is f*cking cute?!?! All of Google should be castrated, to avoid their genetics from spreading. F*ck...
No way to exit street view now without exiting and starting all over
What happened to labels and things? Why do an upgrade that removes features and controls? Once in street view, you are stuck there. No way I could find to go back to overhead view.
Gps settings
Can't change the display like before. Everything else doesn't really matter to me.
Hate the new version
I used Google Earth probably twice a day at least. A primary use was to look for restaurants both at home and when traveling. The old version would let you go to the restaurant's web page and view the menu. Finding a restaurant without being able to view the menu and ratings is worthless. Google made a very useful app worthless.
Wish I didn't update
So many of the ways to explore the world are gone. No more viewing photos of places you want to explore, Wikipedia icons seems to be gone, roads and locations are mostly invisible. I would like to roll back to the old version. So sad. On the plus side the performance is better but not worth the update.
Would give it zero stars if I could!
The old version was good, I liked that I could place the icon of the person to go straight down in front of a building on a street and I could see it. Now, with this app it only lets you highlight certain roads that aren't even near certain places or buildings you are looking at. The view is awful, it lies so flat and the areas sometimes just look like piles of dirt. Bring back the old version, this version is awful. If it stays like this I will have no use for it and probably get rid of it. The whole point of being able to type the address in the search is so you can see it directly on satellite not look at highlighted nearby roads by that address!
Disaster
Google earth was my favorite app. Please let me have it back. The new version is terrible. A fake earth. I hate what you have done.
No ability to view photos = Useless App
Very disappointed to see the ability to view photos was removed. Without that, I have little use for this app.
Not a fan
Too big. Just a waist of storage and space. There are better options.
Drop the fake 3D
scafire_jesse
on
8/11/2017
Used to be great, but if there is a way to disable the poor quality 3D buildings and trees I haven't found it. It's really more of a toy now than the useful travel tool it used to be, although the easy import of kml files is nice.
Newest update missed the boat big-time!
The newest update no longer shows street names!! Awful! The street level photos are much better, but you can't "walk" through a neighborhood without getting lost because the street names don't show. Please FIX IT!
zhen ni ma la ji
xiaomifeng555
on
8/11/2017
zhe ci geng xin gen gou shi yi yang la ji !!😡😡 pei
i wonder if frito from idiocracy is the boss from google
an end of life
on
8/11/2017
i wonder how all low IQ levels are in the workers mind at google hq feels like mankind becoming stupider with apps that don't have sense
Hmm.
Hmmmm...Well, I think It's really good...
Where is Panoramio,or business info?
I did like the new google earth app.....but I can't use it like I use to!the usefulness is gone. I would use the hotel icons to search for information of that hotel,No More! I click on it now and all it shows is a useless picture.i would click on the Panoramio pics to see pics from all over the world,No More!there are NO more Panoramio pics.Restaurant icons were also full of information of the property,No More!useless picture again,and many other useful things that are gone!.So the new google earth app is crisp and performs at a cleaner and faster rate,but only at the cost of giving us half the information it used to give us. How can I get rid of this 3D set up!!! Come on Google! All the highly talented people you have working on this update? And this is what you all came up with..... I agree with the many negative reviews on this new update. I hope this gets updated soon? And bring back all the features that true google earth fans love.
What happened to the panoramino pictures?
-/:;()d)(::/-
on
8/10/2017
I'm so disappointed with this new update, I used to look at the panaramino pictures to see places where I would want to go, now nothing to guide me and no wikepedia for infos on out of the way places... plus the resolution looks terrible! Bring back the old version!!
iOS 11 Support
Jacob Sawyer
on
8/10/2017
Haven't used this app much but it's much better and more intriguing than the 2013 version. Love the dice icon and the ability to drop the Street View icon from a high position. Best of all, though, it's nice how the app is now compatible with iOS 11
What happened, Awful Images
New version is awful, can't even see anything. Everything is blotchy and blurry
Great App, Except Poor Quality Up Close
Jellisquared
on
8/10/2017
THIS IS SAD THAT GOOGLE EARTH CHANGED THE QUALITY AND HIGH RESOLUTION OF THE EARTH UP CLOSE. GO BACK TO THE OLD FORMAT!!!
FINALLY!!
JohnnyisAwesome
on
8/10/2017
YES! You finally upgraded it! Now it actually works and it's better than it was before! Good job
3D
Won't give you 5 stars until you 3D Dubai... the whole city is flat :(
Fact Sheet
Publisher: Google, Inc.
Category: Travel
Released: Oct 27, 2008
Current Version Released: Aug 03, 2017
Version: 9.0.79
Size: 137.4 MB
Compatibility: Requires iOS 9.0 or later.
Recommended Age: 4+
Game Center Certified: No
Supported Devices: iPad2Wifi-iPad2Wifi, iPad23G-iPad23G, iPhone4S-iPhone4S, iPadThirdGen-iPadThirdGen, iPadThirdGen4G-iPadThirdGen4G, iPhone5-iPhone5, iPodTouchFifthGen-iPodTouchFifthGen, iPadFourthGen-iPadFourthGen, iPadFourthGen4G-iPadFourthGen4G, iPadMini-iPadMini, iPadMini4G-iPadMini4G, iPhone5c-iPhone5c, iPhone5s-iPhone5s, iPadAir-iPadAir, iPadAirCellular-iPadAirCellular, iPadMiniRetina-iPadMiniRetina, iPadMiniRetinaCellular-iPadMiniRetinaCellular, iPhone6-iPhone6, iPhone6Plus-iPhone6Plus, iPadAir2-iPadAir2, iPadAir2Cellular-iPadAir2Cellular, iPadMini3-iPadMini3, iPadMini3Cellular-iPadMini3Cellular, iPodTouchSixthGen-iPodTouchSixthGen, iPhone6s-iPhone6s, iPhone6sPlus-iPhone6sPlus, iPadMini4-iPadMini4, iPadMini4Cellular-iPadMini4Cellular, iPadPro-iPadPro, iPadProCellular-iPadProCellular, iPadPro97-iPadPro97, iPadPro97Cellular-iPadPro97Cellular, iPhoneSE-iPhoneSE, iPhone7-iPhone7, iPhone7Plus-iPhone7Plus, iPad611-iPad611, iPad612-iPad612, iPad71-iPad71, iPad72-iPad72, iPad73-iPad73, iPad74-iPad74,
Supported Languages: Arabic; Belarusian; Bulgarian; Catalan; Valencian; Chinese; Croatian; Czech; Danish; Dutch; Flemish; English; Finnish; French; German; Greek; Hebrew; Hindi; Hungarian; Indonesian; Italian; Japanese; Korean; Latvian; Lithuanian; Malay; Norwegian; Bokmål, Norwegian; Norwegian Bokmål; Persian; Polish; Portuguese; Romanian; Moldavian; Russian; Serbian; Chinese; Slovak; Slovenian; Spanish; Castilian; Swedish; Thai; Chinese; Turkish; Ukrainian; Vietnamese;