Recommended app!
App last updated
Aug 22, 2012
Screenshots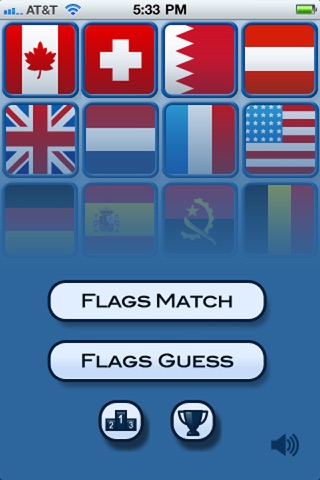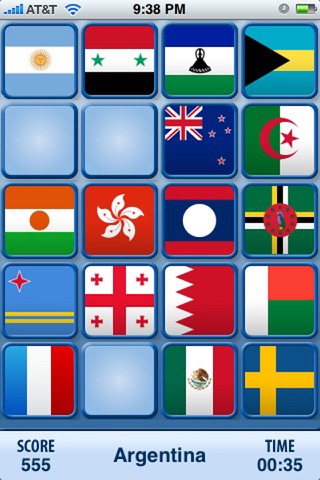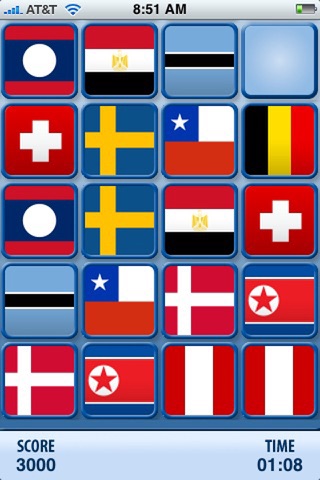 Description
* Featured by Apple in "New and Noteworthy", "What's Hot", "Staff Favourites", and "Kids Games"
* #9 Top Paid App / #1 Top Paid Education App in the UK in October

************************************
"What a cool idea. I love learning these new flags while keeping my memory in shape. ... I'm very happy with this game." - Customer review (US)

"Great game! - I enjoy this game a lot. It's quick and easy but also gives me a good visual memory workout. The colors are cheerful ... I'm becoming curious about details behind the choices for the different countries flags. Great Ap!" - Customer review (US)

"Great way to memorize flags and have fun at the same time..." - Customer review (US)
************************************

Two fun and educational games in one app with Game Center leaderboards and super-cool achievements!!!!! The more you play the more NEW FLAGS you uncover and learn.

- Flags Guess: test your knowledge of the flags of the world by correctly indicating a flag of a country that you are asked to identify.

- Flags Match: Match the flags of different countries and learn what country they belong to in this take on the classic pairs matching card game.

You probably know what the flag of Canada looks like. But what about Laos or Myanmar? Develop your cognitive skills, practice your memorization, and learn the flags of different countries all at the same time while playing this fun, educational, and addictive game.

Features:
- Two games in one app
- Game Center leaderboards & achievements!
- Over 170 beautifully rendered flags with more on the way
- Shake to restart
- Fun and educational at the same time


***** Over 170 flags of different countries are included in this version with more flags on the way in the upcoming FREE update ******
Reviews
Flags fun not so fun
Good way to learn but not worth the money. Once u start a game there is no way to get back to the main menu. It also only fits a small screen. I don't recommend buying.
?
Really fun way to learn flags of the world.
Lots of fun!
My son who is five really enjoys matching games, and this one is great!
Great!
It's a good game that helps kids and adult recognize the different flags. My daughter loves it!
I love this app.
It's fun to use and I'm learning A LOT very quickly.
Great learning tool!
spongebob's cousin
on
9/30/2012
My kids play all the time and now they have me hooked as well. It is a great learning tool and opens up their minds to learn more than the flags of the world. So much better than Angry Birds!
Double Bonus
I love a game that is fun and improves my grey matter. This one is a hit.
Fun game & Educational
I play it every day.
Good game
Pretty name for the price my son loves it
This Is The Perfect App!
This app is beautiful! It's the perfect app! I love it tremendously!
Love it.
Really well done.
Great app
I am learning which flag is which and this has helped. Keep up the good work!
Flags
Awesome game this is a great game to go over world flags.
Old fun game
Played this game in the 70's in the board game. Now I get to play on my phone it's too kick butt you'll have a blast
Seems to be missing a few countries
Overall a great learning game and it works on planes!
Awesome
My Arrow - My Family
on
12/17/2011
This is a great learning tool while you have fun doing it. Definite recommendation.
Scroll search
The reason I Downloaded this App was for the memory game but also as a quick reference. It would be nice if it had a scroll search by color for quick eye spotting to find the related country.
Fun!! But please, please add....
...a flash card option where a single flag pops up and you can tap it and it will flip over and say what country the flag is from. I love learning the flags and that'd be a fun way to practice remembering them! And if you are feeling fancy you can make it where you can bank all the flags you already do know so that you can just have the ones that you are still trying to learn in the flash card line up. Please consider it. Thanks for the app!
Flags
Un App muy buena para aprender las banderas del mundo
Flags! 🇺🇸🇮🇹🇬🇧🇩🇪🇪🇸🇫🇷
Awesome Game!
Zaire
There hasn't been a Zaire in years. It changed it's name to Democratic Republic of the Congo and changed it's flag. But game still uses the old flag and still uses the name Zaire.
Flag Match
Excellent memory game. Learning the flags of different countries.
More Flags?
Is it me or are there really no more flags added since this supposed update a while back? I don't see any new ones.
Good memory game
Good memory game it helps a lot to the kids
Flags
I feel this games helps my memory, I enjoy getting faster at it as well.
Fun!!!
A great way to kill time. And educational too!!!!
LOVE THIS GAME!
Steven Patterson
on
8/19/2011
I am totally hooked on this game and play it every day!
Great Game!
PiGuy 3.1415
on
8/16/2011
This is a unique and fun game! I love to play it!
LOVE THIS GAME!!!
Thanks for providing hours of fun!!!
Good learning and review
Fun to see the patterns and similarities and begin thinking about what makes a flag "good" and the historical significance of the pattern.
Flags Fun
Lots of fun! Amazed to find out what I did NOT know. You can learn a lot if you keep trying. Gee, there are so many flags!
Fun and Educational
Crimson player
on
8/8/2011
I like it a lot, but it can be frustrating!
Love this game!
Excellent way to learn flags of world! Please add more. I would also love to be able to peruse a list of all the flags and names without the pressure of a clock.
Great Game
I love this game. Fun way to learn flags. Just add some flags like Greece and other missing flags.
Missing a few
Why no Greek flag?
It
I truly love this app. But I've waited a long time for a substantial number of new flags to be added. As far as I can tell there have been only about 6 new flags since I bought this game last summer. C'mon guys. What could be delaying the addition of the remaining flags of the world? Some major countries are still not represented! (Greece for example) Please add the rest as soon as possible.
Love it!
Great way to learn the flags. Would love to see flags for all the countries, also a list of the countries with the flags beside them. May want to update some of the country names (like Zaire, which is now called the Democratic Republic of the Congo). Otherwise, wonderful app!
Totally addicting!
Can't stop playing the flag guess game. Got all the answers in 33 seconds, but can't seem to break that time. Would give 5 stars if "Well Done!" didn't always show up regardless of the time it took.
Flagtastic
Thaddeus Maxximus
on
1/22/2010
Great app! It will be one of your favorites. Two fun games to test your skills. Lots of very cool flag designs across the world. I'd love to see a few more countries' flags: Greece, Greenland, Afghanistan, Ivory Coast, Scotland, just to name a few. Also, I'd like to see a third option in this app: an alphabetical list of each country with it's flag. That'll help to peruse them at leisure. Several flags are very similar, if not identical. Thanx developers! I'm having a great time learning these flags and trying to best my "flag guess" time of 42 seconds. I've already inspired my wife to buy this app, and a co-worker is next!
Great deal
For 99 cents you can't beat this app. Still am looking for every single countries flag! Update please!!!
Great
I love this game. I thought I knew my flags, but now I really do. If you are interested in learning the flags of the world I would buy this app, it's a fun way to learn.
Learning is fun!
I really enjoy identifying the flags! I prefer to play FLAG GUESS instead of MEMORY MATCH. The graphics are nice. I would like to see a MUTE option (or perhaps an OPTION screen where the user can toggle ON/OFF the sound). I would also like to be able to RESTART a game while I'm halfway through an open round. I'm looking forward to see what future updates hold.
Worth more then a buck
Power punchedrrrrrm
on
7/21/2009
Lol cool app I played for 3 hrs on a plane ride and I can name every flag. (the ones that they have anyways$)
Simple, fun, and challenging
This is actually a really fun app! My 21 year old son was even playing it and enjoying it also. The only down side is that you must mute the phone in order to silence the rings rather than having a mute button to silence the rings in the game so that would be a big improvement. In the meantime I am looking to buy more fun simple enjoyable apps from this same company!
Great game..1 small improvement
Include the ability to reset scores.
Love this app
This is such a great memory builder app. I really enjoy playing this at least once or twice a day sometimes even more. I'm constantly trying to beat my previous score plus it's fun to learn the flags of the world.
Great
Wonderful game. Very polished and fun.
Fact Sheet
Publisher:

Lima Sky

Category:

Education

Released:

Oct 23, 2008

Current Version Released:

Aug 22, 2012

Version:

3.2.3

Size:

2.4 MB

Compatibility:

Requires iOS 3.0 or later.

Recommended Age:

4+

Game Center Certified:

No

Supported Languages:

English;