Screenshots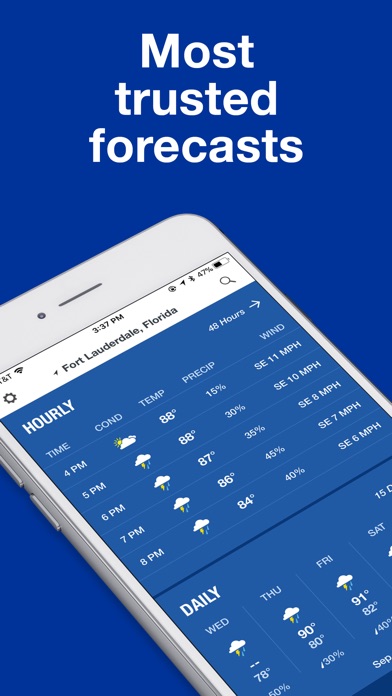 New in version 9.1.1
• Performance enhancements and bug fixes.

As always, we appreciate your feedback. Please email us at iphonesupport@weather.com with any suggestions or questions. If you like these changes, please let us know by rating and reviewing us in the App Store!
Description
The Weather Channel App for iPhone is your best option for accurate forecasts and timely local weather alerts. Make confident decisions this fall, whether you are planning for the day, the entire week or the next 15 days!

KNOW THE WEATHER ANYWHERE, RIGHT NOW
• Learn what the forecast is, whether hourly, daily, weekly, weekend or 15-day.
• Cognitive Home Screen: Changes based on your current location, weather, and time of day, so you get your current conditions plus the weather info you need most.
• Hurricane Central: Monitor tropical storms and hurricanes and get safety and preparedness tips. When a tropical storm or hurricane forms, track it and stay safe with Hurricane Central.
• Detailed Current Conditions: Get "feels like" temperature, humidity, wind speed, and more.
• Weather Maps: Fast-loading radar maps show past and future doppler radar.
• Severe Weather Alerts: Stay safe with real-time National Weather Service notifications of severe weather including severe weather warnings about lightning, hail, flooding and severe storms.


PLAN YOUR OUTDOOR ACTIVITIES WITH CONFIDENCE
• Need weather information to help plan for road trips, picnics, camping or hiking? – the app lets you track and read detailed weather information in multiple locations around the world.
• Dress, pack and plan appropriately – know the rain and wind forecasts, tides, sunrise and sunset times, phases of the moon and even pollen counts!
• Get high-risk allergy alerts directly from the home screen, links to allergy insights, and a daily pollen outlook with our improved allergy tracker.
• GoRun Forecast: Like to run? Now you can create a personalized GoRun Forecast to help you answer questions like "When should I run?" "What should I wear?" "How far should I go?" Scroll to the Outdoors module in our app to try it out, and let us know what you think at iphonesupport@weather.com.

FREE DETAILED WEATHER PROGRAMMING & FEATURES 24/7
• Watch our morning show "The Lift": a 6-minute weather show that airs first on your app. Join Domenica Davis as she covers breaking weather, cool science, and amazing nature clips first thing in the morning. Available on your home screen weekdays from 6-11 a.m. Great for people on the go!
• Weather News: From severe storms to straight-up bizarre weather occurrences, we'll keep you up to date.
• Stunning Imagery: Amazing background photos match your current weather conditions.
• Sponsors allow us to bring you The Weather Channel app for free


AD-FREE VERSION
For those of you who want an ad-free version of our weather app, it is here! Our iOS app includes a $3.99 in-app purchase to remove all ads for 1 year. Simply go to the Settings menu in the app to complete the purchase.


WEATHER ALERT APPLE WATCH INTEGRATION
• Get precise weather updates, rain and lightning alerts and more of your favorite features right from your Apple Watch.
• Watch Glances: To activate The Weather Channel Glance, open the Apple Watch App on your iPhone, go to the "Glances" section, click "edit," and add "The Weather."

To activate the new The Weather Channel watch face complication, press firmly on the watch face that displays the time and tap "customize." Then browse to the complication showing an umbrella icon.

THE WEATHER CHANNEL ON THE WEB AND SOCIAL MEDIA
Forgot your phone? Access many of the top app features on the web, wherever you go: find us at weather.com, like us on facebook.com/theweatherchannel, and follow us on Twitter @weatherchannel.

PRIVACY
We respect your privacy! Please check out our Privacy Policy, which can be found here: https://weather.com/en-US/twc/privacy-policy and our Terms of Use, which can be found here:http://www.weather.com/common/home/legal.html

FEEDBACK
We love feedback! If you love our weather app, please rate and review us in the App Store. If you have questions or suggestions, please email us at iphonesupport@weather.com with any suggestions or questions.
Reviews
Update app error
Love the app but can no longer use with my iPhone 5 because it says not compatible. When I look for what devices it's compatible with the iPhone 5 is not on the list however my iPhone 5 has software 10.3.3. If no update before Halloween I will be deleting the app for good off my iPhone.
Swiping?
Can no longer swipe side to side to switch to other saved locations? Please fix!
Search But Can't Find
How do I find Jones Beach using this app???
Too political
3855312799432
on
9/25/2017
This app has become too political. The video feed and video clips are too political and almost controversial. I'd rather use a weather app that sticks to showing the weather.
What happened??
Starr#rating
on
9/25/2017
IF YOU HAVE NOT DONE THE LAST 2 UPDATES, DON'T!! I loved my app until the last 2 updates - now it is mostly unusable. It freezes, is slow to open, runs slow & crashes. Can't contact them thru app now, to find out what to do. Have not been able to do that online either. I also can't get to the other locations that I have saved, to check their weather. If you haven't updated, don't. As is, is barely functional, & not presently worth the amount of time it takes to open. I want to go back to the previous one, & so far, unable to contact them to ask how to do that. Really wish I had not updated it - I used it all the time. Currently useless & frustrating.
Media
No longer just weather. Constantly bringing politics and shoving views down my throat. If I wanted that, I'd watch CNN. Deleted the app after using it for many years. Goodbye.
Used to be my go to app
FortWorthMamma
on
9/25/2017
When an app decides to become political I decide to change apps
Updates ??
Sometime, in one of the last couple of updates, flipping between locations slowed to a crawl and often requires two or three tries to get it to change location. Additionally, the edit/clear function change is now cumbersome and annoying. Put the edit function back and leave well enough alone. Not a true update if it's worse than before
Disappointed
amlombardo22
on
9/25/2017
Finally deleted the app because it only works sporadically. It used to be better, after I got the ad-free version. Half the time it "can't get your weather at this moment...." every other day. Unreliable. Maybe they'll iron these issues out...
It won't load
I loved this app. The newest version won't load. It either hangs on the load screen forever, or it just crashes. Boo.
Doesn't work.
Robert Paulson aka Bob
on
9/25/2017
Ever since the new iOS update, the app hasn't worked for me. Just a blue screen, nothing else. I also have to agree with all the other bad reviews, that this app is now infested with ads and videos. It just keeps getting worse.
You lost me
Have a 5c. Your latest update has removed your APP from my phone. What am I to do now? I am not buying another phone in near future.
Borderline unusable
So slow and clunky. Too many obnoxious ads and pop-ups. Switched to AccuWeather and it has been muuuuch better.
Broken for iOS11 Facebook longin
If your app was connected to Facebook it remains connected but if you logout or attempt to connect a new device it does not successfully connect
Dissapointed
I've used this app almost every day over the last 3 years on my iphone 5, now the app says it's not compatible even though I have the accepted OS. I am currently looking for an accurate replacement.
Pop Up Channel
Much improved guys! The app is almost perfect. Back to my go to. No more crashing and no more pop ups. Thank you very much!
Patch needed!!
I don't know what happened but on this latest update the app will no longer open on my iPhone 6s+ It just spins and then shuts down. Please check for any bugs and send a new patch. Thanks!
Disappointed!
Cyclingidiot
on
9/25/2017
Slow, shows wrong area for my location most days, must swipe screen to get my true location. Very slow to react to videos. I have old version on phone also and it is superior to new one by leaps and bounds. And you want me to pay to upgrade! Did that with old version and it was great but this one has a long, long way to go.
Freezing and some inconsistency
Friendtrickster
on
9/25/2017
I like the app but have been having issues for a while with it freezing, going black, and shutting down. Sometimes it really fails me with the weather too. It will say no rain in sight, but rains anyway.
Pretty good.
Apparently Watson can't write an app that works after the latest update. Opens until to a blue screen and nothing else.
Always wrong
The weather channels accuracy is horrible, you'd be better off looking outside to see what the weather is doing. Their app is extremely convenient and their news stories are fun to watch, which is the only reason I still have the app. If you want a roughly accurate forecast look elsewhere.
Horrible update
Recent updates have made this app horrible to use
Terrible app
Saturndogmom
on
9/25/2017
App no longer works. Too many ads. Fix it!
I used to love it!
There are too many ads that pop up while I am looking at the weather. This same weird one will come up twice in a row as a video and I have no clue what it even is about. It's a finger running across something white. I have to close out of it 2 times before I can get back to the weather. Super annoying. Deleting my app and getting a different one.
Account deleted
After a recent update I noticed all my custom settings were deleted and I had been signed out of my account. When I try to sign back in I am told my email is incurrent. I check my spelling etc and it correct. I even tried my secondary email and got the same response. Where did my account go? Also the pollen display has been glitchy and mold display almost never shows mold count. And I am always baffled how it's always very good conditions for running when our local weatherman reports poor air quality. One last thing. I wish you would go back to previous version layout. I do use the app everyday and always loved it. But it has become more frustrating now.
Won't open
My app hasn't opened in days. It's updated and I rebooted my phone so I'm sure the problem isn't on my end.
Very slow
RdscAppReview04202016
on
9/24/2017
Latest version is very slow. The app is unusable.
Great App!!!
Ok IBM, what the hell are you doing to The Weather Channel? It's now worse than ever. Most links don't work, crashes more times than not. You can surely do better than this with Watson!
iPhone 5 Can't Update or Reinstall
I still have an iPhone 5 that I keep as a wifi only device to quickly check email, etc around the house. Even before iOS 11 came out, I got a message saying to update the app. When I went to update, it said the app was not compatible with my device. Why would an update show if my phone can't take advantage of it? I deleted the app and tried to install again and I again got a message saying it was incompatible. Why can't the store let me reload the last compatible version? This is a critical issue, especially with all the hurricanes this year. An older device may be a lifeline to someone in danger.
No longer works with last update
After the latest update, app no longer works - it gets stuck on a blue screen and fails to load, even after multiple restarts.
Poor performance
Recently the layout has become very bloated with advertising and media. The app is at times unresponsive and aggravating to navigate.
Glitchy after update
Omgsoooooogood
on
9/24/2017
I used to LOVE this app, but now it locates me somewhere else when I open it. Also, the ads on EVERY SINGLE VIDEO are annoying. When it gets glitchy and the video starts over, you get hit with another ad. Going back to Apple Weather :/
Sad:(
Fan but not anymore.
Won't update
Caligirl✌🏻️🐼
on
9/24/2017
I have an iPhone 5 and it won't update!!! I'm really ticked about this. Please fix it!!!!!!!
Deleting This App
Soon-to-be Ex-subscriber
on
9/24/2017
The weather channel has made their previously wonderful app unusable. There is so much video and other garbage to wade through that I find it difficult to get to the info I want. It also now crashes frequently. Goodbye weather channel and hello Apple weather.
App Hangs
I have tried to open the app several times without success. Hangs on the screen displaying the Weather Channel logo and "with Watson." Please fix. I have an IPhone SE with IOS 11 installed.
I used to adore this but..
This was my all time favorite weather app but sadly it says it is no longer compatible with my device.
Update
I always like the weather channel app until you decided that my phone wasn't good enough for the update. Unless you would like to pay for a new phone, it looks like I will be deleting this app. Not very consumer friendly.
Super Glitchy
Takes forever to load, scrolling is very glitchy, often crashes
Downhill
Each version gets worse Slow to update Slow to swipe between locations Keeps saying it has trouble with internet connection. Strange how that us the only app that does that.
Ridiculous unusable
Marycantgetweather
on
9/24/2017
Every time I try to look at anything it just shuts down (new phone). Try to play a video and the ads come through fantastic, then actual video will not play. Does not recognize where I live (large city).
The ADS!
Outofleftfield87
on
9/24/2017
The ADS make this app very unusable. They are very intrusive and difficult to close. You have to repeatedly tap the x to try to close the ad. Then it comes right back up. I understand ads but not this impolite intrusive garbage.
Disappointed
This app is my go to for weather. But disappointed that the new updates are not compatible w/ my phone (iPhone 5c) any longer!! 🙁
What happened to your app
This app was one of the best for weather forecasts but with the newest update it crashes more often and rarely fully loads.
Sound plays- have to delete app
AmyBofDallas
on
9/24/2017
Unfortunately I have to delete this app. The ads play sound when I open the app. That should never happen unless I click to play the sound. This used to be my favorite weather app. Sad about the changes :(
Slow
Landscaper1111
on
9/24/2017
I've used this app for a long time but recently (even after deleting and redownloading) It has become incredibly slow and crashes all the time. VERY frustrating.. Update: app constantly crashes. I restart and power the phone down and it doesn't work at all.
Please update to address bugs:glitches
Used to be a great app. With the latest updates - problems: 1. Repeatedly keep getting the prompt that my data cannot be updated, check your internet connection... running tests, nothing wrong with my home or work networks & no problems with other weather apps; 2. Used to be able to swipe to get my next selected location - nothing happens; 3. Loading wheel takes longer to update info or just spins. 4. Paying 3.99 for No Adds is offensive when the app does not work properly.
GREAT UPDATE!!👎🏼👎🏼👎🏼
DickDastardly35
on
9/24/2017
It's always nice when you provide an update that brings up a blue screen and nothing else. I wish I could give this a half star.
Weather
Having problems updating the app. It says can't be done with this device, never got that notification before
Fact Sheet
Publisher:

The Weather Channel

Category:

Weather

Released:

Nov 08, 2008

Current Version Released:

Sep 19, 2017

Version:

9.1.1

Size:

136.6 MB

Compatibility:

Requires iOS 10.0 or later.

Recommended Age:

4+

Game Center Certified:

No

Supported Devices:

iPhone5s-iPhone5s, iPadAir-iPadAir, iPadAirCellular-iPadAirCellular, iPadMiniRetina-iPadMiniRetina, iPadMiniRetinaCellular-iPadMiniRetinaCellular, iPhone6-iPhone6, iPhone6Plus-iPhone6Plus, iPadAir2-iPadAir2, iPadAir2Cellular-iPadAir2Cellular, iPadMini3-iPadMini3, iPadMini3Cellular-iPadMini3Cellular, iPodTouchSixthGen-iPodTouchSixthGen, iPhone6s-iPhone6s, iPhone6sPlus-iPhone6sPlus, iPadMini4-iPadMini4, iPadMini4Cellular-iPadMini4Cellular, iPadPro-iPadPro, iPadProCellular-iPadProCellular, iPadPro97-iPadPro97, iPadPro97Cellular-iPadPro97Cellular, iPhoneSE-iPhoneSE, iPhone7-iPhone7, iPhone7Plus-iPhone7Plus, iPad611-iPad611, iPad612-iPad612, iPad71-iPad71, iPad72-iPad72, iPad73-iPad73, iPad74-iPad74,

Supported Languages:

Arabic; Catalan; Valencian; Croatian; Czech; Danish; Dutch; Flemish; English; Finnish; French; German; Greek; Hebrew; Hindi; Hungarian; Indonesian; Italian; Japanese; Korean; Malay; Bokmål, Norwegian; Norwegian Bokmål; Polish; Portuguese; Romanian; Moldavian; Russian; Chinese; Slovak; Spanish; Castilian; Swedish; Thai; Chinese; Turkish; Ukrainian; Vietnamese;