Screenshots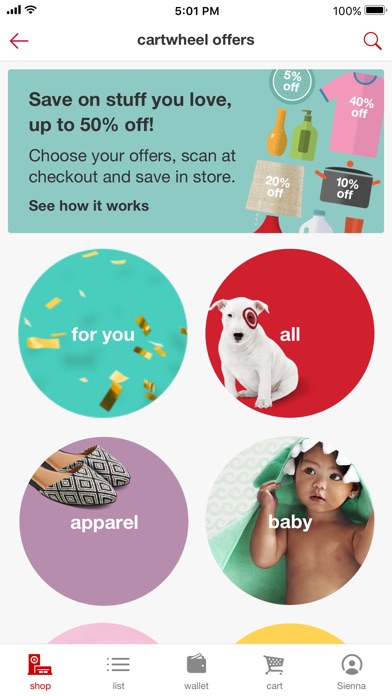 New in version 9.9.0
Bug fixes and performance improvements.
Description
The Target app now has Cartwheel and Wallet, making it the easiest way to save and pay while making the most of your Target Run. The Target app helps you plan your trip, save on your list, shop and order from anywhere, and save and pay in one place with the new Wallet tab.

Search our entire online and in-store product selection to easily find deals, availability, aisle location and ordering options. Then, see what's on sale, with Cartwheel offers, Weekly Ad and online promotions all in one place.
If you're in store, scan product barcodes to see if something's on sale, add it to your saved offers and scan your app barcode for savings at checkout from the Wallet tab.

Load your credit or debit REDcard™ into Wallet to save on Cartwheel offers and pay with REDcard in a single scan when you check out in store. Scan other coupons and discounts in Wallet, too!

If you're ordering through the app, order quickly and securely every time. Then choose to pick it up at your local store or have it shipped and delivered to your home.
Reviews
Found just what I wanted!
So easy to use and fast. Love it!
Disappointed
The cartwheel app was user friendly but the Target app is not plus it RARELY works in the actual store. We used to use cartwheel all the time but the target app has turned us off to using it...too much trouble.
The Cartwheel app needs to be better
You have to scan an item, click back, scan again. It's annoying. I feel like it's not intuitive on how to search for Cartwheel offers like it used to be either. You can only scan an item and see if there's an offer. It's pretty easy to shop. But more attention needs to be paid to Cartwheel since you forced us to use it all-in-one.
Love app
Awesome app, I am getting lot of discount coupons daily on various items.
Can't use it
I've tried for 2 days to use this app, but it won't let me select a store. It pops up and tells me to enter my location, I type in the zip code, and nothing ever comes up. Extremely frustrating. I've noticed that others are having a similar issue as well. I was hoping this app would work so I could use it for Christmas shopping. I absolutely love target, but this app is worthless
Target always comes through!
Target always has what I want and need. The app is extremely user friendly. I love cartwheel being combined and I appreciate how they tell you certain items you are viewing may be a part of a deal! Having the Target Debit card seals the deal with the free shipping and 5% off!
I loved
Everything is easy
Great app except
New features such as wallet has been great. But the one little detail that I found very useful in past revisions has been eliminated that I wish can be brought back: the expiration date for the individual items when viewing my cartwheel list. Please bring back for next update!
Great experience
TexasAppUser
on
12/16/2017
Target's shopping app is easy to navigate, easy to see (love the "largeness" of print and images), and therefore easy to love. Thanks for helping make my Christmas shopping far less stressful! :) -Cassie in Texas
Super convenient app to shop with Target
Roadkilldiet
on
12/16/2017
A store with low prices, large selection and low prices + price match. This is my place to shop at for sure!
Gift cards
Every NicknameIWantedWasTaken
on
12/16/2017
Target online would only let me use a maximum of 4 gift cards. NOT COOL! 👎🏻 👎🏻
Impressed
REAL EASY TO MANEUVER AROUND THE SITE AND FIND EVERYTHING YOU NEED 💯💯🙌🏽
Cartwheel App amazing!
So easy to use!
Bad delivery options
After correcting my address 3 times your app has auto corrected it to the wrong address, causing my orders to go to an address in greenbrae instead of my home in San geronimo , unfortunately the person in greenbrae has chosen to keep my orders. ☹️👎🏽
Doesn't even work!
Just downloaded this app and after logging in the app won't even pull up my local store to proceed. I've tried deleting the app and reinstalling, restarting my phone, everything. Their website doesn't have any support for the app either so that's great. I sure hope this is a bug that they'll be fixing because I'm ticked.
App
Lillylilylilly
on
12/16/2017
I like the app but sometimes the prices aren't the same or you don't have the item available.
Life Saver!
Femmefatale1103
on
12/16/2017
Gotta love technology! Super easy to order online!
Live for Target
Super razo 98
on
12/16/2017
Favorite store by far- and the online experience is so pleasing to me as well
Nice consolation!
Great job Target! I like that you have merged the regular Target app and cartwheel into one. It really is a great app now, still learning how to use it but I'm happy!!
Bring back cartwheel!
Too much combined into one app! Bring back the Cartwheel app separate from the regular Target one. It's slow, takes everything forever to load and it's hard to maneuver. The old cartwheel was simple and user friendly, and I miss how quick and easy it was!
Get better developers
Princesspitterpatter
on
12/16/2017
This app is awful and has been for awhile. You then add cartwheel to it making it even slower than it previously was. Good to know you don't sell pants for toddler girls, after the update it shows nothing.
Great!
glenwoodgal
on
12/16/2017
I really like shopping w/ the Target app- much easier and faster than on my iPad!
Works surprisingly well
I hate using apps vs mobile websites for online shopping, but I love this one. Looks good, it's easy and fast to operate, and seems to sync with in-store availability well.
Great App
HappyDucks3
on
12/16/2017
Love Love Love
Power in the hand
I like this app. You can order and have it delivered or pick up at store. Plus if you have a target card you can manage it right from the app. Plus able to pay using your phone at the register.
Inventory is inaccurate
Thought it would b btr
on
12/16/2017
Drove through traffic with a crying baby for 30 minutes because the app said something was in stock. Got there - and nope. Add the 30 minutes of getting baby out of car, wandering around store looking for what was suppose to be there, getting baby back in car - and then 30 minutes fighting traffic to get back home empty handed. Sure wish I had that hour and a half of my life back. Won't bother next time. I'll go somewhere else.
Can't use cartwheel
I've had the same phone the last two years. Never had a problem using cartwheel on this phone. This new app comes along and suddenly I can't use the scanner because my camera doesn't focus on the barcode anymore. Cartwheel is the only reason I have this app. I've uninstalled and reinstalled and it doesn't work.
Shopping at its best!
I love that I can order an item online that cannot be found at any other store and it is shipped right to my door! Thank you Target!
Can't Use
App won't let me choose my local store and won't let me bypass that requirement, so I can't use the app.
App worked great
math sisters
on
12/16/2017
First time using this app today. It worked great - easy as "that other one".
Easy and Fast
Alittlesouthern
on
12/16/2017
Super easy to navigate, applied coupons automatically, quick and easy to add payment cards and add gift card payment, finding stores for item availability was very helpful during this holiday season and accurate for us and it didn't add any stress to our shopping.
Love it!
BrittanyDoll8
on
12/16/2017
So quick & easy!
Disappointed in customer service
I love everything about target, except the customer service. It seems like something always goes wrong every time I try to order anything in this app. It doesn't allow me to add my red debit card. When trying to reach someone to help me with this issue, I run into the problem of not being able to understand or fully communicate with the representatives that Target employees. The langue barrier is so great that my problems are never able to be dealt with in an efficient manner. When speaking to a store representative, they say that they have no ability to help with Target.com purchases. It's very frustrating, especially when there is no help in site to fix what most would consider simple problems. Target needs to do better with customer service and support for their online shoppers and app users.
Shopping
LOVE Target !!! Hassle free shopping.
Easy and quick
App was easy to use and quick to complete purchase.
On line ordering
On line orders are quick easy and pain free to use. Plus you don't have to worry if your items are not available.
Everything at your fingertips!
USA12785467
on
12/16/2017
Nothing to remember. The ease of ordering is almost scary!
Fast and easy at my fingertips!
BieberFever_xo
on
12/16/2017
The search function for items is awesome!
Love Target ... in my back pocket!
Mum of trio
on
12/16/2017
Love the availability to shop at Target.
Target - Bullseye Again & Again
StacyZimmerman
on
12/16/2017
I have always loved Target but now even more with the way they are making use of cutting edge technology. The Target app makes shopping so easy - I can add things to my cart as I think of them, select "pick up in store," pay with my Target card and literally be in and out of the store in 10 minutes or less. THANKS from one busy Mom!!
I love the Target App
Best app ever! I am able to scan and get the prices at the store instantly. Let alone being able to find the items and match the stores that carry them.
Target??? The BEST!!!
Ms. Cordero
on
12/16/2017
Convenience, great prices, everything your looking for is here!
Target.com CS is horrible
Customer service does not honor Target red card price match. Purchased an item week ago, went on sale today and CS from target.com would not refund the discounted amount. Repurchased and will return original. Horrible customer service and lies to get people to sign up for red card.
Sits on the location screen
I have tried deleting the app and reloading it. Yet it sits on the Look for Store section and nothing changes! I've turned on location services, did my zip code, city, even tried the entire State and it says there's nothing located there! Get it together!!!
Great app!
I have one suggestion. Pls include model's measurements and wearing x size for clothing reference
Love the new changes
Not worth getting ***
on
12/15/2017
I really didn't like how everything was separate apps in the past but now the upgrades that have been made like cart combined with discount makes shopping online and in store really really easy!!! Love it please keep it this way you fixed what was broken don't ruin it !
Submitting payment
Chrissy's iPad
on
12/15/2017
This app SUCKED! It took me 1 hr to get the app to change and accept my new card. I had to finally delete all log out and go back. It still reverted an older card - which I had already deleted. Very frustrating.
Can't even use the app!
Extremely frustrating, forced to use this app instead of cartwheel and it doesn't work. I have logged in and it ask for my store but it will not list any. I have tried with current location and typing it in...NOTHING! Uninstalled reinstalled...still NOTHING And there is no way to skip store assignment.
Super easy - in love
Easy to check out love the security steps at check out to make sure my card is not stolen. Best experience with shopping on the app
Keep logged in
I check the box to keep me logged in but every time I get out of the app I have to log in again. Very annoying.
Fact Sheet
Publisher:

Target

Category:

Shopping

Released:

Nov 24, 2008

Current Version Released:

Dec 08, 2017

Version:

9.9.0

Size:

150.9 MB

Compatibility:

Requires iOS 9.0 or later.

Recommended Age:

4+

Game Center Certified:

No

Supported Devices:

iPad2Wifi-iPad2Wifi, iPad23G-iPad23G, iPhone4S-iPhone4S, iPadThirdGen-iPadThirdGen, iPadThirdGen4G-iPadThirdGen4G, iPhone5-iPhone5, iPodTouchFifthGen-iPodTouchFifthGen, iPadFourthGen-iPadFourthGen, iPadFourthGen4G-iPadFourthGen4G, iPadMini-iPadMini, iPadMini4G-iPadMini4G, iPhone5c-iPhone5c, iPhone5s-iPhone5s, iPadAir-iPadAir, iPadAirCellular-iPadAirCellular, iPadMiniRetina-iPadMiniRetina, iPadMiniRetinaCellular-iPadMiniRetinaCellular, iPhone6-iPhone6, iPhone6Plus-iPhone6Plus, iPadAir2-iPadAir2, iPadAir2Cellular-iPadAir2Cellular, iPadMini3-iPadMini3, iPadMini3Cellular-iPadMini3Cellular, iPodTouchSixthGen-iPodTouchSixthGen, iPhone6s-iPhone6s, iPhone6sPlus-iPhone6sPlus, iPadMini4-iPadMini4, iPadMini4Cellular-iPadMini4Cellular, iPadPro-iPadPro, iPadProCellular-iPadProCellular, iPadPro97-iPadPro97, iPadPro97Cellular-iPadPro97Cellular, iPhoneSE-iPhoneSE, iPhone7-iPhone7, iPhone7Plus-iPhone7Plus, iPad611-iPad611, iPad612-iPad612, iPad71-iPad71, iPad72-iPad72, iPad73-iPad73, iPad74-iPad74, iPhone8-iPhone8, iPhone8Plus-iPhone8Plus, iPhoneX-iPhoneX,

Supported Languages:

English;