This version of the app is not recommended
App last updated
Mar 15, 2018
Screenshots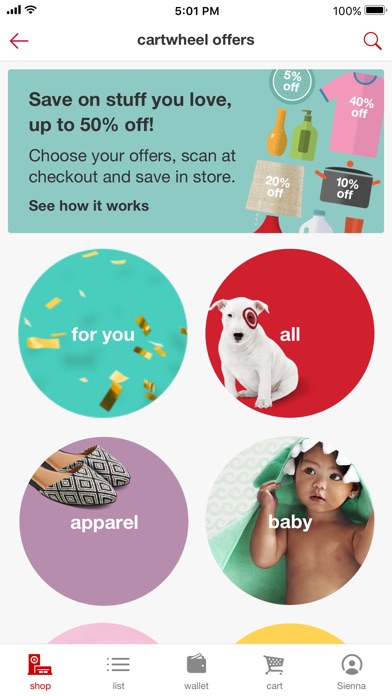 New in version 9.16.0
As part of our commitment to accessibility, we now provide support for font resizing. Starting with this release, portions of the Target App will respond to the font size you've chosen in your settings for easier readability.
Description
Whether you're shopping in store or at home, get trip planning, exclusive savings and more with the Target app. Plus, the new Wallet feature is the fastest, easiest way to save and pay in store.

Plan your next Target Run by checking out the Weekly Ad, Cartwheel offers and item availability all in one place. Then streamline your Run with store maps and aisle locations, and scan item barcodes for prices, reviews and available deals.

Add your credit or debit REDcard to your Wallet to pay and redeem Cartwheel offers with a single scan at checkout. You can also redeem store coupons in Wallet!

The app also makes it easy to shop from anywhere, allowing you to search our entire selection, complete with online promotions and flexible ordering options. Order quickly and securely every time, then choose to pick it up at your local store or have it delivered to your home.
Reviews
Fix the app !
Please fix the app !!!
App works anywhere EXCEPT inside the Target store
Funny how that happens. Bad app. Bad, bad app. UPDATE: I figured out that it was the "Target Guest Wi-Fi " that was preventing the app from working in the store. Ironic, huh.
Poor execution
I placed an order, which qualified for a 2-day free delivery. First of all, one of the items was prepared for a pick up from the store instead of a delivery - needless to say, if I had the time to pick up that item I would have picked up all of the items I ordered. What is the point of delivering then? Second of all, Target keeps pushing the delivery date and now it is at 5 days instead of 2 and I don't really know when exactly my order will be delivered. Target, this is not the way to compete with Amazon. I decided to give you a chance, but my next order won't be with you!
On my tablet
So easy Love it
Stopped loading over the last few weeks
My app has been updated but after the initial target symbol at launch the app is a blank screen and therefore useless. I attempted to uninstall and reinstall. It's unfortunate as I use it for cartwheel and online shopping.
A few recommendations
Hello I was told by a Target employee to not go off of what is in store and what is not from the app. They said there is a three day delay. She said it's rarely updated which is a concern for customers like myself. Hoping this can be changed for future searching.
Easy to use!!
Love the convenience of the app. Very easy to shop, look up deals, and pay for purchase.
Review past orders
Would like it to be easier to look at past orders each time I go to the app I can't find where to see my past orders
Love Target KM
Really cute stuff at wonderful prices!!!! Who What Wear is the BEST!
I love target
TabethaShaleigh
on
3/17/2018
With this app you can place an order, pay at the register, build a coupon with cart wheel, and use as a price scanner! Thanks Target! I love it.
Love !
The app is very up to date. I use it all the time in store when I'm not near a price checker.
Can't find deals
StephyB_Earthy
on
3/16/2018
Sad that cartwheel is so hard to use now. Wish there was a way to look at just the cartwheel deals alone instead of having to scroll through the entire category to find.
App Crashes
Ever since the merge this app crashes a lot. I can't even shop on the app. It's really annoying when you are in the store and you have to keep opening the app. I loved the cartwheel app. This needs to be fixed. It's been like this for months. There was an update but it didn't fix anything.
Mrs Walker
Ordering process was easy I can't rate the product until I receive it
Great app - Drive up service
Tried the drive up service for the first time. Other companies are offering it and most are bad to worthless. I placed the order at the Andover MN store, got the alert that the order was ready within an hour. Within 40 seconds of pulling into the designated spots the employee was walking out to deliver it. Friendly and fast... no stress! Target hit a home run with this!
Since newest update
Since the newest update, my target app won't even open.
Great app except when it doesn't work....
I like using this app but it never keeps me signed in so I always have to type in my password. (Even when I have the box checked to keep me signed in) Not a huge deal, but annoying! Also sometimes it won't sign in at all which is very frustrating!
Ordering for in-store pickup
I am satisfied that my order was ready within a couple of hours. I like the idea that Target checks picture ID to make sure the person who placed the order is the same person who picks it up. I also liked that each item is verified correct. The person helping me is pleasant. However, I wish there was a quicker turnaround in picking up my order. It would be nice if they had a conveyor system that would bring the order as entered into a key pad. I love my Target store. Thank you so much!
Serious lagging
This app used to be okay, but now it has serious lag time whenever I try to do ANYTHING!
Decent app
Organization could be better
Product details
I am buying the threshold, Lincoln side chair. Online it is difficult to tell the shade of the color, plus there is an option for "natural seat" and "natural". They look the exact same but there is a price difference. I called customer service but she was obviously just looking at the website like I was and had no additional information. Still bought the chair and hoping for the best.
Love the App
Wow! You can do anything with this app. Shop, pay in store, pick up later. Always works! I'm always using it!
Does not work
Never works
Gift card support "coming soon"
Fahrvergnügen
on
3/15/2018
Has said that support for gift cards in the wallet is "coming soon" for months.
Can't sign in
I downloaded the app and it won't let me sign in. I tried restarting my phone, uninstalling and reinstalling the app, and waited. Nothing worked. Highly disappointing to not be able to use the coupons on the app.
Love Target
I really love the app but it is pretty slow compared to all my other shopping apps just needs a little work and it will be perfect.
Good not perfect
jerseygirl71785
on
3/15/2018
I wanted the option to send the items as a gift with the prices hidden but I wasn't able to. Not a big deal but now the recipient will know how much I spent.
Wish I could use my paper coupons. Great service other than that.
I love this feature!
Cannot View Loaded Cartwheel Deals
Brian C Wurtz
on
3/15/2018
New update makes it impossible to view the cartwheel offers that have been loaded to your Redcard. Instead, it appears that there is no longer a cartwheel offer available therefore discouraging our potential purchase. Please fix.
Love Target
Great products. Thanks for making your app so easy to use.
Cartwheel isn't store specific
I love Target but it's really frustrating that the cartwheel deals are no longer store specific. I had five offers on my cartwheel that weren't available at my store, or the two closest Targets. I went specifically for three of the offers and it was a complete waste of time. Please fix this! Bring back the store map and store specific items!
Love this app!
I love the ease of this app and partnered with targets great choice of products I couldn't be any happier using it. I am retired and find it difficult to get to the stores so being able to get the products I love and have it delivered is absolutely amazing! Thank you target for making my shopping a bit easier ♥️.
Pin #
Jackie the great
on
3/15/2018
OK when placing an order it kept asking for my pin number and I kept trying to put my pin like a 1000 times I finally restarted my phone thinking maybe there was some error for on the phone and then it went through so I don't know other than that the app is fine
Everyone should use this
Like the title of this review says- everyone should use this app if you're making a Target run that turns into a shopping trip. This seriously helped me save money.
Terrible fulfillment
Landline user
on
3/15/2018
I ordered things for Christmas and Wong item shipped. Just ordered something else and received wrong color and wrong size regardless if the packing slip being correct- can't wait to see if the other items ordered are correct!
Size charts not easy to see when shopping
Need to include size charts on the mobile app that can be looked at while looking at the item. Otherwise I would give the app 5 stars.
Best Store!
blurgixxerninja
on
3/15/2018
I love the 5% card and the easy ordering. Target IS the best store you can go to or buying online!
Target app
RosyT_stayclassy
on
3/15/2018
Very helpful in saving money through the cartwheel. Easy to browse items online and through store. Sales add is always available. Can place orders through app as well. Now offers Wallet, which makes it so easy at checkout. Only downside is at times the app, at times, may be difficult to use in store due to WiFi connections from the store.
I like it but...
The app is good but i wish it would show pictures that buyers put up in the reviews like it does online.
Gift option
unsatisfied with gift option
on
3/15/2018
Ordered a gift and could not select a gift option or type in a message. Called customer service and was disconnected. Very poor and unsatisfied with this process!
Needs an update
Every time I open this app, it shuts off my wi-fi connection and nothing loads. I wish Cartwheel was still separate from the app. Love Cartwheel. Hate the Target app. Terrible connectivity.
Love
Keeping my brain sharp
on
3/14/2018
This app is life❤️
App will not download
app not downloading
on
3/14/2018
I've tried everything to download this app!!! Tried on WiFi and network but still not downloading... and no it's not my network because I have no problems downloading any other apps. I really loved the cartwheel app and was happy to shop at target more often than not but now I most likely will go else where as I really only went because I could see sale items before and only brought those items in Target. Oh well 🤷🏾‍♀️
Easier to purchase in-store
Too many glitches with shipping address ! Customer service can't edit addresses either.
Barely even works
Every time I open the target app with the new update it freezes my phone and automatically gets off of WiFi and goes straight to 1x data, even in an LTE zone. The app is almost impossible to use now. Disappointing.
Online Shopping Rocks
As much as I love going to Target for groceries and anything else that happens to catch my eye...it's nothing short of exhausting with 3 kids in tow! Now I can get all my dry groceries and other goodies (clothes, electronics, gifts, you name it) all delivered to my house for 5% off and free delivery using my Red Card and the Target App! Thank you Target!
Add red card info?
Abbythenormal
on
3/14/2018
So - overall, the app isn't bad. It's actually pretty great but with one HUGE problem.... Why are you going to allow me to save my RedCard information as a form of payment and then ASK ME FOR IT WHEN I CHECK OUT?! If I saved the info, it means that I want to utilize the card without having to enter the information AGAIN or even have the card next to me when I make a purchase. I made a purchase from the App and was unable to use my redcard because I didn't have it on hand to REENTER IT when I checked out, thus making me pay for shipping and not get the 5% discount. This is seriously the most annoying oversight I've ever dealt with, which is why this app gets 1 Star. PLEASE FIX THIS PROBLEM!!!
Target Mom Approved!!!
Brea Target Mom
on
3/14/2018
I loved the Cartwheel App and was very sad to see it go away. However, it was very smart of Target to combine everything into one application. I also link my Target card to the app which makes check out (at the store) super fast! (I'm usually shopping with three young kids, so efficiency is important.) Great job!
Great app
Easy to use and make purchases. I really like that Cartwheel was combined into one app. I would like the 5% Redcard discount to count towards my gift card purchases. Maybe, link the account which shows that I am a verified Redcard owner and apply the discount that way.
Another error has occurred
K.E.E.Equine
on
3/14/2018
If I get a message that an error has occurred I'm going to scream. I've been trying to place his order for the last 2 1/2 days. It shouldn't take that long before it finally gets it right
Fact Sheet
Publisher:

Target

Category:

Shopping

Released:

Nov 24, 2008

Current Version Released:

Mar 15, 2018

Version:

9.16.0

Size:

139.6 MB

Compatibility:

Requires iOS 10.0 or later.

Recommended Age:

4+

Game Center Certified:

No

Supported Languages:

English;