Screenshots
New in version 9.20.0
Enjoy our latest update where we have fixed some bugs and improved our app to provide you with a seamless shopping experience.
Description
Comprehensive
You need toothpaste, golf clubs, and batteries - and you need them now. Known for its colossal shopping catalog, Amazon packs a variety of the features and functions into this ample app, whether you're buying gifts, tracking orders, scanning products, or tap the mic icon and use Alexa to play music, shop, tell jokes, listen to eBooks and more. It's easy to navigate, intuitive and extremely fast.

Browse, search, get product details, read reviews and purchase millions of products available from Amazon.com and other merchants.

Convenient
Sign in with your existing Amazon account to access your cart, payment and shipping options. Create or find a baby or wedding registry. No need to create a new account to manage your 1-Click settings and wish lists, track your orders and use your Prime membership benefits. Shop just as you do on the web.

Fast
Compare prices and check availability instantly by scanning a barcode, snapping a picture or typing your search.

Secure
All purchases are routed through Amazon's secure servers.

Universal
Shop Amazon.ca, Amazon.co.uk, Amazon.de, Amazon.fr, Amazon.com, Amazon.it, Amazon.es, Amazon.cn, Amazon.co.jp or Amazon.in from a single app.

In order to provide a rich experience and enable features such as voice shopping, shipping notifications, visual search, customer reviews, treasure truck, locker delivery, fresh pickup, authentication and dash buttons this app may request permission to access location, contacts, camera, microphone, notification, touch id, photos and Bluetooth.
iPad Screenshots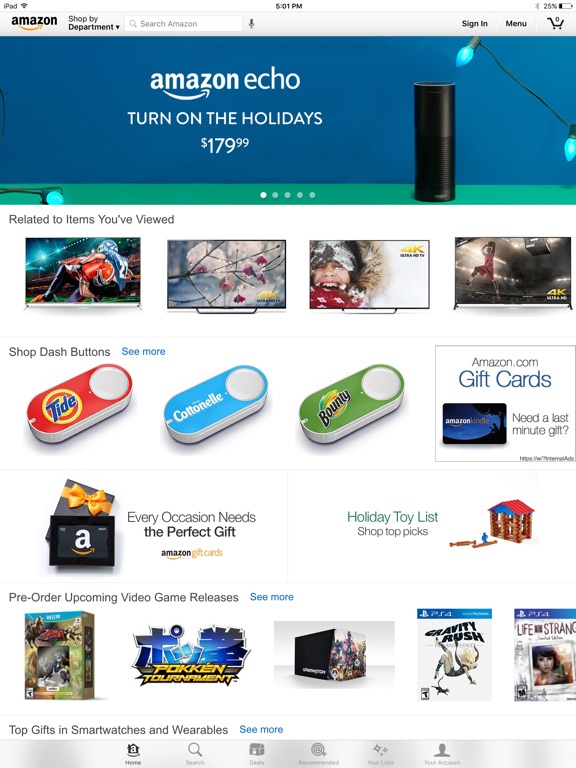 Reviews
Time for a new app button design.
Don't need to see it twice that this is the "Amazon" app.
Screen won't flip
After the update my screen on my iPad won't rotate with the Amazon store. Please fix
App keeps freezing after iOS 11
Will update review when app stops freezing.
New Update broke the app
The new update you can no longer be in landscape mode using the app on my iPad!! 😡😡
What happened to iPad landscape mode?
I just upgraded to the latest release and now the Amazon site doesn't go into landscape mode on my iPad Pro!
Latest update displays only in portrait orientation
The previous version allowed both landscape and portrait orientations but this latest update is restricted to portrait. I normally use this app on my iPad in landscape but no longer able to.
Amazon Smile
Love the app with the exception that I can't purchase items thru Amazon Smile (donation to charity of my choice). It appears if I want to use Amazon Smile - that I need to order thru the website and not thru the app. This is vey frustrating.
Wish list
Doesn't offer photo of item to be added & cant edit or remove unwanted item. Extremely frustrating.
Worst Customer Support
I had ordered one laptop from Amazon. I am a Prime member and this item is Prime so it should be delivered within 2 days but in my case it was showing more than 2 days. When I try to reach out to Amazon customer support via chat they didn't help me. Finally I canceled the order. Amazon has already charged my credit card, now I have deal with customer support again. I am a long time Amazon Prime member and always buy from Amazon because till today I thought that Amazon had best customer support but it seems like that is not true anymore. If you try to write a review about the bad customer support you have received from Amazon, they don't publish that. They only allow the reviews which don't have any bad experience with Amazon customer support.
Promises a lot but fails every other order
Amazon fails delivery on every other order I place. If you can't deliver on-time, don't promise it. Simply refunding the amount paid does not solve the problem. Disappointed.
Can't purchase
JessAnnHart
on
10/18/2017
Ever since updating to the new iOS, I'm no longer able to make purchases through the app. Both regular and fresh purchases.
Did you know it doesn't work?
Dddddiiiisssapointing
on
10/18/2017
The app hasn't been functional since the iOS update.
Fix the last update!
Aprilnicole99
on
10/18/2017
The last update is terrible, nothing works! Please fix.
keeps getting worse
this app gets more and more difficult to use with every update. Wish the devs would stop moving backwards.
Can't access account
I have it set up for fingerprint, but it tells me there's an error. Nothing helpful on developer website. There's nothing wrong with the fingerprint system otherwise - it's how I access my phone and other accounts. Just Amazon.
Can't access account on current app
kelliecircus
on
10/18/2017
The app stopped working this past week - if you try to access account info or order something and either enter your password or use Touch ID - it gives a system error. Not helpful
A M A Z O N.
A M A Z O N IS FOUL AS FUQ. FULL OF S_HT.👎🏾😡😡😡😡😡😡😡😡😡😡
Customer Images
In previous versions you could see the customer images that were uploaded to the site. These images are still available on the desktop version, but have disappeared from the app for some reason.
Can't use in app back button
Xth3 ev1l d3adx
on
10/18/2017
Sometimes when viewing items I am unable to use the in app back button. Swiping right as long does not respond and I must kill the app to return from the item page.
Subscribe and save glitch
Love Hate Apple
on
10/17/2017
I skipped delivery on two items from this month's subscribe and save (s&s) last week. To my surprise, today I received notification that those items were out for delivery. At first I doubted myself, thinking perhaps I didn't change the s&s delivery date. However once I checked my account I was assured that I did in fact change the date. One particular item is every two months, and it is on next month's delivery. So, when I skipped the delivery of that item, it did in fact change it to next month, but also kept this month's delivery as well. 😑 Now, I'll be hauling a 24lb bag of dog food to UPS. Not cool. I recommend making any s&s changes on the website, not the app, until this problem is rectified.
Useless
Hotel visitor
on
10/17/2017
I really am trying to buy things from you. But for whatever reason this app is non functional. Also, your website is incredibly slow on safari, and even using chrome browser on Apple computers. I've tried this on two MACs, and now on iPhone.
Good app. Some problems
The app works very well. But I have noticed that my purchase/viewing history aren't synced between the PC website and the app.
Keeps freezing
Flaked model
on
10/17/2017
Can no longer purchase from app. Useless.
Amazon listen to feedback please
I'm not sure if the app developers at Amazon care much about user reviews. I would hope to think that they do. Changes that would be beneficial to customers are: there should be a back button available if you tap the Amazon icon on the top. The back button disappears once you tap Amazon and if you do this on accident, your searching history isn't accessible. So you would have to do another search and fill out the filters again which can get quite annoying, especially if you're doing an extensive search and keep tapping Amazon on accident (since it's so close to the back button). Another thing is that the reviews don't specify what the Amazon customer is reviewing. Some listings have multiple items for sale, such as a shirt in size small, medium, or large, several different colors, and different styles of the shirt like round neck or v neck. There should be a brief description, like there is on the desktop version, of the item being reviewed.
App says no internet connection
For several months now when I try to use the app it just says no internet connection, I've tried deleting app and downloading it again but it still says the same thing. I don't have a problem like this with any other apps so I know it's not an error on my end. Please fix this!!!
To much is for prime
Rileytaterbug
on
10/17/2017
I really like the app but too much of the stuff you have to be a like prime member to get and it is really annoying.
Prime issue
Just that I find things I like but aren't on prime
No Orders
When I go to the "orders" section, it says "something went wrong, please try again". Then it just sits there at "still loading..." Not very useful when I want to check the status of my orders.
Meh
I too would like to know when I'm buying from China. And when delivery date says MONDAY, I expect Monday; especially when ordering supplies for my business. I'm not really sure why I pay for prime anymore. The movie/tv options are awful as well.
Shipping issue
Not so happy with the shipping option. I have tried 3 times to type in the address of where I would like this Amazon purchase to go since it's a gift. It seemingly lets me add the address then asks if I want to proceed to checkout even though I already was there and it never saves the address. Please fix ASAP. I just updated the app and have a new iphone8 not sure why there is an issue now.
Can't order anything / Chinese Sellers
Can't order. After entering Touch ID receive error message. App and phone up to date. Also: too many Chinese vendors. There should be a clear indication when a seller is shipping from China. Takes months to receive item, then when item arrives it is of abysmal quality. This is why I switched from eBay to Amazon years ago, and now it's happening all over again. I DO NOT WANT TO BUY FROM CHINESE VENDORS.
Crashes more than any other app
Still fighting
on
10/17/2017
Despite updating the app almost daily I cannot use it for more than a few minutes without it crashing. It's beyond frustrating so I've stopped trying and went back to using only the desktop version. There's nothing wrong with my iPad; this is the only app with this issue. If I can't use it for more than a few minutes at a time the convenience factor is nonexistent. The latest app updates have made using my wish lists impossible. Anytime I try to add an item I get an error pop up that the item can't be added; sometimes it does add it but other times it doesn't so I have to keep trying for every item I want to include. Also the inability to sort lists and the default to date added for sorting purposes (which you can only temporarily change; others will see what you added most recently vs what your priorities) has just about rendered the app useless. Half the time I can't even view a full wish list because it freezes. I wasn't aware that by downloading the app I was agreeing to constantly delete and download it daily. And to everyone reviewing Amazon itself, seriously, this is supposed to be a review of the APP not the business itself. No one reading these reviews cares about your missing orders, payment problems or even your happiness about the kind of items you can buy from Amazon. Stick to reviewing the app so the reviews are actually useful to those viewing them for app related functionality purposes. And for the moron below lamenting the existence of "so many negative people" allow me to welcome you to the real world. It's not all sunshine and roses. Quite frankly reviews are specifically for pointing out issues, good and bad. If an app just plain doesn't work I'm absolutely not gong to blow sunshine up Amazon's butt and say it's awesome, all in the name of "not being negative." Sharing legitimate concerns and criticism has zero relevance to whether a person is "negative." But thank you for giving me a good chuckle and the new hold hands and sing together movement where we all pretend life is fabulous while it burns to the ground around us. Spoiler alert: That's not positivity; that's stupidity.
Filtering
I wish kindle had a way to sort between books you have read and ones that you have not. Between different devices, synchronization is not the best and shows books as new when they have been read.
'something went wrong'
Getting this message on both iPad and iPhone apps. Deleted and reloaded the apps. I open app and try to look up prior orders. It asks for my fingerprint login. Then I get the message...every time. Please fix this... Customer since 1998...very experienced user.
Decent app, but no support for Amazon Smile
Please add support for Amazon Smile in the iOS client! I have to go check out on the web site to get the Smile support to go through; very inconvenient.
I like!
I like this app but customer service is really bad, Specially when it is related to refund. I have many days waiting for my refund. Even, I send the item that I have bought, they have received it 15 days ago.
New generation
DerpyyBacon
on
10/16/2017
I ❤️ it! You don't have to go shopping in other stores anymore 😆!
Disappointed with Amazon prime
Pixitag dissatisfied
on
10/16/2017
Still awaiting an article, not sure when I will actually see it!
Where's my $5 coupon?
Where's my $5?
on
10/16/2017
Amazon website said if I downloaded the app I'd get a $5 coupon sent to me. It's been a week with no coupon. In general tho, app has some bugs, could be better.
Located phone
Took 5 minuets to unlock but we had to travel to Macon.
Touch ID is broken
Normally I like the app but I can't sign in to view my orders. I just get a message saying "sorry, something went wrong." There also isn't an option to enter my password if Touch ID doesn't work, so I'm locked out of my orders on the app.
Recent update = frustration
itsplaneandsimple
on
10/16/2017
Most recent update has broken the apps ability to show me my previous orders. When using Touch ID (or entering my password because I didn't turn in that feature for this app), I get an error message that "something has gone wrong. Please try again." but the page never loads no matter how many times I've tried to access it.
Can't purchase from my app
Horselovermom
on
10/16/2017
If I go into my wish lists and try to order something for me or friends, first it doesn't recognize my login and says there's an error. I can go out if it and hit the list again and it comes up. If I put items from my friends wish lists in my phone to purchase and hit proceed to checkout, it asks for the shipping address but will never go past that page. I have to go to my desktop to order the items. Talk about irritating! My Touch ID won't work to sign in either. I have an iPhone 7 and this started before the 8 came out. I have all of the latest iPhone updates and the app is up to date. This has been going on for weeks! This REALLY needs to be fixed!
Ugh!
Groovykat54
on
10/15/2017
Since the updates. , the picture of the items never shows. Can't see anything .
The bear app
It's a good app
App issues
Buzzed Ewok
on
10/15/2017
Latest version of app has several issues navigating around along with the Barcode scanner no longer working.
Clunky.
App is very "clunky". It's as if a completely different company designed the app. Better off just using the internet to get to Amazon. Don't waste your time.
Barcode reader is ruined
UserSnake1982
on
10/15/2017
Please fix barcode reader, it was working perfectly and now with this silly update it's ruined. FIX IT! Bring back the blue dots! Remove the ugly barcode ghost!!
Very bad
Mahdi2442at
on
10/15/2017
I Paid the fee for Prim subscription to get my stuff as soon as possible but unfortunately that didn't happen and the customer services were very unprofessional and unhelpful .. I don't wana use Amazon anymore
Fact Sheet
Publisher:

AMZN Mobile LLC

Category:

Shopping

Released:

Dec 03, 2008

Current Version Released:

Oct 19, 2017

Version:

9.20.0

Size:

147.4 MB

Compatibility:

Requires iOS 9.0 or later.

Recommended Age:

4+

Game Center Certified:

No

Supported Devices:

iPad2Wifi-iPad2Wifi, iPad23G-iPad23G, iPhone4S-iPhone4S, iPadThirdGen-iPadThirdGen, iPadThirdGen4G-iPadThirdGen4G, iPhone5-iPhone5, iPodTouchFifthGen-iPodTouchFifthGen, iPadFourthGen-iPadFourthGen, iPadFourthGen4G-iPadFourthGen4G, iPadMini-iPadMini, iPadMini4G-iPadMini4G, iPhone5c-iPhone5c, iPhone5s-iPhone5s, iPadAir-iPadAir, iPadAirCellular-iPadAirCellular, iPadMiniRetina-iPadMiniRetina, iPadMiniRetinaCellular-iPadMiniRetinaCellular, iPhone6-iPhone6, iPhone6Plus-iPhone6Plus, iPadAir2-iPadAir2, iPadAir2Cellular-iPadAir2Cellular, iPadMini3-iPadMini3, iPadMini3Cellular-iPadMini3Cellular, iPodTouchSixthGen-iPodTouchSixthGen, iPhone6s-iPhone6s, iPhone6sPlus-iPhone6sPlus, iPadMini4-iPadMini4, iPadMini4Cellular-iPadMini4Cellular, iPadPro-iPadPro, iPadProCellular-iPadProCellular, iPadPro97-iPadPro97, iPadPro97Cellular-iPadPro97Cellular, iPhoneSE-iPhoneSE, iPhone7-iPhone7, iPhone7Plus-iPhone7Plus, iPad611-iPad611, iPad612-iPad612, iPad71-iPad71, iPad72-iPad72, iPad73-iPad73, iPad74-iPad74, iPhone8-iPhone8, iPhone8Plus-iPhone8Plus, iPhoneX-iPhoneX,

Supported Languages:

English; French; German; Italian; Japanese; Portuguese; Chinese; Spanish; Castilian;