Screenshots
New in version 9.22
Looking to ship products internationally? Choose "International Shopping" after downloading the app, or in the Amazon settings menu, to shop for products that Amazon can deliver around the world. Now you can shop in English, Spanish, German, and Simplified Chinese.
Description
International Shopping
Browse, search, get product details, read reviews, and purchase millions of products with Amazon International Shopping – now available in English, Spanish, German, and Simplified Chinese. Amazon packs a variety of features and functions into this ample app, whether you're buying gifts, reading reviews, tracking orders, scanning products, or just shopping. Tap the mic icon and use Alexa to play music, shop, tell jokes, listen to eBooks and more.

Convenient
Sign in with your existing Amazon account to access your cart, payment preferences, and shipping options. Pay in your local currency with international credit or debit cards. Create or find a baby or wedding registry. No need to create a new account to manage your 1-Click settings, wish lists, or track your orders. Shop just as you do on the web.

Fast
Instantly compare prices and check availability by scanning a barcode, snapping a picture or typing your search.

Secure
All purchases are routed through Amazon's secure servers, protecting your personal, payment, and order information.

International Delivery
Amazon now delivers to 100+ countries in as quickly as 3-5 days.

Universal
In addition to International Shopping, you can change your settings in this single app to shop Amazon.ca, Amazon.co.uk, Amazon.de, Amazon.fr, Amazon.com, Amazon.it, Amazon.es, Amazon.cn, Amazon.co.jp or Amazon.in.

In order to provide a rich experience and enable features such as voice shopping, shipping notifications, visual search, customer reviews, and authentication this app may request permission to access contacts, camera, microphone, notification, touch id, photos and Bluetooth.
iPad Screenshots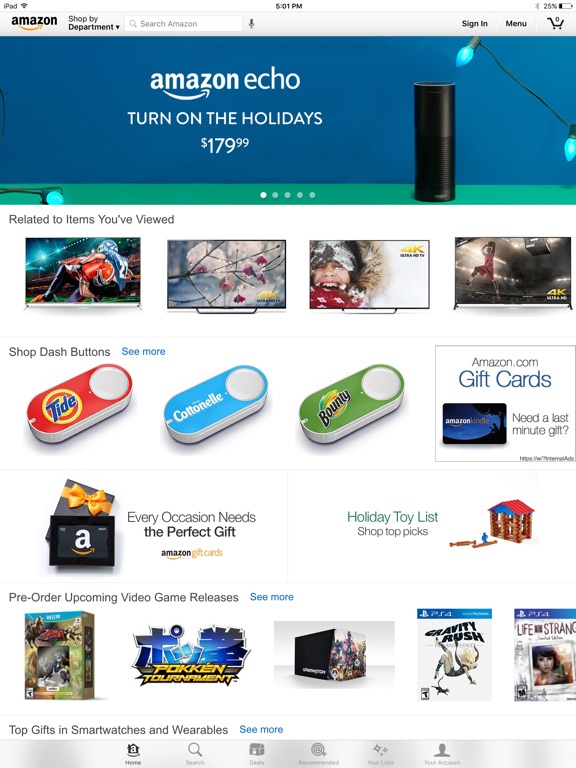 Reviews
Cannot complete order from app
It asks for my password- doesn't recognize it and says something went wrong... I go through the steps and place order and it takes me back to my full cart. I have to complete my order on my desktop. I am shopping elsewhere more this holiday season....I'd fix ASAP
Need to fix - I can't sign in or order anything or review my orders
This app has some major issues. I can't look at my past orders - it asks for my password every time and then when I put it in (correctly) it says there was an error. I'm also not able to order anything from the app. As a frequent shopper from the app this is super frustrating and annoying.
Can't place orders
LibbyOnTheLabel
on
12/12/2017
Everytime I try to place an order, the app asks me to log in. Then i get a message that says Oops! Something went wrong! And I can't place the order. This happens on any screen where i need to view my account. This issue makes the app pretty much useless.
Can't purchase from my app
wendylishious
on
12/12/2017
It doesn't recognize my password on the app so I can't actually buy anything. I can add to my cart but I have to log in on my computer to actually buy something. Super frustrating. Otherwise I like the app. It shows different search results than the computer though. That's kind of annoying too. I can't just search for something on my computer and get the same results to find what I might have seen before.
Crashes
soccernobueno
on
12/12/2017
Crashes alot
App has bugs that make it unusable, no way to report bugs to developer
I have looked and not found any way to report the bugs that render this app unusable. I can only use the app for browsing, not for ordering. I have to order through a web browser. These issues have persisted for weeks/months. If i knew Amazon was aware of the bugs or was working on them, I would not have submitted this negative review. Hopefully this will get their attention. I enjoy shopping on Amazon, but cannot do so through this app. If they would like to know, the main bugs are: - When asked to login to confirm password, it will say "oops something went wrong". However if i continue doing what I'm trying to do it seems that it still recognized the login. - When checking out and trying to change the payment method or shipping address, whatever starts to happen disappears and nothing changes. I am unable to continue with the order unless i use the current payment method and shipping.
All related products are sponsored now and **STILL** no ipad 10.5" screen support!!
-still doesn't properly support the screen resolution of the new 10.5" iPad Pro. Amazon has gathered up the world's wealth but too lazy to compile their app properly.. -the related products list used to be sponsored on top, but the bottom list was not sponsored. now it is all sponsored. this is a dealbreaker and i will try downgrading to last version i can find without this change. else will stop using. the sponsored products are not selected with my best interests in mind. they are expensive products priced so that the customer pays a premium to pay for the advertising costs the seller pays to amazon. shameful.
Can't order anything
Ever since the new update, I can't order, login to my account, or check the status of orders that I made on the desktop, through the app. The big need to be addressed.
No back button..
There is no back button on items with multiple deals/ pricing. If you clicking a deal to save on a brand of products, you end with no way out of the product brand page.
Oops! Something went wrong!
Sweet knickers
on
12/12/2017
I don't know why this keeps happening but maybe it has something to do with "Touch ID"? Upon trying to check out amazon ask for me to log-in with the Touch ID that I've used before. Then a message pops up saying that something went wrong and to try again later. This seems to happen all the time. Then the page continues to say "still loading" after hitting ok. It's very frustrating since it happens when I'm trying to check out.
You guys
All of you that rated it a one star are just haters Amazon is the greatest shopping place made so stop hating
App displays user's review alias as owner of wish list
HoppyMcScragg
on
12/12/2017
Currently, if my friends look at my wish list through the app, they see that I do not have one, but my review alias (which they are not familiar with) DOES have one. Similarly, I have one contact whose wish list now shows as "Amazon Customer." I pointed out to a relative that I could see her review alias when I looked at her wish list, and she panicked and deleted her wish list. (Oh great...) Anyway, please fix this, guys!
Can't turn off one-click (which I don't want on).
It's on by default. All the links that LOOK as if they'll allow me to disable it turn out to be dead ends in some way.
Crashes
It keeps saying "something went wrong" when I try to view my orders with either touch ID or my password. Fix this please
Can't complete an order on phone
I can't even place an order on my iPhone. It keeps saying there was an error but let's me in to my account. It asks over and over what shipping address to send to. No matter how many times I re-select my address, it flashes back to the question. I even did the latest update and it still does this. Fix please
Needs fixing
Latest update not allowing me to order, error with fingerprint login.
Needs a lot of work
alright already
on
12/12/2017
Extremely slow, almost unusable when using as a simple grocery list at the store.
Can't Check Out from my iPhone since the last update
CollinDugger
on
12/12/2017
Ever since I updated my Amazon app with your most recent update, the app says "something went wrong. Please try again later." It doesn't do this on my iPad or desktop. Please help!
Can't view customer images in reviews
Bill O'Basket
on
12/12/2017
Apart from that major issue, the app is pretty solid.
Love Amazon, hate the Cart Pop up
I love amazon, I have amazon prime and would never give it up! But since they enabled "customers who have bought _____ also bought ____" when I'm scrolling through my cart, is enough to make me delete the app on my phone and stick to shopping on my computer.
I'm an avid amazon consumer, but fix the bugs!
Johnny Hustle
on
12/12/2017
This is so infuriating. It's been at least a month. I've seen others with the same complaints. 1. I get an error when I log in. 2. It kicks me out and makes me sign back in when I want to view my wish lists. And letting me actually view them when I do log in is hit or miss. 3. Lastly and worst of all it doesn't let me check out and purchase after I add to my cart!!! It just has a glitchy page animation every time I click "proceed to checkout". A shopping app that doesn't let you buy your items!?! You are loosing money. Fix it! I have to use my phones web browser every time I want to purchase. So disappointed. The app was nearly perfect before you updated it. Amazon is a huge company, with tons of programmers. Why on earth is this taking so long to rectify??
Cannot order from app
Makeupgrrrrl
on
12/12/2017
I have used this app for years and suddenly cannot order from it.
Insecure app
theravager71
on
12/12/2017
Once installed and fingerprint set up you never have to put in a password again. That may seem great, but I mean never even if you change the password or even the login email. You can still get in with a fingerprint. Even if someone gets a hold of your phone they can add a fingerprint and access all your orders and account info.
Coming from Amazon I'm disappointed
Oliver Zion
on
12/12/2017
Checking out is a nightmare. Like going to the DMV Requests that I re-enter my credit card every time I want to check out. Defeats the purpose of having the credit card on there. Half the addresses don't work, and it doesn't give you a suggested address that they deem is valid that is close to what you entered, like with other websites. On any of these two instances if you hit back... it'll take you to the checkout page which if you don't watch carefully, it has your last ship to address selected instead of the new one you're trying to enter. Searching for shoes is a nightmare here too. Price advertised is never the true cost, so if you want to pick a range (for obvious budget purposes), you get a shoe that starts at that price, but never is actually that price, and then sizes are rarely available without completely changing the shoe. Doesn't let you select a size and then a price, which would then narrow your search. All in all, I might cancel my Prime if I keep having these basic problems when trying to shop here.
Need full support on iphone x
On iphone x when you try to contact support thru chat the bottom doesn't show up promptly the keyboard so you cant type in. Sometimes after you type and send your question the bar stays frozen when the representative responds to you so in order to reply back you have to exit chat and enter again. Please fix
Many issues that need to be resolved
App is slow. Need to have more control of settings/ preferences within the app. I can't archive my orders in the app because it looks the same as the mobile website. So this means I have to go on desktop version in order to do all of this! What's the purpose of the app.
This prime member hates this app
Iphone_Dude9977
on
12/11/2017
I've been a prime member for a very long time. During that time I have used my amazon visa and this app. Now it seems I must re enter my credit card number for everything. The point of this app is to allow me to shop, which is impossible when I must have my credit card with me 100% of the time. Add that to the fact that amazon does not honor prime shipping anymore and the usps lies about delivery and amazon is fast becoming a joke. Today I was told my package couldn't be delivered because they couldn't access my house due to a gate. Bold face lie as the same postal employee delivered my mail along with another amazon package.
Awesome
One who knows 1
on
12/11/2017
Great app!!!!
Can't add new address
Tried 5 times in a row. 3 times the "ship to this address" button took me back to the very first screen I get to when I tap on my cart without having saved the address that I just typed in. The other 2 times the button didn't do anything and I had to go back and start over. Going to have to dig up my laptop to make this order. Which year is this? :(
Beware of fraudulent sellers in Amazon
theking17812
on
12/11/2017
The app is very easy to use..but some sellers are very unprofessional when is comes to your items and extremely fraudulent and amazon seems to back their sellers 100% when it comes down to leaving a negative review due to unacceptable circumstances from their sellers..BE VERY AWARE OF WHO YOU ORDER FROM, AMAZON CANT BE TRUSTED AT ALL...
Decent app. Room for improvement.
The app works well, but I don't use it much because it doesn't work with smile.amazon. This is a huge disappointment that prevents me from making the app my preferred way to use Amazon. Also, for security reasons, I would prefer to keep my credit card outside of Amazon and use Apple Pay. This would be a smart implementation.
Where's Amazon Smile in the app?
Amazon is doing a great thing by offering the Amazon Smile program. But the whole thing feels half-baked if they aren't going to extend this functionality into the app. They've had plenty of time to address this. Looking forward to future updates.
Can't login
This version of the app breaks the login functionality! Amazon- get it together! It's the holidays!
Buggy
Each version on different devices different format. Works fine on iPhone, half-assed on iPad. Keypad keys won't react in search box more than once. Reset, quit, delete, reinstall-same. For such a necessary app, there should be NO bugs.
Dishonest marketing
My wife and I both have experienced Amazon marketing offers that did not pan out. I was offered a $5 credit for choosing a slower delivery method. My wife was offered $20 for downloading the app and placing her next order. Five plus calls later and an equal amount of guarantees that are credit would show up on our next order, we are still trying to hold Amazon accountable for their marketing promotions. The app is convenient and offers a ton of options, but the principle of being lied to just irritates me to no end!!!
Can't sign out
Pekhro Sektor
on
12/11/2017
You literally are not allowed to sign out. Want to use a separate account from your girlfriend so you can buy her a gift without her seeing it on your orders? Good luck.
App and PC don't line up.
I'm having trouble understanding why you can't view orders made on your phone on your PC and Vice-Versa, You can't even create a cart on your phone and it be available on the same account on PC for payment (even saved payment options or items aren't saved.) I'm not sure how or why Amazon is the next big Monopoly when they can't even build a solid app that doesn't make you think your account on your phone is different than the same account on your PC making you fear it's been compromised.
Can't buy stuff
Westintheeast
on
12/11/2017
App will not let me update quantities or place order. Terrible.
Walmart!
Can you hurry up and put Walmart out of business please?
Notifications won't go away
I have a notification and it won't go away no matter what I do. I have checked everything and the only way to do it is to turn off notifications on my phone or delete the app. So I guess I will delete the app.
Promise of Money
Kristie's Stang
on
12/11/2017
Very sad when you get a pop up from Amazon's website to download this app and receive $20 on your first order from the app and then they don't give you the money and have no record of this offer. Thanks for nothing Amazon. App has been deleted.
Repeatedly prompted to sign in
GAWdzilla74
on
12/11/2017
What the heck? Every time I use the app now, I'm prompted to sign in. Who gives a crap about 1-click buy settings if you're constantly bombarded with a prompt to re-enter your password at every turn. It's frustrating — what used to be a great app has been seemingly ruined by useless added "features" and updates.
Wish List
I can't add anything to my wish list I can view my wish list. I honestly cannot view any other options on Amazon unless I'm buying something which is pointless in having the app if I still have to go online. It's always saying something went wrong Haven't been able to use amazon in two months
Buggy version
This version seems to have a serious bug whereby every time it asks me to authenticate myself with my username and password for the purposes of purchasing an item or anything else having to do with my account, it presents me with an error message stating that the app "encountered a problem". The. It tries to reload. I can never get past this error, which obviously renders this app useless for anything other than browsing.
Needs to add Touch ID
Dito-burrito
on
12/11/2017
App makes you enter password too many often. My high security password is too long to enter as frequently as the app wants. Add Touch ID and join the rest of the world.
Most recent release badly flawed
Draco the Blue
on
12/10/2017
I don't know what has changed on the iPhone version, but the app is always asking me to reenter my password, especially when I want to look at orders. Today, I couldn't get it to show me all my order details. I would enter my password and it would tell me there was a problem, would show me nothing. This problem doesn't occur on the iPad. Please fix this… STILL BROKEN!!!!
Much better than previous versions
Finally a good Amazon app! Thank you, Amazon. Full functionality on an app. Took too long but finally here.
App not letting me make purchases
Every time I attempt to log into my account I get a notification that says, "Sorry an error has occurred. Please try again later." Yet it still logs me in. Which would be fine, but then when I try to make a purchase it gives me the same message. I'm able to make purchases on a desktop, but I prefer mobile... fix this asap!!
App needs improvements
Every time I click on "done" after I've changed the size and/or color it never goes back to the screen to review the item. It is as if it freezes on that screen. It is so frustrating.
Where is my $20 for downloading!!
Download this app and did not receive an email as stated with coupon. Please explain??
Fact Sheet
Publisher:

AMZN Mobile LLC

Category:

Shopping

Released:

Dec 03, 2008

Current Version Released:

Nov 14, 2017

Version:

9.22

Size:

137.6 MB

Compatibility:

Requires iOS 9.0 or later.

Recommended Age:

4+

Game Center Certified:

No

Supported Devices:

iPad2Wifi-iPad2Wifi, iPad23G-iPad23G, iPhone4S-iPhone4S, iPadThirdGen-iPadThirdGen, iPadThirdGen4G-iPadThirdGen4G, iPhone5-iPhone5, iPodTouchFifthGen-iPodTouchFifthGen, iPadFourthGen-iPadFourthGen, iPadFourthGen4G-iPadFourthGen4G, iPadMini-iPadMini, iPadMini4G-iPadMini4G, iPhone5c-iPhone5c, iPhone5s-iPhone5s, iPadAir-iPadAir, iPadAirCellular-iPadAirCellular, iPadMiniRetina-iPadMiniRetina, iPadMiniRetinaCellular-iPadMiniRetinaCellular, iPhone6-iPhone6, iPhone6Plus-iPhone6Plus, iPadAir2-iPadAir2, iPadAir2Cellular-iPadAir2Cellular, iPadMini3-iPadMini3, iPadMini3Cellular-iPadMini3Cellular, iPodTouchSixthGen-iPodTouchSixthGen, iPhone6s-iPhone6s, iPhone6sPlus-iPhone6sPlus, iPadMini4-iPadMini4, iPadMini4Cellular-iPadMini4Cellular, iPadPro-iPadPro, iPadProCellular-iPadProCellular, iPadPro97-iPadPro97, iPadPro97Cellular-iPadPro97Cellular, iPhoneSE-iPhoneSE, iPhone7-iPhone7, iPhone7Plus-iPhone7Plus, iPad611-iPad611, iPad612-iPad612, iPad71-iPad71, iPad72-iPad72, iPad73-iPad73, iPad74-iPad74, iPhone8-iPhone8, iPhone8Plus-iPhone8Plus, iPhoneX-iPhoneX,

Supported Languages:

English; French; German; Italian; Japanese; Portuguese; Chinese; Spanish; Castilian;