Screenshots
New in version 9.17.0
Spark is a new feature in the Amazon App in the U.S. that allows you to discover and shop stories, ideas, and more from people who share your interests. Just open the menu in the Amazon App for iPhone, swipe left, and tap on the Spark card.
Description
Comprehensive
You need toothpaste, golf clubs, and batteries - and you need them now. Known for its colossal shopping catalog, Amazon packs a variety of the features and functions into this ample app, whether you're buying gifts, tracking orders, scanning products, or tap the mic icon and use Alexa to play music, shop, tell jokes, listen to eBooks and more. It's easy to navigate, intuitive and extremely fast.

Browse, search, get product details, read reviews and purchase millions of products available from Amazon.com and other merchants.

Convenient
Sign in with your existing Amazon account to access your cart, payment and shipping options. Create or find a baby or wedding registry. No need to create a new account to manage your 1-Click settings and wish lists, track your orders and use your Prime membership benefits. Shop just as you do on the web.

Fast
Compare prices and check availability instantly by scanning a barcode, snapping a picture or typing your search.

Secure
All purchases are routed through Amazon's secure servers.

Universal
Shop Amazon.ca, Amazon.co.uk, Amazon.de, Amazon.fr, Amazon.com, Amazon.it, Amazon.es, Amazon.cn, Amazon.co.jp or Amazon.in from a single app.

In order to provide a rich experience and enable features such as voice shopping, shipping notifications, visual search, customer reviews, treasure truck, locker delivery, fresh pickup, authentication and dash buttons this app may request permission to access location, contacts, camera, microphone, notification, touch id, photos and Bluetooth.
iPad Screenshots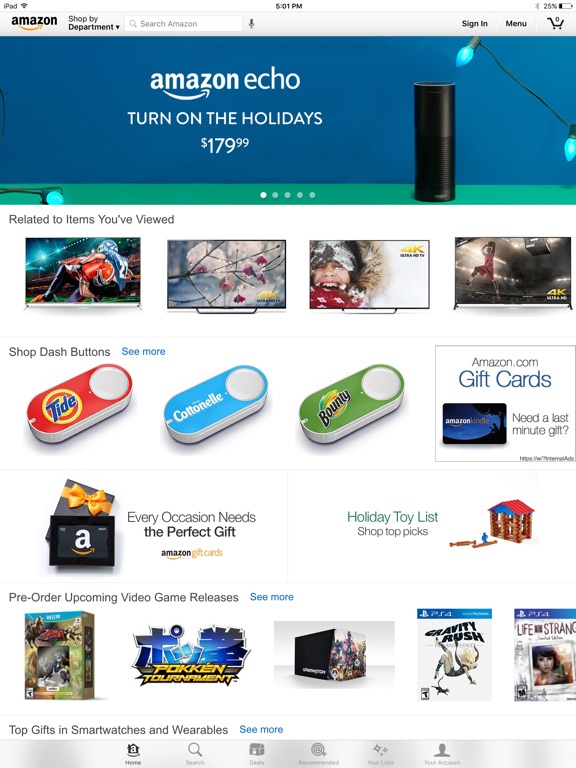 Reviews
Need registry access
Wish I could view and add items to the amazon registry.
Why no Smile ???
Snagabartbats
on
9/25/2017
Why in the world do you NOT offer Smile through your App?
Awesome app, small bug though
I love this app, however the iPhone Touch login feature hasn't been working for a few months. I'm hoping this will be fixed in a future app update.
This is the best Shopping App
Ajax the Dish Soap
on
9/25/2017
This app has everything and you can get what ever you shopped for guaranteed without a problem. Looking for those new "Best Seller" books? Amazon has it. How about a new 4K TV? Amazon has it. I'm looking for a new Gaming Console, don't worry Amazon has it. This is the best app by far for all you online shoppers. Amazon even has two day shipping or one day shipping (in select areas). Let's not forget "Going Prime"... Yup, Amazon Prime is the best way to get all your products and interest early, faster and better than ever. Try Amazon today.
needs Touch ID login option
app needs update iOS 11
Horrible
MrsEPresley24
on
9/25/2017
Where are my previous orders? It says I have not ordered anything in the last six months, year, etc. I have placed over a hundred orders & all of a sudden they are gone both on the app & online. So ridiculous & frustrating plus Amazon's love for Hillary Clinton is sickening, if I didn't love my Kindle Fire so much I would cancel all my memberships with your company because I don't support traitors like her. #trump #maga
Amazon
Amazon - my number 1 all time favorite shopping than any stores! Five stars!!!!
Constant Errors
Continuously receive "something went wrong" error when trying to do anything other than buy something. I can't view my orders, my account, etc... so irritating.
Take you $89.00 usd away!
John. Smith. Doe
on
9/24/2017
If you sign up as a seller it takes you $89.00 away without even asking you twice! It doesn't matter if you even didn't listed any product for sale or anything. Complete scammers!!!
Amazing
This app is SO easy to use. I shop amazon daily and I love the shopping list at the bottom that was added quite some time ago. The buy in 1 click is another amazing feature and I absolutely love it!! One issue I've seen just here recently is that my list isn't loading (shopping list @ the bottom) and sometimes doesn't show up at all- BUT worse than that I have noticed now all the s den anytime I'm prompted to enter my password it will say sorry there's been an error try again later... it's done this for a few days now. I have to get on safari & access my amazon when trying to read my messages, look at orders or other things requiring I enter my password. Not sure why but the one touch feature is also doing the same thing... I'm sure amazon will have this fixed soon.
Two thumbs up
Amazon is awesome
Sorry, something went wrong. Please try again later.
KelleyWTFmy2cents
on
9/24/2017
iPad Pro app...Every time it asks for my fingerprint, I get an error: "Sorry, something went wrong. Please try again later." Tried restarting the app but keep getting the same message.
Amazon Smile Integration?
I'm shocked to see that Amazon Smile has not been integrated into the app at this point. It's almost like Amazon would rather people not make charitable donations while they shop...
Update - 9/23/2017 -- downgraded to 2 stars
The constant crashing is fixed, but there are still two additional problems and the annoying poor search results Previously when looking at the reviews in the app, I was able to see any pictures that people posted. Now you can not see the pictures. Viewer posted pictures are important in the purchasing decision. Also, whenever you click a link in an eMail message, it opens the app and then opens Amazon.com in Safari. It does not navigate to the link in the app nor in Safari. Basically if I have to turn on my PC to see user pictures on Amazon.com or access my eMail on my PC in order to click links in eMails and have the exact link displayed, this App becomes useless. ------------------------- Also, Amazon needs to fix its filtering and search features. There needs to be more specificity when searching, because returning thousands of results is ridiculous, especially when results returned are not what I am searching. For instance, if I am looking for stamping dye inks do not return stamps, pigment inks, permanent inks, stuff to smudge inks, card stock and other random stuff. Just return "dye ink" used in stamping.
Works fine for me
Georganna 76
on
9/24/2017
I'm having no problems at all with the app. If I had to say one thing bad about it I'd have to say it's that I probably spend too much time on it.
Some annoying flaws
Gestures for going back don't always work. Which is fine because there is a back button, but now it freezes up and I have to close the app. I do a lot of ordering from amazon. Also the sharpness of the graphics seems to be declining in the app.
Pointlessly crippled
It is beyond stupid that you can't buy Prime movies or Kindle books in this app. Obviously the content would become available in those apps when you buy it rather than directly downloaded. But for some wrongheaded reason, we are forced to actually buy anything through the web browser rather than the... shopping app. As if that is somehow a BETTER experience on a phone or tablet? Way to make it hard to give you money.
App dosen't respond after a password change in Web
We changed the app password in web and when i try to access my account, like go to My Orders, the app asks for finger print validation, once i provide finger print, the app doesn't respond and even doesn't respond to Logout. Says"something went wrong". I had to uninstall and install again.
Stupid stuff
Mlgiliketurtles
on
9/23/2017
Ok first I ordered a package and I waited freaking 5 hours out side doing nothing waiting and now I get this stupid thing saying they lost the package I hate this app I wish I can give it a -5 stars if I had a chance this app is stupid down not work DO NOT TRUST THIS APP it's a scam mom didn't get me package and I'm super mad.NEVER EVER TRUST THIS APP it's so stupid!!!!!!
What the heck in Notifications???
Boatsie31331
on
9/23/2017
I LOVE Amazon! I live out in the boonies, and I can shop for anything! I've been getting too many notifications. I tried to change the settings. What the heck are those "buttons" ? Am I being pranked? No color, yellow, red, arrow up or down- ugh. I'm not dumb, but those buttons are!
Not getting shipment notifications
Zero shipment notifications. Didn't even get a delivered notification. I have to rely on other apps just to be able to see where my Amazon packages are..
Very disappointed..
Little debbbbie
on
9/23/2017
I created an account, ordered some things and then two days later I go to log back in to check on my orders status and it keeps telling me it's the wrong password, I even reset it. Then I try clicking on the customer service button and it tells me to log in, and again it says wrong password, I have reset it 5 times and I can't get in contact with anyone. I'm very disappointed.
Easy to use
Love the app. Especially for Christmas shopping. It's making life super easy.
Needs updating
Chrysophylax
on
9/23/2017
The amazon app is great under most circumstances, for 2015. It needs to be updated to keep up with current iOS trends - such as split screen use.
One thing missing
Great app quick and easy but missing the ability to print or view invoice, I have to go to the computer to do this, and that's almost every order, so why use it in the first place?
No use to me anymore
I had the iPad app because it was the only way left to filter a wish list by price drops, and sort the list by price. The features have been gone from the phone app and web site. Instead of buying books I want to read because I can see when they go on sale I will just get it from the library. Now it is clutter. Deleted. For those saying they can't buy books in the app, Amazon won't pay in app purchase fees on books, you have to go to a browser to purchase anyway.
Can't say enough good things about Amazon
Not sure why this app is so poorly rated. It's the only way I order from Amazon...works wonderfully!
bad
versunny wang
on
9/22/2017
I am a buyer at Amazon also a seller there. So I clearly know the problem about the app. (1) Though you have opened the 'store' manage at seller center and when click the brand name, you can go into the store page when using computer, however, the app have no way to do that. Where is our store? (2) The most awful thing is when I spell some words in search bar, you will automatically replace it into wrong words. I know it's your A9 system but I suggest you can give me to choose not just replace it first! (3) When I click the brand name of a product, that means I want to check more products from this brand in this store. But this APP will default go out to all departments and the awful thing maintain in (2) happens again. Would you please check you App and make it more humanize? You website via computer is great but the App is not.
Love this app
Nowhereman61
on
9/22/2017
I use this app all the time. Highly recommend.
need support for multiple accounts
i order a lot of things from amazon, both for work and for personal use. it would be great to have an easy way to switch between accounts.
SMH
Calichris559
on
9/22/2017
They had a deal up for 26 minutes left and I'd have the item in 4 days so I purchased the item, today was the day I was supposed to get it. And it saying it's coming in on the 25th. I bought the item on the 19th smh
Just don't use it twice in a row
RedeemedRobinEarl
on
9/22/2017
If you order something with the app, and you then remember you need to order something else, for some set period of time, the ordering portion of the app will not work. You go to place order and the information disappears. The next day it will work, but the app is useless for a good while. Makes it a real pain for someone who uses the app all the time.
Fav app 👏🏾
Honeymoonari
on
9/22/2017
I love shopping from here I'm on here all the time!
IOS 11
Will not work unless on WiFi since update. Please fix!!!!!
Please update
Please update so it will run as well as it does on android. Doesn't even show my subscribe and save, freezes etc
I rather use chrome on my phone
Igaveup66666
on
9/21/2017
It's super frustrating, it won't let u give store feedback, no page number shown, what's the purpose of the app if the browser version will make ur life easier, the ui or layout is super outdated.
Popup continuously interrupts
This is a recent issue that is making the app unusable. Whether searching or looking at an item, randomly a popup appears saying "We weren't able to save this item to Wish List. Please try again." I often have to dismiss it 10 or more times in a row. Then another few seconds later, it happens again.
Kept saying Lost connection
Naruto ultimate fan
on
9/21/2017
Had to re download
Very good
fmonsalvez1066
on
9/21/2017
I think is the best app in the market
Too many items from China
Extremely disappointed in the number of items being shipped from China. It doesn't state it's from overseas until you receive a shipping update. Thus, it takes much longer than the anticipated receive by date. When I order something to be delivered by a certain day, that's when I expect it, not it finally getting to the US that day then taking a week to actually get to me. Not too mention that stuff is much more cheaply made, but you don't know that when purchasing because it doesn't say it's from China.
Frustrating
Who the heck were the software developers who created such a thoughtless, useless app? I wanted to buy a kindle book but they neglected to provide the button to buy it. It only has the ability to download a sample. Sometimes I want to buy an audio book and it's the same issue. Amazon is losing $$$ if they make it impossible to complete a transaction!
The app has issues
I have no problem with Amazon as a retailer, but there are two major issues and one minor issue with this app. 1) When I am looking at reviews, many items have the same review from the same person repeated multiple times, both 5 star reviews and even the one star reviews. 2) Some items are given to customers "at a discount", which may mean "for free" for their "unbiased review". All of their 5 star reviews are unbiased? No way. Completely misleading. Minor issue: When I search my orders to write a review, their search engine finds the item, but when I try to enter my comments the app won't allow me to enter any keystrokes.
Can't browse
How come I can't just browse anymore? Why do I have to pick categories? I can't just view the marketplace without having to punch all these useless things in or a search topic. Bring back free browsing please.
Some flaws
I like it for the most part but I don't understand why on the iPad I can't add things on to my baby registry. But I can in the app for my phone
Used to be good
This app used to be great. Now it just gives an error message saying something went wrong any time you try to do pretty much anything with it. I don't know what's wrong with app developers these days who seem to have no problem leaving a critical error in their app and never fix it. Surprisingly Amazon is in this camp as this is a persistent issue that hasn't been touched in months. If I have to struggle to give a company my money then I assume they don't want it and take my business elsewhere. Bye Amazon 👋
Expensive
Ken01938384848477464746
on
9/21/2017
Shipping and handling is too expensive
App support? Where?
When I tap "App Support", it takes me to Amazon's info page on the app and a search box for help topics. I don't need help. I need to report an issue. So...when you take a screenshot within the app, it asks if you want to share it. Cool. When you share via Messages (texting), it shares the screenshot and a link to the product page. Cool. When I share to WhatsApp, however, it only shares the link...NO screenshot. Please fix.
Has Problems
No icon shows up on the I-Pad IOS-11 so every time you want to use it, a search has to be performed. Also, there is no way to uninstall the app.
Fact Sheet
Publisher:

AMZN Mobile LLC

Category:

Shopping

Released:

Dec 03, 2008

Current Version Released:

Sep 06, 2017

Version:

9.17.0

Size:

134.7 MB

Compatibility:

Requires iOS 8.0 or later.

Recommended Age:

4+

Game Center Certified:

No

Supported Devices:

iPad2Wifi-iPad2Wifi, iPad23G-iPad23G, iPhone4S-iPhone4S, iPadThirdGen-iPadThirdGen, iPadThirdGen4G-iPadThirdGen4G, iPhone5-iPhone5, iPodTouchFifthGen-iPodTouchFifthGen, iPadFourthGen-iPadFourthGen, iPadFourthGen4G-iPadFourthGen4G, iPadMini-iPadMini, iPadMini4G-iPadMini4G, iPhone5c-iPhone5c, iPhone5s-iPhone5s, iPadAir-iPadAir, iPadAirCellular-iPadAirCellular, iPadMiniRetina-iPadMiniRetina, iPadMiniRetinaCellular-iPadMiniRetinaCellular, iPhone6-iPhone6, iPhone6Plus-iPhone6Plus, iPadAir2-iPadAir2, iPadAir2Cellular-iPadAir2Cellular, iPadMini3-iPadMini3, iPadMini3Cellular-iPadMini3Cellular, iPodTouchSixthGen-iPodTouchSixthGen, iPhone6s-iPhone6s, iPhone6sPlus-iPhone6sPlus, iPadMini4-iPadMini4, iPadMini4Cellular-iPadMini4Cellular, iPadPro-iPadPro, iPadProCellular-iPadProCellular, iPadPro97-iPadPro97, iPadPro97Cellular-iPadPro97Cellular, iPhoneSE-iPhoneSE, iPhone7-iPhone7, iPhone7Plus-iPhone7Plus, iPad611-iPad611, iPad612-iPad612, iPad71-iPad71, iPad72-iPad72, iPad73-iPad73, iPad74-iPad74,

Supported Languages:

English; French; German; Italian; Japanese; Portuguese; Chinese; Spanish; Castilian;