Screenshots
New in version 9.22
Looking to ship products internationally? Choose "International Shopping" after downloading the app, or in the Amazon settings menu, to shop for products that Amazon can deliver around the world. Now you can shop in English, Spanish, German, and Simplified Chinese.
Description
International Shopping
Browse, search, get product details, read reviews, and purchase millions of products with Amazon International Shopping – now available in English, Spanish, German, and Simplified Chinese. Amazon packs a variety of features and functions into this ample app, whether you're buying gifts, reading reviews, tracking orders, scanning products, or just shopping. Tap the mic icon and use Alexa to play music, shop, tell jokes, listen to eBooks and more.

Convenient
Sign in with your existing Amazon account to access your cart, payment preferences, and shipping options. Pay in your local currency with international credit or debit cards. Create or find a baby or wedding registry. No need to create a new account to manage your 1-Click settings, wish lists, or track your orders. Shop just as you do on the web.

Fast
Instantly compare prices and check availability by scanning a barcode, snapping a picture or typing your search.

Secure
All purchases are routed through Amazon's secure servers, protecting your personal, payment, and order information.

International Delivery
Amazon now delivers to 100+ countries in as quickly as 3-5 days.

Universal
In addition to International Shopping, you can change your settings in this single app to shop Amazon.ca, Amazon.co.uk, Amazon.de, Amazon.fr, Amazon.com, Amazon.it, Amazon.es, Amazon.cn, Amazon.co.jp or Amazon.in.

In order to provide a rich experience and enable features such as voice shopping, shipping notifications, visual search, customer reviews, and authentication this app may request permission to access contacts, camera, microphone, notification, touch id, photos and Bluetooth.
iPad Screenshots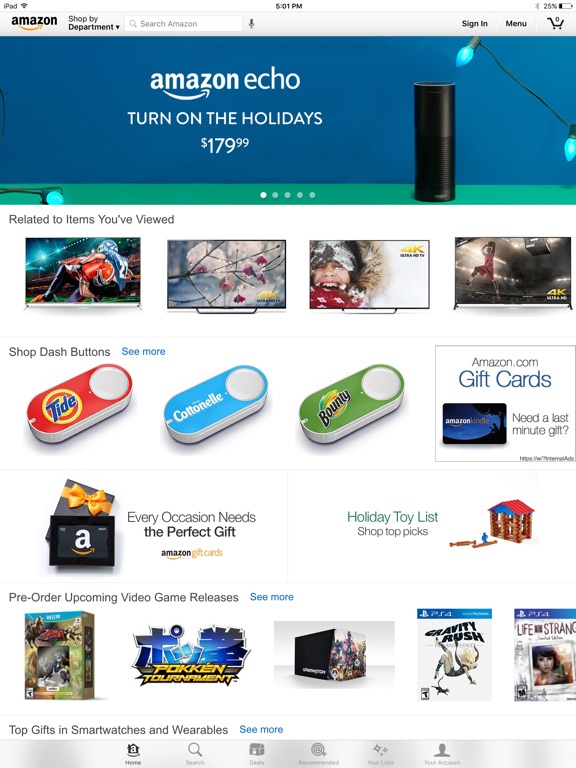 Reviews
Excellent app - One Major Problem
The app works as it should but every time I try to log in and do anything related to my account, I'm presented with a "something went wrong" error message. This forces me to use my laptop. I would greatly appreciate it if this were fixed. Thank you.
Layout in app all catawampus
When I try to use the Amazon App in IOS 11, the display is a mess. Don't know of any other way to describe it.
Hate it!
Very confusing, hard to find my account info and order history.
Annoying glitch when using touch ID
Used to be a great app and most of the functionality is there, but anything involving Touch ID is a no-go. I can't make a purchase or check order history. Kind of pointless to use the app at all if I have to go to Amazon thru a browser to complete a transaction or check an order.
Updates making it worse
The app worked great and then little bugs started happening after each update. I've emailed about glitches and told it'll be fixed ASAP. Still no fix. Would be nice to have them fixed for holiday shopping.
Used to be great, but now...
starshinekaos
on
11/18/2017
Every time I try to log in, whether I use OneTouch or physically type in my password, I get a message saying "Something went wrong. Please try again." I've updated, uninstalled, reinstalled, and still nothing. I had to order something twice because it wouldn't even go through the first time, and I didn't find out until the next day, so I'm receiving my item 4 days later than expected. As soon as that item arrives, I think I'm giving up on Amazon.
Orders not available to view since update
The Amazon app updated yesterday. Since the latest update, I have been unable to view orders on the app.
Bad
Tripod07543
on
11/18/2017
Selling returned products and fake stuff that other people swapped. CS is not good either
Lame
Satisfied123456789
on
11/17/2017
Every time I try to use the app it doesn't work. It always says that there's a problem loading the item, no matter how many times I've tried it, on different days.
Glitchy
It allows me to do a lot of things but once I've placed an order it will not allow me to make a second order. My cart is populated and i get to the screen of entering a po , I hit continue and it pops to the main screen. It's not until hours later that it works again. I have to go to the website to make another order. Please fix. As of 11/2017 the problem still exists. Apparently they don't care about a second order.
Freeze
This new update makes me phone freeze while trying to shop.. I cannot look at item pictures they won't come up any bigger either . Very displeased with this update
Sorry, something went wrong. Try again.
When there is a point that the app asks you for your finger print or password, about 90% of the time it say, "Sorry, something went wrong. Try again." Super, super annoying! FIX THIS!
Can't buy with touch
patientsaint
on
11/17/2017
Can't buy with touch, just gives error message. Why have an amazon app if you can't buy with it!!!
Still can't open my lists
I've been updating the app for awhile now and Amazon still hasn't fixed the problem with the lists bar at the bottom of the page. I am unable to drag and drop items to my list and when I try and open the list it keeps coming up with an error saying that this action isn't supported by the app. If I can't add things to my list then I'm less likely to buy from Amazon. Please fix it.
An off by one problem
Why does the latest version of the reader open to the wrong page? When I need to close the app, I set a bookmark and then close the app. When I open the app to return to my book, it ALWAYS opens to the page before the book mark.
Delivery dates not accurate be careful.
Spent three months collecting and building my new computer gaming room. The final piece was a desk I ordered from Amazon (450$) which shipping was included. I tracked the package through the app which game me an exact date of arrival. I paid for someone to come install everything only to figure out it wasn't arriving until the following day. I had to fight with job to get another day off work as well as pay my installer for a second day. In total I lost around $400 with time off work and paying someone to work two days. I reached out to customer service but haven't heard anything back yet and it's been roughly 2-3 since I sent my email.
Buggy version
GuitaristFret
on
11/17/2017
This app use to work well but it's developing lots of bugs on IOS 11.1.1. If I want to contact a vendor or ask a question the app asks me to sign in even though I am signed into the app already. It asks for my fingerprint, then gives an error that "Something went wrong". If the issues get fixed I'll re-adjust my rating back to 5 stars.
Prime rarely keeps its promise
I frequently order through amazon prime, however I rarely receive my items in 2 days. Probably 50% of the time items marked prime come within 2 days...it's more like 5-7 day shipping. Kind of a false promise
Mostly satisfied
DottieRae2013
on
11/16/2017
I've used Amazon and the Amazon app for quite a while, and particularly when I was in college it was a lifesaver! The newest incarnation has a lot of new features (which makes sense) but as a long time Amazon user I would have liked some information about these services first. And the newest version automatically turns on 1-click buying, without giving the option of opting out in the notification. Amazon has always been about giving users options so it shouldn't take extra effort on my part to exercise my power to choose.
Update Bugs
This app is a must have, however the new update where they added touch id really screwed it up. It is now impossible to view orders or anything account-related, and the only message is one saying "Oops! Something went wrong!" That...uhhh...kinda needs fixed.
Please fix link bugs
DavidAlva87
on
11/16/2017
The app is unable to open product links from amazon emails
Can't view products- screen whites out
The app works fine everywhere else except when I tap on the item I want to view, the screen turns white and starts to flash... why?! Please fix this!!
Checking order problem
Every time I check an order or account it asks me to login. So I do and then it tells me something went wrong. After a couple times trying to login then I close the app and try again. Then it lets me check my orders and the use the app.
A Waste of My Time
Without Touch ID this app is still in the dark ages. No Touch ID, no chance I'll ever use it.
Shipping is terrible
I have had Amazon Prime for a few years now. Ever since they started delivering packages themselves instead of using Usps, UPS, or FedEx the shipping is terrible! 2 day shipping is constantly delayed or doesn't even show up at all! Not worth it to get Prime if shipping is not reliable.
Too many sad dogs! Tighten it up, Jezos!
MaxAgHammer
on
11/16/2017
Something's gone wrong recently, and I don't know if it's in the app or on the Amazon backend. But I'm getting way WAY too many "Sad Dog" pages with "Something's gone wrong" messages. I don't like it. An app from one of the most powerful and tech savvy companies in the known universe can't have such frequent problems, so they're losing two stars. It feels good to rap them in public like this and I hope more people will do the same. Tighten it up, Amazon app devs!
Shop preference
Kiyuko arenas
on
11/16/2017
I️ really wish you guys would add a filter to shop within USA only
App Will Not Open
App won't load with latest update. Please fix!!!
The back button had problem
When I tried to search some stuffs and want to go back by the Back Button under the search bar not work.
Cannot Buy Kindle Books on This App
Why can't you purchase Kindle books on this app? It is very inconvenient to have to go to the full website just to buy the kindle book.
AMAZON STORE CARD
BigThelonious
on
11/16/2017
You people need to make a way to access balance and available credit and make a way to pay the bill right from your app. If Walmart can do it so can you. You both use Synchrony bank for lands sakes.
Needs fixin
Upgraded to iphone x and updated amazon app. App seems pretty broken compared to before. Interface not as good as before and when i click on orders it shows none.
No access to customer submitted images?
One of the biggest tools while shopping on amazon is customer submitted images. On the iPad Pro 12.9 inch using the amazon app, you can't access these images at all. If you use the browser, you can access them but they're super small in size. Needs fixing ASAP.
Bad glitches
The amount to buy things goes to the bottom right corner and I need to restart or hard restart my iPhone 7+
Unable to donate to charities through the app
The app does almost everything that it's supposed to do, except for one thing: It doesn't allow users who support charitable organizations to donate with their purchase. Amazon, why would you require users on mobile devices to go to a separate website when you know that your site isn't responsive? This leads to a very poor user experience. It's almost as if you want users to abandon the effort so that no donation is made at all. If that's the case, very lame. Do better Amazon. Do better.
Buyer beware
False advertising a lot on their site. Half the time my stuff never arrives on time. Guaranteed delivery date doesn't mean anything..
Piece of Crap
MusicalHuman
on
11/15/2017
Can't even back up a page. Have to kill the app, relaunch it, and then go back to the product or review I was looking at. Come on, Amazon. Get it together.
Essential App
Amazing app- One suggest to make it even better would be multi account access. I juggle accessing my personal and business account. It would save a lot of time if I could just toggle back and forth between accounts.
Can't log in
On my IPhone X I can't log in to see my orders. Whether I use Face ID or manually use a password it gives me an error message and says "loading". This makes it a pretty useless app. Please hurry up and fix the app.
Worthless
Billyjean874
on
11/15/2017
Only can access my account from the website for weeks now. What's the point of this app if you can't complete orders or access any account information???
Because of a Review of a Bad Item they blocked all reviews
I must have offended Amz for writing a truthful review so since I did they Will Not Allow any reviews from me now. As long as my reviews all had been 4 or 5 stars I was fine but once they made a mistake I am punished for calling that out but also never saying it in curse words or any way but what happened step by step. So beware of what you Buy as the reviews they put up are Only the ones Amazon LIKES & makes them look good. Sad that people cannot write a truthful review for others.
Wish list small pics and text
Why are customer images NOT viewable in the app?
Simple and easy
DuckDuckGoUser
on
11/15/2017
App is easy to use. Settings are confusing, but everything you need is there.
Missing ApplePay
Today I needed to send a gift to a friend. I had two options: Open the Amazon App; Enter my credit card info, again; Make my Purchase; Confirm my card was used; Delete my card from Amazon; My second option was, Open my messaging app Select the Starbucks app Send the gift card via ApplePay My friend received a Starbucks gift card. I didn't have time to peek through a phone keyboard and type in a credit card number and email addresses. Please accept ApplePay (AndroidPay) and make our lives easier.
联系客服输入不到字选项
联系客服不兼容iPhone X。
Ugh
Fix this app. Recent update is terrible.
No Smile?
Please support Amazon Smile in the app. It's your own program--come on. Otherwise, the app is only slightly better than the website.
Not completely compatible with iPhone X
The top selection of "buttons" like the back button, menu, and the shopping cart now overlap with the clock, cell strength, etc. These issues make it more challenging to go back, select the menu, etc. In addition, the Amazon logo directly under the notch is not fully visible
Fact Sheet
Publisher:

AMZN Mobile LLC

Category:

Shopping

Released:

Dec 03, 2008

Current Version Released:

Nov 14, 2017

Version:

9.22

Size:

137.6 MB

Compatibility:

Requires iOS 9.0 or later.

Recommended Age:

4+

Game Center Certified:

No

Supported Devices:

iPad2Wifi-iPad2Wifi, iPad23G-iPad23G, iPhone4S-iPhone4S, iPadThirdGen-iPadThirdGen, iPadThirdGen4G-iPadThirdGen4G, iPhone5-iPhone5, iPodTouchFifthGen-iPodTouchFifthGen, iPadFourthGen-iPadFourthGen, iPadFourthGen4G-iPadFourthGen4G, iPadMini-iPadMini, iPadMini4G-iPadMini4G, iPhone5c-iPhone5c, iPhone5s-iPhone5s, iPadAir-iPadAir, iPadAirCellular-iPadAirCellular, iPadMiniRetina-iPadMiniRetina, iPadMiniRetinaCellular-iPadMiniRetinaCellular, iPhone6-iPhone6, iPhone6Plus-iPhone6Plus, iPadAir2-iPadAir2, iPadAir2Cellular-iPadAir2Cellular, iPadMini3-iPadMini3, iPadMini3Cellular-iPadMini3Cellular, iPodTouchSixthGen-iPodTouchSixthGen, iPhone6s-iPhone6s, iPhone6sPlus-iPhone6sPlus, iPadMini4-iPadMini4, iPadMini4Cellular-iPadMini4Cellular, iPadPro-iPadPro, iPadProCellular-iPadProCellular, iPadPro97-iPadPro97, iPadPro97Cellular-iPadPro97Cellular, iPhoneSE-iPhoneSE, iPhone7-iPhone7, iPhone7Plus-iPhone7Plus, iPad611-iPad611, iPad612-iPad612, iPad71-iPad71, iPad72-iPad72, iPad73-iPad73, iPad74-iPad74, iPhone8-iPhone8, iPhone8Plus-iPhone8Plus, iPhoneX-iPhoneX,

Supported Languages:

English; French; German; Italian; Japanese; Portuguese; Chinese; Spanish; Castilian;