TapNova doesn't recommend this version of the app.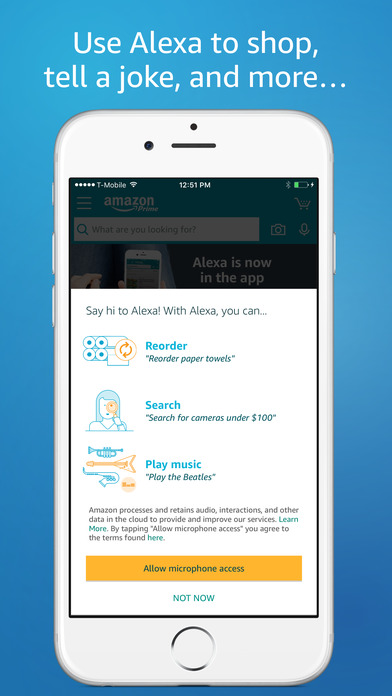 New in version 9.12.0
Subscribe to receive recurring orders and save. Just open the menu in the Amazon App for iPhone, go to Programs and Features and try Subscribe & Save.

Have you tried the new credit or debit card scanner? Try it next time you need to add a credit/debit card during Checkout.
Description
Comprehensive
You need toothpaste, golf clubs, and batteries - and you need them now. Known for its colossal shopping catalog, Amazon packs a variety of the features and functions into this ample app, whether you're buying gifts, tracking orders, scanning products, or tap the mic icon and use Alexa to play music, shop, tell jokes, listen to eBooks and more. It's easy to navigate, intuitive and extremely fast.

Browse, search, get product details, read reviews and purchase millions of products available from Amazon.com and other merchants.

Convenient
Sign in with your existing Amazon account to access your cart, payment and shipping options. Create or find a baby or wedding registry. No need to create a new account to manage your 1-Click settings and wish lists, track your orders and use your Prime membership benefits. Shop just as you do on the web.

Fast
Compare prices and check availability instantly by scanning a barcode, snapping a picture or typing your search.

Secure
All purchases are routed through Amazon's secure servers.

Universal
Shop Amazon.ca, Amazon.co.uk, Amazon.de, Amazon.fr, Amazon.com, Amazon.it, Amazon.es, Amazon.cn, Amazon.co.jp or Amazon.in from a single app.

In order to provide a rich experience and enable features such as voice shopping, shipping notifications, visual search, customer reviews, treasure truck, locker delivery, fresh pickup, authentication and dash buttons this app may request permission to access location, contacts, camera, microphone, notification, touch id, photos and Bluetooth.
iPad Screenshots
Reviews
Cannot buy a book as a gift
Because the app won't take an address. Evidently, no special treatment (meaning passably adequate) for this Prime member. Also cannot be set to remember searches. If you are interrupted what you've been doing disappears.
User Interface seems like an afterthought ...
3 stars just because it's Amazon and you can literally find anything you need, but the app (and the website, for that matter) is not only an eyesore, but also often difficult to navigate (why is it so hard to manage your lists on this app, for example?). I wish Amazon cared a little bit more about the design they use for all of their applications.
Creepy, Like Being Stalked
App is like the creepiest used car salesman you ever had the misfortune of meeting. Amazon really needs to dial it back several notches as the app is just too aggressive. If you ever buy or search for something it will keep trying to sell you more of the same and there is no way to stop it. Maybe some people find it helpful but I find it rude and obnoxious. Otherwise shopping Amazon is a positive experience. Being a prime member has a lot of pluses and I recommend them but please Amazon back off.
Download TutuApp
Download tutuapp to get free games
Frustrating
It keeps saying no internet connection when I'm at 3 bars and keeps crashing
Amazon doesn't approve "bad" reviews
abbyhhearneee
on
7/21/2017
Everytime you give a review they're telling you they're processing it and they email you when it's done "processing", the review was an updated review gave one star they never emailed me and said it's been approved
Low quality app from a high quality company
Fagface101883
on
7/21/2017
I love Amazon but this app has been complete garbage for a long time now. I have not been able to use it without being told there is no internet service available once
Bring back sort by price for lists
orangereader
on
7/21/2017
Why take this away?? Ability to sort helps keep wish list relevant. The fact that they've removed it from the app AND the site is annoying
Less noise, chaos than typifies the Amazon experience
Switchfoot Fan 27
on
7/21/2017
Update: Amazon's lousy sponsors must have read this. The app search results are completely edited now as if to "fix" what I wrote. Changing review to 1 star. I have come to detest Amazon's shopping experience, on their regular site. I tried this app out today, and I'm very surprised by it. It was the first time in years that I could enjoy using Amazon. The app lets you shop without all the distractions of ads that the full site bombards you with. I know what I'm looking for when I shop the full site, but it is always buried under a thicket of ads, "sponsored results", and manipulated reviews and ratings. On the app it's easy once again to get from point A to point B as a Amazon user. I've missed the old days of using Amazon (in between Yahoo Games and Angelfire builds). The app gives a little of the old service back, when the site certainly doesn't. Before, the product you were looking for was just what the search results gave you, and user reviews and ratings helped you narrow down the results to a worthwhile choice. Now Amazon is clustered with lousy results. There is so much manipulation in the ratings and reviews that you can't make an educated guess one way or the other if a choice will prove bad. I don't like giving apps 5 stars, and I don't like Amazon much either: but this app allows you to steer clear of a lot of things like I've described. The user interface is elegantly designed, and site navigation easy and enjoyable. I say enjoyable because it had been been around a decade since the last time I remembered the Amazon shopping experience being so straightforward.
What happened to list sort options?
You used to be able to sort your lists by price, and now you only have default and priority. Who's priority? Not mine.
STOP
Stop pushing me to use this garbage app! When I click my email please send me to either the classic site or the mobile site, NOT your terrible app!
Wish list
I cannot view wish lists of friends under my profile.
Absurd changes
I used to love the app. Until they took away the ability to sort wish lists by price and filter by items with price drops. Very frustrating!!
Downgraded Wish List Functionality
Now sorting and filtering of wish list in all is as minimal and useless as it has been for a while now on the desktop site. Sorting is limited to "Default" and "Priority." Gone are price sorting (indispensable for a large wish list), and even sorting by date added. So, I am stuck strictly with Amazon's annoying slight reordering of the list as I created it which they call "default." As for filtering, I can switch to a view that show me what I already bought (why would I care?) and nothing else (e.g. Items with price drops). Upshot: I anticipate saving a fair bit of money on random discretionary purchases from Amazon going forward. So perhaps I should be thanking them, rather than criticizing them for stripping functionality from their app and web page.
Can't sort by price.
Very disappointed to find that wish lists can no longer be sorted by price, or items with price drops. Bad form, Amazon!
No longer can support Bezos....
He is anti second amendment, pro migrant, pro globalism, pro AI, he's getting $1.46 from the government for every package shipped, Amazon is putting retail stores and people out of business. I can't support that any more.
List Sorting
CassandraLynn273
on
7/20/2017
I started using the app because that's the only way I could sort my List by low to high. I use the list for kindle purchases to see what books I've added have been reduced or are free, which happens everyday usually. Now I can't sort that way & would have to go through over 500 books I have on the list in order to see what's been reduced or is free. NOT HAPPY!!!!!!!
Scrolling scrolling
Ajae00000000
on
7/20/2017
Prior to this version, I used the app a lot, but I hate having to scroll all the way back to the top of a list to switch wish lists. Makes me want to revert to the older version of the app.
iPad app is horrible!
The iPad version is super clunky, slow, and totally unresponsive. Needs a stable new UI.
Bad app update
Ever since the most recent update of this app (7/11), I can no longer access any of the saved wish lists I have for my kids. PLEASE fix this ASAP!
Search Bar issue
Hello! I opened Amazon shopping to search and it won't drop the keyboard down. Is anyone else having this issue?
Error selling back items
Ilovethisgame27588
on
7/19/2017
There's a major problem when you go to sell to amazon on the app. Encounter a cs11 error on three different phones.
List filter
You can no longer filter lists by items with price drops on website OR app. It was just on the website. This was a useful shopping tool that netted Amazon purchases that would not have occurred without it. But, no more.
App went from bad to worse
Monster Moose
on
7/18/2017
The first version of the app was mediocre. The updated is terrible. It was always hard to control the volume via the app but with the update, it's terrible. I have the echo playing bedtime music in my kid's room and more than once, when I tried to use the app to lower the volume, it ended up moving all the way to the top of the scale and scared the heck out of everyone with the sudden increase.
Convenient Shopping App
Very easy to use. Quick checkout. The reason I gave it 3 stars is the filter feature doesn't work that well (e.g., I filtered on "New" products, but it still included Refurnished items--annoying!) and it is very often S-L-O-W, when it decides to load, at all (e.g., my orders). I will have NOTHING else open on my phone and it still takes forever to load. Regardless, it is extremely easy to use and the checkout process is quick.
Great app
What else to say? It's Amazon app, well designed and works flawlessly.
Kindle editions
Hebskkz bjejnznn
on
7/18/2017
It's very aggravating to be encouraged to download an app that can't do everything I used to be able to do on my android device. In order to purchase a kindle edition to anything I have to open my browser. None of these apps they Amazon the kindle one included allowed me to purchase a kindle book thru the app. 😡
For order I never recieved.
Jeffryjones198181822467
on
7/18/2017
I could not find anywhere to tell you that I never got it. I went through several processes where I'm returning it and getting a label. I need and want what I ordered but I guess I'll have to go else where because the only thing that seems easy is to buy that same item that I never in the first place.
My Amazon Rating
Mollyboobaby
on
7/18/2017
Amazon is AWESOME!!! I LOVE everything I've ordered.
Amazon junkie
Love this app!
Sandi
Snowwhite!!!
on
7/18/2017
Need to fix all the problems with this app. I'm at the point where I will shop anywhere but here!
Amazon
I love the app! Even more I love the customer service feature that allows you to chat with someone when you have an issue, rather than being on the phone. However, before you order something, make sure that your carrier delivering your package is NOT AMZL. I have yet to receive a package from them on time or at all in some cases. I'm a prime member and most that I order are two days. Yeah, that doesn't happen with that carrier. So the chat section for customer service works out great for those instances that I need a refund on those items that I ordered and never received.
Another State
For some odd reason my Asvab Book was suppose to come from Columbia South Carolina to Georgia. But ended up in Florida. And I had paid for a 2-3 day shipping. 🤔
Appears to lack basic functions...use your browser instead
I dislike writing negative reviews but this app is consistent with Amazon.com software in general. This app lacks basic functions. For example, unless I am missing it (which is possible) if you search for an item and are taken to another location, the app has no arrow to go back to your item, so you have to do the search all over. What I mean by consistent is a request I've made to them on and off for years! Their Kindle desktop apps are not as versatile as their tablet Kindle apps, but people do use the desktop apps for Windows and MacOS. A simple thing as being able to rearrange the order of collections is not possible in the desktop apps, nor do the desktop collections sync in the proper order among desktops or sync with tablet app collections. You think they have enough money to hire someone to correct these basic functions that iBooks and Nook have in place, or their is some business financial reason they choose not to add basic functions to their apps?? Sure hope they are not skimping on security behind the scenes. Amazon.com is a store to buy things, not a tech company. Although this app is convenient signed into your account, since it lacks basic functionality, like their Kindle apps, don't waste your time using this app, use Safari instead in my opinion.
Where is the smile?
It would be great to have a setting on app to automatically choose SMILE ordering versus having to use my phone browser. Makes the app only partially useful.
Great app, Easy to Navigate
I was surprised to see this app doesn't have better ratings! It always runs smoothly for me, and is perfect if I'm on the go and need to make some last minute purchases. I love Amazon!
What happened?
This new version want update? Is this not a 64 bit version? What's wrong with it?
Huge security flaw with digital purchases
Just spent last 2 hrs on phone with rep about unauthorized subscriptions and app purchases. They had no insight or awareness of which registered device purchased anything, other than the fact a purchase was made. Worse is they openly state purchases can be made with out in app authentication through the amazon video app. Additionally, no digital billing communication would be sent unless opted for it. Fraudsters must love that! Since when was a digital receipt or audit trail optional compliance practice???? That's ridiculous!
Needs help.
BoscoAlfredo
on
7/17/2017
Overall a good app, but whenever I want to switch one of my payment methods already in my account, it's practically impossible. It just wants you to ADD a card. Frustrating!!
Loads Slowwwwwwwwly
Cons: Slow loading of products. When you scroll down to see more product listings you get to the bottom and it freezes up for awhile to load the next set of listings. It's so slow that it's faster to go on Safari and load up the website if you actually want to do product comparisons. Now if you just want to buy something in the top 10 results like something you buy often then its convenient and quicker than using browser. Pros: Convenient and fast to order with this quick pop up menu for buy now on a single product that you don't need a "cart".
Amazing
I love the amazon app it's it so easy to use and quick shipping.
OK, but...
1. Please add a way for us to Ask a Question about an item 2. Please provide a way to buy a Kindle book 3. Please add an easier way to navigate (e.g. - to get back to a previously viewed page). Thanks!
Not full featured yet
thisnicknameistakensdfsdfsdf
on
7/17/2017
I use this app a lot, and for many things it's fine, but for some things you have to use the website. For example, rating third party sellers is not supported on the app.
In-app browser is terrible
They've updated the app to use an in-app browser instead of punting you out to Safari. The problem is, ta a terrible browser. Back, forward, reload, and done. That's all you get. No share sheet to add a new item to your list, no way to copy the URL and share a link, either. No way to change the settings to use Safari like a normal human being.
Would love fingerprint scan on 1-click
I honk the app is great but would love to see an iPhone finger scan option on one-click ordering. It would prevent kids from ordering either by accident or purposefully. Would also prevent accidental click orders.
Love Amazon, HATE their app
It is one of the most unstable apps I have ever used. I'm shocked that it comes from Amazon when they do everything else so well.
Needs improvement
I can no longer access certain wishlists! Very frustrating when trying to see what my daughter would like for her birthday!!!
Do not download if you live in atlanta
Bpinderski85
on
7/17/2017
Atlanta market- you will never get any of your packages on time, and amazon does not care. Even if you pay for their expensive prime membership they lie and do not deliver product or deliver them wayyyy late. I have over 50 complaints from products not arriving on time or at all and they do nothing to fix the issue. Why is it my responsibility to stay up on my guaranteed orders. Terrible. Customer service is garbage too. Curriers steal your packages..literally and all amazon says is sorry we will refund you.
Fact Sheet
Publisher: AMZN Mobile LLC
Category: Shopping
Released: Dec 03, 2008
Current Version Released: Jun 28, 2017
Version: 9.12.0
Size: 133 MB
Compatibility: Requires iOS 8.0 or later.
Recommended Age: 4+
Game Center Certified: No
Supported Devices: iPad2Wifi-iPad2Wifi, iPad23G-iPad23G, iPhone4S-iPhone4S, iPadThirdGen-iPadThirdGen, iPadThirdGen4G-iPadThirdGen4G, iPhone5-iPhone5, iPodTouchFifthGen-iPodTouchFifthGen, iPadFourthGen-iPadFourthGen, iPadFourthGen4G-iPadFourthGen4G, iPadMini-iPadMini, iPadMini4G-iPadMini4G, iPhone5c-iPhone5c, iPhone5s-iPhone5s, iPadAir-iPadAir, iPadAirCellular-iPadAirCellular, iPadMiniRetina-iPadMiniRetina, iPadMiniRetinaCellular-iPadMiniRetinaCellular, iPhone6-iPhone6, iPhone6Plus-iPhone6Plus, iPadAir2-iPadAir2, iPadAir2Cellular-iPadAir2Cellular, iPadMini3-iPadMini3, iPadMini3Cellular-iPadMini3Cellular, iPodTouchSixthGen-iPodTouchSixthGen, iPhone6s-iPhone6s, iPhone6sPlus-iPhone6sPlus, iPadMini4-iPadMini4, iPadMini4Cellular-iPadMini4Cellular, iPadPro-iPadPro, iPadProCellular-iPadProCellular, iPadPro97-iPadPro97, iPadPro97Cellular-iPadPro97Cellular, iPhoneSE-iPhoneSE, iPhone7-iPhone7, iPhone7Plus-iPhone7Plus, iPad611-iPad611, iPad612-iPad612, iPad71-iPad71, iPad72-iPad72, iPad73-iPad73, iPad74-iPad74,
Supported Languages: English; French; German; Italian; Japanese; Portuguese; Chinese; Spanish; Castilian;