This version of the app is not recommended
App last updated
Jan 22, 2018
Screenshots
New in version 11.02.0
Shop products under $10 with free shipping. Just open the menu, go to See All Programs and try $10 & Under, available on iPhone for US customers.
Description
International Shopping
Browse, search, get product details, read reviews, and purchase millions of products with Amazon International Shopping – now available in English, Spanish, German, and Simplified Chinese. Amazon packs a variety of features and functions into this ample app, whether you're buying gifts, reading reviews, tracking orders, scanning products, or just shopping. Tap the mic icon and use Alexa to play music, shop, tell jokes, listen to eBooks and more.

Convenient
Sign in with your existing Amazon account to access your cart, payment preferences, and shipping options. Pay in your local currency with international credit or debit cards. Create or find a baby or wedding registry. No need to create a new account to manage your 1-Click settings, wish lists, or track your orders. Shop just as you do on the web.

Fast
Instantly compare prices and check availability by scanning a barcode, snapping a picture or typing your search.

Secure
All purchases are routed through Amazon's secure servers, protecting your personal, payment, and order information.

International Delivery
Amazon now delivers to 100+ countries in as quickly as 3-5 days.

Universal
In addition to International Shopping, you can change your settings in this single app to shop Amazon.ca, Amazon.co.uk, Amazon.de, Amazon.fr, Amazon.com, Amazon.it, Amazon.es, Amazon.cn, Amazon.co.jp or Amazon.in.

In order to provide a rich experience and enable features such as voice shopping, shipping notifications, visual search, customer reviews, and authentication this app may request permission to access contacts, camera, microphone, notification, touch id, photos and Bluetooth.
iPad Screenshots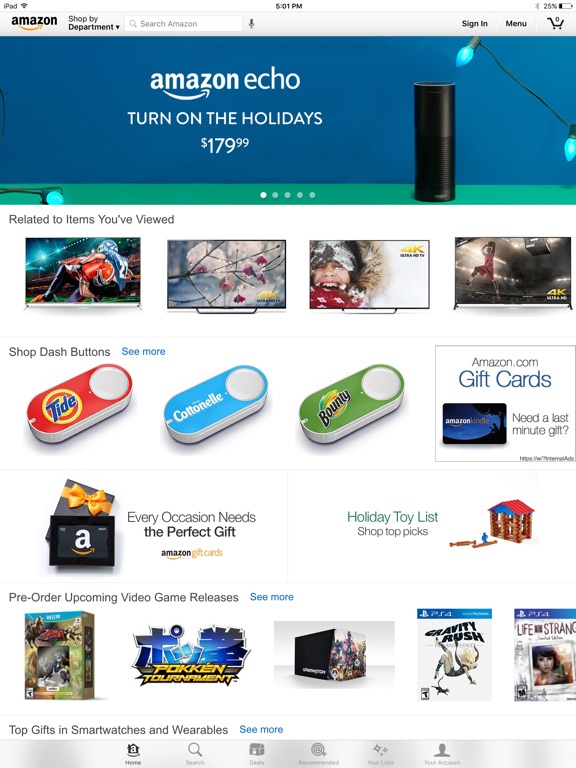 Reviews
Sort Top Reviews pulldown Menu not working correctly
When trying to sort the Top Reviews or Recent Reviews with the pull down menu. There is supposed to be a pop up however, it never pops up. The screen just grays, but no pop up. Touching again brightens the screen to normal but there is no pop up to change between Top Reviews to Recent Reviews.
App is trash. Always asks to log in
No Touch ID support? Ask to log in then says "something went wrong". Complete trash. Can't look at my orders. Can't believe this is from amazon. Unbelievable
Fine, but needs an overhaul
Lukeofthehill
on
1/23/2018
Overall, the amazon app is fine. It functions as you'd expect: you can buy things from amazon with ease. However, it is missing a LOT of what is available on the amazon app for your phone. There is no support for amazon fresh in the tablet version, and there is limited support for other amazon programs. Alexa voice capabilities are not supported in this version of the app. The app is also in need of a visual/UX overhaul, as the design is dated and the UX is not the most intuitive.
Needs
It needs lower prices
Amazon
frequentfaller
on
1/23/2018
Great app, would love to minimize the wishlist tray.
Love Amazon
christian.978
on
1/22/2018
I don't understand why Amazon only has 3 stars, it deserves at least 4. (I give it a 5). If you're a student, it's only 50 dollars a year. You cannot beat that. Free 2 day shipping from soooo many sellers, and competitive and affordable prices. Even 100 dollars a year is reasonable too. They offer incentives for choosing normal shipping, like 5 dollars towards amazon fresh(their supermarket app) or 1 dollars towards electronics(or clothes, etc.). I ordered my books for school and was offered free one day shipping at checkout. It would've cost me 300 dollars to buy the books, but I only payed 60 dollars by renting them. What a relief. Thanks girl
Glitchy
This app constantly makes me sign in. Then I'm in and then I start to scroll and I have to sign in again. I've rebooted and I've download a newer version and still the same. I constantly get a "something went wrong" error message.
Love This App
Other than the tray at the bottom constantly popping up & I have to choose hide, I love this app. It has been extremely convenient for me.
"Oops something wrong occurred"
I can't use the app without getting that message. I can't check my last orders or place new orders. You can buy Whole Foods but have a shaky app?!?
Sorry something went wrong, please try again
How many times have you seen this bug? Still not fixed!!!
NEVER WORKS
capamerica1975
on
1/22/2018
Every time I open the app it tells me my internet connection is poor. But people will open the app right next to me on their phones and it's fine. WiFi, data, nothing works. I want to be able to use the app, but no update fixes it. Not sure what's up but please fix it
What happened?
MomWifeHappyLife
on
1/22/2018
This app used to work flawlessly, but I'm not sure what's changed recently. Most of the screen seems unresponsive at times (especially the back button). The app shows the ability to sort the reviews, but you can't actually see the option on the screen to a choose it. If you choose to see only "verified purchases" the images are off screen. C'mon Amazon. Get it together. You're a big company. How do you not have someone actually testing this app for functionality?
Needs support iOS shortcuts
'Swipe right to go back to the previous page' does not work after you drill down into 'Description' or 'Features & details' sections of a product page. It seems to correctly on from other pages. Please fix this issue on these pages. Also it would be great if you could swipe down on the enlarged product photos to return to the main product page; similar to how swiping down on a photo in the iOS Photos app allows you to return to the Album View.
Clunky somewhat
A better and faster interface is needed, I don't have the luxury of a laptop as of now, and when I tried buying a book, I noticed how slow it was, and it caused me to panic when I thought I bought multiple copies of the book, it ended up taking my money when I didn't want all the books, but other than that, If it were a bit faster and easier to understand the app would be much more useful, as the site.
Brutally slow and always loading on iPhone X
Whether I'm on my home or work Wifi or using cellular data this app seems to work terribly on the iPhone X. I've deleted and reinstalled the app, but it didn't help. Seems to have started recently and had the same problem on the iPad. Works a lot better on my other (Android) phone.
Fails in Lowe's store
This app works fine when searching at home, but it will not work inside the Lowes store. App returns "internal error". My iPhone is set to allow this app to use cellular data. Otherwise the app works well.
Fake sale prices
I get email specials from Amazon telling me a $50 item is on sale for 19.99. They tell me it's 70% off regular price but that regular price they quote is a lie. Look around. You won't find the MLMSY travel makeup bag anywhere for $50. It's always around $20. So why does Amazon inflate a price to tell me they are discounting it ? Very misleading. Class-action lawsuit type activity. Price fixing and mis-representing prices so you think your getting a deal
Add on items
Almight kash
on
1/22/2018
Amazon is great the only problem is when you wanna purchase an item but can't because of the ADD ON I wanted to purchase a movie and it was $5 however it told me had to be $25 and over so I add more things to my cart and it comes out to $27.17 problem is it's still saying I can't order the movie and I don't understand why if ya over $25 like they told me. Amazon would be better if they didn't have ADD ON ITEMS
Never works: "Check your internet connection"
I'm a big Amazon user, but the app is horrible. It never works for me. It ALWAYS says "check your internet connection and try again" and never lets me get beyond that. This has gone on for months and months since first downloading it — and i keep returning thinking it might have been updated or improved, but no. I've restarted my phone a hundred times, x-ed our the app and re-downloaded it, and obviously checked my internet connection... never works. And while there's some record of others having this issue, there's no solution I can find. Oh well, lost business for Amazon.
Amazon good, App terrible
tsheidcjfnfjf
on
1/22/2018
Amazon is great but the app is terrible. Freezes frequently and just plain quits working on a regular basis. I'll be looking at an item and the app's back button won't work so I have to go to the home page and start my search over. Last night was trying to submit a return and it got stuck scrolling down the page. Just annoying glitches considering I regularly update the app, often times have to delete it and re-download it.
Getting worse
Used to love it for scanning books but now the scanner has expanded to include products and the scan search gives tons of irrelevant products. If I scan a book, I am looking for that book. Not all books have a barcode so the barcode scanning doesn't help. Wish I could go back to the prior version.
not optimized for iphone x
The back button is in a terrible spot. Please fix.
Works like s***
Amazing how "proceed to check out" & buy now" works at even the slightest touch and the rest only works when it feels like working.
Why y'all
DJ Psilocybenni
on
1/21/2018
Selling crumbled cups???
Good app but very buggy.
There are many issues with the app not loading correctly or buttons not responding to touch. Especially in the top area where the time is. The most annoying issue is, if you make a purchase and then try to make another purchase minutes after, the app just will crash after you click on "checkout". You have to go to the website to actually go through checkout.
Excellent.
AlienBladeStudios
on
1/21/2018
No bugs or problems.
Update has messed up wish list
Wanted to update my wish list and got the message that I needed to update my app. I'm running the newest app on my IPad. Have never had a problem before. Wouldn't let me update the amount of an item I had on a wish list. Fix this please.
NOT WORTH THE MONEY
unhappy ex-member
on
1/21/2018
I signed up for amazon prime for the year for $99 as advertised but instead of doing what I simply asked for they deny me yearly membership without cause and decide to charge my account $130 a year instead of the advertised $99 a year. When I asked for them to fix it, all I get told is you can cancel your account and that's all we can do for you? Like what?! Talk about good customer service... yeah NEVER again will I bother with Amazon
CAN'T CHECK OUT
Heatherlou02
on
1/21/2018
This app worked fine until about a month ago. Now, when I go to check out, it keeps bumping back to my cart. I end up having to go to the regular website on my phone and complete check out there. So annoying.
Accounts settings no accessible
MoogEtFender
on
1/21/2018
Impossible to access Account settings, which don't show in the menu. I.e. cannot view Prime Membership details or payment options. I have tried to report the problem to Amazon through their feedback email/chat, and was connected to 8 representatives whose only concern is to refer me to someone else. I hope they read these reviews.
Bug on product pages
I can't view the product pages using the app. When I click on the links, I get nothing but a flashing white page that never loads. I have to remember to open the amazon.com site in Safari to view product pages. I keep hoping they'll fix this, but it's been ages now. I have an iPhone 6s and am current on all updates.
Trade-in Store
Love this app. Would like to scan bar codes to find items to trade in, however in the "Search for items to trade-in" section, the bar code scanner doesn't work. I can get the bar code scanner to work from the camera icon on the main screen, but am unable to determine from this screen whether the item is eligible for trade-in. Would use the trade-in account regularly if I could scan items!
Fix
Thissuckstho1
on
1/20/2018
My app isn't working, it doesn't want to connect to the internet
Need to fixes items i list , Will update to 5 star once items below are addressed:
( jan 19 2018 ) - initial review: I will immediately update this review to a five star review , once items below are fixed, or at least responded to (or addressed) : 1a- (most important) - We need to be able to search reviews on the app. Only having this functionality in the web version is a palling after this after the app has been out this long (and with this if you updates in terms of frequency) 1b- (2nd most important) - ADD LANDSCAPE MODE/ orientation!!! 1c- (3rd most important) - overall (web+app) WHEN YOU CHNAGE OPTIONS FOR AN ITEM, ONLY AHOW REVIEWS FOR THAT SPECIFIC ITEM! Example; let's say a pair of pliers have two options you can choose, 8 inch for $10, or 14 inch for $21-depending on which option you choose only show reviews relevant to that option chosen. Many items will have lots of options which totally change the product, but when you click to read the reviews, (which are all which apply to all options) the reviews won't even make sense or everyone is trying to give two stars to the 14 inch pliers but five stars to the 8 inch pliers and it's impossible to tell which reviews apply to which option. (also sellers use this bug to boost up their review count or even worse, slip in a trash item/"options" of an item that already has high reviews , thus it looks like the high reviews apply to that trash item/option as well..) 1- Amazon needs to add a app "Feedback/suggestions" option, like 90% of other apps/services have built-in. This way amazons "valued" users can provide constructive feedback based on real world experience/usage. This will also allow the developers to gather system logs or screenshots if users cheese just submit those in their feedback. This of course is if Amazon even cares about making this app better or listening to its customers. I'm not sure if they do or don't. However it's pretty indicative of their position that app feedback has never been in the app, ever. 2- Needs to have better "share this item" icons/functionality/visibility in the app. Currently it's a tiny little icon midway through a product page, and it's very hard to spot and it's functionality is poor once you tap it. 3- there needs to be an alert me button/field where you can receive an email alert once an out of stock or unavailable item , again becomes available. This should apply to any and all items that are un-available or out of stock,. On the web version of Amazon.com *some* (few) unavailable items will give you this option, every unavailable or out of stock item should give you this option, and it must be also on the app (as of now it is totally missing from the Amazon app). 4- contact support; there needs to be the option to send a message/email/ticket to Amazon customer support in regards to an item, the only options currently our chat or receive a call back. Both of these options occupy much more time then a user may want to dedicate to resolving an issue, as opposed to being able to send an email/message/ticket to support which may take one to three minutes and you are done. 5- I like the recently added wish list at the bottom of app, that you can drag items to, however there needs to be A way you can lock that wish list so that it never changes (i.e. the list at the bottom of the app never changes unles you specifically unlock it or manually change it yourself). Often times the wish list at the bottom of the app will change or switch to another wish list I have and it takes me a while to find the wish list I was using previously as I have many (very frustrating). (Or another option/solution, would be an iOS/app specific wish list that appears on the web also, but that you can lock as always being the wish list at the bottom of the app) 6- any and all functions or options that are available in the full blown web version of Amazon.com, on a desktop PC, should be available in the app in some form or another. While there are several examples, one example is the lack of the ability to modify your address book within the app. **** It is important that we app users demand more from apps and their developers, and STOP blindly throwing out five star reviews! (except for truly exemplary apps, or when there is active weekly or monthly updates/development on the app). Users need to demand more from apps, and stop defaulting to a 5 or 4 star reviews. These are large companies with dedicated development teams behind their app, they must learn to respect / respond to user feedback and update their app in a timely and consistent matter, based on user feedback. We the users are the *sole* reason these companies and apps are so valuable ($), and this the developers/team should treat us accordingly and fair. Again, I will * immediately * update this review to a five star one once these issues are fixed/addressed/reply to (I check and read app updates/change logs multiple times a week). I will also timestamp any new review updates, and will never delete or modify prior review updates. Thanks!
Images don't Load
EvenSo,ComeLord
on
1/20/2018
When you scroll down the deals, images disappear for a moment and reappear after some 3-4 sec. That continuously happens as long as you scroll! Not an expect from Amazon!
Perfect until...
Get rid of the one click purchase. I've bought things on accident 3 times now.
Unhappy customer
Advertised shipping is often incorrect and takes much longer. Costumer service is not like it was and now play around with you. You guys play stupid, playing stupid games not at all what Amazon was in the beginning
Amazon Smile?
Hi, when using this app does my charity of choice still get a portion of proceeds from my purchase or do I need to continue making purchases through the website instead? Thanks!
Fix the bug
It has been telling me for over a week now to check my internet connection and try again. I have checked and been on WiFi, everything on my phone works but this app. 😡
Split Screen Please!
Great Oden's Raven
on
1/20/2018
It would really help to have another app open for reference while shopping. Product detail and descriptions aren't always the best on amazon. Seems like a straightforward update.
Doesn't work anymore
Architekt909
on
1/20/2018
I don't know what the deal is but any time I try and view my order history, account or even try and sign out I just get a pop up saying that sorry something has gone wrong please try again. Been doing this for at least a week now. Not sure if it's related to Touch ID but every time I go to a screen that wants my fingerprint, after doing so I get the error.
1 Click Purchasing
Connor Rusty
on
1/20/2018
TURN THIS OFF, you may buy something of high cost and not even realize it! I am not too happy>:|
please
add support for smart invert colors.
Dash buttons. What a stupid idea to force them
Why can I not disable the app from creating dash buttons? Amazon said it's a benefit for Prime members. BS it is freaking punishment. I don't need a dumb button taking up screen UI to help me remember anything. Idiots.
A little regression testing would have helped.
App used to work great. But the last two updates broke it all over the place. Touch ID no longer works. Can't change shipping options. Can't even CHECK OUT! I'm using the browser version.
What happened?
I still love Amazon as a company, but they are messing up this app. I absolutely hate that they have video ads now with no option to turn off for use on cellular data. Cause I really wanna give Verizon even more money hitting data overages because I simply scrolled into a crappy ad where they dip a tube shaped cookie into some third rate Amazon-wanna-be Nutella. Yeah that's just great. Thanks. Oh and for all the new bugs too. Thanks.
3rd party = sad party
Images uploaded ASAP 12345678
on
1/19/2018
I want to Eliminate/disable 3rd party purchases! They never come in correctly, they are always broken or improperly packaged! To make it worse they never take anything back or they take forever to process a return! Please give me the option to get rid of 3rd party purchases! Also! Pictures illuminating fabric cut and style would be great!
Please update your ui on iPad
The user interface for iPad is clunky and thoughtless with regard to where the search bar should be (centered, duh) and shares very little in common with the iPhone version of the app currently available. Please consolidate menu items in the left side of the screen in a menu similar to the iPhone app. Please incorporate gestures to open that menu (iPad is not just a poke and press device). Please use similar colors in the iPad app as the iPhone app. Update the logo colors in the heading. Properly space ui elements so they are easier to read. THEY SHOULD NOT BE SCRAMBLED TOGETHER IN THE CORNER. Change the mic logo to the Amazon Alexa button so people actually know what that does instead of thinking it's dictation. Expand the top bar to reflect current iOS changes (think your own iPhone app, but bigger). Align add to cart buttons in the deals page. App needs an overhaul. Please fix the ui to reflect this fantastic service's quality. Also perhaps consider removing the percentage or at least keep it consistent and editing the time to be the same to look more like a multi-billion dollar company's app instead of worse than many indie developer apps. Status bar should be consistent.
Bad Amazon
by Aunt Kathy MAR 10th 2011
on
1/19/2018
This update wiped out our shopping list. Not good!
Idiots
Nickdakid520
on
1/19/2018
They delivered my stuff in the wrong mailbox 3 times and I don't even get a refund for their mistake
Fact Sheet
Publisher:

AMZN Mobile LLC

Category:

Shopping

Released:

Dec 03, 2008

Current Version Released:

Jan 22, 2018

Version:

11.02.0

Size:

128.1 MB

Compatibility:

Requires iOS 9.0 or later.

Recommended Age:

4+

Game Center Certified:

No

Supported Languages:

English; French; German; Italian; Japanese; Portuguese; Chinese; Spanish; Castilian;