This version of the app is not recommended
App last updated
Dec 28, 2017
Screenshots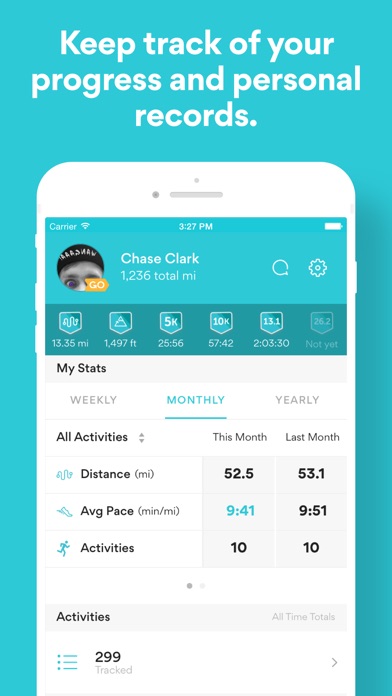 New in version 8.6.1
We've updated our app icon! This change is a result of months of testing to discover how to make the Runkeeper app more recognizable so we can help more runners reach their goals.

Apple Watch users, we are wrapping up a new release of Runkeeper for the Apple Watch that we will include in our next version. We have heard your feedback and improved the activity tracking, syncing experience, as well as added in some top requested features. Thank you so much for your continued patience with us as we work on getting this experience out for you.
Description
Everyone. Every run. Join the community that helps people get out the door and stick with running forever! Track exercise, set goals, sweat, and see progress along the way. Whether you're working your way up to tracking a 5K goal or deep into marathon training, use the GPS app trusted by 50 million users and counting.

REVIEWS
- "This multifunctional app has something for everyone, from beginning runners to those training for a marathon, and folks who prefer to hit the road on two wheels" - SELF
- "Runkeeper is the granddaddy of running apps; it's one of the oldest and most popular, for plenty of good reasons." - CNET

OVERVIEW
- Track Workouts - Go for a run, walk, jog, bike, or any activity really. With GPS, you'll get a clear view of your training in real time.
- Set Goals - Have a race, weight, or pace in mind? We can coach you to get there.
- Follow a Plan - We have personalized routines to fit into your busy schedule. And helpful reminders, just in case.
- Stay Motivated - Join challenges, snag exercise rewards, and share achievements with your friends.
- See Progress - This whole running thing works. You track it. We log it. You'll see the sweat and we'll show you the numbers to prove it!

TOP FEATURES
- Apple Watch - Leave your phone at home and still track stats to stay informed and motivated. Named App Store Best of 2015.
- Bluetooth Connectivity - Wireless headphones and heart rate monitors make great workout companions.
- Fitness Tracker Integration - Sync Pebble, Fitbit, and other styles in seconds.
- Running Groups - Create a custom challenge, invite friends, track each other's progress, and use the chat to cheer each other on.
- Audio Cues - Choose from 6 motivating voices that you can customize to relay your pace, distance, and time.
- Training Plans - Make major progress by following a plan. We'll be here for you every step of the way.
- Routes - Save, discover, and build new routes with GPS.
- Challenges - Stay motivated with exclusive workout experiences and rewards.
- Music - Keep moving with the music you love with our Spotify and iTunes integration.
- Partner Apps - Connect with other top health apps like Fitbit, MyFitnessPal, and more.
- Stopwatch Mode - Easily add indoor cardio (treadmill, cycling) and gym workouts to keep full exercise log all in one place.
- Social Sharing - Upload your activities and more with your friends on Facebook, Instagram, and Twitter.

RUNKEEPER GO (premium)
- Prescribed Workouts - Get a weekly workout schedule tailored to you.
- Progress Insights - See how your runs stack up to each other and get a full view of your fitness journey.
- Live Tracking - Whether it's training day or race day, share your location with family and friends.
- Weather Data - Look back the local weather for each tracked activity.

*Note: Continued use of GPS running in the background can dramatically decrease battery life.

Find the full terms and conditions, and our privacy policy, at http://runkeeper.com/termsofservice and http://runkeeper.com/privacypolicy respectively.
Reviews
Harrah, JD
Awesome! Love this app! Indispensable! Using it going on 5-6 Years!
Works poorly with Apple Watch
Pizza yummers
on
1/21/2018
It does not consistently sync the app and your watch after a run (it fails more often than it works) and thus it doesn't really work. Until fixed definitively I can't recommend at all — and absolutely not the pay version. Fine if you run with your phone in your pocket.
Bad integration with Apple Watch
I have been a Runkeeper user since 2010. I loved this app and used it to prep for a number of half marathons, as well as to get back into running shape after having both my kids. I was so excited when I saw Runkeeper would integrate with my new Apple Watch. I thought I'd be able to run without my phone and still keep all my run history. Unfortunately, I've now had five runs that seemed like they were being recorded just fine, only to have them vanish as soon as I stopped. Sometimes they show up in the Apple health app, sometimes they're just gone. Either way, I have lost too many runs and am now relying on my run buddy to tag me in runs. Hopefully this will all be addressed in the promised update.
Easy to use
Jessica Daniels
on
1/21/2018
The app is so easy to use. I like that I don't have to carry an additional device to track my runs. The large font and big buttons make it easy to see even when I'm not wearing my glasses.
Great app for city, parks or trails
Alisasahovic2007
on
1/21/2018
Awesome companion for your runs wherever you are. Highly recommend!!
Years !
60 & Motivated 😜
on
1/21/2018
I've used Runkeeper for years and love it for walking & biking !! 👍🏼💕
Doesn't work
I can't even get past the sign up portion. Tried several times including restarting my phone.
Perfect
I was a novice walker/runner but having this app for 2 years (the free version) motivated me to step it up. I like that is compares weekly/monthly/yearly stats of activities. I always want to beat last weeks numbers. I recommend it to everyone who will listen and I will buy the premium app soon.
Only the timer is accurate
Identical runs regularly have differing distances by a quarter of a mile. I have no idea what the pace is based on, it also seems variiable and inaccurate. I ran 4.5 miles today and it said I did less 3. Anything has to be better.
Doesn't work reliably, on to the next app.
Need I say more?
Love this app!
Because of the run plans, voice instructions, and ability to track almost any kind of activity, I say this is the best running app you can have. You can compete with friends, track your progress, even update your weight goals! This app really does have it all. I just wish that all workout apps keep all the best things available for only premium users. As a student, I really have no money to buy premium.
I love this app!!!! I use it every day!
Mscatinboston
on
1/20/2018
So easy to use! The best app to manage your daily physical activity! 11/18/2017: I truly appreciate every new enhancement! 1/20/2018: Still Love RK. It's my primary Run App. I love the monthly challenges!
Best running app
Tracks near everything! Perfect way to log all your miles!
Great App
I use the free app to track my progress. I not planning a marathon, I run so I can eat what I want. This has all I want and a few extras (some stats)
Wonderful running buddy!!
I've used runkeeper for at least 7 years and love this app. I love that you can change voice cues. The drill Sargent is a whoot. The app helps me know when I need to pick up my pace !!!!
Awesome app!
I love this app. It's easy to use and great to track runs, work-outs and share with friends. I have mine integrated with MyFitnessPal and I love it! All my runs get transferred automatically. The challenges are fun and motivating!
Working...
For me and works great on Guam!!! Runkeeper is my best friend working out with my watch! We are unbeatable as a team!!! Hit that like button and that notification bell to keep update to date with current Riddim- lol
Once Great, Now Sloppy Bug Filled Mess
Sfperson780241
on
1/19/2018
Runkeeper was once great. I loved it because it did exactly what it's name says: keep runs. Now it tries to keep everything from hopping on one foot in stopwatch mode to running. But now, it doesn't reliably keep. It loses. It fails to sync. It crashes on the phone but keeps it on a gadget. It's a hot heap of sadness where once a great app was installed. If you are serious about your fitness in 2018, look elsewhere.
Troubled friendship
FrustratedTourist
on
1/18/2018
I have used Runkeeper literally since it first appeared. I have almost a decade of running and walking on it. BUt suddenly it has become crazy about not tracking GPS. I run/walk on the same location almost every day, and RK has been fine. All of a sudden, in the last week or so, it can't find satellites, can't hold a signal. Other Location/GPS apps seems okay, but RK can't track my run. A run tracker that can't track a run is just an over-built stopwatch. Sorry, but I am not wasting another workout being frustrated. This is a mature technology. It should just work. Update: on my third delete+re-download RK started working correctly again. I have no idea why it fritzed out on me, but it seems okay for the moment.
Apple watch version is beyond worthless
Poor analytics, AW version is junk when operating untethered. No reason I can see to pay for premium. The AW version has a very nice UX from my perspective as does the iPhone version but under the covers, i.e. accurately tracking time/distance? Not so much.
Helped to get healthy
Runkeeper helped me train for a half marathon last year and also helped get me back into shape. Love the app!
Buggy for me
Started out great when I was using an iPhone 6 and series 1 Apple Watch. However since I switched to an iPhone 8 I no longer get audio stats over my headphones and it has failed to record my past two runs. Very frustrating.
Useless
I downloaded the app and it won't even let me past the gender/weight screen. I tried skipping and I still doesn't do anything. Useless if I can't get into the app.
Tracker
Great way to keep track of times you walk/jog to show doctors your progress
Kudos!
lasonnambula
on
1/18/2018
I've been a Runkeeper Pro user for a few years and have been quite frustrated with watch/app syncing issues since the beginning. While this is still buggy, I am so impressed by the rest of the app features that Runkeeper very much deserves a higher rating. I've just started getting serious about running and am training for a half marathon. The phone app has saved my bacon when needing to set up interval workouts like speed and tempo runs. The audio cues are very helpful and the new extra large fonts are much appreciated! I also love that not only can you see average pace and splits, but also interval pace as well. Thank you, thank you, thank you! If they could sort the watch syncing issues I'd gladly give it a 5.
Tmhart
Love it. Use it all the time and have recommended it to family and friends.
Not tracking
Everything was going well until the last update. Apple Watch RK app is now only tracking time, not distance. At the end of my run, it will display total time and accurate split average but distance stays at 0. I have tried with phone and without and it has made no difference.
No distance on spinning
The app doesn't let me enter a distance when the activity type is set to spinning. I have a Peloton bike that measures cadence, distance, heart rate, etc. I'd like the app to support distance on spinning!
Good app
It's a great app for the price (free version). I've never used the paid version, so I've got nothing to give for that version.
Great app for a diabetic
Jimmy in 07071
on
1/16/2018
Using the free version as I used to have the paid. Free works fine for my tracking and notes.
Great app but...
I guess my nickname was taken...
on
1/16/2018
It would be nice if they could finally get the audio stats to work while listening to podcasts the Audible app.
Great app
I've been using this for several years and I am very happy with it. One (big) gripe is absence of snowshoeing as an activity. Or a 'configurable' generic activity for users who are into something not mainstream.
Awesome
Gotta love this app! Syncs with my corporate health tracker and allows for my walking at lunch to be separate from my running with my daughter!
Great app. Using it for years!
Love the accurate speed tracking and interface
I like the app but it doesn't always log my challenges...
Angiebabie92
on
1/16/2018
I ran a 10K in November, December and January and the app did not connect them to the challenges. They're visible in my activities, but the challenge does not have a green check. My 5Ks always connect. In addition, one of my friends sets up group challenges and my miles don't always count toward those, either. Some do. Many don't. Not a huge deal...it's just fun to see goals accomplished.
Crashed unexpectedly
The new version doesn't add existing activity to training program. It's crashed right after frying to add it. After that it is just not opened again.
Crashes on opening
Was forced to update when I updated my OS, the new runkeeper crashes immediately after trying to open.
Love it
I really like this app. I am able to pace myself. This app helps me to see see how fast I am walking real time. I like the challenges. They help to keep me motivated. It is fun to see were you have walked using the map.
Love Runkeeper!
This is a great app to encourage yourself as well as friends! I like the notification from friends who have just worked out and have a new post of accomplishment!
Motivation
Sportsatelite
on
1/15/2018
Since October of 2012, I have logged over 500 activities, over 3k miles, and RK has been with me all the way. Very consistent, easy to share, set goals, create training plans, all the goodies. Go is great for my loved ones to monitor my solo distance running often set in a country environment. RK will keep you motivated to improve as a runner and an athlete! Seems to sync well with the SquadRunner app that I have recently begun using. Thank you!
Only network feature need to improved!!
I think I like the free version of run keeper as it provided me many follow up reports. I have only a request to improve the friend sharing features.
So FRUSTRATING...false promises from Runkeeper!
Tucson Milliken
on
1/15/2018
I have been using Runkeeper for over three years. I really want to LOVE this app, but am so frustrated by the false promises that the company keeps putting forward. Before the iWatch, this app was a great app for tracking runs while carrying your phone. The iWatch unleashed what we as runners all waited for, and new "phoneless" running experience with the same great run tracking, and this is where Runkeeper has failed (iWatch Series 1), failed again (Series 2), and critically failed (Series 3). Run tracking on iWatch GPS/Cellular is not rocket science for app developers, as I have tested a variety of other apps that prove consistently accurate and functional. Consistent and functional are the key words here, cause Runkeeper is neither. I am a premium subscriber, dropping more than $50/year to allow me to access the Runkeeper training plans...but, oh wait, those training plans are NOT transferable to iWatch despite 4-5 months of false promises from Runkeeper that "it is coming". Secondly, do you have any idea how frustrating it is to be in mile 3 of a ten mile run and you look at your watch is says you only ran 1.2 miles? Yes, this is what had happened inconsistently on my watch without my phone, yet no other app has this problem! I am sad to write this review as I want to LOVE this app, but when we are in the age of autonomous vehicles, GPS/Cellular watches, etc. and $50 annual membership, you expect certain core functionality with continued improvements rather than inconsistent and flawed programming with false promises.
A runner's perfect tool
Love this app!!!
Inconsistent
I've been using this app for a few years now and it works sometimes and sometimes it doesn't. Now I can't get the audio cues to work. It just keeps saying, loading audio cues. The audio cues don't work with my Apple Watch either. The audio cues are key to me especially when I'm doing interval training. When I send in a request to fix the bug it takes 3-4 weeks for them to get back to me.
Fine app; insufferable pop ups
Pop up ads, in the form of offers and "challenges", run the paid premium experience. Remove the pop ups and I'll give it five stars.
Consumer first , profit second.
I used to love this app. It prepared me for my first marathon. I recently decided to sign up for another marathon and realized that I now have to pay to get a training plan. I decided to switch to another app. FYI- There are plenty of other free apps that provides marathon preparation.
Been using this for training
Would be a five but there's no way to input treadmill workouts.
Good Apple Watch App, could be better
TravisRunner
on
1/14/2018
This app is probably the best Apple Watch app I have used so far in terms of accuracy of distance and current pace when your not using your phone. Although the current pace jumps back and forth a little much, it is very close to my actual pace. The face of the app in the watch can be changed while you run which is good and bad depending on if you accidentally hit the screen. The reason I did not give the app a five star is because it still can be improved significantly. You cannot customize the watch app on the phone app which can be frustrating. I've tried to change it so there is no countdown before the run but there still is a 3 second delay anyways. When you first start a run the display takes a couple seconds to come up, and is also hard to stop when you are tired. I like the activity apps way of stopping and starting runs where you simultaneously press the power button and home button on the watch much more. This will make speed and interval workouts much easier to track.
Perfect
Clickeraddict
on
1/14/2018
Simple, easy to use, thorough and fun
Fact Sheet
Publisher:

RunKeeper, LLC

Category:

Health & Fitness

Released:

Jan 13, 2009

Current Version Released:

Dec 28, 2017

Version:

8.6.1

Size:

151.4 MB

Compatibility:

Requires iOS 10.0 or later.

Recommended Age:

4+

Game Center Certified:

No

Supported Languages:

Chinese; Dutch; Flemish; English; French; German; Italian; Japanese; Korean; Portuguese; Russian; Spanish; Castilian; Swedish;