Screenshots
New in version 5.13.1
Now you can search for notes and highlights you've made in your book – just search for a word or phrase that's in the note or highlight to see a preview of it in the search results.
Description
Turn your iPhone or iPad into a Kindle with the free Kindle app, and carry all your eBooks with you, wherever you go. eBooks (including those with narration) that you have purchased on Amazon will automatically appear in your app.  Kindle Unlimited and Amazon Prime members can select and download eBooks directly in the app.
 
What you'll get:
• Sample any eBook for free
• Magazines, newspapers, graphic novels and textbooks with high-res color images
• A customizable reading experience with your choice of font style, size and more
• Comfortable reading day and night with adjustable screen brightness and page color
• Discover and download Kindle Unlimited eBooks and magazines
• Unique features like X-Ray, Whispersync, Page Flip, Print Replica, flashcards and more
• Instant translations and definitions, without leaving the page
• Ability to make and share in-page highlights
• Bold font and text size options
• Access to local library eBooks
iPad Screenshots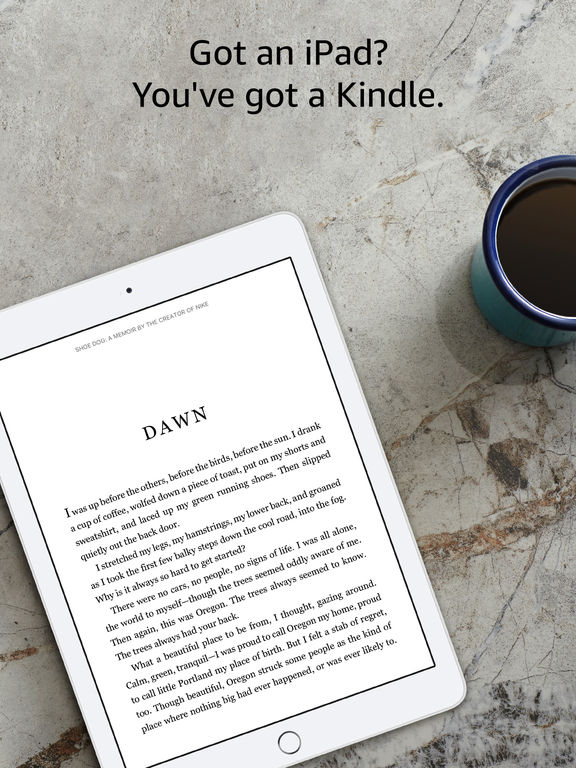 Reviews
Kindle on iPad
It's awesome. I would love to be able to write/takes notes on the pages. I am having trouble with one of my books. It's like it hasn't downloaded all the pages. Igor to turn the page and the page is blank
Always a pleasure to use!!
Great!
It works well but it's shaky.
🐭🌾🐮🐲🐷🐘🐷🐮😆🙉😼😊
on
8/19/2017
My one main problem with this app is that when I get an Audio Book, I can listen to it on my kindle but not on my phone. They either give me no book or make me pay a very high price. It is very annoying because it happens often. Half of the time it doesn't give me an audio book at all. Besides that it's good. The audio narration sounds like Siri and a robot had a kid. Get Overdrive. It's a fantastic app that you can get almost every book to listen to or read. And it's all free. I would much rather have that.
Love the app
I would recommend this to others!!
why is it still crashing?
I bought a couple of your entire series in one, and they crash constantly. takes three or four tries just to read a page. are you going to fix it??????? the kindle used to be my favorite app, but now it crashes three or four times every time I open it. ridiculous.
Love this app
Muffy button
on
8/17/2017
Omg.. I love this appppppp
Needs to be fixed...
Like the app. Syncing between devices is very helpful.... when it works. It is NOT working! The app has become totally unusable for me. Sad.
Used to love app but new update is a bust
Love to read and have access to all my books in one place. The most recent update doesn't sync my books and actually wiped all my books from my device. I have to manually log online to request to resend titles. I hope this issue is fixed soon.
Love Kindle, BUT Current Update Crashes
MarilynClint
on
8/17/2017
Normally I'd give the Kindle App five stars. But the recent update is crashing constantly. Around two out of three times. Or you read for a time, then it suddenly crashes. Hope this is fixed soon. Thanks.
Please get rid of Notification Advertisements within app
Well-functioning app, but the red-bell Notification Advertisements need to go.
3 years later, horrible joke is worse UNLESS
silverman matherton
on
8/16/2017
IF YOU DO NOT CARE ABOUT TEXT TO SPEECH> the app is absolute perfection. HOWEVER, unless ...you own a Kindle by AMAZON w text to speech capacity. It is the omission of these BASIC ELEMENTS OF KINDLE ESPECIALLY FOR STROKE, ANEURYSM SURVIVORS, THOSE JUST TRY ING TO LEARN ENGLISH ESPECIALLY MEN (men learn 30% better by listening also, women 20%)!!! I am recovering from a mystery aneurysm suffered during the Obama [administration]. It takes a long time to recover. Sharon Stone, the American actor, had a similar hemorrhage and it took her two years to speak. When text to speech is available, we learn TWICE AS MUCH by both listening and reading. Oh, you can do that now? Sure, if you pay separately for AUDIBLE professional version. Amazon at least did not do what Apple wanted to do in re TTS, which was a Jobs plan so vile, greedy and to my *shock*, as the censorship of the internet now, no one paid attention when president Obama gave controls to everyone and no one aka, the UN, where my most lived family members work, (I am very much a UN believer). If the late Mr Jobs had his way, NO ELECTRONIC BOOK WOULD BE LEGALLY PERMITTED TO BE SOLD for under the Apple price, audio or kindle. By contrast, Mr Bezos is a righteous man insofar as this issue. The Amazon marketing exploits the uneducated and unread, a cruel joke looking at this app. If Amazon would be up front w what has TTS and expose that the iPad's only "flaw" (intentional omission imho) is the dishonesty in *marketing through lies of omission* the Kindle could take its rightful place. Though if you have read this much ya knew that. Peace and respect to the customer would be a graceful gesture by Apple: bring back TTS. Are you colluding? That is not legal. Thus your denial isn't necessary. An apology and a TTS feature would NOT wipe Kindle/Amazon/authors out. Those wiped out are the *musicians* by Spotify and Pandora. Books have never been better. Music composition is stuck in a loud ugly rut. I use apples streaming and amazon streaming, I do not use the "free" music because "free" has given us what free usually buys: zero. /ias/
Dictionary won't download
I used this app regularly until the dictionary function stopped working. Every time I select a word to define, the dictionary window pops up with a blue download icon attached. I click the icon, but the download remains at 0%. PLEASE FIX THIS BUG.
Audio book issues
I love this app and listen almost daily, but over the last several months, about every third or fourth book the audio portion will not give you the option to download. I have found that if I delete the book, delete the app and re download everything, it will usually pop up and let me download the audio portion of the book. It is frustrating and if I'm not in a wifi spot, I use more data. I cannot find anywhere to contact kindle/Amazon for assistance with this issue.
Perfect companion
I love being able to read at any opportunity. So convenient and easy to use. I love the app
Great App
What a great app! I can read stuff everywhere I go! I can even find out all about what's going on where I'm at if I'm looking for that kind of info!! I love to read though and I still don't understand how they put book after book on any device I own so I can take my books along with me!! I love this app because I can read all the contact I have on all of my devices!! It's perfect!!
The perfect reading app
I've been using the Kindle app since it first came out. I do have a Kindle, but use the app on my iPad and iPad Mini. The app does so many useful things, I'm amazed at the info I can get about the book and characters through the app. A perfect way to read a book if you're not one who only enjoys holding an actual book.
Major Problems; Crashing Constantly
Mrs_Organizer
on
8/15/2017
I've used and loved the Kindle App for years, and used it on multiple devices. The last few days, however, it's hardly usable. I've deleted and reinstalled, rebooted my device, and it's worse! I'm using the same iPad Air I've used for several months. I have no clue what to do, but this is VERY bad.
Love my Kindle
Haveafewminutes
on
8/15/2017
Use it on all my devices! Huge library!
Can not download in IPad
CreditIsImportant
on
8/14/2017
Can not download in IPad
Great app for reading.
Love this app to read my books.
Would give four stars if password recovery wasn't horrible
... My email has changed and I can't use my account. 😥😥😥😥😥😥😥😥😥😥😥😥😥😥😥😥😥😥😥😥😥😥😥😥😥😥😥😥😥😥😥😥😥😥😥😥😥😥😥😥😥😥😥😥😥😥😥😥😥😥😥😥😥😥😥😥😥😥😥😥😥😥😥😥😥😥😥😥😥😥😥😥😥😥😥😥😥😥😥😥😥😥😥😥😥😥😥😥😥😥😥😥😥😥😥😥😥😥😥😥😥😥😥😥😥😥😥😥😥😥😥😥😥😥😥😥😥😥😥😥😥😥😥😥😥😥😥😥😥😥😥😥😥😥😥😥😥😥😥😥😥😥😥😥😥😥😥😥😥😥😥😥😥😥😥😥😥😥😥😥😥😥😥😥😥😥😥😥😥😥😥😥😥😥😥😥😥😥😥😥😥😥😥😥😥😥😥😥😥😥😥😥😥😥😥😥😥😥😥😥😥😥😥😥😥😥😥😥😥😥😥😥😥😥😥😥😥😥😥😥😥😥😥😥😥😥😥😥😥😥😥😥😥😥😥😥😥😥😥😥
Great App
Happy Reader123
on
8/13/2017
Solid reading experience. The store is good. Simply the best ereader out there.
Money
I thought that it was free but you have to pay for it The samples are also bad also since I got this app the battery has been going down a lot
Worthless
They purposely prevent then app from working in split screen. Like really? Your stupid app doesn't require full screen. What a waste of space on my iPad Pro.
Okay, but it can be better
It would be great if the Kindle app adds a feature and make an improvement. 1. Enable the Apple Pencil and Kindle to annotate in the books we read. Typing a sticky note and highlighting statements isn't enough for some of us. 2. There are glitches sometimes to be able to read where I left off, especially if I'm switching from my iPhone to my iPad.
Highly Recommend
Convenient reading and easy download of purchases. I'm able to send books to my 90 year old mother, and she can download them herself!
I'm Hooked
I have Kindle on both my iPhone and iPad. As an avid reader and lifelong book reader I resisted the idea of reading on an electronic device. Kindle changed all that. Once I tried it I was hooked. If I want to read at night I don't need a lamp or clip light. If I find myself with an unexpected wait while I'm out, if I have my iPhone, I have my book with me. The book stays synced so I can switch from iPad to iPhone without loosing my place.
It's great, but
esoteric kort
on
8/13/2017
This app is great, and because of it I have a lot books. I wish there was a section for read and unread. Also a love, hate indicator so I don't have to go back and scan the book before re-reading them. Little color coordinated flags on the covers.
Update
The app keeps randomly closing.
Issue with deleted books
Melchizedek-Priestess
on
8/11/2017
A few hours back, I tried with Customer Support on Amazon via chat to look for help in order to permanently remove the deleted books from the App, but they found out like me, that it's not possible. Only the book content is removed, but the cover of the book stays in the books library, which makes confusing the searching on the library items. I wish it would only displays the actual books and not all, including the deleted ones. Hope Technical support fix this issue, I will be very grateful.
Am I mistaken?
Is it no longer possible to sort by title author or most recent? You can't have eBook without this
Great reading app
This app really is amazing I have loved using it! I love the ability to read some of a book on my phone and then on my kindle. There are only two problems with the app; one is that it is not available for multitasking on the iPad, and the second is that there is not scrolling mode.
Here's an idea
Why don't you add barcode scanning for books people already own that they bought before amazon existed?
Crashing
Latest version is crashing on new iPad when trying to open any books in the library. Ugh.
Love the app
advit player
on
8/10/2017
I love the easy of one touch buying and reading. I have to select one book at a time to put it in a particular group. So it would make it much easier if there was a multi function where as one could select more books to group them in categories.
Love my Paperwhite Kindle!
I use it every day at the pool and enjoy the fact that I can use the x-ray features to remember characters and love that I'm enhancing my vocabulary by using the dictionary! The screen is so easy to see. I wish my iPhone was just as readable!
I love this app but...
When they did the last update, my kindle for iPhone and my kindle for iPad apps are no longer automatically or manually syncing. I've been reading this book on both and I have to remember where I left off. I use to open and it would say automatically do it or if not (only a couple of times that I can remember) I would hit Library, Sync and then it would do it. It is not doing it at all now.
Kindle for my iPad
Enjoy reading my books on my iPad. The Kindle has been great for me. I have enjoyed using it for over two years now.
Love the ability to carry loads of books without the weight
I love the app and the ability to read at anytime and not have to worry if I have another book when I finish. Would love to have a couple other features though. I would like to be able to sort the books as read or unread so once I finish one i know what I have already read and We should be able to buy books through the app. Makes no sense to be able to download a sample but not a complete book.
Table stakes iPad features missing.
PLEASE ADD SPLIT SCREEN SUPPORT! I have started buying ebooks on other platforms for the first time in years because I need to have an app with split screen support on the iPad. Taking notes on books I'm reading is something that makes a ton of sense on the iPad with this functionality. It is a feature that has been out for two years! I can't believe Amazon hasn't added it yet.
Once was this bibliomaniac's favorite...now nothing but glitches
I keep hoping new updates will fix the ongoing issues with this app. I open the app and the screen goes from black to crash. When I open a book, the screen freezes on one page. I cannot read while the app is downloading books to my library anymore. I cannot sync between my iPhone and other iPads. I am beyond frustrated because this is my favorite reading app. I have iBooks and Nook as well, but kindle is my go to app. The frustration I have with the numerous issues is beyond description. PLEASE FIX THIS!!!'
Needs store in the app
Best Reviewer EVER!
on
8/8/2017
I don't understand why you can't buy books from the app.
New release crashes
Opening the app with a book open causes it to crash.
Kindle
I love the Kindle ap! I can read 3 books at once on my kindle, my iPad or iPhone or I can read 1 book on all my devices! So convenient and easy to use!
Crashes
Crashes in landscape mode. The covers don't display correctly any more. Wish I hadn't updated the app. 🙁
Did love it
I read 95% of my books with this app and loved it. However, in the recent update, perhaps, my table of contents was disabled and I have to search through the pages to find a chapter. When I am reading a series where chapter one is included, I want to go immediately to chapter two when I open that book. I find it annoy to scroll through pages when I never had to before.
Are you having problems with this new update?
My sync won't update. I can't get books I bought and borrowed to download. I'm getting weird personal letters when my borrowed books are returned instead of the thumbnails remaining. This update seems really buggy!!
Capital Everything AWESOME
Book reader 4ever
on
8/7/2017
Amazing! Really good. works great and SO many book options! But u can only get samples on the app and you have to buy the real full story on Amazon (very cheap!) other than that it's a great app!
Unable to download books
Sombrero3457286
on
8/7/2017
I would give this app 5 stars if only I could download books from the app. Having to download on my kindle just to get it on my phone is so frustrating to me, I don't carry my kindle with me exclusively, but I do carry my phone. Would be nice to use the app exclusively as well.
What in the world did you do with this update?!?!?!?
With my last update I'm having a lot of trouble bringing a book up on my app. It will list the books but when I click to open one the entire app is shutting down. ☹️
Fact Sheet
Publisher:

AMZN Mobile LLC

Category:

Book

Released:

Mar 04, 2009

Current Version Released:

Jul 28, 2017

Version:

5.13.1

Size:

180.3 MB

Compatibility:

Requires iOS 9.0 or later.

Recommended Age:

4+

Game Center Certified:

No

Supported Devices:

iPad2Wifi-iPad2Wifi, iPad23G-iPad23G, iPhone4S-iPhone4S, iPadThirdGen-iPadThirdGen, iPadThirdGen4G-iPadThirdGen4G, iPhone5-iPhone5, iPodTouchFifthGen-iPodTouchFifthGen, iPadFourthGen-iPadFourthGen, iPadFourthGen4G-iPadFourthGen4G, iPadMini-iPadMini, iPadMini4G-iPadMini4G, iPhone5c-iPhone5c, iPhone5s-iPhone5s, iPadAir-iPadAir, iPadAirCellular-iPadAirCellular, iPadMiniRetina-iPadMiniRetina, iPadMiniRetinaCellular-iPadMiniRetinaCellular, iPhone6-iPhone6, iPhone6Plus-iPhone6Plus, iPadAir2-iPadAir2, iPadAir2Cellular-iPadAir2Cellular, iPadMini3-iPadMini3, iPadMini3Cellular-iPadMini3Cellular, iPodTouchSixthGen-iPodTouchSixthGen, iPhone6s-iPhone6s, iPhone6sPlus-iPhone6sPlus, iPadMini4-iPadMini4, iPadMini4Cellular-iPadMini4Cellular, iPadPro-iPadPro, iPadProCellular-iPadProCellular, iPadPro97-iPadPro97, iPadPro97Cellular-iPadPro97Cellular, iPhoneSE-iPhoneSE, iPhone7-iPhone7, iPhone7Plus-iPhone7Plus, iPad611-iPad611, iPad612-iPad612, iPad71-iPad71, iPad72-iPad72, iPad73-iPad73, iPad74-iPad74,

Supported Languages:

Dutch; Flemish; English; French; German; Italian; Japanese; Portuguese; Chinese; Spanish; Castilian;