Screenshots
New in version 5.15.2
Bug fixes and performance improvements
Description
Turn your iPhone or iPad into a Kindle with the free Kindle app, and carry all your eBooks with you, wherever you go. eBooks (including those with narration) that you have purchased on Amazon will automatically appear in your app.  Kindle Unlimited and Amazon Prime members can select and download eBooks directly in the app.
 
What you'll get:
• Sample any eBook for free
• Magazines, newspapers, graphic novels and textbooks with high-res color images
• A customizable reading experience with your choice of font style, size and more
• Comfortable reading day and night with adjustable screen brightness and page color
• Discover and download Kindle Unlimited eBooks and magazines
• Unique features like X-Ray, Whispersync, Page Flip, Print Replica, flashcards and more
• Instant translations and definitions, without leaving the page
• Ability to make and share in-page highlights
• Bold font and text size options
• Access to local library eBooks
iPad Screenshots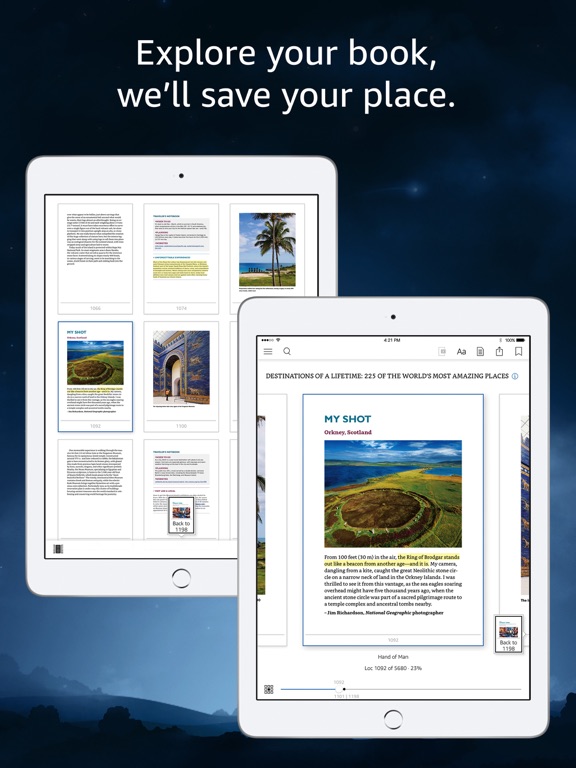 Reviews
SPLIT SCREEN
I have grown weary of techno theocracies that deprive the common user the full functionality of their chosen device. Unfortunately, Kindle has joined those ranks. A simple ... yes a simple upgrade ... would catapult Kindle into the favor of iOS 11 users. Give us SPLIT SCREEN!... and my loyalty as a Kindle and Audible patriot will remain steadfast.
New update crashing
Lildevil_JLO
on
10/17/2017
Works fine when first launched to open your book, but when you've had the app open and move between other apps, it seems to keep crashing when I come back. It's worked fine up until the last 24 hours
Unexpectedly Closes
Maisey Freitag
on
10/17/2017
Opening older titles in my library causes app to close unexpectedly.
Always loved, now just crashes too much
The Kindle app has been with me for years and I have always enjoyed it! Now, however, all it does is crash. This is not acceptable for such a wanted app. I will update when fixed to 5 stars.
Ok
I would like it to read to me like my kindle or at least let Siri read it to me!
Can't purchase new books
I have the Kindle app on my android device. I just bought an iPad and downloaded the app. The kindle for iOS does not allow you to purchase new books and you cannot purchase from the amazon app either. This is not the case with the android app. I want the ability to buy books as well as read them.
Books won't load
This update still didn't fix my kindle app, iOS 11 is a 64 bit and the kindle app is actually 32 bit. There lies the problem, because of that the app crashes when tap downloaded books.
If you can get a book on iBooks, especially for school, then do that instead
This app is so unfriendly and unusable it's offensive. I encourage everyone who has problems with this app to write a critical review of it.
Best reader, but needs scrolling option
Theocritus125
on
10/16/2017
Not only is the Kindle app beautiful, but it has flexibility with annotations. Great work! The new page flip feature is pretty cool, but unfortunately at this time there are so few books that this works with (certainly not very many in my library). I'm sure that will get better with time. *would really love to see support for a scrolling option, which is very handy when laying in bed and resting a device on your chest. This is the main reason I stick with iBooks since I read a lot in bed before going to sleep. Also, where is the split-screen support on the iPad? Otherwise, just about a flawless app.
Not compatible
Since the new Apple iOS update the kindle app,is not compatible. Links inside the books do not work. Also lso the app does not sync across devices auto or manually. You have hunt down your page one aye a time.
Recent revisions crash
Last two versions crash very often.
Constantly crashes
It used to be great before, but now it just continually crashes!
Slow to load. Crashes / times out often.
This app is always slow to open /load. 30 seconds or more and it stops working or shuts down forcing me to restart it often. I would use a different app is my books could be moved to it.
Glitchy
Christohansen
on
10/15/2017
When I copy text to iPad's clipboard, leave the app, paste in my notes app, and return to Kindle, the app crashes and won't re-open my book. I have to perform a series of random tasks of opening and closing other books, rearranging how they are displayed, open and close the app, then it will work again. This is my last book on this app. It shouldn't be this hard to read a book.
can't select my country
I have a china account and an american account used the same email address. But I can't select which to log in.
Incredible buggy
I can barely use it on my iPad. Everything keeps laggy and frozen. How could this possible?
Page turning gets frozen!
Oneblessedmama4
on
10/14/2017
Why does the app keep freezing up when I go to turn the page? I have to get out of the app and go back to get it to turn again or wait an absurd amount of time. This is my most used app! Fix it!
Desperate
Love Kindle but PLEASE do something in the library to differentiate between books ready to read and "remove from device". I beg you. Thanks, Sue Woost
Love this app but...
I love using this app to read books from my phone but since the last few updates it has started to crash - sometimes it happens right after opening the app to read sometimes it's after 20 minutes. I restart the app and it takes me back to the library and 8/10 crashes again when I click on the book I want to read. Please fix this so I can give the app 5 stars!
Not syncing after latest iOS update 11.03
My kindle, iPad and phone are no longer syncing. Get a message that tells me when I close the book it will sync, but it doesn't.
One of the best e-reader app!
I love this app. I can always find the books I'm looking for in the Kindle book store. Purchase and I'm ready to read. I follow my favorite authors and amazon notifications me of their latest books. I always recommend this app.
Books
Korkor15634
on
10/14/2017
I hate not being able to hold down on the book and being able to press the more details button to find out the next books and the series and the page numbers. Y'all need to bring that back ASAP please
Word Runner
I miss having word runner and I'm disappointed that it's only for Samsung phone. When will you add it for the iPhone users?
Long time user, recent issue with battery use
Love the app and library sytem but recently the app has been using an incredibly larger amount of battery in a short time. Would love to know if it is because of the size of my library or if there is something I can do. It now makes me manage 2 devices to get door-to-door on overseas flights.
Broken since IOS 11 update
Spins forever when opening Hornady 10th Edition Handbook of Cartridge Reloading. Crashes on both iPhone and iPad. I can only read book on PC app.
Loss of sync capability
I am not happy that I am no longer able to pick up any kindle from anywhere and be exactly where I stopped reading. I am now searching for the last page if I have to use a different tablet, computer or phone from the previous time I read. This is not an upgrade.
loved this app
i loved this app until the latest update. now it freezes my entire phone to the point i have to reset it.
Syncing
Bearpaw 826
on
10/13/2017
My books on iPad and iPhone no longer sync! What's with that?
iOS 11 Support Missing
Please add features to support Multi-Task & Split-View on iOS 11.
Unable to download purchases
iPhone 7+ unable to download owned books. Keep getting "unable to download please try again" I hard reset my phone & uninstalled/reinstalled app. Please help Signed Frustrated with iOS 11.0.2
Things I wish were available for this app.
I love to read and I love the Kindle app. It would be amazing if there were more background colors to choose from as well as more fonts and possibly different font colors. Just a thought to make it more your own. 💜💜💜
No scrolling?
Smileycheese
on
10/12/2017
Would use the app if it had scrolling. I don't want to just keep tapping to keep flipping the page of a book. Please add that option!
Missing Key Ingredients
Pixelscreen
on
10/12/2017
Unlike most modern apps, Kindle does not yet support Split Screen on iPad - it has been years since that capability was added to iPads.
Need fixed
pleasefixkindle
on
10/12/2017
Have always enjoyed the kindle app for my iPad, but yesterday it updated. Now if I leave & come back to my book the screen will show up then shut down the app. I then have to go back to the library to open up the book again. Frustrating! Please fix the update!!!
Make split screen possible on IPad Pro
Samanthapb23
on
10/12/2017
Please make the app compatible with IPad Pro's split screen ability. I would like to take notes on the notability app while reading my kindle books at the same time. Please please!
Crashes
Dontbother2014
on
10/12/2017
Updates recently have been of poor quality. The Kindle App used to be rock solid... not anymore.
Crashes
I've always used the Kindle app on my iPad as an ereader. With the new iOS 11 it crashes 5-7 times before it will open a book. 5 stars before, 0 stars now. Please fix!!
Won't open app!
In the middle of a book the app forced me to update. Now my Kindle won't open!!!! Restarted the iPad twice.
My textbook will not load!
Ok this is extremely frustrating. I purchased my book for school so I can do electronic notes and such. However, every time I try to load my book on my iPad Pro and my iPhone 6+ , the book just keeps spinning until the screen times out. I even downloaded the book onto both devices and it still won't load! Both devices have the most recent Kindle version as I write this review. I need to be able to study on the go; I cannot carry my laptop around. The plus side is that I can use my laptop and that works fine, but I need to Handoff notes to my iPad or iPhone, and vice versa. I also looked for help at Amazon, but that didn't give me any good results either. I'm going to try and uninstall and install the Kindle app again, but it was a torture trying to download my textbook for Offline use because it's like a 1800 page textbook. This is amazingly awful.
Almost great
Linda Hagen
on
10/11/2017
I get extremely frustrated that I cannot just buy a kindle book. I need to get sample and then mess around trying to actually purchase the book. Just show us the price and give us the option to sample First or purchase. If I can't afford it, I don't want a sample.
Send to kindle extension is broken
Great Oden's Raven
on
10/11/2017
Try again later?
Faint text on edges
Text on the edges is faint in all my books - personal books and books I've purchased from Amazon. It's distracting, annoying, and makes reading books in the app nearly unbearable. I've searched and searched to see if anyone has experienced the same issue or if it's a purposeful text effect, and I haven't found anything discussing the issue. Books in my Apple books app don't have the issue; I wish I could say the same for the ones in the Kindle app.
Awful
I could not read the silly captcha and although I entered everything correctly. It would not let me login. I deleted the app. I will not reinstall.
An Essential
I love having a book with me everywhere I go, especially on my phone which fits much more easily into my pocket than an actual Kindle tablet (although I'm still not sold entirely on digital books, and I'm a 25 year old who works in tech! Go figure!) The app works reliably with many customizations to suit your needs; however I have 2 main critiques: 1.) I would love to for the app to have a setting that would override the iOS auto-lock settings so I didn't have to constantly tap the screen while reading. I like my auto-lock on 30 seconds to conserve battery power, the only time I don't want this feature is when using this app. Please add this, I know it's possible! 2.) I would love to be able to use the "Kindle store" efficiently from the app but I've always had issues. I wish the Kindle app & the Amazon app would learn to play more nicely with one another. I would love to shop for books all through the kindle app regardless of if they are digital, paperback or hardback, a one-stop-shop for books. I always get errors about not being able to purchase them here or being instructed to switch devices when really all I need to do is leave the app & switch to a browser. Otherwise, the app works as expected!
Sync
After recent update. My iPad and iPhone kindle are not syncing.
Love
Bjimenez555
on
10/10/2017
Love the app.
Update
63 and loving it
on
10/10/2017
After IOS upgrade to 11.0.2 the kindle app or the book installed will take up to 10 minute to open.
Crash crash
Carolan Leelee
on
10/10/2017
Brand new iPhone 8+ and this app wont even open a book. I choose a title and it crashes over and over again.
Won't sync with kindle
aggiemom0608
on
10/10/2017
I haven't been able to sync the last 3 books I read with my kindle. Very frustrating!!! Please fix.
It's alright
Terrible for organizing my books though. I have a ton of bookstore samples I just don't want to look at.
Fact Sheet
Publisher:

AMZN Mobile LLC

Category:

Book

Released:

Mar 04, 2009

Current Version Released:

Oct 06, 2017

Version:

5.15.2

Size:

172.2 MB

Compatibility:

Requires iOS 9.0 or later.

Recommended Age:

4+

Game Center Certified:

No

Supported Devices:

iPad2Wifi-iPad2Wifi, iPad23G-iPad23G, iPhone4S-iPhone4S, iPadThirdGen-iPadThirdGen, iPadThirdGen4G-iPadThirdGen4G, iPhone5-iPhone5, iPodTouchFifthGen-iPodTouchFifthGen, iPadFourthGen-iPadFourthGen, iPadFourthGen4G-iPadFourthGen4G, iPadMini-iPadMini, iPadMini4G-iPadMini4G, iPhone5c-iPhone5c, iPhone5s-iPhone5s, iPadAir-iPadAir, iPadAirCellular-iPadAirCellular, iPadMiniRetina-iPadMiniRetina, iPadMiniRetinaCellular-iPadMiniRetinaCellular, iPhone6-iPhone6, iPhone6Plus-iPhone6Plus, iPadAir2-iPadAir2, iPadAir2Cellular-iPadAir2Cellular, iPadMini3-iPadMini3, iPadMini3Cellular-iPadMini3Cellular, iPodTouchSixthGen-iPodTouchSixthGen, iPhone6s-iPhone6s, iPhone6sPlus-iPhone6sPlus, iPadMini4-iPadMini4, iPadMini4Cellular-iPadMini4Cellular, iPadPro-iPadPro, iPadProCellular-iPadProCellular, iPadPro97-iPadPro97, iPadPro97Cellular-iPadPro97Cellular, iPhoneSE-iPhoneSE, iPhone7-iPhone7, iPhone7Plus-iPhone7Plus, iPad611-iPad611, iPad612-iPad612, iPad71-iPad71, iPad72-iPad72, iPad73-iPad73, iPad74-iPad74, iPhone8-iPhone8, iPhone8Plus-iPhone8Plus, iPhoneX-iPhoneX,

Supported Languages:

Dutch; Flemish; English; French; German; Italian; Japanese; Portuguese; Chinese; Spanish; Castilian;