TapNova doesn't recommend this version of the app.
New in version 5.11
In-book search improvements, including the ability to see search results broken down by chapter.

Bug fixes and performance improvements.
Description
Turn your iPhone or iPad into a Kindle with the free Kindle app, and carry all your eBooks with you, wherever you go. eBooks (including those with narration) that you have purchased on Amazon will automatically appear in your app.  Kindle Unlimited and Amazon Prime members can select and download eBooks directly in the app.
 
What you'll get:
• Sample any eBook for free
• Magazines, newspapers, graphic novels and textbooks with high-res color images
• A customizable reading experience with your choice of font style, size and more
• Comfortable reading day and night with adjustable screen brightness and page color
• Discover and download Kindle Unlimited eBooks and magazines
• Unique features like X-Ray, Whispersync, Page Flip, Print Replica, flashcards and more
• Instant translations and definitions, without leaving the page
• Ability to make and share in-page highlights
• Bold font and text size options
• Access to local library eBooks
iPad Screenshots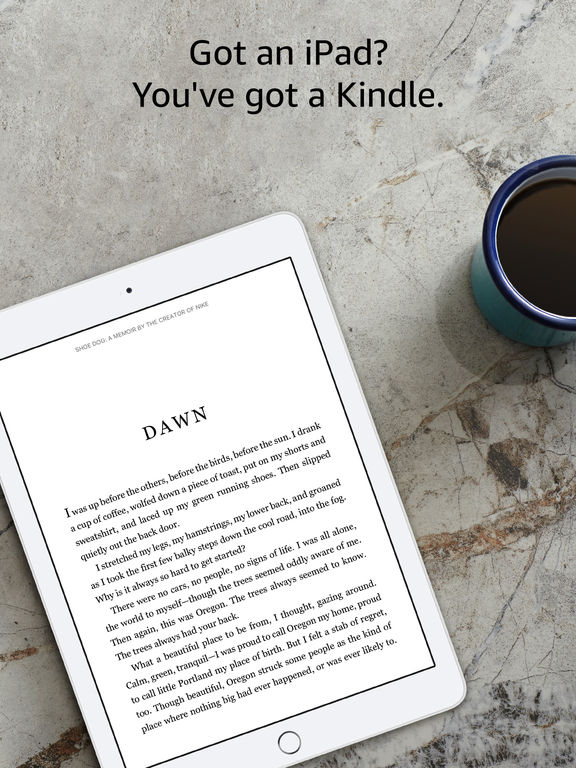 Reviews
Good App!
Stephanie's 6s plus
on
6/25/2017
User-friendly app but it would be nice to have more options to choose from. I own a Kindle Paperwhite, so I know this simple app could be even better...
A great deal of room for improvement in the world of advanced apps and a more capable iOS.
I've bought into Kindle. I greatly miss my now non-functioning Kindle DX and its e-ink. Now, I'm using an iPad Pro 12.9. Split-screen functionality would be EXTREMELY USEFUL for note-taking and cross-referencing. Why can't purchases be made directly from the app? This seriously interrupts flow, especially since split-screen is not available. iOS in it's marketing has always "promised" interactive textbooks. Why isn't Kindle on board with this? I understand the concept of the legacy format, but could we also have a media-rich and interactive format? I mean what's the point of reading on a tablet when the experience is no better than an e-reader? Lastly, since Amazon owns Audible, now, could the Audible app be made redundant? I would like to keep my "texts" in one place as well as be able to listen while I read. This was a feature of the old Kindles, but the audio book recording cartel got pissy... PS - I don't have a solution to offer, but could you consider some other more intuitive paradigm for flipping through reference texts and referencing multiple pages/sections rapidly? ¡Mucho gracias!
It's ok
gamer200464XD
on
6/25/2017
It's ok
Omg! Life without my Kindle?
dionnemonique
on
6/25/2017
I can't imagine life w/o my Kindle! It goes everywhere w/ me. It's small & snuggles perfectly in my purse pocket. It makes waiting in the car line @ school or waiting @ doctors office visits totally bearable. I have around 200 books in my Kindle library! Sometimes my Kindle is better than sex, because I can fantasize about incredible lovemaking from totally hot men, reckless abandon!
ladysandra
I love Kindle Fire.. I Just wish you all would add Text-to-Speech so people can read their e-books. That's why I am getting y'all a two stars. I think you should add the Text-to-Speech feature like kindle does.
Only what you would expect, nothing more.
What's that! Sound
on
6/24/2017
The reader app functions. It keeps your place between multiple reading devices. That's what you would expect it to do. Unfortunately it does not help you sort your library. You can search by author or title, but that's about it. You can't sort titles by genre or any other factor. If you have a large library the app is no help at all in sorting things for you. It could be so much better!
not allowing me to login
ridiculous, please fix amazon. This is a joke
Worst ever
Destroyer1523
on
6/24/2017
This thing won't let me get any books I want in fact you can only get baby books or samples depending on your device
Stalling!
no shirt no shoes
on
6/24/2017
I love this app and use it all the time. However since this last update, the app keeps stalling out and closing. Very frustrating and the issue needs to be addressed please.
No Split View Support!
Come on, Amazon. Get with it. Split View on iPad has been a feature for going on 2 years! This lack is seriously making me consider switching to iBooks...
Split-view
It is a bit ridiculous that Kindle doesn't support split view yet. It's a serious handicap for anyone wanting to take notes at the same time.
Great app but please add Split screen
Great ebook app but for people that use it to buy textbooks and take notes at the same time, Split-view is a must have!! Its been years since this feature was added by apple and it still has not been implemented!
Good App but lacking.
Would like to find out of books that I ordered are actually formatted to the newest version of Kindle. Older books you can never find the new chapter or go to places immediately.
Great reading app
Now that you have the dyslexia font every thing is cool beans. I also like the Goodreads connection makes it easier for book challenge count.
Use all the time
I love using the app. Had some problems with app freezing but finally figured it out to be an issue between Overdrive and Kindle.
Horrible update
I updated my Kindle app and it wiped out my collections section. I am so disappointed because it took me a while to create it.
Love everything about it 💕
Love being able to have my books on hand for reading and reference anywhere I go on my phone.
Great
I love to read and this app rlly allow me too fully access he book I would think I would enjoy but and grown
I want to delete or hide items
Deleting and hiding books from the library should be possible (or at least easier).
Draining my battery over 2% per minute
Bgabbard1207
on
6/20/2017
I have a brand new iPhone 7 plus, I read FREQUENTLY! But this app is KILLING my battery so quick I can't even enjoy it without being connected to a charger the whole time which is entirely too inconvenient! I do believe it's time to look elsewhere.
Good ... BUT !
Even with purchased items they limit your downloads. Max limit on downloaded items even if purchased.
Reviews on some of the best books 2017
I'm enjoying Kindle's vast selection of books and great authors.
Love it!!
PendentRook795
on
6/17/2017
I love my kindle!
Needs Improvement
Has run very slow, especially downloading books since the last two updates. Have tried uninstalling and re-installing and no difference. Frequently locks up, and I have to close and re-start the application. Several times I have had to re-boot the device to get out of the app. Please listen to your readers and build a better app! One that lets a reader find books easier. It would be nice to be able to limit books by genre . A way to skip to a letter in the alphabet would also be useful when sorting alphabetically. I have nearly 15,000 books and trying to scroll to find a book is nearly impossible in the current app. Update 6/2017 - Still no improvement in speed in IOS version. The app for Windows runs great, but the IOS version freezes frequently and on startup it will usually freeze for 2-3 minutes before it will let me scroll books in the library or turn a page if I am in a book. I can only download one book at a time, and the download will usually take 2-5 minutes to download. Same book on Windows version will usually take 10-30 seconds to download. Please roll back to an older version that works!!!!!!
Good but still lacking
I work a lot with the kindle app and find that, while there are some great upsides, I'm often frustrated by how it limits itself. For example, why in the world would they not include split screen? Or, why would they not enable you to open multiple books at the same time (at least in tabs if not in a side-by-side). It's as if they want to remain a recreational reading app as opposed to a serious way interact with text.
So sad
I LOVED this app. But, when my "30 day unlimited trial ended (after having Amazon prime for a year), ALL of the books I had were removed. Books that I don't remember the titles or authors to. It would have been nice to receive a notification in the app that I had X days until my faulty "trial" ended. It would be nice to have those titles saved in my cloud so I could read them later when I'm not crying over this. I'm so disappointed...
Love it
I love to read and Kindle allows me to store all of my books and documents conveniently.
Happily satisfied Kindle app user.
I do 99% of my Kindle reading at bedtime, primarily using my iPad (Larger format allows me to read more quickly), although I do sometimes use my very basic Kindle Fire. If I'm out and about I can always pull the app up with my OnePlus as long as I'm near a wi-fi source. Inasmuch as I am an Amazon Prime member, I get one free book every month. Considering how much I enjoy reading, getting the Kindle app was a no brainer for me (I'd already read everything of interest at my local libraries...Example-I'd already completed the recommended college reading list mid way through the second semester of my high school Freshman year) I usually read 3-4 books a week. I highly recommend the Kindle app!
Good app
That's really amazing👌👌👌 it's good that everybody can read a book without pay money👏👏👏
Awesome! Just a few things...
I love this app! Love all the different font and background options. I'm wondering though if they could add a dark blue background option because black can be a bit harsh on the eyes with the white font. Some fun pastel color backgrounds or something that makes the pages look like an old pirate map would make it more fun for kids. And also a scrolling option would be useful and make reading seamless. Lastly please let us delete books that we don't want on our list anymore. My kids and I share this app but not the same taste in books :-/ Thanks Amazon team! Keep up the good work 😊👌🏽👍🏾🙌🏼
Amazon Prime is great!
Wolfie10,000
on
6/14/2017
There are many songs, sympathies, composers that you have access to just for being a Prime Member. Same for Amazon TV. Amazon Original TV is terrific Can not recommend highly enough.
No split screen support
Waiting for Progress
on
6/14/2017
Great app. Lack of iPad split screen support for the hundreds of books I have on the kindle is a crushing disappointment.
Quit forcing reviews
I attempted to go to my next book to read but the Kindle app would not exit out of the review request and go to my library. It also forced a posting on Goodreads which again, I did not want as I had already rated the book. I had to delete the app and download again. Super frustrating. Get your act together.
Asking English Korean language Dictionary
Please add English Korean Dictionary!!! Please Please Please!!! I am begging you, Amazon
The Best Thing Ever
SuckerCrusher
on
6/12/2017
I was so tired of hauling books around. Kindle changed my life!
Great
SAVAGE_SKITTLE
on
6/12/2017
This app is great, just make an amazon account by going to amazon.com after that you can sign in and you get a free trial!, after that you just have to pay a low fee! This app has variations of books. Download it now!!
Love it
Use it all the time!
App keeps crashing
Laura Pooler
on
6/12/2017
Lately this app keeps crashing, tried restarting but it doesn't help. Very annoying.
Love it!!!
Love my kindle app. Can access my digital library anywhere and on any device!!
Great app
The app is good for a mobile environment but not being able to purchase new books with out a wi-for connection prevented a 5 star rating
Can we get!?!?
CheetahsSpot
on
6/11/2017
I love the ability to read books on my Kindle app for my iPad however I have recently started using the unlimited books subscription. I wish that they would implement a button or something so that when you were done with an unlimited borrowed book you could return it via the app instead of going to the website first. It makes it into extremely difficult to recognize the books that you have borrowed using the unlimited system. I buy books as well of you unlimited and have been struggling to figure out which is which. I would also like to re-implement the buy from app system as that makes things easier when trying to get the next book in a series.
Great app...I just wish
Annoyed by nickname option
on
6/11/2017
I wish this app had an editor tool where I could mark problems like typos or incorrect words. It would be nice to be able to make edits or comments that could be directed back to authors to help them improve the books for future downloads. A lot of the books in the Amazon subscription tend to be riddled with these errors and a tool that would allow readers to point them out might help improve them over time.
Allow the User to Order Books
As a user, I would like to be able to order my books or have them marked as read. After I've read a book, I often delete it from my iPad so that I free up space. But then I come back to the list and I can't tell what I've finished reading because the dots at the bottom are not present when the book is no longer on my iPad. I want to be able to order the books into a read/not read format or have a check mark as read whether the book is on my iPad or in the cloud.
Would rate 5...
If we could purchase books through it.
Kindle
Having issues with updating the 5/30/17 up date any suggestions?
Time display
I love this app and I use it daily. I liked the idea of the time being displayed or the top of the page, it is no longer there and can we get it back?
Absolutely Love Kindle!
I use the app continually... on my iPhone, on 2 kindles. I am an avid reader and usually have more than one book going at a time on different devices! I'd be lost without it!
This app doesn't work with screen reader
Audible narration is well and good but many books don't come with it. In the meantime I'd like to listen to the books I paid for on the go. Screen reader enables that but it looks like Kindle app either actively blocks it or doesn't support it. Shame!
Fact Sheet
Publisher: AMZN Mobile LLC
Category: Book
Released: Mar 04, 2009
Current Version Released: May 30, 2017
Version: 5.11
Size: 169.7 MB
Compatibility: Requires iOS 9.0 or later.
Recommended Age: 4+
Game Center Certified: No
Supported Devices: iPad2Wifi-iPad2Wifi, iPad23G-iPad23G, iPhone4S-iPhone4S, iPadThirdGen-iPadThirdGen, iPadThirdGen4G-iPadThirdGen4G, iPhone5-iPhone5, iPodTouchFifthGen-iPodTouchFifthGen, iPadFourthGen-iPadFourthGen, iPadFourthGen4G-iPadFourthGen4G, iPadMini-iPadMini, iPadMini4G-iPadMini4G, iPhone5c-iPhone5c, iPhone5s-iPhone5s, iPadAir-iPadAir, iPadAirCellular-iPadAirCellular, iPadMiniRetina-iPadMiniRetina, iPadMiniRetinaCellular-iPadMiniRetinaCellular, iPhone6-iPhone6, iPhone6Plus-iPhone6Plus, iPadAir2-iPadAir2, iPadAir2Cellular-iPadAir2Cellular, iPadMini3-iPadMini3, iPadMini3Cellular-iPadMini3Cellular, iPodTouchSixthGen-iPodTouchSixthGen, iPhone6s-iPhone6s, iPhone6sPlus-iPhone6sPlus, iPadMini4-iPadMini4, iPadMini4Cellular-iPadMini4Cellular, iPadPro-iPadPro, iPadProCellular-iPadProCellular, iPadPro97-iPadPro97, iPadPro97Cellular-iPadPro97Cellular, iPhoneSE-iPhoneSE, iPhone7-iPhone7, iPhone7Plus-iPhone7Plus, iPad611-iPad611, iPad612-iPad612, iPad71-iPad71, iPad72-iPad72, iPad73-iPad73, iPad74-iPad74,
Supported Languages: Dutch; Flemish; English; French; German; Italian; Japanese; Portuguese; Chinese; Spanish; Castilian;