Screenshots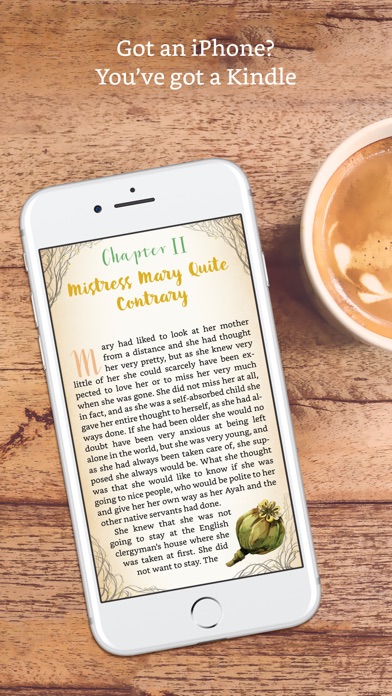 New in version 6.1
Tap and hold on a word or phrase to search for it and see where else it occurs in the book.

Notification Center now includes the ability to delete messages. To use this feature, tap on the "bell" icon at the top of your home screen and swipe left to delete a single message or tap the "trash can" icon to delete all messages.
Description
Turn your iPhone or iPad into a Kindle with the free Kindle app, and carry all your eBooks with you, wherever you go.

eBooks (including those with narration) that you have purchased on Amazon will automatically appear in your app.  Kindle Unlimited and Amazon Prime members can select and download eBooks directly in the app.
 
What you'll get:
• With your newsfeed you can discover what the readers you trust are reviewing and rating highly to find your next great read, and discuss the books, passages and ideas that inspire you while only being one tap away from diving back into your book.
• Sample any eBook for free
• Magazines, newspapers, graphic novels and textbooks with high-res color images
• A customizable reading experience with your choice of font style, size and more
• Comfortable reading day and night with adjustable screen brightness and page color
• Discover and download Kindle Unlimited eBooks and magazines
• Unique features like X-Ray, Whispersync, Page Flip, Print Replica, flashcards and more
• Instant translations and definitions, without leaving the page
• Ability to make and share in-page highlights
• Bold font and text size options
• Access to local library eBooks
iPad Screenshots
Reviews
Portable Library: Love it!
Blue water cruiser
on
12/11/2017
I've been traveling overseas for the last eight months, reading 2 or 3 books per week on my iPad with the Kindle app. It's great. When I get to a good wifi spot, I'll download and download and how!
My Wonderful Kindle
Having a Kindle app on all of my applicable devices is wonderful. Whether sitting waiting at a doctors office, or taking a lunch break, or just relaxing at home, the convenience of having my Kindle always accessible is fantastic. I use it everyday.
Best way to read
Beats the standard kindle and why pay for a white paper kindle.
Grateful
Got the app so we can read library ebooks. With the iphone and ipad accessibility feature, it reads the book for my legally blind mother during her long medical treatments. It has given us access to more titles than what's available on audio. So we are very happy with this app and to Amazon to working with libraries.
Kindle is great
Captain Calin
on
12/11/2017
Unlike iBooks, Kindle can be used on all devices.
Kindle Review
Smooth Peach
on
12/11/2017
Knowing I have my Kindle Library at my fingertips provides convenience, comfort and absolute pleasure for the control of my reading experiences... I use the Kindle Ap on my iPad Pro; I could not imagine life without it. My barristers book cases showcase collectibles, and my local library benefits from my hard copy books!
iPhone X support needed
DarthChrisChris
on
12/11/2017
Hopefully the app will add support for iPhone X screen. It's not very great to use on iPhone X as it currently stands.
Kindle
It's so much easier to carry than books and if I finish a book while I'm out I can instantly start another !
A really good product
Fireontheroof
on
12/11/2017
I like Kindle a lot, and would love it if I could make the text larger. My vision is poor and that would be great!
Love kindle
I so enjoy this kindle app. I can read my books on any device
Kindle app
Absolutely LOVE the kindle app. I use it on both my iPad and my iPhone that way anytime I've got unexpected free time, I always have a book handy.
Missing one key feature
Simplayer607
on
12/11/2017
As a college student I really enjoy using the Amazon Kindle app to view and store all my textbooks. However, it is difficult to use this app in conjunction with note-taking and quiz/study apps due to its omission of Split View support. Please add this feature in future update! It would make this app perfect!
Love
Can't live without it!
Kindle
Jadester3188
on
12/11/2017
I enjoy how easy it is to use and it's cheaper than hand held books
Convenient
PG Sunshine
on
12/11/2017
I wish I had this access 10-15 years ago!!!! Kindle formats is the best I have encountered so far and will be looking forward to more innovations as the company does not seem to stop innovating!!!
Awesome
Godslove690
on
12/11/2017
I love it
Hooray
Temeculajack
on
12/11/2017
Great alternative when I forget my Oasis. Thank you for this very useful app.
Great app!
I am an avid reader, and sometimes read more than one book at a time. Using Kindle on my iPad makes it easier to carry whatever I'm reading, and I never have to worry about losing my place.
Great App. for readers and students
I love this app. I can have my favorite books in all my devices at the same time. I love he Flashcards feature. It's a great tool when you're studying.
Kindle App for Apple
A joy to use on any Apple device. They have thought of all the features you want. Never used a Kindle, so can't say if everything is exactly the same, but I love using it over other reading apps.
Kindle App gives you the experience of a book!
Big Harriet Sr
on
12/11/2017
Friends say they want real books but I don't have room for real books. Kindle gives me that experience without my book clutter. Nice and neat.
I love the Kindle app
Great app with ability to shop, read or browse.
Many issues
First thing to happen after this update is that it would close down my iPad.. reinstalled it worked okay for a few days but now either won't open or opens to the library and won't take me back to the book I was reading. Rebooted, reinstalled but still have the problem. Seems a lot of people have the same problem.
Easy to use
I like this app mainly because, mo matter what device I read on I am always synced to the furthest read page. I wish that I could share books with my wife like we can do with Apple iBooks. That would make Kindle a five star app.
Much used and appreciated
I love my Kindle Apt. I have many books on it that I can take with me everywhere. Also, the accessibility to books where ever I am.
Best reading app.ever
Celticlord73
on
12/11/2017
Excellent selection.price is right. Selections geared to titles and authors I'm interested in. Take anywhere. Fonts changeable, audio available.
Love Kindle but...
Hedwigrocks24
on
12/11/2017
Why no scrolling up or down feature?
Fell in Love with Kindle 10 yrs ago ❤️
Best way to have any book at your fingertips! Love the convenience and ease.
Conveniently feeding my obsessions.
I recently rediscovered my inner comic book geek. This app has given me access to way too many comic books. I am glad I can store things on the cloud or my iPad would be nothing but Kindle. I also like it for art books. Those I keep on my iPad. Thanks for keeping me occupied.
Very nice
I am pleased with Kindle. I like the selections of fonts, colors etc. I also like that I can tap on the page and it zooms out so I can look back in my book and easily return.
Reading is fun...digital version
Basketfan15
on
12/11/2017
Great app. I use it more than anything else except email!
Love It!!
I am a voracious reader so this app is perfect for me. It allows me to read any genre I want and it saves a tree. Definitely recommend this app.
A Blessing
I've had a Kindle for 6 years, my Paperwhite for 2. I'm an avid reader so this is the only way to fly long distance. It has also meant I can continue series while on a trip because I can get it immediately. Before I retired, being able to get a commentary right away made sermon writing easier. When I'm sick and can't get to the library, I still can get a new book. A blessing!
Best app for book lovers
I adore my Kindle app. I use it on two Kindles, my iPad and phone. My books are always with me. And...it allows me to switch what I'm reading without having to decide which book I want to take with me; I read more than one at a time. They're all there. I had over a thousand hard cover books before and no room to store them. I can still highlight passages I may want to come back to months or years later. And, as a Prime member I can borrow books. Nice, since I'm now retired. Love this app.
Can't live without!!!
bookaholic81
on
12/11/2017
I absolutely LOVE my kindle there is not a day that goes by that I don't open it, from multiple locations!!!
Mobile library
Great at being able to read at any time and any where.
Love the app
Masterallen
on
12/11/2017
I love my kindle ebook reader app
Kindle App - the best way to read!
Paint explorer
on
12/11/2017
I love reading books with the Kindle app. No mater the size of the book, I can read any time, anywhere. At night, reading in bed, I don't need to have a light on, I read with the black background and white print so the ambient light doesn't keep my husband awake. I also love that if I am stuck waiting somewhere I can pick up where I left off on my phone.
Love It
A few years ago my husband kept saying he was going to buy me a kindle. I kept saying no. I love to read, dog earring the corners, turning the pages. He bought me one anyway. I love it. I can't believe I was such a negative Nancy. It's great, easy, flat, lights up and, you can change the font size. Who knew? If you're thinking of trying one, you won't be disappointed. I belong to kindle unlimited and read most of my books free. You can also download from your local library.
If Only There Were No Bad Updates
I have always thought Kindle to be the best ereader because so much has been and is being published in the format. That said, several of the updates have been bug ridden, making some of my books unreadable. When that happens I look for other ereaders. Eventually this fault could kill my use of Kindle.
Perfect
Suits my hectic lifestyle. Keeps up with my place even across devices - phone, iPad. Perfect. Wish I had had this when I was a kid hiding under the blanket with a flashlight to read.
Books anytime and everywhere!
Love that I can read a book, magazine, and news from wherever I might be. It's so handy, and with just about any reading material I like so readily available, makes Kindle my favorite reading choice. It works on all my devices, and I can pick up one of them and sync it to the furthest page read on a previous device, and I'm ready for my favorite kind of relaxing.
Works like a charm!
Julie F. M.
on
12/11/2017
This opens perfectly every time and is easy to navigate.
Love my Kindle!
Love the convenience & great Christian reading selection from Kindle Unlimited in Amazon!
Look I have used you over iBooks but that may change
First off you need the update to iPhone X format and utilize the screen size. iBooks has already done that and they are more convenient plus it's still buggy . Crashes a lot .
Great app
I love being able to read books on my iPad. I spend a lot of time reading now. I can even use my phone to read a few pages when waiting at appointments and such. Easily syncs across devices. The best part is that so many books are free so I can try different genres that I wouldn't buy as a real book. The ability to send PDFs and other documents to my iPad or phone is really great ! Good job !! Update to review: At first I didn't think I was going to like some of the recent changes to this app but as I have had time to use them I really enjoy the ability to easily switch over to looking for new books and seeing reviews all in one place.
Just love it!
Pandora 1988
on
12/11/2017
Kindle is great!
Kindle
Love this app. Can read anywhere.
Fact Sheet
Publisher:

AMZN Mobile LLC

Category:

Book

Released:

Mar 04, 2009

Current Version Released:

Nov 30, 2017

Version:

6.1

Size:

176.6 MB

Compatibility:

Requires iOS 9.0 or later.

Recommended Age:

4+

Game Center Certified:

No

Supported Devices:

iPad2Wifi-iPad2Wifi, iPad23G-iPad23G, iPhone4S-iPhone4S, iPadThirdGen-iPadThirdGen, iPadThirdGen4G-iPadThirdGen4G, iPhone5-iPhone5, iPodTouchFifthGen-iPodTouchFifthGen, iPadFourthGen-iPadFourthGen, iPadFourthGen4G-iPadFourthGen4G, iPadMini-iPadMini, iPadMini4G-iPadMini4G, iPhone5c-iPhone5c, iPhone5s-iPhone5s, iPadAir-iPadAir, iPadAirCellular-iPadAirCellular, iPadMiniRetina-iPadMiniRetina, iPadMiniRetinaCellular-iPadMiniRetinaCellular, iPhone6-iPhone6, iPhone6Plus-iPhone6Plus, iPadAir2-iPadAir2, iPadAir2Cellular-iPadAir2Cellular, iPadMini3-iPadMini3, iPadMini3Cellular-iPadMini3Cellular, iPodTouchSixthGen-iPodTouchSixthGen, iPhone6s-iPhone6s, iPhone6sPlus-iPhone6sPlus, iPadMini4-iPadMini4, iPadMini4Cellular-iPadMini4Cellular, iPadPro-iPadPro, iPadProCellular-iPadProCellular, iPadPro97-iPadPro97, iPadPro97Cellular-iPadPro97Cellular, iPhoneSE-iPhoneSE, iPhone7-iPhone7, iPhone7Plus-iPhone7Plus, iPad611-iPad611, iPad612-iPad612, iPad71-iPad71, iPad72-iPad72, iPad73-iPad73, iPad74-iPad74, iPhone8-iPhone8, iPhone8Plus-iPhone8Plus, iPhoneX-iPhoneX,

Supported Languages:

Dutch; Flemish; English; French; German; Italian; Japanese; Portuguese; Chinese; Spanish; Castilian;