Screenshots
New in version 3.31
We're thrilled to announce that Foodler has joined Grubhub! Now you can order from all of your favorite Foodler and restaurants on our app.

You can't beat apples in the fall. Apple pies, apple donuts and, of course, Apple iOS. Check out these fresh features that will make your Grubhub app for iOS better than ever:

More flexible preorder: Change your order up to 4 hours before the scheduled delivery time

Streamlined order settings: Switch between delivery and pickup as well as ASAP and preorder right on the restaurant menu page

Menu page refresh: Browse through dishes even more easily with redesigned menu items

Think the Grubhub app is sweet? Rate and review it today!
Description
Order delivery or pickup from a huge selection of local restaurants. With full menus and a fast, easy online ordering service, Grubhub has all of your dining needs covered. From breakfast burritos to late night eats, your favorite meal is just a click away. Download Grubhub and satisfy your craving now.

With no hidden fees and over 55,000 amazing restaurant partners across more than 1,200 US cities (and London), it's no wonder Grubhub is the most loved delivery and food takeout app in the U.S.

Top 5 reasons to download Grubhub:
With more options in more places, it's easy to explore the local food scene with Grubhub
Reorder favorite meals faster with Express Reorder
Track your order with real-time delivery updates
Preorder your next meal from two hours to up to four days in advance
Easily search by cuisine or dish

Never be without your favorite eats again. Grubhub has a wide selection of delicious food wherever you are. Got a go-to Pad Thai that's never let you down? Tap "Express Reorder" to quickly bring a previously ordered meal straight to checkout. Want tacos? Just type "tacos" into the search bar and a listing of the nearest local taco joints will pop up. All you've got to do is pick your place, choose your taco, and place your order. That's a three-tap taco — it doesn't get much easier than that.

New to the neighborhood? Read ratings and reviews of Grubhub restaurants from the Grubhub community for great, local insights. Don't waste a meal on mediocre food again.

Grubhub has numerous ways to pay — Apple Pay, PayPal, Grubhub eGift Card or a good old-fashioned credit card. Whatever works best for you, works great for us.

Download Grubhub, the quick, online ordering service that delivers the food you're craving, anytime, anywhere.
iPad Screenshots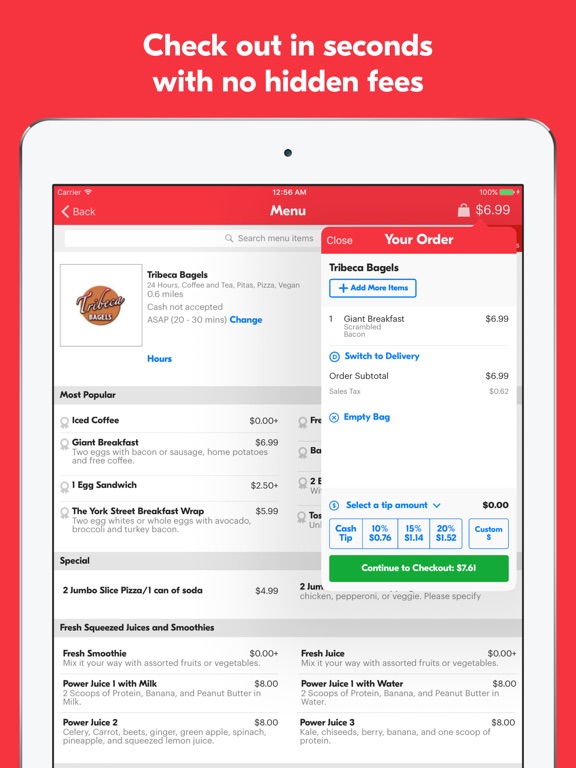 Reviews
Change on app
I like the app before the update now I do not know how to use it
Harder to use than Foodler
No ratings for individual food items. No ability to create more than one order at a time. Clunky filter/cuisine interface. Fonts are too heavy, and tap targets are too small. Bleh.
Best app on the market
5 stars
GrubHub
Just an overall great app
Great App
Litta the littewest littewen
on
10/18/2017
Designed well and very reliable. I've ordered several meals for delivery and pick up and have been happy with results!
The estimated delivery times are always off and different in the email and different app views
Awesomeeeeeeeeeewqwer
on
10/18/2017
The estimated delivery times are always off and different in the email and different app views
Super easy!
sarahclareod
on
10/18/2017
GrubHub makes it easier to order and see all your options on the menu. It's not their fault if the restaurant screws up your order. I find it extremely helpful.
First and last
xswtxstinax
on
10/18/2017
I am literally writing this email as I wait for my food. I placed the order at 9:48am and eta was 10:03-10:13 but then it changed to 10:25-10:35. So I show up to the restaurant at 10:30 and the cashier says it's not ready yet. So now it's 11:00 and still no food. So I ask them how much longer and they don't know why I don't have an order ready so they went and got the manager. He then figured out that although Grubhub did send them an order there were no items in it! So it never made it to their order screen to be made. So I've been waiting half an hour for no order to be made! The manager got my food out in 10 minutes and apologized for the inconvenience. I also noticed the prices on grubhub are marked up too. Thank god i didn't do delivery or I never would have received an order since grubhub sent a blank order to Bruxie!
Great app
Bradthefoodguy
on
10/18/2017
Easily one of my most used apps. It's quick, easy and they are very responsive. I just wish they would bring back some of there games. If you get a chance pick a card and win a prize! What's not to love?
DO NOT EVEN TRY
Jakewhitlee
on
10/18/2017
Ordered food at 9:30 (got notification saying the order was placed and it was being made-est time. 10:00-10:10) I waited till about 10:30 and called the restaurant but since they closed at 10 they couldn't answer. Called customer service. They said they could help me then put me on hold for 15 min then hung up on me. (It's about 11:15 now) Called back, someone was able to help this time, but what they told me sounded like complete bs. They said the reason was because they couldn't find drivers in my area.... FIRST of all why in the hell didn't they just tell me that before I paid and waited 2 hours!?! And SECOND I live in Charlotte NC... now wouldn't you think they would have a driver out here?? And THIRD was my food ordered and just left there???? If there was never a driver then why did it say my food was being made!? And they only gave me a 10 dollar coupon for my troubles after promising a full free meal LOL!!! That will cover tax and delivery fee NOT A MEAL. Bottom line. THIS COMPANY IS A SHAM, THEY DO NOT HAVE IT TOGETHER. TOTAL WASTE OF TIME. LOOK SOMEWHERE ELSE. My experience all together was so bad I will go out of my way to make sure no one orders from this joke of a "service".
SuxblZ
Don't work outside wifi what the hell durnit
Horrible
i hate grub hub
on
10/17/2017
Give me back order up!!! The layout and graphics are horrible. Not user friendly at all. Not flexible with order requests. It is not customer driven. There are never any drivers available to pick up orders would not recommend.
Needs more personalization
I need to be able to track what I like and don't like. That's a major downside to this app. The restaurants get rated but I need notes for myself. One great benefit of food ordering apps is trying new food, so keeping track is critical.
My best friend
Grubhub you're my best friend. No one helps me out like you do.
Terrible service
Babybuffy804csluv
on
10/17/2017
I ordered here a couple times and every time there is a problem. Time before last my complete order was wrong. Last order was delivered to the wrong location and they credited me two different promo codes for the order that I have to use separately which will still cost me money out of my pocket! Still waiting on refund from other order that they didn't deliver wish I could give it no stars
App is good but the services...
ohowtarable
on
10/17/2017
A little while back there was an issue with a driver. He caused a security problem at my work. He demanded that I meet him away from my work property if I wanted my food. Normally I don't have a problem other than someone would forget part of my order but they would refund me easily. Not sure if they kept that person but I asked that he never return on site otherwise security would flag him and would have to take and turn in his info for causing an incident. So far my services have improved impeccably by Grubhub. I hope they are better and more selective with the people they hire.
Great
2mirrorsDotCom
on
10/16/2017
I've never had a single problem with the app.
Mixed feelings
IllegalOperation
on
10/16/2017
I started using Grubhub 6 years ago and was a fan at the beginning—deliveries usually arrived on time, the customer service was excellent and their website offered coupons, rewards and deals. Nowadays it's difficult to differentiate Grubhub from the competition. They don't offer nearly as many coupons or rewards and their customer service isn't what it used to be. UberEATS is usually faster. I will say that their app is easier to use than it has been in the past. I'm also a bit salty because they bought out Foodler, which had great rewards and coupons. I feel they've been buying our way too many competing delivery services instead of trying to make themselves stand out from the competition.
Unreliable service
HungryHungryJaiJai
on
10/16/2017
Notes/special requests are rarely filled, regardless of what restaurant I order from. Have received incomplete orders due to modifications not being visible to restaurant staff. Delivery status almost never gets updated beyond restaurant prep phase. App generally seems lacking in follow-through.
Like grubhub, but the app, not so much
Fell in love with Grubhub when it first was launched. Do not like the Seamless appropriation of my PayPal account, so I went into PP and deactivated it. Now, GrubHub will not let me order. Called their help line, which was not helpful. Wish they would trust the customer with their info input.
100% crash on relaunch
Literally 100% crash on relaunch.....
Feels like a Russian Roulette
You never know if your order might even leave the restaurant! I ordered a pizza at 06:58 PM, it was done by 07:09 PM. However, 8:47 the order had not yet arrived, called the restaurant, pizza was there. Called grubhub, they never even assigned me a driver! Took a 20 minute call for them to assign me a driver, for in the end, surprise surprise, it was 9 PM, restaurant was closed, driver couldn't pick it up, I ended up hungry, stressed and all they offered was a $5 discount on my next grubhub order. Oh by the way, as the operator mentioned, they MIGHT refund me, which means I also potentially lost $19 to go hungry and stressed. Food done easy. Not.
Delivery Frees a Bit much.
The pricez is rights
on
10/15/2017
GREAT APP GREAT SERVICE! However the deliver fees and some of the restaurants minimums get a little expensive at times.
excellent
good app, direct connection to restaurants
First use in LA
Mikehoncho7778854367855
on
10/15/2017
Hire Kristen Rheam and I will make it rain on this app.
Father of the year award.
I left my daughter's lunch at home by accident as I was rushing out to get her to school in time for me to catch a plane for a work trip. Used Grubhub at LAX to order her class a pizza. Talked to the driver once I landed in SFO. Everything worked out perfectly!
GrubHub
Jacob Starkey
on
10/15/2017
Hey dev(s) of GrubHub! I really like your app! My town is kind of secluded and we have no fast food in my town. So, I was wondering; can you extend how far your delivery men/women go? Sorry for bugging you.
Progressive Downslide in Service
OneHitter151
on
10/15/2017
This service used to be good. It seems Grubhub is getting progressively worse. The orders get later and later if they show up at all. Customer service calls are always pleasant but I shouldn't have to call after two hours to check on my orders.
Great service
DiamondRose23
on
10/15/2017
Love the app, I have not had any issues with grub hub. Most of the restaurants will call if any changes or clarification is needed. ETA is usually right on time or sooner.
candidas
Doily brown
on
10/15/2017
very high quality pizza, and workers are super nice. favorite place to eat!!!
Ok app
Not enough restaurants to choose from. Wanted Hooters and got email saying available. Not on app
Gets the job done with a side of frustration
Grub Hub used to have superb customer support and reward programs. Now, I consistently receive incorrect orders, late orders, or no orders at all. Restaurants encourage us to contact them directly, not through Grub Hub. They had an amazing opportunity to really do something great with a wonderfully unique product, but they've flopped in the last few months. I still use the app to decide what I want, but then call the store directly. It's not worth the hassle of including the incompetent middle man.
Brooklyn.
Recipes galore.
on
10/15/2017
Of all the delivery services available in Brooklyn Grubhub is the best. Their drivers are polite and bring the order on time. The food is always still warm.
?
Johnnycake Cade
on
10/15/2017
Never had a problem using GrubHub. Order my food and wait. Why are so many people complaining about the quality of their food or how fast it arrives? That has nothing to do with the GrubHub app or service and everything to do with the restaurant and the quality of the food, their response time to when the order comes in, and their delivery people. If you have been in a restaurant that uses GrubHub you will see that the order immediately transmits to them once you click submit order. After that, it's on the restaurant. As for GrubHub customer service, never had a problem.
Unreliable Service - useless intermediary
Tell us more about your experience: Terrible experience. I ordered from a 3.5 star restaurant and food arrived more than 2 hours after ordering, ice cold, and after 6 escalations including grubhub (thanks for a $10 credit on a $65 meal, and forced to tip in advance for unacceptable service, will call Visa.) Not the first time I've had wildly late delivery with grubhub! I checked back and the restaurant had 6 out of 11 last experiences being one star, almost all for being extravagantly late, or never delivered. So in reality a 3.5 star is the worst possible, though it seems more than acceptable. Grubhub seems to do nothing about sub-par and unacceptable restaurants per review, no control on inadequate performance and presents false and misleading aggregate ratings. I could do better with Yelp and a phone - wait! I have! Good brand (Grubhub) poor execution (False, misleading ratings, no apparent vetting or control of service providers). Too many disappointments. Sad. ------------------------------------- A little bit of information to help us if you're having trouble: Feedback ID: E504758AC64A492E8D1E6EEA7D3D6665 App Version: 3.30.1 OS Version: 11.0.2 Device: iPhone Sent from my iPhone
This app crashes my phone a lot
obamayomamatron
on
10/14/2017
How can the simplest app be so problematic?
So convenient
I love this service I have never had a problem they are ver professional, and the selection of restaurants are good , would like a little more variety and maybe even some of the slightly high end restaurants to be on there list but for now GREAT SERVICE 🍔
It works...
It's a pretty dependable service. I've been using it for around a year or more - only once had an issue, where the restaurant ran out of what I wanted. Grubhub phoned and I got a refund. So I'm pretty happy.
Baronness
baronness95
on
10/14/2017
Pasta pronto Good foods on time as always. Food was hot and tasty
Terrible
Singerkris07
on
10/14/2017
Every time I've used this app my driver gets lost, it takes way more than an hour for delivery and often my order is wrong. I will no longer use this app. I've been waiting two hours for cookies...just wanted some dessert and now it's two hours later.
Baits & Lies
I've browsed grubhub before, but have never actually ordered food-either delivery or pickup. I finally decided to try it out with their incentive of $7 off my first order. I received my email with the promo code & then spent a half hour or more browsing restaurants and choosing my food. I was excited they had Authentic Thai food, because these kind of places never offer delivery directly. Everything was fine until I went to check out and enter my promo code. I repeatedly received an error messages telling me that all required fields must be completed. There's only ONE required field...the promo code!! F-off, seriously!! Grubhub will, now and always, bring up feelings of anger & loathing.
Changing Minimums
Tony's Scarlett
on
10/14/2017
What's up with the constantly changing minimum order amounts? And the need to re-enter an address with each additional item added to the cart? A little consistency would be nice.
Great Chinese food
The order from jade China came quickly. The food is delicious. The delivery person was very polite. Large menu to choose from.
Consistently aweful
More often than not so many problems. Either in payment. Reception of order. Timing of restaurants open. Or delivery of cold food because they couldn't find a driver his app is terrible. Use Uber Eats!
Nice App!!
I've used the Grubhub app since 2012 and haven't had one issue thus far. Now although the restaurants I've ordered from haven't always had the great food experience I was expecting, the app itself gets the job done. 👍🏾👌🏾😊
GrubHub is the best
Super convenient‼️🏅
Happy
Food always comes fast and hot, drivers are nice, and the transaction is smooth. Perfect.
Nice app for finding delivery nearby!
I use it all the time in NYC. Not sure if it's as useful in smaller cities/towns.
Fact Sheet
Publisher:

GrubHub Inc

Category:

Food & Drink

Released:

Feb 03, 2009

Current Version Released:

Oct 16, 2017

Version:

3.31

Size:

154.8 MB

Compatibility:

Requires iOS 8.0 or later.

Recommended Age:

4+

Game Center Certified:

No

Supported Devices:

iPad2Wifi-iPad2Wifi, iPad23G-iPad23G, iPhone4S-iPhone4S, iPadThirdGen-iPadThirdGen, iPadThirdGen4G-iPadThirdGen4G, iPhone5-iPhone5, iPodTouchFifthGen-iPodTouchFifthGen, iPadFourthGen-iPadFourthGen, iPadFourthGen4G-iPadFourthGen4G, iPadMini-iPadMini, iPadMini4G-iPadMini4G, iPhone5c-iPhone5c, iPhone5s-iPhone5s, iPadAir-iPadAir, iPadAirCellular-iPadAirCellular, iPadMiniRetina-iPadMiniRetina, iPadMiniRetinaCellular-iPadMiniRetinaCellular, iPhone6-iPhone6, iPhone6Plus-iPhone6Plus, iPadAir2-iPadAir2, iPadAir2Cellular-iPadAir2Cellular, iPadMini3-iPadMini3, iPadMini3Cellular-iPadMini3Cellular, iPodTouchSixthGen-iPodTouchSixthGen, iPhone6s-iPhone6s, iPhone6sPlus-iPhone6sPlus, iPadMini4-iPadMini4, iPadMini4Cellular-iPadMini4Cellular, iPadPro-iPadPro, iPadProCellular-iPadProCellular, iPadPro97-iPadPro97, iPadPro97Cellular-iPadPro97Cellular, iPhoneSE-iPhoneSE, iPhone7-iPhone7, iPhone7Plus-iPhone7Plus, iPad611-iPad611, iPad612-iPad612, iPad71-iPad71, iPad72-iPad72, iPad73-iPad73, iPad74-iPad74, iPhone8-iPhone8, iPhone8Plus-iPhone8Plus, iPhoneX-iPhoneX,

Supported Languages:

English;