Screenshots
New in version 3.33
Check out all these updates to checking out!

New countdown clock lets you know when to get your order in – Never just miss the ordering window again with a handy dandy clock letting you know how much time you have left to place it.

Pay another way with American Express – We've added American Express Checkout as yet another payment option at checkout. This way, you can get the food you want even faster.

Now enough of all this blabbin'! Get onto orderin', and don't forget to give your favorite food delivery app some love with a rating and review.
Description
Order delivery or pickup from a huge selection of local restaurants. With full menus and a fast, easy online ordering service, Grubhub has all of your dining needs covered. From breakfast burritos to late night eats, your favorite meal is just a click away. Download Grubhub and satisfy your craving now.

With no hidden fees and over 55,000 amazing restaurant partners across more than 1,200 US cities (and London), it's no wonder Grubhub is the most loved delivery and food takeout app in the U.S.

Top 5 reasons to download Grubhub:
With more options in more places, it's easy to explore the local food scene with Grubhub
Reorder favorite meals faster with Express Reorder
Track your order with real-time delivery updates
Preorder your next meal from two hours to up to four days in advance
Easily search by cuisine or dish

Never be without your favorite eats again. Grubhub has a wide selection of delicious food wherever you are. Got a go-to Pad Thai that's never let you down? Tap "Express Reorder" to quickly bring a previously ordered meal straight to checkout. Want tacos? Just type "tacos" into the search bar and a listing of the nearest local taco joints will pop up. All you've got to do is pick your place, choose your taco, and place your order. That's a three-tap taco — it doesn't get much easier than that.

New to the neighborhood? Read ratings and reviews of Grubhub restaurants from the Grubhub community for great, local insights. Don't waste a meal on mediocre food again.

Grubhub has numerous ways to pay — Apple Pay, PayPal, Grubhub eGift Card or a good old-fashioned credit card. Whatever works best for you, works great for us.

Download Grubhub, the quick, online ordering service that delivers the food you're craving, anytime, anywhere.
iPad Screenshots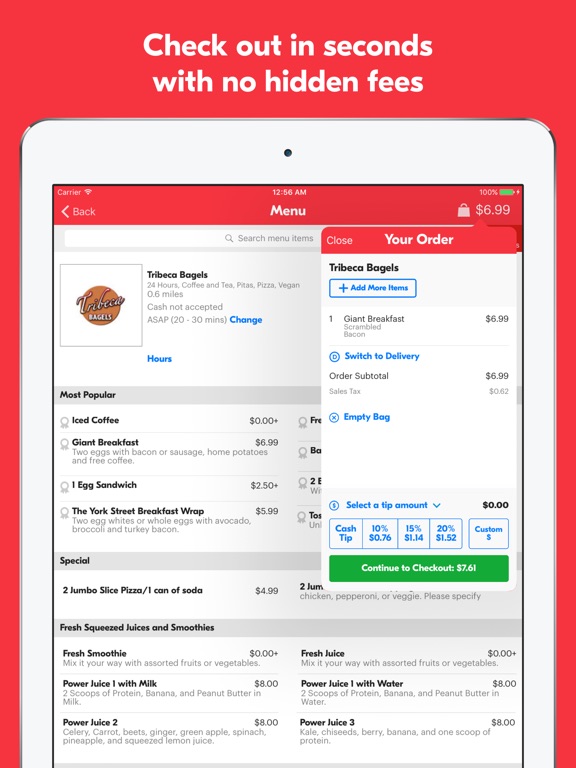 Reviews
Works well
Denver Rudy
on
12/16/2017
I had good experience so far. Used it a handful of times. Usually pretty prompt delivery. Good selection of restaurants. Easy to use payment options.
Pretty good
Overall it's an ok app. However sometimes the dish descriptions either (1) don't fit in the space allotted or (2) just don't have any description at all. If you're familiar with what you're getting then it's fine, but if you're being adventurous it's a wild shot in the dark. The default order of the restaurants is somewhat annoying, with obviously paid placement. I wish it would remember my default choice (distance) each time. The app also constantly asked for a review, so I take a star off each time I review it. It also needs to be updated for the iPhone X.
Awful
They bought and closed the app I used for ordering. Directed our accounts to this. Multiple places I regularly ordered from before in my old app now don't work in this app. And not because they aren't listed in this app. They are. They just don't work.
Not what it used to be
When I first started using Grubhub, it was convenient the food arrived on time and I was very happy with the service. In the last six months I've been unable to get my food delivered at the time promised on multiple occasions. Today when I called the restaurant, I was told that the food has been waiting close to an hour for the driver to pick it up. I am deleting this app.
Let me rate individual menu items
I want the app to be able to track my ratings of individual menu items. Then I can remember whether or not to re-order something. The first food ordering app to let me do this will get all my business.
Again?
Nothing has changed
on
12/16/2017
I don't particularly care to update my contact information every time I order.
Love it
I just love this app
Where do uses the promo code?????
I would rate 5 stars if the app or website or anyone tell where is the dumb promo code I have lots of them are they joke to angry me will is its working😡
Love it but needs some work.
Mayan Warrior 1
on
12/16/2017
I would like to see the driver move on the map so I can determine what i can work on before the driver arrives. Maybe a bag to keep things warm because my food comes cold most of the time. Still better than Uber eats.
Hate this app and the customer service is terrible!
angrycustomer5
on
12/16/2017
If I could rate my experience with Grubhub a zero I would. I ordered from them for the first time in December 1st and had a terrible experience. My food was cold when it arrived, the delivery took forever, the food was disgusting (Tucker Dukes), I was overcharged and notified after the fact and when I contacted customer service to resolve the issue the phone operator told me numerous times that they could not pull up my account which I can not understand, and that since I did not contact them within twenty four hours that there was nothing that they could do. I then notified them that I would never order from grubhub again and my suggestion to you is that you don't order to begin with. Save yourself time and money by learning form my experience ordering terrible food for $30 (a small bowl of food with fries 😒) , about an hour wait time, and cold food. Buyer Beware. And if a customer service rep is reading this don't even consider commenting and telling me that you hope to make my experience better next time, unless you plan on refunding me my money, otherwise there will be no next time, so save it. 😒.
Most utilized app
Best app ever. I use it all the time. Never had an issue. Thank you Grub hub!
Waste of time
catcruz1991
on
12/15/2017
Most restaurants in our area, we can order from using their app or another delivery service app. Tried to order from a restaurant listed in our "delivery" area & got a text 20 minutes later saying they don't deliver that far and our deliver had been canceled. So even if it says a restaurant delivers to you, there's a chance it doesn't. Deliver from other apps and save yourself the trouble.
Great App
This app is so quick and easy. Everything at your fingertips & fast checkout. Great
Worst Food Delivery App
I ordered dimsums on Grubhub today. I waited patiently for an hour and a half, after which I called the restaurant only to find out that the food was ready but there was no driver who had come. Then I called Grubhub and found out they had forgotten to assign a driver to my order. Waiting for my food still, and then deleting the app. Worst food delivery service on the East Coast for sure.
Love it
What to say I use this app for long time and I am always happy
Necessities not pleasures
Order food and get it one and a half hours late! Nothing like paying for a ice cold meal because grubhub services/drivers can't understand simple business etiquette. Stay away and use UberEats.... btw I'm in Philadelphia so there REALLY shouldn't be a major lack of drivers. If there is however, you'll see how delivering to smaller cities will be like.
Great app
I use this app all the time and it works great!!!
The worst App & delivery people!!!
la_glamourgal
on
12/15/2017
I've used the app several time and the delivery of the food was on time majority of the times I've ordered but my experience today was awful. I ordered my food at 12:00, with the delivery ETA of 12:45. I checked the status on my app and it said my food was delivered at 12:24. I spoke with customer service via chat and they stated they spoke with the delivery driver and he was three minutes away and my food would be delivered shortly. Another 30 mins went by no food. I called the restaurant this time and they stated my food was ready and had been siting there for 45 mins. I called GrubHub customer service to see what was going on, the customer service guy apologized offered me $10 off my next order and said he would call the driver. He got back on the phone and said he attempted to call the driver multiple times but the driver turned off his phone. I was outraged, the customer seemed rep gave me two options, cancel order for a full refund or have them deliver my order that has been sitting there for an hour at this point. GruHub offered new real solutions and it was almost 2:00 by this time and I was starving!!! I deleted the app, and never downloading again!!! I'll stick to Eat24, at least on their app, I can call the driver directly and if something like this happens they still deliver the food and provide a full refund, now that's true customer service. I guess I'll go make lunch now.
Works every time!
Thunderbags
on
12/15/2017
Works every time! Easier than calling, for me and for the businesses as well I think.
Like GH a lot but....
greekgirrrl
on
12/15/2017
I didn't like the response to Amy tag's review. For Christ sake she found a HAIR in her Food and all u can say is oh well sorry hope it all works out better for you next time?????? For real??? As a former Restaurant owner that's grounds for a complete refund of the entire check!! Come on GH. You can do better than that.
This Can Get Expensive
Waaaaaay too easy to order food these days. Pretty seamless app. Never had a problem with the GrubHub side and the restaurants have always cleared up things on their end. Easy to use all around.
App Crashes
The app often freezes and the whole phone becomes useless for a few minutes. Please fix.
Great App
Has saved me a lot of times on food options. This is coming from a college kid. Great app.
Questionable Drivers
Christian-In-Training
on
12/14/2017
Placed an order THREE TIMES with them and the drivers decided not to come. Gave them instructions every single time about my apartment number. Instead of calling me about getting into my gated community with the passcode, they decided to just skip it. I called Grubhub and every time (almost 20 minute wait time each time) I told them to inform the driver to call me so I can let them in. Never happened. The customer service agents were not helpful. Even their supervisor Diana was just a jerk. 3 hours later I ended up having to go get it myself. Sometimes the "convenience" isn't worth it.
Great app
I love ordering from Grubhub! Great app. One concern, awhile back, ordered from new spot on site, they said a driver never came to pick up order. The restaurant was generous, and gave full refund, but I was concerned about future purchases through new places...
Yummy in my tummy
Plain and simple grubhub hooks it up! Whether I need to order Chinese for a kung foo movie with my girl, breakfast in bead, or a nice steak dinner they come through.
They deliver my food to random stranger
I placed an order but never received it. I got his phone number and found out that driver (Steven) did not call the number i provided. So he thought no one is picking up my food. THE DRIVER HUNG UP ON ME then GAVE MY ORDER TO A RANDOM STRANGER ON THE ROAD AWAY. Really bad experience with this company, and i will never order from this app ever again. APP DELETED!!!!!
Great customer service!
I accidentally ordered from the wrong Chinese restaurant tonight. I called GrubHub immediately and within seconds the order was cancelled. They pulled me up by my phone number and made it simple. I love GrubHub!
Best food delivery app I've ever used
The delivery times are pretty accurate and you get updates if the food is coming late or early!
Good app
Works as described.
Delivery time is not guaranteed
I have tried a several food delivery apps, and this is the best one. Unfortunately that isn't saying a lot. Other delivery apps have just NEVER delivered my food and gave zero updates along the way. Grubhub has been slightly more reliable, but again, that isn't a high bar. I've found the reliability of the service totally depends on the restaurant you're ordering from and the night of the week. I've had nights I've ordered food and received it earlier than expected. But if it's not Monday-Wednesday, the estimated delivery time they give you just gets pushed later and later. As in up to an hour later. I get that they're working with restaurants they don't manage. But if you're going to give a customer an estimated delivery time, pushing it progressively later is a horrible experience. Most companies are held to their promises, especially when it comes to delivering a product at a certain time. If the vendors you're working with cannot honor a commitment, you need to question whether they should be partnering with you. Yes, people like a variety of food options. But if many of these restaurants push online orders to the bottom of the list, customers notice and get very frustrated. Please eliminate the restaurants that cannot deliver at the originally scheduled delivery time
A bit of a time saver
I probably use this app more than I should. being able to reorder prior orders is a time saver, as is not tying up a restaurant's busy phone lines. Couple of things I wish the app did a little better: 1) if you order enough times (or don't order after a certain amount of time), you'll get an email from grubhub with discount codes. These are great but are always very time limited AND you have to copy and paste from the email. These discount codes should already be available in app (and maybe last a little longer) 2) there are restaurants that don't show up in my app due to geography, but that do participate in grubhub. If I call on phone, they'll deliver to me. Would like a way to try and expand the geographic filter slightly to get those restaurants 3) wish there was a clear way to make recommendations to the restaurants in app to make tweaks to their menu. For example one of my restaurants has Brand X as a drink option in restaurant but not listed in grubhub. Instead I order Brand Y in app but write in Brand X in the comments. I've done this for over a year so surprised not picked up or changed by now.
Done with GrubHub
mitchardnixon
on
12/14/2017
I'll get you someday Grubhub
Beautifully Intuitive
Great ap. Great service. I enjoy the variety of foods, good and some not so good, easily available at the touch of a finger. The variety is wonderful! We use GrubHub every week. It is so easy AND convenient to have this service available especially when we're under the weather.
Awesome
Jjcool4life
on
12/14/2017
Whoop
Never works
I'm a mile outside downtown Sacramento and 1/2 the time I try to use the app it offers nothing.
Slow service
Disappointed in service. Food takes over an hour to be delivered and is cold upon arrival. This has occurred each time we order.
Try UberEATS instead
Waited over an hour past the time our CONFIRMATION email came and still no food or follow up communication. Called Grubhub and was told "sorry the order needed to be canceled". Now it's almost 9pm other restaurants are closing and everyone here is HANGRY!
One hit among many strike outs
I travel for a living. Out 10+ days. Home for 4>. I rely on restaurants close to the hotel and delivery services like GrubHub. More times than not I walk away from GrubHub WISHING I chose a subpar restaurant next door. Tonight, for instance, place an order @ 8:40 pm. Get a delivery time of 9:35 - 9:45. First email says 9:50 - 10. At 9:59 I get a call saying it'll be another 20 minutes. On sushi! This is a mess. Shut it down. Restructure. Fix this mess. I'd rather not have you as an option until you can handle it.
Best of the bunch with typically lower fees
Good selection with lower fees and exceptional customer service. I've used the app in two states and any issues were resolved quickly and professionally. I do appreciate that. Please continue to expand your list of restaurants and keep fees tempered. Thank you for the great service.
Good function. Limited (but increasing) options
PishPoshPerf
on
12/13/2017
I'm a fan of this app's functionality and ease of use, just wished they had more restaurants / healthier options. They've just added several new restaurant options that might kick this rating up to a 5-star for me. Hope they keep adding!
Very nice user friendly app
GauravSharma2
on
12/13/2017
Latest version of the app is better and more user friendly. Its great that GrubHub covers more places now and its app is getting better and better. Good work!!
Great app and good options
Happy Family😀😀
on
12/13/2017
This is the best backup food option with great choices, have tried in multiple cities/locations and always found a good variety of restaurants. Team response for some restaurant issues has also been prompt. Keep up the good work 👍👏🏻👌
Payment
tryingtopay
on
12/13/2017
Multiple issues with payment process: You make it difficult to switch between multiple cards. Your app only allows the option of changing the main card to either PayPal or Express (I have neither). When I updated my card information (meaning I had to delete one of my cards from the app) it maybe me re-enter a card that was already saved. Then it kept giving me an error "multiple payment option selected"... which functionally impossible on the users end. I needed to close the app and restart it to select the card and gave it finally process.
Little Jimmies is awesome!
I've used Grubhub three times in the past week. It worked great. I liked that you could put comments in for special requests. I only have two restaurant choices but hope more will be added soon!
Dig it
lbcshamrock
on
12/13/2017
I use this app all of the time & it is very efficient.
It's a toss of a coin.
I think I enjoy using this app because I get the similar rush that comes from gambling. This app can be a real let down, sometimes there are no drivers, sometimes using your card does not work, some places refuse to accept cash at the door (limiting your options), and other times, the food arrives so cold, you'd have thought that you ordered from an ice cream shop. Despite this, it's a nice app to use when you're burned out from your UberEats options.
Love GH
My husband and I use this app all of the time! There are always new restaurants being added so the diverse selection is pretty great. I only wish there were promo codes sent through the app for local places, especially for go to spots saved. Since we have busy schedules and both could burn down the kitchen, we love the convenience of being able to satisfy whatever we're craving for dinner at the touch of a button! Love, love, love this app! We've tried out other apps, but this is by far our favorite :)
Good, but rating/sorting is questionable
I've found the service great as long as you know what restaurants are good. Finding good places seems hit or miss
Not user friendly
-2-2-2/2-2::22
on
12/12/2017
My first experience trying to order a pizza was truly heartbreaking.
Fact Sheet
Publisher:

GrubHub Inc

Category:

Food & Drink

Released:

Feb 03, 2009

Current Version Released:

Dec 07, 2017

Version:

3.33

Size:

164 MB

Compatibility:

Requires iOS 8.0 or later.

Recommended Age:

4+

Game Center Certified:

No

Supported Devices:

iPad2Wifi-iPad2Wifi, iPad23G-iPad23G, iPhone4S-iPhone4S, iPadThirdGen-iPadThirdGen, iPadThirdGen4G-iPadThirdGen4G, iPhone5-iPhone5, iPodTouchFifthGen-iPodTouchFifthGen, iPadFourthGen-iPadFourthGen, iPadFourthGen4G-iPadFourthGen4G, iPadMini-iPadMini, iPadMini4G-iPadMini4G, iPhone5c-iPhone5c, iPhone5s-iPhone5s, iPadAir-iPadAir, iPadAirCellular-iPadAirCellular, iPadMiniRetina-iPadMiniRetina, iPadMiniRetinaCellular-iPadMiniRetinaCellular, iPhone6-iPhone6, iPhone6Plus-iPhone6Plus, iPadAir2-iPadAir2, iPadAir2Cellular-iPadAir2Cellular, iPadMini3-iPadMini3, iPadMini3Cellular-iPadMini3Cellular, iPodTouchSixthGen-iPodTouchSixthGen, iPhone6s-iPhone6s, iPhone6sPlus-iPhone6sPlus, iPadMini4-iPadMini4, iPadMini4Cellular-iPadMini4Cellular, iPadPro-iPadPro, iPadProCellular-iPadProCellular, iPadPro97-iPadPro97, iPadPro97Cellular-iPadPro97Cellular, iPhoneSE-iPhoneSE, iPhone7-iPhone7, iPhone7Plus-iPhone7Plus, iPad611-iPad611, iPad612-iPad612, iPad71-iPad71, iPad72-iPad72, iPad73-iPad73, iPad74-iPad74, iPhone8-iPhone8, iPhone8Plus-iPhone8Plus, iPhoneX-iPhoneX,

Supported Languages:

English;