TapNova doesn't recommend this version of the app.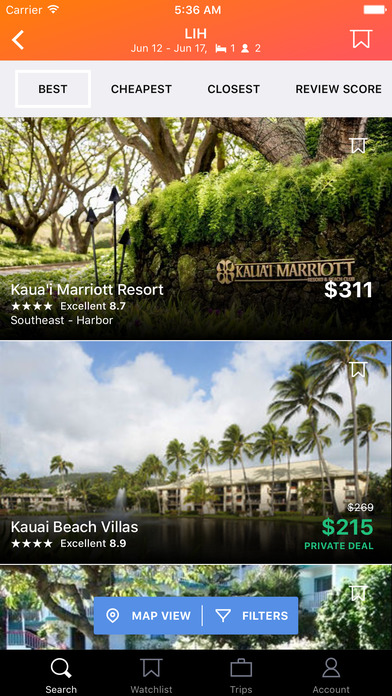 New in version 63.0.0
• KAYAK has a new look. Our redesigned app makes it easier and more efficient to search for travel deals.
• We made it possible to add Price Alerts and save deals to your Watchlist. Easily pick up right where you left off your travel planning and finish booking your trip.
• We channeled our inner-Marie Kondo and reorganized the Account pages. Now, changing your settings is simple.
• Bug fixes.
Description
KAYAK searches hundreds of other travel sites so you don't have to. Book the perfect flight, hotel or rental car and save money with mobile-only rates and Private Deals. KAYAK Trips lets you organize all of your travel plans in one place including free flight status updates, airport terminal maps and security wait times. KAYAK is the only app you need for planning, booking and traveling.

SEARCH: Find great deals on flights, hotels and rental cars
• Unlock Private Deals and exclusive mobile-only rates for even more savings.
• Effortlessly and securely book via the app without the need to re-enter your traveler data and credit card information.
• Pick a destination and choose flexible dates to find out when it's best to fly.
• Filter options based on stops, airlines, departure times, amenities and much more.
• Book at the right time. Price Forecasts let you know whether your airfare is likely to go up. Price history charts show airfare trends over the last 90 days.
• Planning a group trip? Share search results, hotels, flights and more using iMessage -- where everyone can view and vote.
• Have big travel dreams but can't decide on a destination? Use Explore to set your max airfare and see all the amazing places in the world where you can travel (whatever your budget, let us help you search!).

TRIPS: Your free personal travel assistant
• Organize your travel plans in one place, regardless of where you booked.
• Book on KAYAK or forward your booking confirmation emails to trips@kayak.com to begin building your trip. Optionally auto-import bookings from your Gmail account.
• Stay up-to-date with real-time flight status, gate change and baggage claim notifications.
• Get security wait time estimates for your flight.
• Navigate your way around the airport with step-by-step directions.
• Find shops, duty free, food, coffee, chargers, restrooms, lounges and more. See actual photos of each and learn whether they are before or after security.
• Countdown timers keep track of your flight's progress and remaining layover time.
• Share your travel plans with family and friends.
• No internet access, no problem. View your itinerary and airport maps with no internet connection.
• Use the Trips Today widget to get a quick overview of your day's itinerary.

APPLE WATCH: KAYAK on the go
• Keep your travel plans right on your wrist.
• Receive alerts on your watch when your flight status changes.
• Add the KAYAK complication to your watchface to see your next trip event.
• Use Force Touch to toggle between your current, upcoming or shared trips.
• Leave your phone behind on your next jog/swim. Trips are stored locally on your watch.

PRICE ALERTS: Never miss a deal
• Let us do the searching for you. Create a flight or hotel Price Alert and we'll notify you when the price changes.
• Not sure where to go? Create a Price Alert for top world cities or specific regions and let the deal determine your next adventure.
• Use the Price Alert Today widget to get a quick overview of your latest alert updates.

FLIGHT TRACKER: Track the status of any flight
• Know if you're arriving early or late by viewing the status of departure and arrival times.
• Monitor the flight's progress in the air with the convenient map view.
• Easily track friends and family with their flight number or the airline.

AWARDS
Winner of 10 Webby Awards including:
• People's Voice Award for Travel Mobile Apps & Other Handheld Devices (2015)
• Webby and People's Voice Award for Travel Tablet Apps & all Other Handheld Devices (2014)
• Time Magazine: 50 Best iPhone Apps (2014)
• Wired Magazine: The 8 Best Apps for World Travelers (2014)

Discover helpful travel tips, tools and information by following our blog: https://www.kayak.com/news/

We'd love to hear from you:
https://twitter.com/kayak
mobile@kayak.com
iPad Screenshots
Reviews
Great app!
I really like the new changes. Easier to use. I especially like the cheapest, quickest, earliest tabs. Great improvement on a already great service.
Excellent App
Kayak App is on hand and extremely useful, finding a group of flights from various airlines at the best price. The app is accurate and dependable. I would recommend anyone to download this app!
HUGE!!!!
171Mb!?!? I'd better watch my data when updating this monster.
Best deals
This is the hands down best pp ever for booking flights
Very useful App
Astala-vista baby
on
6/24/2017
Love this app, easy to use and finds whatever you need with photos so you can make decision. Always use this app. :)
Prompted for review
Please respect your users' time and don't interrupt them to beg for ratings/reviews.
The best app
Countess Milan
on
6/23/2017
Kayak is the best thing invented since sliced bread. It's efficient, it's convenient and I never use anything else for my bookings. 5 thumps up
Deceptive pricing
They leave deceptive prices up and the minute you try to purchase that flight it gives you a "new" price. I'll continue to never buy something off this website.
New upgrade
How do you select non stop flights only...new site is difficult to navigate...not user friendly
So easy
Thanks for making traveling such an easy thing to do from the phone!
Pretty cool, but
Electroliquid
on
6/22/2017
I don't like how the login process takes you to Safari when signing in, I downloaded your app, why are you making me sign in again via the web, makes no sense, then it basically wants me to redo my password in the web after I 'confirm' fix your login workflow. It is painful enough that I am writing this review...
Flexible dates not so flexible anymore!
Why did Kayak reduce the functionality of the flexible dates? Only option now is +/-3 days. Please bring back +/-1 and +/-2 days as well. Also needs a filter for the "basic" airfare which are useless for people with any kind of baggage. The updated web version at least shows an icon to identify those fares; not the app though! The app has just become crippled!
No gate # on flight track!
Please add gate # :)
Useful but old version was better
Lost some good features in this update. Less likely to use.
Awesome!
Very good so far!!
ℓσνє ιт
ιт'ѕ тнє вєѕт єνєя
Great App
I like how everything is explained
Great travel app!!
Love being able to filter by so many things, and also the price viewing options for hotels that include taxes & fees and allow you to see total price vs. per night.
The scan
Everything else was good until the scan. Did not work properly.
Awesome last minute save
I had reluctantly booked a stay farther away and decided to look at other options 2 days before leaving. Kayak gave me several options with great filter abilities and better deals than I could get from the hotel directly. This is now my only travel app.
Nice redesign
I know a total redesign takes a lot of work, nicely done. I would like to see the prices listed on the date map in future iterations of the app.
Use it all the time
Awesome kid 113
on
6/18/2017
Have been using Kayak for years. Just an easy way to keep all of our trip info. organized. Really like the link to the original travel emails so I can get important info quickly
Addicted
Fishing Lewers
on
6/18/2017
Perfect for an impatient person with impulsive wanderlust
new update looks great, but
unable to click and view all flights when I open up a daily push alert I have. I can't see the purchase confidence anymore either. 😔
Rip off if not carefull!
The Real Hodaddy
on
6/18/2017
If you do not know about clearing cache and history, Kayak will only default to the most expensive flught ie from $450 to $900 and up! Clear it and flight price returns showing lower costs back down to $450 with lots of avaiable seats!
Useful
ChristmasCheer8
on
6/18/2017
The trips feature read all the itinerary emails correctly. However it resulted in multiple trips being created and the app has no way to merge them. Fortunately the website does otherwise this review would be lower. Kayak has an excellent hotel database which gives it an edge over TripIt.
Love this App!!!
BurresciaFam
on
6/18/2017
Very easy to use love it!
Noooooo!
Your Friend Todd
on
6/18/2017
My favorite travel app was so simple. Not like the idiotic Exp---a. We don't need another form over function app. This one just plain worked. I guess I'll use Triv--o from now on.
My fav!
Been using Kayak since 2007, and it just keeps getting easier to use!
Excellent
Great app, easy and fun to use.
Awesome Service
This is the best app ever ! Recommend this to anyone who likes to travel !
Great Way to Watch Flights!!!
Nice app
Excellent App
Borsdengraal
on
6/16/2017
I use this quite often for flights and hotels. Best App among its competitors.
What the f*ck?
Lost is the ability to search for flights 1 year in advance. The date limit is now like Expedia et. al.
Lost functionality
One thing I found useful in the prior versions of this app is that you could see the prices as a total price, including all taxes and fees for the entire stay. That seems to have disappeared in this version. #FAIL!
Great new website and app
I know this is an app review but I use the app then book on the computer. Last night when I booked a flight the new website is great! Very easy to use, I was in and done in 10 minutes. The app and the notifcations for price changes is great to keep an eye on how airlines do there pricing.
Love it
Love it, I would like to see an option that I can pick the airline(s) and I can customize the trip myself and get the price.
Great help
Sicilian in Texas
on
6/16/2017
We're planning a big family trip to Sicily in September and Kayak alerts has helped us to find the lowest prices to Sicily.
Update is great
New update is nice. Very easy to use. As always. Love the explore feature. Has inspired many random global adventures
Perfect!
So easy to use and a perfect app for finding the best prices for anything travel related!
Great app
Quick and efficient app
Beautiful Redesign
Great looking app.
New Version Not Good!!
If you have a One Way trip in your Watchlist and click on it, it Looks for Roundtrip random dates!!!!!!! Fix it!
New
Super fast and a lot easier, good job guys!!!
Latest UI = Bad News
While Kayak still delivers great results, the UI looks like it was made by a 12-year-old. Big buttons, bold colors...I don't get it. This new update is all flash and no benefit.
Crashes
Crashes with the latest update
Latest version buggy
Latest version breaks viewing of flights from price alerts - one way alerts show flights for roundtrip rather than one way, making price alerts almost worthless.
Fact Sheet
Publisher: Kayak Software Corp
Category: Travel
Released: Feb 27, 2009
Current Version Released: Jun 24, 2017
Version: 63.0.0
Size: 179.9 MB
Compatibility: Requires iOS 9.0 or later.
Recommended Age: 4+
Game Center Certified: No
Supported Devices: iPad2Wifi-iPad2Wifi, iPad23G-iPad23G, iPhone4S-iPhone4S, iPadThirdGen-iPadThirdGen, iPadThirdGen4G-iPadThirdGen4G, iPhone5-iPhone5, iPodTouchFifthGen-iPodTouchFifthGen, iPadFourthGen-iPadFourthGen, iPadFourthGen4G-iPadFourthGen4G, iPadMini-iPadMini, iPadMini4G-iPadMini4G, iPhone5c-iPhone5c, iPhone5s-iPhone5s, iPadAir-iPadAir, iPadAirCellular-iPadAirCellular, iPadMiniRetina-iPadMiniRetina, iPadMiniRetinaCellular-iPadMiniRetinaCellular, iPhone6-iPhone6, iPhone6Plus-iPhone6Plus, iPadAir2-iPadAir2, iPadAir2Cellular-iPadAir2Cellular, iPadMini3-iPadMini3, iPadMini3Cellular-iPadMini3Cellular, iPodTouchSixthGen-iPodTouchSixthGen, iPhone6s-iPhone6s, iPhone6sPlus-iPhone6sPlus, iPadMini4-iPadMini4, iPadMini4Cellular-iPadMini4Cellular, iPadPro-iPadPro, iPadProCellular-iPadProCellular, iPadPro97-iPadPro97, iPadPro97Cellular-iPadPro97Cellular, iPhoneSE-iPhoneSE, iPhone7-iPhone7, iPhone7Plus-iPhone7Plus, iPad611-iPad611, iPad612-iPad612, iPad71-iPad71, iPad72-iPad72, iPad73-iPad73, iPad74-iPad74,
Supported Languages: Danish; Dutch; Flemish; English; Finnish; French; German; Greek; Indonesian; Italian; Japanese; Korean; Bokmål, Norwegian; Norwegian Bokmål; Polish; Portuguese; Russian; Chinese; Spanish; Castilian; Swedish; Thai; Chinese; Turkish;