TapNova recommends this app!
New in version 66.0.0
• See which flights KAYAK recommends using our new sort option.
• Bug fixes.
Description
KAYAK searches hundreds of other travel sites so you don't have to. Book the perfect flight, hotel or rental car and save money with mobile-only rates and Private Deals. KAYAK Trips lets you organize all of your travel plans in one place including free flight status updates, airport terminal maps and security wait times. KAYAK is the only app you need for planning, booking and traveling.

SEARCH: Find great deals on flights, hotels and rental cars
• Unlock Private Deals and exclusive mobile-only rates for even more savings.
• Effortlessly and securely book via the app without the need to re-enter your traveler data and credit card information.
• Pick a destination and choose flexible dates to find out when it's best to fly.
• Filter options based on stops, airlines, departure times, amenities and much more.
• Book at the right time. Price Forecasts let you know whether your airfare is likely to go up. Price history charts show airfare trends over the last 90 days.
• Planning a group trip? Share search results, hotels, flights and more using iMessage -- where everyone can view and vote.
• Have big travel dreams but can't decide on a destination? Use Explore to set your max airfare and see all the amazing places in the world where you can travel (whatever your budget, let us help you search!).

TRIPS: Your free personal travel assistant
• Organize your travel plans in one place, regardless of where you booked.
• Book on KAYAK or forward your booking confirmation emails to trips@kayak.com to begin building your trip. Optionally auto-import bookings from your Gmail account.
• Stay up-to-date with real-time flight status, gate change and baggage claim notifications.
• Get security wait time estimates for your flight.
• Navigate your way around the airport with step-by-step directions.
• Find shops, duty free, food, coffee, chargers, restrooms, lounges and more. See actual photos of each and learn whether they are before or after security.
• Countdown timers keep track of your flight's progress and remaining layover time.
• Share your travel plans with family and friends.
• No internet access, no problem. View your itinerary and airport maps with no internet connection.
• Use the Trips Today widget to get a quick overview of your day's itinerary.

APPLE WATCH: KAYAK on the go
• Keep your travel plans right on your wrist.
• Receive alerts on your watch when your flight status changes.
• Add the KAYAK complication to your watchface to see your next trip event.
• Use Force Touch to toggle between your current, upcoming or shared trips.
• Leave your phone behind on your next jog/swim. Trips are stored locally on your watch.

PRICE ALERTS: Never miss a deal
• Let us do the searching for you. Create a flight or hotel Price Alert and we'll notify you when the price changes.
• Not sure where to go? Create a Price Alert for top world cities or specific regions and let the deal determine your next adventure.
• Use the Price Alert Today widget to get a quick overview of your latest alert updates.

FLIGHT TRACKER: Track the status of any flight
• Know if you're arriving early or late by viewing the status of departure and arrival times.
• Monitor the flight's progress in the air with the convenient map view.
• Easily track friends and family with their flight number or the airline.

AWARDS
Winner of 10 Webby Awards including:
• People's Voice Award for Travel Mobile Apps & Other Handheld Devices (2015)
• Webby and People's Voice Award for Travel Tablet Apps & all Other Handheld Devices (2014)
• Time Magazine: 50 Best iPhone Apps (2014)
• Wired Magazine: The 8 Best Apps for World Travelers (2014)

Discover helpful travel tips, tools and information by following our blog: https://www.kayak.com/news/

We'd love to hear from you:
https://twitter.com/kayak
mobile@kayak.com
iPad Screenshots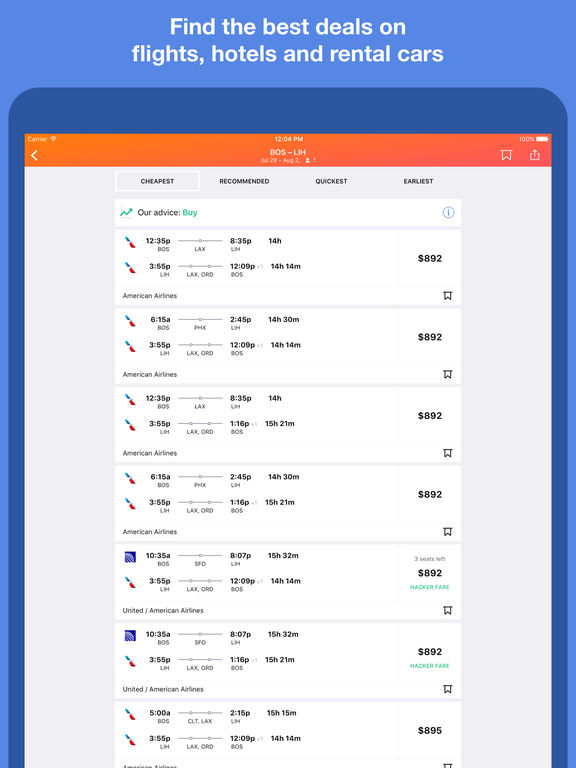 Reviews
The best
By far travel app
Makes life easy
No add and so easy to search. It will save you money!
Crashes on launch
Latest version crashes on launch. Unusable.
KAYAK is great!
I have used KAYAK for several years. It is so user friendly. What I like the most is that it keeps a history of all your trips. I highly recommend it.
So simple & straightforward
Easy helpful app experience ...& lets me bookmark for price watching, which is my favorite feature!
Better price time combinations
nonstop traveller
on
8/15/2017
Please allow shortest flight time sorted by price low to high
the best app
the best app
Big help
Is a tremendous tool when it comes to keep track of changes in prices. Facilitated the process and help me find great deals. Highly recommend.
The Best App!
I've used Kayak hundreds of times, and the interface is exceptional. The tools to sort data is also phenomenal. Not only is it the greatest app to get an off-the-cuff idea of what is possible and costs, but also to close the deal; signed, sealed, and delivered!
Great app
Has all I expect. Flex dates flex airports :-)
Outstanding
Do NOT like latest update. I use this app for flight tracker only, now it takes many steps to get to it, it used to be on the homepage. What gives???!!!!
Comprehensive Travel App
Aesthetically beautiful and highly functional.
Great travel app
Chackochacko
on
8/11/2017
Best way to find rates and compare quickly!
One of
مشهور النفيعي
on
8/11/2017
One of the best Travel apps...👍🏻
Lifesaver
This app makes my life so much easier!! Love it!! Let's me know when fares change and my best options!!
Facilitates trip
I've never used Kayak before and I am so glad I did! When I was waiting for my airline to announce my gate number, Kayak announced it first! The airports screens didn't announce my gate number until 30 minutes before my flight left! Kayak made my internet national flight great. Thank you
Needs to be fixed, can't do any searches
Needs to be fixed. It won't stop freezing. Every time you select a flight it would freeze during the search. Then the entire phone freezes for about five seconds. Don't update to this version until it is fixed.
Hate the updated app
Flight tracker is useless unless u enjoy re entering every time you track a specific Flight You cannot save fly info Bring back the old tracker
My fav app for traveling
Iworkatdamovies
on
8/8/2017
I've been using this app for a long time. Easy way to check for cheapest flights.
Best travel tool on my phone
aviationscott
on
8/8/2017
Love Kayak and is it the longest standing, best travel app installed on my phone.
Usefully App.
Loving to used
Servicio en Espańol
Creo que tienen muchos clientes que utilizan la aplicación en español y me parece perfecto pero asi mismo deberían de tener personas que dominen los dos idiomas en sus números de teléfono a servicio al cliente.
Don't show you all available flights
I just lost a lot of money because for some reason the app doesn't show flights from Stewart International Airpor. I booked flight to Europe and only later found out that there were flights to my destination for the same dates from Stewart.
Incredible.
I have tried those sites that tell you to go and check 4 or 5 other places. But kayak does it all for you. Great app
Frequent flyer
Kayak has amazing fares when I need to fly.
Feature Request
Paps Van Winkle
on
8/6/2017
App is designed well and works great. Very intuitive. Some things I would like to see are: - Incorporation of Pay - Easy access to a calendar so I can quickly see what flights I am watching in a specific calendar month. Ya the following tag is nice but I would also like to see at quick glance where that flight lands in the calendar and if any flights I am watching are overlapping in any given week. Thanks!
Very easy to use
Great user interface
Excellent travelers aid
LuvToTravelToo
on
8/5/2017
Love this app. My go to app for all travel needs!!👍
Almost perfect
Kathy L in LA
on
8/5/2017
Ever since WorldMate left, I was lost. Then I found Kayak. I had Sex Kayak for searching for flights but now it's my go-to app for keeping track of my vacation plans. Everything is in one place. Flight info, car rental confirmation and hotels reservations. I would tell everyone to download this app! Why only four stars if I like it so much? Well, I wish I could change the default page when opening the app. It always starts with searching. I would rather, for me, to start with my Trips page. If they could make that happen, I would give it FIVE stars!.
Fabulous
This application is fabulous fast and easy
Travelers tool
Very helpful app/website, I use it to book all my hotels (except Airbnb's) and flights. I love how it compares to other sites and truly finds the best deal, I do my own in depth search just to see if I can find it cheaper elsewhere, but usually it gives me always the best price around as well as other comparable options. Planning my trip to Europe is very helpful since in the "Trips" section it keeps tabs of all your flights, hotels and even Airbnb's, it shows me the address of where they are located, check in - check out, as well as all my flight details and notifies me when there is an update. Hopefully they will incorporate trains soon? Wonderful for someone who likes to be organized when booking
Good
I like this application. Thanks for all people developers this.
Mr
Until now for me they're the best
Great App!
Zonasportsfan
on
8/2/2017
Best in the biz...only travel app I use!
Accurate and says us a ton of money
Kayak is easy to use, love the filters and huge database of participating airlines. It is my GoTo travel planning tool. Tom Brady
Great source
Let's me know which hotels to go to and which I shouldn't! Very very helpful!
Great app
Very nice function to put all reservations in one spot
Excellent app
Freecell_lover
on
7/31/2017
My trips feature is great. It imported my trips perfectly. I use it all the time. My Trips keeps all my confirmations in one place. Searching for flights and hotels is super easy too.
Great!
DANKBOY LUIS
on
7/30/2017
Outstanding ease to use
Latest version Just Crashes
Cannot connect cannot connect. Does this on cell and wifi networks. Time to rework the backend and try to stop cutting corners
Great for THIS travel beginner!
StephanyHill
on
7/30/2017
I'm just starting to get my travel on and Kayak has been an excellent one-stop-shop. I'm able to find whatever it is I need whether that be a hotel, a flight, a rental car or any combination of the three. I've used Kayak EXCLUSIVELY for the last two trips!
Sweet app update!
This app update is much better than the others they've done. Easy to navigate.
Love it, except "basic economy" foolishness
BionicSoccerMan
on
7/29/2017
Great app, great search engine, but I NEED NEED NEED the ability to filter out these ridiculous "basic economy" fairs. I'm a United 1K, and I'm embarrassed that United even offers them.
Simple
Just as I am
on
7/29/2017
We don't use other booking apps. No need. This shops all (except Southwest, of course).
Limited
I love Kayak, but would like to add airlines such as Frontier.
Great App
Bible intermedia
on
7/29/2017
This app really does help plan your trip.
Easy Site Use
I've tried many travel booking Apps / sites Kayak is by far the simplest and easiest to navigate. Keep up the fine design Kayak THANKS!
Fact Sheet
Publisher: Kayak Software Corp
Category: Travel
Released: Feb 27, 2009
Current Version Released: Aug 09, 2017
Version: 66.0.0
Size: 178.2 MB
Compatibility: Requires iOS 9.0 or later.
Recommended Age: 4+
Game Center Certified: No
Supported Devices: iPad2Wifi-iPad2Wifi, iPad23G-iPad23G, iPhone4S-iPhone4S, iPadThirdGen-iPadThirdGen, iPadThirdGen4G-iPadThirdGen4G, iPhone5-iPhone5, iPodTouchFifthGen-iPodTouchFifthGen, iPadFourthGen-iPadFourthGen, iPadFourthGen4G-iPadFourthGen4G, iPadMini-iPadMini, iPadMini4G-iPadMini4G, iPhone5c-iPhone5c, iPhone5s-iPhone5s, iPadAir-iPadAir, iPadAirCellular-iPadAirCellular, iPadMiniRetina-iPadMiniRetina, iPadMiniRetinaCellular-iPadMiniRetinaCellular, iPhone6-iPhone6, iPhone6Plus-iPhone6Plus, iPadAir2-iPadAir2, iPadAir2Cellular-iPadAir2Cellular, iPadMini3-iPadMini3, iPadMini3Cellular-iPadMini3Cellular, iPodTouchSixthGen-iPodTouchSixthGen, iPhone6s-iPhone6s, iPhone6sPlus-iPhone6sPlus, iPadMini4-iPadMini4, iPadMini4Cellular-iPadMini4Cellular, iPadPro-iPadPro, iPadProCellular-iPadProCellular, iPadPro97-iPadPro97, iPadPro97Cellular-iPadPro97Cellular, iPhoneSE-iPhoneSE, iPhone7-iPhone7, iPhone7Plus-iPhone7Plus, iPad611-iPad611, iPad612-iPad612, iPad71-iPad71, iPad72-iPad72, iPad73-iPad73, iPad74-iPad74,
Supported Languages: Danish; Dutch; Flemish; English; Finnish; French; German; Greek; Indonesian; Italian; Japanese; Korean; Bokmål, Norwegian; Norwegian Bokmål; Polish; Portuguese; Russian; Chinese; Spanish; Castilian; Swedish; Thai; Chinese; Turkish;