Screenshots
New in version 74.0.0
• Our updated notification area gives you more control and flexibility with price alert reminders.
• With one tap you can now call hotels, rental car agencies and even restaurants directly through your Trip events.
• We've streamlined our filters to give you more precision with rental car location and simpler airport selection.
Description
KAYAK searches hundreds of other travel sites so you don't have to. Book the perfect flight, hotel or rental car and save money with mobile-only rates and Private Deals. KAYAK Trips lets you organize all of your travel plans in one place including free flight status updates, airport terminal maps and security wait times. KAYAK is the only app you need for planning, booking and traveling.

SEARCH: Find great deals on flights, hotels and rental cars
• Unlock Private Deals and exclusive mobile-only rates for even more savings.
• Effortlessly and securely book via the app without the need to re-enter your traveler data and credit card information.
• Pick a destination and choose flexible dates to find out when it's best to fly.
• Filter options based on stops, airlines, departure times, amenities and much more.
• Book at the right time. Price Forecasts let you know whether your airfare is likely to go up. Price history charts show airfare trends over the last 90 days.
• Planning a group trip? Share search results, hotels, flights and more using iMessage -- where everyone can view and vote.
• Have big travel dreams but can't decide on a destination? Use Explore to set your max airfare and see all the amazing places in the world where you can travel (whatever your budget, let us help you search!).

TRIPS: Your free personal travel assistant
• Organize your travel plans in one place, regardless of where you booked.
• Book on KAYAK or forward your booking confirmation emails to trips@kayak.com to begin building your trip. Optionally auto-import bookings from your Gmail account.
• Stay up-to-date with real-time flight status, gate change and baggage claim notifications.
• Get security wait time estimates for your flight.
• Navigate your way around the airport with step-by-step directions.
• Find shops, duty free, food, coffee, chargers, restrooms, lounges and more. See actual photos of each and learn whether they are before or after security.
• Countdown timers keep track of your flight's progress and remaining layover time.
• Share your travel plans with family and friends.
• No internet access, no problem. View your itinerary and airport maps with no internet connection.
• Use the Trips Today widget to get a quick overview of your day's itinerary.

APPLE WATCH: KAYAK on the go
• Keep your travel plans right on your wrist.
• Receive alerts on your watch when your flight status changes.
• Add the KAYAK complication to your watchface to see your next trip event.
• Use Force Touch to toggle between your current, upcoming or shared trips.
• Leave your phone behind on your next jog/swim. Trips are stored locally on your watch.

PRICE ALERTS: Never miss a deal
• Let us do the searching for you. Create a flight or hotel Price Alert and we'll notify you when the price changes.
• Not sure where to go? Create a Price Alert for top world cities or specific regions and let the deal determine your next adventure.
• Use the Price Alert Today widget to get a quick overview of your latest alert updates.

FLIGHT TRACKER: Track the status of any flight
• Know if you're arriving early or late by viewing the status of departure and arrival times.
• Monitor the flight's progress in the air with the convenient map view.
• Easily track friends and family with their flight number or the airline.

AWARDS
Winner of 10 Webby Awards including:
• People's Voice Award for Travel Mobile Apps & Other Handheld Devices (2015)
• Webby and People's Voice Award for Travel Tablet Apps & all Other Handheld Devices (2014)
• Time Magazine: 50 Best iPhone Apps (2014)
• Wired Magazine: The 8 Best Apps for World Travelers (2014)

Discover helpful travel tips, tools and information by following our blog: https://www.kayak.com/news/

We'd love to hear from you:
https://twitter.com/kayak
mobile@kayak.com
iPad Screenshots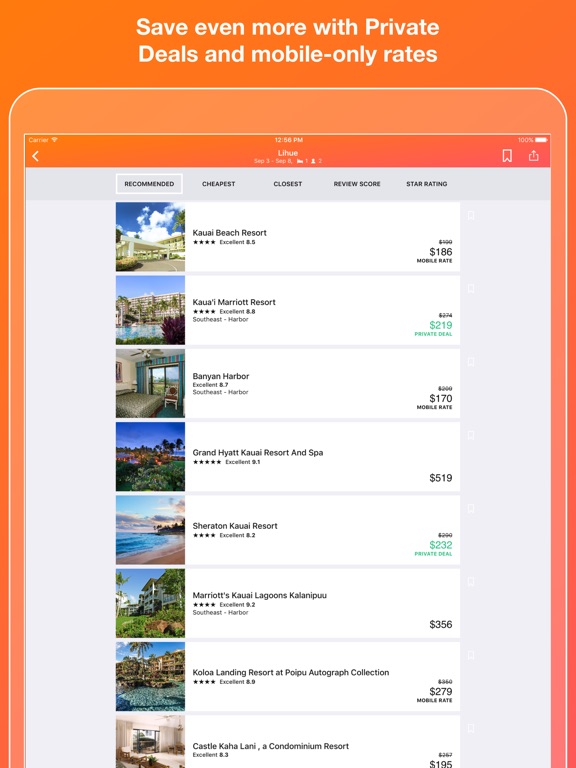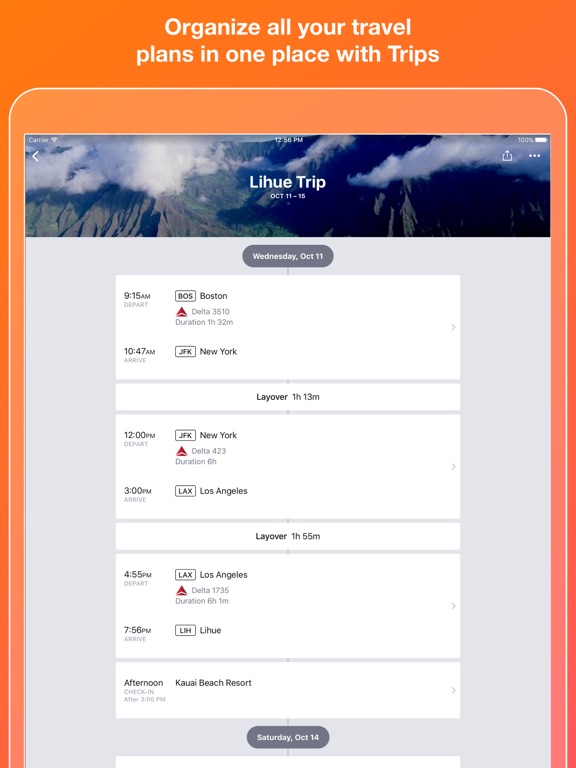 Reviews
Alerts not working on the app for a week? Please fix immediately. Thanks!
Alerts not working on the app for a week? Please fix immediately. Thanks!
Easy
I like a straightforward app and this is one.
Hi
It's a little hard to knew how to work this app !!
Very user friendly!!
I loved it!!
Be careful prices are not guarantee
They don't have customer service and then you need to deal with different flight company. You should never order ticket from this app
bad service
kayak connect with fightconnection.com . they change my fly schedule layover more 24h, i cant get any recoup, they charge 200$ if i want change schedule. im done with kayyak
Mrs
Just joined. Seems to be easy to use.
Amazing
Samantha Bruce
on
12/1/2017
I really love this app. Has everything on it I've had plenty of different travel apps this is the best yet!
Recommend
Nice app Poetically helpful
Kayak works
Crustyfisherman
on
11/26/2017
Highly useful for cars, flights and rooms. Simple as that.
Great app
A friend watches a bunch of places to visit in her bucket list. I'm borrowing her idea.
Inconsistent and wrong information on flight prices
Lately I have tried to book flights on Kayak only to find out the prices quotes provided were much higher when I was about to finalize my purchases. This happened multiple times and cost me a lot of work and last minute changes to purchase tickets from other sites/travel agents. If I can't trust the price quotes provided, the. What good is this app for. Sorry for the bad review but this is my recent experience.
Thanks
Confucius Bautista
on
11/22/2017
🙏 BEST DEALS 🙏
Fight search
It is almost impossible to select a date more than two months away. I've been trying to monitor the cost of a flight I'm planning for August 2018, but the app won't let me select a start date in August.
Best travel app
I love this app because: 1- super fast load times 2- awesome personalization 3- superb 1-click checkout 5 stars!
BEWARE!
Up to this point, I have book many of hotels and flights with no issue. kayak has been my go to app for booking trips. BEWARE of a Kayak partner Vayama. When making flight, Kayak forwards you to a partner travel site for booking. On Kayak, flights are advertised as one level, ie economy class, which includes check-in luggage, but after purchased the ticket are downgraded to lesser class with no check-in luggage. Before booking, I went to airlines site to verify what was included in the economy class. I called the partner and the agents yelled at me. FALSE ADVERTISEMENT! I would recommend for all to check better business bureau. I wish had checked before wasting my money with them.
Add share button to flight status pages
Great re-design
Fix Authentication
Richard Roll
on
11/17/2017
Authenticating with an existing FB account is atrocious.
Best travel app
I love kayak! They make it easy to find flights, hotels, and cars. I use it every time I travel!!
I use it FIRST, ALL THE TIME!
My go to travel agent
R2D2
arthur_V3nture
on
11/15/2017
Best place to buy flights
Easy and informative
CritterGuardian
on
11/14/2017
Kayak has been my default travel biking source for years. I use it for flights and hotels but have not yet used it to book a car. Easy to use, competitive pricing in search results. I like the notifications for flight delays. When my flights have been delayed Kayak had the update but the airlines app did not update to reflect the delays. Useful, helpful, and recommended.
The great help to find Cheap flight and Alerts
Loquillaybuena
on
11/14/2017
La mejor para hallar vuelos a precios económicos y con alertas para cuando es tu mejor oportunidad de comprar. Si no aplicas cuando te llega la Verdadera Ganga...tú pierdes.
One of the best
No big room for improvements, great app
False
Prices never match up with booking. I've went full round of booking flights for kayak to simply tell me that the ticket price went up nearly 1000$ in the time it took me to enter my information
In a crunch
I have used this app for many years. I have done several trips without plans or a place to stay. This app has helped me find cheap hotels/motels on several occasions. Between this app and air b&b I can keep traveling the way like, Care free!!
Kayak delivers in app for too :)
Kayak is always such a terrific travel resource and there app is incredibly user friendly both for travel search as well as keeping all your travel info organized in one easy to find spot. Thanks guys
Hotel reservation unusable on IPad
Terrible design of hotel details requires scrolling a small window on iPad. Just show the details? Uninstalling.
Just love
I just love this app; very convenient and just plain ..... awesome !
Great app
Love using Kayak to sort thru the zillions of flights available for a particular trip. I wish you were able to do a multi city search though.
Best travel app ever!
Torrance Carroll
on
11/7/2017
Kayaks Trips feature is extremely useful, tracks flights, lets you know if a flights been delayed or a gate change. Makes it easy to book hotels between stops. Mobile and web apps are equally fantastic.
Altima
It's my dream LUXERY Vehicle... and the the truth is one day "I WILL OWN IT FREE AND CLEAR" Lynda L Venable
Love it
You won't be disappointed!!!
Booking a car at other side of city not helpful
If I'm flying into an airport (on a flight booked *via* Kayak) and I want to add a car to this existing trip, reserving a car at a random Hertz across town isn't helpful. Worse, there are no visible cues to the location of that Hertz so naturally it can be assumed it's "the one near the airport". C'mon...
Unreliable
I see available flights then when you book they are not. Just a bogus marketing system.
This is the best flight search ever made
Awesome!
Love it
darck_angelivy
on
11/2/2017
Always give me the best prices and options when i trabel 😍
Easy to create alerts!
I found this app easy to use.
First time
Loved this app it's easy and great made things so much better.
Great app, can improve
Kayak is a great app, and I really like the explore feature. I have found great deals using this feature. With the explore feature you can set the filters to narrow down by month and $ amounts. However, once you select a destination to look at actual flights, and then try to go back see other flight destinations - you cannot...the search results are lost and you have to start over the search and reapply the filters, making it frustrating. Wish there was a way to go back to the explore search results with the applied filters.
Ok for searching flights
Using this to compare flights. Works ok if you know how to work around the issues. Airlines are smartening up and for example offer very reasonable prices until you discover that your first checked bag, your hand luggage, your meal and who knows what else all cost extra, so to really compare apples to apples gets harder and harder. Also, what I don't like are the constant nagging to register and constant app updates that seem to bring no new functionality (and it's fine, if it does what it needs to do I don't need an update - but it seems like I'll be able to price compare my baggage cart, coffee, travel literature and parking garage soon once the developers run out of ideas) and just seem to be done to remind people to use the app.
Made it easy
Never actually booked my own flights I️ have flown before but only Millitary booked so do this being my first time doing this alone it was really easy
The best app for flights
Datoshka11111
on
10/31/2017
I travel 4 months out of the year and search multiple airline apps for deals! 95% of my flights are booked through kayak! Great prices and super easy to use!
Won't show original e-mail receipt
Generally love this app. But recent versions block you from viewing your original email travel receipt (despite supposed option to do so) unless you are an "authorized user." I am the ONLY user, & logged in. Not clear how I "authorize" myself.
Very user-friendly
I used the Kayak for over a year. The fares are usually as low as any disclosed price on the net. The functionally is intuitive, and it's a fun app to use.
Always the 1st place I check for airfares
UltraLimited2011
on
10/29/2017
Kayak is great - I've used the site for several years.
Very satisfied!
Convenient and easy to use.
Top of World
Best and essential for the traveler.
Fact Sheet
Publisher:

Kayak Software Corp

Category:

Travel

Released:

Feb 27, 2009

Current Version Released:

Nov 30, 2017

Version:

74.0.0

Size:

160.7 MB

Compatibility:

Requires iOS 10.0 or later.

Recommended Age:

4+

Game Center Certified:

No

Supported Devices:

iPhone5-iPhone5, iPadFourthGen-iPadFourthGen, iPadFourthGen4G-iPadFourthGen4G, iPhone5c-iPhone5c, iPhone5s-iPhone5s, iPadAir-iPadAir, iPadAirCellular-iPadAirCellular, iPadMiniRetina-iPadMiniRetina, iPadMiniRetinaCellular-iPadMiniRetinaCellular, iPhone6-iPhone6, iPhone6Plus-iPhone6Plus, iPadAir2-iPadAir2, iPadAir2Cellular-iPadAir2Cellular, iPadMini3-iPadMini3, iPadMini3Cellular-iPadMini3Cellular, iPodTouchSixthGen-iPodTouchSixthGen, iPhone6s-iPhone6s, iPhone6sPlus-iPhone6sPlus, iPadMini4-iPadMini4, iPadMini4Cellular-iPadMini4Cellular, iPadPro-iPadPro, iPadProCellular-iPadProCellular, iPadPro97-iPadPro97, iPadPro97Cellular-iPadPro97Cellular, iPhoneSE-iPhoneSE, iPhone7-iPhone7, iPhone7Plus-iPhone7Plus, iPad611-iPad611, iPad612-iPad612, iPad71-iPad71, iPad72-iPad72, iPad73-iPad73, iPad74-iPad74, iPhone8-iPhone8, iPhone8Plus-iPhone8Plus, iPhoneX-iPhoneX,

Supported Languages:

Danish; Dutch; Flemish; English; Finnish; French; German; Greek; Indonesian; Italian; Japanese; Korean; Bokmål, Norwegian; Norwegian Bokmål; Polish; Portuguese; Russian; Chinese; Spanish; Castilian; Swedish; Thai; Chinese; Turkish;