Games
Entertainment
Racing
This version of the app is not recommended
App last updated
Sep 21, 2009
Screenshots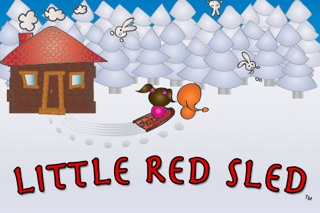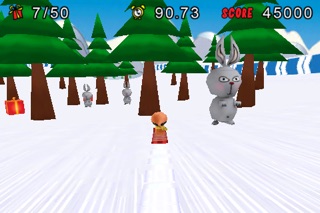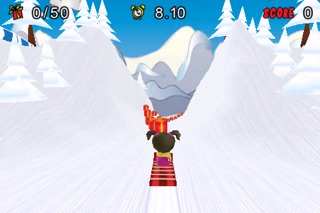 New in version 1.3
- Minor Bug Fixes
- Updated More Games
Description
Ready to experience the fastest sled racer on the App Store?

It may look cute, but it will challenge the most experienced gamers with its exhilarating pace!

***************************
REVIEWS
***************************

"Turned my iPhone into a conduit for joy. It's wistful, beautiful, responsive and full of charm."
-thePortableGamer.com

"This is a great, fun, cute, original game. And it's fun for all ages."
-148apps.com

"Nicely polished with a distinct and charming style that is punctuated by the original piano track."
-touchArcade.com

***************************
FEATURES
***************************

Sled as either Max or Maya as you:

- Duck and dodge through thick glades of trees
- Soar through the air as you jump off the ramps
- Perform tricks in the air
- Navigate hairpin turns and twists
- Collect treasure along the way
- And most importantly... Watch out for the bunnies!
Reviews
Easy Repetitive and Boring
AndroidBeatsIOS
on
12/17/2016
Wasted 20 minutes on this game hoping it would get harder but it kept getting easier because there are so many resents in a level that it is impossible to not get enough. 20 minutes of my life wasted that I'm not getting back.
stop forcing apps
if you're going to pay advertisers to hijack my Safari browser to force my iPhone to launch the app store to download this crappy app, I'm going to rate all of your app 1 star and will do that to all of your future apps. i am sick of of these tactics. it's annoying and paying advertisers to force something like this upon me is making me lose faith in the app store.
It's ok
It's an ok game it is not a game u would give 5 stars but it's to easy and a little boring.
Download the second one!
If you download the second app, it actually works.
Boo! 😡👎
Sky gamer 22
on
12/9/2012
Baby game boo don't waste your time!
You know...
Just this game is to easy. I just got it and it's already to boring I already beat it. Just do not get it please. Wayyy toooo boringgg!
ok
Animallover67898
on
9/8/2012
this app is ok, but it screams "snail mail" if u dont know what that is it is an app. and snail mail is much better. i would not get this if i were u. get snail mail!
This app is 💩!!!!!'
Would give 0 stars if possible!!!! It is so boring and the controls are really hard and boring! I payed 2$ for this app and I want my money back!!!😡😡😡😡😡😡😡😡😡😡😡😡😡👎👎👎👎👎👎👎👎👎👎👎👎👎
Rip-off!!
This game is a total rip-off! It only has a couple courses a few objectives and gets boring quickly. DO NOT BUY THIS GAME!!
Great 3D Fun!
If you like snow, sleds and fun you will like this game. The controls are smooth and the game play is fun. This is a recommended buy.
Absolutely love it!
I have X2 Snowboarding and I love that game. It's complexity and barrage of tricks are incredible. Little Red Sled. I got it and I love it as well. It's simple and has one trick. However, it is VERY fun. Graphically, the game runs about as smooth as I have seen a 3D game run on the iPod. The graphics are very pretty. Sure, they are cute, but I am a gamer of 33 years and in my world of gaming, cute is good! The music is wonderful. The half of Imangi that composed and performed the piano music is a wonderful talent. She really is amazing (and she is also very pretty and...cute :) The gameplay is great. I can't believe how smooth the steering and jumping is. I have never had so much fun collecting presents! (at least in my adulthood that is!) Wonderful game, Great addition to my huge collection - Five stars all the way. I love Imangi's other games. In fact, this is the only one I didn't have...Until now! Highly Recommended if you like 'Cute' games and feel like having some fun :)
Little Red Sled
So addictive!
An ok game
Gets boring after a while but it's cute. Just wish there were more levals that wernt super easy then two impossible ones. It's just ok.
Fun!
Wasn't sure about this after reading some of the reviews but tried it and love it! It's a great way to enjoy a little bit of fun when you can't get outside to play in the real snow.
Fun but...
Welliecooldog
on
10/24/2009
$2 is 2 much! Should be $1. If u do u get five stars.
Awesome!
Best game ever! Really fun and hard! Buy it! Maya andMax are waiting for you!  5/5 stars for you!  Yay!
Really fun
I like the game a lot. A good buy- only recommendation is it could be smoother and stuff like turbo jet power ups  Oh and if you think it's lame (it's a me) then why not say what you don't like so it can be fixed and worth your money
Meh...
Pink_Fuzzy_Bunny
on
4/16/2009
Fun for a couple hours, but not much more. The concept is cute, but the first 3/4 of the game is pretty easy to beat. Last two runs border on impossible and then you're done. No challenges or bonuses, no real objective either. One of the few that I had absolutely no desire to replay... Ever. Minus the last runs, plays more like a lite version of an app. I'd suggest it only as a safe choice for kids. No gore/violence, etc. Nice work on the soundtrack though. The original music score is bright and cheery and the little sound effects are adorable.
Loads of Fun
tomdoyle1948
on
4/11/2009
Great game. Not just for kids.
cute and charming!
i don't normally like racing games but the cute graphics and whimsical music hooked me in. however, don't let that fool you in to thinking this game is nothing but fluffy. each level has a goal (collecting gifts, performing tricks, etc.) you must complete before moving on to the next level--really makes it more challenging rather than just simply racing. my one suggestion is if we can allow the characters to go back. sometimes, i go really fast and i miss the gifts. :( add a time goal to each level so that there is still a reward for completing all gifts in your first pass.
WAHOOOO!!!!!!
This game is very fun, addicting, and challenging. By looking at this games graphics you will think "How dumb, this game is for little kids" but your wrong. This game has amazing graphics, realistic gameplay, easy controls, great story/concept, and an AMAZING soundtrack!!!!! This is an all around great game. It is very challenging at the end, but because it is challenging you will be addicted to the game and keep getting closer and closer to the goal. This is a fun game for all ages,so hit the "buy" button right now. IT IS WORTH IT!!!!!!!! I hope my review helped you make you perchase for this app.
Fun game with great graphics
The graphics in this game is great, and it's a lot of fun.
A game as cool as the snow...
Really enjoying this game, my kids are liking it even more. Its a charming game from the music and the look and controls well with some challenging objectives through the courses. Nice game for kids but still charming and challenging for adults too. Look forward to any future updates.
Read below!
Super Sanch0
on
3/23/2009
Why are you looking at reviews for this game Hun... Then just but it cause it's awsome!!
excellent game
i lol'd then i serious'd
on
3/23/2009
The best game utilizing both red sleds and evil bunnies. One of my new favorite games on the iPod. I highly recommend this to anyone. But my only complaint is that there is a lack of replay value. Some of the courses are fun... but not enough variety to keep me coming back. All in all it's a solid 4 star. Get the lite version before this one just to be sure it's for you.
Simple, clean fun
Psychopusher
on
3/22/2009
Often it's the simple things that leave the best impressions, and this is a good example of that. The perennial winter sport of sledding with a couple of cute characters is combined with jumps, trees, bonuses and evil bunnies across loads of great slopes with varied challenges, making for a game with pleasant surprises. The visuals are pleasing and effective, the sound is good, and the controls are actually quite responsive and hit that comfortable spot that's neither too loose nor too twitchy -- and I'm not a huge fan of accelerometer control to begin with. Couple that with a development duo that listen and interact with the community, and a bargain price point of $2, and I would be hard pressed to come up with anything here that disappoints. There are a few small bugs that have cropped up, but I expect those will be fixed soon enough.
Dont be fooled by fake reviews!!!
This game is not even worth the space on your iPod for free let alone 1.99. I bought it because of the reviews but they are a total BS. I want by money back !!!!!!!!!!!!!!!!!!!!!!!!!!!!!!!!!!!!!!!!!!!!!!!!!!!! I
little red sled
FUN how can you go wrong for 1.99? my daughter loves it too. It is quite addicting
Completely addicted to this game!
This is a fun, simple little game that makes great use of easy-on-the-eyes cartoon graphics and easy-on-the-ears cute sound fx. It's simple at first but becomes extremely challenging as you hit the harder slopes. I've been stuck on the hardest slope, yet I can't put it down and it is too much fun continually trying to tackle it. Currently, my go-to app for fun.
Best
Phillygrl 11
on
3/15/2009
All I can say,this is the best game ever. I don't seem to be able to put this game down,just so much fun. Well worth the money. Thanks.....
Fun game
Fun but more levels
Exhilarating and Challenging
Sure it looks cute, but it truly is one of the most addictive racing games available. The graphics are great, the immersion is compelling, and the levels increment in the most addicting way. And the cuteness? It keeps you happy.
Fun!!
Cute, nice controls, difficulty levels for everyone, good music - and Giant Bunnies. How can you not love it!?!!
I want my money back
Lame Lame Lame Lame Lame I want a refund!
Great!!
This is a great racer which I have been fortunate enough to test. It may seem easy at the beginning but when you get to the blake diamond levels it is extremely difficult. This is a great time waster. I definitely recommend you pick this up.
Don't let the cuteness fool you... this game gets HARD
For anyone looking at the screenshots wondering if this game is going to be a big waste and that they'll breeze through it no problem, think again. Sure, the fist few levels are a breeze. You'll be thinking "meh, another 1.99 wasted on yet another easy game." Once you get to the "black diamond" levels, where you have to fulfill several milestones to make succeed and make it to the next level (or unlock more difficult levels), you'll be in for some pretty harried action! Some levels made me want to chuck my iPod Touch at the wall, I was so frustrated. Suffice it to say, if it frustrates me so much that I CONTINUE to play it whilst gnashing my teefuses, it's a good game. And, for TWO FREEKIN' BONES! Why not?
Beautifully Done
I can see what the developer meant by 4 months of making. Its a very cute game which can easily be picked up for a short burst of play then brought out like. Great game, and 1.99 for a game of this magnitude is a steal!
Great 3-D racer!
This game is great and can be really challenging and fun! The music is awesome too! Well worth $2
Looks like a cute kids game -- except for the EVIL BUNNIES!
Looks like a cute kids game. Sledding in the snow, collecting presents. Sounds fun! But then, the evil bunnies appear! Little Red Sled is a bit of a departure for Imangi Studios. So far they have released 2 apps prior to this, Imangi and Word Squares, both great but very different word puzzle games. Little Red Sled is much more of an arcade game based around sledding and gathering presents. The gameplay for LRS is fun, simple, and so gosh darn cute. You glide your sled down the ski slope and gather presents while avoiding obstacles. There are all the usual things you'd expect to see on the ski slope. Trees, hills, moguls, jumps, presents, evil bunnies. What? Evil Bunnies? The controls are well done, and respond really well. You steer your sled by tilting left/right. You can touch the screen to slow down. This helps with the levels where you have to collect a certain number of presents. In addition you can perform tricks on your sled when you hit the jumps by shaking your device. The game itself is a goal based. For each level will have a certain goal to achieve, time based, score based, gather based, or a mixture. If you meet the goal for that level, you'll unlock more levels to play. Little Red Sled includes a great, original score that fits very well with the game and lends greatly to it's innocent feel. Makes me thing I'm going to see Lucy and Linus dance across the screen. The score is an original composition by Natalia from Imangi Studios. You can see her play it and download the MP3 from the Little Red Sled website. As with any 1.0, there are a few things that can cause problems. Mainly it has to do with doing things you shouldn't. For one, don't try to turn around and go up hill. Your sledder gets all flippy. Also, if you are going too slow and hit a bunny hole, you'll get all dizzy and have to restart the level. All minor issues, easily avoided if you aren't like me and do things the game wasn't designed to do. This is a great, fun, cute, original game. There's enough originality in the game to keep you coming back and playing. And it's fun for all ages. Well worth the $2. Just watch out for those evil bunnies.
I feel like i'm a kid again
Dexter Riley
on
2/19/2009
i just feel good while i'm playing this game. you will not regret buying it
Perfect Fun Racer
Markus Freise
on
2/19/2009
As I had the opportunity to be a beta tester for this game, I can guarantee: It's fun. Try some slopes while on the train, waiting for something or just to take a break. From technical point of view it's perfect too: The graphics are fluid and well rendered, the controls are balanced and the level of difficulty starts from very easy to "how in the world can I beat that last level?". This all for a fair price. Have a nice ride down the slope ... but watch out for those bunnies!
Little Red Sled will transport you to snow packed slopes of fun.
starrsight2050
on
2/19/2009
This game is just simply great fun. The playful graphics and skillful sound effects will bring snow white bright and the sense of crystal powder into your day no matter where you are. Each of the first runs with the sled teach the skills to navigate the run successfully. There are definitely some higher game levels waiting for those players who love a difficult slope and a challenge. (Personally, I haven't reached the highest level yet...but I'm still trying :-) Your entire family will enjoy the slide!
Fact Sheet
Publisher:

Imangi Studios, LLC

Category:

Games

Released:

Feb 18, 2009

Current Version Released:

Sep 21, 2009

Version:

1.3

Size:

9.6 MB

Compatibility:

Requires iOS 2.2.1 or later.

Recommended Age:

4+

Game Center Certified:

No

Supported Languages:

English;