Screenshots
New in version 17.10.02
Tis' the season to find that special someone. Download the latest version of Match today, and you just might have someone to cuddle by the fire this holiday season.
Description
Forget multiple apps for dating - we've baked all of your favorite features into one app. Discover people nearby, view their photos, wink for free, plus even more:

• Exciting new matches every day
• Get a constant flow of matches with Stream
• Say yay or nay quicker with Mixer
• Search like a boss with our powerful filters
• Never miss a connection with push notifications

We're #1 dates, relationships and marriages. That's more than free dating sites like POF, Bumble, Tinder, or OkCupid.

And unlike Zoosk, Badoo, eHarmony and Hinge, Match is home to the largest pool of singles in online dating—that includes gay dating websites, lesbian dating and plus size dating.

How do we do it? Our matching algorithm delivers only the single men or women that meet your standards.

Today, 1 in 5 relationships start with online dating. Why not join the most proven matchmaker and start chatting?

From gay dating to Asian dating to bbw dating, Match is the dating website where memberships become relationships. Get the singles dating app free and be a part of the best in the dating game.

We have multiple subscription options to choose from, starting as low as $21.99/month:
- Your iTunes account will be charged at confirmation of your purchase and auto-renews for the same price and duration period as the original one/three/six month package
- Auto-renew may be turned off by going to your Account Settings after purchase and must be turned off at least 24-hours before the end of the current period
- No cancellation of the current upgrade plan is allowed during your active period

At any time, you can review our Privacy Policy at http://www.match.com/registration/privacystatement.aspx
Our Terms of Use is available at http://www.match.com/registration/membagr.aspx
iPad Screenshots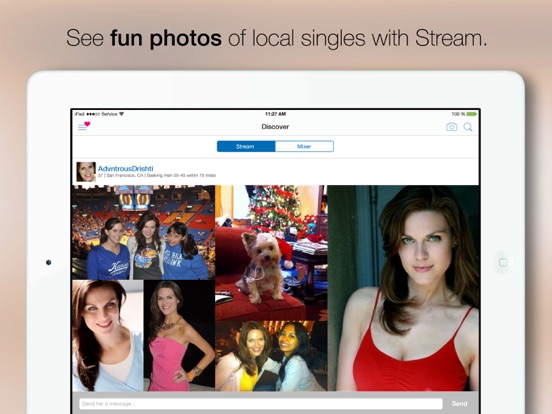 Reviews
Not much to do without paying
I've had people messaging me and liking/commenting on photos, but you can't have any interaction with them without having to upgrade. All these notifications and can't do anything with them. I've only had the app for an hour and I'm already done with it.
Steer clear of Match.com!!!!
The Sean M. More Band
on
12/10/2017
If paying 3 times as much for an online dating subscription and having EVERY Catfish/Scam Artist contact you, then Match.com IS for you!!!!! I just terminated my 3 month subscription with Match.com after paying close to $150 for services. I actually canceled a week ago and learned that I still was active so I canceled again yesterday and I have copies of their"Don't worry, We're NOT going to automatically renew your subscription "bs. Also, it is grossly inappropriate for them to keep your account active for 1 year after your cancellation. S. M. H.
Overpriced
Match bills itself as a free site, but in order to do anything useful, you need to pay for a subscription. I'm fine with this in theory, but I'm only going to pay for something that has value. Match is extremely overpriced and provides very little value for that cost.
Needs more DELETING options
BiggieSmalls20
on
12/10/2017
I like the app overall, but there was a recent update to the desktop version that now will not allow me to delete Likes or Yes ratings from people I have no interest in — Not good. 😬 And regarding the app itself, Why is the only option when you swipe left to Email the person I have NO interest in, versus being able to DELETE their notifications?? Please fix this!
Why not read notification anymore???
Is it only me? Why doesn't the app give you read notification anymore? Have to log onto full version!!! Ugh grrr
Terrible.
Waste of money. Really frustrating and the app is too confusing and difficult to navigate. Too many options and notifications. Also, I tried to talk to someone about getting my money back just a few days after I paid for the subscription and had no response from anyone. Don't get it. Better luck on Bumble...
There are better options out there!
Live a great story
on
12/9/2017
For starters, Match.com does not provide refunds on subscriptions, quality privacy settings, or follow any of your match settings. I have been messaged by several people who are old enough to be my father and live three states away (nope!). My experience leads me to believe that match.com is an expensive version of OkCupid - you have zero control of who messages you and very limited privacy settings (because they charge you extra for extra privacy settings). If you are interested in a site that actually follows your match settings and gives you more privacy without the price tag, try Bumble or eHarmony. (Even Tinder has better match privacy settings!) Also, the customer service is terrible! I still can't get my profile completely deleted from their site. Subscribers beware...your profile may stay there forever.
Dexter
Allllllllllllxxxxxx
on
12/9/2017
Secretly bills you even if u never even met a person , I'd rather die alone that pay match for nothing . Stick to the old fashioned way of paying for sex.
Waste of time
JohnMichaels2017
on
12/9/2017
Fool me once shame on you, fool me twice shame on me. Gave match two chances and was really disappointed with the product. I don't mind paying for a quality product, but I wasted too much time writing to girls who were unable to read my messages. In fact only about 1/4 were able to read them. Even if they have an active green light it's impossible to tell who's a paying member. The girls who can are completely overwhelmed. Went on a couple nice dates, but had a dozen girls cancel on me due to them being burned out. Another two or three dozen promising girls hid there profiles in the middle of chatting and never heard back. Reported a few girls with duplicate profiles and nothing was ever done. Definitely need good self esteem if you're a guy or you will get depressed.
Scam? Let's show profiles that dont exist anymore on the website.
I can't believe I actually read "this profile doesn't exist anymore" so they try to boost their actual views on profiles by showing profiles that have been deleted a long time ago. I honestly want my refund because of this type of scam. This girl could be in a relationship, and the fact you display her on your website is only going to harm her image. I would give zero stars if I could. Edit: look at the developer response. They didn't even address the issue I brought up. I didn't say that the girl is scamming. I am saying this site is a scam. Why show profiles that "no longer exist". They didn't even take the time to read my response. Edit 2: they canceled my membership it was supposed to end on the 22 of December today it's December 8th. They DID NOT refund me. Stay away.
Buyer Beware!!!
No Notification when renewal date was approaching. Resulting in surprise charges on Credit card statement. Customer service REFUSED to help even If offered to work with them. Most people on service are a bunch of scammers anyway so good luck finding anyone real! STAY AWAY!!!!!!
Not good
The navigation on the app is antiquated and poor. My matches are consistently not within the search parameters I set. They need a whole revamp. This app honestly is poor. 2 stars is kind.
Always freezes
Cigar shooter
on
12/7/2017
The app is useless. I am running the latest version of everything and just bought a new iPad. I will delete the app and just access match on the internet.
Bad Update
Allandriggers
on
12/7/2017
Bad update!!! Please role back to the last version!!!!! After the update for 2 days ago, you can't see if and when your sent messages have been read!!
Fake profiles
To many fake profiles.
Little disappointed
The Flying Rug
on
12/7/2017
What is the point of profile verification if i still get likes by scammers? Why do i have to always delete your stupid generic messages? Why can't that be left blank and give us the choice to write what we want?
The men
Enkongsdatter
on
12/7/2017
The men don't seem to take this site seriously. They are always talking about intimate things!!!!!! I want a relationship!!
Beware!
Been a member on and off for a while and the support for this app is horrible! Match will tell you to use the website to get real results and to get the correct information! Stay away from the app & the company that doesn't care enough to support it!
Age filters and Status updates
I keep getting younger men than what I have stated on my profile. I even get men in their 50s writing to me when Im only 25! The rest of the men cant even write to me or read my message. We should be able to at least write status updates or share an inspirational image. It would give us more exposure to those that are near us. Final problem: You need to filter out those who are not in our age range or distance. I keep seeing younger and older men 100 miles away. Not enough men in my age range 25-35 are viewing me. Its just frustrating! Fix this!
Dissapointed!
TonynTereTorres
on
12/6/2017
It was a big decision to get the app, after deep thought and friends encouraging me, I did. Even they agreed, It has changed! Not worth my time or the $$$ paid.
Horribly Slow
AzNative1978
on
12/5/2017
Loading...scrolling...pictures...returning to menus. I'm only the latest update and it just seems to be slower each time. Even the keyboard keys lag behind...non of my other apps or programs do this...only Match. I can type a sentence and it takes 45 seconds for the whole sentence to type out...hope there's not a spelling mistake because trying to backspace takes just as long.
Not happy with the Match App
Glamorous girl Lai
on
12/5/2017
I'm not able to add any pictures except through Facebook or taking a picture. Which is silly because I don't even have a Facebook. The site tells you to email pictures to them so they can put them up. That's so wired! Also the prompts puts up will you allow match to access your photos I clicked allow and I still can't add. After paying $75.00 for three months I mistakenly paid and extra $20 for some kind of top spot I want a refund I don't like this app at all.
Waste of money and time.
osopeloso 13
on
12/4/2017
I started as a free member, can't complain of free right? Paid $42 a month, four contacts, not bad, I'm aware I'm not a ck model. My membership expired, 99 people are interested in me 199 messages and of course I can't see this until I pay more.... very convenient. I guess I'll be single. 🤣
A difficult app to navigate
MelissaGamer77
on
12/4/2017
This app is difficult to navigate. If you are looking to search, set filters or just check in on a regular basis it can be frustrating and overwhelming. Also, the daily matches seem so random and without any regard to preferences/ filters that I just stopped using them altogether. Honestly, half of the matches are clearly not active anymore as they don't have photos on heir profiles.
Over rated
It's the same people that are on pof and other sites. You don't get the choices of men that you set the profile for. I have had it over a month and it's just meh. I went on a couple dates with a guy and he was only after sex and it's just not what I want for the price that it's worth. If it was a free site then I would consider keeping it. I will end my membership when my 3 month trial ends.
Can't get help when you need it.
Whisperette18539
on
12/3/2017
I've been having trouble with their new "story" feature as well as changing profile Pictures. I emailed their support team 3 times and still haven't heard back. It's disappointing when it's a service you pay for.
Too many bots and inactive profiles
All Match cares about is making money. They don't care that sometimes 50% of your Daily Matches will be fake bot profiles or profiles of people who are no longer active, as long as they look like they have hundreds of thousands of profiles to pick from. There is a reason Match's user satisfaction is rated at 20% (doing multiple searches online for reviews about Match).
Canceling membership
I tried to figure out how to cancel my membership when it was time, but I was never able to figure it out through the instructions. It's very confusing and as a result, I was charged for ANOTHER 6 months of a waste of time and money. This site does not work and it's real close to being a SCAM. VERY UNHAPPY
Very few
Matches. Wasted money.
App is not good
On the website you have regular mail and filtered mail (from people who don't match what you're looking for). On the app EVERYTHING goes in to your regular inbox. I'm getting messages from people that are almost 30 years older than me, have kids, and live 25+ miles away. Not what I want any all - enough to make me delete my account. Also, the "daily matches" aren't even close to what I'd like.. I think it's just random people.
Service?
Momar kadify
on
12/2/2017
Can not call on weekends. The database keeps old files as 3 weeks old. Automatically renew your credit card. Many fake accounts. Not worth it!!!
Abysmal
Match is the epitome of sewage and rotten eggs. There are a ton of fake and inactive profiles. It keeps showing users that have not been active for a week+ in your feed, and I live in NYC. Not only do you have to deal with the above, but you don't know if the person you messaged is even a subscriber. What would be interesting to see is if Match would ever change it such that subscribers can only see other subscribers. It's clear this would never happen because it would expose how much they are lying about their users
TERRIBLE, CAN NOT STOP MEMBERSHIP
I am not able to stop my membership. They dont let me login with my password and claim that it is not true. And charge me.
Literally the worst app ever.
This app is garbage. The worst dating app on the store. Literally advertises to upgrade everywhere you go. I can't even see people who like me or like them without upgrading 🤣😂 total nonsense
Not like it used to be
Full of bugs and is pretty much the worst app available right now.
Can't tell if emails are read
Mainecoon 078
on
11/30/2017
With the latest update, I can no longer tell if an email is read. This important in communicating Gene
So painfully slow...
The latest version of this app is so slow on the iPhone 6 Plus running iOS 11.1.2. Scrolling to the list is not usable. Typing emails is almost impossible with the lag. Did you guys even test this app on older iPhones???
Horrible app, horrible service
missexpresso
on
11/29/2017
Don't get scammed. The app is as useless as this dating service. Subscribed for 6 months and found no one I was interested in. Waste of time. Use another service.
You will most likely regret purchasing this app
I cannot tell you how much you will regret downloading and purchasing this app. It will not go away. I have tried to cancel my membership so many times. It seems impossible. I have tried everything. Online dating is hard enough. But then to make it impossible to cancel is worse, because even if you meet someone it still sends you stuff and seems like you're still online dating.
Terrible app and terrible customer service
The app: daily matches are typically 11 out of 12 not with in the parameters I've set as interests. If I pick slender I get 10 fatties. Most of the women do not respond to messages. If you send 50 messages to introduce yourself you might get 1 response. They offer March events and get togethers however there are never any in your area. And I live in a large city. The kicker: They offered 6 months free if you signed up and did not find someone in your first 6 months. So after 6 months I asked for my free 6 month extension and was told 'because you purchased your membership through apple the free 6 month extension is unavailable ". What kind of crap is that? Customer service just said no! No attempt to make me happy as a customer or compromise and the customer service agents are in some far away countries that are barely understandable. Buy at your own risk. Edit: after contacting customer service about their false advertising 3 times for the 6 month offer I finally get a positive response after posting this review and calling them out? All the times called or messaged customer service their response was "we will not do anything for you". Why would you want to keep paying for memberships? 2nd edit: after placing a negative review and getting feedback here from Match I wrote AGAIN. I was told once again they will not help me because I ordered through the app. So apparently they only reply to make it look like they care about their customers when in fact they are doing nothing to honor the advertising they are putting out.
Not free -pointless
rgforever06
on
11/28/2017
This shouldn't be a free app if when you finally download and write about yourself then sign up, you can't do a thing on it unless you pay!!! You can't message or see any interaction. How can I even ponder paying for the app if I can't even try it out?! How am I able to compared it to the hundreds of free dating apps? I can't! Therefore making the whole process a waste of time
Paying for sending msgs
I tried Match at the behest of my therapist as I'm going through a divorce and was looking for people who are looking. You have to pay for sending messages to others, which is free on Tinder, Bumble, and Badoo. This app is a waste of cellular space. I think I'll just stick with those other apps. Those are free.
Believe in love
Angelina N i
on
11/28/2017
My friend met her husband here they get marriage love each other...
Terrible!! Don't waste your money!!
FoxyRacer723
on
11/27/2017
No matter what you set your settings as people WAY outside of your interests/criteria/mileage/age can still message you.. It's disgusting to get message from men that are way outta my age range, some were old enough to be my father & that's just appalling!! What's the point of filling all that out if anyone can just message you?! Some serious websites overhauling needs to be done!!
Seriously though
If I wanted to talk to men 25 years older than me, I'd call my dad.
Disappointing.
Your site needs to rise to the level of other dating apps and websites. No person should have to pay $42.99 to be harassed, and without the option of completely blocking someone. Even "hookup" apps recognize this with mutual match contact only.
Not any better than free sites
Joeyfromjerseytoo
on
11/27/2017
I'm not seeing how this paid subscription is any better than a free site. I even see the same matches on different sites. In fact I have better closer matches on free sites. Match only finds me matches so far away. I don't like that it shows people my preferences with age range. People don't need to see that. If you are not my preference you shouldn't be able to view me at all
Review or app and service
The House of El
on
11/27/2017
The app works decently when it actually does work. A lot of times it takes forever to load anything. It's also missing a handful of options you only get on the main site as well. As for the service, it's full of profiles that are no longer in use, and fake profiles requesting you to contact them directly (something the site advises not doing). More than half the profiles I had turning up on my recommendations were ones that had been inactive for 3 weeks or longer. Bottom line, you're much better off finding a free alternative.
Worst
I hate this app with passion. All they want is money and nothing else.
Waste of time and money
thebeachhunty
on
11/25/2017
The app is outdated and so are its users. Don't waste your time or money here.
Fact Sheet
Publisher:

Match.com, LLC

Category:

Social Networking

Released:

Mar 26, 2009

Current Version Released:

Dec 04, 2017

Version:

17.10.02

Size:

98 MB

Compatibility:

Requires iOS 10.0 or later.

Recommended Age:

17+

Game Center Certified:

No

Supported Devices:

iPhone5-iPhone5, iPadFourthGen-iPadFourthGen, iPadFourthGen4G-iPadFourthGen4G, iPhone5c-iPhone5c, iPhone5s-iPhone5s, iPadAir-iPadAir, iPadAirCellular-iPadAirCellular, iPadMiniRetina-iPadMiniRetina, iPadMiniRetinaCellular-iPadMiniRetinaCellular, iPhone6-iPhone6, iPhone6Plus-iPhone6Plus, iPadAir2-iPadAir2, iPadAir2Cellular-iPadAir2Cellular, iPadMini3-iPadMini3, iPadMini3Cellular-iPadMini3Cellular, iPodTouchSixthGen-iPodTouchSixthGen, iPhone6s-iPhone6s, iPhone6sPlus-iPhone6sPlus, iPadMini4-iPadMini4, iPadMini4Cellular-iPadMini4Cellular, iPadPro-iPadPro, iPadProCellular-iPadProCellular, iPadPro97-iPadPro97, iPadPro97Cellular-iPadPro97Cellular, iPhoneSE-iPhoneSE, iPhone7-iPhone7, iPhone7Plus-iPhone7Plus, iPad611-iPad611, iPad612-iPad612, iPad71-iPad71, iPad72-iPad72, iPad73-iPad73, iPad74-iPad74, iPhone8-iPhone8, iPhone8Plus-iPhone8Plus, iPhoneX-iPhoneX,

Supported Languages:

English; French; German; Italian; Japanese; Korean; Portuguese; Chinese; Spanish; Castilian; Chinese;

Parental Advisory:

Suggestive Themes; Unrestricted Web Access;