Screenshots
New in version 17.09.00
You're ready to find that person, and we're ready to help you. Download the latest version of Match today to make your search for someone special even easier.
Description
Forget multiple apps for dating - we've baked all of your favorite features into one app. Discover people nearby, view their photos, wink for free, plus even more:

• Exciting new matches every day
• Get a constant flow of matches with Stream
• Say yay or nay quicker with Mixer
• Search like a boss with our powerful filters
• Never miss a connection with push notifications

We're #1 dates, relationships and marriages. That's more than free dating sites like POF, Bumble, Tinder, or OkCupid.

And unlike Zoosk, Badoo, eHarmony and Hinge, Match is home to the largest pool of singles in online dating—that includes gay dating websites, lesbian dating and plus size dating.

How do we do it? Our matching algorithm delivers only the single men or women that meet your standards.

Today, 1 in 5 relationships start with online dating. Why not join the most proven matchmaker and start chatting?

From gay dating to Asian dating to bbw dating, Match is the dating website where memberships become relationships. Get the singles dating app free and be a part of the best in the dating game.

We have multiple subscription options to choose from, starting as low as $21.99/month:
- Your iTunes account will be charged at confirmation of your purchase and auto-renews for the same price and duration period as the original one/three/six month package
- Auto-renew may be turned off by going to your Account Settings after purchase and must be turned off at least 24-hours before the end of the current period
- No cancellation of the current upgrade plan is allowed during your active period

At any time, you can review our Privacy Policy at http://www.match.com/registration/privacystatement.aspx
Our Terms of Use is available at http://www.match.com/registration/membagr.aspx
iPad Screenshots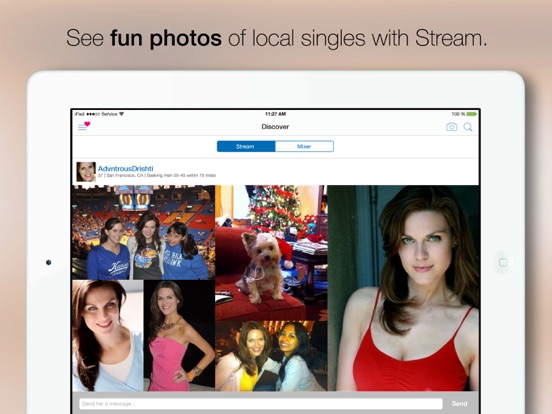 Reviews
Getting worse.
IndianaDigital
on
10/19/2017
With latest update they have taken away the ability for paid members to see if and when a message was read. Few get read because so many are expired or non-paying members. Now you'll never know just how many never read your message, because they can't. That was supposed to be a feature I paid for, but now it's gone. You can't list 'received' messages separately; they are mixed into one timeline containing both sent and received messages. What a mess! Many fake/scammer profiles. When they have a photoshopped 'text me' or 'email me' with a # in their photo, it's a pretty good bet it's fake. There are A LOT of these!
Scam orginization, stay away
MatchisGarbage
on
10/18/2017
What a garbage dating app and company! Fake girls and they are glad to take your money! Disgrace of a dating app, stay away!
Don't buy
Same as all the apps looks like a lot of the profiles are fake and nobody replies
Match.com
At first I was skeptical of joining. But then I met a fantastic man through match.com. This is for sure the best relationship I have ever been in. I am so thankful that match brought us together :)
A crap app and a crap organization
I have been on this site for about a month. And I've seen the reviews, and it appears people either love it or hate it. I am in the middle. Because I have noted several problems in connection with my Internet with this app. Lags a bit when I hear that somebody has set me a message and then it does not appear on the app for perhaps an hour or so. At times it tells me that when I try to connect with the app, that "it is our fault and not mine". One time, it wiped out all my connections. It was only after I restarted my phone, that they finally reappeared. So, this is the reason I only gave it three stars. Well I must give the whole program 1 Star. You allow idiots to access the site, post pictures of so-called hot girls, with texting numbers. If you really are reputable organization, do not allow any access the site for free. If she cannot subscribe without a membership, I do not want to have anything to do with her. And neither should you. From what I see, others agree. Sluts from Eastern Europe should never appear on your site. I will be canceling my membership soon. And I have also heard how difficult that can be. I will notify my credit card company and you will not extract another charge from me.
Don't waste your time
1111111111111939345891
on
10/15/2017
Nobody is even active or ever talks to you.
Fake
Frankie No Pants
on
10/14/2017
If you enjoy getting spam emails from Russia, this is the app for you.
Not worth it!
Brofthecreed
on
10/14/2017
So I decided to give Match a chance, an alternative to the free dating sites. I have been on and off various dating sites, With decent luck. I assumed having a "paid account" would help me find someone who was more serious. I was wrong, as a matter of fact I have experienced more fake accounts, and not so serious people. Than any of the other sites, please do yourself a favor and don't sign up. If I could take away the one star and give you no rating I would gladly. 😡 what a waste of time and money.
Money fraud!
WeegeeWarrior75
on
10/14/2017
The ad is misleading, you gives you the impression that you're paying $21.99 per month but at the end charge you $138! At once without your knowledge! A bloody rip off!
Don't do it
Been on for a couple months, trying to find way off. My account has been hacked and they are sending girls that I wink or say hello to, then I look onto my junk emails and I was astonished by the way these emails coming saying I sent "pictures" to them, and I cannot find the pictures they said I sent them. That proved I been hacked. Don't get it.
Not a 5 star rating. It just won't let me send my rating if it's a 1
What a waste of money. The amount of fake profiles and scammers on here are ridiculous. It also suggests people from across the country even if you narrow your search. Plus, free members can't even read the messages you send so how are you supposed to communicate? I wouldn't recommend this app to anyone. Just go out and talk to someone instead of doing it over the internet. I hate myself for stooping to this and will not be doing it anymore after realizing how pathetic it is.
Free dating apps are better than this.
CrazySpliff
on
10/13/2017
Very disappointed with this.So, after seeing the commercials for this claiming they have so many more features and better success rates. I realized it's just false advertising. I would think it would be better(in some ways) than the other free dating apps. But I was wrong. There are less bot profiles but same amount of bs. I'm the type of person who prefers meeting people in real life, so it's not hard for me to meet people but this site is a lot of smoke in mirrors. Same kinds of people hiding behind profiles making themselves appear however they want and when you see them in IRL they aren't who they make themselves look. Exactly like the free apps. And besides the algorithms these dating sites use to match people with eachother are pretty much randomized. If you don't believe this look up how they match people on dating sites. Overall this app is horrible and I'd rather just use one of the free ones. I've had the same amount of dates and matches on this one that I've had on free dating sites/apps. Very disappointing. If I could give 0 stars I would. This company is charging for what other dating apps/sites do for free. Booooooo
Find other app
I made the mistake of paying 60 dollars for 6 months, the app is buggy and full of fake profiles, if you dont pay you wont be able to do absolutely anything. I downloaded another app called okcupid and is by far a better option, i cant chat with everyone i like and ive gotten a few numbers and dates, so far with match ive gotten zero, i still have it because i paid for it, otherwise i would gladly delete it.
Can't control your own dating
I agree. I can no longer block creepers and abusers from contacting me. Yuck!
0/5 (personal rating)
So I've been a member for almost a month now. First off, the app is ill designed. My pet peeve right off the bat is that you cannot message from the app itself. Like why have the option to do so if your users can't do that simple function? Secondly, I'm not too keene on the match stories. I'm having the app constantly ask me to make a "story"; it's becoming a nuisance personally. Lastly, this isn't in regards to the app developers but some of the users do not seem to be responsive. Before I became a paid member, I had the impression that others would be more interested in developing. relationship per se. But sadly this isn't the case with match.com. It just seems like "bumble" or any other dating app out there. I personally wouldn't recommend this app to anyone looking for something meaningful.
Dishonesty
This app has bugs. Match seems to thrive in the fake accounts, so it's a challenge to sift through and find real people. Latest updates have actually taken away functionality. There are bugs with searching and liking and chatting. They are constantly sending phantom badges/likes to get you interacting with the app on a regular basis.
Scam
unpleasently surprised
on
10/12/2017
They tell you if you don't find someone in 6 months they will give you a free 6 months but that's only if you do it through their website etc. It's BS. The app is no better, probably worse than the free apps... don't waste your time or money!
Only Ok
Park adventurer
on
10/12/2017
You can't change or update your entire profile in the app, which is annoying. I can't even choose a different primary photo. Also, it would be nice if men outside my age range couldn't see me in their searches. If I was looking for someone my father's age, I would have that specified.
Brian
unhappy brian.
on
10/11/2017
I tried the 72 hour free trial. Was not happy after two days, so tried canceling my subscription. None of the sites webpages would let me cancel. The app would not let me cancel, then blocked me from the page until the free trial was over then I was billed automatically. Then I got access again. I've cancelled but was billed the eighty dollars. I won't use the site. I hope no one else falls for this dirty practice.
Scammers and bad matching setup.
Scammers and bad matching setup.
Annoying
enjoilif247
on
10/11/2017
It's annoying that the app keeps asking for a rating
Worse app ever
This is the worse app I've ever used. No matter how many times u Block or delete messages they still show up. No matter how often u check the setting to stop notifying or emailing you it still does it. You can barely do anything on it. horrible horrible horrible. No matter how many time you email costumer service... no response!
Used to be good in the 2000s.
I'm writing this review in hopes that they will stop nagging me to write a review!
Read before you buy
Mr Penguino
on
10/10/2017
So I got match.com about six months ago. It was alright, especially if you are active with it. But out of those six months have I never got so many like and views after my subscription ended. So now I have the option to buy again just to see who responded. Either this dating app has reached a peak season or my profile is more visible then before and they are trying to make me purchase another subscription
Filters stink
The slide filters by your finger stink. Set distance to date from 1-300. No way to get 15 miles easily. No way to filter people based on activity. Match lists everyone on there including people who have not been online for months or years. And writing to those people would be pointless, correct?
Terrible waste of time!
Um.......no
on
10/10/2017
I tried Match for 6 months which was a total waste of time. Scammers abound. I'd get likes from men, only to not be able to see their profiles. You can pay to go to the front of the line, or pay to make sure your message is received, or pay for any upgrades in general, including seminars. I'd get matched with people that weren't what I put on my profile, or I had to rate the ones I did want to view, instead of actually viewing them. I'd receive messages, go to reply, and the profile would not be available. Not to mention the add ons. Pay to guarantee someone gets your message? Seriously? I got matched with the same profiles over & over, throughout my entire time period. I don't know if their algorithms even work, and the app is just meh. I ended up meeting very few people overall. I was under the mistaken impression that I'd be better off with a dating site that I had to pay for. Guess I was wrong! I gave Match 2 chances, but after this last time, I won't ever go back. I'll try other dating sites, instead.
Meh
midnightmoker
on
10/10/2017
Been a member on and off for a few years. The app used to be great. It really was! But now they have switched it to where you can not delete emails and some other notifications you receive from the app. They just sit there piling up. Why on earth would your do that? Many of the emails/contacts you get are fake profiles (scammers) that are painfully/obviously fake and yet their staff don't catch them when the profiles are approved. Once I identify a fake profile and notify them, they will discontinue their profile. However, the scammers emails sit in your email box and can not be deleted in the app even after they have been deemed to be a fake profile. They should be allowed to be deleted from the app. Take a look at the ratings you are now receiving Match. Things need to change. Also smoking choices need to be moved to one of the top things listed so you do not have to click on every single persons page to see if they are a smoker! 2.?? Average for an app with as many people as you serve? Not doing well for minimum $20-25 a month and sometime quite a bit more depending on the package you buy. Used to love you guys. Also. Most dating apps sites will allow some interaction with each other for non paying members who want to test out the app before buying. Match has the worst options for non paying members. You can hardly do or see anything anyone sends you. Hope things get better soon!
Beware of this app!!!!
Tricksterhawk74
on
10/9/2017
The app will allow you to make your purchases and allow you to sign up for any and all services and will bill you thru Apple ITunes, however if you decide that you no longer want their services, you can cancel the iTunes renewal but they still charge you thru their website and you can't cancel thru the app either!! So beware of this sites unethical ways of getting money from you. Customer service is also a joke, they basically tell you thanks but sorry for your luck. I'll never use Match again!!!!
do not buy
Vadik.mishchenko
on
10/9/2017
My account was broken twice. Have a generated number. Means someone from their staff has access to information or information like password stores as plain text on their side. Their reset button still doesn't work.
Fake fake fake app!
This app is a complete rip off. Fake profiles and you never get matches as a paid member. BUT the day you cancel your membership, your inbox and alerts start blowing up! Immediately showed I had 99+ messages the day after I stopped paying.
This app is an embarrassment
Best way to get the most out of this app— take 42 dollars, open the toilet, toss it in, flush. It's trash— the messaging feature is not live, messages show up in random order on the feed and make conversation impossible. You get 2+ notification emails for every freaking thing that happens from random emails. It's a mess. Shame on match for taking a single dollar from anyone to use their "product"
Cannot Cancel Subscription
The app is horrible. There is no option to Change or Cancel Subscription. The Match help pages for managing subscriptions describe older versions. Even then, the subscription must be cancelled through iTunes Store. Also, the first emails to me were all fake accounts with suspicious links.
Fail
Won't even let me select my profile picture.
Awful
I can't receive messages in the app at all unless it's on the computer and I hardly ever use it so I have so many notifications that don't get checked after.
Met an amazing woman
I've payed for this app for the third time. The first 3 times I met some girls, but was not crazy about them. About a month ago I met this girl who just blew my socks off. We went out for drinks, 2nd date went out for a drink and a movie, and tonight, date 3 we went out for dinner and then back to my place to watch a movie. It was an incredible night and the best part is, she is really liking me too. Very excited to see where things go with her.
Match
Too many fake accounts.
Do not use
Kayley1425374946426
on
10/5/2017
The worst dating app I have used. They renew your subscription automatically without any warning. It's obvious that they do not screen any profiles because of the numerous obviously fake profiles. I suggest you do not waste your time or money on this site.
Terrible app
Unless you plan on paying, the app is worthless. You literally can't do anything except upload photos. You can't see messages sent to you or communicate with others at all. There is no excuse for this app to be offered for free on the App Store.
Will steal your money
almanhughes30
on
10/5/2017
I downloaded match bc a friend told me to try it so I payed for the three months. After I payed I was blocked by match and had to wait a week for them to email me back the problem. I called before then and they told me that's will be handled through email. So I waited. And I sent another email for them to just me back my money and close the account bc this is bad I get block just for paying them money. It took 2 weeks for them to tell me they closed my account and could not refund me my money back or refund apple my money bc of there terms and conditions. When I asked them to reopen my account and have it fixed I get no email back Nor it reopen. They will steal your money with out a care in the world. Be careful!!
good dating site
SpaceRobot99
on
10/5/2017
STOP PROMPTING ME TO RATE THE APP every single day — it's annoying. I just want to use the app.
My account was TERMINATED
My account was terminated because I put in my bio that I was "420 friendly," which I believe is something that potential matches should know (bc not everyone is okay with that). But Match is ridiculously conservative apparently. As a matter of fact, there were quite a few words that I could not put in my bio. Anyway, they gave no warning or chance for me to change it. Just termination. At least they are sending a refund (or so they claim..). But plz, DON'T WASTE YOUR TIME OR MONEY!
Really.
I like the app, but I want to be able to meet people and not have to pay a arm and a leg for the service. You can't really do anything without paying. You can even like someone and want to connect with them with out paying. Please match. Please let up on what we can do with out paying. It match and you can't match without money upfront. :(
Biphobia!!
Studybug5775
on
10/5/2017
Based on the all you literally can't be bisexual - I know because I identify as a woman who is bisexual but I was only allowed to select looking for "men" or "women" and not both. I hope you will pull Support for this company until they can address these issues.
Horrible used experience
Nice enough guys on here but prepare to get spammed. You have no control over your inbox and every message gets sent to your email as well. These messages aren't even presented in conversation style. There are like 10 ways to wink, like, poke, message or express interest in a person which is total over kill and confusing. Very over priced and very hard to cancel your membership. Customer service never responded when I asked for help. Just use Hinge or Bumble - better quality, good interface, better price, good people.
Scam itself and promotes scams!!!! Stay away!!!
In was on match for a reasonable amount of time. No 6 months guarantee I was there for longer than that. Try other sites maybe, but match is a scam. It's a lie that they match you personally. You will waste your money. STAY AWAY!!!!! But of course everyone learns on their own.
Fake accounts ruin it
Too many fake accounts in here for you to navigate through. Not worth the time or money.
Top spot is a Spectacular rip off
Somesillyname1984
on
10/3/2017
The app is specifically designed to set off on top spot even when you dont want to (the buttons are so close you end up tapping the search button just a smidge off and boom! It is far too bad a design for me to imagine that it is NOT intentional.
Face it
Carl Sliders
on
10/3/2017
There was a time when fb would light you up as single and looking. I am guessing this industry moved in. In time poor sites will weed themselves out. Technology will factor in. Right now there probably are too many dating sites. It seems there is room for improvement in the industry. How did fb rule over Myspace and Classmates? They were less restrictive, thats how. The online service that figures it out first will survive. Carl
Tha will take all your money
Don't trust them one the app don't work then wen you tell them you don't want to use the app anymore tha keep taking money out I tried to email call and nothing for 4 months tha took over $150 of my money after me telling them to stop
Down the tubes
Thesheriffallday
on
10/3/2017
I have met ppl here in the past. Joined back up and so many fake profiles it's sad. If you wanna try it out, buy a month and try to cancel and they will offer you a discount for additional months.
Fact Sheet
Publisher:

Match.com, LLC

Category:

Social Networking

Released:

Mar 26, 2009

Current Version Released:

Oct 10, 2017

Version:

17.09.00

Size:

95.3 MB

Compatibility:

Requires iOS 10.0 or later.

Recommended Age:

17+

Game Center Certified:

No

Supported Devices:

iPhone5-iPhone5, iPadFourthGen-iPadFourthGen, iPadFourthGen4G-iPadFourthGen4G, iPhone5c-iPhone5c, iPhone5s-iPhone5s, iPadAir-iPadAir, iPadAirCellular-iPadAirCellular, iPadMiniRetina-iPadMiniRetina, iPadMiniRetinaCellular-iPadMiniRetinaCellular, iPhone6-iPhone6, iPhone6Plus-iPhone6Plus, iPadAir2-iPadAir2, iPadAir2Cellular-iPadAir2Cellular, iPadMini3-iPadMini3, iPadMini3Cellular-iPadMini3Cellular, iPodTouchSixthGen-iPodTouchSixthGen, iPhone6s-iPhone6s, iPhone6sPlus-iPhone6sPlus, iPadMini4-iPadMini4, iPadMini4Cellular-iPadMini4Cellular, iPadPro-iPadPro, iPadProCellular-iPadProCellular, iPadPro97-iPadPro97, iPadPro97Cellular-iPadPro97Cellular, iPhoneSE-iPhoneSE, iPhone7-iPhone7, iPhone7Plus-iPhone7Plus, iPad611-iPad611, iPad612-iPad612, iPad71-iPad71, iPad72-iPad72, iPad73-iPad73, iPad74-iPad74, iPhone8-iPhone8, iPhone8Plus-iPhone8Plus, iPhoneX-iPhoneX,

Supported Languages:

English; French; German; Italian; Japanese; Korean; Portuguese; Chinese; Spanish; Castilian; Chinese;

Parental Advisory:

Suggestive Themes; Unrestricted Web Access;