Not Recommended
App last updated
Jan 30, 2018
Screenshots
New in version 5.8.12
-Schedule days of the week bug fix
Description
Completely rebuilt from the ground-up, FitnessBuilder 5 with Apple Watch support is here! This comprehensive fitness experience is *the* portable personal trainer that completely guides your fitness lifestyle. FitnessBuilder 5 is for everyone, whether you are new to fitness or a seasoned veteran. It's also the definitive app for fitness professionals, coaches and physical therapists.

CHOOSE YOUR ACCESS
FREE: Fitness Enthusiasts can create a free account and get access to over 400 workouts in 16 multi-week fitness plans as well as a complete body stat tracker. There are no ads or automatic subscriptions to use and keep Free access. Enjoy!

PLUS: Upgrade to Plus access and unlock the full fitness library of over 1,100 workouts and use Builder, where you can create your own workouts using over 7,000 exercise images & videos. A Plus subscription allows you to receive workouts from trainers, ask Fitness Questions, generate Workout PDFs, create your own My Exercises and more.
*The Plus access subscription is offered either for $6.99 USD Monthly or $59.99 USD Yearly and is an auto renewable subscription.

PRO: If you are a FITNESS PROFESSIONAL, Pro access is the ultimate training tool for you. Keep records of your clients, their workouts, logs and body stats for both in-session paperless tracking and Remote Training. You can share workouts to clients with Plus to digitally receive and track those sessions, and their logs will SYNC BACK to you for review. Clients without Plus receive your workouts as a PDF link with clickable videos, Add your OWN LOGO and really personalize the training experience. Full syncing web version is included.
*The Pro access subscription is offered either for $39.99 USD Monthly or $299.99 USD Yearly and is an auto renewable subscription.

PT: PHYSICAL THERAPISTS and other rehab specialists get access to everything Pro offers in addition to hundreds of rehab exercises, for a total of 1,400+ rehab exercise images & videos and 350+ recovery protocols (in addition to the fitness library). Build custom rehab protocols with PT access to track & share with patients. The Remote Rehab compliance monitoring also allows therapists to receive patient feedback helping to increase recovery rates.
*The PT access subscription is offered either for $49.99 USD Monthly or $399.99 USD Yearly and is an auto renewable subscription.

WORKOUTS
FitnessBuilder contains over 1,100 hand-made workouts covering all fitness levels and disciplines. Each workout is mapped with Next Workout intelligence that recommends the next session for you. Once you start a plan, FitnessBuilder keeps you on track. FitnessBuilder is also available on your mobile device, tablet and computer browser, all staying in sync for anywhere access.

SCHEDULE
Schedule workouts in the future, receive scheduled workouts from trainers and get guided on month-long programs.

With HealthKit support, when you complete a workout log, FitnessBuilder will ask your permission to use your body weight, workout difficulty and duration to calculate the estimated caloric burn, and post it to the Health app as a workout.

FitnessBuilder 5 supports HealthKit for tracking workouts, your estimated calories burned and your My Stats body measurements.

SUBSCRIPTIONS
Payment will be charged to your iTunes Account at confirmation of purchase. Subscriptions will automatically renew unless auto-renew is turned off at least 24-hours before the end of the current period. Your iTunes account will be charged for renewal within 24-hours prior to the end of the current period, and identify the cost of the renewal. Subscriptions may be managed by you and auto-renewal may be turned off by going to the your Account Settings after purchase. No cancellation of the current subscription is allowed during active subscription period. Any unused portion of a free trial period, if offered, will be forfeited when you purchase a Plus Pro or PT subscription.
Terms: https://www.pumpone.com/popup-terms.html
iPad Screenshots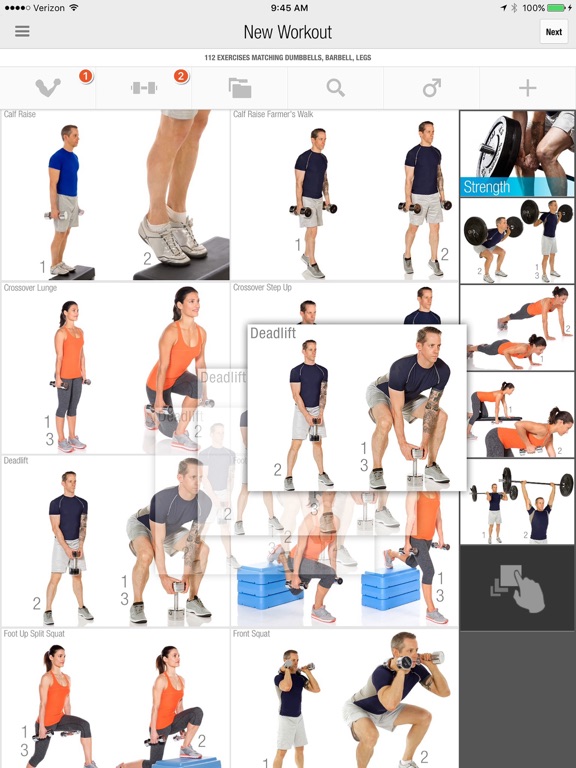 Reviews
I don't my subscription, but I keep on getting billed!
Clarissa Ortiz
on
3/13/2018
I need assistance to cancel my subscription I was charged for a month that I don't want! How can I cancel my entire subscription?!?! I've tried going through the iTunes and my Apple account but nothing please! I don't want to keep paying for something I don't need or use!
Waste of money
Just when I got used to a workout routine they locked it and asked for MORE MONEY! Seriously, they locked the workout and wanted me to pay more. Unbelievable, you have been warned.
Good but not great
I've asked about landscape mode in the past and it still hasn't happened. Would be so much easier to prop up iPad and type.
Little improvements could make this so much better
Hug hobbling
on
2/28/2018
Pros: lots of variety. Videos w associated audio description is helpful. Plans provide good structure for overall program. Easy to construct a routine. Cons: to get back to main screen, you have to keep hitting ⬅️ button..there should be just one quick main screen button. Same when in scheduler...just a lot of needless clicks. Still no landscape mode for iPad, would be easier because could prop it up instead laying flat. I'd like to modify the including routines without having to duplicate them every time. Wind up w a cluttered "my workouts" list.
By far the best fitness app in the App Store
This app has the greatest selection of exercises. The fitness programs can be tailored to your individual needs. And the new interface is gorgeous. Tracking your reps and weight is normally tedious but after the update it's a breeze. Great job!
iPhone App UI good...but that's it
Functionality is seriously lacking. Can't keep track of sets done per workout, it auto populates all three sets or more at once! So when you're doing a set of 10 or more per workout you cannot keep good track of the ones you already did. The watch app has major issues. It refreshes the watch essentially after every set making it necessary to open the iPhone app to restart the watch app making it useless to use the watch! It seems to be getting worse with every Apple update, usually an indication that iteration is slowing by the developer and ultimately will end support....
Great fitness app
DaSpoonerSF
on
11/20/2017
I've been using this app for years and I love it. I do have some gripes about the auto schedule feature seems wonky. Doesn't seem to adjust correctly if I'm scheduling a workout routine that has week one is 1/2, R, 3/4 then wk2 1/2, 3/4/5, etc. Not a huge issue since the app tracks your last workouts so you know what's next. I would love a feature where I can substitute exercises while in a workout. Once and a while, a workout routine calls for equipment I don't have in my gym or I may not be comfortable with the exercise in the routine. While I can adjust this on the fly, it kinda messes up logging. The purist in me dies a little when I fake logging.
Not allowing Data Import
superflutious
on
11/15/2017
I've loved this app and am a paying subscriber, but it's pretty disappointing that it's no longer allowing the health app to import its data. What gives?
5.8.7 still freezing
Paid yearly for this for many many years. Took a long time for them to fix when iOS 10 rolled out and not working at all in iOS 11. Would think since I pay a yearly subscription it would be developed on the beta versions and be ready to go when new iOS is released. But unfortunately that is not the case. I would expect this from a cheap one time purchase app but not on a subscription service.
App freeze
saturated mind
on
9/23/2017
The app has been freezing up after the latest IOS 11 update and has to be restarted continually in order for it to work.
Bad
Does not let you log in, create a password or login with fb account
Love it!
Great app very informative, Lucas is unreal! 🙌🏼 this app really helps with your form! 🍑
Great app, use it all the time
Blaine Dionne
on
5/17/2017
Love this app. I can customize my workout at home before going to the gym and using it. Their pre loaded workouts are great as well. Recco.
Are you guys going to add more exercises?
Are you guys going to add more exercises?
Crashes
When I try to edit my workout and I hit the "back" button it crashes. I'm so frustrated. I already feel like I am overpaying....now with the crashing 😡 edit* It has been fixed. Honestly, for me this is the best app available for tracking your workouts. I've been using it for at least 3 years. I never have crashes (besides the time stated above) and it has 90% of the features that I'm looking for. Severely overpriced though.
False advertising
I purchase the plus on the 13th of this month and it will not let me print any workouts although the Q&A states unlimited printing. I have not printed a workout since I purchased the plus subscription. I only printed workouts when I tried the trial pro version if I would have known that I would not have purchased the plus. Unreliable app and customer service because there is no one to talk to just an email.
Fully customizable with my home equipment
I love this app. I don't understand why it's not rated higher. Maybe the 6$ a month? That's super cheap for being able to customize my own workouts with my exact equipment. Love it!
BEST FITNESS APP PERIOD!!
I'm not saying it's the best just to say it. I tried other fitness apps but this one is light years ahead of its competition. It honestly feels like your holding one specific gadget not just a phone in your hand. This app could be its own product, theres just so much depth! I know people are giving this app low scores for it's price but honestly its worth it *only if your heavily committed to fitness. I find the steep yearly subscription way over priced!! Pro: -New Update (SYNC) vastly improves backup. -So much to do, COME ON 5,600 workouts!! -Keeps track of reps, sets, rest timer and more. -Personal Trainer do I have to repeat myself, PERSONAL TRAINER (responded to my question same day, AMAZING!). -Takes my daily, weekly, monthly status with pictures all the way to blood pressure and heart rate. Sync to Facebook :) -Graphs my people, it's got graphs! Cons: -Way over priced for yearly subscription. $39.99 sounds more reasonable. -New App icon cosmetically isn't pleasing, add red. Go for a flat 3 color layout or something with contrast and depth. What I would like to see in Future Updates: -Be able to sync a finished workout with "PATH" like Nike fuel band!! -I would like and most would agree, MORE frequent updates even if they are small things. -Faster navigation would be nice, iPhone 6s chip is definitely capable. -The rest Timer should be able to appear in every page for example: Say I'm doing a chest exercise and I feel I can do a different chest exercise. When I hit edit my rest timer RESETS. Rest timer is very important to keep your muscles at work and your blood pumping through out your body and most importantly keep our heart rate up!! -Make Fitness Builder more atractive to fitness app shoppers: I think this app has potential to grow. I think the product is here but it's missing something. This product needs to become a community to grow. Make a website that syncs with our profile with all our stats, workouts, friends etc.. I think we all need a Message board within the app for Fitness Builder users so we can comunicate with each other, help each other out, tips, foods to eat, meet new ppl etc.. I think you guys should hire a nutritionist and have a section that gives advice/tips to eat right so we can achieve our goals in a healthy contructive way. Maybe even add a calorie manager, or when to have protein, the right amount of water a day etc.. Keep up the good work!
Great App, Problems Syncing
Great standalone apple watch app for guided workout programs including pictures and tracking weight/reps. Three stars because it does not sync well with Apple Watch and Activity and Health apps. The app syncs the data (time, calories, etc.) which is then visible in the Apple Health and Activity apps. The calorie and exercise data plots in the Activity app hourly bar charts (in grey). However, only the exercise time data plots in the trademark daily circular bar chart. The calorie data from the workout refuses to plot in the Activity daily chart (e.g. even though a 500 Cal workout was done and imported to the app data, the Activity app says I only have 200 calories for the day, though my exercise time is shown correctly). PLEASE FIX.
Like the app but hate it on my Apple Watch
cmendoza0912
on
12/30/2016
This app is great for recording workout and giving suggestions but I really hate using it on my Apple Watch. It's such a pain in the butt. If I have my Apple Workout app on it starts to get all wacky, it won't stay on and I have to constantly have to refresh it and pair it with my phone again. I really like using my watch over my phone for when I workout and for that I'm deleting it and find a new app that is more functional.
Really horrendous
UI is not intuitive. Even with plus subscription list of exercises woefully incomplete. Watch app is among the worst I've ever seen- really it has no purpose at all.
Great potential. But no where near it.
Has great potential to be a great fitness app for the gym. It's no where near it. Cannot get through a workout without the app crashing either on phone or Apple Watch. Consistently slow and lags behind. Not smooth at all. I have the membership and I don't think it's worth it. Def will not renew after this month unless the developers change the application so it doesn't work like some antique application. Seriously. It's soooooo slow. The app cannot keep up with the workouts.
Could be Great. Has bugs
I love this app. It has tons of workout options that are tailored to the equipment you have available. That's a big feature I've found missing in other apps. Reason for 3 stars are the bugs in the schedule app. Every time I try to delete a workout on my schedule, the app crashes. Also, it needs a feature where if I schedule a workout plan, I can delete the whole plan - like a "delete series or delete single occurrence" option. After those 2 fixes, this could be a 5 star app.
Bugs in Scheduler / Planner
2012Nismo370z
on
11/7/2016
First time user of this app. When creating new workout routine, there is no option to select Saturday as a training day. Also, proceeding to the calendar view after selecting a new workout/program, it does not allow me to start my new program today or tomorrow. Instead, it wants me to start several days into the future despite having selected today and tomorrow as days if like to train on (in the previous screen). Aside from that, this seems like a solid app
I love it
Task master 11
on
10/26/2016
I love it best app
The Best in the field.
i spent time comparing free fitness apps in the store and found this one the most complete one in terms of workouts and explanations and academic and scientific base.
Nope
Would be better with videos or ways where you wouldn't have to tap that you're finished with the exercise. Also needs more back work in most workout generators.
This app changed my working-out life
This app changed my life, it is the best workout app ever
Hey
Why i cant save the video for offline view?
Very helpful but..
It keep crashing whenever i start building a workout.. please fix it.
Glitchy and Freemium
EdgarAllenPoet
on
4/20/2016
If you're willing to pay the cost each month for the plus subscription, then maybe it's better. Kind of useless without the exercises restricted to the premium accounts. And the builder feature is super glitchy. Oh, and the Facebook sign doesn't work. Real nice.
No reset for password
I enjoyed the fitness class app and have a pain subscription however I now can NOT sign in or get a response from the company apparently without signing in. I have had an injury and have not used it in a while. Seventy dollars down the drain. If not resolved I will be canceling the auto renew. They should have better support as they are not the only fitness app out there
Won't restore my Plus Membership!
I had to restore my iPhone from a backup, when I tried to access my workouts I was told I needed to upgrade. So I clicked restore account and it said Subscription Restored yet I still have no access to the full app. I'm canceling my auto renew now and going to a different app.
Dropped support for older ios versions
Fta- watcher
on
3/23/2016
I cannot login (authentication failed) or create a new account on my ipod runnin ios6. Apparently the app now only supports ios9.1 and up, although there are no messages that tell me this when trying to use the app on my ios6 device. I own 4 apple devices, and not all 4 of them are brand new. I choose to bring my small, lightweight ipod touch to the gym, and this app appears not to support it. Although instead of just telling you that, there are a bunch of frustrating messages like "authentication failed".I don't see why the app needs ios9.1 to function.
Awesome
CoastieMike918
on
3/15/2016
Great app, not a fan of personal trainer, with this app one is not needed.
Fonts too small on the latest update
I love this app. I use it everyday to program my clients sessions. But, the latest update has made the font sooooo small that I cant read it without reading glasses. Bring back the larger fonts or at least a happy medium.
Overpriced
I do think the app offers a lot, but it is overpriced! I spend hours entering all my own workouts and wanted to just use those. I couldn't do so without paying $ 6.99 a month for the Plus Access. That would be $84 a year. That is a lot of money for a single app. I am going to use a different app, like gymgoal2!
Watch support lacking
Great iPhone app but watch support is horrible. App is slow and isn't native to phones I the ability to use just the watch at the gym and ditch the phone isn't possible. Make this a native app that works and would b 5 stars!
I'm in love!
Alexa Rosario
on
1/18/2016
I love FitnessBuilder... My only 2 complaints: 1. There aren't a whole lot of lower body driven plans. Most of the plans are upper focused and then have 2-3 ab/leg exercises. 2. When you add a new workout for scheduling, it defaults to 10am when every other workout of mine starts at 5:30. Please change the default time to whatever you set your workout as last.
Really great app, minor bug issue
Mike Hallman
on
1/12/2016
I love this app and it has really been a tremendous aid as I've taken getting in shape much more seriously of late. I love that I can add an exercise if it doesn't already exist. One bug I'm having with the Apple Watch is the rest timer isn't working. Though rests are set to 45 or 60 seconds, when I tap the timer it either counts 3 seconds off and then says rest over, or it just immediately says rest over without counting any time. Hopefully this is addressed in an update. Otherwise this is a five star app. Great job!
Keeps me organized
Personal Trainer Inc
on
1/8/2016
Over the top on the options. Building workouts is as fast to do as my brain will kick it out. When a client asks how much weight did I use on the last time or what's the heaviest I ever went on this? I am pulling up years worth of easy to read data in less than a minute. That's fast! No guess work, I got the facts, all saved in fitness builder. Clients know exactly what to do and on what day and I know exactly when they compete it, so I can correspond to them immediately. It doesn't get any better. I don't know who loves it more, me or my clients. Fitness builder had Great updates and always unbelievably fast on responses. If you haven't tried it, your missing out. Fast and understanding with a crisp professional style. Works Great!!
Definite downgrade
Just recently upgraded this. I really liked this app and used it for a few years. I think I'm going to be in the market for something different. It seems a lot less user friendly inside the workout. Rest timer is driving me crazy.
Great for weight lifting, but yoga a bit tedious
Peteiphoneuser
on
11/11/2015
it's the best weight lifting app of the many out there, cardio is great too, but I hope that they can improve the usability of the yoga routines.
iPad crash
Jayjaynjake
on
10/11/2015
Works on iPhone 6, but crashes on iPad.
Worst let down by a developer
rabihchahine
on
10/11/2015
I rarely review apps but I'm writing this only out of frustration. The app works great but it's just a blank useless app without the monthly subscription. I'm surprised no one is even talking about this. I've been one of the very early adopters of this app, back when paying 10$ for an app was a big deal. Back then I had access to a big library of workout plans and on top of that I've even paid for the monthly subscription plan a few times just to support the team.Now it all changed. The app is free for everyone with a free access to only barely one workout plan. Everything else you have to pay for through a monthly subscription. Even those paid for the app before. So much for loyalty. All of those early adopters who paid full price for the app, well screw your all. Pay like everyone else... All while so many apps out there are providing similar options if not better for free. I would stick around as I have no problem paying for your subscription if at least you would have treated your early adopters better. Sorry but no thanks.
Beautiful, but not intuitive or friendly
Downloaded fitness builder to take the place of jefit - loved the way it looks and the workouts offered but it isn't intuitive at all. When you're working out, you can go in any order but there is no indication from the workout page which exercises have been completed. The thing that caused me to immediately delete this app was when I was standing in the gym on day 2 of my workout plan and couldn't for the life of me figure out how to get to a new day of my workout - the system kept bringing me back to my old workout which appears as if it hadn't been finished but I knew it had. Jefit has features that make it clear that you're ending a workout and you close it out and get a report. Jefit also has a better system of advancing you through your workout - do this exercise then rest, then do it again, until you're done and then it automatically advances you to the next exercise. It also has better notifications that rest is up, etc - the sounds are easier to hear and more predictable. Wish fitness builder spent as much time on functionality as they did the look of it
Very Satisfied with FitnessBuilder
I just want to say that I absolutely love this app, the programs and workouts. I could not be happier with my progress. I love the way my body is looking and how I feel. Their support is outstanding as well. Please keep up the great work - I can see myself being a lifetime user of this app. And the monthly subscription cost is peanuts compared to Personal Trainer time at my gym. Well worth it!
Amazing app
Everything I'm looking for.
Apple watch
3Kids & A Husband
on
9/28/2015
Awesome on both iPhone and the watch.
RIP OFF!
I'm paying for "plus" and they say you can print 16 workouts in 30 days. Once you printed 4 or 5 it's no longer working. You get an email saying you reached your 16 workout limit. I called they're support team and all they say is that I reached my limit. Also they don't have a phone no to contact the technical support team, you'll have to Who write emails back-and-forth with someone, Who doesn't even give you an answer.
Fact Sheet
Publisher:

Anytime Health, LLC

Category:

Health & Fitness

Released:

Mar 26, 2009

Current Version Released:

Jan 30, 2018

Version:

5.8.12

Size:

97.3 MB

Compatibility:

Requires iOS 9.1 or later.

Recommended Age:

4+

Game Center Certified:

No

Supported Languages:

English;