Not Recommended
App last updated
Oct 13, 2011
Screenshots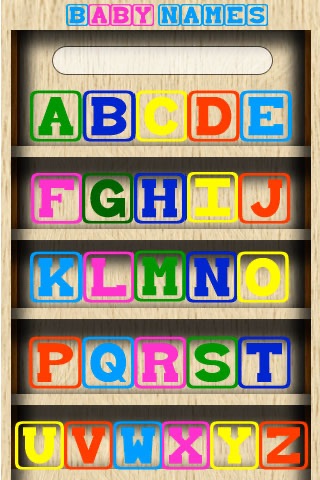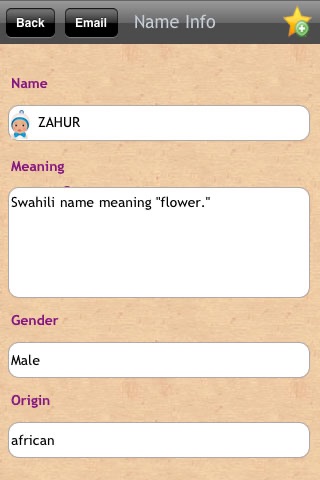 Description
25,000+ Baby Names

-Includes Boys and Girls baby names

-Includes Meaning of the Baby Name

-Includes origin of Baby Name

-Search By Boys Names

-Search By Girls Names

-Search By Both Boys and Girls Names

-Search By Name Meaning

25,000 Baby Names once installed requires no internet and can be viewed completely offline!

List of Origins Includes:

-AFRICAN
-ANGLO
-ARABIAN
-ARABIC
-ARAMAIC
-ARMENIAN
-ARTHURIAN
-BASQUE
-CELTIC
-CHAMORU
-CHINESE
-CZECHOSLOVAKIAN
-DANISH
-DUTCH
-EGYPTIAN
-ENGLISH
-FINNISH
-FRENCH
-GAELIC
-GERMAN
-GREEK
-HAWAIIAN
-HEBREW
-HINDI
-HUNGARIAN
-INDIAN
-IRISH
-ITALIAN
-JAPANESE
-LATIN
-NAHUATL
-NATIVE
-NORSE
-PERSIAN
-POLISH
-PORTUGUESE
-ROMANIAN
-RUSSIAN
-SCANDINAVIAN
-SCOTTISH
-SLAVIC
-SPANISH
-SWEDISH
-SWISS
-TEUTONIC
-TURKISH
-UKRAINIAN
-VIETNAMESE
-WELSH
-YIDDISH
Reviews
Not bad... Not great
Inhishands11:18
on
3/30/2014
Eh
Repeat
All names seem the same
Annoying quirks
Cmdub1233456
on
1/26/2014
This app has tons of great names, yes, but it would be better if the names weren't repeated so much. Different meanings and origins should just be all together under one name. When you do click a name and then go back, you have to start at the very top of a ridiculously long list. You can't remove favorites - which is irritating because I accidentally favorited a name and am now stuck with it on my list. And what is up with the all caps name list and then then repeated non-caps name list? What is the point? Having to pay $2 to search is ridiculous, especially when this app is very poorly set up. It could be such an amazing name app if they would just fix those things!!!
Lame
Expected for more....
Favourites
AlejaWeasleyGranger
on
1/26/2013
The app should enable us to remove favourites. I have two repeated names in my favourites and I can get rid of them. Change this, please!
Horrible update
Don't download worthless app. Update is horrible...don't even know where to begin so I won't.
😥😥wish a name app had my name
No name app ever has my name I have downloaded like all the name apps in this app store and none have my name!!!😡❤👿for any "name app" makers who read this;PLEASE add my uncommon annoying name;Bethena
Bad!
Madam capulet
on
3/8/2012
You shouldn't of updated this, it's just horrible now!
One star is too much
Kayleighkaos
on
12/22/2011
You guys need to make the search free again. This app used to be one of my favorites but now its one of the worst. I highly suggest you make it free again. If you didnt already lose all your customers when you charged for it you sure will soon.
Don't waste your money
Use to be a good app. Updated and now they are charging for what was once free. Very deceiving. Charge a fee to new customers.
Grr
I USED to like this... BUT IT KEEPS CRASHING!!!!!!!! FIX IT ALREADY!!!!!!!!
Ridiculous!
They took a good app and made it worthless. Deleting...
Useful
It's useful, bit they didn't have to change it, not to this.....
Waste of time
Search is terrible. Have to scroll through the names and if you look at one it starts you back at the top of the list. Save your time and keep looking for a better app
WAS a great app
Before I would have gladly given this app five stars as it was great for looking up names by boy or girl, country, or meaning. NOW it has been taken away and the new way of searching isn't worth getting for free. I am really, really disappointed. And the cost of getting the old app back...quite pricey in my opinion. Just not right that an app you install is changed into a different app and the old one you have to pay for.
Seriously?! Not cool.
I've had this app for the longest and I loved it. It isn't perfect by any means, but it worked wonderfully for me. Now, I can't use it for my purposes at all because they want $5 bogus dollars for a search function that until now was free. That is beyond lame and this is not worth the price they're asking for. Do not buy! I'm deleting it after this review...
OMG!
Ginathejeannie
on
8/21/2011
I had this app since I first got my iPod then I did an update now the names are weird and I can't even search for names unless I buy it for $5!!!!!!!! Do NOT buy!!!!!!!!! >:(
one word....
jdudbjsirhdjosb
on
8/16/2011
crashed. :(
Terrible!
Shouldn't have to pay to use a FREE app!
Not gonna pay for this!
This WAS a good free app when you could save and search names; although the set up was never terrific. Now they want FIVE DOLLARS for those features!?!? No way! This app is not worth it.
Awesome
This is the only name app that has my name and with the correct origin and meaning, don't know why everyone is complaining, it also has variety of names which I like. And it's free so people really I don't see the problem here.
Good...
But "categories" for different countries and ethnicities need some work if that makes sense.
Citcat1998
This thing totally sucked!!! I mean I searched for american names of all genders and if came up with like Drylen for a guy and Jayden for girls... It even had some that I couldn't read!! Words to describe this app...  horrible waste of time dont get it (even though it's free) if u already did... Sorry, dude. We can't save you now.
Not pretty.
Cheriberrynotmary
on
1/6/2011
They grouped Latin names with African-American names, I mean,honestly? And all the pages I looked at had only one name. It was awwwwful.
.....Seriously.....
The Duplicates: I believe that is because of the feature of adding a name (which I like to an extent) Example: if Bob in Ohio adds "Greg" and Kim in Florida adds "Greg" it pops up on my iPod 2 but..... The creator should be able to fix that Arabella is in there 3 times If you want a worth while name for a child u have to search hard on this app which is hard to do because it is sooooo slow There are good names like: Kiara(my name), Arabella <---- Great name But it takes forever to find. The first names u see r "trgguyt" (my point exactly) from "Japanese, Latin, African, Italian" origin (my point exactly) If a parent names there child from the first name they see on this app chances are the child will have a hard time in school.
...
LittleRedBeard
on
11/23/2010
I downloaded this app to compare it to another app of the same type, but I waited at least two minutes after opening and it still wouldn't load! I'd say it's not worth your time. glad it's free! but if you want a free baby name app that works, search "baby names" and it is the first or second one. now THAT is a great app.
Not worth your time
Bad interface
Ka'he Zuna...
I deleated this app. They have the wierdest names!
Names
Velmi hlupa aplikacia nezodpovedajuca realite :-(
Too Slow
The app was extreamly slow and extreamly glitchy. If you search by orgin, there are very view with just one orgin you need, for example, Japanese AND Arabic. You can't do just Japanese. So lame!
Useless
Ryan S in Ca
on
9/20/2010
Useless search function! Not worth free.
Amazing!
I love this app so much! mine works perfectly so I don't know what everyone is complaining about!
Poor searchability
Tried to search by gender. Looked like such was an option, but always resulted in both genders. All around subpar.
Crashes frequently, poor interface
No good
Plain STUPID!!!
It gives names that i havent even heard of its just so lame!! Dont waste your time on downloading this app! Every time that i hit search it does not give me what i want!! STUPID!!!
Soooo dummmb
This is dumb everytime I try to find my name on this app it goes back to my menu and the search doesn't even work
Stupid!!
Stupid app didnt open after i installed it. Back to googling baby names!! Id rate less than a star but it wont let me.
Many improvements needed
Frankly I was an still am dissapointed. The interface doesn't flow well and the speed is not what it should be. As for the names themselves a nice selection except there are a number of duplicates. There is no reason for the name Christina to be in there three times. There should be an over ride that merges new entries into the previous one and the constant cap locks should go as well. On another note, the names are not always accurate in their meanings. You should look into that. One upside to this is that you can add names and meanings. I like this feature since I'm into less traditional names and prefer ones that I find randomly. The developers have a chance to really make an awesome app here if they really try. I hope an update or two can fix the issues. Perhaps even a full rehaul of the interface. Other then then that the app is Useable. You can search names and see one meaning. Which is good if. Your Name only has one meaning.
Worse ever!!!
This the worse app. I have!!! I am so glad it was free. I do not find it accurate or user friendly.
Stinks
Horrible my name is Megan and it said the meaning was strong and capable it's not it's a pearl stupid app don't get
GIGITY!
Master Mitchell
on
3/15/2010
Awesome, Awesome, Awesome! I love this app! I have finally found out so many things about my friends names! Like how my friend Jerrad Johnstons last name(Johnston) means from John's farm.Or how I learned that my Italian friend Cohen Sotte's name is actually German, or even that my friend Donald Soiler was actually the Irish king of the underworld! Oh! I also found out about John!(the one who owned the farm Jerrad was apparently from). Next, I want to talk about making your own name. Man, was that hilarious. Me and my friennd Cohen Sotte made up the name Quagmire. We made up that it meant he was a studmuffin. His origin was gigity. And popularity N/A.That is one of my favorite things to do on the app and is really cool. Finally, if I ever have a child some day, I will probably use this app to name the baby.One final word........GIGITY!
Awful!
This is terrible, don't bother!
Epic failure
Davies Itunes
on
2/26/2010
This app is a waste of time! Half the names I have never even heard of, and they don't make any sense! My name is so common and it wasnt even found, plus it gives incorrect meanings! I had this app for less than 5 minutes before I trashed it! I wish you could rate negative numbers this would be a -10!
omg
omg...u guys there is different ways of spellin names!!!!
waste of time
this sucked! it repeated names! and it was confusing. it was a waste of time. one of the worst apps ever!!!
Crap!
It's unbearably slow and names are repeated and spelled wrong! Half the categories they have only contain one name.
Bad
Steven & Amy Knowles
on
2/9/2010
They didnt have the name Kenna or Meleah And you pronounce thoose names kin-ah and me-le-ahIf the name you want is not in the dictonary don't waist your time getting this
Fact Sheet
Publisher:

Roger Lichfield

Category:

Reference

Released:

May 12, 2009

Current Version Released:

Oct 13, 2011

Version:

1.5

Size:

2.7 MB

Compatibility:

Requires iOS 3.0 or later.

Recommended Age:

4+

Game Center Certified:

No

Supported Languages:

English;