Screenshots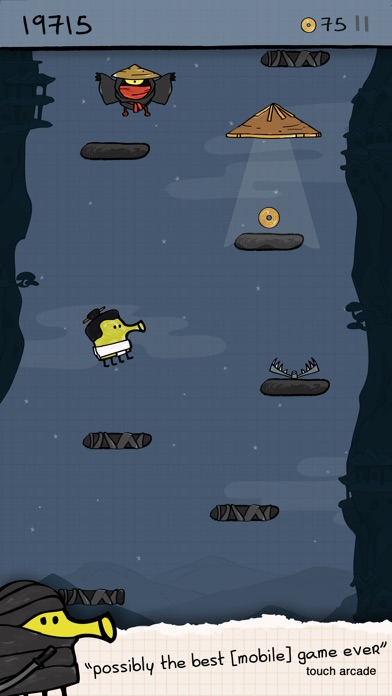 Description
BE WARNED: Insanely addictive!
"possibly the best iPhone game ever created" - Touch Arcade

From prime-time sitcoms (BIG BANG THEORY) to late night TV (JIMMY FALLON) to a fashion accessory for pop stars (LADY GAGA), Doodle Jump is EVERYWHERE! It's a cultural craze, a hot new trend!

iTunes reviews (US)
*************
"I just got dumped cuz I wouldn't put this game down! And I just kept playing while she walked away... ITS THAT GOOD!"

"Somehow it's better than sleep for me. I am sick, sleep deprived, and achy, and yet I cannot put it down"

"Coming from someone who owns a PS3, Wii, and Xbox 360, I play this game more!! This game is amazing!!"


Media reviews:
*******
"Doodle Jump is a perfect micro-game, insanely addictive, and deliciously replayable. Go get it." - MacWorld.com

"the most addicting iPhone game yet?" -GIZMODO

"...the king of casual games on the App Store ...tons of updates and lots and lots of gameplay in a super simple and accessible package." - TUAW


So, what is it?
****
In Doodle Jump, you guide Doodle the Doodler—using some of the most subtle and accurate tilt controls in existence—on a springy journey up, up, up a sheet of graph paper, picking up jet packs, avoiding black holes, and blasting baddies with nose balls along the way.

Laugh with delight as Doodle™ blows past other players' actual score markers scribbled in the margins. And be warned: this game is insanely addictive.


FEATURES:
- 11 incredible worlds + 3 SECRET easter eggs
- broken, moving, disappearing, moveable, and EXPLODING platforms
- JET PACKs, PROPELLER HATS, ROCKETS, and springs that fly you higher
- UFOs, black holes, monsters, bear traps!
- jump on monsters to bring them down MARIO-style
- share your scores
- race agains friends!
- global leaderboards, achievements!

How to play:
Tilt to move left or right, tap the screen to shoot.

--------------------------------------------------
*Please don't Doodle Jump and drive, and BE WARNED: Doodle Jump is Insanely Addictive!
Reviews
IPHONE X SUPPORT???
Owlcityhootowl Stirling
on
12/16/2017
I love this game, but still no support for the X 👎🏻👎🏻👎🏻👎🏻
iPhone X optimization pls
This is one of my first games ever played on iOS long time ago and I downloaded this again after forgetting about it. I would love if this game can be optimized for iPhone X. Please!
Doodle jump rocks!!!!!!!
WHEN WILL DOODLE JUMP BE OPTIMIZED FOR IPHONE 10? A must have game for any iPhone user. Addictive and fun. Great picture quality especially for the iPhone 4!!!
NOSTALGIA
Sleepless12
on
11/25/2017
oh my fluff I used to love this game, still do
Still brings me joy after so many years.
I love this app because it is the perfect mobile game. It also lets me remember a time where I can play a COMPLETE game without being plagued with micro transactions. Ahhh 😌 I miss those times.
social media
I've had the third challenge be share a high score for over a year. Just reset the challenges. Get rid of it. Get it out of my face. That kind of lack of goodwill wants me to share the game on social media just to let everyone know how slimy the devs are.
Goat
A classic, had it since I've had my first iPhone. The spread out but still consistent updates are great.
Best update ever...
I haven't played this game in a while. It's more fun than ever.
White Ghost
Spacedoggydog
on
9/15/2017
What does 'tag a white ghost mean'????
Bring it back!
This new update has such a great nostalgic feel! I'm glad the doodle jump team still cares about this classic app :)
Love the update
This update is amazing I'm playing it more than I ever did. Thank you.
Cool!
New retro theme is very cool. Kind of feels like a new game!
Best update ever!!!
OMG!!! The classic arcade is amazing! Monsters dropping barrels, cherries of invincibility, spaceships, rows of laser firing monsters, and probably more I haven't see. Yet! Great job guys!
AMAZING!
feralspirit_13
on
9/13/2017
This new retro update is AMAZING! I love the 8 bit theme and the sounds are nostalgic! Worth the download!
Love this game!
Doodle Jump is the only game I keep in my devices, since 2008! It's always the best one! Cheers to the dev team! ❤️
The pixles!
Realisrrtronic
on
9/13/2017
Love it 👏👏👏
Great!
The new theme is fantastic!
Best Game
Pablo Alvarenga
on
9/11/2017
Honestly, it's been a while since I played this game, and every time I get bored of new games, this game is always on my mind to play it again. Congratulations for creating a very addictive game.
<3
I love this game. Always have always will.
Amazing classic game
Love this game so much
Rate pestering
josephmscott
on
8/20/2017
Pesters you to rate the app.
It's ight
Oh_It's_Dylan
on
8/15/2017
Yeah, it's ight. Was it worth a dollar eh maybe, but whatever it keeps me busy.
Jump
Jeff from State Farm
on
8/12/2017
Jump
Great GAME
Calvin N. Hobbes
on
8/11/2017
Fav. Lot it.
Amazing fun and basic
Awezome sauze
on
8/10/2017
👍🏻👍🏻👍🏻👍🏻👍🏻
Yasssssss
This game is Fantastic!!!! U won't be disappointed
Good as when it was launched
Voracious Vulcan
on
8/3/2017
Goon then...still good.
Doodle jump
markebailey1964
on
8/2/2017
Great game to take your mind off things for a little while. I read some stuff in the reviews about the tilt of the iPhone and inconsistencies. Well if you're a professional gamer I certainly won't be playing this game. But this game helps me spend a little time when I don't have anything else to do and helps me clear my mind and I've been using it for years.
Controls need work
Bulldogs Momma
on
7/26/2017
Controls are somewhat confusing, if you tilt your phone left, it goes right, even if you tilt at the same angle the speed is buggy
Amazing
Best way to kill time.
Doodle Jump !!!!!!!!!!!!!!! 5 *****
This game is just too much fun !!!!!! I forget to breathe!!! :) Updated review: 4 years later!!! I STILL love this game, I love it when there's an upgrade and a new land to jump through!!! Doodle Jump gets a million stars from me!!! 🎉👍🌈😄
Great game and still playing !
Fun with lots of variety
Doodle jump
It's a really good game and I recommend it to everyone
Great
Never gets old, I have been playing this for several years now, and I always come back to it from time to time. Great way to pass the time when waiting somewhere.
Awesome game I absolutely love it !!
AmazingEmily20
on
6/28/2017
I love that there's so many different options and versions of it that you can play now. The new objectives are very fun and it gives me something to look forward to during my break from work. I would definitely recommend this game, it is very addicting!!
Fun
Cptapplesack
on
6/18/2017
It's a fun little time waster.
Yay!!!
Mattchewcheww
on
6/18/2017
I love this game it should be bigger like angry birds
The Summary Says It all
A great game, one of the app stores most sold of all time. I love the updates and the game was completely worth the 99 cents years ago! Always a fan and GREAT themes.
I have been using this game for 5 years!
This games is one of those games you get tired of within and week or two, however, you just keep coming back to it because it's so darn fun!! Me and my Grandparents have been playing this game for 5 years! We have loved it sense the day it came out.
Fun! Addictive
Justin thole
on
5/21/2017
Love it!
6 stars
Micky124767777777458$&@"'
on
5/20/2017
6 stars! If I could!
nice
one of the few apps that don't crash
so good
reminds me old day
AWSOME
I love just bouncing trying to stop bad guys and they are SOOOOOOO cute!👍🏻🐼
Awesome!!!!
It's a classic!!! Must get.
👍
AreYouKiddinMe?
on
4/24/2017
Fun game
Please Fix Multiplayer
It's been very annoying that I can't play multiplayer mode. Error error error!
Bare trap ninja
JacquelineInMd
on
4/6/2017
I don't like the bare traps it makes the ninja store mode inposabole.also the enames Are to hard to kill and find.but besods that it is epic.
Very frustrating
This app has become one of those apps you wish you hadn't purchased. The control for movement isn't consistent. Moving the iPhones 6+ the same amount gets varying degrees of movement on the game. It's very difficult to know where the doodle might end up, which always leads for Game Over. Also, the shooting is all but useless. It doesn't matter where the doodle is, tapping the screen doesn't have the shots go where you want them. So when a game goal is to never miss the doodle 5 times in one game .. that's impossible to do. I thought that maybe I had figured it out .. doesn't matter where the doodle is, tapping the middle of the screen shoots straight up, left side shoots left, etc. But even this isn't consistent. Tapping the middle SOMETIMES shoots straight up, sometimes to the right. Turning the directional shooting off makes it worse because there isn't always a platform with enough space to shoot the monster prior to hitting the monster or there might not even be a platform under the monster from which to shoot. It would work if the game shoot where you touched the screen, but that's not the case. Between my son and myself, we've played this app over 500 times and haven't gotten past 20,000 points. Very frustrating. I wish I hadn't purchased this app.
Fact Sheet
Publisher:

Lima Sky

Category:

Games

Released:

Mar 26, 2009

Current Version Released:

Dec 16, 2017

Version:

3.18.4

Size:

52.2 MB

Compatibility:

Requires iOS 8.0 or later.

Recommended Age:

4+

Game Center Certified:

No

Supported Devices:

iPad2Wifi-iPad2Wifi, iPad23G-iPad23G, iPhone4S-iPhone4S, iPadThirdGen-iPadThirdGen, iPadThirdGen4G-iPadThirdGen4G, iPhone5-iPhone5, iPodTouchFifthGen-iPodTouchFifthGen, iPadFourthGen-iPadFourthGen, iPadFourthGen4G-iPadFourthGen4G, iPadMini-iPadMini, iPadMini4G-iPadMini4G, iPhone5c-iPhone5c, iPhone5s-iPhone5s, iPadAir-iPadAir, iPadAirCellular-iPadAirCellular, iPadMiniRetina-iPadMiniRetina, iPadMiniRetinaCellular-iPadMiniRetinaCellular, iPhone6-iPhone6, iPhone6Plus-iPhone6Plus, iPadAir2-iPadAir2, iPadAir2Cellular-iPadAir2Cellular, iPadMini3-iPadMini3, iPadMini3Cellular-iPadMini3Cellular, iPodTouchSixthGen-iPodTouchSixthGen, iPhone6s-iPhone6s, iPhone6sPlus-iPhone6sPlus, iPadMini4-iPadMini4, iPadMini4Cellular-iPadMini4Cellular, iPadPro-iPadPro, iPadProCellular-iPadProCellular, iPadPro97-iPadPro97, iPadPro97Cellular-iPadPro97Cellular, iPhoneSE-iPhoneSE, iPhone7-iPhone7, iPhone7Plus-iPhone7Plus, iPad611-iPad611, iPad612-iPad612, iPad71-iPad71, iPad72-iPad72, iPad73-iPad73, iPad74-iPad74, iPhone8-iPhone8, iPhone8Plus-iPhone8Plus, iPhoneX-iPhoneX,

Supported Languages:

English;