Screenshots
New in version 7.15.1
New: Calendars, Cards and Gifts!
• Introducing Wall Calendars on the app! A year's worth of memories in just a few taps.
• Our new 2017 Holiday Cards collection is now available on the app.
• Holiday gifting made easy with new glitter ornaments, beer steins, latte mugs, and much more!

We're always happy to hear from you. Please feel free to reach out with any question, suggestion or concern at: mobilesupport@shutterfly.com.
Description
Easily upload photos, order prints, create beautiful photo books, personalized cards, calendars and custom gifts in minutes!

FEATURES:
• Upload all your photos to Shutterfly with the app, then access them from any device
• Enjoy unlimited free photo storage
• Quickly order photo prints with unlimited free 4x4 and 4x6 prints
• Make personalized creations such as photo gifts, photo books, cards, cases and home decor
• We are always adding new products to the Shutterfly App so be sure to check back for more!

UNLIMITED FREE PHOTO STORAGE
Upload, store and organize your photos with unlimited free photo storage and save space on your device. We will never delete your photos, so you know that your pictures are safe and secure with Shutterfly.

SPECIAL DEALS, JUST FOR YOU
Enjoy special app exclusives and Shutterfly deals for mobile app users only. Enable push notifications to be the first to know about all our great offers!

PHOTO BOOKS MADE EASY
With new and exciting features, it's easy to turn your favorite memories into beautiful photo books in minutes. Select up to 100 pictures and choose from various photo layouts, book styles, and sizes.

CREATE CUSTOM CARDS & STATIONERY
Make your photos for any occasion shine with one of our premium foil-stamped and glitter Holiday cards in various sizes and trims. Choose from a huge variety of options to find the perfect sentiment and style that fits your family and friends.

MAKE ONE-OF-A-KIND PHOTO GIFTS
Print photos, make photo books, personalized Christmas cards, create photo gifts and home decor gifts directly from the Shutterfly mobile app. Share your favorite moments with family and friends. Photo gifts are the perfect present for any occasion!
DESIGN A PERSONALIZED CALENDAR
Create a custom calendar for every space and bring your favorite photos to life! Choose from a variety of styles, designs and sizes to create a unique calendar. Easily create a calendar in just a few taps on the Shutterfly app!

NEW:
•Decorate your home with custom home decor, including foil art prints, flat glass prints, acrylic photo blocks, mounted wall art, and glitter Christmas ornaments this holiday season.
• New photo book sizes are available on the app! Tap into your best memories with new text fonts, colors, and sizes.
• Explore our new collection of photo gifts! Create personalized latte mugs, key rings, and beer steins.
• Design a custom wall calendar with your photos and text for every space in just a few taps!


100% happiness guaranteed.
iPad Screenshots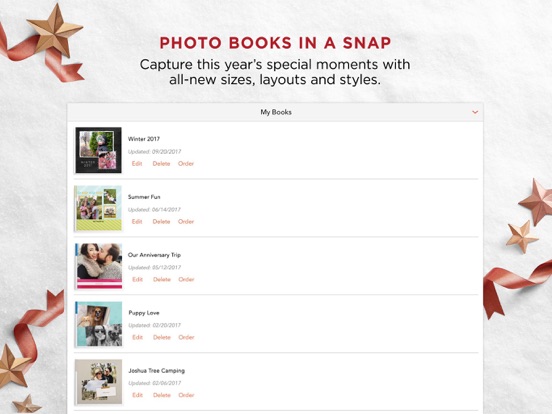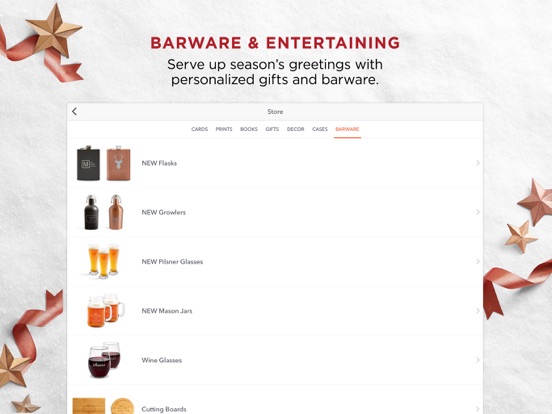 Reviews
Shutterfly
cathtrout31
on
10/19/2017
A great place to buy photo gifts and prints.
Awesome app
Totally love using Shutterfly. Such an easy way to upload my photos from my phone and know they are safe, and use them to make gifts.
Highly recommended!!
Awesome and super easy to use!!!
Great products, mostly okay app
Love Shutterfly's products and the variety. The app is somewhat difficult to navigate at times. Definitely takes practice getting used to it.
Amazing
Andrea-ángel
on
10/19/2017
Love it!!!!! =)
Much improved!
I feel like this App is much faster with no more crashes. It's easy and fast. Thank you!
App doesn't give enough details
Love the products and the promos. But it is so hard to get info about the promos and what is included. It was hard to find a number for support. And then it took a 20 minute phone call with customer service to find out only white envelopes were included. Lesson here is forget the mobile app and only use the full website.
Awesome!
I can just make a project very easily and quickly using the app. Love it!
Picture gifts for all
Amy Carolyn
on
10/19/2017
Love this app! Can use your pics right from your phone for personal gifts! Frequent free offers! Love it and it's easy!
Superb!
Love every product I order and their customer service is the best!
Love love love
Antelope 2utoo
on
10/19/2017
I can't say enough good things about Shutterfly
Shutterfly
Unique and stylish
Love the app !!
LoveLakers023
on
10/19/2017
I love using Shutterfly to help create, share and cherish our family's many memories. Great app and love the free promos they offer. Easy to use set up and shipping is in a timely manner.
Free prints! I became a customer
Drawsomefreak
on
10/19/2017
Only pay shipping!
Saved projects annoyance
BlondeShort
on
10/19/2017
I would never create a photo book through the app because of the level of detail that exists on the website and because I always want to create my own. However. The fact that you can only view saved projects that were created on the app is a waste of time. Just because I created holiday cards on the website I can't view and re-order them on the app? That's a hassle and makes it pointless for me to even use the app. Probably will just delete it to save space on my phone.
Love Shutterfly
I have used them for many years and have always been satisfied with the products.
Broken
Stephanie87878787
on
10/19/2017
App shuts down when I try to remove an item from my cart. Needs to be updated to fix the bug.
Love it!
App is extremely easy to use and I love the freebie offers they give for ordering with the app.
So far pretty gosh darn sweet
Who am i to say but
on
10/19/2017
Love this app so far. Just ordered my first set of pictures. We will see!
Promo code
AuntieMiTzI
on
10/19/2017
The promo code led me here. But having a senior in high school this year, I think i will be using this a lot this year!
My favorite app to use for my family
I love this app. I use it almost every week for my family and friends. I make books, prints and gifts all the time. This app made it easy and inexpensive for my family.
Pleased
octoberdays
on
10/18/2017
Was able to upload, choose, arrange and edit my photo book quickly. A very efficient and affordable program.
Photo books!
Love making photo books! Really like how Shutterfly always has promo codes to help with costs!!
Love this!
I have used Shutterfly to create gifts out of memories. So easy on my phone app!!
Dependable
Cubbie long time fan
on
10/18/2017
This app is very easy to use and a really great bargain.
shuttetfly mobile
using this on my iphone it took me several tries to understand how to use. once i got the rhythm - i found it much easier to create the album. but it took several tries and alot of repeating
Prefer the website than the app
Deztany Farruggia
on
10/18/2017
I am on Shutterfly weekly updating my photo book and just recently got one in the mail and it was perfect. But the app doesn't give you the same options as the web soooo it'd be nice if they fixed that.
Prefer classic Shutterfly; hate the changes
I am a loyal customer for over 10 years. I don't like the following changes: Inability to label photos in my albums Presentation format(photos arbitrarily large or small; can't enlarge small ones to full screen size) Can no longer edit my address book or add new contacts The fact that I can't choose the album cover The fact that you no longer sell archival photo storage on CD
Love shutterfly and the app is very useful
Abber jabber doo
on
10/18/2017
I'm a huge fan of shutterfly's products and promotions and I have never been disappointed with anything I have ordered. With that said their app is absolutely terrible. The concept is great but it functions like dial up internet in a fiber optic world. Painfully slow and constantly "pauses the upload" making you reopen the app to keep uploading your pictures. Please please please figure out a way to fix the performance issues of this app so I can continue storing my photos and ordering products without wanting to throw my phone across the room!!
Excessive Shipping Charges
Hdjdjdbcisbsjdbdjdb
on
10/18/2017
Ease of app is terrific. Product prices are great. Shipping charges seem excessive -- and lengthy -- considering flat rate 2-3 day priority mail options from USPS. : /
Awet
Awesome!!!! Love the site!
Easy!! Fast!! Love it!!
From : playfulheart
on
10/18/2017
Have been hesitant to install the app, but finally got around to it and I love it!! Will certainly use from now on! THANK YOU!!
So easy and FAST!!
Love Having the Shutterfly app on my phone. It literally takes less than a minute to order photos.
Worst app ever
Moist coffee moose duck
on
10/18/2017
Oh my god 2 hours of my life gone, it crashed and doesn't remember anything. So frustrating to use I quit.
Excellent, would recommend to everyone
abby_nelson
on
10/18/2017
I love Shutterfly! ❤️
Still great after all these years
Still the easiest way to order prints from my phone photo roll, works great!
Awesome
Echobravo12345
on
10/18/2017
Easy and user friendly !!! Love being able to choose them from my phone !!
Great Experience
Ninabean924
on
10/18/2017
Shutterfly has top notch quality photo books!! They're customer service is also amazing! I ordered a photo book and there was an issue with it, which they quickly resolved! They refunded my order for the inconvenience even, which was greatly appreciated. The deals that they have are amazing too! I will continue to order from Shutterfly and I will recommend it to friends and family!
Love the free prints!
Love that I can get free prints from my app but I can't figure out how to order a photo book from this app. It says error uploading photos???
Shutterfly
Very helpful app to use and very good easy reading
Great app
Works great! Easy to upload pics for printing.
Loveeeee
Janetarroyo
on
10/18/2017
Free prints!!!
Much improved
Very easy to create books and order prints from my phone. Great coupons too!
The best place to print!!!
lovingmycoco
on
10/17/2017
The best place to get a tons of freebies, free products, unlimited prints at no cost, well except for shipping that it's doesn't hurt ur wallet. My first option it was always Walmart PhotoCenter but since I upgrade my phone I was having hard time trying to download/upload my pics, but with App is super easy.
Underwhelmed
The last few orders that I've placed have had issues getting lost in the mail, sent to a wrong address, etc. I really wish the customer service excelled instead of just being mediocre.
Easy Photo Ordering
Arizona_Jen
on
10/17/2017
The Shutterfly App is Fabulous! Super intuitive and easy to use as well as order. This is my 2nd order and I'm sure they'll be many more! 👍
Fact Sheet
Publisher:

Shutterfly, Inc.

Category:

Photo & Video

Released:

Apr 04, 2009

Current Version Released:

Oct 19, 2017

Version:

7.15.1

Size:

134.5 MB

Compatibility:

Requires iOS 9.3 or later.

Recommended Age:

4+

Game Center Certified:

No

Supported Devices:

iPad2Wifi-iPad2Wifi, iPad23G-iPad23G, iPhone4S-iPhone4S, iPadThirdGen-iPadThirdGen, iPadThirdGen4G-iPadThirdGen4G, iPhone5-iPhone5, iPodTouchFifthGen-iPodTouchFifthGen, iPadFourthGen-iPadFourthGen, iPadFourthGen4G-iPadFourthGen4G, iPadMini-iPadMini, iPadMini4G-iPadMini4G, iPhone5c-iPhone5c, iPhone5s-iPhone5s, iPadAir-iPadAir, iPadAirCellular-iPadAirCellular, iPadMiniRetina-iPadMiniRetina, iPadMiniRetinaCellular-iPadMiniRetinaCellular, iPhone6-iPhone6, iPhone6Plus-iPhone6Plus, iPadAir2-iPadAir2, iPadAir2Cellular-iPadAir2Cellular, iPadMini3-iPadMini3, iPadMini3Cellular-iPadMini3Cellular, iPodTouchSixthGen-iPodTouchSixthGen, iPhone6s-iPhone6s, iPhone6sPlus-iPhone6sPlus, iPadMini4-iPadMini4, iPadMini4Cellular-iPadMini4Cellular, iPadPro-iPadPro, iPadProCellular-iPadProCellular, iPadPro97-iPadPro97, iPadPro97Cellular-iPadPro97Cellular, iPhoneSE-iPhoneSE, iPhone7-iPhone7, iPhone7Plus-iPhone7Plus, iPad611-iPad611, iPad612-iPad612, iPad71-iPad71, iPad72-iPad72, iPad73-iPad73, iPad74-iPad74, iPhone8-iPhone8, iPhone8Plus-iPhone8Plus, iPhoneX-iPhoneX,

Supported Languages:

English;