Social Networking
Utilities
Recommended app!
App last updated
Jan 21, 2018
Screenshots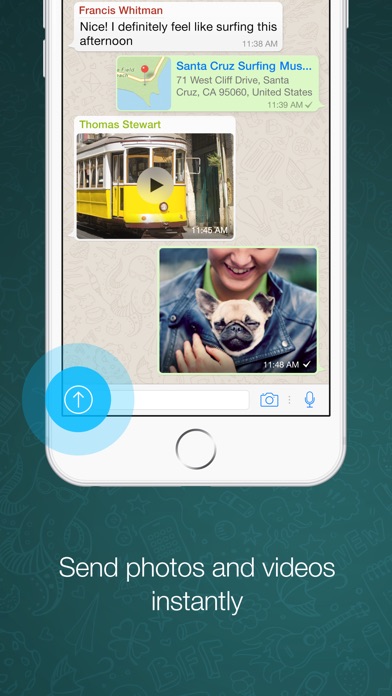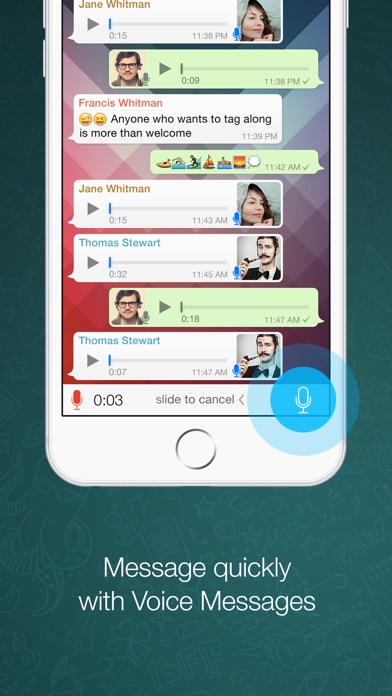 New in version 2.18.12
Fixes an issue on iOS 7 where checkmarks may not appear on messages.
Description
WhatsApp Messenger is a FREE messaging app available for iPhone and other smartphones. WhatsApp uses your phone's Internet connection (4G/3G/2G/EDGE or Wi-Fi, as available) to let you message and call friends and family. Switch from SMS to WhatsApp to send and receive messages, calls, photos, videos, and Voice Messages.

WHY USE WHATSAPP:

• NO FEES: WhatsApp uses your phone's Internet connection (4G/3G/2G/EDGE or Wi-Fi, as available) to let you message and call friends and family, so you don't have to pay for every message or call.* There are no subscription fees to use WhatsApp.

• MULTIMEDIA: Send and receive photos, videos, and Voice Messages.

• FREE CALLS: Call your friends and family for free with WhatsApp Calling, even if they're in another country.* WhatsApp calls use your phone's Internet connection rather than your cellular plan's voice minutes. (Note: Data charges may apply. Contact your provider for details. Also, you can't access 911 and other emergency service numbers through WhatsApp).

• GROUP CHAT: Enjoy group chats with your contacts so you can easily stay in touch with your friends or family.

• WHATSAPP WEB: You can also send and receive WhatsApp messages right from your computer's browser.

• NO INTERNATIONAL CHARGES: There's no extra charge to send WhatsApp messages internationally. Chat with your friends around the world and avoid international SMS charges.*

• SAY NO TO USERNAMES AND PINS: Why bother having to remember yet another username or PIN? WhatsApp works with your phone number, just like SMS, and integrates seamlessly with your phone's existing address book.

• ALWAYS LOGGED IN: With WhatsApp, you're always logged in so you don't miss messages. No more confusion about whether you're logged in or logged out.

• QUICKLY CONNECT WITH YOUR CONTACTS: Your address book is used to quickly and easily connect you with your contacts who have WhatsApp so there's no need to add hard-to-remember usernames.

• OFFLINE MESSAGES: Even if you miss your notifications or turn off your phone, WhatsApp will save your recent messages until the next time you use the app.

• AND MUCH MORE: Share your location, exchange contacts, set custom wallpapers and notification sounds, email chat history, broadcast messages to multiple contacts at once, and more!

*Data charges may apply. Contact your provider for details.

---------------------------------------------------------
We're always excited to hear from you! If you have feedback, questions, or concerns, please email us at:
iphone-support@whatsapp.com

or follow us on twitter:

http://twitter.com/WhatsApp
@WhatsApp
---------------------------------------------------------

Note: WhatsApp is a telephony app, so iPod and iPad are not supported devices.
Reviews
iPhone x app freeze
iPhone x 11.2.5 whatsapp app freezing
The best
Best app ever if you have relatives outside of the US
Ramzy
It's great it's does everything I needed to do
G
Unknown56483373444464484644844
on
1/23/2018
Very satisfied, but sometimes when someone sends a message to me, it might take over an hour to receive it if I don't actively use WhatsApp
Stop that stupid notification
electricflesh6
on
1/23/2018
It's a great app with good privacy and I like how you can change the chat background (maybe changing the color of the bubbles would be cool too?) but there's one problem: this stupid notification that keeps popping up! It says something along the lines of "if you close WhatsApp you might not be able to receive messages" I understand that I don't care if I did I would have done something the first time not the 30th time! It's also very deceptive as I think I'm getting an actual message. Please get rid of this it's not helping anyone the 50th time it pops up. Edit: yes that notification is still there and the weird part is I get my notifications just fine!
Custom backgrounds
Katkatlauren
on
1/23/2018
I just started using WhatsApp yesterday and so far so good! Works like my other chat apps so far and pretty user friendly and easy to navigate. My one request would be if in a future version, you could allow us to select a custom background for each contact, like how we are able to in WeChat? I am usually chatting with multiple people at once, bouncing back and forth between chats. The custom background is very helpful for me to see who I'm chatting with instantly at a glance! This way I can avoid ooops situations of chatting the wrong person which has happened to me numerous times since I'm chatting multiple people all at once. Otherwise so far this app is good 👍 Thanks!
ح
ammar charif
on
1/23/2018
حلو
Best messaging app but...
... the scheduling of the sending of a message is a feature I miss a lot!!! Would it be possible to add it? Also, can we invite people to use WhatsApp by sending them a txt message from the WhatsApp app?
Fix the iPhone X bug
Keeps saying call failed!
Awesome
I just started,,, im loving it
It's awesome but it miss one thing !!
This app is awesome but I recommend a passcode or something to protect the text message and privacy from other who wants to search in your privacy . 😊😊
Great app
Definitely helps reduce ur bills
نتتدبلللللللللل
اتتتتتتتتتتتتتتتتتتتتتتااااااااااااالل
This update needs to be fixed!
I have the iPhone X and I opened my WhatsApp today and it looks weird! It has two thick indentations on the sides that makes the text look smaller and it doesn't occupy the those screen like it should. Please fix it immediately!
WhatsApp review
lutfor rahman
on
1/22/2018
It is now very useful and favourite!!
WhatsApp
The best app ever👍
Need Iwatch options
I'd be willing to pay for an Iwatch option. They do create updates often, but keep skipping the Iwatch.
Freezing up a lot
It has a lot of problems with freezing up constantly and cutting off. But I like to talk to my mom but sometimes a get frustrated with it.
Best way to keep in touch
What 's app is the best way to keep in touch with family and friends. Video calling is at it's best. Thank you for keeping it free and accessible for people all over the world.
Making that connections with friends and family!
latingroove09
on
1/22/2018
WhatsApp just connect us all, around the world. That's priceless. Thanks.
Love it
Vegas distal
on
1/22/2018
Love it
No sirve
La actualizacion que hicieron no funciona me llegan mensajes con rayas en medio no sirve
Best apps
Its the best app ever Thank you for all your effort
Call Quality is poor
Call Quality is poor
Great App
Reasons i love this app are: 1. Its free 2. No ads 3. Not country specific. Works everywhere 4. Does not consume too much data except for when viewing friends status updates
It's amazing
♥️♥️♥️♥️♥️♥️♥️♥️♥️
Make it compatible with iPod
Please make it compatible with iPod Touches.
موضوع الى الشركه
نتمنى اضافات ميزات جميله اكثر واكثر ميزة القفل مثلاا وشكراا
Best Service!
minaminakiwi
on
1/22/2018
Best ever. Would be lost without it!
can be better
ok so you guys can add a report button... because i get a lot of spam forwarded messages from my friends which i dont want to have in future.. so add an option where i can get rid of these spam messages
WhatsApp
How do I delete this completely off my phone
WhatsApp
This is one of the most tremendous and enjoyable social media apps I ever experienced! So thank you so much 'WhatsApp'. Keep up the good work!
Great app!!!
Reality vs. Animation
on
1/22/2018
I like this app so much because it supports iOS 11.
Whatsapp
Natalitalibl
on
1/22/2018
This is a great app!!
أواجه مشكلة في تلقي الرسائل
عندما يكون الهاتف في وضع الخمول لاتصل الرسائل ولا المكالمات الا في حالة فتح التطبيق حينها تصل الرسائل والمكالمات دفعة واحدة.
Great App!
Awesome way of communicating to family and friends when traveling internationally. I love it! Thanks for the app!!
Notification is not run well
Notification on iPhone 8 is not run well or fast enough
Latest update not working
To WhatsApp technicians: fix it please!!
Se ve blanco y negro el portapapel
No me escuchan con las video llamadas y las notas de vos enviadas tienen ruidos 😡🤬😡🤬😡🤬😡🤬😡🤬😡🤯😡🤬🤬🤬🤬🤬🤯🤬🤬😡🤬😡🤬😡🤬😡🤬😡🤬😡🤬
Apple Watch app
I use WhatsApp everyday but I am a little disappointed as you don't provide an Apple Watch app. The experience I get using a WhatsApp app on Apple watch would be more greater. Please make an Apple watch app. Thank you
Amazing
Love this apps 😍😍
Amo esta aplicación es la mejor. 10 puntos
Me encanta 👍
Separate group
QuophiBartels
on
1/22/2018
Please try and separate group chart from individual chart
PlayAll for voice message
Love freedom12345
on
1/21/2018
WhatsApp should add play all feature for voice messages the same feature in iMessage so it would be easier to whatsApp lovers to listen to a lot of voice messages at one click
Top application until now
Good job
Status pictures
It crashes when I take long choosing status pictures or choose more than one. Or take longer than 20 secs to choose. Why?
Voice messages and video sound
Messaging is working. OK. Sound messages volume is too low. Recorded video volume is too low. iphone 8.
Fact Sheet
Publisher:

WhatsApp Inc.

Category:

Social Networking

Released:

May 03, 2009

Current Version Released:

Jan 21, 2018

Version:

2.18.12

Size:

158.6 MB

Compatibility:

Requires iOS 7.0 or later.

Recommended Age:

4+

Game Center Certified:

No

Supported Languages:

Arabic; Bengali; Catalan; Valencian; Croatian; Czech; Danish; Dutch; Flemish; English; Finnish; French; German; Greek; Gujarati; Hebrew; Hindi; Hungarian; Indonesian; Irish; Italian; Japanese; Korean; Malay; Marathi; Bokmål, Norwegian; Norwegian Bokmål; Persian; Polish; Portuguese; Romanian; Moldavian; Russian; Chinese; Slovak; Spanish; Castilian; Swedish; Thai; Chinese; Turkish; Ukrainian; Urdu; Vietnamese;