Screenshots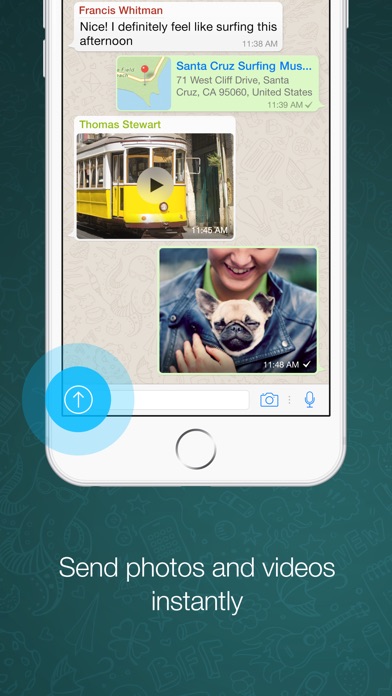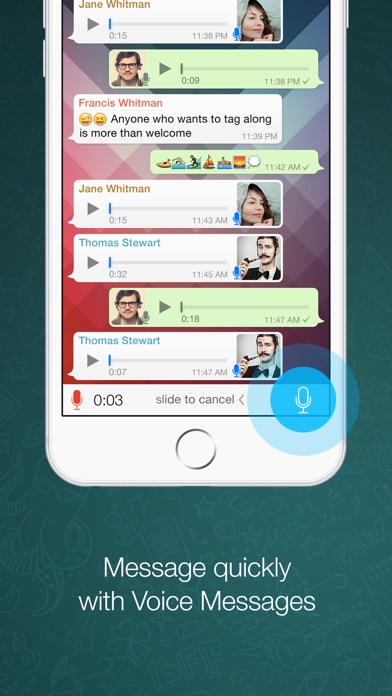 New in version 2.17.52
• When typing text in a chat, you can tap and hold to select the text to easily bold, strikethrough, or italicize it
Description
WhatsApp Messenger is a FREE messaging app available for iPhone and other smartphones. WhatsApp uses your phone's Internet connection (4G/3G/2G/EDGE or Wi-Fi, as available) to let you message and call friends and family. Switch from SMS to WhatsApp to send and receive messages, calls, photos, videos, and Voice Messages.

WHY USE WHATSAPP:

• NO FEES: WhatsApp uses your phone's Internet connection (4G/3G/2G/EDGE or Wi-Fi, as available) to let you message and call friends and family, so you don't have to pay for every message or call.* There are no subscription fees to use WhatsApp.

• MULTIMEDIA: Send and receive photos, videos, and Voice Messages.

• FREE CALLS: Call your friends and family for free with WhatsApp Calling, even if they're in another country.* WhatsApp calls use your phone's Internet connection rather than your cellular plan's voice minutes. (Note: Data charges may apply. Contact your provider for details. Also, you can't access 911 and other emergency service numbers through WhatsApp).

• GROUP CHAT: Enjoy group chats with your contacts so you can easily stay in touch with your friends or family.

• WHATSAPP WEB: You can also send and receive WhatsApp messages right from your computer's browser.

• NO INTERNATIONAL CHARGES: There's no extra charge to send WhatsApp messages internationally. Chat with your friends around the world and avoid international SMS charges.*

• SAY NO TO USERNAMES AND PINS: Why bother having to remember yet another username or PIN? WhatsApp works with your phone number, just like SMS, and integrates seamlessly with your phone's existing address book.

• ALWAYS LOGGED IN: With WhatsApp, you're always logged in so you don't miss messages. No more confusion about whether you're logged in or logged out.

• QUICKLY CONNECT WITH YOUR CONTACTS: Your address book is used to quickly and easily connect you with your contacts who have WhatsApp so there's no need to add hard-to-remember usernames.

• OFFLINE MESSAGES: Even if you miss your notifications or turn off your phone, WhatsApp will save your recent messages until the next time you use the app.

• AND MUCH MORE: Share your location, exchange contacts, set custom wallpapers and notification sounds, email chat history, broadcast messages to multiple contacts at once, and more!

*Data charges may apply. Contact your provider for details.

---------------------------------------------------------
We're always excited to hear from you! If you have feedback, questions, or concerns, please email us at:
iphone-support@whatsapp.com

or follow us on twitter:

http://twitter.com/WhatsApp
@WhatsApp
---------------------------------------------------------

Note: WhatsApp is a telephony app, so iPod and iPad are not supported devices.
Reviews
Something New!
Will Be Great!
on
9/25/2017
Whatsapp Should Be Able To Trasmit Live Or Be Live In the Status Section!
there problem here
photo and video needs fixing and support ios 11 you are so slow !
Well
At times connection issues and it's generally slow and the calls constantly reconnect.
Saving graphics
newnativemark
on
9/25/2017
The only item on my wish list would be the addition of a "Save as..." option which would allow me to name and save a graphic to any folder I wish... not just to one default folder with a program-generated file name.
Disconnects
It keeps disconnecting
Amazing
butterflyfuneral11
on
9/25/2017
I'm thankful for this convenient form of communication 💛
Best way to chat and connect with people
This is one of my apps that I use frequently. Really good one to connect with people. Recent updates are useful to catch up with friends.
😇 WhatsFan
Me ha gustado cada una de las actualizaciones.
App has crashed randomly and can't retrieve backup
Just recently my whatsapp has been crashing on me and then it prompts to optimize the browser and restore from backup but then it freezes at 99% of restoring and I can't get any data back. I am left to delete the app and skip restore and start all over again. If there was a way to fix that and be able to get my restored data back that would be great.
Bugs
jencity4ever
on
9/25/2017
After updating it, last seen online from users is incorrect. Please fix!
Excellent App that does everything!
lovebooksNcoffee
on
9/25/2017
Love this app because you can text, send pics and even video chat. Easy to use and notifies when you have a message.
Lock Protection and smart invert colors
VictorMaraon
on
9/25/2017
Great app, but need a password protection with code and touch id. The app is amazing and keep always updated so please bring this mode to the instagram, so we can perfectly use with smart invert colors on.
Getting On The Website
How do I get the app to work for me
No group call
Ffffffffffffix iiiiiiiit!!!!!
on
9/25/2017
Plz add group call option to your application
Not very secure
Jocelyn. Mom of two.
on
9/25/2017
Ppl who I don't know keep messaging me. I don't like that. I only downloaded it so I could talk to my in-laws while they were out of the country.
Boom
Kingwolf3083
on
9/25/2017
Hey
Bate broadcast list
Why do you allow people to spam other users without giving us the option to choose or not to be on these lists? Please do something about it- we don't want to be spammed everyday all the time by people that happen to have our phone numbers. Would give 5 stars if it wasn't by that.
No Apple watch?!?
No Apple watch.... Come onnnnnn.....you're supposed to be the market leader. Obviously it isn't that hard to write a watch app with your resources, it is clear you have intentionally made the strategic decision not to support it. Well now I need to switch to another messenger app... So your strategy isn't a good one.
A little problem
--(Jamal73)--
on
9/25/2017
Hi, whatsapp is my favorite app, but there is a problem on that.If I want to change my mobile I cann't use my previous message in new phone.
App asks me to update yet no updates are available
Useful yet useless in current state
Pics
Irfan Matloob
on
9/25/2017
Can't upload video and pictures from whatsapp + mark after update to ios11. It says whatsapp dose not have access blah blah blah and then i go to setting there is no option for Picture and video sharing wish i could give the screen shoot. Please solve this problem.
New update
Confusing setting
Useful
There's only one thing that I don't like in WhatsApp whenever you send messages you don't know if that person knows when it senses because your friend does not respond back..
Whatsapp video call quality
Would be better if the quality of video call between iOS & Android improves.
Iphone 6 version 11.0
Most of my contacts no appear in search short cut...
Backup to iOS
WhatsApp does not make it easy if you previously owned an Android device to backup and restore your messages if you change your phone to iOS. This is a serious misstep on the part of Whatsapp that prevents people like me from keeping their message history intact on a new device.
😤
lately a lot of bugs urrgh
sufficient for IM but little else
i use wechat as everyone in china uses it. i just installed whatsapp because all my friends in italy use whatsapp (china and italy are two countries we go to multiple times every year, will eventually move to part time) whatsapp is fine if just went to send msg and pic. but compared to wechat, it is very limited. wechat has so many integrated tools and usage including a payment system simple to apple pay, there is just no comparison . one thing i wish whatapp a had is something actually very simple.... have some more interesting animated cartoons (it is called sticker in wechat) as opposed to just boring emoji would make it a lot more interesting.
تحديث الواتس
IbrahimAwad505
on
9/24/2017
يحتاج اعادة السطر الجديدي عند اختيار صورة والكتابة بعد اختيار الصورة✋🏻
Best App
What's not to love. Can stay in touch with overseas family and friends for free. Keeps getting better and better.
Excellent way for communication
Easy and clear .. no cost
Whatsapp for life
THE BEST EVER❤️❤️❤️
Great app
The best app I've ever gotten. Can't live without this app especially when my kids go abroad and we can text like he is next door.
Just Amazing
My most used App...very user friendly and end to end encrypted for total privacy
فديو
مقاطع الفديو تجي مشتوله مدري شوضع امها 😂☹️؟
Phone calls
When you make a call, it's not very clear.
Apple Watch compatibility
Love the app. Is there any way to make it compatible for the Apple Watch? I would love to be able to reply from the Watch.
It's ok
It's nice but kind of bummed out that it doesn't have many wallpaper options and I dislike that no matter how many times I choose not to save the pics or audio. It still gets saved on my phone. But it's awesome for communicating and staying in touch with people.
Fun & Laughter
U and C College Instructor
on
9/24/2017
My family all chime in on certain entries & crack me up. It's delightful!!!
Very pleased.
I once complained about the chat backup and restore process, this was about a year ago, I haven't used the feature since but I had to transfer my WhatsApp account to another iPhone today and I'm pleased to see that it has undergone extensive reworking and I have to say I'm very impressed, it was always such a hassle having to wait for it to download 500mb+ and not being able to do anything else while it downloads, now it restores the minimum and then allows you into the app to carry on using it whilst it continues to download the rest of the chat history. Very well executed, I'm very pleased, great job! That deserves 5 stars in my book 👌🏻 All I ask of you guys now is to make a proper app for the iPad, even if it uses WhatsApp web, but something legit from you guys that works properly on the iPad That would be great 👍🏻 And maybe allow for different themes in WhatsApp, I sometimes get tired of the constant white everything, a dark mode would be cool, or even a color change option to make it look something like that android app with the green bar on top or something. But otherwise I'm very pleased with the app.
Walter
My•kate(Gam)
on
9/24/2017
Best app ever. Anyone without a phone should go buy a phone and download this awesome app.
barbarita llamar
grasso padron
on
9/24/2017
Llamar a barbarita
Fact Sheet
Publisher:

WhatsApp Inc.

Category:

Social Networking

Released:

May 03, 2009

Current Version Released:

Sep 04, 2017

Version:

2.17.52

Size:

145.8 MB

Compatibility:

Requires iOS 7.0 or later.

Recommended Age:

4+

Game Center Certified:

No

Supported Devices:

iPhone4-iPhone4, iPhone4S-iPhone4S, iPhone5-iPhone5, iPhone5c-iPhone5c, iPhone5s-iPhone5s, iPhone6-iPhone6, iPhone6Plus-iPhone6Plus, iPhone6s-iPhone6s, iPhone6sPlus-iPhone6sPlus, iPhoneSE-iPhoneSE, iPhone7-iPhone7, iPhone7Plus-iPhone7Plus,

Supported Languages:

Arabic; Bengali; Catalan; Valencian; Croatian; Czech; Danish; Dutch; Flemish; English; Finnish; French; German; Greek; Gujarati; Hebrew; Hindi; Hungarian; Indonesian; Irish; Italian; Japanese; Korean; Malay; Marathi; Bokmål, Norwegian; Norwegian Bokmål; Persian; Polish; Portuguese; Romanian; Moldavian; Russian; Chinese; Slovak; Spanish; Castilian; Swedish; Thai; Chinese; Turkish; Ukrainian; Urdu; Vietnamese;