Screenshots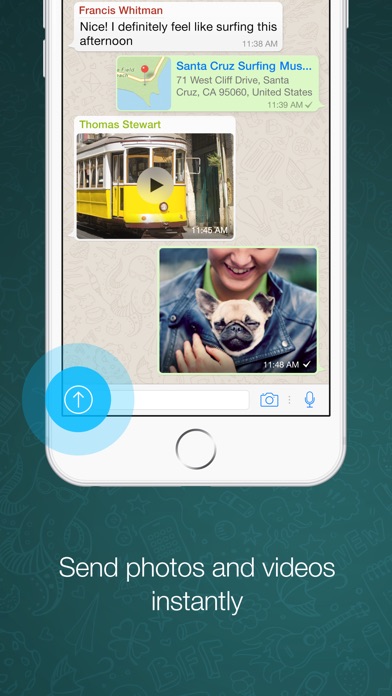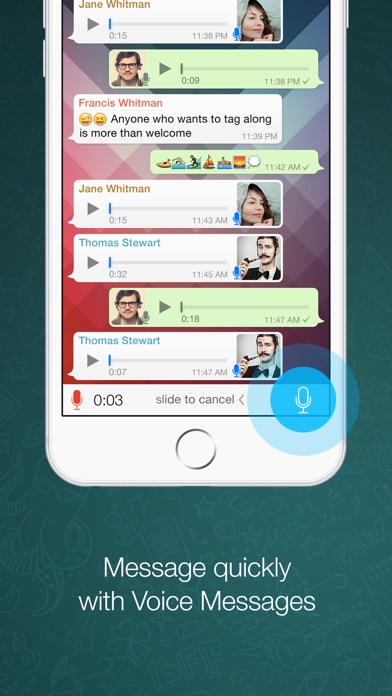 New in version 2.17.80
• Now you can delete messages you've sent by mistake. Just tap and hold a message you sent in the last 7 minutes, tap delete, and select "Delete for everyone." The message will be deleted for you and everyone in the chat. Requires the latest version of WhatsApp.
• Live location: now you can share your location in real-time with family and friends. Open any chat, tap the + icon > location, and tap "Share Live Location" to get started.
• Fixed an issue that was preventing some message notifications from appearing on iOS 11.
Description
WhatsApp Messenger is a FREE messaging app available for iPhone and other smartphones. WhatsApp uses your phone's Internet connection (4G/3G/2G/EDGE or Wi-Fi, as available) to let you message and call friends and family. Switch from SMS to WhatsApp to send and receive messages, calls, photos, videos, and Voice Messages.

WHY USE WHATSAPP:

• NO FEES: WhatsApp uses your phone's Internet connection (4G/3G/2G/EDGE or Wi-Fi, as available) to let you message and call friends and family, so you don't have to pay for every message or call.* There are no subscription fees to use WhatsApp.

• MULTIMEDIA: Send and receive photos, videos, and Voice Messages.

• FREE CALLS: Call your friends and family for free with WhatsApp Calling, even if they're in another country.* WhatsApp calls use your phone's Internet connection rather than your cellular plan's voice minutes. (Note: Data charges may apply. Contact your provider for details. Also, you can't access 911 and other emergency service numbers through WhatsApp).

• GROUP CHAT: Enjoy group chats with your contacts so you can easily stay in touch with your friends or family.

• WHATSAPP WEB: You can also send and receive WhatsApp messages right from your computer's browser.

• NO INTERNATIONAL CHARGES: There's no extra charge to send WhatsApp messages internationally. Chat with your friends around the world and avoid international SMS charges.*

• SAY NO TO USERNAMES AND PINS: Why bother having to remember yet another username or PIN? WhatsApp works with your phone number, just like SMS, and integrates seamlessly with your phone's existing address book.

• ALWAYS LOGGED IN: With WhatsApp, you're always logged in so you don't miss messages. No more confusion about whether you're logged in or logged out.

• QUICKLY CONNECT WITH YOUR CONTACTS: Your address book is used to quickly and easily connect you with your contacts who have WhatsApp so there's no need to add hard-to-remember usernames.

• OFFLINE MESSAGES: Even if you miss your notifications or turn off your phone, WhatsApp will save your recent messages until the next time you use the app.

• AND MUCH MORE: Share your location, exchange contacts, set custom wallpapers and notification sounds, email chat history, broadcast messages to multiple contacts at once, and more!

*Data charges may apply. Contact your provider for details.

---------------------------------------------------------
We're always excited to hear from you! If you have feedback, questions, or concerns, please email us at:
iphone-support@whatsapp.com

or follow us on twitter:

http://twitter.com/WhatsApp
@WhatsApp
---------------------------------------------------------

Note: WhatsApp is a telephony app, so iPod and iPad are not supported devices.
Reviews
Annoying glitch
Maggie of E
on
11/19/2017
After the last update all the messages in the thread suddenly scroll rapidly backwards to the very first message when you try to use the back arrow. This is beyond annoying as it takes ages to manually scroll back down to the most recent message again. Fix this glitch please to get back your 5-star rating
Excelente
sergioJhovani1
on
11/19/2017
Muy buena aplicación .
Fallas
CarlitoMaraña
on
11/18/2017
No puedo realizar llamadas de vos ni de videos x la aplicación WhatsApp en mi iphone X
Información
Un gran aporte a las comunicaciones, especialmente en Venezuela. Gracias
Amazing
Bigg Daddyy
on
11/18/2017
So amazing makes talking and contacting people way better
Bug fixes
A mí me encanta ella aplicación de WhatsApp. Es grandiosa y un buen lugar para comunicarme con mis seres queridos. Pero desde que le di el nuevo update no me deja entrar correctamente. It glitches mucho y me dice que no tengo mucha memoria en WhatsApp lo cual solo tengo como tres conversaciones que son las más importantes y borre todos los vídeos y fotos que nos enviábamos para que así parara de caerse la aplicación. Por favor ayúdenme ya que me comunico mucho por ahí, gracias.
Excellent
Kathmandu Nepal
on
11/18/2017
Excellent
Kuwait
Tarek Alomda
on
11/18/2017
روعه
Lightsaber
Why the is not a star wars lightsaber in the emoji keyboard??? 😡😡😡
Mr ceo
Amk yapicaniz programin silicem telden
So good of a app
I ❤️ this app it is the best you can talk to people who don't have the same type of phone if you are like me and don't have service
Many times no call nnection
Flapperman22
on
11/18/2017
Delayed connection Only certain WiFi gets me in
Great app for communication but very very intrusive.
Healtheplanet
on
11/18/2017
Have loved WhatsApp since its founding. But if you don't know how to manage it, it will drive you crazy - especially with dozens of groups you may find yourself in and with most of these groups sharing the same jokes and media. And yes, you will also have to know how to change the default media save option so as to save space on your phone.
Incredible
Nin★DogeAppReviews
on
11/18/2017
I really love this app. It's incredible how you can talk with anyone around the world without paying actual money. There's nothing wrong happening with my version, the camera works well and shoots good photos. There are some things that would make this app the best messaging app. The first one is that when you mute a group chat there should be an option that allows you to mute it forever, same goes with the real-time location. When you create a group, others shouldn't have the option to kick you from the group, and there should be an option to make someone not be an admin without having to kick the person and adding them again. Also, I really want the GIFs to have their own spot so you don't need to go to Photos and Videos and then click GIFs. Also, make a DRAWING option. Well, that's all. Thanks for this amazing app.
from iran
Majid Hashemifard
on
11/18/2017
best app ever
👍
medoo sayang
on
11/18/2017
Amazing program 👍
Amazing but not perfect
Lavalampgal
on
11/18/2017
The video and chat is great but with the video it is a little laggy and sometimes makes it look like a bunch of pixels but overall it is wonderful to connect with most of my family
Whats app web
Michel.s980
on
11/18/2017
I don't have whatsapp web in setting
Funny Update
Md Shoyeb Rabbi
on
11/18/2017
Message delete for everyone not working...
Audio
Vendorstate
on
11/18/2017
Audio is still an issue on FaceTime
Last update
Great app I use it for calls and texting but after last update app often suddenly crashes. I use it on ios iphone 4. Please fix this because it is very annoying.
Amazing
Damiancoco77
on
11/18/2017
The best app ever
THE BEST OF THE BEST
This is THE BEST APP IN THE WORLD THANK YOU FOR LETTING IS HAVE IT ITS THE ONLY APP I KNOW THAT CAN HAVE FAMILY CLOSE EVEN THOUGH THEY ARE FAR!!!
easier way to communicate all over the world. My favorite app
Cesargodines
on
11/18/2017
love it
Love
Danymommy0808
on
11/18/2017
I'm about to talk to my deployed son.
iPhone X having volume issue
iPhone X having volume issue with current version of WhatsApp while video calling. I hardly hear the other person on the call. Please fix the problem as soon as possible.
Great App.
Great and easy way to communicate with friends and family all over the world.
شكراً وتساب
شكراً على تعاملكم معه مستخدمي وتساب ولخدمات ولوظائف الوتساب الرائعه
KEeping in touch
The women in my family use this app for a private chat since some of us do not use Facebook. We have Family in Venice and I have friends that do international travel that allows us to keep communication.
5 star rate
I think if the admin in the group can give punishment such as silence for hours he choose it by number will be good point. And for the privacy if you can remove the online in the number and the user can enter offline good choice.
NIGHT MODE!!
Jay inmillion
on
11/18/2017
Hey whatsapp, feeling great of your application as always. I can get more attached to whatsapp if it provides NIGHT MODE Option. Awaiting.
اشكركم على ذلك البرنامج الذي يمتاز بمزايه وفرت لنا الكثير
شكرا
مراجعة
الفجر الابيض
on
11/17/2017
جدا مميز
Got pulled over for speeding!
Waze turns itself off when I stoped for gas. Why? I was at a service area on the highway! Also, put a thumbs down button or an "all clear" button so when something is reported but is no longer there, it can quickly be cleared. Cheers.
Latest version failed to install on iPhone X
Latest version failed to install on iPhone X
WhatsApp
I really love WhatsApp because I can send messages to my cousins and my grandparents
New SOUNDS
I WANT NEW SOUNDS FOR MY WHATSAPP ¡PLEASE! 🙏🏻🙏🏻🙏🏻🙏🏻
Bueno
el mameluco
on
11/17/2017
Muy buena
Whatsapp is Love ❤️
I just love it. Easy to use. Very convenient app for everyone 👍
Me encanta
sadoriphone8
on
11/17/2017
Me encanta esta aplicación
Love it
The best communication app out there
5stars bcause of LNG support
i gave it 5 stars because of its Persian language support. thank u all. well done
Sin el no vivo
ME une a todos mis seres queridos no lo cambio por nada
Fact Sheet
Publisher:

WhatsApp Inc.

Category:

Social Networking

Released:

May 03, 2009

Current Version Released:

Nov 15, 2017

Version:

2.17.80

Size:

156.4 MB

Compatibility:

Requires iOS 7.0 or later.

Recommended Age:

4+

Game Center Certified:

No

Supported Devices:

iPhone4-iPhone4, iPhone4S-iPhone4S, iPhone5-iPhone5, iPhone5c-iPhone5c, iPhone5s-iPhone5s, iPhone6-iPhone6, iPhone6Plus-iPhone6Plus, iPhone6s-iPhone6s, iPhone6sPlus-iPhone6sPlus, iPhoneSE-iPhoneSE, iPhone7-iPhone7, iPhone7Plus-iPhone7Plus, iPhone8-iPhone8, iPhone8Plus-iPhone8Plus, iPhoneX-iPhoneX,

Supported Languages:

Arabic; Bengali; Catalan; Valencian; Croatian; Czech; Danish; Dutch; Flemish; English; Finnish; French; German; Greek; Gujarati; Hebrew; Hindi; Hungarian; Indonesian; Irish; Italian; Japanese; Korean; Malay; Marathi; Bokmål, Norwegian; Norwegian Bokmål; Persian; Polish; Portuguese; Romanian; Moldavian; Russian; Chinese; Slovak; Spanish; Castilian; Swedish; Thai; Chinese; Turkish; Ukrainian; Urdu; Vietnamese;