Screenshots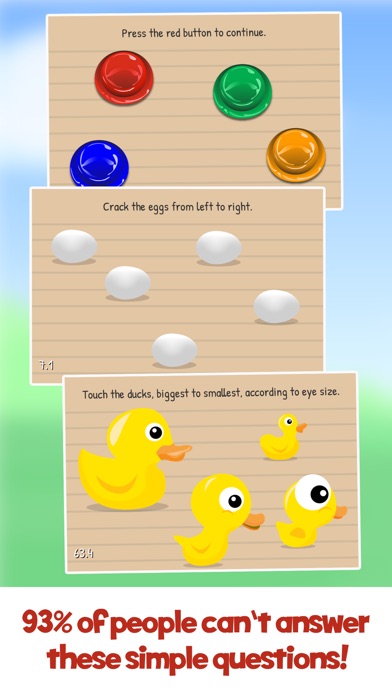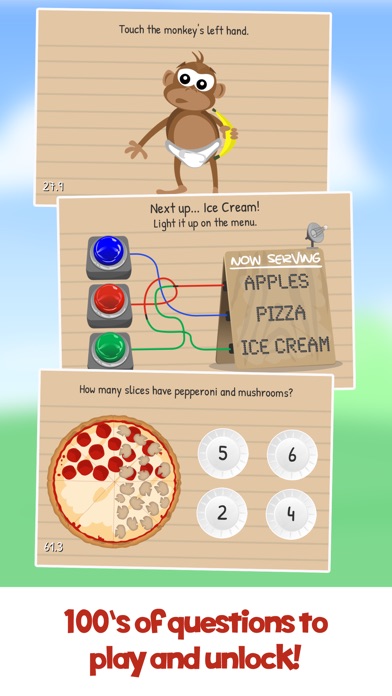 New in version 6.3.1
Just a little spring cleaning! (A couple small tweaks & bug fixes)
Description
Graduate from Moron to Genius as you tap, twist, and shake your way through these fun and tricky challenges. Master the game, then laugh as your friends and family struggle with these seemingly simple puzzles!

The Moron Test is one of the most popular mobile games ever with millions of players worldwide. Play now and experience why The Moron Test is an App Store favorite!

The Moron Test - it's fun to FAIL!

FEATURES:

- Simple, addicting gameplay
- Six levels featuring hundreds of fun puzzles
- Funny characters, sound effects, and music
- Global leaderboards and achievements
- You will LOVE watching your friends FAIL!

LEVELS:

- Old School
- Late Registration
- Winter Break
- Food Fight
- Skip Day
- Tricky Treat
iPad Screenshots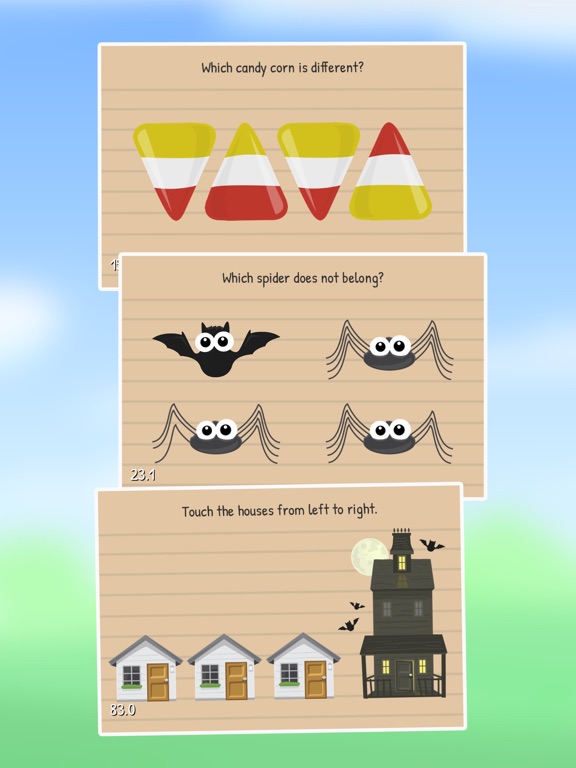 Reviews
Amazing
Heart-heart 7
on
11/18/2017
I love this
Great app
This app is actually very useful it can show how much patience and strategy you have and it helps you with reading to which is a good bonus but it is still fun and it makes you think so I whould definitely get this game if I were you😀😀😜😋
Die
I. Hate this game so freaking much it's so freaking annoying
Interesting app to enjoyably waste time
Gotamila Chander
on
11/13/2017
The problems are challenging but not too hard. I enjoyed going through it.
I'm a genius!
This game is fun and I'm finally a genius.
had it for years
Laurenlove98
on
11/9/2017
i've downloaded this app prop once a year and it doesn't get old. i don't play much games but i love this one
Hard but fun
I luv it sooooooooooooooooooooo much 😄
so tricky
this is so good is so confusing I love puzzle games thx for making this game
Soooo much fun! Must play!
This game is one of the funniest and entertaining games I have, if you are looking for a game that you want to play over and over again this is the one, this is 100% a five star game. ⭐️⭐️⭐️⭐️⭐️ 👏🏼 👍🏻
It's challenging
willie2007c
on
10/20/2017
It's very trolley but it's fun and you might learn something
Lol most funniest game
It is filed with a lot of fun tricks and you better be ready I had a lot of trouble but I got throw it.
Good but..
lunalinaandlola1234
on
10/14/2017
When i tried this game i was pretty sure that i was not a moron. But there was on question that really made me think but turns out i got it wrong! I think there is a glitch in the game because i sent it to friends who I knew had the game, and when they tried it, IT WORKED
I'm not a moron!
Fun game.
It's just stupid and some "answers" are blatantly wrong
Pilot this one not taken
on
10/9/2017
I don't mind tricky, but when blatantly wrong answers are "right", it just becomes stupid to try to memorize wrong answers.
Very fun for all ages!
Anyone can play this game! I've been playing it since i was five and I still love it!
Lol
Joytotheworld002
on
10/7/2017
It's fun
One mistake
M⃟R⃟ L⃟I⃟P⃟I⃟N⃟S⃟K⃟I⃟
on
9/28/2017
I'm really mad you can't listen to music while playing
Autism
Dullermite90
on
9/22/2017
This game is giving me autism the pump question is impossible
Moron knot!
Cleverly challenging. Tricks the mind repeatedly. Fun.
Great game.
Bill in Michigan
on
9/18/2017
A good way to while away odd moments of time.
So much fun!!!!!!!!!!!!!!!!!!!!!!!
Make it more sneaky and more levels
Favorite game ever!!
Favorite game from my childhood when the iPhone 3G(I think) came out! Saddened they added apples to it, oh well..
Memories
Ashley Caceres
on
9/9/2017
I have so many memories and I love it
Critical thinking
Creative learning styles, keeps your mind going and thinking. Enhances memory
Interesting app to enjoyably waste time
PaulHolland_TWN
on
9/6/2017
The problems are challenging but not too hard. I enjoyed going through it.
Smarty Pants
I like how it makes the player read and play attention. Awesome game
Challenge yourself
A fun way to waste time!!!
Frustrating Fun!!!
I have to say this is a lot of fun, a great mental challenge that truly keeps me on my toes and my my agile at the same time. I think it is a great app all around!!!
LOVE IT LOVE IT!!!!!
Happy Face234
on
8/31/2017
I remember playing this game when I was younger and I absolutely loved it then when I found it again I was so excited to get it again!!
Five stars!
This is one of my favorite games in the App Store! An absolute classic!
Amazing game, very creative and unique
Edouardalbert
on
8/27/2017
I wasn't pulled to play it until I actually did. 👌🏽
Worst!!👎🏻👎🏻👎🏻👎🏻👎🏻😡
Worst game ever. Questions are too easy and are in the same order every time. DO NOT GET THIS CHEAP WORTH WASTE OF TIME!!😡😡😡😡😡👎🏻👎🏻👎🏻👎🏻👎🏻👎🏻👎🏻👿👿👿👿👿💩💩💩💩💩💩😠😠😠😠😠😠😠this game is worth 0 stars to me but that's not an option or I would put that.
Scam
This app traps you into watching long videos of the creator's paid games.
Moron test
Pretty clever. Not all is intelligence related. Some parts are more about speed. I liked it.
Very good game
I like this it's lit
This is politically horrible
ducky ducky go to sleep
on
8/26/2017
This is horrible hate this game to play
Very Fun
Whole family gathers around IPad. Free apples are easy to get.
Love it
irishqueen63
on
8/25/2017
Love it
So entertaining 🤣
I love this app so far👍🏼makes you think fact on oblivious questions😜😜😜😜😊
Very Fun and Adicting
SuperKooper101
on
8/25/2017
Love this game. It really makes you think. The only thing I don't like are the ads but those are in every game. Good game. Recommend to anyone.
Love it!
Challenging but fun!
Really fun with my 4 year old
Solidchevy04
on
8/24/2017
Lots of run!
Cool kinda funny too
Sense of humor
Fact Sheet
Publisher:

DistinctDev, Inc.

Category:

Entertainment

Released:

Apr 20, 2009

Current Version Released:

May 03, 2017

Version:

6.3.1

Size:

45.7 MB

Compatibility:

Requires iOS 8.4 or later.

Recommended Age:

4+

Game Center Certified:

No

Supported Devices:

iPad2Wifi-iPad2Wifi, iPad23G-iPad23G, iPhone4S-iPhone4S, iPadThirdGen-iPadThirdGen, iPadThirdGen4G-iPadThirdGen4G, iPhone5-iPhone5, iPodTouchFifthGen-iPodTouchFifthGen, iPadFourthGen-iPadFourthGen, iPadFourthGen4G-iPadFourthGen4G, iPadMini-iPadMini, iPadMini4G-iPadMini4G, iPhone5c-iPhone5c, iPhone5s-iPhone5s, iPadAir-iPadAir, iPadAirCellular-iPadAirCellular, iPadMiniRetina-iPadMiniRetina, iPadMiniRetinaCellular-iPadMiniRetinaCellular, iPhone6-iPhone6, iPhone6Plus-iPhone6Plus, iPadAir2-iPadAir2, iPadAir2Cellular-iPadAir2Cellular, iPadMini3-iPadMini3, iPadMini3Cellular-iPadMini3Cellular, iPodTouchSixthGen-iPodTouchSixthGen, iPhone6s-iPhone6s, iPhone6sPlus-iPhone6sPlus, iPadMini4-iPadMini4, iPadMini4Cellular-iPadMini4Cellular, iPadPro-iPadPro, iPadProCellular-iPadProCellular, iPadPro97-iPadPro97, iPadPro97Cellular-iPadPro97Cellular, iPhoneSE-iPhoneSE, iPhone7-iPhone7, iPhone7Plus-iPhone7Plus, iPad611-iPad611, iPad612-iPad612, iPad71-iPad71, iPad72-iPad72, iPad73-iPad73, iPad74-iPad74, iPhone8-iPhone8, iPhone8Plus-iPhone8Plus, iPhoneX-iPhoneX,

Supported Languages:

English;