Games
Strategy
Adventure
Entertainment
This version of the app is not recommended
App last updated
Apr 07, 2011
Screenshots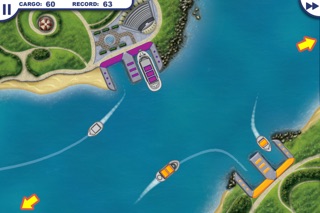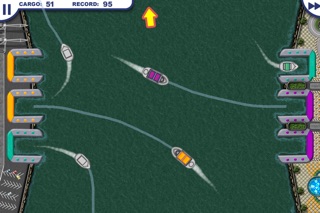 New in version 2.1
Game Center! Compete with your friends on 10 leaderboards, and earn up to 38 achievements!

Rewinds! Ever had an awesome game just to crash when you least expected it? Now you can undo that crash with a rewind! You can only use one rewind in a game, and you earn rewinds by playing more, so use them wisely!
Description
Relax and let the sounds of the sea transport you far away. You are the Harbor Master in a busy harbor. Direct boats into the docks, watch them unload their cargo, and direct them off the screen. But be careful not to let the boats crash, and watch out for the pirates, monsters, and cyclones!

This classic best-seller now has beautiful high resolution graphics for iPhone 4 Retina Display. It looks amazing! And don't miss the brand new level, Cargo City!

★★★★★★★★★★★★★★★★

REVIEWS

"New and Noteworthy," "Hot" -- Apple

"No questions, the single most addictive game I have ever played on the iPhone." -- The Appera

"You will absolutely love Harbor Master." -- The Unofficial Apple Weblog (TUAW)

"Harbor Master may be the best pick up and play title in the App Store. " -- AppAdvice.com

#3 Top Paid App

★★★★★★★★★★★★★★★★

FEATURES

- Seven exciting maps, each with its own challenges:

* Fishing Bay - A peaceful harbor to get you started.

* Cyclone Island - Careful, cyclones spin your ships around!

* Sturgeon Creek - Make sure the right cargo goes to the right port.

* Cannon Beach - Can you fight off the pirates with your trusty cannon?

* Smugglers' Reef - Help the smugglers unload their loot in the right port. How well can you multitask?

* Monster Cove - There's word that monsters haunt this harbor…

* NEW! Cargo City - Three cargo colors! Can you handle it?!

- Multitasking support

- Multiplayer! Compete with your friends via Bluetooth. Who will be the ultimate Harbor Master?

- Online leaderboards

- Original island soundtrack

- Beautiful high resolution graphics for Retina Display!

- The most addictive, fast-paced line-drawing action ever!
Reviews
Bring it back
I really loved this game and then you guys took it down I really don't appreciate that so F off and release it again and update it
UPDATE YOUR APP FOR IOS11!
Look this game is fun and challenging. Please update it so it works with iOS 11. Give your other game some recognition.
Love It
I Love This Game!!! But the issue is now since iOS 11 I can't play it😩 could you please update or remaster the for iOS 11 and maybe add a few levels to?
Doesn't work on iOS 11 on iPhone X
I adore this game. It's a great time killer when you have limited time. But sadly it's broken in iOS 11 and doesn't work on the iPhone X. That makes me a very sad panda.
Review
Amazing game I got so addicted! Although it can be very gilchiy at times. I would definitely recommend this app for you if you like solving puzzles and problems. If you don't have WiFi then you can still play it. I really like this game and I hope that whoever is reading this review will to! 😊
Update
I can't download it again it needs to be updated so it's compatible thanks
Update for iOS 11!
I can't play it. Fix the game!
Put it on IOS 11!
Dennis the pup 🐶
on
11/25/2017
I want to play this game again!
Update for ios11
Meeeeeeeeeowwwww
on
11/25/2017
When are you going to update this app to work with ios11?
Update???
Teigadveture
on
10/20/2017
For IPhone?
iOS 11 Update
Looks like this app will not be updated to support iOS 11... :(
Update please!
XxjimmycampxX
on
10/6/2017
Please update to support newer devices that's all we ask! I'm going to have to update iOS which would get rid of this game... :( good bye harbor master for all your times with me and my dad
No iOS 11 Support
Title says it all. App no longer developed or supported. Does not work with iOS 11
Please update
I'm giving this one review because the game will not work. There is a white rectangle and the screen and it won't let me open the game or anything. Please update this game to work on the new iOS. Otherwise, it's a fun game. But, no fun if you can't play it....
Will they fix so works with iPhone 7??
Gamey McGamester
on
8/10/2017
Otherwise keeps getting a bug. Love the game, hope they update it....
Update
Please update the game so it's compatible with iOS 11 when it comes out please
Sad
What was once a cute game has gone sour. With no support and Apples constant messages about how this App is not supported it no longer operates. I hate to think it's a ploy for the once avid supporters of this game to purchase a "newer version" which will cost more due to paying for each "map".
Great Potential, Fatal Bugs
Birkdale Steve
on
6/27/2017
Game crashes every couple of days with white screen and cannot be resolved short of uninstall/reinstall, which loses ALL data, scores, etc. Glad it doesn't have ads of any kind, but I'd gladly pay for this game if the bugs were fixed.
App freezes requiring delete/reinstall
Every 10-15 games a whit square covers about 30% of the screen and the app becomes unrecoverable. Super fun game but this glitch is REALLY frustrating, especially when you are about to set a new record. Publisher need to get on a fix for this, because it's been happening for a long time!!!
Total negligence from developer
This app is crap. Fun while it lasts, until you get the little white screen of death. Then you have to delete the app and reinstall, meanwhile losing all your records. If you aren't going to stand behind your product, DON'T PUT IT OUT THERE!
Fix that thing!!
I had to re download the game several times do to the glitch occurs every time. Pls fix it!! Other than that I love playing it :))
Frustrating bug kills an otherwise amazing app!
TastesLikeAwesome
on
4/27/2017
There is a bug in the game (some kind of incompatibility with Game Center on iOS) where every few days when the game is opened a blank white pop-up appears rendering the game unusable. The app completely ceases to respond - can't access settings, use any features, play/pause/resume a game, nothing. I tried everything - hard-closing the app, turning the phone on and off, etc., to no avail. The only way to "clear" the error is to delete and reinstall the app, losing all of your settings and high score data. It's incredibly frustrating having to do this at least once a week. I reached out to the developers with information and screenshots and suggestions, but they refuse to put time/effort into fixing or supporting this app, likely because it's one of the amazingly few apps that does not have ads or in-app purchases. If the bug was fixed I would have gladly paid for this app, the game itself is fun and extremely re-playable. It's unfortunate that the developers have no intent to stand behind their work, yet continue to offer the game as a download in the App Store.
Please Update 😥
With Apple IOS no longer supporting legacy apps soon, I'm sadden to see this game go. Although the Bluetooth multiplayer mode was no longer functional a long time ago (my wife and I loved playing this game together) it was still one of my top 3 favorites. Please consider updating.
Horribly gruesome and violent game!!!(NOT FOR KIDS)
...But was the best experience of my life. Would not of changed it for the moon.a good review of obama;s foriegn policy which i happen to agree with; compared him to three republican presidents who i felt were strong on foreign policy, ike, first g bush & nixon; very worthwhile read & well written
No longer viable. Used to be great
Completely useless app now. Too bad. Used to be a great game. After you download it, it will work fine for maybe one or two days and then it totally freezes up. The only way to fix it is to delete it from your device and then download it again. They haven't updated it for years. Again, too bad.
Crash
Yoitzyourdude22baller
on
3/3/2017
Every time I go on this app the app freezes my phone
Needs update
I used to love this game, but it doesn't work very well on newer iPhones. Needs to be updated.
Don't bother downloading
The app is broken in a major way, and the developers refuse to address/correct the problem. Every few games - perhaps a dozen, maybe 15 games - the app just stops responding to touch. You can tap ANYWHERE, ANYTHING in the game, to no avail. You can't pause, resume, Play Again, Go Back.... NOTHING. Closing/Restarting the app does nothing; turning your phone off/on does nothing. The only workaround (if such it can be called?!) is to completely delete the app, then re-download/reinstall it...meaning loss of your high scores, progress, etc. In addition to that "minor" flaw, the developer has seen fit to insert the occasional "oopsie", where your departing vessel is almost completely off-screen when it suddenly rams into a just-appeared-out-of-nowhere boat, thus ending the game with no chance to even maneuver out of the collision (since it happened off the edge of the screen). Graphics are good, the music is cute, the sounds are fun, the challenge is great... But it's useless when you can't even play the game. Don't waste your time downloading this; you'll be sorely disappointed and frustrated as many of us are. 👎🏼👎🏼👎🏼👎🏼👎🏼
Happy to unhappy
Summer001021
on
12/14/2016
This game was awesome. Challenging and addictive. However, now it has this white block that keeps me from playing. I even restarted my phone to see if that was the problem. Please fix this and I'll fix my review.
No longer works
This app hasn't been updated in years and no longer works on the newest versions of iOS.
Constant Crashes
Curiously addictive. It needs to be re-downloaded every few days because it locks up constantly. Fortunately that's easy, as it is a pleasant distraction. Too bad there's no way to make any progress, or "get better". Still, fun.
HELP
Shanbrooks27
on
11/11/2016
For the love of God... Please fix the white square of death.
Great fun, but please update for latest iOS
This is one of those fun, must-have apps, but I'm starting to get a notice from my iPhone that the developer needs to update it for compatibility with the latest iOS. Please update!
Very addicting!
ThenamesTripleA
on
9/8/2016
I couldn't stop playing it for the first week, but then I had other things to do.
App keeps crashing
Fun game that I've played on my iPad for years. I've now installed it on my iPhone 6+, but the app crashes every few days, and needs to be deleted from the device and reinstalled. Gone are the high scores.
Great game - when it works...
TheMadCorellian
on
8/6/2016
I played the iPad HD version of this for some time - liked it but wasn't thrilled about having to pay for new maps. This iPhone version has lots of included maps - they're a bit simple in comparison but still good. Then the game seizes for some reason and no longer launches; it won't respond to me touching the "Start" button and is now a very pretty, lightly animated picture instead of a game. What gives? I constantly have to delete and reinstall the game just to keep playing it more than a handful of times in a row. That gets old pretty quick!
Doesn't work on iPhone 6!?
Frequent traveller!!!
on
7/31/2016
What about keeping up with the phone versions
Freezes continually
The game is continually freezing and the only way to fix it is to delete it and reinstall. Very aggravating. I like the game, it is fun when you can get it to work
Great for Inducing a Stupor
Hectorprotector
on
6/11/2016
As a college professor, it is difficult to stop thinking but this game does the trick.
LOVE but crashes frequently
I love this game so much, but it frequently freezes and crashes. The only way I've found to resolve is to delete and reinstall. Please fix this! I hate losing my high scores and other stats. If this issue didn't exist I would absolutely give it 5 stars.
iPad great! iPhone version issues
UPDATE: Keep freezing and then even closing re-opening doesnt work. You have to reinstall and yku lose all your high scores and averages. SOOO frustrated as I love this game. I would give this five stars if the iPhone version didn't stink. While the iPhone version has some awesome maps that are made for the smaller screen, the iPhone features of notification bar and other things interfere as your play, for example you try to shoot with a Canon and notification center opens then the game freezes and even after closing can no longer be played it's permanently frozen. I would have to reinstall, but then I was on my high score is. So now I can only play on the iPad. I also wish the iPhone maps were available in the iPad version, as they are cool.
Fun but always breaks
LandOfAustin
on
4/16/2016
It's a great game- when it works. After a few days it stops working completely and you have to delete the app, losing all your achievements, and redownload it for it to work. VERY ANNOYING Fun game though :)
Great game... Needs a little improvement
Anytime I pause the game and my phone goes to sleep it ends up freezing on the pause screen and it won't let me select anything. Closing and reopening the app does nothing. Only way to get it to reset is by uninstalling and reinstalling the app. Very frustrating.
Love this game!! Hate the freezes!
One of my favorites games of all times but it constantly freezes when I open the app causing me to have to delete the app to then having to download it again and thus losing my scores!! Please fix it soon!!! So I can give y'all a full 5 stars!
Freezing!!!!!
Freezing on main screen. Must delete and reinstall. Happening too much. Please fix!!! This is such a great game! I hope you guys can sort this out. I'll pay for game!!!
Unstable app over time
The IPad game freezes every week or so the only solution is to uninstall & reinstall thus wiping out all details on prior accomplishments to say nothing re ranking. Developers should fix this as this complaint has been made many times and users will just stop playing or buy the HD version.
freezes
I like the game but about every 2 or 3 days it freezes and I have to completely delete and reinstall. this deletes all of my high scores and is really a nuisance. please fix!
LOVE this game
I love this, the graphics are great on a iPhone 6 Plus! However I've not been able to play it for two days now. It won't allow me to press on anything in the app. I've restarted my phone, I've uninstalled and reinstalled and still will not work. It worked fine 3 days ago. Please send update!!
Fun game
Right now though, the app will open but it doesn't respond to anything i try to press.
.
ItsParamoreYall
on
2/12/2016
I love this game. However, every couple days the game doesn't let me press play and I have to uninstall and reinstall it making me lose my scores. Please fix this glitch.
Fact Sheet
Publisher:

Imangi Studios, LLC

Category:

Games

Released:

Jun 17, 2009

Current Version Released:

Apr 07, 2011

Version:

2.1

Size:

19.7 MB

Compatibility:

Requires iOS 3.0 or later.

Recommended Age:

4+

Game Center Certified:

No

Supported Languages:

English;