Recommended app!
App last updated
Sep 14, 2012
Screenshots
New in version 7.1
* Fixed bug related to app asking you to pay again (Everyone - please accept our apologies for the caused inconvenience...this was a mistake, not intentional)
* Fixed a bug related to being unable to close the Settings view

If you enjoy the jokes, feel free to rate us on the AppStore. Thank you again for your patience!
Description
World's most admired jokes app for over 4 years now!
1 million people can't be wrong :)

———————————————
EXAMPLE JOKE FROM THE APP
———————————————
"If there are any idiots in the room, will they please stand up?" said the sarcastic teacher.
After a long silence, one freshman rose to his feet.
"Now then mister, why do you consider yourself an idiot?" enquired the teacher with a sneer
"Well, actually I don't..." said the student, "...but I have to see you standing up there all by yourself."

———————————————
OVERVIEW
———————————————
18,000 COOL JOKES has been the most popular jokes app ever created for the last 4 years now. Enjoyed by more than 2 million people around the world, the app brings a over 18000 hand-picked jokes to your device. And you don't need internet connection to browse them!

———————————————
QUANTITIES
———————————————
● 18,000+ jokes - no internet connection required
● 49 categories - for anyone and any taste
● 50 best rated jokes - daily, weekly and monthly.
● Rotate to landscape for instant fun!

———————————————
SECTIONS & FILTERS
———————————————
● Favourites section for your favourite jokes
● Kids safe with Adult filter
● Filter by length - short/medium/long
● Settings section accessible from within the app
● Search jokes by keywords

———————————————
SHARING
———————————————
● Facebook
● Twitter
● E-mail
● Copy to clipboard

———————————————
OTHER FEATURES
———————————————
● Easy navigation
● Shake detection for a random joke
● Rate jokes online
● Retina display ready
● Fast app switching


Enjoy!
iPad Screenshots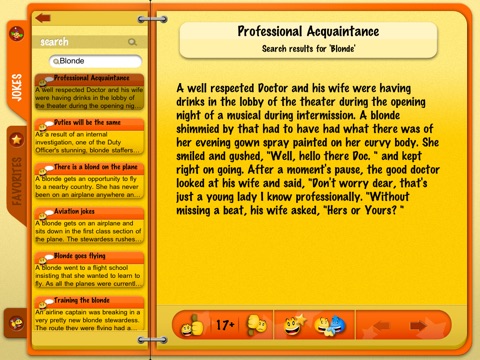 Reviews
Update to IOS 11
hansmorealtor
on
10/4/2017
Please update app.
Cool jokes are entertaining
I enjoy the fun, some better than others none to dirty. Love the yo mama jokes.
Life Saver!
Need a quick joke? This app will help bring the house down!
Hilarious!
That many jokes for a buck, great app, extremely satisfied!!!
18,000 cool jokes
Nightmareofhell6
on
6/5/2015
Funniest app ever
Keeps me laughing
Wilderwillams
on
2/6/2015
Very funny but adult only. Dirty jokes not meant for kidd
Junk
Maddog2012p
on
12/18/2014
I loved this app but since the last update it stopped doing random jokes and you got to choose which type of joke you want random was best
It used to be great
I loved it a lot, but now it keeps crashing when I open it. It used to not do it. Please fix it. I will give it a 5 star when it is fixed.
Good Generic Humor
2013 ZR1 Camaro
on
11/13/2014
This was first Joke App I used and very funny. Some newer apps have funnier jokes and story telling jokes that are funny such that this was seems generic. I still enjoy but use it less now that others are funnier with more topics. Otherwise probably rate it higher.
Great App
Great jokes. Best way to kill time.
18000 jokes
Great for me cause I have 2 have "notes" 2 tell any joke almost! Love it!
Great app
This is a very funny app. I could do with out the yo mama and knock knock stuff but it is also 100% accessible using voice over. Keep it up.
Awsome
Whydoweneednicknames??!!
on
5/2/2014
Pretty good jokes. Grammar is so-so, but oh well.
Best joke app ever!!
Yep totally rocks! I've been using this app to work on my cold reading skills, I must say I am a thousand times better at auditions nowadays!!!
Great for a party or just hang with friends
Nathaniel SP
on
4/12/2014
A great fun app for any individual or grouping of people I recommend it
Great jokes though some are dirty
I do love these jokes and my lady does also. Some are clean and some are a little dirty but still love them. I only have it one less star cause, I rather have more clean jokes.
FIX THE DIRTY JOKES
I feel like I'm was ripped off and I would discourage anyone from buying this
Hee Hee
Once in awhile...ya need a 'lil smile ;)
Jokes
I have read pretty much every joke on here but there isn't much variety and the amount of blonde jokes is excruciating.
Great jokes for when you're on the go.
Great jokes, helps when you're waiting in line or need to unwind.
Amazing
Seriously funny humor and just an awesome app. Well worth it
TexMex
I work with blondes it's great to use some of this jokes on them and they keep you going on a bad day thx
Great App!!
I have my friends cracking up with spme of these
Funny as f@&$
Wokeupinnewbugatti
on
9/15/2013
Very funny good to pass time
Good jokes. Entertaining.
Like it very much
I am a fan
Samyamin33333333333333333
on
9/5/2013
I use it a lot and enjoy it so that's it
Laugh out loud
It's my go to when life happens. Most r very funny some r not but that's what the little arrows r for:)
Good app
Good app if your looking for a wide variety o funny jokes but if your looking for a particular type or rating of joke like PG or R rated jokes then might be the wrong app but all in all a good app.
Worth It
gamergirl4200
on
7/6/2013
This app is fantastic! I have to admit that some of the jokes are a bit offensive, but I enjoyed most of them. I purchased the full version and I don't regret it at all. Thanks for all the great jokes!
Funny
Picky Pants 5507
on
6/22/2013
This app is making me popular in my real life social circles.
Filter problem with dirty/adult jokes
Winter of Dusk
on
6/21/2013
It is a great app, but the filter isn't working and will not display the dirty and adult category jokes.
Great jokes
Makes me laugh everyday
Best app
This app has all great jokes! They are funny and cool!
Funny app
Disappointed in Reno
on
5/27/2013
Lot of great jokes, worth the price.
App is broken
Social_integer
on
5/13/2013
I used to own this app and I favored tha dirty jokes section. Funny yada yada but my ipad cashed and lost everything. I reinstalled the app and now it says adult jokes are locked and to fix in settings or something. All is on. App for my personal choice of usage is now rendered useless.
LOL!
PhatBoi Slim
on
5/10/2013
I love every joke.
Pretty good
Most of the jokes are okay, and some are better and some are worse. I see a lot of the same jokes, even when randomly viewing them, so I'm not really sure if there are actually 18,000
Makes me Laugh""""
Great app. Just go get it.
Please Read
xGhostFace0621x
on
4/16/2013
I have three stars because its got no iPhone 5 support. This is one of my favorite apps! Please fix it in the next update.
Cool
The jokes are hilarious!
Cool app
Nice app. Tons of jokes, never gets boring
Issue
Went to the "dirty" cat. but says see options and I allowed them but still wont show. Fix now
Jokes
I had read many of these and find they have lifted my spirits in difficult situations. Nice to be able to read a joke when bores to death in an office meeting or after the boss has chewed you out because you missed a cue.
OK
Supply techs
on
3/28/2013
The free version was good, the paid version doesn't load different categories of jokes
Great app
This app is so funny and cool lookin(yellow is the perfect color,I luv it)sure not every joke is rip your head off funny and some are repeats with different characters and premesis,but still overall a very funny app.One problem though,I used to be able to put a joke into favorites and now I can't,even after deleting some hoping that would help.It didn't.other than that no complaints.luv it!!!!!
Great jokes but often adult oriented
There are a lot of cleaver jokes here but there are also a lot of dumb blond and dirty jokes which at times I'd rather skip. So as I read the jokes I add the best to 'favorites' and then I can easily go back to the best ones.
Tons of fun!
I love sharing jokes with friends and they love hearing them. I love this app b/c I always have fresh new jokes to share.
Very funny
Simply the best joke app
Crash
Fftygfyygfhjffg
on
2/20/2013
Used to be a great app, but for some reason now it crashes as soon as I try to open the app.
Fact Sheet
Publisher:

Objectified Apps LLC

Category:

Lifestyle

Released:

Jun 28, 2009

Current Version Released:

Sep 14, 2012

Version:

7.1

Size:

11 MB

Compatibility:

Requires iOS 4.0 or later.

Recommended Age:

17+

Game Center Certified:

No

Supported Languages:

English;

Parental Advisory:

Intense Alcohol, Tobacco, or Drug Use or References; Suggestive Themes; Mild Simulated Gambling; Intense Sexual Content or Nudity; Intense Profanity or Crude Humor; Fear Themes; Mild Realistic Violence; Mild Cartoon or Fantasy Violence;