Not Recommended
App last updated
Feb 16, 2018
Screenshots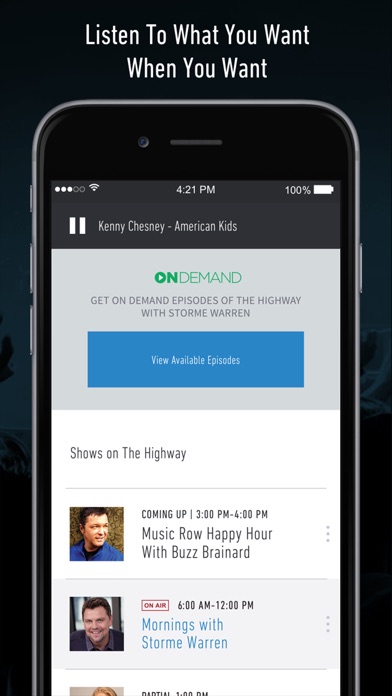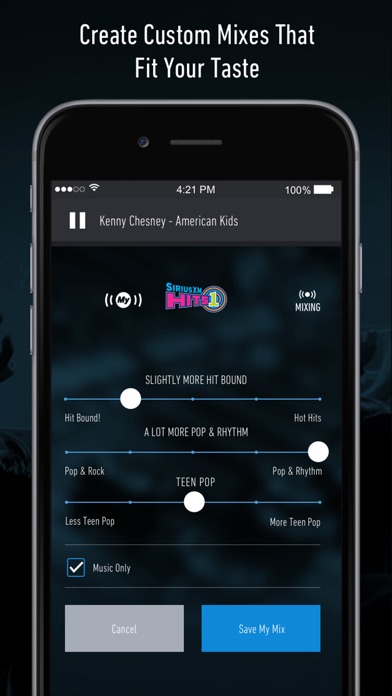 New in version 4.3.0
- Fixed another issue with text getting stuck while listening to audio
- Bug fixes and performance improvements
Description
Hear the best SiriusXM has to offer, anywhere life takes you, with the SiriusXM app! Listen to commercial-free music, plus exclusive sports, talk, comedy, and entertainment programming. Access hundreds of On Demand shows and custom mix SiriusXM music and comedy channels so you hear more of what you want. With the world of SiriusXM right at your fingertips, what are you waiting for? Get started today!

Streaming is included in most new and pre-owned vehicle trial subscriptions, or with a qualified paid SiriusXM subscription.

About This Application

• Stream SiriusXM channels live, including additional online-only channels.
• Custom mix many of your favorite music and comedy channels.
• Get On Demand access to our large catalog of content and listen on your schedule.
• Store select talk and entertainment shows for a period of time so you can listen even while offline.
• Easily find channels, shows, and episodes with enhanced search capability.
• Receive personalized recommendations to help you find even more content you'll love.
• Let your friends in on what you're hearing or shout it to the world with new social features.
iPad Screenshots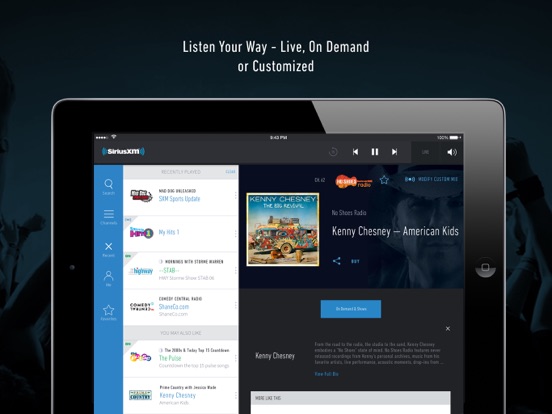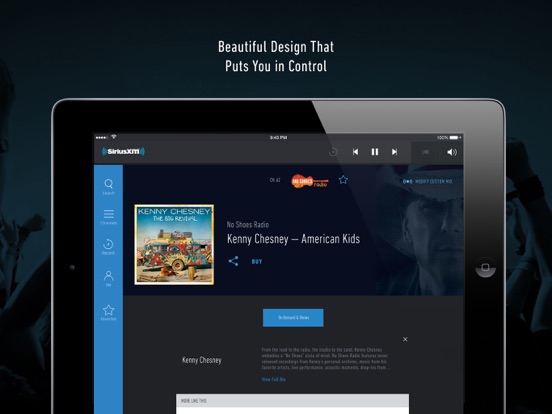 Reviews
App for Apple Watch
southerngent1950
on
2/20/2018
While I enjoy my fm looks like the company could get us an app for our Apple Watches
🤬🤬🤬
Had the free trial for 3 months and the app worked great. After I paid for a subscription the app starts to crash!!
It's time for a refresh.
The user experience is crap. Not intuitive. Poor performance. Dated looking. Doesn't sync favorites with car radio.
Basic functionality years behind
Perfect reviewer
on
2/19/2018
I love Sirius but track control is awful. Length of time for show availability is kind of fail. Sirius I have become a believer in the last 5 months! Hope this app gets better basic functionality soon. Anyway, thanks for the services either way.
Great for Listening
Terror Analyst
on
2/19/2018
The best music app on the market.
Uselessness!
Ended frustration
on
2/19/2018
Will not load. Can not login although it advises I have a login ID. Changed password and still does not work. Frustrating.
STOP WARNING ME THAT DEVICE STORAGE IS ALMOST FULL
I get it, my phone only has around 1 GB of free memory. Stop continually putting up the "Device storage is full" warning, because it obscures the entire UI and it keeps happening every 15 seconds! What good can come from this warning constantly interrupting the user?
Love this app!
Love being able to take this app on the road & never be but a click away to listen to whatever I want to hear!!
Old and New
If il dismiss
on
2/18/2018
I enjoy the variety. I can allow my mind to float to the 1930's with radio classics, listen to the rock stars of my day as a member of the Woodstock generation, or hear some thing new. I do have a suggestion: allow newer and older movies to play a soundtrack with limited narration to fill in areas that are too far removed from conventional descriptors.
Works as needed
CrackinStine
on
2/18/2018
I haven't updated this review lately, it is deffently better then when my last review was, I am glad they made it so I can access it as normal instead of having to purchase a seperate service to use it. Love sirius radio!
Sign in problems
No matter how many times I put in the correct sign in.......the app just won't take it. Very frustrating.
I can't log in for over a week
I'm trying to listen to on demand and I can't log in it gets stuck at the log in page! Fix it pleas
Chromecast
Loyal little from pa
on
2/17/2018
When is chromecast functionality coming? This is something I would cancel my subscription over if it's not added soon.
App keeps freezing!!
carriebear28
on
2/17/2018
Since doing the update this morning, you created an issue where the app keeps freezing!! This is the 3rd time in 3 hrs I have to shut it down and restart.
Running Smoothly
It took a long time but it looks like they finally got all the bugs worked out.
Battery Drain
This app has become an EXTREME battery drain. Usually my iPhone lasts a full day between charges, but just a couple hours with this app has my battery down to less than 15%. This needs to be fixed IMMEDIATELY. Edit: The issues seem to be resolved, so I'm changing my rating to 4.
My favorite app .. Sirius xm 😊💕
I LOVE having my Sirius xm everywhere I go !!!
App is free but subscription is not free
This app is free to download. It's free to use only if you have an All Access Xm Radio account. If you do not have an online account you will be charged after the first free month trial.
Sirius/XM app
Keeps dropping data connection and asking me to retry or choose a different channel. Very frustrating, especially for a paid service... Content keeps skipping and then repeating and then the "go live" lights up and the problem starts all over again! Fix it. I'm paying for the service, I'd like to use it!
Issues
For as much as I pay for internet streaming, you'd think it would keep up. The lock screen does not keep current with the song playing. The volume bar needs to be bigger and further away from other functions so as not to hit the other buttons. Why does it have a forward arrow when it goes nowhere and doesn't allow you to skip songs. Internet connection constantly stalls when in buildings, even if their says connection on my phone and other programs work fine. The constant running banner doesn't need to be there telling you what channel is playing. Make it a constant on, non-moving info with band, album, song. Then display channel in some other area.
Almost perfect except....
.... Chromecast support!
Overall, a solid app!
JesusIsKing87
on
2/16/2018
The Sirius-XM app works pretty well overall but there needs to be a volume bar added (as another previous review stated) and I would like to also see the name of the song/artist/year scroll from left to right. I often see songs that have either a longer name or the artist/group having a lengthier name, and it's cut off to where you can't even see the year it came out. In other words it doesn't scroll across left to right as it should. Please add these two things along with general enhancements regularly to make this app better. I enjoy listening to mostly music (60s on 6 preferably) on this app and being able to adjust the volume (without using the side manual volume adjustment) on the screen and seeing the year would be a great improvement. Thank you! :-)
My downloaded content fails constantly
This app has been absolutely nightmarish - I downloaded a show - it stops every few seconds. This is happening for years - on and off. How can this company put up with that? And they want me to think they can do Howard 360? Joke!
Horrible
This app is horrible I can't even log in to cancel my subscription. All it does is say loading when trying to log in
Ugh
GamersDon'tDie
on
2/14/2018
It won't let me log in even if I reset my password. All I'm trying to do is listen to Dr. Laura!!!
Terrible on Apple carplay
Horse n hoot
on
2/14/2018
App works fine on the iPhone 8 plus but on Apple carplay it's very slow to load and crashes most of the time
Trash
No idea why the rating is so high when the actual reviews are bad. So unstable, functions normally do not work (FF, rewind, pause.. etc). So many issues here and have been for a year.
Terrible FF and REV options.
15 second reverse and no FF functionality other than using your finger or track forward. Infuriating when listening to replays of longer shows like Howard or Chip and Sam. This app needs some serious help.
On Demand Playback is a Disaster
vladthebeerman
on
2/14/2018
The app will regularly lose connection and then restart a three hour on demand episode from the start after I have already listened to some or most of the show. I do not have connection issues with any other streaming apps.
Spotty at best
Constant "technical issues"
Worst app ever
Fjrjfjfjnendnfien
on
2/12/2018
I finally get it to take my logon and it freezes up and has to be deleted. Then I can't get it to accept my login again when I reinstall.
This app will slowly drain the life out of you.
This app is THE most frustrating app that I have ever used. I've been using the sirius XM app since it's introduction, through bad update after bad update, and the ONLY reason that I keep it is because of the many road trips that I take and the Howard Stern Show. The app constantly freezes or crashes and the only way to fix the issue is to force quit the app. If you happen to be listening to an 'on demand' show when it freezes, the app will take you back to the very beginning of the broadcast - totally losing your place in the show. Why doesn't this app keep track of where you are? I would give this app two stars if the content was free, but you are paying for the privilege of using this mediocre software. UNLESS YOU ALREADY HAVE A SUBSCRIPTION, I WOULD NOT WASTE MY TIME WITH THIS COMPANY! Now if you will excuse me, I have to force quit the app for the millionth time, find the 'on demand' show that I was listening to, and scrub my way back to where I was before.
Battery issues
It has started eating the battery
What is up with the scrubber?
The app is great in general, but the scrubber often cannot be used. No matter how long you hold your finger on it you can't scrub. Works about half the time.
It's a coin toss
Works one day, then doesn't the next.
Horrible
App constantly crashes and doesn't perform properly. This is despicable! Subscribers have to pay a monthly fee and Sirius can't even provide a reliable app. Needing my Stern fix is the ONLY reason I haven't already cancelled. Can't wait til Stern leaves and Sirius crashes and burns! Let's see how interested they are in creating a quality app then!
It's ok but
Having problems with the slider and the buttons are too close together doesn't function properly, tried to rewind and took me to another show. Very buggy
Great tunes but app needs help
C-max California1
on
2/11/2018
Why can't I see a list of the previous 10 or 20 songs on each channel? I turn this on, and it gives me the song title and artist. Then 10 songs play and it still shows the first title and artist. I'd like to see the current and all 10.
Abysmal
Since November of last year, the app is unusable. It only works 50% of the time. When I call customer support, the "geniuses" tell me to "delete and reinstall the app". What good is that going to do? I am going to give them until March to get this issue resolved before I cancel my subscription.
Almost unusable
Constant glitches with steaming sound, songs will rewind 30 seconds and start again. Connection will pause at least 2-3 times in a few hour session. Recently getting in weird states where the app will hang on a show that's not even on air and the app will not close or restart correctly. Shameful when you pay monthly for the service. 10+ years of SiriusXM and the app is the worst part.
Apple Watch App
seattlebears
on
2/10/2018
Would be nice to have an app for the Apple Watch. Even a hand off from iPhone to the watch would be worthwhile for users with a cellular plan.
Terribly designed app!
JeffAbbyGracie
on
2/10/2018
Soooo many freaking bugs! Crashes on both phones. I love Sirius but hate the app.
Crashes ALL THE TIME
If you're looking for an app that crashes non-stop in the middle of streaming, choose this one!! I'm a huge Howard listener and I have to restart this app at least twice during a show. Then, it never picks back up where I left off. Also, if you want to fast forward or replay something, I hope you have a baby finger to move the ball to exactly where you want it. I wouldn't recommend, especially for Howard listeners.
Terrible App
This app is horrible, especially considering Sirius is a paid subscription service. Freezes/breaks any time you shift from WiFi to Cell service. Happens EVEN IF THE SHOWS BEEN DOWNLOADED TO YOUR PHONE. On demand shows are constantly posted incorrectly (ie: posting a Wednesday show instead of Thursday's) Just infuriating to pay for a service with an app that never works.
Sign in screen stuck on loading
Update:Getting worse by the day. Now I can't download any new shows because as I connect to the Internet it automatically goes to the sign in screen, which is not working as previously stated. i'm guessing if I erased the app and reinstall it I might be able to download all of the shows I have again as well as new ones but I'm not gonna go through that trouble because some of the episodes are expired and will not be able to be recovered. I'm still waiting for an update to fix this issue with the iPad Pro . The iPhone app is working normally for now however. Update: Had to erase and re download app and re download shows. As long as I don't try to sign in, it's "working". Favorites are erased as soon as I connect to the internet though and apparently people who haven't paid for a sub have access to the app, which is annoying. One star rating still stands. 241.00 and now can't even listen to my downloaded shows offline because the sign in screen is stuck on loading and if I turn off the wifi, all I get is a no internet signal detected screen. This thing is horrible!!!!!!!!!!! When are you going to fix the constant issues this app has? I'm on iPad Pro.😡😡😡😡😡😡
Battery DRAIN
SiriusXM content is fantastic, but this app is TERRIBLE. It heats up my phone and drains my battery. It's so bad, I don't want to use it anymore.
Service
Love SiriusXM. Howard Stern rocks. Listen every morning during commute and stream at work. I love Lithium. Only down side is it seems price and service fees keep going up very often.
Only one thing missing!
I love SiriusXM better than any other music app. I pay, and I'm happy about it. One thing that it's missing. Please please add a sleep timer to the app! I would fall asleep to it every night if it would only turn off on its own. Other that that, perfect!
There needs to be an easier way to fast forward
Meatyourmaker
on
2/7/2018
I listen to Howard stern on demand and it's very difficult to fast forward within a segment. You have to click on the progress bar and drag the 'ball,' which is very clunky and not responsive on my iPhone. Please fix. Otherwise great app.
Stops during play
App needs lots of work
Fact Sheet
Publisher:

SIRIUS XM Radio Inc

Category:

Music

Released:

Jun 18, 2009

Current Version Released:

Feb 16, 2018

Version:

4.3.0

Size:

111.3 MB

Compatibility:

Requires iOS 8.0 or later.

Recommended Age:

17+

Game Center Certified:

No

Supported Languages:

English; French; Spanish; Castilian;

Parental Advisory:

Treatment Information; Intense Profanity or Crude Humor; Suggestive Themes; Mild Alcohol, Tobacco, or Drug Use or References; Intense Sexual Content or Nudity;