Screenshots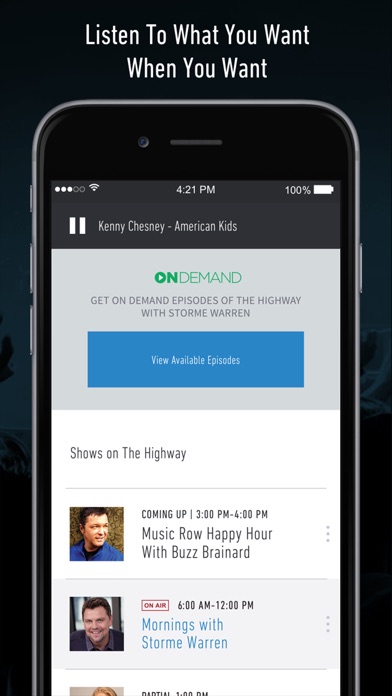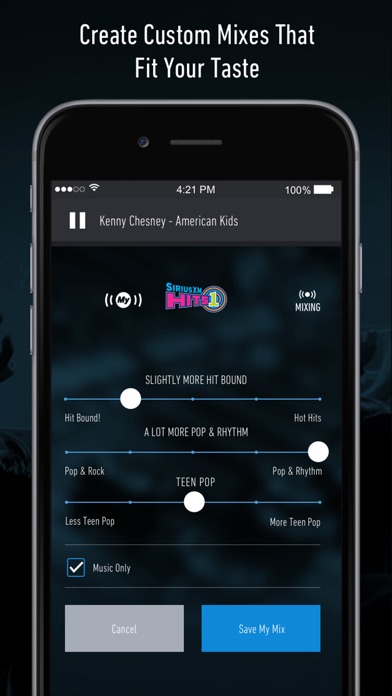 New in version 4.1.7
Bug fixes and performance enhancements
Description
Hear the best SiriusXM has to offer, anywhere life takes you, with the SiriusXM app! Listen to commercial-free music, plus exclusive sports, talk, comedy, and entertainment programming. Access hundreds of On Demand shows and custom mix SiriusXM music and comedy channels so you hear more of what you want. With the world of SiriusXM right at your fingertips, what are you waiting for? Get started today!

Streaming is included in most new and pre-owned vehicle trial subscriptions, or with a qualified paid SiriusXM subscription.

About This Application

• Stream SiriusXM channels live, including additional online-only channels.
• Custom mix many of your favorite music and comedy channels.
• Get On Demand access to our large catalog of content and listen on your schedule.
• Store select talk and entertainment shows for a period of time so you can listen even while offline.
• Easily find channels, shows, and episodes with enhanced search capability.
• Receive personalized recommendations to help you find even more content you'll love.
• Let your friends in on what you're hearing or shout it to the world with new social features.
iPad Screenshots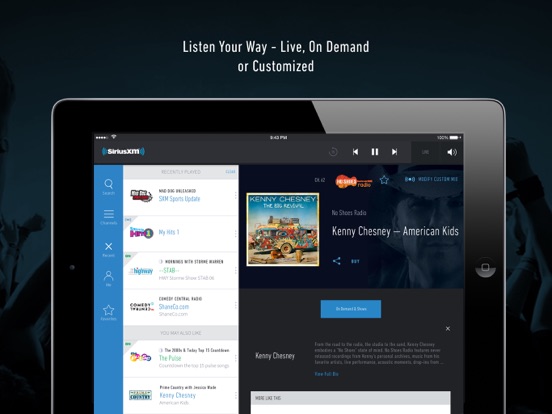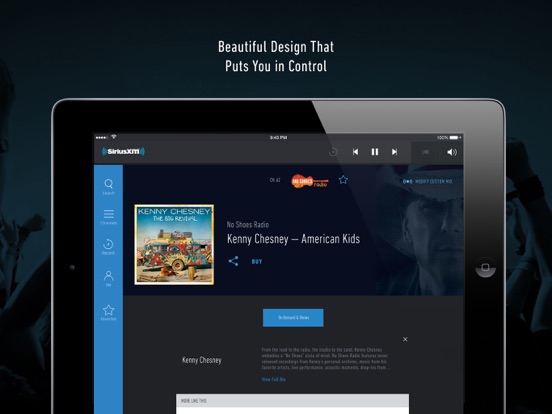 Reviews
Need Apple Watch App ASAP! Or I'm gone!
Nut pizza rocks
on
11/23/2017
Want me to keep paying for SiriusXM...then develop an Apple Watch app immediately!
Good music steaming
It's always lit in Fridays getting ready for the weekend that's mostly why i pay for it. Really wish it worked on Apple CarPlay.
Does not work with iPhone X
Eve--ffgjuddnd-3799542
on
11/23/2017
Will not work with iPhone X. It lets you try to sign in, but then just freezes. I'm paying for a subscription that I can't use! It's been three weeks. I will wait one more week before I cancel my subscription, since it's useless.
Will not let me log in.
Hangs indefinitely With "loading" message. I've been on the phone with support and they are at a loss. Waited a couple days and tried again. Looks like whatever was going on was fixed. Working fine now. Was happy to get a developer response encouraging me to reinstall. Which I had done (many times). But the last time I reinstalled seemed to do the trick. Thank you!
Still doesn't work! (Update)
I was told to email you guys about the app not working and it's been over a week and no one has written back to me so I am canceling my subscription, thanks for your help!! — Update: now it doesn't say that my password is incorrect, when it was correct, it just says loading. going on five minutes of it — I already emailed them twice, like someone previously told me to and no one got back to me it's now been about a month
Most frustrating App
San Francisco Turks
on
11/22/2017
Every time I try to listen I have to enter credentials and it still does not load. I have to delete the App and reinstall. Worst management.
Can't log in
GreyAngel21
on
11/22/2017
Thankfully this is only during the free preview week for thanksgiving because I can not get the app to log in on my phone! I can get to the online streaming from my computer but on my phone all I get is a loading screen. I have the service in my car and would love to be able to listen anywhere with the app on my phone too!
Better app needed
stinky FX they stink
on
11/22/2017
Between crashing, losing stations, stop playing, and all a bad app is, this is it. Works mostly but you have to put up with the above. I keep it to hear ballgames. But I'm getting impatient and may drop it.
Sirius xm
$Jennnnnnnnn; )$
on
11/22/2017
Keeps crashing junk.
Good, when it works
Sugargirl33
on
11/21/2017
I haven't been able to log onto the app for a week. Paying extra to listen online with the app but unable to
Horrible app
Every time I upgrade I lose my favorites & login info. Seriously considering cancelling my radio & streaming subscription & staying with Amazon Prime Music.
Can't get back on
Since updating my app my Sirius app doesn't work .
Roller Coaster app
Trying to maintain a reasonable return on your paid subscription via an iPad is pretty hard with these guys. They fix it and screw it up so often you want to cancel but have you ever called and tried to quit ??? Its more difficult than the constant acknowledgements they require to log on and keep streaming. None of this BS exists on a PC platform. Get your app together.
Not Working
It was crashing every time I would click on a new channel, but now it won't even let me log into my account. I downloaded it a week ago and so far I'm pretty disappointed.
Won't load!
Used this app daily for years but as of this week, I was prompted to login but after entering credentials, it doesn't load. I have a subscription and listen to SiriusXM 90% via app and 10% via car, so this is a problem since it's a paid service.
Disappointed
Osxcksownfjwicnsuskfosh
on
11/21/2017
App worked okay until the latest update. Now it literally doesn't work at all. No matter what I try to do, it just keeps trying to load with no success. If this isn't fixed soon, I will be cancelling my subscription. Possibly the worst app I've ever tried to use.
App loads indefinitely
abbyvdvwyllie
on
11/21/2017
Usually listen to my app every morning until I get in the car, the new download will not log me in. Just "loads" indefinitely. Please fix!! Been without my morning Howard Stern for 3 days now...
Terrible App!!!
Every time I try and login it says "Oops we encountered an error, please try again later". I can't even login to listen. Waste of money!!!!
Unreliable
David Llewellyn
on
11/20/2017
Written on November 20, 2017. In addition to the app freezing frequently, it often returns the error message, "There are no shows available in this category" for categories that should have shows (example Sternthology") Sometimes downloads won't play.
I do updates, now it wont log in!!!
tferris1999
on
11/20/2017
I am paying for Not being able to use SiriusXM on my iPhone??? It just sits there 'loading' for 1/2hr!!! I called customer support @ Sirius..& they can't help me. Can't get it to accept my username & password...even after Just changing...& customer service verified I have correct username. (last update, I lost all my pre-chosen channels....now it just gets hung up at '(((Loading)))..,, I've tried deleting, reloading app, go thru website....no solutions!!!
Horrible performance
I just can't sign in. I won't let me log in. I reset my password and even so. Worst update ever
App is horrible
If I could login to my account I could actually decide if the app is worth it. Definitely deserves a negative rating.
Broken!
goaliebob99
on
11/20/2017
Zero stars! App is stuck on loading and wont load. How can you also create an app and not have it remember a persons username and password! I was considering buying a subscription but will save my money as it is apparent by this garbage of an app SiriusXM is not serious about subscribers!
Worthless
I got the thirty (30) day Free Trial. Sign in with user name and password and all I get is LOADING....LOADING....LOADING
Doesn't work
Since my last iPhone update this app won't work. Tried working with Sirius chat helpline to no avail. Horrible app.
Worst app I've ever had
nick name156637
on
11/20/2017
This app is horrible. It's the first app ever to prompt me to write a review, good or bad. The only reason I still use it is, it's the only way I listen to Howard Stern. When Howard retires I am unsubsribing from Sirius, and deleting this piece of junk off my phone. If you want to read about the apps specific problems, see its MANY other bad reviews. They are accurate. SO FRUSTRATING ! I wrote the above years ago. Years later Howard has not retired and this app is even worse than before. Meanwhile I have been screwed over by their automatic radio activation being charged for a radio that I never listened to. It's still in the box.
Issues with new version + Worst app on my phone
Thirdfencepost
on
11/20/2017
Newest version on iPhone 7 keeps logging me out and not accepting my login credentials afterwards. Only fix is to delete and reinstall the app. I have had to delete and reinstall four times in the last two days. This is absolutely unacceptable. This app has consistently been the worst and most buggy app on my phone. And we pay good money for it! If the content weren't so good, I would have quit SiriusXM years ago.
Horrible Update for iPhone
Just Stuart
on
11/19/2017
When I first opened the update the app had lost all my account information. Then it crashed and I can't even log in. Garbage app.
App UI can be better on iPhone X
I tested out the app for a few days before committing to a monthly subscription. Earlier today, I decided to purchase the"Streaming Subscription". I was hoping The interface would improve after purchasing the service, however it did not. The player interface (when you are listening to a channel or show) does not flow well. The "More Like This" box and demand shows gets in the way and takes away from the information relevant to the show/channel and what the user is listening to. Hope to see you all optimize the UI for the iPhone X sooner rather than later.
Won't login
Steven Schreck
on
11/19/2017
The login wheel spins and never opens the player
The Worst
I would give this company negative stars if I could. What a joke of a business they run. Lied to about what features we would get and then told a month after, "oh you'll have to pay for that if you want it" well no one decided to tell us that the features weren't included when they took our money...was hung up on by head manager at customer service. STAY AWAY...WOULD NEVER RECOMMEND.
Do not update
Steeler Dave
on
11/19/2017
This app does not allow you to log in. I have two iPhones and the previous version works fine.
won't get past loading
Doctorziggy
on
11/19/2017
won't get past loading part, Such a waste will cancel my service since this is a huge part of my listening.
Black Hole App
Searching for Oneness
on
11/19/2017
There is a presumption in the app star rating system that doesn't allow for minus ratings, like -1,-2,-3, etc., or even 0! So I have to just give a minus comment. Since this app has been so putrid, over time, even with revisions, as experienced by so many people (present company included), when does a class action suit become the best option? Big company's taking $$ and providing LESS than INFERIOR product over time seems to scream for complaints to the BBB, Attorney Generals office and Dept of Consumer Affairs. Because we consumers can't get refunds for lousy product, what other recourse is there? As for black holes, I'd rather have a boat to throw money into. At least I could get some enjoyment from it on sunny days...
Uploading nonstop
Since updating have not been able to use app. Will not connect and is stuck "uploading".
Not working
Rabun Dillard
on
11/19/2017
Used to work just fine, but ever since last update... it won't load. I can't listen to SiriusXM anymore through my iPhone.
Frequent crashes and stream stoppage
ColoradoParrothead
on
11/18/2017
App crashes frequently. When streaming "My Mix" stream will play for 20 minutes, then stop. Tried using the app to play music while going to sleep, but it always quits before I fall asleep. Not a good value for my music $$ as is.
Log in issues
:((( booooo
on
11/18/2017
Many log in issues. Also put the names of the Artist and song. I don't care what the radio shows name nor the djs name. In regards to Hip Hop Nation and Dj Suss. Very frustrating. I listen to discover new music.
NEED STERN ON APPLE WATCH 3
elmo biatch
on
11/18/2017
Get the app for the Watch version 3 NOW. Please and Thank You
Since nov 2017 update it crashes
I have been using this app with wonderful success for a couple of years and it has worked beautifully...until this latest so-called "update" now I am lucky if it stays connected for 45 seconds before it crashes. I have hit "refresh" numerous times and that seems to help—until next time. Listen to the radio during the day? Forget it! This app nears some SERIOUS work to get it back to where it worked. I would give it minus stars, or at least 0 stars, but I have to give it something. For shame!
Won't load
I get the app and at first it works great. Then it tells me I need to sign up. I did all that and Now when I sign in with username and email it just keeps loading and loading and loading...
update
princessgina67
on
11/18/2017
This crap update freezes, won't log on... awful
No longer works
New update stinks. I used listen to Sirius everyday using my older iPad, but no more. The new update will not allow me to sign on. Please fix this or I will be forced to cancel the online portion of my service.
Latest update
App opens request login, enter login info press ok then app is stuck at "loading"
How long does it take to fix glitches?
The last version of the app was finally working great and then they released the latest update. Where to begin? 1)The screen lock override doesn't work. 2) You don't receive any notifications 3) When you switch devices, you don't get a notification, so you can't do it. 4) It constantly freezes and says it can't determine your location. 5) When you click the forward arrow, more often than not, it brings you to "live." 6) then there's the issues it has always had, the buttons are too small and close to each other, that you constantly hit the wrong one. They do have great content. Stern alone is worth the price.. He is constantly plugging the app. I wonder if he's aware how horrible it is though.
App won't even open.
App will load and then take me to the log in screen. I enter my info and it just says loading and won't log on. This is the worst app I have
Not stable. Slow to load and crashes frequently.
Not stable. Slow to load and crashes frequently.
Does not work
No longer able to listen after the latest update. Stuck "loading" when I enter my user name and password that works when listening through the website interface. Aweful.
Not showing current music playing
This happens on all of the channels, especially the Beatle channel 18. It is very annoying. They need to fix the problem. It will show the same song from hours ago until I change channels, then continue to stay on same song.
Fact Sheet
Publisher:

SIRIUS XM Radio Inc

Category:

Music

Released:

Jun 18, 2009

Current Version Released:

Nov 02, 2017

Version:

4.1.7

Size:

111.3 MB

Compatibility:

Requires iOS 8.0 or later.

Recommended Age:

17+

Game Center Certified:

No

Supported Devices:

iPad2Wifi-iPad2Wifi, iPad23G-iPad23G, iPhone4S-iPhone4S, iPadThirdGen-iPadThirdGen, iPadThirdGen4G-iPadThirdGen4G, iPhone5-iPhone5, iPodTouchFifthGen-iPodTouchFifthGen, iPadFourthGen-iPadFourthGen, iPadFourthGen4G-iPadFourthGen4G, iPadMini-iPadMini, iPadMini4G-iPadMini4G, iPhone5c-iPhone5c, iPhone5s-iPhone5s, iPadAir-iPadAir, iPadAirCellular-iPadAirCellular, iPadMiniRetina-iPadMiniRetina, iPadMiniRetinaCellular-iPadMiniRetinaCellular, iPhone6-iPhone6, iPhone6Plus-iPhone6Plus, iPadAir2-iPadAir2, iPadAir2Cellular-iPadAir2Cellular, iPadMini3-iPadMini3, iPadMini3Cellular-iPadMini3Cellular, iPodTouchSixthGen-iPodTouchSixthGen, iPhone6s-iPhone6s, iPhone6sPlus-iPhone6sPlus, iPadMini4-iPadMini4, iPadMini4Cellular-iPadMini4Cellular, iPadPro-iPadPro, iPadProCellular-iPadProCellular, iPadPro97-iPadPro97, iPadPro97Cellular-iPadPro97Cellular, iPhoneSE-iPhoneSE, iPhone7-iPhone7, iPhone7Plus-iPhone7Plus, iPad611-iPad611, iPad612-iPad612, iPad71-iPad71, iPad72-iPad72, iPad73-iPad73, iPad74-iPad74, iPhone8-iPhone8, iPhone8Plus-iPhone8Plus, iPhoneX-iPhoneX,

Supported Languages:

English; French; Spanish; Castilian;

Parental Advisory:

Mild Alcohol, Tobacco, or Drug Use or References; Treatment Information; Suggestive Themes; Intense Sexual Content or Nudity; Intense Profanity or Crude Humor;