Recommended app!
App last updated
Sep 26, 2012
Screenshots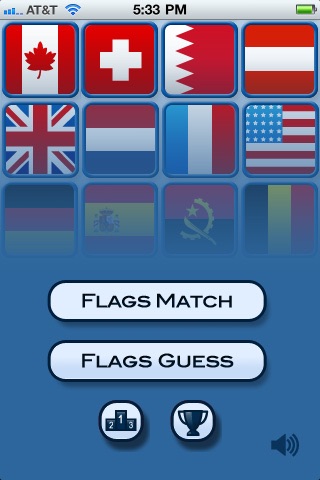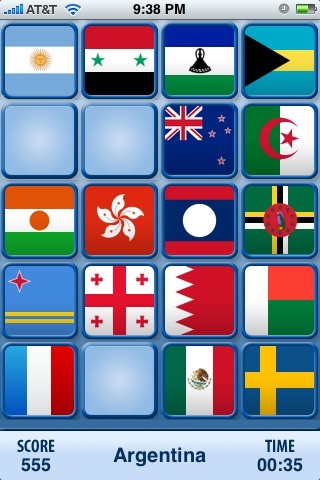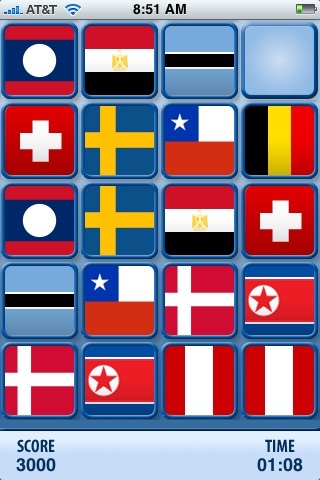 New in version 2.2.3
Fixed the bug that had the ad show over the score for a few seconds at the beginning of a game.
Description
************************************
"What a cool idea. I love learning these new flags while keeping my memory in shape. ... I'm very happy with this game." - Customer review (US)

"Great game! - I enjoy this game a lot. It's quick and easy but also gives me a good visual memory workout. The colors are cheerful ... I'm becoming curious about details behind the choices for the different countries flags. Great Ap!" - Customer review (US)

"Great way to memorize flags and have fun at the same time..." - Customer review (US)
************************************

Two fun and educational games in one app with Game Center leaderboards and super-cool achievements!!!!! The more you play the more NEW FLAGS you uncover and learn.

- Flags Guess: test your knowledge of the flags of the world by correctly indicating a flag of a country that you are asked to identify.

- Flags Match: Match the flags of different countries and learn what country they belong to in this take on the classic pairs matching card game.

You probably know what the flag of Canada looks like. But what about Laos or Myanmar? Develop your cognitive skills, practice your memorization, and learn the flags of different countries all at the same time while playing this fun, educational, and addictive game.

Features:
- Two games in one app
- Game Center leaderboards & achievements!
- Over 170 beautifully rendered flags with more on the way
- Shake to restart
- Fun and educational at the same time


***** Over 170 flags of different countries are included in this version with more flags on the way in the upcoming update ******

NOTE: This is a free, ad supported version of Flags Fun.
Reviews
Crashes after each round
Older versions of this game would store best scores but now the thing crashes after each round. It's annoying to have to reopen the app constantly. Went from a great app to one I'll be replacing. 👎
Seriously challenging
Mighty Zambezi
on
5/16/2013
I downloaded this a long time ago, and I guess I'm glad I didn't update it. I can deal with having the Zaire flag if the app doesn't crash.
Memory educational
Rafael Murillo / Costa Rica
on
12/22/2012
Memory educational gane. I find it very useful to learn flags of the world, I love it!
Flag game
I love this game.
Great app!
Very fun and educational!
CRAPTASTIC CRASHOMATIC!!!!
Julio the Grey
on
10/1/2012
I updated and now the game is USELESS! It crashes on startup every time. BEWARE, this update is WORTHLESS.
What the heck
LET ME TELL YOU SOMETHIN!!! When I click it it's like this( I'm loading) and then( oh no not going to let you play) and I'm like what the hell because it was so good before I upgraded it and now I can't even get on it!! SO YOU KNOW WHAT THANK YOU FOR JACKING UPY LIFE AND MY COUNTRY FLAG TEST!!! People who r going to get this DO NOT GET THIS
F Minus
Used to be good before the ads started covering a portion of the gameplay area. Useless now.
Awesome
I like it, fun and educational.
Crap after update
This app used to be lots of fun, until the update. Now in the "guess" portion the ad at the bottom covers the country name for the first 14 seconds. They say you can remove the ad if you pay for the "no ad" version. I just deleted it.
Okay
It is fun but they don't count your time, they count your score which is lame.
Educational fun
Hellraiser30
on
8/26/2012
Very nice app with educational value. Good exercise on reaction too.
Great
I like it..it helps me to memorize the flags...
Hi
This app is a very easy and fun way to learn the flags.
So much fun!!
With the Olympics I really wanted to learn the world flags. Thank you so much.
Awesome app!!!
Five stars for this app!
Very good game
Educational, simple, friendly use... I don't like the pause but I can manage.. Good and free..
Playa
Learning while having FUN!
Very good
It is very good.i like it.
Flag Lover
Simsimi's biggest fan
on
7/23/2012
Fun and educational
Flags
BEST FLAG GAME EVER
Flags
Never get tired of playing loved
It's really good, but how do you pause?
?????????
Pretty cool!
Not my fav game but fun and educational! ;)
Cool!
I played for like 15 minutes and now I know a lot more :)
Miss
So educational and soooo fun
Great
It's awesome a perfect way to learn about the flags now I just wish it had all the flags
Flag Fun
Really fun flag match game I am even learning about all the flags too!
It's fun to learn and use it to Impress or question others
Great learning tool
Great app!!
Excellent way to learn flags!
Flags fun
Great way to learn flags and have fun doing it.
Love it
LongLiveTheBeatles
on
4/4/2012
Beautiful colors and a fun way to learn
Flags
I have fun playing this with my son! He is better than me!
Love it!
Fun and educational!
Flag-tastic
This is a really awesome app.
Ready!
For the Amazing Race!
Flags Fun
I learned quite a few new flags from this! It really helped me study for my world flags test!
Crashes
Memememememe333334568753
on
2/25/2012
I luv learning d flags like this but it crashes WAY too often for me:...(
Cool ap
Great application, love playing this on my spare time especially when I am on the train.
Great fun
A great way to learn the flags.
Rather limited
iPhone 3GS iOS5 (USA)
on
1/22/2012
Free but rather limited. My 7-year old new all included flags after spending ten minutes on it. Ten minutes is also how much this lasted on my iPhone.
Lots of fun
Wish you Included more choices From Africa.
Very visual
One of the best visual learning games..!! xD
Fact Sheet
Publisher:

Lima Sky

Category:

Games

Released:

Jun 07, 2009

Current Version Released:

Sep 26, 2012

Version:

2.2.3

Size:

3.6 MB

Compatibility:

Requires iOS 3.0 or later.

Recommended Age:

4+

Game Center Certified:

No

Supported Languages:

English;