Screenshots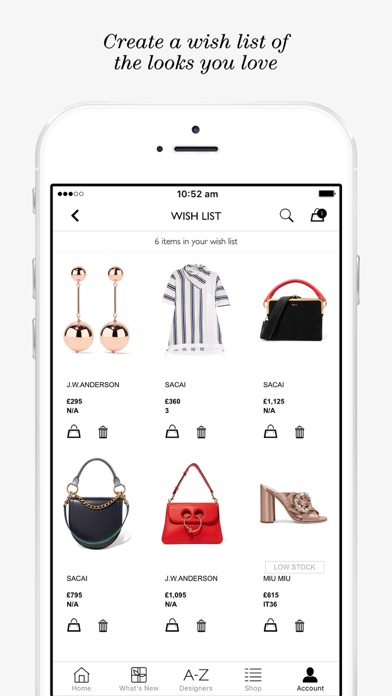 New in version 7.6.7
Bug fixes and performance enhancements
Description
Discover the NET-A-PORTER app for the easiest way to own the looks you love.

Download now to:

• Shop our expert edit of this season's most covetable fashion from over 600 designers including Gucci, Saint Laurent, Prada and more
• Create a wish list of your favorite pieces which will be updated across all of your devices
• Enable push notifications to receive alerts about our sales and special promotions
• Get updates on the latest designer arrivals and exclusive collections created especially for us
• Save time and browse by bags, shoes, beauty and clothing categories
• Scan to shop PORTER magazine, the world's first fully shoppable magazine, for the ultimate style inspiration
• Select delivery to suit you with express delivery worldwide, plus same-day delivery to London, New York and Hong Kong
iPad Screenshots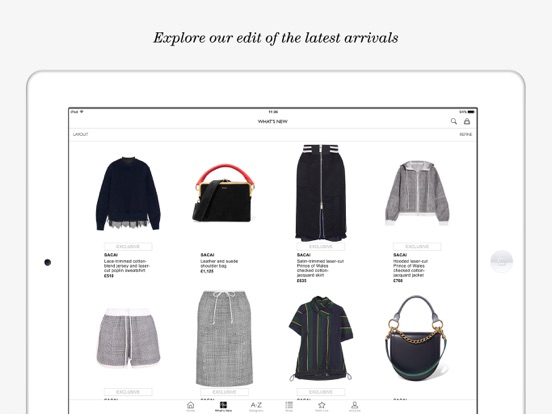 Reviews
Great stuff
Love the products. Great service too
Awesome App
Makes shopping easy, fun and immediate with delivery to your door!
App keeps on crashing
Skyscanner lover
on
11/25/2017
Seems as though ever since an update was made that the app keeps on crashing on me.
Can you fix the app
I love NAP but the app always crashed. It constantly showed "no product" or links just broken. Please make it work more smoothly.
Shirley Podolsky
Love everything about shopping on your app The one thing I'm so surprised at is the way the dresses are hung and sent out A lot of what I order is so delicate whether I️t be lace crepe cashmere silk what ever I️t is I️t should be protected in plastic under the garment bag I take I️t out so wrinkled or i have to look to see if it's damaged Just ordered a lace Oscar 7,000 dress that did not come protected Same with my beaded zuhair Murad Over the years I'm shocked nothing cane damaged Other then that i love shopping net a porter It's my go to for mostly everything and i do love your sight Happy shopping day 😊 Shirley Podolsky
I love it but...
I love this app because it's easy to use and it displays the size translations right on the application. The bad thing is just casually scrolling through the app crashes a lot.
Search engine
Search engine on mobile app is not good. The results are not exact. Also when the results show, there is no further Refine filter on search.
MP safa Alhashem
Net-a-porter never failed me once! Love the comfort of their website, easy access to every info needed re. Any product. Super courteous to my needs. Quick& efficient Personal shopper service is the best Thank NAP Team.. keep up the good work👏🏼✨
Pure luxury
Fashion Nostalgia
on
9/17/2017
I love this app. This is the first app I got to on Mondays, Wednesdays, and Fridays. Easy to purchase from the delivery is soooo quick, returning is just as quick and easy. The styling is so chic and I love how they will note the actual size the model is wearing, i.e "model wears a size Large to achieve a slightly oversized look".
"THE VERY BEST OF APPS"
Sauerkraut57
on
8/26/2017
A totally fabulous app! It works beautifully and seamlessly. Great photos...great items...great packaging and great customer service.
Best App and the Best Customer Service
My favorite place to shop! Super fast shipping and returns if needed too!
Best
mayaralyahya
on
8/20/2017
My BEST online shopping site. Much lovee xx
Needs an update
I love the app but it needs more information and more options like the website I can't always shop on the laptop I love using the app
Recent update crashes when trying to open
random orbital
on
8/14/2017
I've shopped on net-a-porter.com for years and like the phone app. Products are shown completely styled with links to other products. It's visually clean and well organized. It's easy to save favorites. My only complaint (other than that I can't have everything I want!) is that the recent update crashes while it's trying to load. I have to completely shut down and restart the phone. Please fix so I can shop again.
Simply the best
Ladyinredjag
on
7/25/2017
👍🏼👍🏼👍🏼
Love it
Great items with amazing service 😁
Perfumes
It would be a great thing if shipping perfumes to Qatar solved. Many thanks & regards Fatima
The Best!!!!!
You can't go wrong with Net-A-Porter!!
:)
It's me amass
on
7/14/2017
i like net-a-porter so much
Needs to enable swipe
Great app but when shopping you should be able to swipe through the images on the category pages without going into product page like the FWRD, shopbop and revolve sites. This is common practice now and expedited the shopping process. I would also prefer the option to see the images as outfits and not flat lays on white bc you can't get a sense of how it hangs when it's not shown on a person.
NET-A-PORTER
Gorgeous selection of the sultry, rich, eccentric, and defining. Intuitive UI, and an especially appealing showcase. A particular favorite of mine is the demonstrations of the products through the professional modeling. The developers unmistakably have user experience in mind, as it's beyond words. A certainly peerless online store. However, the app has a tendency to crash after ten or so minutes of browsing activity on my iPad Mini, sometimes having me to sign in again, and it's often difficult to remember where you left off. If it doesn't crash within a similar time frame, any product I click on to see doesn't show—it's simply pitch black, despite the description, sizes and price tag showing. I have to manually restart the app for pictures to load correctly again. Despite that, this is absolutely essential for those who enjoy the beauty of attire, and especially shopaholics, although it's very likely to become an enemy of your wallet due to how tempting the selections are. Fantastic.
I love these site
❤️❤️❤️❤️
Dangerous app to have on your phone
They make it way too easy to spend money on the most beautiful things!
Perfect App
Incognito326
on
6/21/2017
Best online shopping experience!!
Amazing!
diamondfamily
on
6/20/2017
Honestly the reason I buy items most often here are your videos! It helps so much. Thank you!
Love being behind the curtain
DebDurikDesigns
on
6/20/2017
Net a Porter treats you like a VIP. Love it!
Best Selection
Net-a-Porter has the best selection from makeup to the perfect shoes and handbag for your outfit.
The Best!!
The best luxury site online. Stunning merchandise, great sales, efficient return process! Also, I loooove the looks created when featuring an item - totally inspiring!!
No more fur, thank you Net A Porter!!!
SaraAndreasson
on
6/7/2017
No more fur, thank you Net A Porter!!
The best
Best of the best!
Happy Shopper :D
I love shopping on Net A Porter! It's so easy to do on my iPhone with the App. The images and the fashion show showing how the clothes move and flow is so helpful. And the arrival of the items is exciting. I love the beautiful black box it comes in. And always beautifully arranged inside! It's like getting a present sent to my home! Always so happy to get my punches from Net A Porter!!
I've been loving them for YEARS!
They've been consistently the top shopping experience from inventory to customer service, delivery and packaging. Wonderful in every way. The only change I would like them is for them to offer more "street styles" for more of an everyday non professional look.
The best
Sweet Bluebird
on
5/20/2017
Net-a-porter it's like my bible.
Paradise from serious shoppers
I love the way the app is made, so easy to navigate and beautifully set.
Favorite Shopping App
I've always ordered directly from the app, it's simple and easy to use so I can shop discreetly from my phone.
User friendly
Lolwa Al Mansoori
on
5/13/2017
So unique app
Love love love
The special shop app in app
Heaven Sent
Cybasistagirl
on
5/10/2017
In a world where everything is at your fingertips, and yet a world away, in some cases, it is heartwarming to know that there is a "place" where one can "go", to day dream, to imagine, to gawk, and perhaps make a fanciful purchase, and be safe in the knowledge that not only will said purchase arrive promptly and safely, and be packaged beautifully, but will bring much joy; and if not, one can always send it back, and keep browsing for the perfect fit! I ❤️Net-a-Porter!
ALL the BEST STUFF
girlbakespies
on
5/9/2017
Shop here🦋
The best
Best shopping App Ever ❤️
Capture credit card feature doesn't function
Everything is great but for the one issue, capture credit card feature does not work. Do yourself a favors and manually enter the details.
Net a Porter 🔥🌎😍❤️
anubisrapture
on
4/29/2017
This App is both exclusive yet considerate of the individual! The couture edits are impeccable, and the common core classics are also perfection: from The Row to Balmain! The newest looks from recent "See now buy now" trend in Fashion Week instant wearables also is shown, without ever becoming unwearable! Your Fashion Consultants are the perfect combination of attentive yet not pushy. There is always an outfit or separate that makes the season or week! Thank you 😊 for being the Go To for on trend couture classics, w enough wildness and whimsy to keep on point, even if I know I must watch my idea 💡 of what actually looks good on a 5 ft 2 & 1/2 ft woman ( who alas is not 27 anymore!) 😂LOOOOVE ❣️❣️❣️❣️💕💕💕Elle Pereles Borella!
Hello
Super service 👍🏼 Super packaging 👍🏼 Thank you so much
...
Seriously? No vertical layout?
Annoying
I use to love this app and loved to keep up with the latest designer clothes until it started to crash whenever I would use it. It's starting to get so annoying🙄
Best Fashion App
After a couple of bugs being fixed Net A Porter has quickly become the best fashion app available. Perfect for online shopping and it's really simple to use.
Great clothes, terrible app
HappyBKShopper
on
4/12/2016
Takes forever to check out.
i love it
i love it for real
Fact Sheet
Publisher:

THE NET-A-PORTER GROUP LIMITED

Category:

Shopping

Released:

Jul 12, 2009

Current Version Released:

Dec 08, 2017

Version:

7.6.7

Size:

107.6 MB

Compatibility:

Requires iOS 10.0 or later.

Recommended Age:

4+

Game Center Certified:

No

Supported Devices:

iPhone5-iPhone5, iPadFourthGen-iPadFourthGen, iPadFourthGen4G-iPadFourthGen4G, iPhone5c-iPhone5c, iPhone5s-iPhone5s, iPadAir-iPadAir, iPadAirCellular-iPadAirCellular, iPadMiniRetina-iPadMiniRetina, iPadMiniRetinaCellular-iPadMiniRetinaCellular, iPhone6-iPhone6, iPhone6Plus-iPhone6Plus, iPadAir2-iPadAir2, iPadAir2Cellular-iPadAir2Cellular, iPadMini3-iPadMini3, iPadMini3Cellular-iPadMini3Cellular, iPodTouchSixthGen-iPodTouchSixthGen, iPhone6s-iPhone6s, iPhone6sPlus-iPhone6sPlus, iPadMini4-iPadMini4, iPadMini4Cellular-iPadMini4Cellular, iPadPro-iPadPro, iPadProCellular-iPadProCellular, iPadPro97-iPadPro97, iPadPro97Cellular-iPadPro97Cellular, iPhoneSE-iPhoneSE, iPhone7-iPhone7, iPhone7Plus-iPhone7Plus, iPad611-iPad611, iPad612-iPad612, iPad71-iPad71, iPad72-iPad72, iPad73-iPad73, iPad74-iPad74, iPhone8-iPhone8, iPhone8Plus-iPhone8Plus, iPhoneX-iPhoneX,

Supported Languages:

English; French; German; Chinese;