Screenshots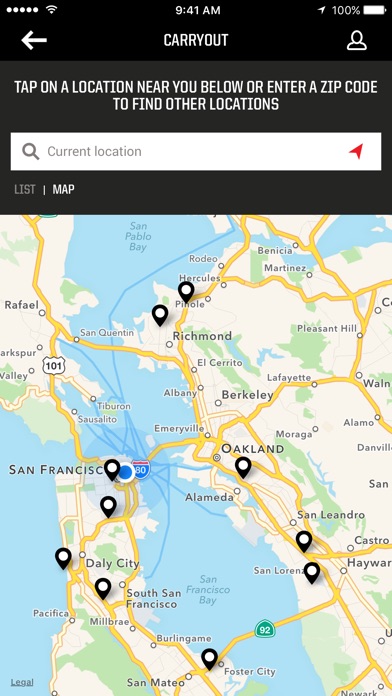 New in version 4.5
- We've added auto-complete functionality to make it even easier to enter delivery addresses
- TouchID is now available for easier login
- Minor bug fixes and enhancements
Description
Ordering your favorite pizza just got even easier: we've updated the app with exciting new features and enhancements.

Features:
• Added ability to reorder with only 5 clicks
• The full Pizza Hut menu offers all your favorite deals, specialty pizzas, pastas, WingStreet wings, drinks, sides, desserts and limited time offers
• Guest checkout allows you to order without creating an account
• Fast access to new menu items and local deals
• Place future orders up to 7 days in advance
• Find Pizza Hut locations near you
• Ordering functionality for U.S. residents only
• Pay with cash, credit card or gift card
iPad Screenshots
Reviews
Doesn't work
Uriel_Domnguez
on
12/16/2017
Does not work
Not doing good
My husband has been waiting 45 minutes to pick up pizza a person in front of him got burnt pizza and there is a lot of unhappy people at pizza hut right now.... head quarters needs to go clean it up
App is broken
Can't get past the choose location screen. Can't order pizza. Disappointing. I could call to order, but I'm not in a calling mood.
App doesn't work with latest iOS
Disappointed I can't use this app ever since I downloaded the latest iOS. It just freezes at refresh every time I press reorder or pick a store.
Great App
Thomas Elison
on
12/16/2017
Love the Pizza Hut App. Love the support and ability to track my order! Great accuracy!
LATEST UPDATE IS HORRIBLE
I've been ordering via the app, for a long time. Has always been a breeze Latest update is a huge step down as far as ease of use/clarity, and is also so glitchy it becomes useless. Very slow between order-payment. Froze up four times, losing order & payment info. I finally just said "eff it", and called the store to place the order. 0/10. (Am using iPhone 7 with latest iOS)
not respond
button freezes, required to reinstall the App
Can't see order cost until we complete the order
Haueidnfudkehx
on
12/16/2017
See title
Love our Pizza Hut
ShelllBelllllll
on
12/16/2017
Always fasts and always hot. Friendly drivers as well.
Never works for me
concerned_student
on
12/16/2017
Lots of spinners that never end. Ordered pizza somewhere else.
Doesn't work
It doesn't crash but it doesn't work, it won't let me select location, I'm just gonna get Casey's instead, fix ur app
No longer working
The app no longer works. I am able to select a location, but then the app hangs.
fix this ugly app.
robkyofficial
on
12/16/2017
can't go past "select location" option. i've hard reset my phone, reinstalled the app, tried on multiple other phones, nothing. the last update was a month ago, step up.
Terrible app. Not intuitive.
Bill Dallas
on
12/16/2017
Doesn't recognize deals unless done through the deal. Should be able to start with old order and modify instead or reorder.
Help
This app used to be perfect and amazing, but I recently found a glitch that makes it impossible to order pizza for me. The "select location" button doesn't work for some reason. I've tried at multiple hut locations and still the same problem. I've also tried the website using the same mobile device with the same results. Please fix this.
Cannot order pizza
The order now button does not work! 🙄
Great Pizza - Terrible App
The app refuses to load after updates (iOS), restarts...no matter WiFi or data. The app is 48mb and does not need to take up that much space. Will be deleted.
Although it works it is unresponsive sometimes.
Anselm kiefer
on
12/16/2017
It is useful but it could be better.
Pizza Hut
Good app works well and easy to reorder
Awesome app
David 10263
on
12/16/2017
Easy to use stores your credit card information so extremely fast to order love this app
No good
This app will not work! Every time I try to use it it freezes up!
Definite room for improvements
App freezes when I place a carry out selection. Keeps looping back to location and when location is picked...it freezes. COME ON!
Meh
No TouchID login. No autofill options and I got stuck a couple times because I couldn't find a back button. App needs work.
Lost just lost
Kevin88445566
on
12/16/2017
Lost
Can't order
Can't order. Go to select the store and it stays on the same page. I can go back and select how I want the order but when I select the store I can't get past that page.
Select location not working
Navdeep.mahajan
on
12/16/2017
On my iPhone X select location button is not working. The app used to be really good, then you guys converted it to web view crap and now even that doesn't works. I thought Apple tested apps before letting crap roll to App Store.
When it actually works it's good
I've had more problems getting the app to work than not. Get the IT Dept together and this could be great.
Turns off my music
I cant use the app because it turns off my music when I open it. Way to kill the party Pizza Hut
Very bad experience with the app
The app gets struck now and then... makes me feel like dining in or dropping the idea of eating pizza is better than ordering through app! Pls fix the issues if the app has to really serve the purpose for what it is made for...
Wont let me create large pan pizza
Black Jesus Christ
on
12/15/2017
Wont let me create a pizza with pan original crust that is a large for some reason.
Easier to call
Freezes. Doesn't load. Terrible.
Garbage
Joey gravey
on
12/15/2017
Garbage app I just wanted some pizza fam and it wouldn't let me order
Idk
I just put in my order but I never received a confirmation that it was sent. Were hungry. Please help!
How in the world does this get 4+ stars?!
RiverShredder
on
12/15/2017
Takes FOREVER to order with this app. I frequently order pizza for large groups. The app doesn't let me order multiple pizzas. For example, if I want 10 thin crust pepperoni and pineapple pizzas, I have to go and add each pizza 10 Times, selecting each dang ingredient over and over. It's easy to mess up and then I have to literally count each pizza in my cart. It is not convenient and much easier calling the store. Took 15 minutes to order 9 pizzas just now. Also, please don't default flavored crust. Thank goodness I noticed The original crust defaults to buttery crust. I've been eating Pizza Hut pizza for 40 years. I don't remember buttery crust ever so why is it default on the "original crust"? I every time I log in my address does not appear. I have to go to saved addresses, back out, then back in then it is there. My address is now there 3 Times. Maybe I added it 3 times since it's never there, idk, but it's annoying. When I select my address, it finds a store. This seems to take several seconds and every now and then if I'm not paying attention it will suggest a further store. Either way, why isn't my local store just automatically tied to my address? Why do I have to waste time doing this each and every time. Please have an add to cart button on each ingredient screen. If I just want a cheese pizza, don't make me go through the meats and veggies before I can add it to my cart. Time consuming. Bottom line is, for me, this app takes much longer to use then just calling the store. I just can't seem to order pizza quickly.
That app is so bad I don't want Pizza Hut anymore
It's not worth my time or frustration to figure out why I can't get past entering my address. I press continue and it says "verifying address" but then it doesn't go anywhere & gives no further prompt. I press the back button, I still don't have an address & everything I just entered is gone. I'll just make ramen. This has already taken too long and I'm really hungry. Lame.
Location setting
HotHusker98
on
12/15/2017
I used to use this app a lot to order pizza. Now it won't let me choose a location so I'm unable to use it very disappointed it was always very handy
Doesn't work on either iPhone or iPad
This app used to be easy to use but now just doesn't work at all. I can't get past the first screen. Please fix!!
Unusable app
ArcadeToken
on
12/15/2017
Cannot even set the store location to begin an order. After you search, and the map displays, the location comes up but nothing happens when you tap on the "Set Location" button. Makes ordering through the app impossible.
Doesn't work
App used to work great. Now won't progress past the select location button.
Used to work great.... not so much now
Cloud.jumper
on
12/15/2017
This app used to be awesome! But now it doesn't work at all for me. It fives the location that I'd like to order from. But when I select a location it doesn't do anything. I try to save my address for delivery. Would not save my address. You can navigate around to different pages, but none of the pages are functional. I am using an iPhone 7 with iOS 11.2.1
Love Pizza Hut, hate the app!
Really hungry... still
on
12/15/2017
I find myself wanting Pizza Hut from time to time, that is until 5 mins into attempting to place my order. No back buttons, easily stuck in menus that if you close the app and reopen to get out deletes your order. I've resorted to finding a new pizza chain with a better app. I wish Pizza Hut would fix this!
Used to work
But now it won't. After finally calling in my order last week because the app wouldn't work, today I tried the app again- just won't go past selecting a location...locks up. Finally went online via computer and ordered. This is the problem I have with updates — they screw up things that worked just fine, usually to add a feature no one but their marketing department wants anyway...
Doesn't Work
Avlynn Strider
on
12/15/2017
This app simply doesn't work, it doesn't save my information and I have to login every time. I can't order pizza through it because it won't let me get passed the carry out screen where you select your location.
CANNOT ORDER 1/2 AND 1/2
Golfallthetime
on
12/15/2017
We've repeatedly brought this up with our store. Nothing matters; nothing changes!! We always have to call the order in. They do give the online price; but what a hassle! I've emailed your site—heard nothing which helped. Tried to send CS something from the app, but dates and times are required to get through and we have no records of the myriad of times we've had to call. Our store's history should be on the app. There are 2 times, but it just calls out 1/2 of the 1/2 and 1/2 order. How frustrating that no one can help!! No one can get this right!!!
Very difficult to use App
Not intuitive app
Really?
maczombieOG
on
12/15/2017
Apple Pay. Get with the program...
Disgusted
I have used the app before and no problem.Now all I get is the circle waiting to connect. I guess this app needs a severe update or overhaul or their system needs it. Can't place orders if your on hold all the time.
Used to be better. Now fails all over.
Used to be able to order. Can't anymore. The location selection fails. And the app becomes unresponsive. Unusable!!!!! This app does not support log in for users with a plus sign (+) in there email address. The website allows plus signs in the email address. Tried to send a direct comment to the developer, but the links for support are junk. One links to localhost which is useless, the equivalent of a broken link. The other connects to the order web site from my device. When I tried clicking the support link in iTunes it took me to a support site for complaining about Pizza Hut restaurants. Nothing on that site is about feedback or support for the iPhone App. When I try to log into the app using my email address with a plus sign in it, I get the following message, "Ummm.... that doesn't seem to match our records. Can you check to make sure it was entered correctly?" I have logged in on two different web browsers on my computer, as well as the browser on my iPhone.
Pizza Hut App Review
Awesome talk to me!
on
12/14/2017
It's good for what it is.
The App that Won't Sell Pizzas!
The apps gotta work if you want to sell pizzas, Pizza Hut! Open the app and select reorder or Carry Out. Next all you will get is a spinning wheel that goes nowhere near PizzaTown or Pizza City.
Fact Sheet
Publisher:

Pizza Hut, Inc.

Category:

Food & Drink

Released:

Jul 08, 2009

Current Version Released:

Oct 25, 2017

Version:

4.5

Size:

95.8 MB

Compatibility:

Requires iOS 9.0 or later.

Recommended Age:

4+

Game Center Certified:

No

Supported Devices:

iPad2Wifi-iPad2Wifi, iPad23G-iPad23G, iPhone4S-iPhone4S, iPadThirdGen-iPadThirdGen, iPadThirdGen4G-iPadThirdGen4G, iPhone5-iPhone5, iPodTouchFifthGen-iPodTouchFifthGen, iPadFourthGen-iPadFourthGen, iPadFourthGen4G-iPadFourthGen4G, iPadMini-iPadMini, iPadMini4G-iPadMini4G, iPhone5c-iPhone5c, iPhone5s-iPhone5s, iPadAir-iPadAir, iPadAirCellular-iPadAirCellular, iPadMiniRetina-iPadMiniRetina, iPadMiniRetinaCellular-iPadMiniRetinaCellular, iPhone6-iPhone6, iPhone6Plus-iPhone6Plus, iPadAir2-iPadAir2, iPadAir2Cellular-iPadAir2Cellular, iPadMini3-iPadMini3, iPadMini3Cellular-iPadMini3Cellular, iPodTouchSixthGen-iPodTouchSixthGen, iPhone6s-iPhone6s, iPhone6sPlus-iPhone6sPlus, iPadMini4-iPadMini4, iPadMini4Cellular-iPadMini4Cellular, iPadPro-iPadPro, iPadProCellular-iPadProCellular, iPadPro97-iPadPro97, iPadPro97Cellular-iPadPro97Cellular, iPhoneSE-iPhoneSE, iPhone7-iPhone7, iPhone7Plus-iPhone7Plus, iPad611-iPad611, iPad612-iPad612, iPad71-iPad71, iPad72-iPad72, iPad73-iPad73, iPad74-iPad74, iPhone8-iPhone8, iPhone8Plus-iPhone8Plus, iPhoneX-iPhoneX,

Supported Languages:

English;