Screenshots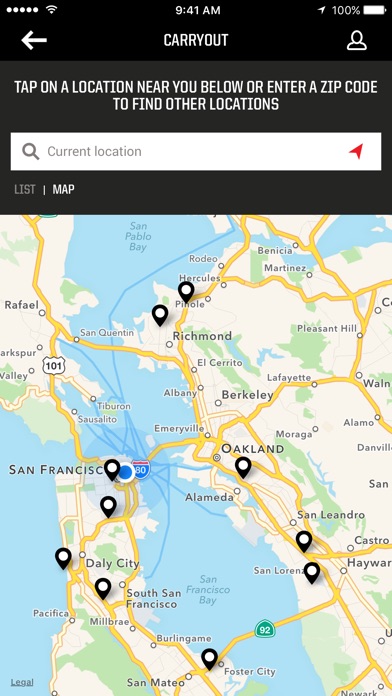 Description
Ordering your favorite pizza just got even easier: we've updated the app with exciting new features and enhancements.

Features:
• Added ability to reorder with only 5 clicks
• The full Pizza Hut menu offers all your favorite deals, specialty pizzas, pastas, WingStreet wings, drinks, sides, desserts and limited time offers
• Guest checkout allows you to order without creating an account
• Fast access to new menu items and local deals
• Place future orders up to 7 days in advance
• Find Pizza Hut locations near you
• Ordering functionality for U.S. residents only
• Pay with cash, credit card or gift card
iPad Screenshots
Reviews
App makers
AWSOMENESS1234456677899
on
10/18/2017
Why they make these apps so hard to use🤑they must get payed a lot to make it difficult
Can't create half & half pizzas
I can't see how on the app to create a half & half Pizza. Also, I didn't receive my first order's points and 20 minutes later still haven't received the points for the 2nd order.
Great pizza
Best pizza there is!!
Worst app ever!
Jeffsgirlone
on
10/18/2017
What the h clue has happened to this great app? Cannot use it. All of my info is gone for online ordering and won't let me log in to my account. Bo ordering ahead no favorites no nothing! Ugh
Best pan deal with it
jbl xtreme rocks
on
10/16/2017
Take ur squares and whip them in the trash. If ur not giving me the hut you can just get right out of my life. #panmedaddy
App used to be good
Spoilers, Darling
on
10/16/2017
It used to be easy to order pizzas on the app, but this latest update makes it nearly impossible, especially when you are trying to customize or build your own pizza. It is now too complicated to do anything but a standard pizza. Please simplify it again.
Limited app options
There's no option to contact the company for assistance on the app in general. There's no way to get to your order tracker besides going into your email and half the time it doesn't "track" anything.
Error 404
Trying to enter my info for delivery and it keeps giving me an error....Apple or Pizza Hut issue?? Had an Android before with no issues
doesnt find locations
the app will not let you look up locations by city state zip. i have locations services off and a pop indicates i can turn it on or use czs but entering csz only beings the pop up again.
Data breach
You had a data breach. Seriously, your security needs work. I received an email that my info was affected. I barely used your app and I will no longer use it.
Glitch riddled
I was only able to use this app once. It didn't save my address and now I can't even reenter my address and can't place an order. Guess its Papa Johns for me... 😕
App won't work
App won't work.
Every store is closed
Every single time try to order on the app it says the store is closed. It's Sunday at 2:56pm no reason a store should be closed.
Poor UI
Useraccountant
on
10/15/2017
After so many iterations of updates, this app lacks basic gestures and touch features that are essential to a genuinely user-friendly experience.
Tracker needed.
only slightly upset
on
10/15/2017
You need an order tracking option. We just waited an hour for a pizza before we called because we couldn't go over order details.
Good App
sine.qua.non
on
10/15/2017
Good App
Good App
Iceman501pir
on
10/14/2017
Little hard to navigate but it took some going through to get it
Horrible
Stuttering stan
on
10/14/2017
Ordered online and found out that it would take 2 1/2 hours to get to me. Tried to cancel. No one was able to cancel or they would redirect me to talk to the managers which I was put on hold several times for 20 minutes twice. Very frustrating.
Pizza nasty af
Pizza nasty af
Can't utilize app
There's been a bug for the past month that prevents me from entering my email address and coloring my order. This is frustrating and extends to their online store as well. Please fix asap
This app does not work
You have to enter email address to place carry out order, but it won't let you type your email address in because no keyboard pops up. I gave up and used Dominos super easy app instead.
Love Pizza Hut, app is TERRIBLE
Stang-Thang
on
10/14/2017
This is the worst of all of the pizza delivery apps. So many bugs. Terrible layout.
Heck yeah!!
NateyTheGuy
on
10/14/2017
We got Pizza! It's super yumms! We even did laundry while we waited. Cool beans!
Not Good at All
Many bugs! Among them, when favorites are saved you can only pay in cash. You cannot use credit or debit card. It's also time for the app to use Apple Pay!
No ApplePay
You can't pay with ApplePay in app so your card information is subject to getting hacked like the October 1st data breach they had.
Easy to use
I found the app a breeze to use!
Need More deals!
Please bring back BOGO breadsticks and BOGO personal pan pizza(including 1 topping).
Could be more useful
Whyanicknamehuh
on
10/14/2017
Other competitors have a nicer App. One that tells you the process of completion with your order. And also pay from the app. I haven't been able to use my card with this app since day one
Pizza Hut App
Love this app!!!
I order often
Cocowitafatass
on
10/14/2017
I like the map for choosing the location of my Pizza Hut, I think it makes ordering pizza so much easier. I like the deals, I order on pasta Tuesday's and I love the regular deals on pizza. The app is the best way to order.
Pizza
It's easy to use good app
I wish it was five stars!
I would have given it five stars, but for some reason I can never order on the app because it can never find my address.
Severe Issues
PhillInFairfaxVA
on
10/13/2017
If you're looking to make your pizza ordering experience more difficult and confusing, you've come to the right app. 'Functional' in the broadest interpretation of the word. Rushed to release and underwhelming. Wow.
I click. Pizza shows up.
Beaujanglez
on
10/13/2017
Really doesn't need a lot of explanation. You order pizza. They bring pizza. Works as it should.
Too many screens
iPhoneRunner
on
10/13/2017
Too many screens simply to reorder a pizza. Same thing every time....5+ screens to order
Bad Redesign
PWConquistador
on
10/13/2017
The new app is pretty terrible. It appears heh traded a native app for a browser-based one and it is sluggish and buggy as hell.
This APP is Awful!
I have tried to use this app on a number of occasions now and it never seems to work properly. Then I get to the end of my order and the order is not able to be processed. There are always error messages that come up and they will never let me order through the app. I never have any trouble at all with the Domino's app and this causes me to order more often through Dominos. FIX THIS APP!
Pizza Hut
Easy to use with no issues
Great Way to Order Pizza
PastorSteve23
on
10/13/2017
Terrific, easy to use app!
Rewards system doesn't work
Says I have rewards that I can use, but it won't let me use them AT ALL. It says I've used that code too many times when I've never even been able to use it.
Horrible
Make it easier to change stores and order , worst app ever
Love it
Fast simple easy 😻😘💁🏽🤗🤘🏾🤘🏼😉😍😋🙀
Easy Peasy
This app makes getting that pizza fix fast. Thanks pizza hut
One problem
The app refuses to save my address. Hitting continue brings up a menu that says 'verifying address' then nothing. The only button is 'continue'. Then, the verifying pop up comes up again. Uninstalled and hitting up Dominos.
Broken
This app is unusable without location services enabled. When searching for a location using the text box an error message is displayed saying to enable location services.
Awesome
Great app is really easy and I love the point system
little caesars
pizza good pizza thicc pizza all up in ma d-face
Not good enough
PapaJohns Pizza is Better
Fact Sheet
Publisher:

Pizza Hut, Inc.

Category:

Food & Drink

Released:

Jul 08, 2009

Current Version Released:

Jul 28, 2017

Version:

4.4

Size:

98.2 MB

Compatibility:

Requires iOS 8.1 or later.

Recommended Age:

4+

Game Center Certified:

No

Supported Devices:

iPad2Wifi-iPad2Wifi, iPad23G-iPad23G, iPhone4S-iPhone4S, iPadThirdGen-iPadThirdGen, iPadThirdGen4G-iPadThirdGen4G, iPhone5-iPhone5, iPodTouchFifthGen-iPodTouchFifthGen, iPadFourthGen-iPadFourthGen, iPadFourthGen4G-iPadFourthGen4G, iPadMini-iPadMini, iPadMini4G-iPadMini4G, iPhone5c-iPhone5c, iPhone5s-iPhone5s, iPadAir-iPadAir, iPadAirCellular-iPadAirCellular, iPadMiniRetina-iPadMiniRetina, iPadMiniRetinaCellular-iPadMiniRetinaCellular, iPhone6-iPhone6, iPhone6Plus-iPhone6Plus, iPadAir2-iPadAir2, iPadAir2Cellular-iPadAir2Cellular, iPadMini3-iPadMini3, iPadMini3Cellular-iPadMini3Cellular, iPodTouchSixthGen-iPodTouchSixthGen, iPhone6s-iPhone6s, iPhone6sPlus-iPhone6sPlus, iPadMini4-iPadMini4, iPadMini4Cellular-iPadMini4Cellular, iPadPro-iPadPro, iPadProCellular-iPadProCellular, iPadPro97-iPadPro97, iPadPro97Cellular-iPadPro97Cellular, iPhoneSE-iPhoneSE, iPhone7-iPhone7, iPhone7Plus-iPhone7Plus, iPad611-iPad611, iPad612-iPad612, iPad71-iPad71, iPad72-iPad72, iPad73-iPad73, iPad74-iPad74, iPhone8-iPhone8, iPhone8Plus-iPhone8Plus, iPhoneX-iPhoneX,

Supported Languages:

English;