Screenshots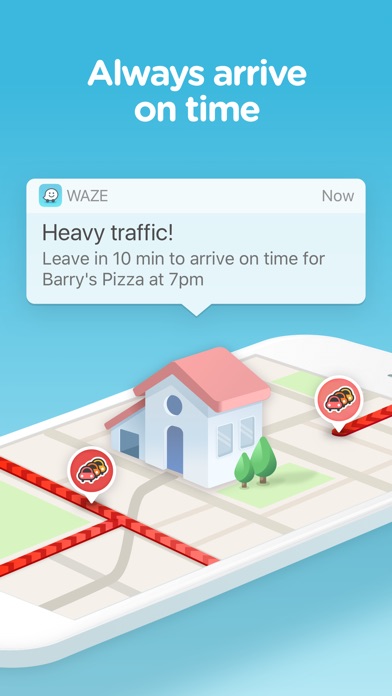 New in version iOS 4.31
Fixed bugs and made a few tweaks so it's easier to save time & avoid traffic with Waze.
Description
Avoid traffic jams, police traps, and accidents with Waze, the #1 real-time navigation app. Get the fastest routes to your favorite locations and new destinations, all for free.

Waze is a community of 90 million drivers. Here's why:
- Automatically reroute around traffic as conditions change on the road
- Get police & speed camera alerts while you drive
- Hear road directions by celebrity voices or the average Joe
- Record your own custom voice directions to guide you on the road
- Know how long your drive will take before you start driving
- Find gas stations and the cheapest gas prices on your drive
- Earn points and gain status as you contribute with road info
- Low data usage from your phone
- Waze works anywhere in the world

For drivers who really don't like to waste time or money:
- Get notified when it's time to leave for your destination by setting your drive in advance
- Let Waze tell you when it's time to leave for your events by syncing your calendar with Waze
- Save time looking for parking with Waze parking suggestions by your destination
- Choose to be routed on toll roads or to avoid them
- Get a sound alert if you exceed the speed limit with the speedometer


Note: Continued use of GPS running in the background can dramatically decrease battery life. Waze will automatically shut down if you run it in the background and haven't driven for a while.

You have full control over your privacy settings. Learn more about the Waze privacy policy, including what information is accessed and how it is used: www.waze.com/legal/privacy
iPad Screenshots
Reviews
I live in Los Angeles, so...
HelloDentist
on
10/22/2017
...I've decided to update my Waze review since I was slightly unfair before. I have it a third chance and it has been helping a great deal more than previous attempts.
Super happy. Trailer or big vehicle option.
I love using Waze for all of my navigational needs. I use it primarily for work but for personal travel as well. However, since in my line of work I am usually pulling an 18-20' trailer I have to be cautious at times when it takes me on the quickest route. Driving in Seattle with a trailer is already a pain and battling those side streets where even a mid-sized SUV struggles to get through is a nerve racking nightmare. Maybe adding an option where you can say you're pulling a trailer and it still takes you on the quickest route, just not down the dreaded [at times] side streets. This addition or not I will still continue to use Waze!!
Can't find a route!
If I see this error one more time I'm going to uninstall this app. They finally brought back the setting to only let them use your location data when using the app. I was pretty appalled when the only options were Always and Never.
👍🏾👍🏾
Ballcoach20
on
10/22/2017
I've never written a review and I had the iPhone 📱 1!!! This is the greatest App ever
"ACTIVELY USING YOUR LOCATION" After leaving the app.
I typically never write reviews but with the current updates this is unacceptable. "Waze is Actively Using Your Location" long after I have arrived and left the app. Keep in mind I have my Location Services for Waze set to "While Using the App", so this shouldn't be doing this. In order to get rid of this bright blue banner on top of my screen I have to force close the app, which was not necessary in the past. Fix this issue and I will change the 1 star review to a 5 as there are no other complaints.
Wish could give 5 stars
Lkpadhfa;jodhpurs
on
10/22/2017
Starts out great with the voice describing next steps...always accurate at least thus far....however voice stops after a while. Tried clearing cache, which helps for a bit, but the problem persists... Bluetooth still stops after awhile...can barely hear the phone speaker
Lenta
Francis Guzmán
on
10/22/2017
Es muy lento y me manda a calle equivocada
Waze need to fix
Kami T. Sherpa
on
10/22/2017
Waze need to fix when you arrive detention lift or right they don't say any thing we need like Google map when you arrive there you need tell right or left thanks 😁
Bring back the old version
Since I purchase the new iPhone 8plus I have had such a bad gps lag. I wish I had the old version m :(
Update Changes Language Setting
Greg4845907
on
10/22/2017
Even though I have set the language of the voice to English, this latest update from Waze overrides my English setting to a language I don't even recognize.
Waze malfunction
I have experienced some malfunctions with the app. I'm not sure if it's the app or is it just a operator error. I was on the highway 15 had at south near Ogden Utah. Waze instruction was take the next right go 100 feet and take the next right go hundred feet and take the next right. I finally had to stop and get instructions from a service station attendant. We had gone 20 miles out of our way and we had to backtrack.
Waze Craze
This App is, too me The Best Nav/ Location finder out today. Beyond easy to use, informative? Yes: Police Up Ahead, Car On the Shoulder, Dip in the Road, Hazard/Object in the Road. It even Warns you of Excessive Speed! Not to forget Locations of Gas, Food, etc. I Do & Have Recommended Waze to Everyone because I feel so Strongly about the ease of use & quality and it's just Fun compared to Dated Google Maps!
Very pleased
Great update!
Nice app
Works great in larger cities and major highways. I really want to give it 5 Stars, but it takes you on wild goose chases and unnecessary routes when you're in the country.
Has earned my trust but ....
LZ Lafayette
on
10/22/2017
I find Waze to be the best and most route-creative wayfinding. My wife sometimes objects to leaving the freeway to save a minute or two but I don't mind, and sometimes I'm saving lots of time. My title says "but" and that is because I can't use Waze on CarPlay. Please Apple and Google, get Waze on CarPlay!
Awesome app
Annoyingrandomname25447
on
10/22/2017
Used every day
Must Have App
kindasortaasian
on
10/22/2017
If I could only download one app on my phone, it would be Waze every time. Most reliably gets you where you need to go, the quickest. And it's feee. Easy as that.
Newest Update Fixes Everything
Brooks Bigley
on
10/22/2017
Edit: Waze is back to being the greatest navigation app ever. No platitudes here! Previous: I have been using Waze for over 5 years. I travel the same freeway every single day. The last few days, Waze refuses to route me on the freeway, and makes all kinds of terrible routes that add over an hour to my commute. I just drove the same freeway I always do, no traffic at all, and Waze continuously tried to reroute me off the freeway and onto side streets. There was no traffic to avoid. The app also refuses to allow me to select an alternate route that DOES use my freeway. What is going on?!? Since there is no option to "report a problem" from within the app itself, you are now stuck with a 1-star review and an angry user who is now looking for other GPS apps to use.
Voice Directions & Details
More Hockey
on
10/22/2017
Please add the side of the street that the address is on so I can be as safe as possible & keep my eyes on the road instead of having to determine odd or even number addresses and which side of the street they are on.
I LOVE WAZE
MichiganTransplant
on
10/22/2017
I really love this app but one suggestion I have that is really like implemented is seeing how long ago a report was made when a notification pops up. Sometimes these reports are stale.
Great app, crowd sourced assistance
This app warns of all the hazards out there. It routes you around the accidents, highway shut downs and so much more. Don't just get directions, get the best directions.
Cool App
I really like this app. We use it all the time on my wife's iPad. This needs to be a CarPlay app so we can put it on the main screen in the truck.
Great Help on Vacation
Plain Jane2
on
10/22/2017
Recently used Waze while driving on vacation on unfamiliar highways. Couldn't have found our way around totally stopped traffic without Waze. Thanks!!!
Has some value, but not perfect
Works fairly well, however I use it for delivering pizza and it doesn't say what side of the street the house or business is on. That would be extremely helpful.
Add more languages
soheilrahbari
on
10/22/2017
This app is quiet great, but it is still need more languages like Farsi. I hope they add it as soon as possible.
Must have GPS app
User7374748
on
10/22/2017
Great app and has always been my go to GPS choice. However, after the last few updates there have been so many issues. App crashes My address I saved disappear It puts me going the wrong direction Freezes Still a great app just PLEASE FIX
Why did you kill time to leave notifications??
The time to leave notifications was the only reason I really used this app. This feature alone was remarkable. I was wondering why this feature stopped working and then I checked in the waze blog and noticed that they stopped this feature after a certain version. Why?!?! Idiots!!!
Love it love it love it !
superspeeder66
on
10/22/2017
Love it . As long as it's free though. Gets stuck a lot but also as long as people mark is the best thing ever made for traffic reroute and popos. 👍👍👍thanks waze. Keep up the good work
Why the glitch now with estimating travel time?
RobbyLeeRose
on
10/22/2017
I too was a huge user of Waze. However, lately I'm noticing I can't estimate travel time as I used to be able to do. Instead the app states it's estimating travel time and then fails to deliver. I'm using an iPhone 7 – please fix so I can give you the 5 stars I otherwise would!
Best traffic management app.
Retired my Garmin. Waze does it all in real time. Only concern is the rate of battery drain. Overall excellent app.
Waze review
tommy creature
on
10/22/2017
Waze knows!
Don't leave the house w/o Waze
Great Game Join Me!
on
10/22/2017
I live in NYC and as second nature I put on Waze no matter where I am driving. I've saved money and time from speed traps red light cameras and cops. Never stop improving! Much grateful for this app!
I cannot drive without my waze
LadyEnglish
on
10/22/2017
Since the first time I used this app, it has rarely disappointed on getting me to my destinations stress free. I have no sense of direction and this makes a huge difference to my mood. Well done waze. I recommend it to everyone. Even worked well in Puerto Rico
Terrible
unhappy-en-route
on
10/22/2017
Everything worked great on my app 3 days ago. I planned a route from Michigan to Minnesota. I did an update and now I am trying to route home and it won't route me home. It keeps saying timed out or cannot find route, which is odd because it found the route there just fine. Super annoyed and will be using a different app until fixed as will everyone I know.
Navigation
The navigation could be better it's not always accurate and it doesn't always take you the most direct route to one's destination.
A few major issues
I use Waze for my Lyft drives, and I've noticed a couple major issues. 1. The driving animation is about a half a second delayed, which allows you to miss a turn unless the audio prompts are on. 2. If you are in a parking lot or something not on the Main Street it confuses the system and goes crazy trying to figure out which street your on. 3. With Lyft you may get a ride while already driving and when Lyft pushes the address to Waze, Waze will not take into account the cars motion and navigate as if standing still ie you missed a turn. It should start navigation 200 feet away. 4. Waze will by default navigate me and other Lyft drivers to people back Alleys (especially here in Southern California) it is very confusing for both rider and driver, there should be an option for this, like the one for taxis should turn off parking instructions. Besides that it's pretty cool.
It's improving update after update
Not the best yet. I feel it will get there eventually if the devs continue this trend of bug fixes. I sometimes find myself going back to Apple maps but the bugs are being dealt with over time. Still believe it deserves a good rating because of the attention it's getting from devs.
Great app but minor things need to be fixed
👍not that bad.... Good
on
10/22/2017
I absolutely love Waze because it tells you the traffic, accidents, cameras, police reports, etc. But it makes a long route for you to take... For example: My friend was testing Waze by going to a near Cvs. Waze was tell them to go in a circle in order to get to Waze 😂😂😂
Waze outside Cities
EnglishRugbyFan
on
10/22/2017
In Cities and major Towns Interstates and major highways Waze can't be beat but going country directions are off against Google Maps nearly every time.Plus a great deal of reporting these days is off either never existed or way out of date these reports are erroneous at best, dangerous at times and a distraction at others . Waze is going downhill rather than improving. Update: 7.11.17 Vehicle fire closed all lanes on I75 outside Atlanta early this morning, Waze immediately rerouted thanks to the support of this great community! Google Maps and my new F150 mapping system showed no delays. Saved a great deal of time driving to Florida. But again there were so many erroneous reporting errors of Police 50% were not there! Plus again outside cities and big towns poor routing or finding local roads. Even my address is incorrect in a rural area of Georgia. UPDATE: 10.22.17 Travelling up and down I75 users still are not understanding the police reporting it should be stated that police on the move or at a speed apprehension doesn't necessarily mean that they will be static once finished. Prime example Saturday heading North in Southern Georgia 8 alerts for police on I75 when arriving through the posts zero were there! Otherwise still the very best app for heavy users of major road systems. Though one note on entering the outskirts of Atlanta heavy traffic was reported but actually this was lighter than normal. Thanks Waze and all our community.
Tripping
The most reliable resource for any trip, grocery, around town, cross county. The best road resource - EVER.
Lost without it
Really rely on Waze to get last minute traffic updates even if I know how to get from point a to point b. Occasionally I will choose to ignore if I am not pressed for time, or feeling adventurous knowing that Waze will get me back on track when I need it to.
I predicted that I would write this review, and I was right
So I got on Waze earlier today, 12:48 PM and it said I would get home at 1:24 PM. I told my family that if we get home at 1:23 PM- 1:25 PM I will go and give Waze five stars. You have to understand, we were driving through (almost) the heart of southern New York, from Westchester to out to Long Island. Bronx and Queens traffic is completely unpredictable, or should I say, it WAS. Wazers had reported on all the roads I was taking where traffic was, and as we were approaching my block that I live on, the time changed to, you guessed it, actually you didn't, but close enough, 1:25 PM. Now I'm here, writing this review. In conclusion Waze is a great app. Anyone who ever drives or ever goes in a car needs this app. And if you get this app, look out for me in New York, my username is MattZ79.
The best app for gps
I use the aplicación to go every were is very helpful and keep u in point with the street and what goin on around is good I recommend it.
Once Great App Gone Down The Drain
DecemberKid
on
10/22/2017
I've been a Waze user for more than two years and loved how it always gave me accurate drive times and steered me around traffic jams- a big deal when you live in Los Angeles! But a month ago the app suddenly stopped giving me Time To Leave Notifications. I contacted Waze Support and they had me go through all sorts of trouble turning on debugging modes and sending them drive logs only to get no response whatsoever! NADA!!! Now the app doesn't steer me around traffic jams but takes me right into them, causing the ETA it gave me at the beginning of my drive to increase by 10 minutes or more! It also directs me to turn on and off streets for no reason! Now I can't rely on the app to give me accurate drive times or routes to work, which is a major problem! It's such a disappointment to see this once great app go so wrong!
Lost my Waze
Every now and then, Waze gets lost.
Great app, major flaw
Mizrobi Samarqandiy
on
10/22/2017
When your making turn, it doesn't show you the direction of the next turn and sometimes you're just lost
BRING BACK THE MISTER T VOICE
kelseyamerzeebra
on
10/22/2017
seriously. it was the best part about waze.
Not the same.
Lord Helmut
on
10/22/2017
They ruined it. Interface is lousy. Is it that effing hard to display current street name? Even when not navigating mode. Why even show good evening? Beyond lame like it's a place holder to show developers it can do time based strings. Why no car play love? Voices are lame and gimmicky. If in cities distance is meaningless. Just say four blocks make a right.
Fact Sheet
Publisher:

waze

Category:

Navigation

Released:

Aug 01, 2009

Current Version Released:

Oct 22, 2017

Version:

iOS 4.31

Size:

105.9 MB

Compatibility:

Requires iOS 8.0 or later.

Recommended Age:

4+

Game Center Certified:

No

Supported Devices:

iPad2Wifi-iPad2Wifi, iPad23G-iPad23G, iPhone4S-iPhone4S, iPadThirdGen-iPadThirdGen, iPadThirdGen4G-iPadThirdGen4G, iPhone5-iPhone5, iPodTouchFifthGen-iPodTouchFifthGen, iPadFourthGen-iPadFourthGen, iPadFourthGen4G-iPadFourthGen4G, iPadMini-iPadMini, iPadMini4G-iPadMini4G, iPhone5c-iPhone5c, iPhone5s-iPhone5s, iPadAir-iPadAir, iPadAirCellular-iPadAirCellular, iPadMiniRetina-iPadMiniRetina, iPadMiniRetinaCellular-iPadMiniRetinaCellular, iPhone6-iPhone6, iPhone6Plus-iPhone6Plus, iPadAir2-iPadAir2, iPadAir2Cellular-iPadAir2Cellular, iPadMini3-iPadMini3, iPadMini3Cellular-iPadMini3Cellular, iPodTouchSixthGen-iPodTouchSixthGen, iPhone6s-iPhone6s, iPhone6sPlus-iPhone6sPlus, iPadMini4-iPadMini4, iPadMini4Cellular-iPadMini4Cellular, iPadPro-iPadPro, iPadProCellular-iPadProCellular, iPadPro97-iPadPro97, iPadPro97Cellular-iPadPro97Cellular, iPhoneSE-iPhoneSE, iPhone7-iPhone7, iPhone7Plus-iPhone7Plus, iPad611-iPad611, iPad612-iPad612, iPad71-iPad71, iPad72-iPad72, iPad73-iPad73, iPad74-iPad74, iPhone8-iPhone8, iPhone8Plus-iPhone8Plus, iPhoneX-iPhoneX,

Supported Languages:

Afrikaans; Arabic; Bulgarian; Catalan; Valencian; Croatian; Czech; Danish; Dutch; Flemish; English; Estonian; Finnish; French; Galician; German; Greek; Hebrew; Hungarian; Indonesian; Italian; Japanese; Kannada; Korean; Latvian; Lithuanian; Malay; Bokmål, Norwegian; Norwegian Bokmål; Persian; Polish; Portuguese; Romanian; Moldavian; Russian; Serbian; Chinese; Slovak; Slovenian; Spanish; Castilian; Swedish; Chinese; Turkish; Ukrainian;