This version of the app is not recommended
App last updated
Jan 10, 2018
Screenshots
New in version 4.34.1
Happy holidays! Check out what's new in this version:
- Waze now supports Weblink in-car entertainment system. Just plug in your phone & go.
Description
Always know what's happening on the road with Waze. Even if you know the way, Waze tells you instantly about traffic, construction, police, crashes, & more. If traffic is bad on your route, Waze will change it to save you time.

Why Waze?
◦ See what's happening - Alerts about traffic, police, hazards and more on your drive
◦ Get there faster - Instant routing changes to avoid traffic and save you time
◦ Know when you'll arrive - your Arrival Time is based on live traffic data
◦ Pay less for gas - find the cheapest gas along your route
◦ Always find the way - choose from a variety of voices to guide you while you drive

Be prepared, drive with Waze.


You have full control over your privacy settings. Learn more about the Waze privacy policy, including what information is accessed and how it is used: www.waze.com/legal/privacy
iPad Screenshots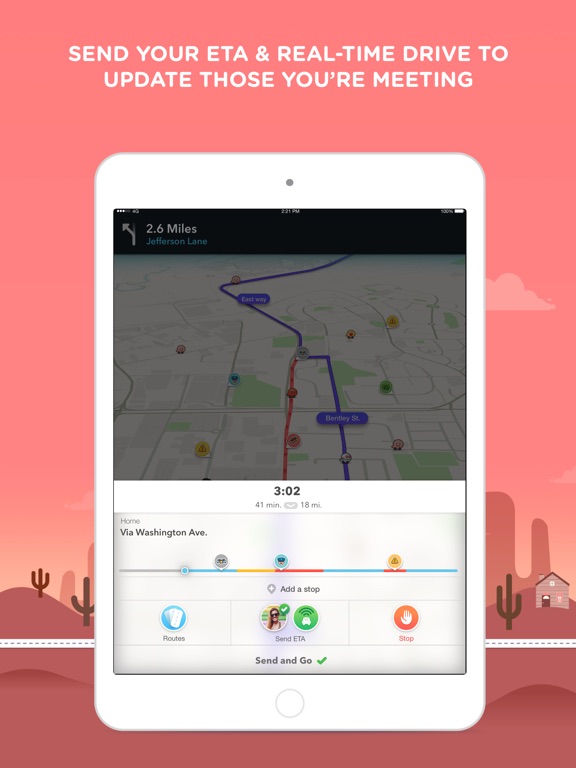 Reviews
Villa-Cambra
Have being using Waze for about a year and a half. I travel around the country west coast, New York, Florida to name a few places and works great. Waiting for international places i.e caribbean Islands.
My daily commute GPS
I love this app!! Only complaint is could they please have a train crossing notification! I would love to re-route before running into a long train crossing. Losing 15mins of driving time etc. Waze please add a train feature:) Love ya!
HELP
I am a salesman on the road with a green CAV sticker in California to go in HOV lanes- all of a sudden the option to add the sticker in navigation so it can guide me through HOV lanes is no longer there. I need this feature so bad. Where did it go?!
Enjoying the app, please add favorites
We really like using the app. It helps us on a daily basis. In addition to work and home favorites please add a School and Gym favorite. We are presently using the work favorite for the school favorite.
Disappointed
Doesn't work with my pioneer head unit since my IPhone was updated to IOS 11 PLEASE fix the issue !!!!
Amazing
I would for sure get this app it is so much better than anything else I have used for navigation. It is very helpful to avoid construction and rush hour!!
Terrible
Nothing but false hope. This will only frustrate you and make you late. My 32 minute route ended up taking 54 minutes.
There is a bug
BlurryFuture
on
1/23/2018
A bug where my music is starts being channeled thru my phone mono speaker after an alert or something tries to play from the app. It tends to happen so I do not use Waze at the moment.. I have my app sounds set on Alerts Only. Very annoying to be driving and suddenly my Bluetooth stops working correctly because of this app. Please fix this bug! I will be back.
Easy to use
Nice app and very helpful
Great app
Love this app , its saved my butt several times !
The app works well, but some things needs to be fixed.
sonicrockstar22
on
1/23/2018
When I'm driving at the exact same speed limit with my car, the app shows a different speed. For example, I'm driving at 55mph and the app says about 52 or 53mph. This could be a bug or something. Also, I'm not receiving too many notifications about the app. Just the weekly report. The app works well, but it needs some things to fix.
Speaks For Itself.
objective perspective
on
1/23/2018
This app is no secret and it has become a go-to and essential tool for automobile navigation.
Persian directions
Please add Persian voice directions
Great Wazer Community
Really impressed with how the Waze community makes the effort to keep each other informed!
Phone gets too hot...
I have used Waze for years but with the newer versions I have noticed my phone is getting extremely hot. It only does this when using waze. When I use google maps for navigation my phone doesn't get hot.
Good but not great
Points add and subtract for no reason
Interrupts audio
When switching to or from this app, the audio is interrupted; never used to do that. Please fix this. This is the iOS version.
Great GPS
WAZE is a great GPS tool. I use this most often when driving to appointments. It has had some glitches though, like not giving you enough time to get into the correct lane to exit. I have missed an exit in downtown Cincinnati several times, then it re-routed me throughout downtown Cincinnati and then over the bridge into Kentucky then back through downtown again. Grr. I was half an hour late for that appointment. However, I like that you can send map errors in and they have volunteers that try to correct the issues and they are getting better at it. There is also an icon on the map you can select to report various traffic issues like vehicle on shoulder, construction, police, slow traffic, etc. and you get notifications of these which is awesome. Thank you for a great app and for continuous improvements. 2/14/17 Waze still has some glitches of taking me the long way around things when it doesn't need to. 1-22-2018 update Waze froze up on me the last couple of days so I deleted it and downloaded it again.
It works where Google Map fails
a new Wave user
on
1/22/2018
When driving around NYC last weekend in the middle of the night, Google Map running on my iPhone failed to acquire GPS signal hence turned useless. The forced me to switch to Wave out of desperation. To my surprise, Wave had no problem with GPS signal at the same area where Google had failed miserably. Five stars to Wave just for it's reliability alone.
What the heck did you do on the last update?
V W Condo owner
on
1/22/2018
I went on a business trip for a week in which I didn't use Waze during which there was an update. After updating it, I keep appearing as a moving dot (instead of the car I had selected) on the map while navigating. In addition, the voice directions are about 2 turns behind and to make things worse the map also didn't point in the direction I was going making it hard to know what way I'm supposed to turn next. In those cases, I've had to open google maps twice to get me headed in the right direction. I wish I didn't make the last update as it is making me want to delete the app entirely. It's already bad with the roads in Boston being difficult to navigate even when the app is working right. Hoping for a fix soon.
Love this app
I use this app every chance I get. I'm very sad that it's not compatible with CarPlay. I may have to trade my iPhone for an android.
No if you are a cautious driver
The navigation always sends me to left turn onto busy intersections without traffic light, even though I set "Reduce difficult intersections". Last time it was directing me to turn left passing two (!) two way roads. I had enough of this app. If you are a safe driver and do not appreciate stress, skip this app.
Good but...
thisnamehasbeentaken34
on
1/22/2018
Overall this is an very good app. However for me, two things need to be improved/changed. The app takes way too long to load. It's the slowest loading app I've ever come across. Second, add more "celebrity" voices to announce alerts or directions. Make them a permanent option as well.
I gave it a year, and very disappointed.
I like the idea of this app, but its problems are too severe to overcome the hype. First, accuracy in traffic and time reporting is off by about 10%. Second, it drains my phone battery (30 min of use takes about 40% off my charge). Third, the prompts are too frequent and so long-winded that by the time it gets through, "In one mile..." and returns to my podcast, it interrupts again with the same direction at the half-mile mark. If they'd spend as much effort on the basics as they did on getting celebrities to record prompts, it could be good.
The Best !!!!
Older and wiser generation
on
1/22/2018
I have tried different apps to help me get to places, and this by far is the best !! I never have problems getting to places anymore !!! This is the most up to date app for locations you are going to ! I love that it warns you of problems on the road ahead of you ! Thank you :-)
Love but it has been upsetting me lately
So I Love Waze. Tell all my friends and family about it, but it has been really messing with me lately. I use it for my job, I drive around town all day. Right around 3-4 it starts asking if I want to go home, which is nice occasionally, but even after I typed in a different address it would override me and bring me home. I am new in town so I don't realize this until it's too late. This has happened a few times and has made me extremely late for appts. Also wasting my gas.
Chris
Waze is one of the most amazing GPS technology of all times.
Distance to warning
I love. I try to be a good Wazer by reporting things when I see them. I am almost always impressed with this app's accuracy as well! One improvement I think really needs to be made is that there should be a setting for how far in advance you want the app to notify you of things. I wish the app would let me know that police have been reported ahead or that there is construction on road ahead enough in advance so I could react/respond to the I formation if I want to. Most of the time the audible warning doesn't occur until I'm entering the construction zone or can see the police for myself already (which is far less helpful). This change would allow the app to be more hands-free and require you too look at the screen less (a huge benefit when driving). Otherwise, I think the app is great and use it all the time when I'm traveling.
Where are my points?
For the past few days the app has not changed my points on my scoreboard. The last time this happened it was updating that update ended up to be a nightmare. I honestly hope that this is not happening right now. You need to stop freezing the points so it can update. This is ridiculous and not to mention dumb when this happens. I also would like to say that it would be nice when it has no limits to the number of times that you can click on it. When you do not drive that much and then you do it would be nice if it was the case. The other thing is that it would be nice if you can click on it when you are walking and you can help the other fellow members in the area out when they are there. I also wish that there was something that helps with the parking lot. One I think that I will remember where I park the car and two it is really annoying when it pops up about a parking spot. The other thing is that if someone drops me off somewhere else I feel like I have to drive the car in the neighborhood just to get it back to where I live. Also to what is wrong with the fact that it needs to have wifi in order for it to work. What is wrong with the slow updates that takes three days to get any points after you have driven?
Interface needs a dedicated "off" button on the main screen.
Beerfishkitedog
on
1/22/2018
For an app that is intended to be used by people driving a car, you make it unnecessarily hard to "turn off". Needs a dedicated button on the main screen rather than tucked into a secondary screen. Minimizing the app doesn't turn it off. Most users are using the app one-handed. Keep it simple folks.
Great....when it works right
Use this app a lot, I find it changing my route on me sometimes. I just moved to a very busy area where I need to use it to get to a lot of places. Multiple times (today was the last straw) I find l'm on my to the doctors office, or another town and it all the sudden changed my route to the address I have saved as "home." I'm going to try deleting all saved addresses and see if that works but it's quite upsetting to be coming from my friends house to the doctor only to find out it's taking you home 3/4 of the way there. I also don't appreciate the advertisements at red lights, when it disables typing while driving.
Messed up
This app used to be great but I guess some update messed it up. Takes me on the slowest routes and through long traffic delays
Amazing
Silvia lucrecia
on
1/22/2018
It's accurate. Thanks
Excellent!
Every morning I cut it on to drive 130 miles to work. Gets the job done every time flawlessly.
Can't log on
Upgraded iPhone and trying to log in but it ask for password which was not required when I originally created my account. Only needed username and phone number at the time. 🙁
Much better than google
Much better than google... shows you route within streets and save time when traffic is there
Accurate
Can't get over how accurate Wazer is!
Great App
MasterBlaster58
on
1/21/2018
Finds all the traffic and shows you how to avoid it. Best Navigation I've ever seen.
Cost me a traffic violation
Diamonempire
on
1/21/2018
Cost me a traffic violation. It directed me towards the "fast-track " lane without my consent and here in CA it's a fine if you do not have this pass when taking a fast track lane . Warning be aware, just stick to good old Maps from Apple.
Great app, flexible for carpooling
Use code SHIHJ8dOsT for $30 for new driver. Useful app for carpooling to work. As driver pays better than the competition and you have control on who you want to pick up. It's a bit buggy but if you ignore it, makes going to work more fun
New update
New update is rubbish to be honest. It always takes me through a longer route, making me get to my destination sometimes 30 minutes later than I would have if i used a different nav system. Also took away the option of showing me express lanes, instead changed it to HOV lane. The strain on my battery is also insane. Zaps it in minutes. I used to love Waze but now I'm probably going to delete it because of how useless it has gotten
Feature Request
As of late I've simply been using the hazard button in typing 'Sun blindness' For when I'm driving directly into the sunrise or the sunset. However I think it would be a useful feature especially considering how dangerous it can be at times to have a quickset button for those instances, to warn drivers father back on the road. Perhaps that or a feature that allows a user to set up a few shortcuts to a type of Hazzard that they encounter in their environment to warn other drivers. Just an idea I had while in the app this evening, otherwise absolutely in love with Waze, and my entire family uses it so it's really great for keeping tabs on when relatives arriving or when you're going to arrive. I'm very happy that Google has kept it separate from Google Maps, Which I unfortunately do have to use on one older device, But I am not about to complain about the app and not running on a 2013 dell venue 3830 running Android KitKat 4.4 on an x86 processor, When that issue could very well be my specific device, and not one that all of that same model are experiencing. Again I cannot stress enough if your device runs this program this is the GPS navigation app to use, hands-down.
Favorite icons on main screen
I agree with kldlr, the ONLY way to SAFELY report or confirm anything takes too many steps. The whole premise is for drivers to safe and be aware of issues that might affect their drive. If you had icons/buttons on the front screen for one touch reporting or confirming, not only would driver safety be improved, but the ones of us that don't report might start. This would also increase the accuracy.
Would get 5 stars but.
It would be awesome if there was an option for police to put driving. Because a lot of times i will be on the highway and i will be driving next to a cop for a few miles. How do you express that to other wazers? Also when you see cop ahead 19 minutes ago is that 19 minutes from the first person to spot the cop? Does the time change if someone confirms the cop is there? Same thing with a hazard it would be great if there was some way to update the times since there are so many more members to verify the time the same cop was spotted etc.
Plan a drive needs work
I love this app, but the plan a drive feature needs some serious work. I never get the reminders to leave. It invariably fails to take into account predicted traffic. I highly doubt that my drive time will be the same during rush hour as it is at 11 pm.
Turn off iCloud
Michellelynn924
on
1/21/2018
So i had an update on the application about a month ago and was unable to use it for quite some time. I would get error message failure to communicate we could not figure out what the issue was. Well something told me to turn my iCloud off and stop sharing my data and it started to work again hopefully this helps fellow iPhone users that been having the same issues as me.
Perfect
Bob226225227228229221022112212
on
1/21/2018
Really wonderful! Great community on high volume roads, but in smaller towns not as strong. Not controllable by Waze but is a flaw, maybe offer compensation (coupons, Waze bucks) and target smaller cities.
Was GREAT....Now it doesn't work 😖
I had been using Waze for about a year and LOVED IT!! But since the most recent IOS update, it continually is "searching for GPS" and looking for language (I still speak English 😉). I went to my cellphone provider, then Apple, and logged off of Waze to see if the app would reset itself and be fixed. This didn't work. I even did a total reset of my phone, and nothing worked on Waze and Google (who owns Waze). I then contacted Waze, but got nothing but constant/obvious automated answers back that stated things to do that I already started I HAD ALREADY DONE and listed in my email. This is upsetting since other competing GPS apps work on my phone, so it's not anything on my end. After a couple of weeks, I did a web search to see if others had issues or could help me. Interestingly enough, I found out I am in good company, sadly. Please Waze/Google, it would be greatly appreciated if you could actually get this obvious bug fixed. Your app was wonderful, but I'm sadly happy to switch to another app to at least get me to places. No, the other apps don't have the accident, police, or other very helpful perks. I just can't stand diving "approximately" or now the map keeps me at the beginning location and has no idea that I have already driven and arrived at my destination. Beyond frustrating. Again, please send out a fix! 🔨
Fact Sheet
Publisher:

waze

Category:

Navigation

Released:

Aug 01, 2009

Current Version Released:

Jan 10, 2018

Version:

4.34.1

Size:

116.1 MB

Compatibility:

Requires iOS 9.0 or later.

Recommended Age:

4+

Game Center Certified:

No

Supported Languages:

Afrikaans; Arabic; Bulgarian; Catalan; Valencian; Croatian; Czech; Danish; Dutch; Flemish; English; Estonian; Finnish; French; Galician; German; Greek; Hebrew; Hungarian; Indonesian; Italian; Japanese; Kannada; Korean; Latvian; Lithuanian; Malay; Bokmål, Norwegian; Norwegian Bokmål; Persian; Polish; Portuguese; Romanian; Moldavian; Russian; Serbian; Chinese; Slovak; Slovenian; Spanish; Castilian; Swedish; Chinese; Turkish; Ukrainian;